Remember when the whole world (read: everyone on LinkedIn) was debating whether AI-generated content was a flash in the pan? The verdict is in: it's here to stay. At EmailToolTester, we've seen most of the key email marketing players, including stalwart ActiveCampaign and newcomer tinyEmail, keenly integrating AI features.
ActiveCampaign, who has been navigating the email marketing landscape since 2003, recently added an AI content generator to complement its existing predictive sending and win probability tools.
tinyEmail, famous for their tagline "Mad Libs for your marketing", has only been around since 2021. Its initial offering of automatically-branded emails and prebuilt segments has now evolved to include an AI subject line generator, with more AI tools on their way.
But, the differences go much deeper than that. The question is: which platform stands out? And if you had to pick one for your business, which should it be?
In this article, we delve into an in-depth comparison of ActiveCampaign vs tinyEmail, exploring their AI capabilities, user experience, automation features, and more. Stay with us to find the right email marketing service for your needs!
ActiveCampaign vs tinyEmail: The Main Differences
ActiveCampaign is an
end-to-end sales and marketing platform
that integrates email marketing,
CRM
, and advanced
automation
features, allowing you to send users emails based on their behavior. Its robust segmentation and personalization capabilities let you target and tailor messages with precision.
tinyEmail is a beginner-friendly email marketing service that lets you start sending basic campaigns quickly. Like ActiveCampaign, tinyEmail also offers solid segmentation features. But its automation capabilities are still in their infancy. The good news is that tinyEmail is working on improving these features soon.
A few other key differences between ActiveCampaign and tinyEmail are:
In terms of channels, ActiveCampaign offers a lot more. Aside from email marketing, you also get the option to access landing pages, SMS, site messages, and Facebook ads. tinyEmail doesn't offer any of these additional channels (although SMS appears to be coming soon).
ActiveCampaign provides integrations with close to 1,000 apps, including all major ecommerce platforms (including Shopify, WooCommerce, BigCommerce, and Square). tinyEmail offers just 300 direct integrations, and in terms of ecommerce only supports Shopify, WooCommerce, Magento and Volusion.
Both ActiveCampaign and tinyEmail provide plenty of support and resources, including a knowledge base, tutorials, and email/chat support. Phone support is also available when needed. However, because it can be more complicated to get up and running with ActiveCampaign, they also offer one-on-one training on certain plans.
Now that you're up to speed with the main differences, let's dive into how they compare on a feature-by-feature basis.
Round 1: Sign Up Process
Getting started with tinyEmail is mostly easy – save for one little hiccup. To try tinyEmail out, you'll be asked to hand over your credit card details. It's a little inconvenient, especially as most email marketing services don't really ask you to do this anymore.
To get around this, we'd recommend signing up for the Free plan, which is promoted on their website (but not actually linked to – you can request it during the trial sign-up process). While the features are limited, it does let you upload 500 subscribers and use key features like forms, basic automations, and tinyEmail's AI subject line tools.
If you instead opt for the free 7-day trial (because you want to access features like premium templates, segmentation, and advanced analytics), there's one thing to be aware of. By default, you'll be signing up to the more expensive Pro plan! So be sure to switch this to the Standard plan – otherwise, you'll be charged $65 as soon as the trial is over!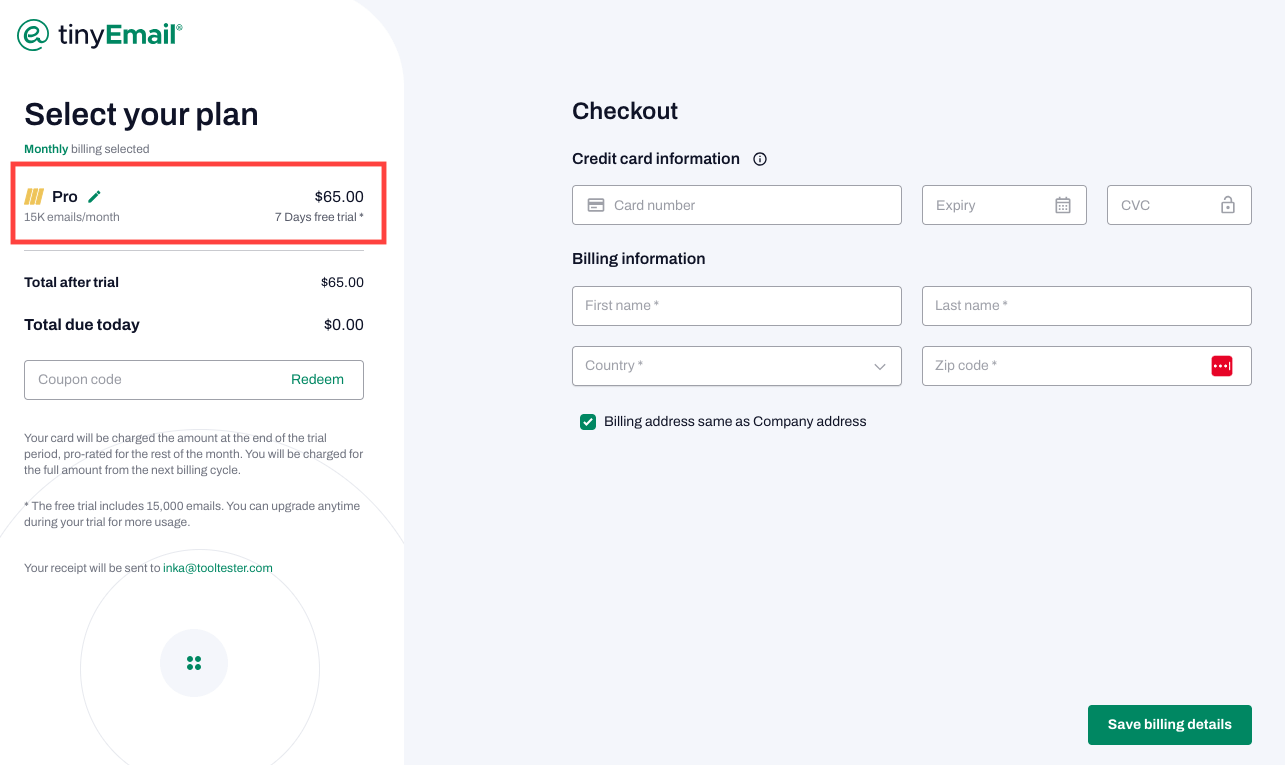 ActiveCampaign also offers a free trial, although the trial period is a more generous 14 days, and you (thankfully) don't have to provide your credit card details. Just enter your email and a password, and provide a few details about your business, and within seconds, you'll be right in the platform: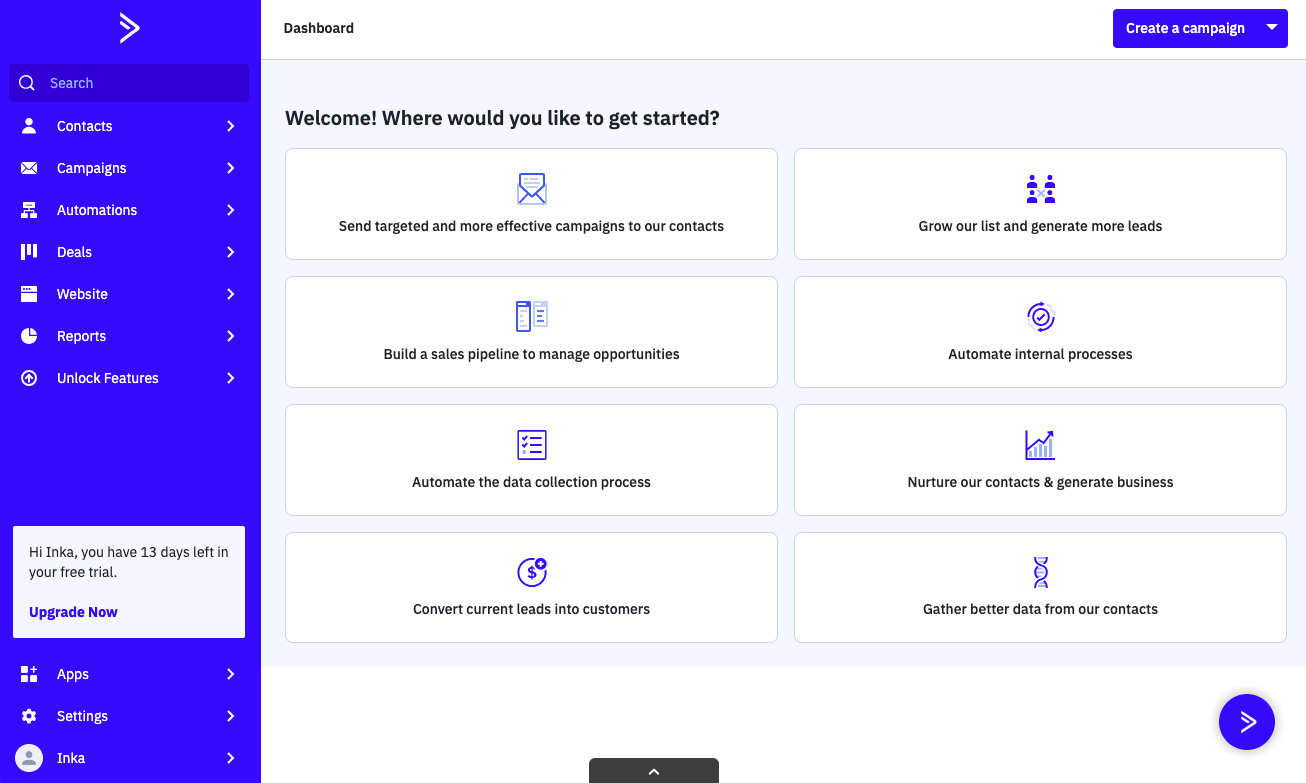 During the free trial period, you'll be able to send 100 emails to up to 100 subscribers, and access both email marketing and CRM features. The only features off limits are predictive Sending, predictive content, auto-responder campaigns, form custom fields, and SMSes.
Winner: Although it doesn't offer a free plan like tinyEmail does, the overall sign-up process is much quicker with ActiveCampaign. This round goes to them!
Round 2: Ease of Use and Editor
We have to say, tinyEmail makes it very easy for you to get your campaigns and running. One of the very first things it asks you to do is create your brand identity by uploading your logo, brand colours, website and social media links. It uses this to populate your email templates, which it provides you a handy preview of.
In some cases, it automatically detects this information and provides a preview without you having to do anything, as was our case: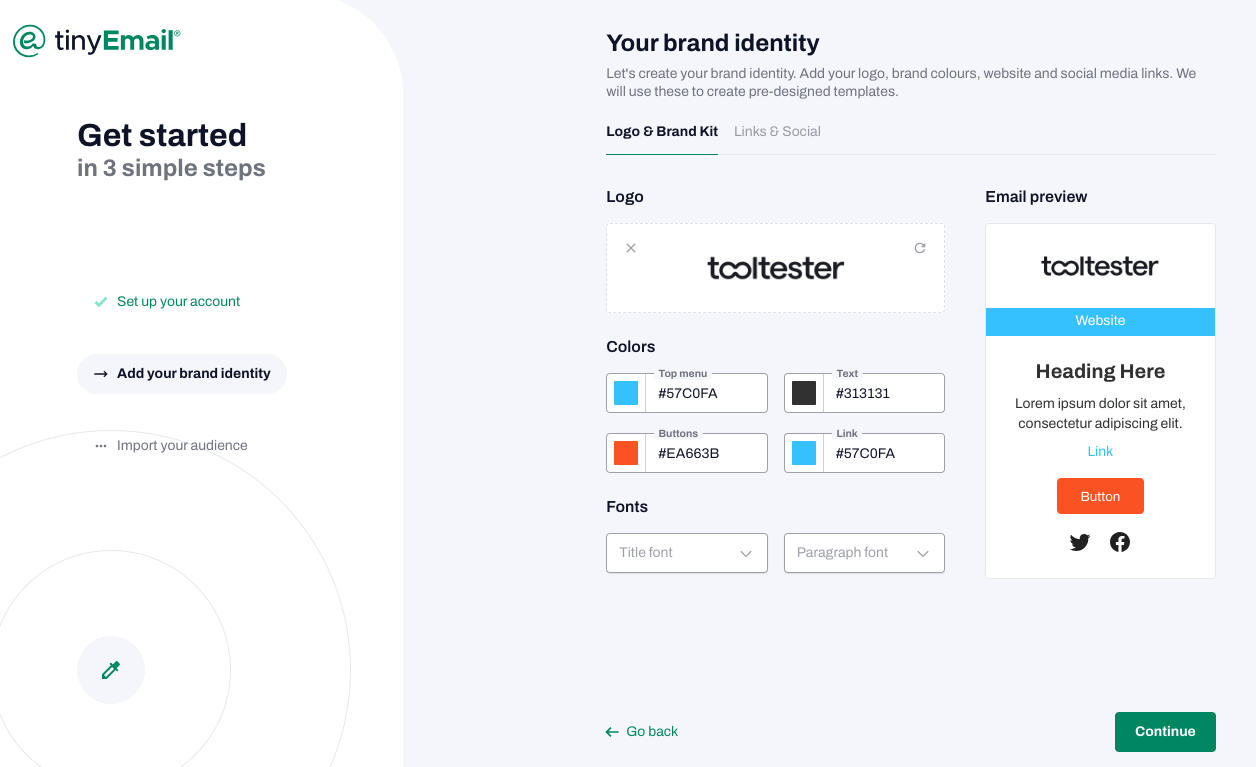 It also helps you set up integrations with your website, online store, or existing email marketing service by asking which platforms you're currently using. So far, so good!
tinyEmail's dashboard is nicely designed and intuitive to navigate. To start sending emails, all you need to do is hit the 'Create campaign' button: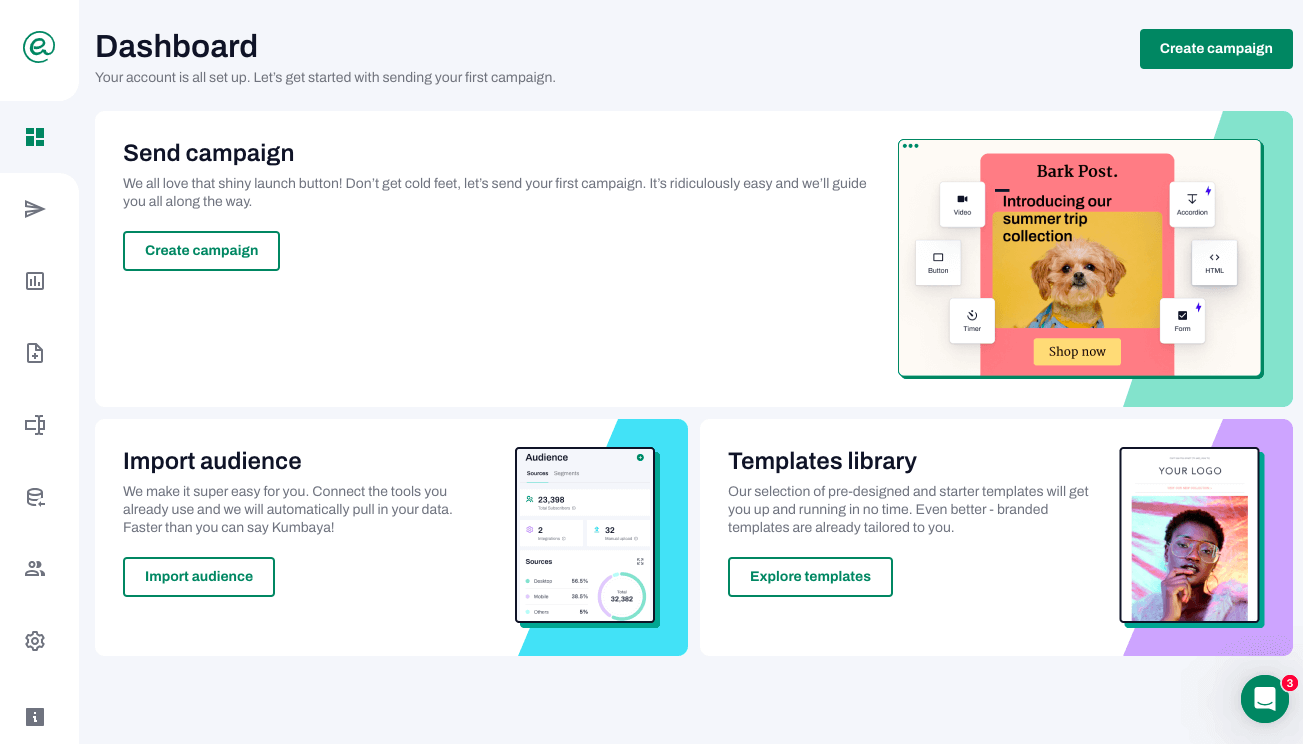 Once you've entered your campaign details and chosen your template (more on that in a minute), you'll be taken to the email editor where you can customize your email's content. Here, you'll be able to drag and drop basic content blocks such as images and buttons, plus advanced options such as blog summaries, product cards, and AMP surveys. You can even choose from tinyEmail's library of stock images if you don't have your own to use.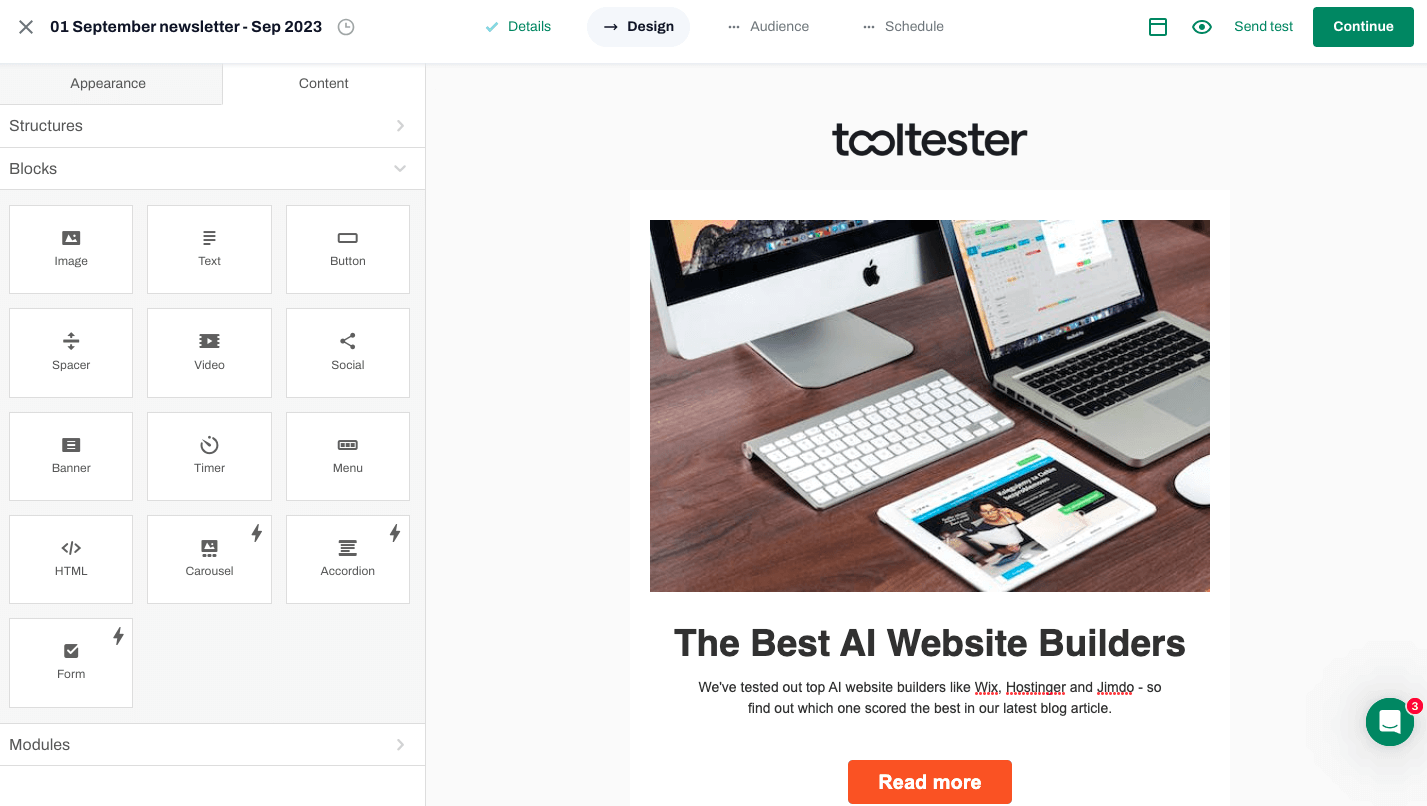 But, one big thing it's missing is an undo button! Sure, it might not be as exciting as being able to add a countdown timer to your emails, but it makes a world of difference when you're regularly editing emails. We hope they add it some time soon.
ActiveCampaign also offers a drag-and-drop email editor, making the campaign creation experience relatively easy. But, there are a few key differences compared to tinyEmail.
First of all, ActiveCampaign lets you choose from multiple campaign types when you're first creating your campaign (letting you send standard, automated, autoresponder, RSS, split-tested or date-based emails). tinyEmail doesn't give you all these options. While having extra options is great, it can be confusing if you're new to email marketing and aren't clear on the differences between the various types of email marketing.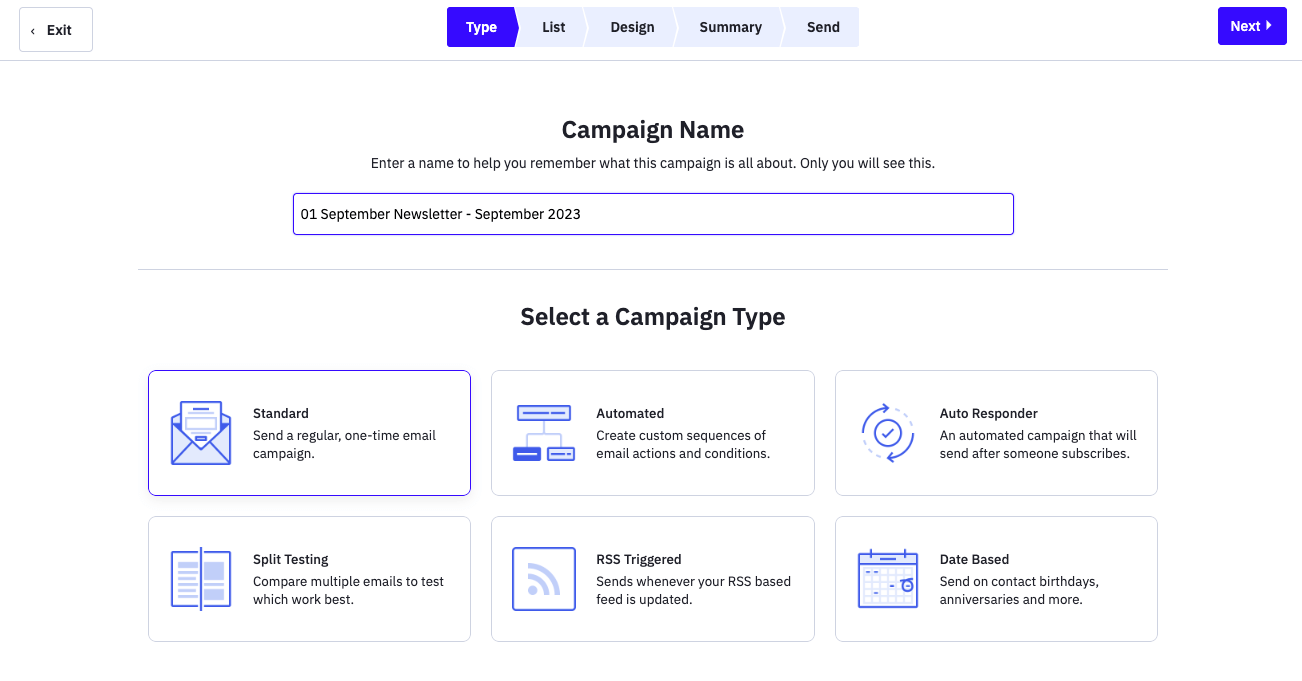 Secondly, ActiveCampaign requires you to have previously uploaded your list of contacts in order to start creating your email. With tinyEmail, you can actually upload your contacts while you're creating your email, which in our view is much more convenient.
While the email editor's options are actually pretty similar to tinyEmail's, it doesn't have a stock image library, or the ability to drag and drop AMP blocks or blog summaries natively. (It does have an undo button, though!)
Finally, if we're talking about general usability, ActiveCampaign's long list of features can make navigating the backend more challenging. There's definitely a steeper learning curve involved with ActiveCampaign vs tinyEmail, although its comprehensive library of resources and tutorials can help you get up to speed fairly quickly.
Winner: tinyEmail's simplified feature list and intuitive dashboard make it the more beginner-friendly tool – so if ease of use is a priority, tinyEmail is the obvious choice. That takes us to a tie: ActiveCampaign: 1, tinyEmail: 1.
Round 3: Design and Flexibility
ActiveCampaign gives you a huge amount of flexibility when it comes to email design. You can start completely from scratch, use a blank layout, upload your own template, or choose from one of their 240+ pre-designed templates – which is fantastic if you're stuck for inspiration.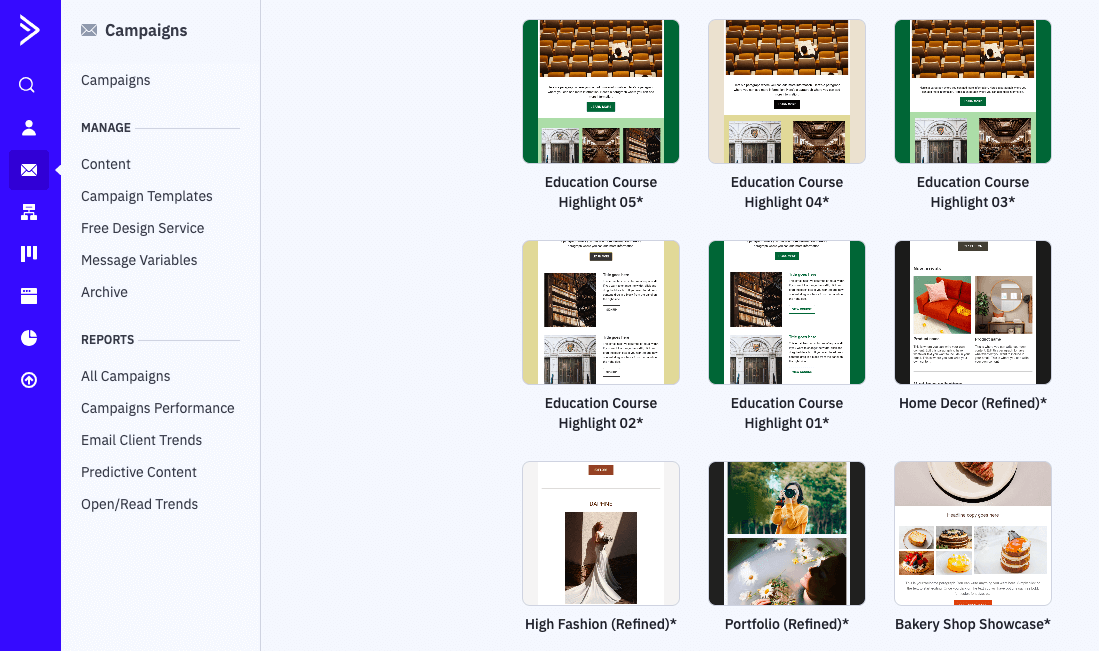 With the email editor, you can fully customize each template with your own branding, images and text, making them completely your own. It's also easy to adjust styling such as colors, font and spacing.
One bonus is that you're able to customize font size and button sizes for mobile viewing straight within the editor – no coding required.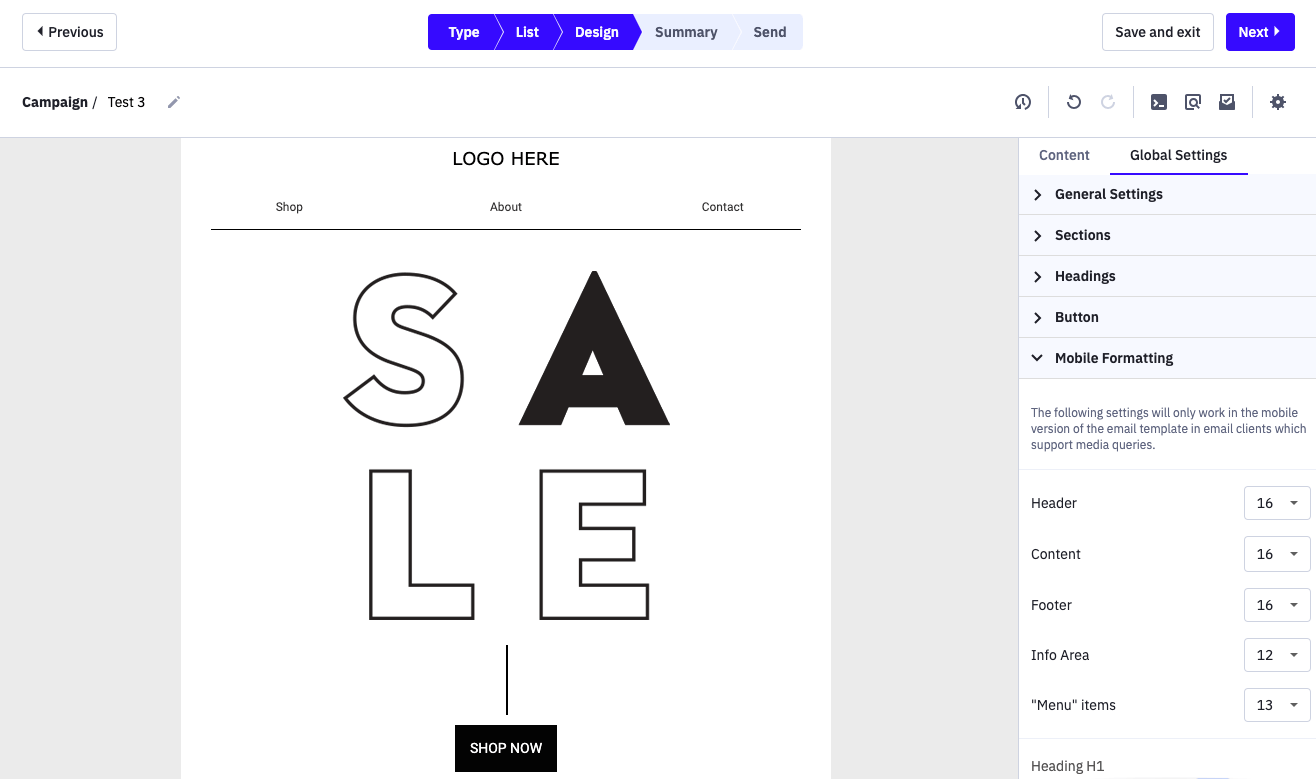 Obviously, having 240+ templates to start with is not bad at all. But it's modest compared to tinyEmail's astounding library of 600+ templates. It's rare to see a tool offer so many designs, especially one as new as tinyEmail!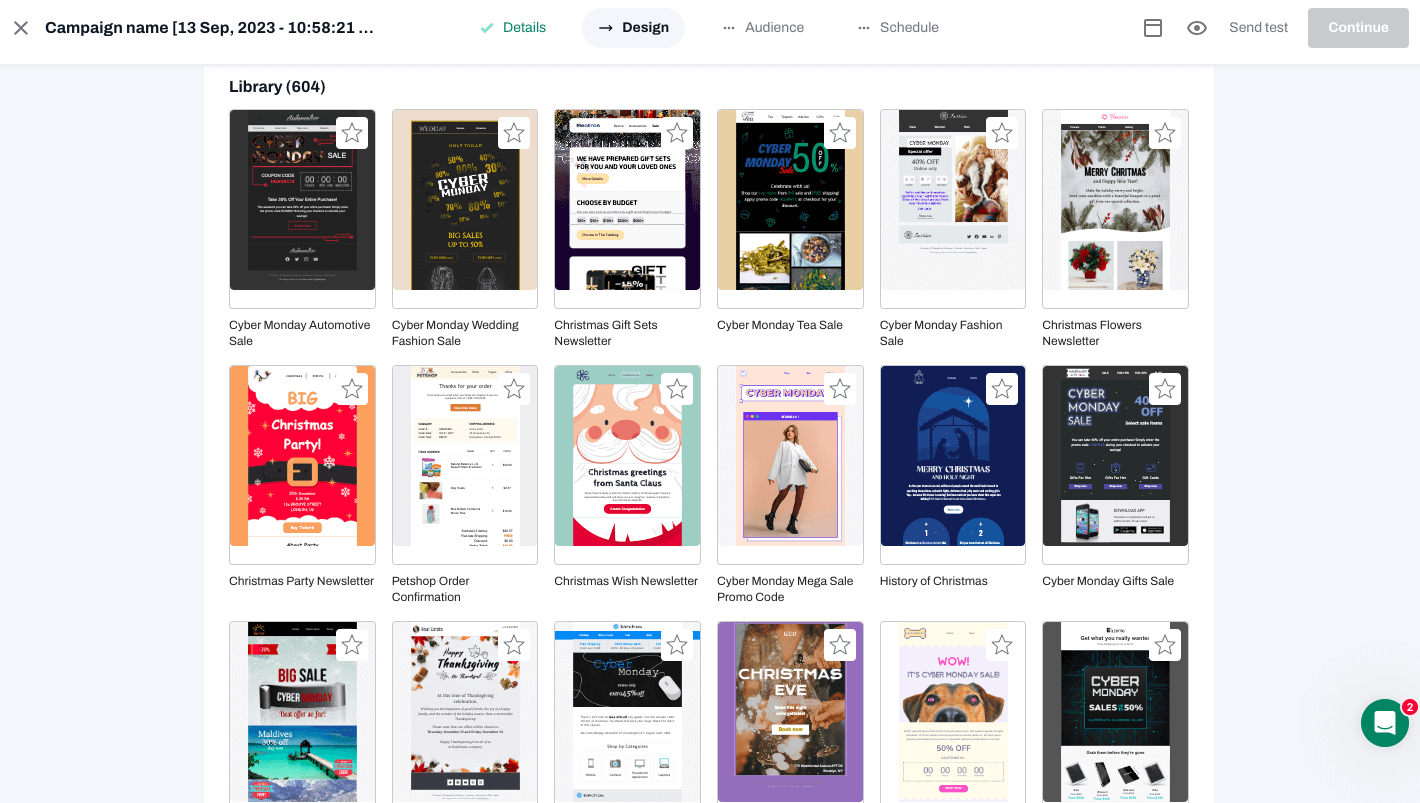 Like with ActiveCampaign, you can also adjust your email's content and styling. It's also possible to customize some elements for mobile (in fact, they seem to have taken a lot of inspiration from ActiveCampaign's editing options!). And if you don't like any of the templates on offer, you can upload your own HTML templates, too.
Winner: Yes, tinyEmail's template range is wider than ActiveCampaign's, but its editing and customization options are almost a straight copy and paste. So, let's call this round a draw. That takes us to ActiveCampaign: 2, tinyEmail: 2.
Round 4: Email Marketing Automation
If you're planning on sending automated emails – whether that's basic welcome emails, or more complex drip and nurture campaigns – there's one clear winner in this category.
ActiveCampaign boasts an extensive range of customizable automated workflows. From targeting cart abandoners with timely emails to post-purchase follow-ups, the platform provides "automation recipes" – pre-made templates that users can easily adapt with custom content, fields, and tags.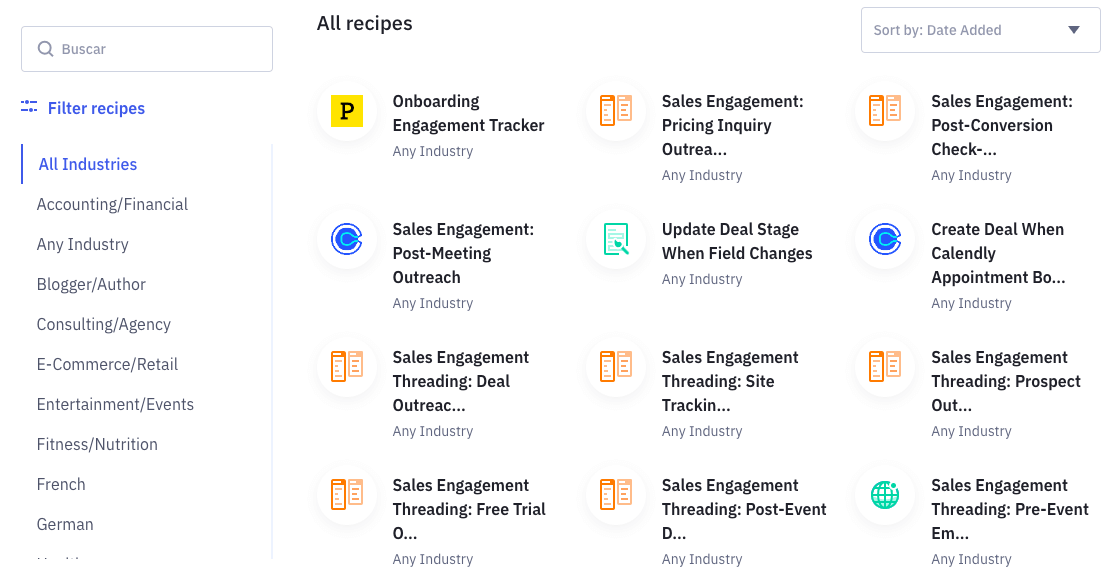 If you're seeking a unique approach, there's the flexibility to craft automations from the ground up. Each automation can incorporate multiple triggers, and there's an option to conduct split tests to identify the most effective pathways.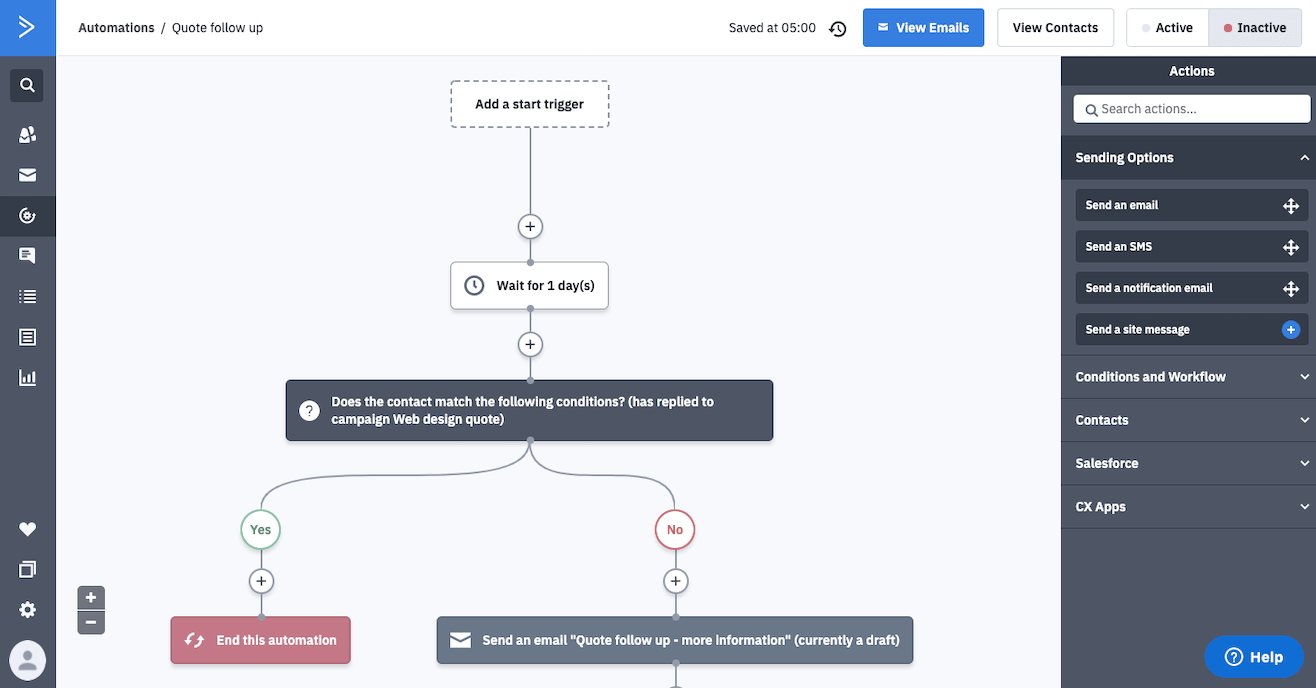 The platform also supports more intricate marketing automations such as triggered campaigns (such as a relevant email when someone views a particular page on your website), dynamic email content, and automated segmentation.
What's more, with ActiveCampaign's bundled Sales and Marketing plan, users can integrate a diverse mix of channels into their automations, including sales follow-ups and SMS. However, the more sophisticated e-commerce and lead scoring automations are reserved for the higher-tiered Plus plan (which we'll go through in a minute).
As you can see, tinyEmail's marketing automation options are much more limited. You just get a handful of basic options, such as a welcome, thank you and abandoned cart email: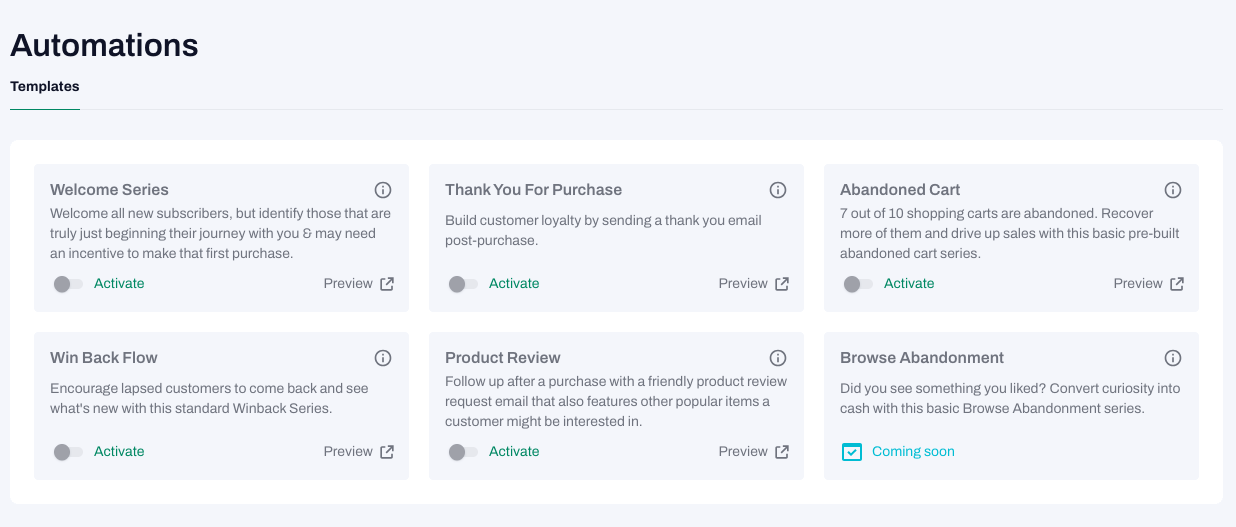 There's no way to build an automation from scratch, or to even customize the existing ones – they simply get triggered when someone takes the relevant action, without you being able to define what exactly that action is. It's not even possible to edit the emails, at least from what we can see!
It's also worth noting that the ecommerce automations (such as the abandoned cart email and product review request) are currently only available if you have a Shopify store. They're not available for stores hosted on other platforms. ActiveCampaign supports integrations with WooCommerce, BigCommerce, and more, which is another big advantage it has in this arena.
Winner: While tinyEmail does plan to add advanced workflows soon, it still has quite a bit of work to do before it catches up to ActiveCampaign. That's another point for ActiveCampaign, helping them take the lead with a score of 3:2.
Round 5: Segmentation and List Management
One of tinyEmail's unique selling points is its advanced segmentation features. Not only can you create your own segments based on a range of conditions (including email activity and demographic data) – you can also take advantage of its AI-powered "recommended segments".
These automatically group subscribers together based on shared characteristics, allowing you to send targeted messages with ease. For example, you could send a re-engagement campaign to inactive or dormant subscribers, or a special voucher to those with an upcoming birthday.
This can help to save you a lot of time, and help to ensure that your messages are always relevant. We also like that you get a segment breakdown to see what percentage of that segment's subscribers have previously clicked, opened, or unsubscribed, which can give you a quick view of which segments are more engaged.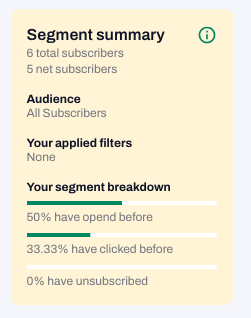 But ActiveCampaign takes this even further. It lets you create segments using an even wider range of criteria, including tags, event data (such as whether they visited a specific web page), and deal stage.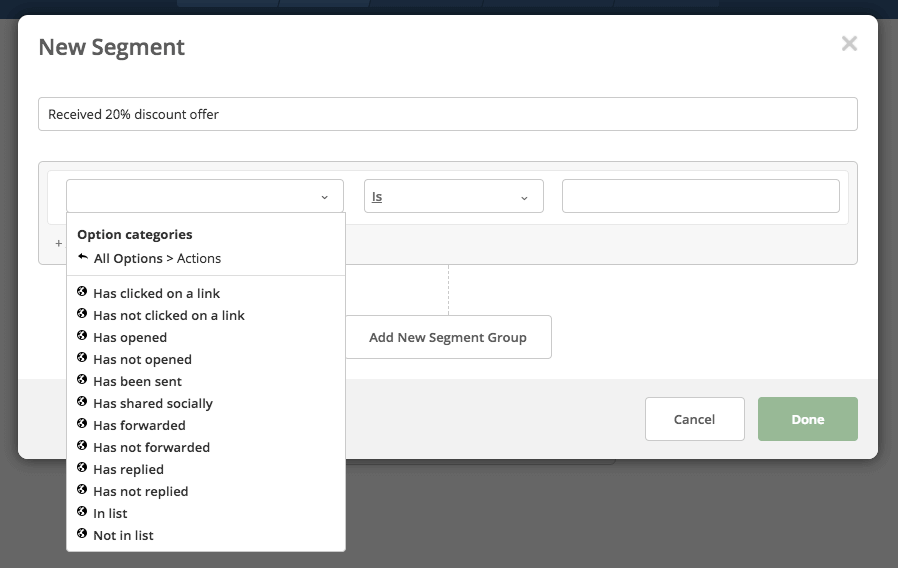 And it's not that you can just send targeted emails to your segments. You can also personalize each email with conditional content – for example, showing or hiding certain products depending on whether someone has shown previous interest or not.
Plus, there's a handy lead scoring feature that lets you rank (and prioritize) leads based on a variety of actions and criteria.
Winner: Although we like that tinyEmail's prebuilt segments help you get up and running quickly, there's no denying that ActiveCampaign's segmentation options are much more advanced. If you're keeping score, that's ActiveCampaign: 4, tinyEmail: 2.
Round 6: Reporting and Analytics
tinyEmail offers some useful reports, including a dashboard that gives you a snapshot of your overall performance. Not only can you view engagement metrics such as clicks and opens – you can also see the deliverability of your campaigns to get an understanding of spam complaints (hopefully, this number is 0%!).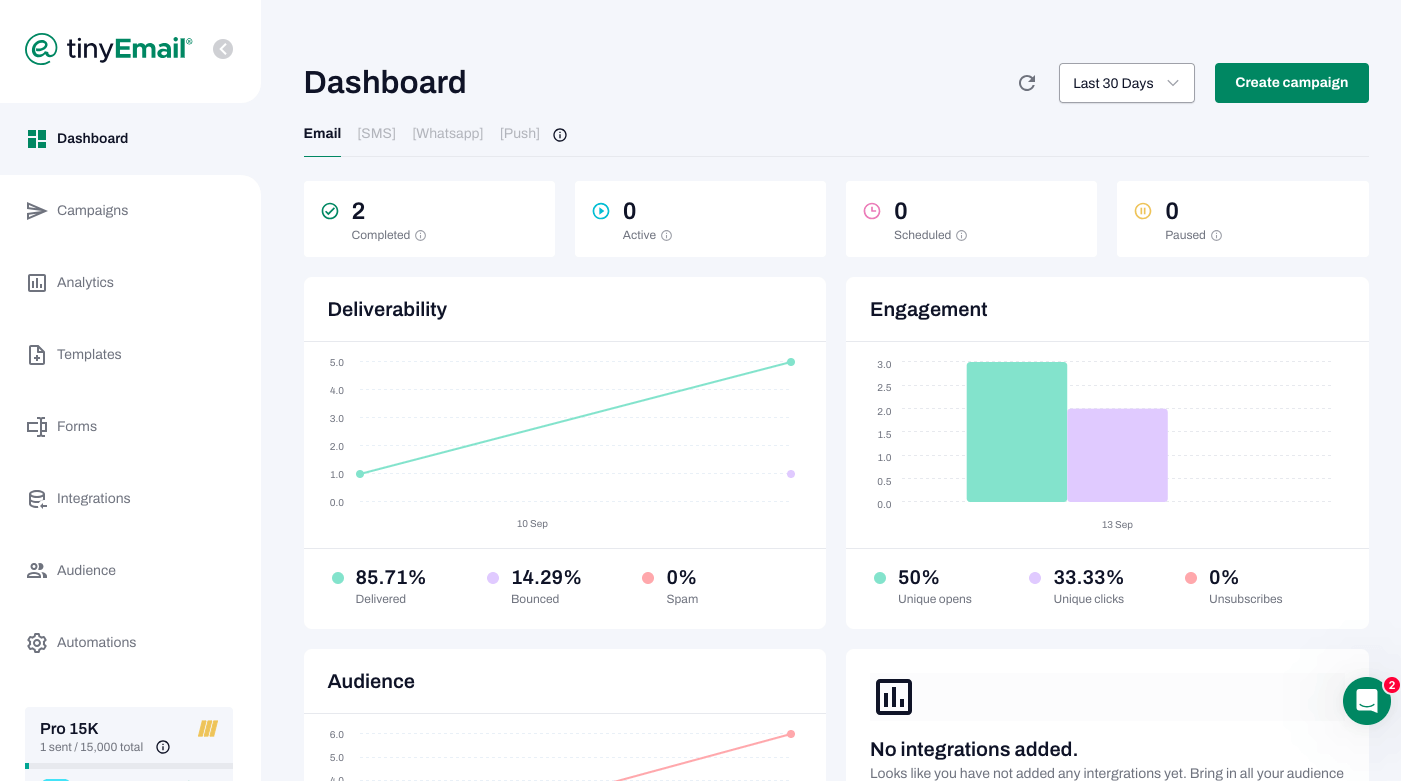 At a campaign level, you can view all the regular KPIs like opens, clicks, and unsubscribes, as well as insights into the geographical location of your audience.
But overall, it doesn't take you very far. By comparison, ActiveCampaign's reporting features are impressive. Aside from your standard email reports, you also get advanced reports into email client trends (the number of times your email was opened in clients like Gmail or Outlook), open/read trends (the days and times your emails were most opened), and more.
You can also visualize where recipients are clicking via click-maps and track page visits. What's particularly useful is the "Recommendations for you" section, which proactively suggests actionable steps for optimizing your campaigns.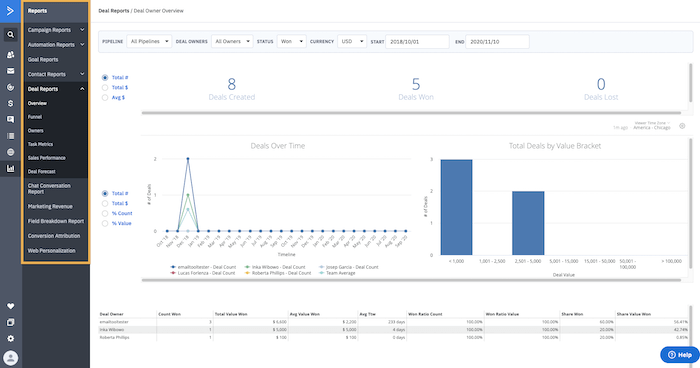 The range of reports even extends to monitoring contact trends, tracking deal progress, and analyzing automation performance. And for businesses with an ecommerce focus, specialized reports tailored to platforms like Shopify, BigCommerce, and WooCommerce offer a deeper dive into online sales metrics.
However, if you need the utmost flexibility in reporting, custom reporting is a feature exclusive to the pricey Enterprise plan.
Winner: ActiveCampaign provides reporting on just about everything – so this puts them firmly in the lead at 5:2.
Round 7: AI Features
Here's where things really start getting interesting! Both tinyEmail and ActiveCampaign heavily promote their AI capabilities on their websites – so how do they stack up against one another?
Let's check out tinyEmail first. One of the first AI features you'll come across is its AI subject line generator. Using its tinyEinstein AI engine, it will come up with a few subject line suggestions based on some quick inputs from you. Unfortunately, the end result wasn't exactly mind-blowing, as you can see from these pretty generic suggestions (let's just say, you're still better off using good old ChatGPT):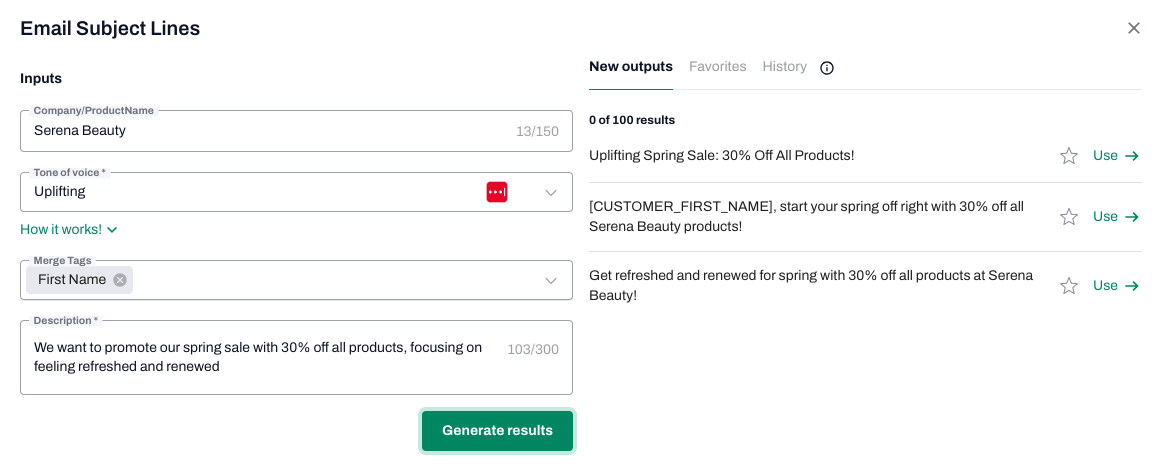 tinyEmail also markets its prebuilt segments (which we discussed earlier) as an "AI marketing manager". While we agree that these segments are super useful, it would be great to see tinyEmail extend these capabilities into tailored segments that really dig into your subscribers' characteristics and are unique to your database.
According to tinyEmail's website, there's also an AI predicted audience, email copywriter, and automated prebuilt sequences on their way. But, as with most of the other features we've taken a look at, ActiveCampaign seems to have the upper hand when it comes to AI.
For one thing, it already incorporates an AI email writer within the email editor. All you need to do is insert a text box, then use the AI tool to insert a description of what you're writing about. ActiveCampaign will then generate some text options, which you can then tell it to shorten, lengthen, change the tone of, or provide other feedback around: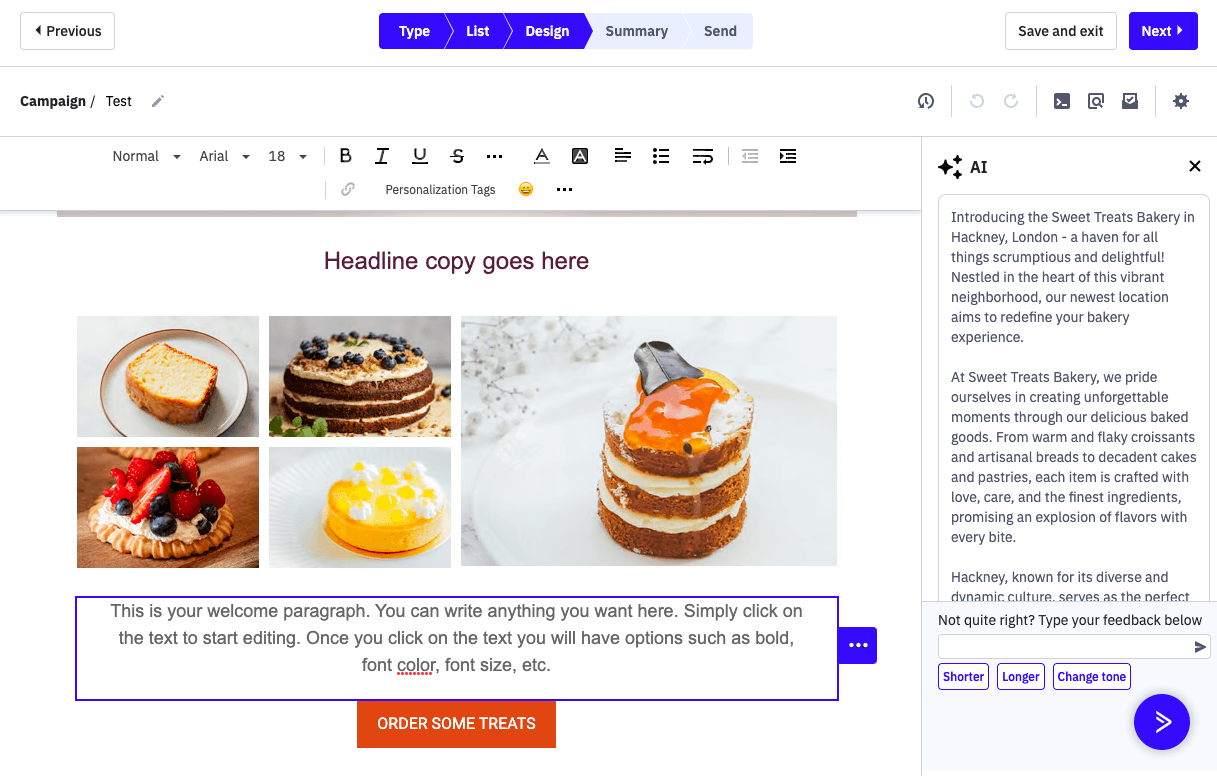 Quality-wise, the content seems pretty close to what you'd get from ChatGPT. So, tinyEmail's soon-to-be-released email writer already has some strong competition! (Not to mention the fact that ActiveCampaign also plans to roll out this feature to its SMSes, landing pages, and forms in the near future.)
But ActiveCampaign's AI features don't stop there. Its Predictive Content feature automatically personalizes email messages based on what a contact has responded to in the past. Predictive Sending works in a similar way, automatically sending messages based on past engagement. And if you have access to the CRM, the Win Probability feature looks at your existing data to calculate the likelihood of a lead converting to a sale.
One thing to note though is that many of these features are locked away on ActiveCampaign's higher-level plans – which we'll take a closer look at in our next (and final!) round.
Winner: Sure, it may not be a deciding factor, but it sure is fun to explore what each platform is doing in terms of AI – and in this regard, ActiveCampaign blows tinyEmail out of the water! We're at ActiveCampaign: 6, tinyEmail: 2.
Round 8: Pricing
As you've likely noticed by now, ActiveCampaign and tinyEmail each bring their own unique flavor to the world of email marketing services. And unsurprisingly, these distinctions extend to the price tags they carry – and the way they charge for their services.
For one thing, while ActiveCampaign charges based on your list size (letting you send an unlimited number of emails regardless of how many subscribers you have), tinyEmail does the opposite. It charges based on how many emails you want to send every month, letting you upload as many contacts as you like. So depending on your list size or the frequency with which you send emails, one approach might work better for you than the other.
Because of this difference, it's a little tricky to do a head-to-head comparison. But, assuming you want to send 10 emails per month to your subscribers (which is actually a lot!), we can start to get an idea of how wildly different their prices are:
| | TINYEMAIL STANDARD PLAN | ACTIVECAMPAIGN LITE PLAN |
| --- | --- | --- |
| 10k monthly emails / 1,000 subscribers | $15 a month | $39 a month |
| 25k monthly emails / 2,500 subscribers | $25 a month | $61 a month |
| 50k monthly emails / 5,000 subscribers | $50 a month | $99 a month |
| 100k monthly emails / 10,000 subscribers | $100 a month | $174 a month |
| 500k monthly emails / 50,000 subscribers | $500 a month | $486 a month |
As you can see, tinyEmail is the much cheaper option, especially if you're only looking to send small volumes of emails every month. Of course, it's also worth bearing in mind that tinyEmail offers a free plan with limited features – something ActiveCampaign doesn't do at all.
But this doesn't tell the full story. As mentioned before, these are the most basic plans on offer for each provider. tinyEmail requires you to upgrade to the Pro plan for features such as dedicated IP and priority support, starting at $65/month. ActiveCampaign requires you to upgrade to the Plus plan to access landing pages, SMS, and ecommerce integrations, which starts at $49/month. And to access ActiveCampaign's CRM, you'd need to purchase its bundled Sales and Marketing plan, starting at $93/month.
Winner: Based on affordability, tinyEmail takes out this round! But with ActiveCampaign, you're paying for features that you simply won't get with tinyEmail. Our final score is ActiveCampaign: 6, tinyEmail: 3!
ActiveCampaign vs tinyEmail: Final Thoughts
In the end, when it comes to picking between ActiveCampaign and tinyEmail for your email game plan, it really comes down to what suits your business.
ActiveCampaign is like the Swiss Army knife of sales and marketing. It's got all the channels – email, landing pages, SMS, and more. If you're all about precision targeting, it's got the automation and segmentation smarts to hit the bullseye. Plus, it plays nice with almost 1,000 apps, making it a tech-savvy choice. And even if you're not an email marketing pro (yet!), they've got plenty of resources to help you out.
On the flip side, tinyEmail keeps it simple and easy on the wallet. Similar to tools like Brevo or MailerLite, it's perfect for rookies who want to dive into email marketing without breaking a sweat. While its automation features are still on the basic side, it's encouraging to know that they're working on it.
In short: if you're after a powerhouse with all the bells and whistles, ActiveCampaign is your go-to. But if you're just starting out and want something straightforward and budget-friendly, tinyEmail has you covered. Given what they've achieved in such a short span of time, we're sure they'll have a lot more to offer very soon.
> Try ActiveCampaign for free for 14 days
> Try tinyEmail for free for 7 days
Our Methodology
This article has been written and researched following our EmailTooltester methodology.
Our Methodology