While ActiveCampaign is undoubtedly a superb customer experience automation tool, the platform isn't one to rest on its laurels. In 2020, ActiveCampaign upped its game when it added landing page functionality to its existing range of features.
Called Pages, ActiveCampaign's landing page builder promises to help users build attractive landing pages for uses such as:
Collecting event signups, or even
Taking payments for products.
That sounds great until you realize that there are plenty of landing page builders (even free ones) that offer to do more or less the same thing. And if this is the case, then is ActiveCampaign's landing page builder worth using? Or should you look elsewhere for your landing page needs?
Keep reading as we explore these questions and more in our detailed review of ActiveCampaign's landing page builder.
ActiveCampaign Landing Pages Summary
ActiveCampaign's landing pages are available from the Marketing Plus plan and up. Choose from over 55 responsive templates to create unlimited pages for your needs. After that, you can set up web personalization to personalize the landing page content that users see. A PayPal integration is also available for taking payments through your landing page.
ActiveCampaign Landing Pages Pros and Cons
What I like about ActiveCampaign's landing page builder:
Unlimited landing pages
Wide range of attractive and modern-looking landing page templates to choose from
You can use your own domain for your landing page URLs
Comprehensive settings for styling your landing pages
Mobile style overrides for displaying your landing page differently on mobile compared to on a desktop
Web personalization for displaying dynamic landing page content to users, e.g. you might want to show users in the U.S. different content to those residing in Canada
Site tracking for tracking your contacts' landing page activity and tailoring your campaigns accordingly
PayPal integration for selling products through your ActiveCampaign landing page (Stripe isn't available though)
Save your landing page template for later use
Search engine optimization (SEO) and social metadata settings for optimizing your ActiveCampaign pages for search engines and social media platforms respectively
What they could improve:
The ActiveCampaign landing page builder is available only from the Marketing Plus plan and up, which is a little pricey (from $70)
The landing page builder isn't the most flexible—you can arrange blocks only within predefined content areas
The color palette can be rather confusing to use
A/B testing isn't possible
You can't add links to images
How to Use ActiveCampaign's Landing Page Builder
If you're new to ActiveCampaign, you may have some initial difficulty locating its landing page builder. (It's buried under the "Site" setting in the left sidebar of the ActiveCampaign dashboard.)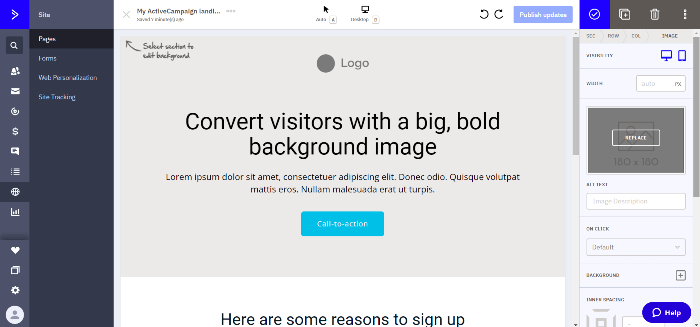 But once you've found the landing page builder, it is quite straightforward to use. Here are the steps for creating a landing page in ActiveCampaign:
In the landing page builder, click "Add a new page"
Select a landing page template. You can choose from one of ActiveCampaign's pre-built templates, a custom template you've saved previously, or a completely blank template
Give your landing page a name
Use the Blocks settings to add new content blocks to your landing page. To rearrange your landing page's content blocks, click and drag them to where you want them to go. And of course, you can replace these blocks' text and image placeholders with your own custom text and images respectively
If you want your landing page to contain a subscription form, add either an Inline Form or Pages Form block to your landing page
Use the Theme settings to adjust your landing page's background, colors, fonts, and font sizes. You can also toggle ActiveCampaign's branding on and off (we recommend turning it off for a seamless brand experience)
Switch the landing page builder's viewing mode from Desktop to Mobile to customize the mobile view of your landing page
The landing page builder auto-saves your work, so you don't have to do manual saves!
Use the undo and redo buttons to undo and redo recent changes to your landing page respectively
Once you're happy with your landing page, publish it
Set a URL for your landing page. If you've connected your domain to ActiveCampaign, you can use it for your landing page URL
Adjust the page settings for your landing page. You can fill out its search metadata and social metadata. You can also choose whether to display a cookie banner on your landing page, or add custom code to its header and body
Finally, promote your landing page. You can share it on social media, run paid ads to it, and so on
ActiveCampaign Landing Page Templates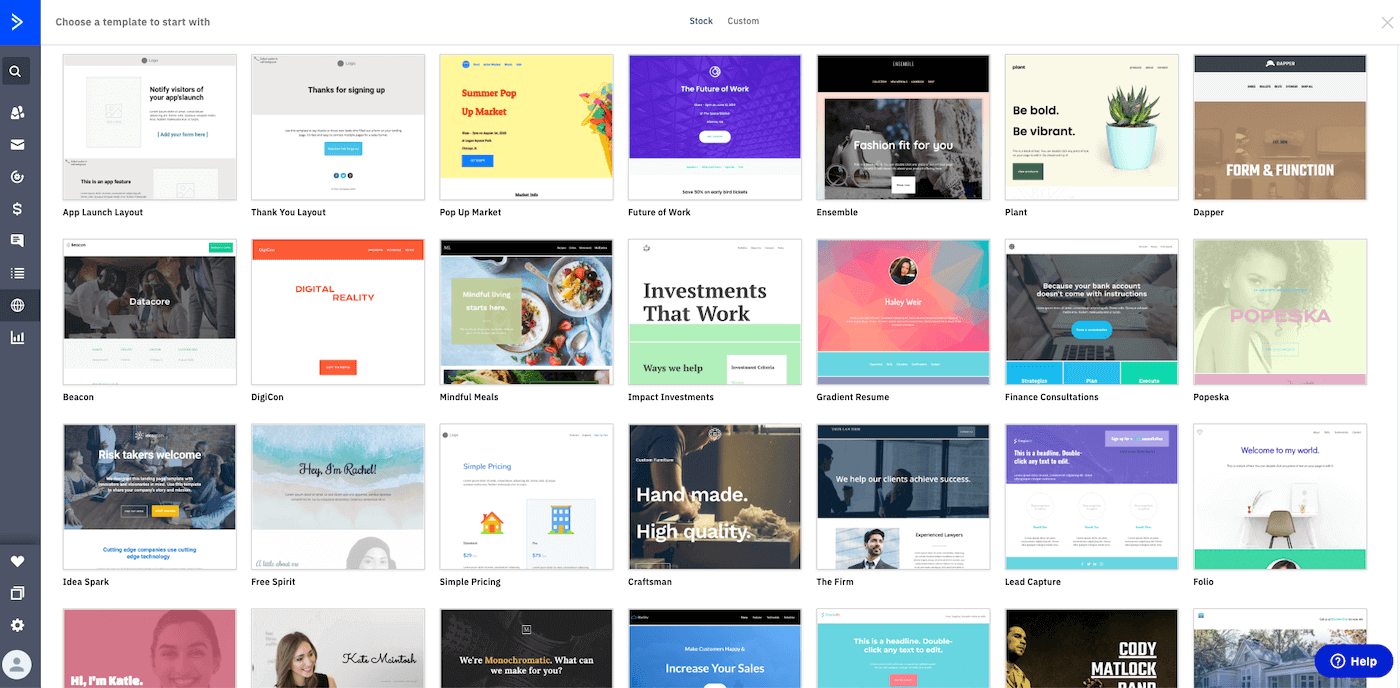 ActiveCampaign has over 55 responsive landing page templates for a variety of use cases, such as:
Product promotion
Announcements
As a whole, we're pleased with the designs of the landing page templates—they look modern and appealing. Some of these ActiveCampaign landing page templates have also been designed with specific industries in mind. For example, if you're in the fitness or travel industries, you may find ActiveCampaign's "Cross Trainer" and "Travel" templates right up your alley.
If a particular template has caught your eye, you can preview it in larger detail to decide whether to use it. Don't worry if the template doesn't contain exactly all the content blocks you need, or contains content blocks that you don't need. You'll be able to customize the template's contents using the landing page builder.
Alternatively, you can build your own landing page from a blank template. And if you've saved previous landing pages you've created as templates, you can easily retrieve these custom templates for use in new ActiveCampaign pages.
If we could mention a point of improvement, it's that we'd love for ActiveCampaign to categorize its templates. That's because it's easy to skip over certain templates as you scroll through the current, long list of them. But this is a minor quibble.
ActiveCampaign Landing Page Examples
How have others used ActiveCampaign's landing page builder to create their landing pages? Let's take a look at some ActiveCampaign landing page examples.
Flycast Media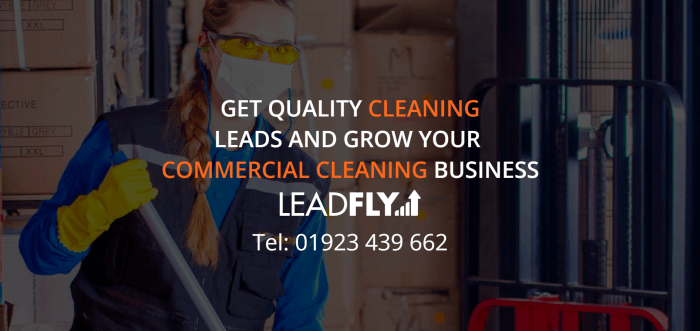 Advertising agency Flycast Media has a sister brand, LeadFly, which houses the agency's lead generation services for commercial cleaning businesses. The agency uses an ActiveCampaign landing page to promote LeadFly on social media and through Twitter advertising.
The LeadFly tagline takes up the entire hero section of the landing page, immediately catching your eye as you check out the page. While you have the option of phoning the business right away, some people may scroll down to read more about LeadFly—which is why Flycast Media has populated the landing page with information such as:
Its lead generation services for commercial cleaning businesses
Customer testimonials for social proof
What businesses can expect when they work with the agency
The landing page uses an email form to help interested visitors get in touch. But uniquely, Flycast Media has added the same form to the landing page not once but twice! According to the agency, this move ensures that "nobody gets lost on smaller touchscreens."
The agency also shared one interesting nugget of info with us: the email form at the bottom of the landing page converts better than its cousin above it. When you build your next ActiveCampaign landing page, it might be worth taking a leaf out of Flycast Media's book and adding two email forms to your page!
Startup Valencia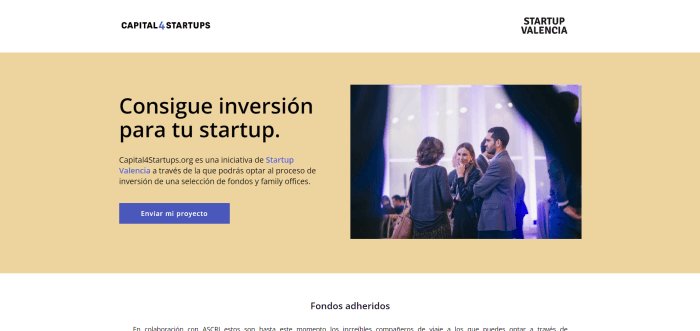 Startup Valencia is a private non-profit organization that represents startups in the Valencian Community in Spain. It runs various startup initiatives, but for our purposes, we're going to zoom in on just one of them: Capital4Startups.
Through this initiative, startups can submit their project through an ActiveCampaign landing page to seek investment from selected funds and family offices. This landing page follows a popular landing page design format, with its hero section containing:
A main headline, subheading, and a call-to-action button on the left, and
An attention-grabbing image on the right.
Most of the rest of the page is dedicated to convincing startups why Capital4Startups is worth applying to. For example, Startup Valencia has included a long list of investment fund partners with which applicants may be able to collaborate. It also describes how applicants will be matched to investment funds using an automated scoring process.
The landing page ends off with a short footer to recap what Capital4Startups is about, as well as social icons for visitors to connect with Startup Valencia on various social platforms.
Startup Valencia previously used a different landing page builder to build its landing pages. However, it switched to ActiveCampaign when the customer experience automation tool rolled out its landing page builder. Since then, Startup Valencia has been able to enjoy the convenience of managing its landing pages and marketing automations in one place.
Laboratoire Hollis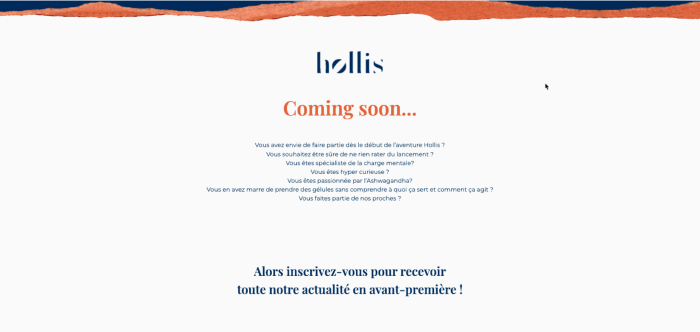 Perhaps your website is under construction, but you want to start marketing your brand nevertheless. No problemo—you can set up an ActiveCampaign landing page!
This is exactly what Laboratoire Hollis did when it was just starting out. Even while the organic nutritional supplements retailer was still setting up its website, users could visit its ActiveCampaign landing page to learn more about the business.
If users were interested in staying in touch, they could use the landing page's email form to leave their email address. Alternatively, they could visit Laboratoire Hollis' social media pages and give the business a follow.
The landing page also makes good use of ActiveCampaign's video embed feature. With it, Laboratoire Hollis was able to feature on its landing page a YouTube video that paid tribute to the extraordinary women in our lives.
When you visit the Laboratoire Hollis' completed website today, you'll notice that its color scheme matches that of the business's ActiveCampaign landing page. Likewise, when you create a landing page in ActiveCampaign, you'll be able to customize its colors to match that of your brand.
ActiveCampaign's Landing Pages vs Other Landing Page Builders
Instead of using ActiveCampaign's built-in landing page builder, you also have the option of using landing page platforms like Landingi or Leadpages. As dedicated landing page builder solutions, they may contain advanced landing page features that aren't found in ActiveCampaign.
For instance, A/B testing is possible in Unbounce and Leadpages. We also like Leadmeter's conversion assistant for assessing your landing pages' conversion potential. Neither of these features is available in ActiveCampaign.
Despite this, we still think it's worth using ActiveCampaign to build your landing pages because:
You can gain access to other customer experience automation features such as marketing automation, email newsletters, and customer relationship management (CRM) software with their Bundle plan. (Learn more about these in our detailed ActiveCampaign review.) You won't find such features in dedicated landing page builders, given their focus on providing landing page functionality.
ActiveCampaign can provide an affordable landing page builder option. This feature is available only on the Marketing Plus plan and up. As a result, you'll have to pay at least $70/month—assuming annual billing—to make use of ActiveCampaign's landing page features (and other customer experience automation features mentioned above). That said, this price point can be rather affordable compared to that of dedicated landing page builders. For example, you can expect to shell out at least $100/month to use Landingi or Unbounce!
If you'd like to learn about dedicated landing page builders in more detail, you'll find our guide to the best landing page builders useful.
If you'd like to compare other email marketing and CRM tools to ActiveCampaign, check out our ActiveCampaign alternatives guide. Almost all of them include a landing page builder! You can also compare ActiveCampaign and Mailchimp's landing pages.
Conclusion: Are ActiveCampaign's Landing Pages For You?
As a whole, ActiveCampaign offers a solid landing page builder for creating attractive landing pages without too much difficulty. For sure, it may not be as full-featured as dedicated landing page builders. However, ActiveCampaign's web personalization and site tracking features mean that you can still do some pretty advanced things with your landing pages.
If you already use ActiveCampaign (especially as a Marketing Plus plan user or up), we'd recommend tapping into its landing page builder. After all, you'll be able to integrate your ActiveCampaign pages directly with your existing customer experience automations to build complete sales funnels.
Even if you aren't an ActiveCampaign user, the platform's landing page builder is still a good choice. Remember, since they changed their plans and pricing, if you want access to CRM and customer experience automation features, you'll need to sign up for their Bundle plan.
>You can get started with ActiveCampaign here.
>Check out our ActiveCampaign tutorial to get your account set up with ease
If you have a question or comment about the feature, leave a comment and I'll get back to you!
We keep our content up to date
23 March 2023 - Updates to plans and pricing
Our Methodology
This article has been written and researched following our EmailTooltester methodology.
Our Methodology