ActiveCampaign is a fantastic email marketing service, but it's not for everyone. Perhaps you've tried it out and couldn't get your head around it, or perhaps you're specifically looking for a free or more affordable tool?
Whatever the reason, we're glad you're here, because we've got a whole host of excellent ActiveCampaign alternatives to show you! Most of which include a freemium plan.
Due to ActiveCampaign's breadth of features – we're talking email marketing to CRM software to live chat – we've included a range of alternatives to ActiveCampaign in order to cover different business types and requirements.
So let's get into it!
Quick overview: ActiveCampaign alternatives
Pros and Cons to Using ActiveCampaign
Firstly, I want to highlight all the pros and cons we've discovered whilst testing ActiveCampaign's software over a number of years. This way, we can determine what's most important to look for in other email marketing and CRM tools in order to find the perfect ActiveCampaign alternative for you.
Pros of ActiveCampaign
Cons of ActiveCampaign
No free plan
ActiveCampaign pricing plans are more expensive than many other providers
The reporting dashboard could do with an update. It would be useful to be able to create custom reports.
Slightly steeper learning curve than simpler ESPs like MailerLite.
It's not possible to export your list of deals from the tool.
You can try ActiveCampaign for free on its 14-day free trial.
The Best ActiveCampaign Alternatives (table)
This table outlines the main pros and cons of each of the best ActiveCampaign competitors, to help identify the areas they compete with ActiveCampaign and where ActiveCampaign might be a better option.
PROVIDER
PROS and CONS
PRICING

GetResponse

Good value for money
Sales funnel software
Advanced marketing automation
Freemium plan with good marketing features

Deliverability could be better
Ecommerce features only available on expensive plan

Free version availablePaid plans start at $19 per month

Brevo

Advanced automations and web tracking
CRM software and lead scoring
Very affordable
Allows unlimited subscribers in your database
Fully GDPR-compliant (EU-based company)

Daily sending limit on freemium plan
Multi-user access limited to Premium and higher plans
Slightly clunky interface

Free version availablePaid plans start at $25 per month
(Brevo charges per email rather than subscriber)Try for free

Omnisend

The free plan includes all features
Landing pages, email marketing automation and advanced segmentation
Ecommerce focused email marketing software

Missing tracking options
Limited integrations
Deliverability issues

Free version available

Paid plans start at $16 per month

Klaviyo

Free plan
Flexible form options
Dynamic product recommendations
Email benchmark data for industry comparisons

Limited range of email templates
Basic marketing automation features
Not as many reporting options

Free version available

Paid plans start at $20 per month

Drip

Ecommerce CRM tools
Advanced marketing automation
Contact tagging

On the pricey side
Only for ecommerce store owners

Prices start from $39/month

HubSpot

Excellent CRM with email marketing
Powerful free plan with unlimited users
Easy to use
Excellent support

Massive price jump for pro features like omnichannel marketing
Hidden fees
Basic email marketing templates

Free version available

Paid plans start from $20

EngageBay

Well-designed tool and CRM
Free plan and affordable paid plans

Limited integrations
No mobile app

Free version available

Paid plans start from $12.99/month

MailerLite

Generous freemium plan
Easy-to-use
Affordable
Excellent deliverability

Marketing automations could be more advanced
Limited reporting
No CRM

Free plan available

Paid plans start at $25 per month

Mailchimp

Thorough reporting
Additional features such as scheduling software and website builder
Free plan
Integrations with hundreds of other tools

Multistep automation workflows only available on higher-tier plan
Convoluted interface
Limited support on free plan

Free version available

Paid plans start at $13 per month

Salesmate

Easy-to-use
Advanced sales and marketing automation

Lacking automation templates
No freemium plan

Paid plans start from $15/user/month
Alternatives to ActiveCampaign in Detail
The following list is a mix of email marketing, CRM and all-in-one marketing tools, which are all excellent ActiveCampaign competitors for different reasons.
GetResponse – Excellent range of advanced features
GetResponse is good value for the number of features available. These include webinars, sales funnel software and advanced marketing automation, to name a few.
We used GetResponse for years as part of our own email marketing strategy and found the tool both easy to use and advanced. We were happy when the email builder was updated and a free plan added, not so happy when paid plan prices increased, which is why we moved over to Brevo (more on this tool below).
We've listed it as one of the best ActiveCampaign competitors due to its range of pro features. Find out more in this video:
What we like about GetResponse
Unlike ActiveCampaign, GetResponse offers a free forever plan, which includes autoresponders and a landing page/website builder.
The webinar software and visual conversion funnel software are also pretty unique to GetResponse.
What GetResponse could improve
GetResponse's deliverability could be better. Our bi-annual email deliverability tests show just average scores for this email marketing service, whereas ActiveCampaign tends to do pretty well.
GetResponse's contact relationship management capabilities are fairly basic. If you're in need of CRM functionalities like lead scoring and deal pipelines, you'd be better off with ActiveCampaign.
Another disadvantage is that ecommerce features are reserved for high-paying customers ($119/month). If you're an online store owner, Omnisend might be a better option for you.
> See how the marketing tools compare in our GetResponse vs ActiveCampaign guide.
GetResponse Pricing
Paid plans start from $19/month
See our GetResponse pricing guide for more information.
Brevo – A more affordable ActiveCampaign alternative
Brevo (previously known as Sendinblue) includes advanced automations, web tracking, CRM software and lead scoring, to name a few features. Unlike other providers, it charges based on the number of emails you send rather than how many contacts you have.
As I mentioned above, we're currently using Brevo as our main email marketing solution and are pretty happy with it. The automations are easy to set up and customer support has always been quick to respond and helpful. It also features one of the best WordPress plugins.
What we like about Brevo
It's great that marketing automation is included on the free plan. In fact, Brevo's plans are much more affordable overall. For example, for $35/month you'll be able to send up to 20,000 emails to unlimited contacts.
Brevo is also a transactional email service, something ActiveCampaign is not.
What Brevo could improve
Unfortunately, Brevo's reporting isn't as comprehensive as ActiveCampaign's.
The CRM also isn't as developed. It's missing both lead scoring and analytics; there is no reporting at all on deals.
Brevo Pricing
Paid plans start from $35/month
See our Brevo pricing guide for more information.
Omnisend – Ecommerce focused ActiveCampaign alternative
Omnisend made the best ActiveCampaign alternatives list due to its excellent features, which include landing pages, email automation and advanced segmentation. The big advantage to using Omnisend is that the free plan includes all features.
What we like about Omnisend
Because Omnisend is an ecommerce-focused email marketing platform, it includes a range of niche features that online store owners will find useful. For example, scratch cards, wheel of fortune, gift boxes and its smart product picker.
Other features include web tracking, SMS marketing and advanced segmentation. In fact, Omnisend integrates really well with Shopify. You can also use it with the following ecommerce platforms: BigCommerce, WooCommerce, Volusion, PrestaShop and Magento.
Compared to ActiveCampaign, prices are very reasonable considering Omnisend's range of automation features.
What Omnisend could improve
Unfortunately, it doesn't track the geo-location or social media of your subscribers.
Though it comes with all features, the sending allowance on the free plan is very low; 500 emails a month to 250 subscribers isn't very much at all. There are other more generous free email marketing services.
Unlike ActiveCampaign, Omnisend limits the number of emails you can send per month.
Omnisend Pricing
Paid plans start from $16/month
See our Omnisend pricing guide for more information.
Klaviyo – Unique ecommerce features at an affordable price
Klaviyo is a marketing automation platform that focuses on ecommerce, much like Omnisend. It offers some pretty unique features, including a user-friendly email editor that allows you to insert personalized product recommendations. What's more, Klaviyo provides email benchmark data, letting you assess your performance relative to others in your industry. If you're seeking a cost-effective ActiveCampaign alternative for your online store, Klaviyo is a compelling option to consider.
What we like about Klaviyo
One of Klaviyo's unique features is the ability to embed dynamic and personalized product recommendations in your emails. ActiveCampaign also has a similar product block feature, but it's limited to ecommerce stores on Shopify or WooCommerce, and it doesn't support dynamic product recommendations personalized for each contact.
When it comes to email form design, Klaviyo excels. It provides eye-catching templates and flexible layouts. But what makes Klaviyo stand out is that it lets you create multiple versions of email forms for split-testing purposes. While most email marketing services allow you to split-test emails, they don't typically offer the ability to split-test email forms.
In terms of pricing, Klaviyo is the more cost-effective option compared to ActiveCampaign. Unlike ActiveCampaign, Klaviyo includes all its features, including ecommerce integrations, in every plan. What's more, Klaviyo offers a free plan, which ActiveCampaign doesn't. If you don't need SMS marketing features, the price you pay for Klaviyo is solely based on the number of contacts you have and the number of monthly email sends you need.
What Klaviyo could improve
Klaviyo refers to their marketing automation feature as "flows," but they don't quite match up to ActiveCampaign. Firstly, Klaviyo offers fewer flow templates to help you get started. Additionally, the available automation actions are more limited, and each flow can only have one trigger.
While Klaviyo does provide useful default segments for subscribers and new subscribers, creating your own segments can be challenging. ActiveCampaign makes segment creation easier with clearer segmentation options. What's more, ActiveCampaign allows up to 20 conditions per segment, whereas Klaviyo limits you to 13 conditions.
Lastly, Klaviyo falls short in terms of the variety of reports available compared to ActiveCampaign (although its email benchmark reports are a definite advantage!).
Klaviyo pricing
Paid plans start from $20/month
Compare ActiveCampaign vs Klaviyo in our full guide
Drip – For ecommerce stores with some budget
Drip's top features include ecommerce CRM features and intuitive sales and marketing automation. You will have access to all features on all paid plans, paying more when your subscriber count rises. Though, be aware that if you go over the subscriber limit, you'll automatically be bumped up to the next plan (without warning).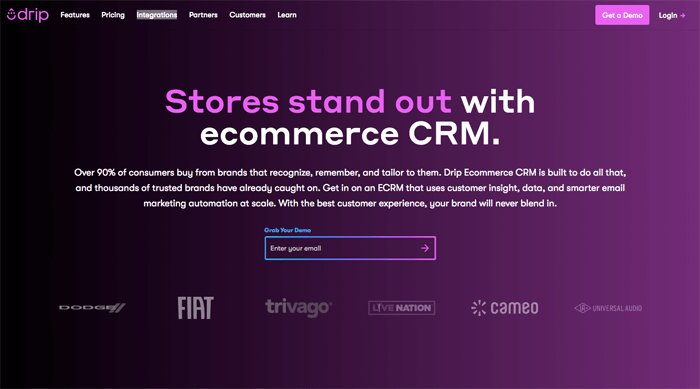 What we like about Drip
Like ActiveCampaign, Drip does a fabulous job of marketing automation. Drip is perhaps the easier of the two to master, and is excellent for ecommerce automations. You can even automatically tag users if they carry out a certain action, like visit a particular page.
It also includes CRM features such as a deal pipeline.
What Drip could improve
With prices starting at $39 and no free plan, Drip isn't the most affordable option for small businesses. That said, its prices are still more affordable than ActiveCampaign's. If you're looking for an even more affordable ecommerce solution, you should take a look at Omnisend.
Drip doesn't offer spam or design testing. I also found that ActiveCampaign's drag-and-drop editor gave me more flexibility, as there's a wider variety of content elements available (social links, RSS, video links, etc.). You can also insert conditional email content, for example, product offers based on a contact's purchase history.
Also, because running an ecommerce is a prerequisite for using Drip, ActiveCampaign is a more versatile tool.
> See how the marketing tools compare in our Drip vs ActiveCampaign guide.
Drip Pricing
Paid plans start from $39/month
HubSpot – The best ActiveCampaign alternative if you're looking for a CRM
As a true all-in-one-platform, HubSpot offers a comprehensive contact and deal management software. We highly recommend its free plan, which is a great choice for small businesses with small budgets.
What we like about HubSpot
HubSpot's free CRM plan is pretty generous, with the ability to add unlimited users and 1M contacts. This also includes their CMS, email marketing, website tracking and a landing page builder.
Despite its excellent functionality, HubSpot is very easy to use. It also offers very good customer support and free online courses.
Something quite unique to HubSpot is the call feature. This enables users to make and record calls from within the platform, and it's available on all plans (with varying time limits).
What HubSpot could improve
Omnichannel marketing automation is very expensive with HubSpot – we're talking $890 a month expensive! Which is why we only recommend its free and Starter plans.
ActiveCampaign, on the other hand, allows you to incorporate other channels such as social media, landing pages, SMS and live chat for a much more reasonable price.
> See how the marketing tools compare in our HubSpot vs ActiveCampaign guide.
HubSpot Pricing
Paid plans start from $20/month
See our HubSpot pricing guide for more information.
EngageBay – Good all-rounder
EngageBay is a great ActiveCampaign alternative for both sales and marketing teams. It offers a myriad of features including email marketing, deal management and marketing automation. We rated it very highly in our best CRM software for small businesses guide.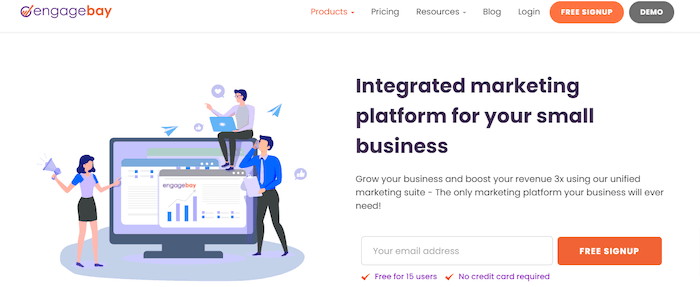 What we like about EngageBay
EngageBay has a very clean, intuitive interface, which makes it a great choice for beginners.
Additional features include live chat/helpdesk, ticketing and appointment scheduling, making it a real all-rounder when it comes to digital marketing and sales.
Its plans are very affordable, more so than ActiveCampaign's. The all-in-one plan, which comes with most advanced features, will cost you just $49.99/month for 10,000 contacts. ActiveCampaign would cost something closer to $300/month for the similar features and number of contacts.
What EngageBay could improve
Its list of direct third-party integrations is not very big, whereas ActiveCampaign offers direct integrations with over 870 apps.
EngageBay also doesn't have a mobile app.
EngageBay Pricing
Paid plans start from $12.99/month
MailerLite – More affordable ActiveCampaign alternative for beginners
MailerLite is an excellent email marketing service for those with little experience. The drag-and-drop editor as well as the rest of the software is really easy to use, perhaps the easiest we've come across. But that doesn't mean it's in any way basic.
You can actually do quite a lot with MailerLite, be it building beautiful emails, landing pages or websites or automating list management and email marketing campaigns.
What we like about MailerLite
MailerLite's free plan is very generous; it comes with 1,000 subscribers and 12,000 emails p/m. It also includes automations, landing pages and reports. They also offer an SMTP server for transactional email via MailerSend.
MailerLite's deliverability is the best around, according to our bi-annual tests. They also offer well-designed, modern landing page and newsletter templates (though only basic structural email templates are included on the freemium plan).
What MailerLite could improve
MailerLite's reporting features are nowhere near as sophisticated as ActiveCampaign's. You also won't have as much information on contacts or any kind of sales features such as deal pipelines.
> Learn more about MailerLite vs ActiveCampaign in our detailed comparison.
MailerLite Pricing
Paid plans start from $19/month
See our MailerLite pricing guide for more information.
Mailchimp – Email marketing service with a shallow learning curve
According to its market share, Mailchimp is much more popular than ActiveCampaign. So what does it have to offer that ActiveCampaign doesn't?
The big appeal of Mailchimp is its free plan, which you can use to send up to 10,000 emails a month to 2,000 subscribers. Other features available with Mailchimp (but not ActiveCampaign) include scheduling software, an ecommerce builder and transactional emails.
What we like about Mailchimp
Mailchimp is known for being easy to use, and we have to agree. The reports are also very detailed and even include conversion tracking and social media.
Based on our most recent deliverability tests, Mailchimp also manages to get pretty decent results.
Design testing and email client preview (previewing your email on Gmail or Outlook, for example) are included on paid plans. ActiveCampaign charges you $1 per preview.
What Mailchimp could improve
ActiveCampaign allows you to track visitors on your site and has so many more automation templates than Mailchimp. You can also send ultra-personalized emails to your subscribers with conditional email content.
This means that you can show each subscriber the products that are relevant to them – something Mailchimp doesn't offer. These ActiveCampaign pros prompted us to include it as one of the top Mailchimp alternatives.
> See how the marketing tools compare in our ActiveCampaign vs Mailchimp guide.
MailChimp Pricing
Paid plans start from $13/month
See our Mailchimp pricing guide for more information.
Salesmate – Well-designed CRM software
Salesmate is a powerful CRM platform that comes with a good range of features. It includes everything from contact management and sales and marketing automation to built-in calling and live chat. All this makes it a good ActiveCampaign alternative.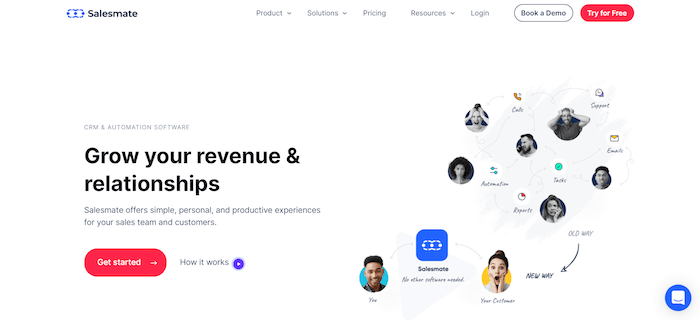 What we like about Salesmate
I found the software very user-friendly in general. The dashboard is well-designed and uncluttered.
The automation builder, in particular, is very easy to use, since you can visually map out your workflows. You also have tons of triggers and conditions to choose from.
It includes built-in calling and text on all plans.
What Salesmate could improve
Unfortunately, there are no automation templates, which means that setting up a workflow automation may take you a little longer than with ActiveCampaign or another marketing automation software.
Salesmate doesn't offer a free plan, and you're charged per user, even on the higher-tier plan. ActiveCampaign allows for up to 25 users on its Plus plan, so this might work out more affordable if you have multiple users (e.g. numerous sales agents).
Salesmate Pricing
Paid plans start from $15/user/month
Free ActiveCampaign Alternatives
Since price is such a big factor for small businesses, and many are looking for a cheaper alternative to ActiveCampaign, let's recap which of the above email marketing and CRM software offer a freemium plan. The best ActiveCampaign alternatives for those on a budget include:
Best free email marketing services:
> Brevo (formerly Sendinblue)
Best free CRM solutions:
Conclusion: The Best Alternative to ActiveCampaign
So there you have it, an ActiveCampaign alternative for everyone!
As you can see, there are plenty of excellent sales and marketing tools out there that have something ActiveCampaign doesn't. What's more, we've tried to include services that are either more affordable or similarly priced, so you can get the most value for your money.
With all CRM and email marketing services, there are always pros and cons, so it's important to make a list of the key features you require and work out how much you're willing to spend on them.
Do you want to collect more email subscribers? Check out our guides on how to build an email list and email marketing lead generation.
Find out how to set up your ActiveCampaign account in our full tutorial.
This list of ActiveCampaign alternatives should give you a good idea of which tool is right for you. Of course, if you still have any doubts, please drop us a comment below and we'll do our best to help.
ActiveCampaign Alternatives FAQs
We keep our content up to date
10 Jul 2023 - Added Klaviyo
09 Jul 2023 – Smaller updates
25 Apr 2023 - Hubspot video review added
19 Apr 2023 - A few smaller updates
22 Dec 2022 - Get Response updated free plan
01 Dec 2022 - Video review of Omnisend added
29 Nov 2022 - New ActiveCampaign video added
Our Methodology
This article has been written and researched following our EmailTooltester methodology.
Our Methodology