I'm subscribed to a few nonprofit organizations' email lists, and I always feel a bit dismayed when I receive their email newsletters.
Their emails were clearly written in plain text in their regular email client, then BCC'ed to everyone on their list.
Sending marketing emails in this way isn't impossible, but the emails tend to look drab and uninspiring — limiting their ability to secure donations or volunteers.
I also shudder at the amount of manual effort involved in splitting up a master list to send emails to only certain list segments. (If the organization isn't put off by the hassle of doing so, that is…)
All this is a pity because these nonprofits champion causes I care about. I can't help but think that if they invested in a dedicated email marketing tool, they'd be able to market to donors — and bring in donations — more effectively.
With this in mind, I've researched and put together this guide to the nine best email marketing platforms for nonprofits. Give them a try if you handle marketing at your nonprofit. I'm confident they'll improve your email marketing efforts by leaps and bounds!
Best Email Marketing Platforms for Nonprofits: A Summary
The nine best email marketing software for nonprofits are:
These tools contain the core email marketing features you'll need to build your nonprofit's email list, automate your email campaigns, and send targeted emails to contacts — all of which can help your nonprofit get more donations, volunteers, and awareness of your cause.
They also have exclusive nonprofit discounts offering up to 50% off their plans' usual prices!
What Features Should a Good Email Marketing Platform for Your Nonprofit Have?
As you look for an email marketing platform for your nonprofit, I'd recommend shortlisting platforms with these features:
Ease of use
You're in the business of promoting your charitable cause — not fiddling around with email software. So, pick an email platform that makes managing your email campaigns, automations, and contacts a breeze. (MailerLite is our top pick here.)
This way, you can handle your email tasks quicker, then get on with your main operations.
A wide range of beautiful email and form templates
Well-designed emails and forms not only look more professional, but can also improve conversion rates as they invite users to interact with them.
Shortlist email marketing services that offer beautiful email and form templates you can easily customize with your own content. With no coding needed.
Contact segmentation
Want to email contacts living in a certain location about your upcoming fundraiser there? Or send your volunteer recruitment email to just contacts who have expressed interest in volunteering?
That's where an email platform with comprehensive contact segmentation features will come in handy. It'll help you group your contacts based on shared characteristics, so you can create personalized campaigns that appeal to their interests and get them engaging with your emails more.
Marketing automations
An email platform with advanced marketing automation features brings efficiency to your operations: they can automate your marketing tasks so you and your teammates don't have to do them.
Our favorite email marketing software for automations is ActiveCampaign, but many others also have strong automation capabilities.
Value-for-money plans (and special nonprofit pricing offers!)
Email marketing costs are always a major consideration, and even more so as you stretch your nonprofit budget as far as you can.
The good news is that various email platforms offer nonprofit discounts ranging from 15–50%, which you can claim by submitting proof of your organization's nonprofit status.
Compare these platforms' plans — after factoring in their nonprofit discount — against the features you'll get at that price point to find the most value-for-money option for your nonprofit.
9 Best Email Marketing Platforms for Nonprofits
1. GetResponse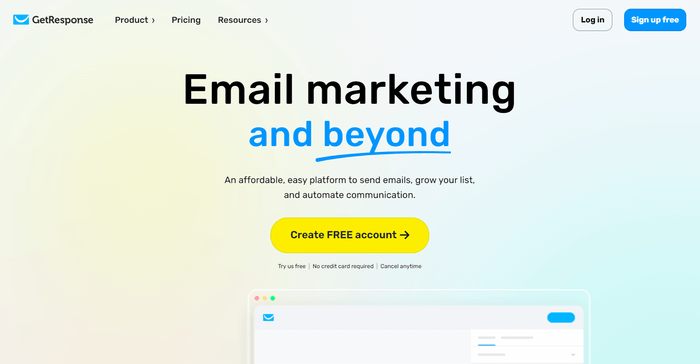 GetResponse is an excellent choice if you want an all-rounder nonprofit marketing platform. Not only can it help you create email forms for generating leads, but it can also help you market to potential donors via Facebook ads and web push notifications.
The platform also has powerful marketing automation features, which are available from the Marketing Automation plan or higher. This plan isn't cheap at $59 per month on monthly billing for up to 1,000 contacts.
But if you confirm your nonprofit's non-governmental organization (NGO) status with GetResponse's verification partner, and aren't a political organization, you can claim a discount of up to 50% off any GetResponse plan!
This discount needs to be renewed every 24 months and will apply forever as long as you do so.
GetResponse's key features
Marketing automation: GetResponse offers pretty sophisticated marketing automation features for automating actions like sending drip campaigns, or updating your contacts' information within your account when they buy from your online store.
Website builder: If your nonprofit doesn't already have a website, GetResponse's website builder can help you create one. You can build your website using a template or with the help of AI!
Conversion funnel: Build entire funnels for creating awareness of your nonprofit, then nudging users to make donations, right within GetResponse itself. I didn't find many other email marketing tools with similar end-to-end sales funnel functionality.
> Read our full GetResponse review
2. MailerLite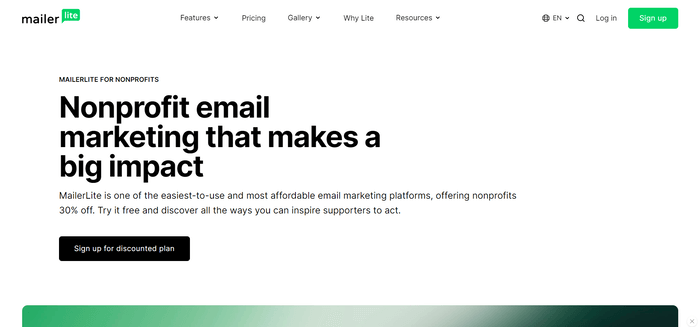 MailerLite has strong email marketing functionality, including signup forms, landing pages, email automations, and a drag-and-drop email builder. It also packs marketing features like a website builder and digital product fulfillment.
And the platform is incredibly user-friendly — so much so that it's earned our Best Email Marketing Tool For Ease of Use badge for 2023.
MailerLite gives nonprofits 30% off its pricing plans, making its already affordable plans even easier on your nonprofit's budget. Take advantage of this discount if you have multiple people on your nonprofit's email marketing team — among other limitations, the platform's free plan is good for only one user.
Otherwise, MailerLite's free plan is generous (more details below!) and I'd recommend starting with it first.
MailerLite's key features
Generous free plan: The platform's free plan lets you send up to 12,000 monthly emails to up to 1,000 subscribers. You can also build email automations for free — some email platforms I've reviewed tend to make automations a paid feature. But if you need a paid plan, you'll like how MailerLite offers nonprofits a 30% discount.
Sell digital products: Conveniently sell your nonprofit's ebooks, art prints, and other digital products using MailerLite. You don't need to integrate a separate ecommerce platform.
Dynamic emails: Customize your emails' contents based on your subscribers' characteristics to increase engagement. For example, you can insert a thank-you message in your newsletter and have it appear for only subscribers who had donated to your recent campaign.
> Read our full MailerLite review
3. ActiveCampaign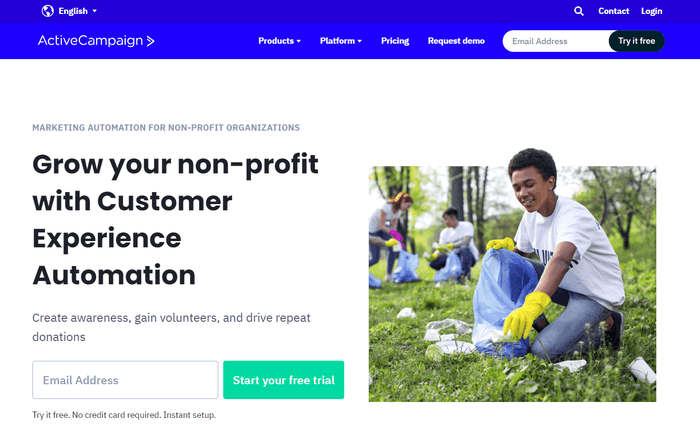 From email forms to landing pages and contact segmentation, ActiveCampaign has all the usual marketing features. But automations are the platform's major selling point.
Its email automation software features are among the most advanced and flexible I've seen in the market, helping you automate possibly any marketing task you can think of. This is beneficial when you're trying to get as much done with the limited budget and manpower at your disposal.
For example, you could set up an automation that emails a donation appeal one day after a user browses your fundraiser page. Alternatively, use an automation to display a site message about your upcoming charity run to people visiting your home page.
From experience, ActiveCampaign is one of the pricier email marketing software options on the market. But it has a 20% discount for nonprofits, which you should absolutely claim if you make it your nonprofit's email tool of choice!
ActiveCampaign's key features
Marketing automation: There is an especially wide range of marketing automation triggers and actions to choose from. You can also set up split actions to tailor your engagement with users based on their specific characteristics, or test and discover the most effective versions of your campaigns.
CRM: ActiveCampaign's built-in CRM (customer relationship management software) lets you manage all your donor data, and communications with them, in one place. Note that the CRM is priced separately from ActiveCampaign's email marketing plans, however.
Attribution: You can track the various touch points that led to conversions, which is helpful for identifying and doubling down on your most effective nonprofit marketing channels.
> Try ActiveCampaign in a free trial
> Read our full ActiveCampaign review
4. Mailchimp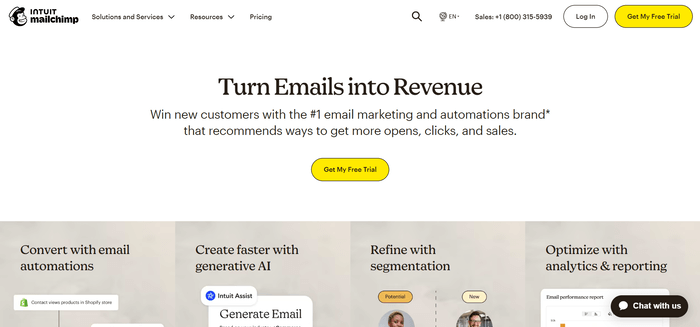 Mailchimp is well known for its email marketing features, which include email templates for designing campaigns, signup forms, landing pages, automations, and A/B testing. The platform also includes useful features for marketing via Facebook ads integrations, Google ads, and more.
Mailchimp's free plan is good for sending up to 1,000 monthly emails to up to 500 contacts, but its automation features are limited.
You can try the latter — and other advanced features — for a month at no cost by signing up for the platform's one-month free trial of its Essentials or Standard plans.
And if you end up choosing the 'chimp, reach out to customer service to secure your 15% nonprofit discount. (Note: this discount doesn't apply to third-party purchases like domains or Facebook ads.)
Mailchimp's key features
Omnichannel marketing: Market to donors using not just emails, but also social media ads, Google ads, and even postcards!
Surveys: Create surveys to learn your contacts' interests so you can customize the fundraisers, volunteer opportunities, or merchandise you market to them. I don't commonly see this feature in other email platforms.
Delivery by time zone: Called "Timewarp," this feature sends your campaigns in your recipients' time zones instead of yours. It's perfect for helping your emails reach your recipients at the best time no matter their time zone.
> Read our full Mailchimp review
5. Brevo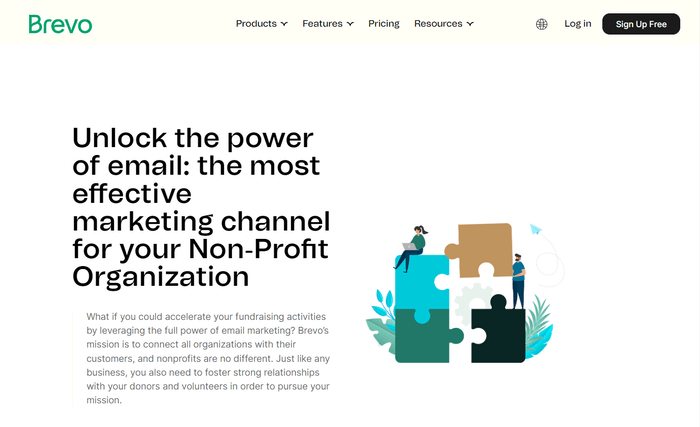 Brevo (formerly known as Sendinblue) is an all-in-one marketing platform for creating forms and landing pages, managing your contacts in a CRM, offering live chat support, and automating your email, SMS, and WhatsApp campaigns.
If your nonprofit regularly engages with donors via phone calls, you'll like how Brevo can provide you with phone numbers (and your first number is free!). It also lets you manage all your call logs, recordings, and received voicemails in one place. I didn't find similar phone features in many other platforms I checked out.
However, Brevo's nonprofit promo is more modest. Nonprofits get a 15% discount on just the platform's enterprise-level BrevoPlus plan, which includes perks like a dedicated account manager and a customized shared inbox.
You'll need to ask for a custom quote if you're interested in BrevoPlus — which is another way of saying it'll be expensive.
So, unless your nonprofit is a larger organization with deeper pockets and a need for enterprise-level features, you won't be able to benefit from a nonprofit discount.
That said, Brevo's lower-tiered plans are generally affordable to begin with. And they're also priced based on monthly email volumes rather than list size.
As a result, Brevo could still be a cost-effective option if you have a larger mailing list that you don't email to often.
Brevo's key features
Ease of use: Brevo's interface is pleasing to the eye and a breeze to navigate. It loads fast, too!
Omnichannel marketing: Apart from email marketing, Brevo also provides features for engaging your audience via WhatsApp and SMS marketing, Facebook ads, live chat, and even international calls.
A/B testing: Test two email campaign variants at once to learn which one resonates with your contacts more. You can also customize the size of your test groups, the criterion that determines a winning email, and your test duration.
6. HubSpot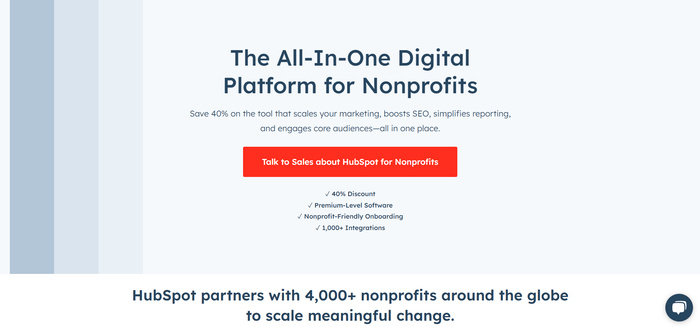 If you plan on managing your fans, donors, and sponsors in a CRM with email marketing tool, HubSpot may be a good bet. Its CRM is user-friendly and will faithfully log your contacts' every interaction with you — be it the receiving of your emails, website visits, purchases, or something else.
With HubSpot, you can also design email forms, landing pages, and even entire websites if you want to revamp yours.
HubSpot is currently running a special offer for its CRM Suite Starter plan, where eligible customers can pay just $20 per month (on monthly billing) to access a CRM, up to 10 automated email and form actions, and customer service features like live chat.
But if you need more premium features like omnichannel marketing automation, and email and landing page A/B testing, you'll need to get the CRM Suite Professional plan or higher — and these are much more expensive.
For example, the CRM Suite Professional plan is $1,200 per month!
HubSpot does offer a 40% nonprofit discount, but your final email bill might still be quite high. (And no, the nonprofit discount doesn't stack with the special CRM Suite Starter plan offer, unfortunately.)
HubSpot's key features
CRM: HubSpot offers a powerful CRM for creating comprehensive profiles of your contacts' personal information, communications with you, the pages on your website they've visited, and more.
List segmentation: Use the platform's extensive segmentation options to carve out targeted lists of contacts, then precisely customize your marketing interactions for each list.
Landing pages: Build attractive landing pages with HubSpot's drag-and-drop landing page builder. There are also many unique content blocks for fleshing out your page content — including image sliders, logo grids, and language switchers.
> Read our full HubSpot review
7. Moosend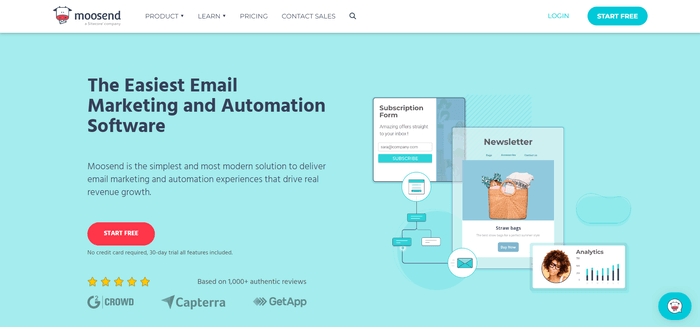 Moosend is worth a look if your nonprofit organization has limited marketing funds and a small email list.
Although it doesn't have a free plan, the platform lets you build email forms and automations, and send email marketing campaigns, for just $9 per month for up to 500 subscribers (on monthly billing). What's more, nonprofits enjoy a 25% discount on every purchase on Moosend's platform.
But Moosend wouldn't be my top choice if you prioritize speed and ease of use. For one, the platform's pages take a little bit longer to load than I would like.
Its interface can also be clunky: I find it a pain to have to fill out multiple information fields before I can start designing my email campaigns and forms. And Moosend's email form templates aren't the prettiest, either.
For the same $9 per month price point, I'd recommend trying MailerLite, whose interface is much easier to navigate. And its nonprofit discount is slightly higher too!
Moosend's key features
Automations: You get a nice range of triggers and actions for automating your workflows. Multi-trigger automations and conditional automation flows are also possible.
Google Analytics tracking: If your website has Google Analytics installed, Moosend can help track the traffic that your campaigns send to it.
RSS campaigns: Moosend can connect to your website's RSS feed to automatically create new campaigns whenever you publish new blog content on your website. It's super convenient!
> Read our full Moosend review
8. Constant Contact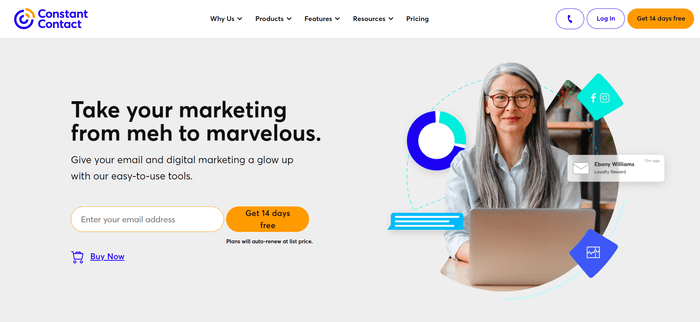 Constant Contact has been in the email scene for quite some time now, and it constantly (pun intended, sorry!) adds to its suite of marketing features to keep its appeal up.
For example, apart from helping you design email forms and landing pages, automate your email campaigns, and monitor your campaign performance, Constant Contact also offers SMS and social media marketing features.
But maybe the platform should work on improving its core email marketing features first: its email forms look plain and lackluster, while its automation features are quite basic.
And while not exorbitant, Constant Contact's pricing plans aren't the cheapest either. So, even with the platform's nonprofit discount of up to 30%, you may find it more worthwhile to opt for another similarly priced — but more full-featured — email platform instead.
Constant Contact's key features
Drag-and-drop email builder: Designing emails is easy in Constant Contact. There are also less commonly seen action blocks like events, polls, and RSVP, which give you more ways of interacting with your contacts.
Events: Create event pages for fundraisers and other events directly within Constant Contact. You can even issue tickets and take payments for paid events. I didn't come across many other platforms with similar built-in events functionality.
Email heat map: Track the locations of the most-clicked links in your emails, so you can optimize your links' positions for higher clickthrough rates.
> Try Constant Contact in a free trial
> Read our full Constant Contact review
9. Mailjet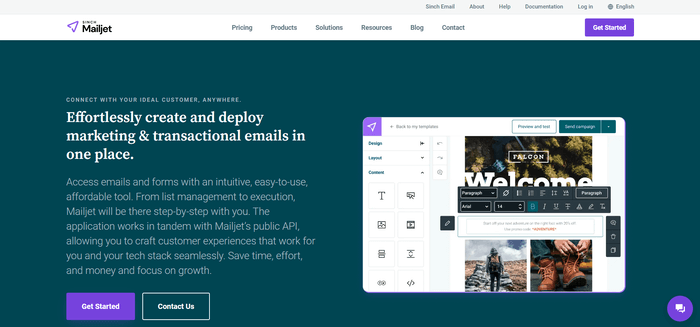 Mailjet is more of a transactional email service, helping you send emails relating to account creation, order confirmation, and other actions users take on your website. But it has useful email marketing features too.
These include an email campaign editor that supports real-time collaboration, email automations, contact segmentation, and A/B testing.
Mailjet also stands out for charging based on monthly email volume instead of contact list size like what email platforms typically do. Nonprofits can get a 20% discount on a monthly subscription.
However, the discount doesn't apply to annual subscriptions or in-app purchases (like email address verifications).
Mailjet's key features
Real-time collaboration on email templates: You can have multiple team members edit your Mailjet email templates at once. I don't commonly see this feature in competing email platforms.
Email previews: Double-check how your email will look on over 30 email clients and devices before sending it. Not many email platforms let you preview your emails on this many email client-device combinations.
Linked sections: When you make changes to these special content sections, they will automatically update in all the email templates you've added them to. Again, this isn't a feature you see every day!
> Read our full Mailjet review
Picking the Best Email Marketing Platform for Your Nonprofit
There are many email marketing tools out there, but I find the nine covered above to be among the top options for nonprofits in terms of features, cost, and nonprofit pricing offers.
To sum up my findings, the best email marketing platforms for nonprofits are:
If any of these have caught your eye, try them before buying by signing up for their free plans or trials!
And if you're looking for other nonprofit tech tools, check out our guide to the best website builders for nonprofits.
Have a question? Leave a comment below and we'll follow up from there!
Our Methodology
This article has been written and researched following our EmailTooltester methodology.
Our Methodology