As far as email marketing platforms go, Constant Contact is a dinosaur.
Founded over 25 years ago, it saw its user base grow significantly around 2011 but has since lost a lot of traction to competitors like Mailchimp. On top of their email marketing tools, they have introduced a variety of new features, ideal for entrepreneurs and small business owners.
Nowadays, Constant Contact offers a selection of eCommerce tools for your online store, a handy website builder, a logo maker, and more.

Comparing the popularity of Constant Contact Vs Mailchimp
On the one hand, this is understandable as the market is becoming more competitive. But it could also mean their product isn't as impressive as it once was, especially as a small business email marketing service. In this article, we'll look at the number of reasons why people are looking for a better Constant Contact alternative, and which providers to check out.
Main Limitations of Constant Contact
As you can read in our detailed review, Constant Contact has impressed us with their niche features in the past, however, there are a number of ways in which they fall behind their competitors:
No deep automations, only autoresponders: Their autoresponders include welcome and anniversary emails, as well as triggered automations based on opens and clicks. What it's lacking are more advanced automation triggers and the flexibility to combine conditions and actions.
Email templates & editor: The email templates are a little dated and the editor lacks some flexibility compared to other tools, for example, there is no design or spam testing available.
Registration forms: These are pretty basic and hard to customize. The fact that you can't add any custom fields in the form builder is very limiting, which is not great for list building!
Customer support: Our experience with customer support, whether via email or live chat, wasn't the best.
Prices: Considering Constant Contact's lack of advanced features, their plans are on the expensive side. As you'll find out below, there are plenty of more affordable options on the market.
So if you're looking for alternatives to Constant Contact with better features and more affordable prices, read on.
Here Are 12 of the Best Constant Contact Alternatives
| Provider | Comment |
| --- | --- |
| Brevo (formerly Sendinblue) | Strong reporting options which Constant Contact lacks. The automations and transactional emails are also superior, plus it's a much more affordable option. |
| ActiveCampaign | Unlike Constant Contact, ActiveCampaign offers advanced email marketing automation and numerous list management tools. Its CRM features are also a big advantage. |
| GetResponse | Powerful automations and sales funnel features. Available in 17 languages. They also offer a free landing page tool and webinars. |
| MailerLite | Cheaper price plans than Constant Contact, with good features and an excellent user interface. Great landing page builder with modern templates. |
| HubSpot | All-in-one service with CRM and excellent automations. Free plan available |
| EngageBay | Affordable and feature-rich marketing automation platform with unified CRM for SMBs. Costs less than Constant Contact. |
| Omnisend | Strong feature set for online store owners, and they have a generous free plan. |
| Campaign Monitor | Intuitive platform with excellent newsletter templates. |
| SendPulse | Creating multi-channel campaigns (e.g. emails, SMS, push notifications, etc.) is possible, and they have a generous free plan. |
| MailChimp | More popular than Constant Contact, and the free plan gives you access to a great selection of features. Excellent reporting. |
| BenchMark | Better international email campaign options than Constant Contact. |
| ConvertKit | More focus on bloggers and automation than Constant Contact. |
Most popular Constant Contact Competitors in Detail
Interested in learning more about which platform will best serve your email marketing strategy? Here are your answers.
1. Brevo (formerly Sendinblue)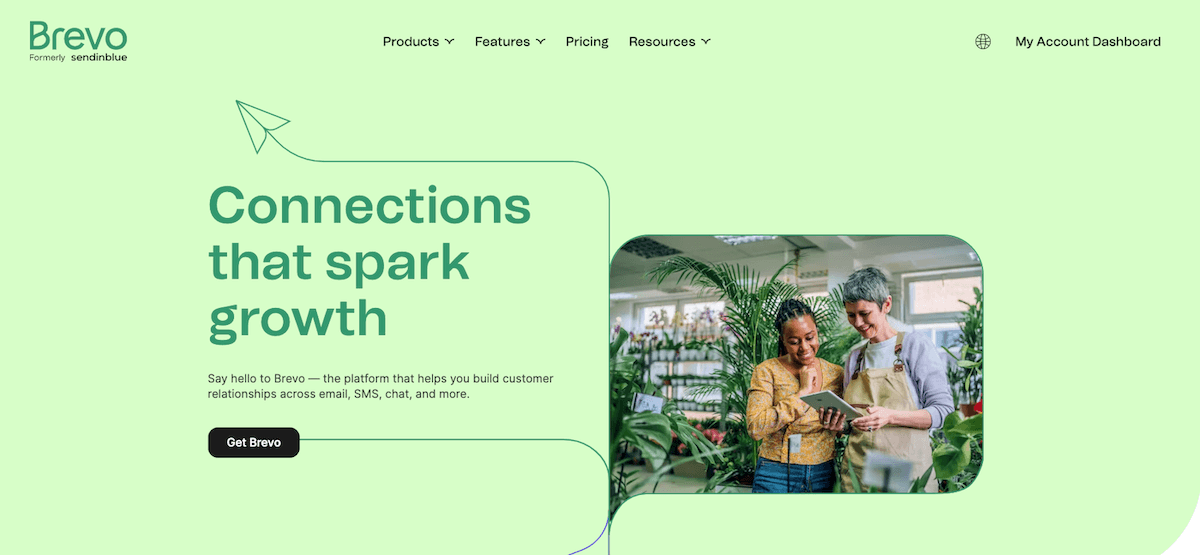 Brevo vs Constant Contact, what do you need to know?
We think Brevo is a great fit for those looking for a Constant Contact alternative. The French email marketing service has some interesting features, including the ability to send SMS and transactional emails (via SMTP or API) as well as newsletters, of course.
They have some impressive automation and reporting features too, and although they may not be as powerful as ActiveCampaign or GetResponse's (see below), they will definitely get the job done for you. When you consider all of this alongside Brevo's very affordable prices, it makes them our top Constant Contact alternative.
Let's see it in action in the video below:
Pricing per email
9,000 emails: $0/mo (with a limit of 300 emails per day)
20,000 emails: $25/mo
40,000 emails: $35/mo
60,000 emails: $49/mo
100,000 emails: $69/mo
One thing to note about Brevo: they charge per email and not per contact. That means you can have unlimited contacts in your database without being charged extra for them.
What we like about Brevo
At first glance, their free plan is generous, but there's a catch: you can only send up to 300 emails per day. However, their paid plans are some of the most affordable among Constant Contact competitors and they even come with unlimited contacts. Available in 6 different languages and fairly easy to use.
Comes with most of the reports you'll need (Google Analytics as your campaign monitor, geo-tracking, click maps, etc). The automations are also surprisingly advanced, and they offer a landing page builder too.
What they should improve
Brevo's integration options are a little on the low side, especially when you compare it to Constant Contact's 400+ integrations. Deliverability could be better too.
Who is Brevo for
Those looking for a really affordable tool that does a little bit of everything, and does it pretty well.
2. ActiveCampaign
ActiveCampaign is the top-rated email marketing service on our comparison list. In our detailed Active Campaign review, we highlight them as a powerhouse marketing automation tool, and there is indeed a lot to like about their offer. The features, in particular, seem to attract email marketers who want complete control over how and when their messages are sent to users. Follow-up campaigns, multiple conditions and if/then/else logic means tons of flexibility for creating complex workflows and sales funnels.
But isn't it a bit much for beginners? Take a look at the video below to understand why we call them the automation champs.
Pricing per contact
Up to 1,000: $39/mo
Up to 2,500: $61/mo
Up to 5,000: $99/mo
What we like about ActiveCampaign
Email automations and list management are really solid. They let you create complex workflows and well-targeted email campaigns, where you can personalize the message you send to your readers. ActiveCampaign's reports and analysis are great as you can dig into the data in order to refine your campaigns and communications. Our experiences with support are always really positive. They also have great deliverability.
What they should improve
Prices. They can become rather expensive if you have a lot of contacts. We'd also like to see more informative spam tests: right now it's either pass or fail and you don't get a clear explanation about what is wrong.
Who is ActiveCampaign for
Users who are serious about marketing automations and have a decent budget, as they can be expensive. There's no free version (but a 15-day free trial), so ActiveCampaign really targets marketing professionals and more established businesses.
3. GetResponse
Tons of pro features, competitive prices… what's not to like about GetResponse's email marketing platform? Well, their claim that they are "the easiest newsletter tool available", maybe? After all, nobody likes boasting.
But as you'll see in our review, this Polish-based company might have certainly empowered email marketers with their outstanding features. They could even work for beginners who don't have a website yet thanks to their website and landing page builder. Take a look at our video below to find out more information:
Pricing per contact
Up to 500: $0/mo
Up to 1,000: $19/mo
Up to 2,500: $29/mo
Up to 5,000: $54/mo
Up to 10,000: $79/mo
What we like about GetResponse
Automations, list management and multilingual options (27 languages) all make this a great tool. Best design and spam testing tool we've tried. It comes with a landing page editor, which makes it an appealing solution for those starting out in email marketing who don't have a website yet.
What they should improve
Unfortunately, automation is reserved for the Marketing Automation plan and higher. You're limited to 1GB for content and media uploads, but that shouldn't be a problem for most users. Another disadvantage is that they don't score too well in our deliverability tests.
> Compare ActiveCampaign vs GetResponse here
Who is this for
Marketing managers or small business owners who want a powerful tool and have a good grasp of advanced features.
4. MailerLite
Our favorite, most affordable newsletter service: MailerLite. Don't let the fact that they are a young company scare you off: it actually plays in their favor. From the modern feel of the platform to the minimalist and efficient templates, these guys seem to know exactly what they're doing.
Combine that with the fact that they offer very good features at a good price, and you have a very exciting proposition for your next email marketing tool, as you can see below:
Pricing per contact
Up to 1,000: $0/mo
Up to 2,500: $25/mo
Up to 5,000: $39/mo
Up to 10,000: $73/mo
What we like about MailerLite
Great free plan and really affordable paid plans with a limited number of contacts, but unlimited emails. Super easy to use, one of our favorite tools, with an intuitive and pleasant backend design. Comes with automations and a good list management system, (although not as powerful as Active Campaign or GetResponse).
Available in 7 languages and they even offer support for most of them. Users without websites can still create landing pages to redirect traffic towards social media pages for instance.
What they should improve
We'd like to see more powerful automations and reporting; these would allow users to get more data about their subscribers to improve further communications. And they really need spam and design testing to preview how emails will look through different email providers (e.g. Gmail) or to understand email deliverability issues (though they perform very well in our deliverability tests).
Who is this for
This is ideal for small businesses or freelancers who want to start with email marketing cheaply or even for free. All MailerLite's paid plans come with all the features included. Plus, you get 1,000 contacts and 12,000 emails for free.
5. HubSpot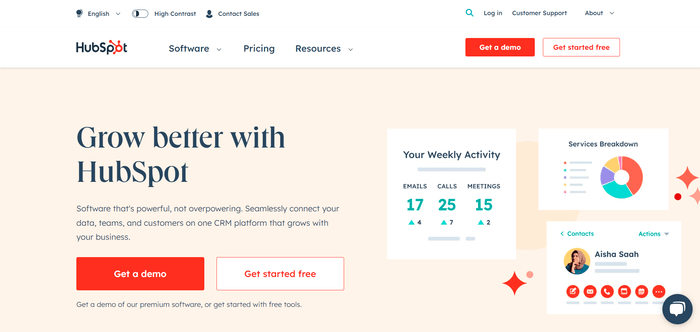 HubSpot is an all-in-one marketing and sales platform that offers a wide range of features to help automate various aspects of your business. From task automation and lead notifications to email marketing campaigns, HubSpot provides a comprehensive solution for streamlining marketing efforts.
Pricing per contact
Free plan for up to 2,000 email sends per month
Up to 1,000 contacts and 5x email sends: $20 per month (Marketing Hub Starter plan)
Up to 5,000 contacts and 5x email sends: $96 per month
Up to 10,000 contacts and 5x email sends: $176 per month
What we like about HubSpot
HubSpot's all-in-one approach stands out, allowing businesses to consolidate their marketing and sales tasks under one roof. The platform's extensive range of features, including email marketing, website builder, landing pages, CRM, and more, makes it a powerful solution for automating multiple tasks.  The free plan is especially appealing for small businesses, providing a huge range of features to manage contacts and leads without any cost.
Despite its feature-rich nature, HubSpot remains user-friendly, making it accessible to businesses of all sizes.
Where they should improve
One area where HubSpot can improve is pricing clarity. With numerous plans, bundles, and suites, understanding the different features and their associated costs can be confusing for potential users. Additionally, the higher-tier plans come with steep onboarding fees, making it less appealing for businesses with limited budgets.
HubSpot's email deliverability performance, ranking low among the 15 email marketing providers we tested, is also a potential red flag.
Who is HubSpot for:
HubSpot is ideal for well-established businesses with larger budgets, particularly those looking to make the most out of its wide array of features. The higher-tier plans are better suited for users who can fully utilize the platform's capabilities. However, the free plan makes HubSpot an attractive option for small businesses seeking a feature-rich solution without upfront costs.
6. EngageBay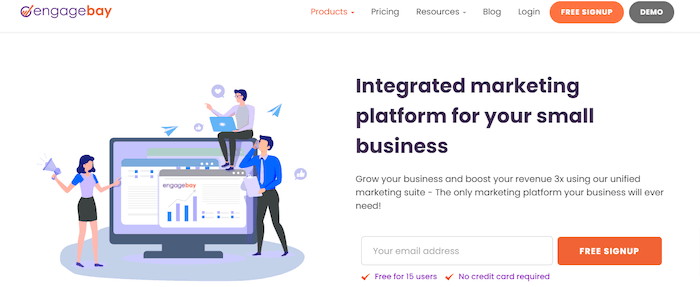 EngageBay is a great Constant Contact alternative for those looking for an affordable and power-packed email marketing platform. Though a newer entrant into the cloud CRM market, it is loved by over 30,000 businesses globally. With EngageBay, you get a host of tools, including marketing automation, workflows, task management, A/B testing, email broadcasts and sequences, autoresponders, a drag-and-drop builder, and much more.
But EngageBay's USP is its affordable and transparently priced plans, making it a noteworthy email marketing solution for SMBs.
Pricing per contact
Up to 500 contacts and 1,000 branded emails: $0
Up to 1,000 contacts and 2,500 branded emails: $12.99/month
Up to 20,000 contacts and 20,000 branded emails: $24.99/month
Up to 30,000 contacts and 30,000 branded emails: $49.99/month
EngageBay also offers a 20% discount on annual subscriptions and a 40% discount on biennial subscriptions.
What we like about EngageBay
EngageBay is geared towards small and medium businesses with limited marketing funds. Even its free plan has numerous features, including autoresponders, email broadcasts and sequences, predictive lead scoring, and integrated CRM. EngageBay also offers onboarding sessions, migration services, and mobile applications.
What EngageBay should improve
We wish they had more native integrations on offer. Also, there's no marketing automation feature in its free plan.
Who is this for
EngageBay is the ideal platform for SMBs, solopreneurs, and tech startups, as it is one of the most affordable marketing automation platforms. Its free plan is made for businesses just starting out and offers a wide range of features from marketing to customer support and social ads.
7. Omnisend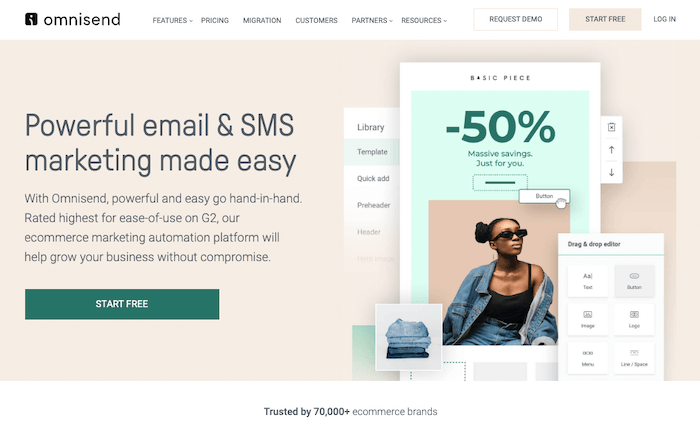 Omnisend is a great Constant Contact alternative, particularly if you have an ecommerce store. You'll find their features easy to set up and rewarding, as you'll be able to target users at each stage of the buying journey with various email automations, such as browse abandonment, cart abandonment, order confirmations, etc.
Omnisend also allows you to send SMS, push notifications, and Facebook and WhatsApp messages.
Pricing per contact
500 emails/month to up to 250 contacts: Free
Up to 500 contactable subscribers and 6,000 emails/month: $16 per month
Up to 1,000 contactable subscribers and 12,000 emails/month: $20 per month
Up to 5,000 contactable subscribers and 60,000 emails/month: $65 per month
You can store unlimited contacts on all plans. Check out our pricing guide for more information.
What we like about Omnisend
Omnisend is directed towards online store owners, offering a number of features they'll find useful, including automation workflows, the ability to automatically add your store's products to your newsletters, and cool email add-ons like scratch cards and gift boxes.
They also offer a free plan, which includes 500 emails p/m (to up to 250 contacts) and all features: landing pages, A/B testing, marketing automation and website tracking.
What they should improve
The templates they offer are really attractive, we just wish there were slightly more of them. There are 18 in total.
The allowances on the free plan were recently lowered, meaning you'll outgrow this plan.
Who is this for
If you have an online store, on a platform like Shopify, for example, you'll find Omnisend to be a great choice. (Read full review)
8. Campaign Monitor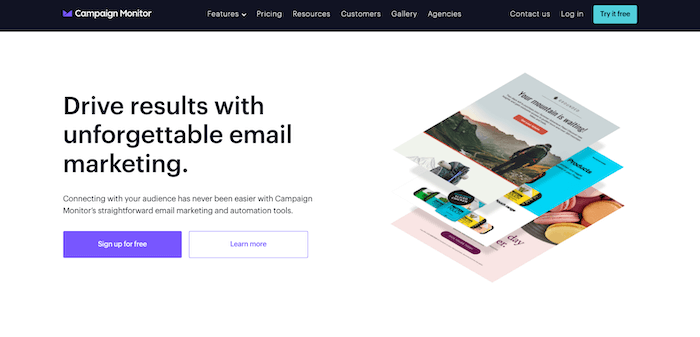 When compared to Constant Contact, how does Campaign Monitor shape up?
For starters, it's much more user-friendly than Constant Contact and has a good range of responsive email templates for your email marketing campaigns. But what else?
Let's see what this Constant Contact competitor has to offer.
Campaign Monitor Pricing
$9/month for 500 subscribers and 2,500 emails
$29/month for 2,500 subscribers and 12,500 emails
$49/month for 5,000 subscribers and 25,000 emails
$89/month for 10,000 subscribers and 50,000 emails
What we like about Campaign Monitor
Though, like Constant Contact, Campaign Monitor doesn't offer a freemium plan, the lower-tier plan includes most features and is more affordable than Constant Contact's standard plan.
The email templates are more modern than Constant Contact's, and the drag and drop email builder is smoother. You'll also benefit from more design customization options. In fact, the product as a whole feels much more intuitive.
Where they can improve
Like Constant Contact, the range of automation workflow triggers could be expanded – there's not even an abandoned cart email automation.
It doesn't come with extra features like a landing page builder or CRM. Constant Contact has some interesting niche features such as the ability to sell digital products and schedule your social media posts.
Who's it for
Marketers who are looking for an easy-to-use email marketing platform with great newsletter templates.
9. SendPulse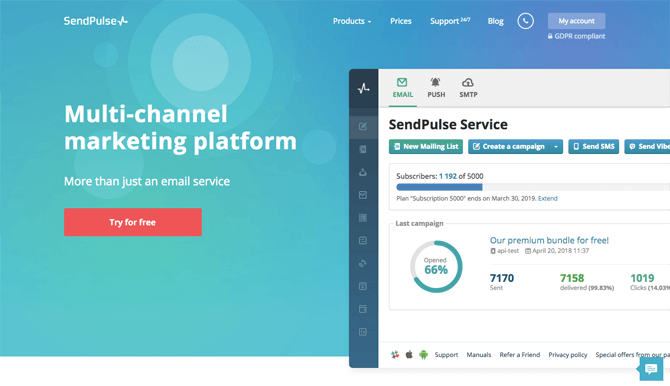 SendPulse is pretty good at letting you contact your customers via different channels. They offer transactional emails, automations, autoresponders, SMS, web push notifications and more.
It also comes with a free plan. Though you'll only be able to have up to 500 subscribers, you can send 15,000 emails for free.
Pricing per contact
Up to 500: $0/mo
Up to 1,000: $12/mo
Up to 5,000: $35/mo
Up to 10,000: $53/mo
Up to 30,000: $126/mo
What we like about SendPulse
It's pretty cool that they let you access some advanced features even with the free plan (e.g. A/B testing, advanced reporting, automations, CRM and transactional emails). Their pricing is flexible – choose between a monthly subscription or a pay-as-you-go one. Their backend interface is modern-looking and (most of the time) intuitive.
What they should improve
Managing automations can be done with a visual workflow, however, it could be slightly more intuitive. They could offer some more templates, although the ones they have look good.
Who is this for
Those looking for an intuitive tool and needing to reach customers via different channels (emails, SMS, push notifications, etc). If you are looking for a free tool, they offer a solid deal for small businesses looking to manage their contacts with a CRM or build a website/landing pages, amongst other things.
10. MailChimp
Without a doubt the most famous email marketing service out there. In fact, it's hard to think of another tool whose ad campaigns' visual and cheeky mascot has had such an impact on creators of newsletters everywhere.
However, just because they are the first name in everyone's mind when you mention newsletters, they aren't necessarily the best. See for yourself in our video and breakdown below:
Pricing per contact
Up to 1,500: $26.50/mo
Up to 2,500: $39.50/mo
Up to 10,000: $100/mo
Up to 30,000: $295/mo
What we like about MailChimp
The selection of features available on the free plan, for example marketing automation. There are over 500 integrations and add-ons available, you can easily incorporate new and existing marketing tools. Their editor is the most flexible we've tried, letting you completely control the email template design. The reports and analysis are extremely detailed (opens, clicks, social media, ecommerce conversions, etc.).
>See how Mailchimp compares to Brevo
What they should improve
The free plan is limited in terms of email sends and contacts and once you reach these limits, the paid plans become pretty expensive. You can get better tools for your money with Active Campaign or Get Response, for instance. The automations are good, but achieving complex email marketing automated workflows yoi'll need to be on the higher-tier plan. It doesn't help that managing contacts isn't flexible either, as moving them across lists isn't possible.
Who is this for
Mailchimp have gone a bit downhill since they made some changes to their free plan allowances. However they do offer a good range of features, including excellent reporting and goal conversion tracking on their paid plans.
11. Benchmark
Your international email campaign is in good hands with Benchmark thanks to their excellent multilingual options and support. They are present in fifteen countries around the world, which should be a testament to the quality of their "powerfully simple" newsletter tool.
While we appreciate the goal, we'd say they fall in a kind of middle ground, quality-wise. There is some good and some bad in equal measure, as you can see in our video:
Pricing per contact
Up to 2,000: $19/mo
Up to 2,500: $29/mo
Up to 10,000: $79/mo
Up to 50,000: $279/mo
What we like about Benchmark
Another great editor to build email templates with their building blocks. Modern-looking templates for impressively visual newsletters. They are available in 9 languages.
What they should improve
The advanced email marketing features. For example, the email marketing automations system is not as smart as we'd like – what they offer are more like basic autoresponders. This means sending automations on email signups, opened emails and on clicks, but not much more. Managing subscribers isn't great either, as moving them across different lists gets complicated.
Who is this for
Since they have capped their free plan at 250 emails/month, we can no longer recommend them to those looking for a free plan. Unfortunately, because other tools offer more features at similar or even cheaper prices, it's difficult to recommend Benchmark over others.
12. ConvertKit
ConvertKit targets content creators of the digital age, including bloggers, YouTubers and podcasters. It is a strange angle, especially since we can't imagine what these people would need that other small businesses wouldn't.
But let's not just judge them on this as it could just be a marketing technique. The proof of the pudding is in the eating, which is why we've tested all their features in our video comparison below:
Pricing per contact
Up to 1,000: $0/mo
Up to 300: $15/mo
Up to 1,000: $29/mo
Up to 3,000: $49/mo
Up to 5,000: $79/mo
Up to 10,000: $119/mo
Paid plans add automation, free migration and priority support
What we like about ConvertKit
It's designed with bloggers and digital marketers in mind. The email automation editor and list management features work well, and they do very well in our deliverability tests.
What they should improve
Despite now offering a free plan, their paid plan prices are rather expensive when you exceed 1,000 subscribers. Especially since they lack advanced email marketing features (e.g. no different levels of account access, reports are too basic) and the designs are very limited. We also found the landing page builder quite frustrating to use.
Who is this for
Not sure. Although we are interested to see where they go with their product, we think there are currently better options in their price range.
The Best Free Constant Contact alternatives
In case you are looking for a free email marketing service as an alternative to Constant Contact. We have gathered the 5 best free Constant Contact alternatives:
Which Constant Contact alternative should I Choose?
In conclusion, you can see why Constant Contact is beginning to lag behind the competition. There are now more and more email marketing providers to choose from, some of them with better features and cheaper prices.
Still unsure about which newsletter tool is best for you? > Compare the Constant Contact alternatives in this table
I'd also recommend checking these tools against our Mailchimp alternatives and ActiveCampaign alternatives articles.
FAQ
Our vote is for Mailchimp! As you can see in our full Constant Contact vs Mailchimp comparison, they score better in terms of advanced features, reporting, support, and pricing. But for even better value for money, we'd recommend MailerLite or Brevo.
Constant Contact's plans are expensive, especially considering the limited availability of advanced features. In our view, you're paying a little too much and getting too little in return. In the above list of Constant Contact alternatives, you'll find platforms that offer more bang for your buck.
Constant Contact is pretty easy to navigate, although it might not win any awards for its looks. Most features are just a couple of clicks away, but with the addition of more functionality, some things have become a bit hidden, like automations. The email editor is speedy, but it's a bit light on fancy styling options. Nonetheless, it's still easy to work with overall.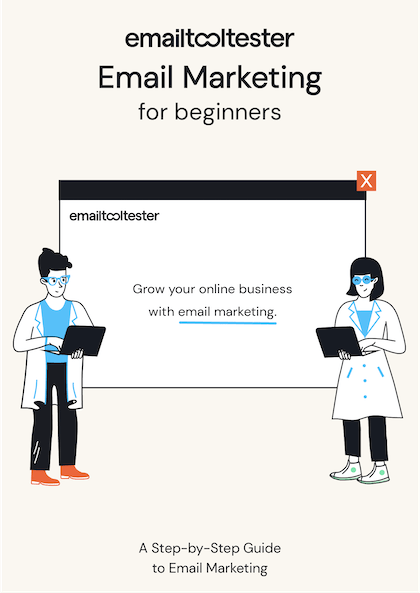 Email Marketing Crash Course: Step-by-Step Guide
Our email marketing course for beginners: ideal for small and medium-sized businesses, online stores and bloggers. It shows you all the steps you need to send your first email campaign. Best of all, it's free!
Sign up to receive your copy immediately!
We keep our content up to date
07 Aug 2023 - Added HubSpot
10 Jul 2023 - Added FAQs
09 Mar 2023 - Updated ActiveCampaign Pricing
18 Oct 2022 - General update
29 Sept 2022 - Updated Mailchimp plans and pricing
11 May 2022 - Updated GetResponse video review
13 Apr 2022 - Updated Mailchimp video review
17 Feb 2022 - Updated Brevo's prices
03 Feb 2022 - Updated Sendpulse features
20 Jan 2022 - Added Campaign Monitor
15 Nov 2021 - Updated ConvertKit and GetResponse profiles
20 Sept 2021 - Updated Omnisend's pricing
26 Aug 2021 - Added EngageBay
24 Nov 2020 - General update
16 Jun 2020 - Added Omnisend
28 Apr 2020 - Added updated MailerLite video
22 Apr 2020 - ConverKit added a free plan
22 Apr 2020 - Benchmark made changes to their free plan
02 May 2019 - SendPulse added
03 Jan 2019 - Smaller updates for Brevo
24 July 2019 - Smaller updates for Brevo
Our Methodology
This article has been written and researched following our EmailTooltester methodology.
Our Methodology