Omnichannel software takes the headache out of engaging customers across a ton of messaging apps.
It consolidates messages from all these channels into a single platform so you don't have to constantly switch apps to talk to customers.
(Which I find a relief, because I have trouble keeping even my personal chat apps in order!)
And unlike multichannel software, which also supports multiple channels, omnichannel software offers extra capabilities for tracking customer activity across touchpoints. This way, you ensure a seamless and consistent customer experience, no matter the channel you're using to engage customers.
For example, instead of serving your customers generic social media ads, you can display ads for specific products they've viewed on your website recently. And given their existing interest in these products, they'd be more likely to buy them (earning you a sale!).
So what are your options if you're looking for the best omnichannel software for your small-to-medium business? Check out my top 10 picks.
What is the Best Omnichannel Software?
The best omnichannel software include ActiveCampaign, Brevo, HubSpot, Omnisend, and Tidio. They are equipped with features for engaging customers across multiple channels, such as email, SMS, and live chat, and can prove vital tools for improving customer satisfaction. Some of them can also be used for free!
10 Best Omnichannel Software for Small-And-Medium Businesses
1. ActiveCampaign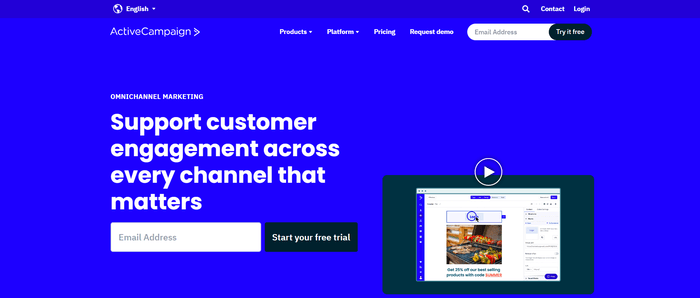 ActiveCampaign is an omnichannel powerhouse. It helps businesses send emails and SMSes, build landing pages, run social media ads, and more. You can also create automation workflows to automate tasks at each touchpoint too.
For example, you could have an abandoned cart automation that emails users about a product they'd left behind in their cart the day before. If the user doesn't complete their order within three days, the automation sends a follow-up SMS reminder.
Just be prepared to pay a little more for these impressive automation features. Based on EmailTooltester's research, ActiveCampaign is one of the pricier solutions on the market.
Pros of ActiveCampaign
The platform's automation capabilities are unparalleled, letting you automate pretty much any omnichannel workflow you can think of.
Apart from its built-in email marketing, landing pages, and SMS capabilities, ActiveCampaign also integrates with 920+ third-party apps (including deep integrations with Shopify and WooCommerce) to help make your business truly omnichannel.
Enjoy reliable email deliverability — ActiveCampaign came in third out of 15 tools in our regular email deliverability tests.
Cons of ActiveCampaign
Ecommerce integrations are available only on the more expensive Plus plan or higher. And ActiveCampaign is already quite pricey to begin with!
ActiveCampaign phased out its Conversations live chat feature in January 2023. You'll have to use a separate live chat app for such functionality instead.
ActiveCampaign pricing
1,000 contacts per month: From $39 per month (Lite plan)
5,000 contacts per month: From $99 per month
10,000 contacts per month: From $174 per month
Learn more about ActiveCampaign pricing here.
Who is ActiveCampaign best suited to?
Use ActiveCampaign if you want a unified platform for automating as many customer interactions across touchpoints as possible.
> Try ActiveCampaign in a free trial
> Read our full ActiveCampaign review
2. Brevo (formerly Sendinblue)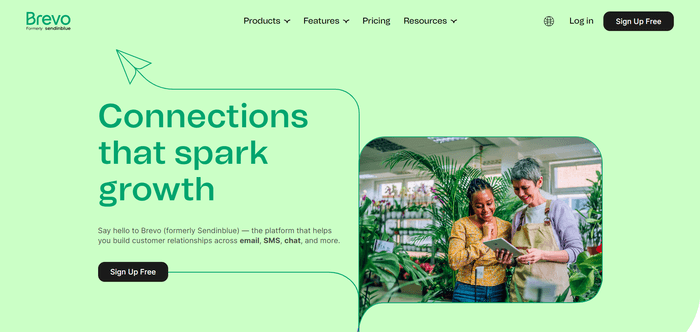 From solely being an email platform in the beginning, Brevo has since branched out into offering other marketing tools, such as SMS, Facebook ads, live chat, and a CRM, in a single platform. (Which is also why Brevo has rebranded from its previous Sendinblue name, in case you're wondering.)
But if there's one thing that hasn't changed since the rebrand, it's how the platform continues to offer a great free option for businesses on a budget.
There's no limit on the number of contacts you can have under the free plan. You can also send up to 300 daily emails and install a website live chat widget for free. It's only if you need more premium features, like running Facebook ads and accessing advanced reports, that you'd need to upgrade.
Pros of Brevo
With Brevo, it's possible to run a simple omnichannel setup (with channels such as emails, SMS, WhatsApp, and live chat) at no cost.
Unlike some other omnichannel tools I've tested, Brevo has a native WhatsApp integration.
The feature-rich platform is clean and easy to navigate.
Cons of Brevo
Brevo can't get or display product variant data in emails, which limits its usefulness for online store marketing.
Some of the automation features, such as lead scoring, aren't as advanced as in tools like ActiveCampaign.
Multi-user access is available only on the more expensive Business and Brevo Plus plans.
Brevo pricing
Up to 9,000 emails a month: $0 (with limited functions and maximum 300 emails daily)
Up to 20,000 emails a month: From $25 (Starter plan)
Up to 40,000 emails a month: From $35 per month
Up to 60,000 emails a month: From $49 per month
Learn more about Brevo pricing here.
Who is Brevo best suited to?
Brevo is a good choice for small teams that want to manage omnichannel customer interactions on a budget.
3. GetResponse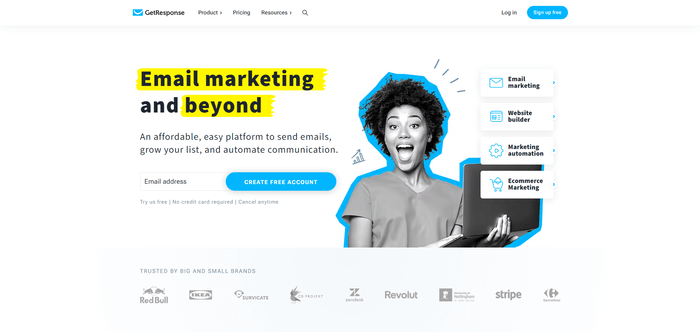 Apart from the usual email marketing, landing page, SMS marketing, and live chat features, GetResponse offers some features I haven't commonly seen in other omnichannel platforms.
Such key features include a website builder, AI email generator, webinar hosting, and a conversion funnel. Notably, the conversion funnel feature walks you through building Facebook ads, landing pages, automated email campaigns, and sales pages for running sales funnels on autopilot. It's super handy!
But if I were on a budget, GetResponse wouldn't be my first pick. While the platform has a free plan, many of its omnichannel features are locked behind paid plans — and these can be quite expensive.
Pros of GetResponse
GetResponse's conversion funnel feature provides guidance on building end-to-end sales funnels in the platform.
You can run webinars from the platform itself and seamlessly plug your webinar leads into your sales funnel. Not many other omnichannel platforms we've tested offer built-in webinar support.
GetResponse offers 24-month pricing plans. They can help you lock in 30% savings if you've decided to use the platform for the long term.
Cons of GetResponse
Many of GetResponse's omnichannel features, like marketing automations, SMS marketing, and live chat, are paid features. They are not accessible on the platform's free plan.
It's not possible to automate the sending of WhatsApp messages unless you use an integration app like Zapier or Make. Also, SMS marketing is available only on GetResponse's MAX custom pricing (and expensive) plans.
GetResponse pricing
500 subscribers: Free
1,000 subscribers: From $19 per month
5,000 subscribers: From $54 per month
10,000 subscribers: From $79 per month
Learn more about GetResponse pricing here.
Who is GetResponse best suited to?
Try GetResponse if you regularly use webinars to get leads and want an omnichannel, single-platform setup for nurturing them into customers.
> Read our full GetResponse review
4. Freshmarketer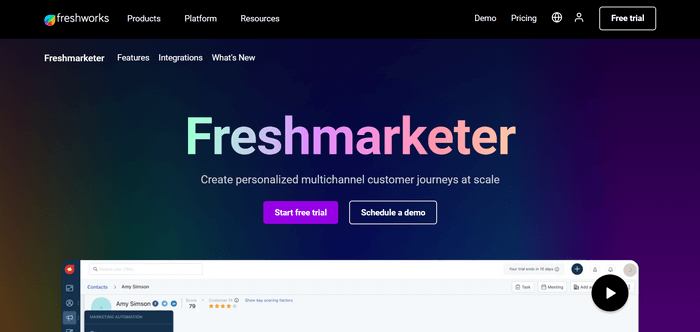 Freshmarketer is the marketing product in the Freshworks line of apps (the business also offers a CRM, service desk, and other products). It's a comprehensive omnichannel solution too, providing native features for email marketing, SMS, WhatsApp, live chat, social media management, and more.
If you frequently hold offline events like conventions, you'll like how Freshmarketer can help you store customer interaction data from such events. This is helpful for measuring the effectiveness of offline campaigns, which isn't always easy to do.
To access a good portion of Freshmarketer's omnichannel features, however, you'll need to take up a paid plan. For one, Freshmarketer doesn't have a free plan. And after the 21-day trial expires, you'll have to upgrade to continue integrating your messaging channels, running marketing automations, and keeping your landing pages published.
Offline activity tracking is also a Pro plan feature (and as you'll see below, the Pro plan is rather expensive).
Pros of Freshmarketer
A team inbox lets you consolidate all your customer chats in one place. The inbox also provides helpful context for facilitating the discussion, such as listing the web page from which a customer initiated a conversation.
Its offline activity tracking feature is useful for importing customer interaction data from offline events and attributing sales to such data. I didn't find many other omnichannel platforms with a similar feature.
There are many filters for creating segments of contacts based on specific criteria like having read a certain WhatsApp campaign, or having visited a certain web page.
The seamless integration with other Freshworks products, such as Freshdesk and Freshservice, makes Freshmarketer ideal if you're already using these solutions.
Cons of Freshmarketer
You'd need a paid plan to integrate Freshmarketer with messaging channels such as Facebook Messenger and SMS.
Freshmarketer offers only a handful of landing page templates and they look uninspiring.
Freshmarketer pricing
10,000 contacts (200 emails/month sending limit): Free
12,000 contacts (60,000 emails/month): From $23/month (Growth plan)
17,000 contacts (85,000 emails/month): From $119/month
22,000 contacts (110,000 emails/month): From $229/month
Who is Freshmarketer best suited to?
Businesses with larger budgets that regularly complement their online marketing efforts with offline events, or that are already using other Freshworks products, may find Freshmarketer a good fit.
> Try Freshmarketer in a free trial
5. HubSpot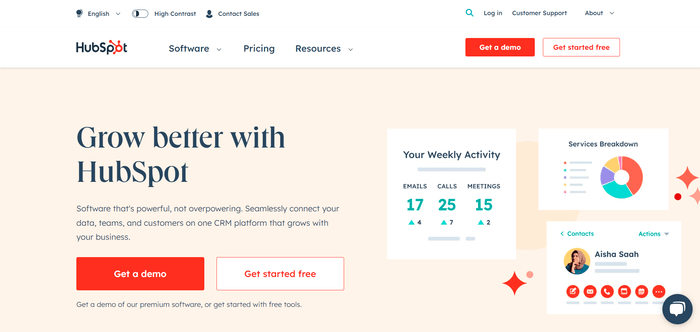 HubSpot is better known as a customer relationship management (CRM) platform, but it fares well in the omnichannel arena too.
The platform has features for sending emails, building landing pages and websites, running ads on multiple platforms, and setting up live chat. And of course, its CRM helps you store customer data obtained from both online and offline channels.
You can also use many of these features at no cost on HubSpot's generous free plan! The platform is therefore a great choice for businesses with simple omnichannel marketing needs. But if you think you'll need to scale up such marketing efforts quickly, you might want to look at investing in another software from the outset.
That's because the price jumps between HubSpot's plans can be huge — as we'll see in a minute.
Pros of HubSpot
HubSpot's free plan offers a good range of omnichannel features, such as email marketing, landing pages, conversational bots, and ad management. But you'll have limited automation options: for example, you can set up only one automated action per email.
A built-in — and comprehensive — CRM helps you manage your customer data and communications in one place. Not many other omnichannel platforms I've tested offer similarly competitive CRM features.
The platform provides translations for default content such as email notifications and chatflows, which is useful if you have a multilingual customer base. You can also create custom multilingual content.
Cons of HubSpot
Omnichannel marketing automations are available only on the platform's eye-wateringly expensive Professional plans.
HubSpot's email deliverability isn't the best for reaching your customers' inboxes. The platform came in second-to-last place when we pitted it against 14 others.
HubSpot pricing
CRM Suite (marketing, sales, service and CMS products bundled together) – Starts at $50/month for 1,000 contacts
Marketing Hub Professional plan (includes omnichannel marketing automation) – Starts at $890/month for 2,000 contacts
Limited free plan available
Learn more about HubSpot pricing here.
Who is HubSpot best suited to?
HubSpot is suitable for small businesses that want to enhance their modest omnichannel marketing operations with a CRM.
> Read our full HubSpot review
6. Omnisend

Ecommerce owners, this might be the omnichannel communication platform for you. And not just because Omnisend has the word "omni" in its name!
The platform connects effortlessly with leading ecommerce platforms, including Shopify, WooCommerce, and BigCommerce, as well as sales channels like email, SMS, web push, and Facebook. Put this all together and you can have a beautiful setup for collecting leads, nurturing them on their preferred channels, and finally directing them to your store to place orders.
Omnisend's free plan may especially appeal to you if you have a small contact list. With it, you can send up to 500 emails, 60 SMSes, and 500 web push notifications for free every month. You can build automations and A/B test your emails too. Many platforms I've tested tend to put such premium features behind a paywall.
Pros of Omnisend
Omnisend lets you create "Wheel of Fortune"-style forms, which is perfect for adding elements of chance and excitement to your lead collection efforts! From what we've seen, this is a pretty unique feature.
The platform offers a nice range of (ecommerce-focused) automation templates as starting points in case you need help with building your automations.
Instead of allowing leads to go cold too quickly, you can activate the Campaign Booster feature to automatically resend campaigns to contacts who hadn't opened them the first time.
Cons of Omnisend
Omnisend doesn't have built-in live chat features, so you'll have to integrate a separate app for this. At the time of writing, it appears that only the LiveChat and Tidio live chat apps are supported.
The platform doesn't update its advanced reports in real time. For example, the advanced campaigns report is updated only once a day. The reports may therefore have limited usefulness if you want up-to-date customer insights and performance data.
Omnisend pricing
500 subscribers and 250 emails monthly: $0 per month
1,000 subscribers and 12,000 emails monthly: From $20 per month
5,000 subscribers and 60,000 emails monthly: From $65 per month
10,000 subscribers and 120,000 emails monthly: From $115 per month
Learn more about Omnisend pricing here.
Who is Omnisend best suited to?
Owners of small online stores may find Omnisend's free plan perfect for their ecommerce-focused omnichannel marketing efforts.
> Read our full Omnisend review
7. Klaviyo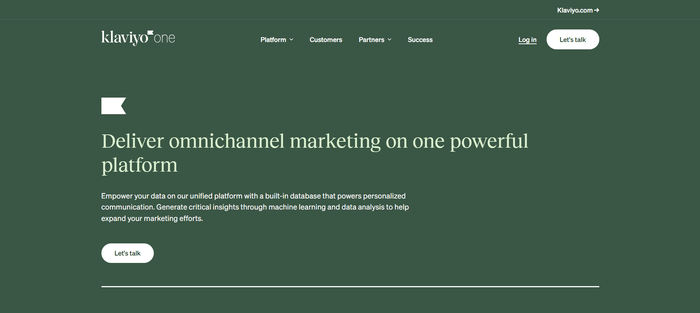 Like Omnisend, Klaviyo is worth considering if you run an online store and want to access omnichannel features from the outset. That's because it makes all its features, such as A/B-testing and custom reports available on all plans (free and paid alike).
Using Klaviyo, you can engage customers via email, mobile push notifications, and SMS. In particular, you can build automations to rescue abandoned carts, send purchase reminders, deliver order updates, and more via these messaging channels. Facebook and Google ad retargeting is also possible once you've integrated these platforms with Klaviyo.
That said, Klaviyo's automation capabilities are quite limited. If you need more advanced automation features, ActiveCampaign may be a better bet. Learn more in our ActiveCampaign vs Klaviyo review.
Pros of Klaviyo
All of Klaviyo's features are available on every plan. You pay more only if you max out your contact limit or need to send more emails and SMSes.
A multichannel attribution feature lets you track which campaign and sales channel led to a purchase — and thus which of your marketing efforts are converting the best.
Klaviyo provides benchmark data for your industry's email open rates, average order values, and more. This is helpful for evaluating how your business is performing compared to your peers (and potentially competitors).
Cons of Klaviyo
The platform could have more sophisticated automation features. For example, it would be great to be able to add multiple triggers, or skip to certain automation steps when certain events occur.
There are no built-in live chat or WhatsApp messaging features — you'll need to integrate these separately using third-party apps.
Klaviyo pricing
500 emails to 500 contacts: $20/month
10,000 emails to 1,000 contacts: $30/month
50,000 emails to 5,000 contacts: $100/month
105,000 emails/month to 10,000+ contacts: $175/mo
Who is Klaviyo best suited to?
Go with Klaviyo if you need just simple ecommerce automations for your store, and want to attribute sales and business growth down to the precise campaign and channel.
8. Shopify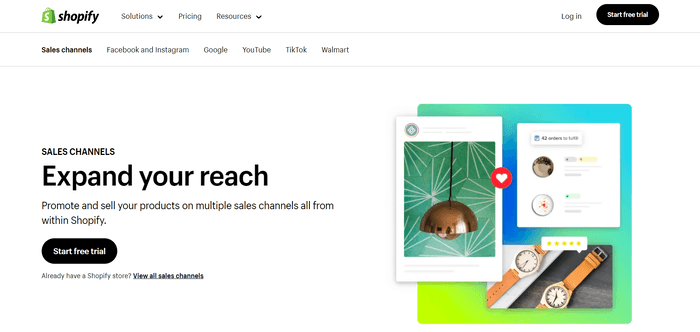 Shopify technically isn't just an omnichannel marketing platform — it's a full-fledged platform for running an ecommerce site and marketing it too.
Once you've built your Shopify store, you can tap into Shopify's search engine optimization (SEO) features to boost your store pages' search rankings. After that, market your products via Facebook, Instagram, Google, YouTube, and other channels.
If you've made email marketing and live chat part of your omnichannel strategies, you won't have to integrate separate apps for these with your store. Shopify offers such features out of the box in the form of Shopify Email and Shopify Inbox.
Given Shopify's user-friendliness and sheer range of ecommerce and marketing capabilities, it's no wonder that the platform is highly popular for both online and offline sales. To be specific, Shopify has cornered 19% of the global market share for ecommerce platforms, coming in second only to market leader WooCommerce.
Pros of Shopify
With Shopify, you can operate and promote a store from just one platform. Most other omnichannel solutions I've tested can generally help you market your business, but not fulfill or take payment for orders.
Shopify also helps you market your products on TikTok, YouTube, and the Walmart Marketplace. Not many other platforms offer the same.
The ecommerce platform's user-friendliness will appeal to new and experienced store owners alike.
Cons of Shopify
You can't really test Shopify for free. The platform doesn't have a free plan and its trial period is a measly three days. But it costs just $1/mo for the first three months after that, which isn't too bad.
Unless you use the Shopify Payments payment processing service, Shopify will charge transaction fees for every sale you make. Shopify Payments also isn't available in all countries at this time.
Shopify pricing
Shopify Ecommerce Builder:
Shopify Basic – $29 a month
"Shopify" plan – $79 per month
Shopify Advanced – $299 per month
Shopify Email:
10,000 emails per month: Free
20,000 emails: $10/month
30,000 emails: $20/month
50,000 emails: $40/month
Learn more about Shopify pricing here.
Who is Shopify best suited to?
Pick Shopify if you want to sell your products, and market them in multiple places, from a single omnichannel ecommerce platform.
> Read our full Shopify review
9. Tidio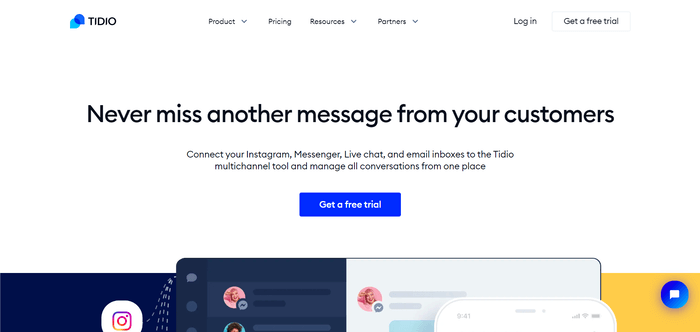 I know, I know. What is a customer service software like Tidio doing in our list of omnichannel marketing platforms?
I think it deserves a mention as the platform doesn't offer just live chat, helpdesk, and chatbot features. Tidio can also integrate with:
Facebook Messenger and Instagram,
Shopify and other ecommerce platforms, and
Third-party email marketing services if its simple email marketing system doesn't strike your fancy.
Tidio's AI features are also worth a mention. Using machine learning, the platform can detect customer intent for delivering automated — yet human-like — responses to questions you receive via social channels. Customers get answers to their questions faster, while you free up your support team's workload. Everyone wins!
Pros of Tidio
Under Tidio's free plan, you can add up to three team members and engage in 50 unique support conversations every month. You can also integrate Tidio with social channels and email platforms at no extra charge.
A shared inbox lets you manage chats from all channels (such as live chat, email, and Instagram) from a central platform. You won't have to toggle between different channels to view and respond to your chats in each of them.
Tidio's drag-and-drop visual editor makes it easy to build chatbots that provide a pleasant customer experience.
Cons of Tidio
While Tidio offers built-in email marketing features, they're available only on the most expensive Tidio+ plan. They're also rather limited in scope. You're likely better off integrating Tidio with a separate email platform instead.
With Tidio being more of a support platform than a marketing one, you won't be able to automate much of your marketing efforts with it, although it does integrate directly with most of the major email marketing services
Tidio pricing
Free plan: $0 (for 3 operators. Includes chatbots for up to 100 visitors/month)
Communicator plan: $25/agent/month (+ live visitors list and more integrations)
Chatbots plan: $29/month (up to 3 operators + 2,000 chatbots triggers/conversations)
Who is Tidio best suited to?
If providing customers with self-service solutions and support is your priority, you'll love how Tidio helps you automate your customer service interactions on popular social channels.
10. JivoChat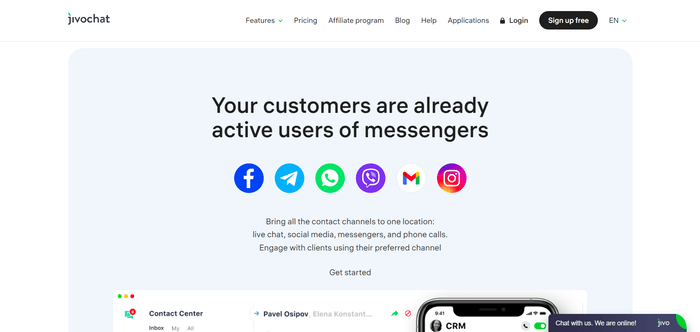 Similar to Tidio, JivoChat is another option if you're focusing on the customer service aspect of omnichannel engagement. The platform helps you set up chat widgets on your website and offer support on email and social channels. Calling your customers (whether in video or voice-only format) is also possible.
As customers start chatting with your business, you can store all messages in JivoChat's CRM for easy access and reference. The CRM also helps you manage deals throughout the sales pipeline.
That said, JivoChat might not be the best option for you if you plan on sending marketing emails regularly. The tool doesn't have email marketing features and integrating it with an email platform may involve using a workaround. More info on this below.
Pros of JivoChat
JivoChat integrates with a wide range of communication channels such as websites, email, Instagram, WhatsApp, Apple Business Chat, and Telegram. In contrast, competing platform Tidio (reviewed above) integrates with fewer channels.
JivoChat also offers a CRM for storing customer messages and managing deals.
You can add video call and telephony modules to chat with customers via video call and phone respectively. I haven't seen many omnichannel platforms that offer such functionality.
Cons of JivoChat
JivoChat doesn't have built-in features for creating chatbots. You'll need to integrate separate chatbot solutions for this.
While you can send and receive customer support emails in JivoChat, there are no email marketing features for designing email campaigns and automating your email sends, for example. JivoChat also doesn't natively integrate with many email marketing services, so you'll need to connect your email platform using integration apps like Zapier and Make if JivoChat doesn't support it.
JivoChat pricing
Basic version: $0. Unlimited chats for up to 5 agents
Professional: $19/month/agent. Automatic triggers, visitor info, canned responses and advanced reporting included.
Enterprise: $38/month/agent. Solution for 10 or more support agents
Who is JivoChat best suited to?
Use JivoChat if you're focused on delivering a superior omnichannel live chat experience and aren't too fussed about sending marketing emails. (Or at least, you're open to using a separate email platform and possibly maintaining customer data in two different places.)
> Read our full JivoChat review
Which Omnichannel Software Is Best for Your Business?
I've shared a ton of insights above, so I'll keep my final advice short and sweet! Here's a snapshot of each omnichannel platform and the use cases for which they would be best suited.
After conducting extensive research, my recommended omnichannel platforms are:
If certain tools have caught your eye, sign up for their free trial or plan to experience their features for yourself. That would be the best way of determining whether they suit your needs, and you won't have to spend a cent in the process.
You can also drop your omnichannel software-related questions in the comments below and I'll get back to you!
Our Methodology
This article has been written and researched following our EmailTooltester methodology.
Our Methodology