If you're looking into sales funnel software, first of all, well done. You might be one step ahead of your competitors.
As any marketer knows, if you're going to make it in the current climate, you're going to need an intelligent digital marketing strategy, and sales funnels could very well help you with that.
As an advocate of inbound marketing, the idea of subtly guiding a user through a series of steps, offering rich content along the way, makes me think that sales funnels could be the perfect match for an inbound strategy. But I wanted to look into exactly how they work and how easy the software is to use before I made my mind up.
In this article, I'll be sharing what I learned whilst reviewing a number of sales funnel software and pointing you towards the best tool for your needs.
It's worth pointing out from the get-go that, though some tools market themselves as sales funnel builders, they might be missing the crucial features that you need. For example, email marketing services or webinar hosting aren't always included. You might also find that other more modest (and cheaper) software might be enough for you.
What is a Sales Funnel?
Before I go into the various sales funnel software providers, you might be wondering what a sales funnel is?
If you've worked in sales or marketing for long, then you'll know that leads can be at varying stages of the buying process. In fact, depending on the complexity of your product or service, it might take months to nurture and convert this lead into a customer.
Lead generation through email marketing is a key part of the top of the sales funnel, but it comes into play at various stages.
If done right, then setting up a sales funnel can greatly streamline this process and hopefully give the user a better all-round buyer experience that ultimately guides them to what they're looking for, and violá, they make a purchase!…Or even better, become a loyal customer.
Your sales funnel will be made up of a series of steps that consist of various marketing assets, for example, social media campaigns, landing pages and email (you can see some email funnel examples here).
Sales funnel software can provide you with a holistic view of your sales and marketing efforts (and results) at a glance. (Though not all sales funnel software comes with a funnel view – more on that below.)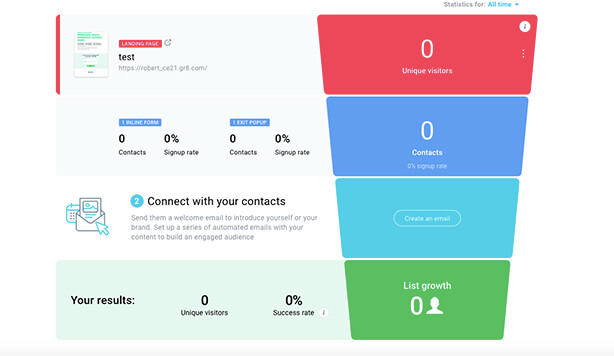 Let's take a look at a couple of examples.
Sales Funnel Examples
Some of you might be thinking, 'What does a typical sales funnel look like?' and 'How can I build an effective sales funnel?' Though every business's sales funnel will look different, there are certain elements that the vast majority will have, like a sign-up form and email communication.
A sales funnel for an entrepreneur offering online courses in marketing might look a bit like this:
User sees an ad on Facebook offering SEO tips with a call-to-action that states: Download my complete guide to SEO
User is directed to a landing page where she can download the guide and opt-in to receive the entrepreneur's emails
The next day she receives a newsletter that contains a link to the courses offered
The user signs up for one of the courses
She continues to receive newsletters with discounts on course fees and signs up again
All of these actions in the buyer's journey will be tracked in the sales funnel software used by the entrepreneur, meaning that she can see clearly at exactly which point users are dropping off and where they're converting.
Also, as sales funnel builders come with anything from landing page editors, email marketing services and even a platform to host courses and webinars, she has everything she needs under one roof, which is no doubt much more economical than setting all this up on various platforms.
I don't know about you but I'm starting to see some real benefits to having all your marketing efforts in one place, especially if the sales funnel software has its own CRM. But is it really worth canceling all your existing subscriptions in exchange for sales funnel software?
Tip: Download the pages from Jeff Walker's Product Launch Formula and get his free 11-page sales funnel template.
When to use Sales Funnel Software
If you are just starting out then using sales funnel software tools might be a great fit for you as your upfront costs can be kept to a minimum. You won't need to worry about hiring a web developer or signing up to a dozen tools, however, you will want to be sure that the software you go for includes exactly what you need. For example, while some offer webinar hosting, others may not, and if this is a crucial part of your business, you'll want to find a sales funnel builder software that caters to your needs.
If you've already signed up to a number of tools, you'll have to assess costs and if it's worth taking out this service. While you can integrate the sales funnel software with other apps, this might impact on the user experience and be more hassle for you.
Take a look at the software I reviewed below to see which would be a good fit.
Best Sales Funnel Software 2023
Sales Funnel Software Compared
1. GetResponse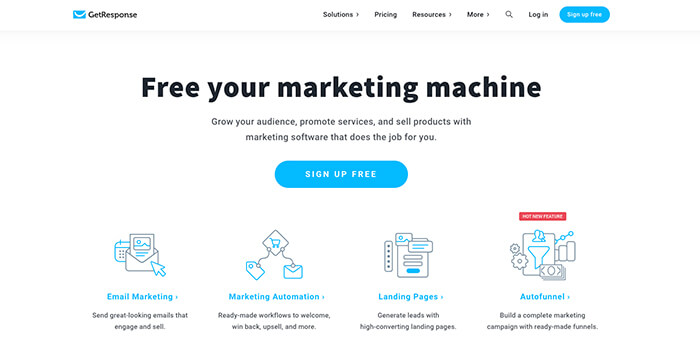 GetResponse is probably the most complete solution on this list. Having recently introduced their Conversion Funnel feature to their email marketing platform, you can now set up everything from social media campaigns to landing pages to webinars to email automations. You can even sell your products through GetResponse or integrate your account with your existing ecommerce. In fact, GetResponse is listed as one of the best email marketing services for Shopify in our detailed guide.
In terms of sales funnel software tools, GetResponse's Conversion Funnel is quick and easy to set up, and visually, you can see exactly how your leads filter through. They also have a good selection of modern-looking templates.
If your business offers webinars, GetResponse could be a great choice for you.
Screenshots:
Plans and Pricing
-Plus: $59 per month for 1,000 users – $114 per month for 10,000 users
3 users, email marketing, landing pages, webinar, leads and sales funnels, forms & surveys, automations, ecommerce tools, social media ads, templates & images, tracking & reporting, built-in CRM.
-Professional: $119 per month for 1,000 users – $199 per month for 10,000 users
All Plus features plus 5 users, unlimited paid webinars, unlimited automations and funnels.
Pros and Cons
Very complete all-in-one service! I really liked the fact that you can see all the stages of your funnel and the conversion rates at a glance.
Because you pay based on your contact size, depending on the number of contacts you have, GetResponse can get very pricey.
Sign up for GetResponse's 14-day free trial

2. Systeme.io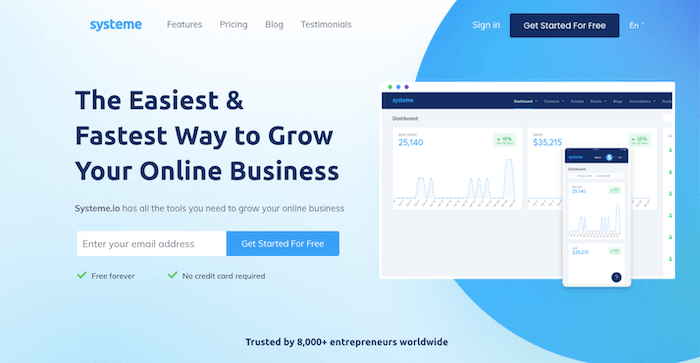 Systeme.io is a sales funnel software packed full of features. You can use the service to manage your email campaigns and automation, offer online courses and sell physical products, and even set up your own affiliate program. They'll also give you a free 11-page sales funnel template.
The interface is well laid out with separate dashboards for your own marketing activities and affiliate marketing, which details the commissions earned from each vendor.
Screenshots:
Plans and Pricing
Free for 2,000 contacts
3 sales funnels, 1 email campaign and membership web, automation, and 1 custom domain.
STARTUP: $32.40/month for 5,000 contacts
10 sales funnels, 10 email campaigns and 5 membership sites, automation, and 3 custom domains.
WEBINAR: $56.40/month for 10,000 contacts
50 sales funnels, 100 email campaigns and 20 membership sites, automation, and 10 custom domains.
ENTERPRISE: $116.40/month for 15,000 contacts
Everything unlimited.
Pros and Cons
Systeme.io is the only sales funnel tool on this list to offer a freemium plan. This includes almost all features (in a limited capacity), so makes this a great offer for small businesses. Starting at $32.40/month, the paid plans are also very affordable compared to other sales funnel software.
Good option for those looking for a simple way to set up membership websites, courses, and their own affiliate program as part of their sales funnels.
I felt it was missing a setup guide. Upon sign-up, you're simply greeted with an empty dashboard, whereas other sales funnel tools give you a checklist of the actions you need to take in order to get started. Luckily, there are some useful videos in the help section.
The sales funnel templates are a bit hit-and-miss, though the editor is easy to use and comes with a good range of content elements. The email builder, on the other hand, only allows you to add text, images, and buttons.
3. Kartra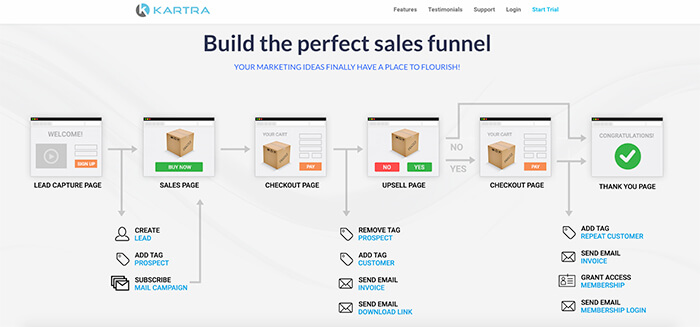 Kartra is an all-in-one platform that includes a landing and website builder, lead database (CRM), email marketing and automations, opt-in forms, ticketing and live chat, video hosting and checkout forms.
Getting started with Kartra is really simple due to their checklist found within your dashboard. They literally take you through every step, meaning that you don't have that feeling of apprehension often felt with other sales funnel software. Because their offering is so comprehensive, you'll save a ton of money only investing in one tool (so long as your contact list doesn't skyrocket).
Depending on your business, videos might be a key part of your sales funnel, or they might even be what you're selling. Kartra allows you to host and optimize the videos on their platform, with the option to add opt-in forms and call-to-action buttons. You can also see which leads are watching which videos and up to what point.
Screenshots:
Plans and Pricing
Starter: $79 per month billed annually / $99 billed monthly
Up to 2,500 leads, 15,000 emails per month, 50GB bandwidth per month, host 100 pages, sell 20 products, 2 membership sites, 1 custom domain, connect 1 helpdesk, and add 1 additional team member.
Silver plan: $149 per month billed annually / $199 billed monthly
Up to 12,500 leads, unlimited emails per month, unlimited bandwidth per month, host unlimited pages, sell unlimited products, unlimited membership sites, 3 custom domains, unlimited helpdesk, Kartra agency.
In case you were wondering – what is Katra Agency? It's a branded email footer that adds your agency branding to your client's emails. This helps you to get your name out there as a high quality email service provider.
Gold plan: $229 per month billed annually / $299 billed monthly
Up to 25,000 leads, unlimited emails per month, unlimited bandwidth per month, host unlimited pages, sell unlimited products, unlimited membership sites, 5 custom domains, unlimited helpdesk, Kartra agency.
Platinum plan: $379 per month billed annually / $499 billed monthly
Up to 50,000 leads, unlimited emails per month, unlimited bandwidth per month, host unlimited pages, sell unlimited products, unlimited membership sites, unlimited team members, 10 custom domains, unlimited helpdesks, Kartra Agency.
There's a 30-day money-back guarantee, so you won't lose anything if you decide it's not for you. Find out more about Kartra's pricing here.
Pros and Cons
Personally, I'm a fan of Kartra's all-in-one platform. Their checklist makes it easy to progress through the necessary setup steps and the layout isn't overwhelming at all. They also have a training portal with helpful video tutorials.
From what I've seen so far, it's pretty hard to fault Kartra's offering. The only thing I'd say is that due to Kartra's limited list of integrations, if you're looking to carry on using a number of other tools, Kartra might be more of a burden than a solution – though they do say that they're adding to their list of integrations.
Try Kartra by signing up to their $1 14-day trial

4. CartFlows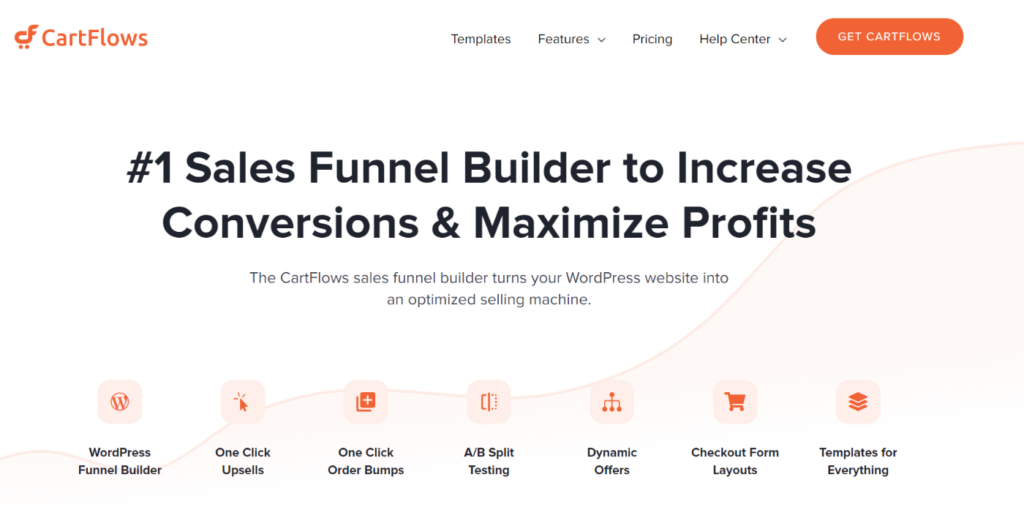 If you have an online store built with WooCommerce, CartFlows could be the perfect sales funnel builder. It delivers all the features you need to make more profit from your store, including order bumps, upsells, A/B split testing and dynamic offers. Using its drag and drop funnel builder, it's easy to create professional sales funnels for a variety of niches.
The plugin has been designed with ease of use in mind, with a logical layout and simple controls. Bear in mind that you'll most likely want to edit your pages using a page builder like Elementor, which is very easy to do.
Screenshots:
Plans and pricing
CartFlows Starter: $79/year* for 1 website
All funnel tools, checkout customization tools, multistep checkout, visual field editor and cart abandonment tools.
CartFlows Plus: $149/year* for up to 10 websites
Everything in Starter, dynamic order bumps, upsell and down sell tools, dynamic templates and premium support
CartFlows Pro: $269/year* for up to 30 websites
Everything in Plus, A/B split testing tools, "SureTriggers automations" for omnichannel marketing automation, PayPal gateway, Canvas Mode, analytics and more
*Note that these are introductory prices for the first year. All plans will renew at full price 
Pros and Cons
Some really nice templates available. The great thing is that each design comes with a sales landing page, checkout and thank you page, so it's easy to create a branded sales funnel quickly.
Good option for new store owners who want to set up simple funnels without the complexity of advanced funnel software.
No free option. There is a 14-day money-back guarantee, but it would be nice to be able to try before you buy without having to make a payment.
Most other sales funnel software on this list are cloud-based SaaS products. CartFlows is different; you'll have to download the software and install it on your WordPress site, which some might find fiddly. Note that CartFlows only works on self-hosted WordPress sites.
Perhaps a slightly steep learning curve for beginners.
Disappointing that opt-in forms and popups are reserved for the higher-tier plan. No email marketing.
5. ActiveCampaign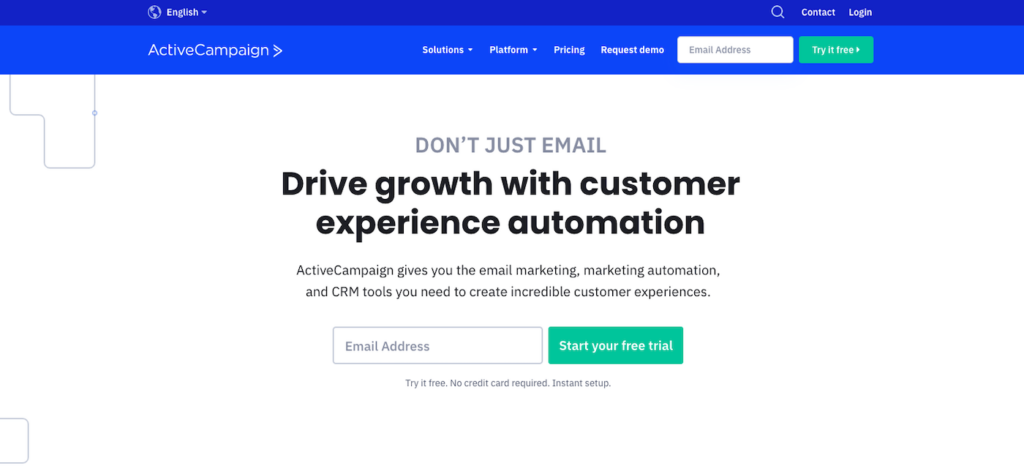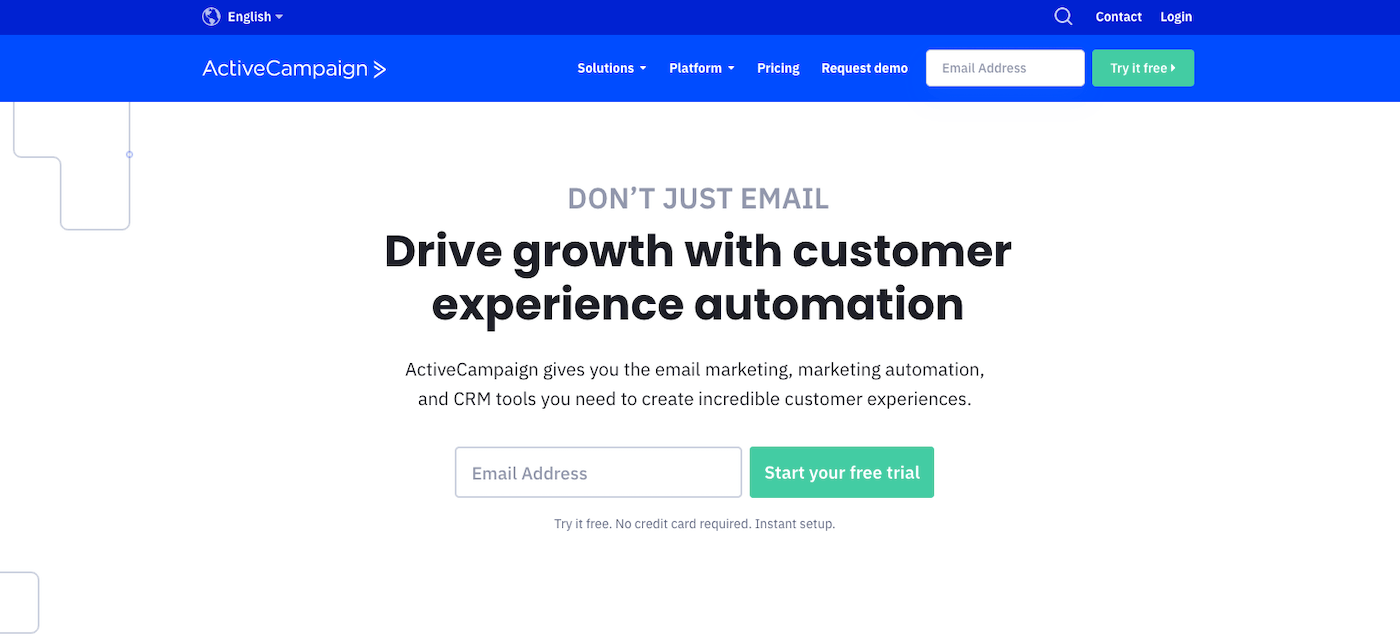 Like GetResponse, ActiveCampaign is an all-in-one email marketing service, which can be used to build a high-converting sales funnel.
ActiveCampaign has all the tools you need to collect leads and funnel them through to the buying stage. The standout features include an easy-to-use form builder, dynamic email and landing page content, modern templates, excellent marketing automation capabilities, CRM software (including lead scoring) and Facebook Custom Audiences integration. You can also take payments by integrating ActiveCampaign with a payment processing service such as Stripe or Spiffy.
We've put ActiveCampaign through some rigorous testing over the years and still consider it the number one tool for all things related to email marketing. The only things you might be missing as part of your sales funnel building are a webinar platform and affiliate marketing/membership area, but this will depend on your business.
Find out more about the top ActiveCampaign alternatives here.
Most small businesses will find it has a good range of features to build complete sales funnels.
Screenshots:
Plans and Pricing
Lite plan: From $39/mo for 500 contacts
Unlimited emails, marketing automation, segmentation
Plus plan: From $23 for 500 contacts
CRM features, SMS marketing, Facebook Custom Audiences, landing pages
Professional plan: From $187/mo for 500 contacts
Website personalization, split automations, live chat
ActiveCampaign pricing details
Pros and Cons
You can automate everything from segmentation and marketing campaigns to contact and deal management. ActiveCampaign has some of the most advanced sales and marketing automation capabilities we've seen.
Everything can be ultra-personalized with dynamic email and web content. This means that you can show or hide certain content based on custom fields, for example, if they live in a particular city or have purchased a particular product, etc.
Webinar hosting isn't possible, though there are a number of integration options. It doesn't include affiliate marketing or a membership area.
You don't have a sales funnel view as you do with some other tools on the list.
6. ClickFunnels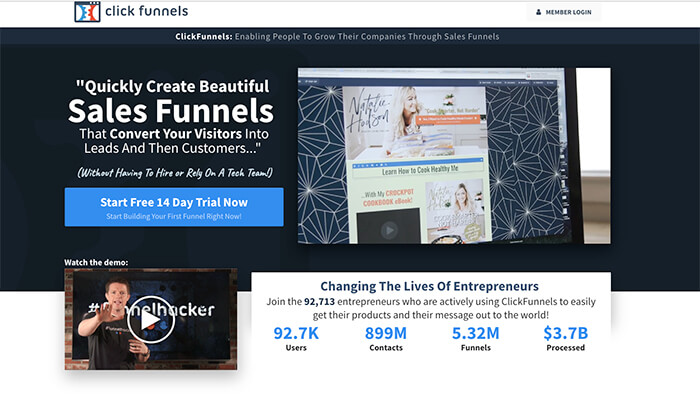 ClickFunnels is designed for entrepreneurs and small businesses with little to no coding skills who want to create and systemize their online marketing and sales funnels. To be honest, their overly ostentatious marketing doesn't fill me with confidence. I mean, why in their video demo do they need to jump in a private plane and fly from Miami to Chicago in order to build a sales funnel? Seems a little excessive if you ask me.
But back to the actual product.
As they proclaim, their landing page editor is easy to use and the sales funnel examples they give are really helpful for beginners. A pop-up editor is also available within the page editor, which makes it easier to see how it will look and behave when published.
If you get stuck, they have a help button within the builder, which takes you to the knowledge base or opens a chat with an agent.
Their templates aren't great. Like their actual website, they're overly salesy and busy and I can't imagine them instilling a ton of confidence in the user. I've definitely seen much better from other providers on this list.
Screenshots:
Plans and Pricing
Starter plan: $97/month
20 funnels, 100 pages, 20,000 visitors, unlimited contacts, 3 custom domains, A/B split testing, opt-in funnels, all advanced funnels (sales, webinar, membership), order pages and up and down-sell pages.
You'll have to integrate with your email service provider as email marketing is not included in the standard plan. Here are our top choices.
Etison Suite: $297/month
Everything is unlimited. You also have access to in-built email marketing services, lead scoring, advanced segmentation and affiliate management software.
Find out more about ClickFunnels pricing here.
Pros and Cons
The funnel builder (where you can see the various steps in your funnel) makes setting up fairly easy. Their 'Cookbook' section is very helpful for those just starting out or in need of ideas, as it offers tutorials.
It would be nice to manage your email marketing within the tool, but it's not worth paying the extra cost for the Etison Suite plan when there are so many great affordable email providers. Their landing page templates look very outdated and overly salesy, quite a lot like their own marketing. Check out these ClickFunnels alternatives.
Try ClickFunnels free for 14-days

7. HubSpot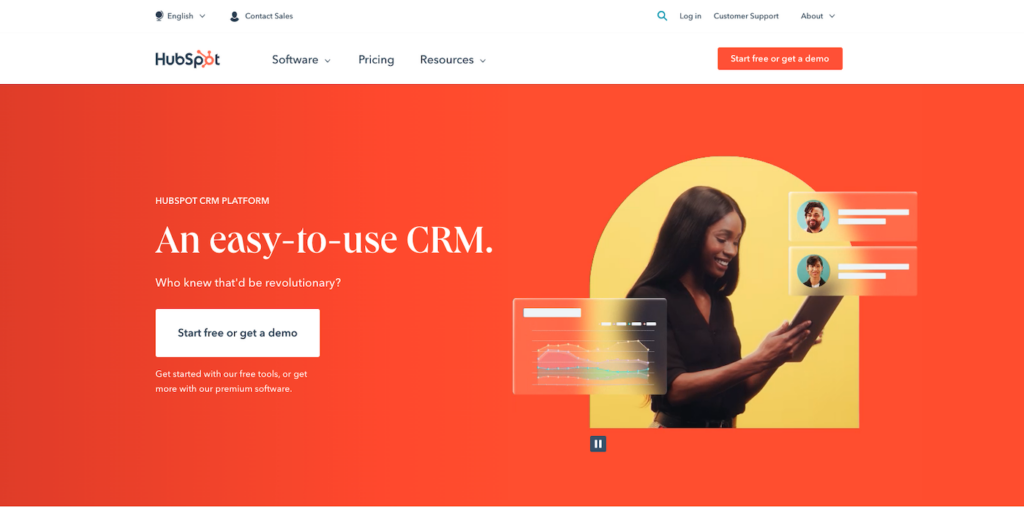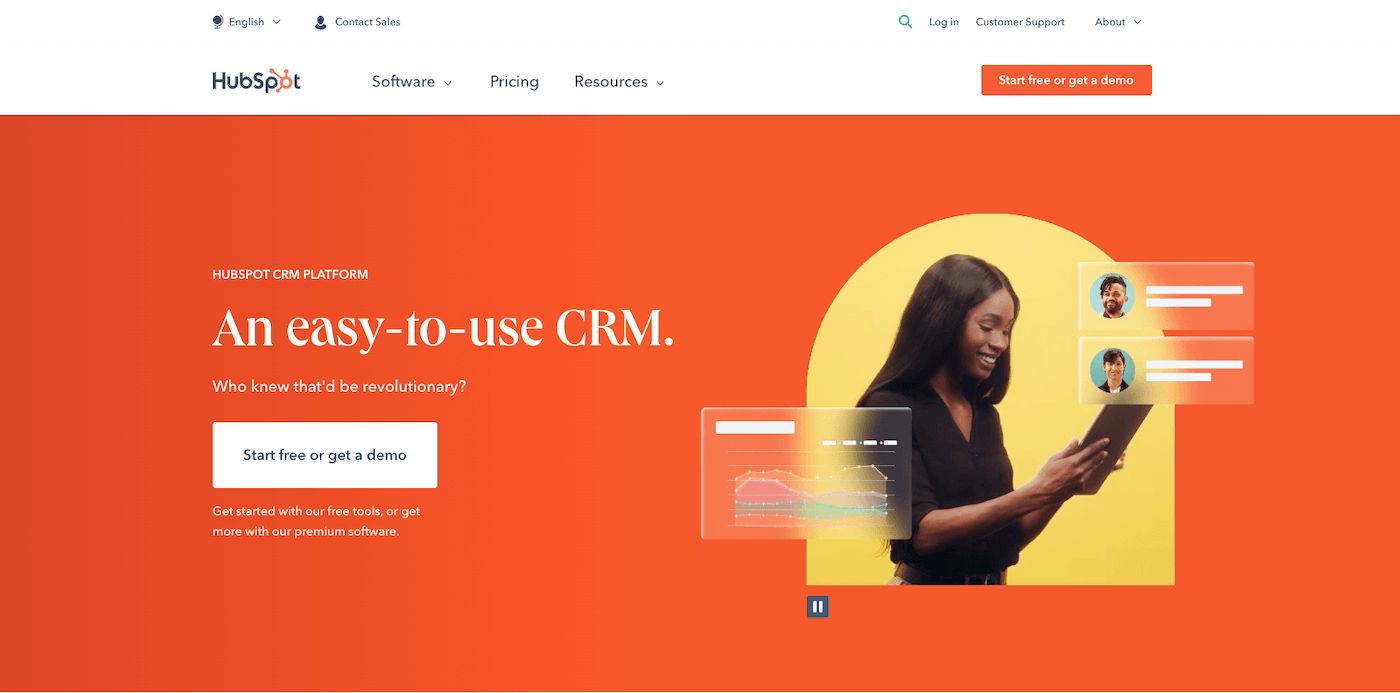 HubSpot is primarily a CRM software, however, its offering has grown tenfold over the years (as well as its market share).
Those looking to build effective sales funnels will find HubSpot both easy to use and powerful. A big advantage is that customer support is very responsive and helpful, in our experience.
Hubspot's key sales funnel features are the following:
Drag and drop builder for creating email campaigns
Landing page builder
Form builder
CRM and automation software including sales pipelines and lead scoring
Detailed reporting
Marketing automation
HubSpot has excellent customer relationship management capabilities within its sales CRM, which is available to use for free. You can see every action related to each contact at a glance, including their lead score and if they've viewed any documents you've sent them through HubSpot. You can set up lifecycle stages and tag leads based on their interest and where they are in the buyer journey, making it easy to get a holistic view of your sales funnel.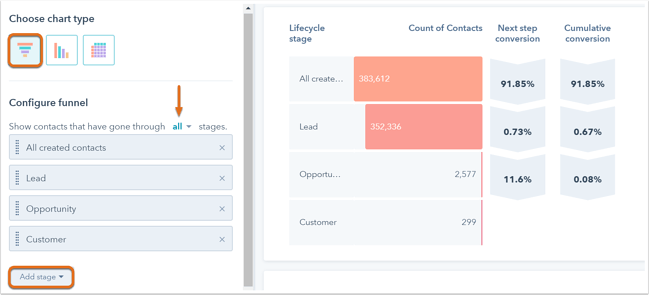 In terms of plans, you'll be looking at HubSpot's CRM Suite bundle, which includes a mix of sales and marketing features, including email marketing, landing pages, payment processing, deal pipeline, meeting scheduling, and now, marketing automation.
Screenshots:
Plans and Pricing
HubSpot CRM – Free
Marketing Hub – Free / $50 / $890 / $3,200/month (pricing varies depending on number of contacts and features)
Sales Hub – Free / $50 / $500 / $1,200/month
Service Hub – Free / $50 / $400 / $1,200/month
CRM Suite (All products bundled together) – Free / $50 / $1,780 / $5,000/month
Find out more about HubSpot's pricing here.
Pros and Cons
The custom funnel reports allow you to analyze the conversion rates between stages.
We found the interface easy to navigate. If we had any issues, their customer support agents were quick to respond with helpful information.
Because HubSpot spreads its features out over so many plans (Marketing, Sales, CMS, Service), it's difficult to create a complete sales funnel on just one.
Find out more in our HubSpot alternatives guide.
8. Wishpond
Wishpond is a really easy-to-use marketing platform that allows you to create landing pages, pop-ups, social media contests and it takes care of your email marketing & automation. I particularly liked their range of eye-catching templates, which are painless to set up. If you're doing a lot of giveaways, for example, on social media, then Wispond has a ton of sweepstakes landing page templates and popups.
Their marketing automation isn't bad at all, with plenty of conditions to choose from. You can also A/B test your newsletters to find out which performs better.
If you're already with an email marketing provider such as MailChimp or ActiveCampaign, Wishpond makes it very easy to integrate these with their software.
Screenshots:
Plans and Pricing
Starting Out: $75 per month billed monthly / $49 per month billed yearly
Unlimited landing pages, social media contests and pop-ups, email drip campaigns, marketing automation, unlimited user accounts, maximum 1,000 leads.
Everything You Need: $149 per month billed monthly / $99 per month billed yearly
Everything in 'Starting Out' plus A/B testing, custom CSS and JavaScript, API access and a limit of 2,500 leads.
Rapid Growth: $299 per month billed monthly / $199 per month billed yearly
First in line customer support, free implementation support, 10,000 leads.
(Once you go over 10,000 leads, the prices start to really jump up.)
Pros and Cons
The software is very user friendly and offers a ton of attractive templates and advanced automation workflow options. Their Starting Out plan is pretty affordable for what it is and their limit of 1,000 contacts should be enough for small businesses to get started.
In terms of using it as a sales funnel builder, it's missing the ability to see how everything works together as there is no visual sales funnel builder.
Try out Wishpond by signing up for their 14-day free trial

9. Thrive Suite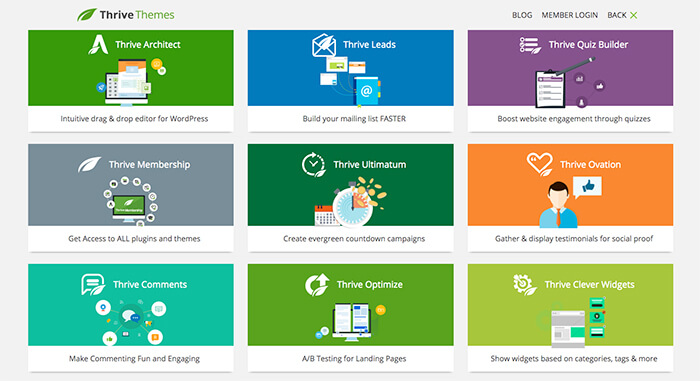 Thrive Suite is a pretty complete package. The suite provides you with all features for just $30 per month (paid quarterly) or $19 per month (paid annually).
Features
Opt-in forms and landing pages with A/B testing, conversion-focused WordPress themes, visual drag and drop website builder, widgets, headline optimizer, scarcity campaign builder, testimonials plugin, quiz builder and online course builder.
Plans and Pricing
$30 per month paid quarterly / $19 per month paid annually
25 sites, all plugins and themes.
Pros and Cons
Considering all that's included, Thrive Suite is very affordable. It seems to be a solution more for agencies and developers (hence why you can use the features on such a large number of websites). If your business is online courses, this could be a good option.
Missing email marketing and automation. Unfortunately, Thrive does not offer a free trial.
10. Keap (formerly Infusionsoft)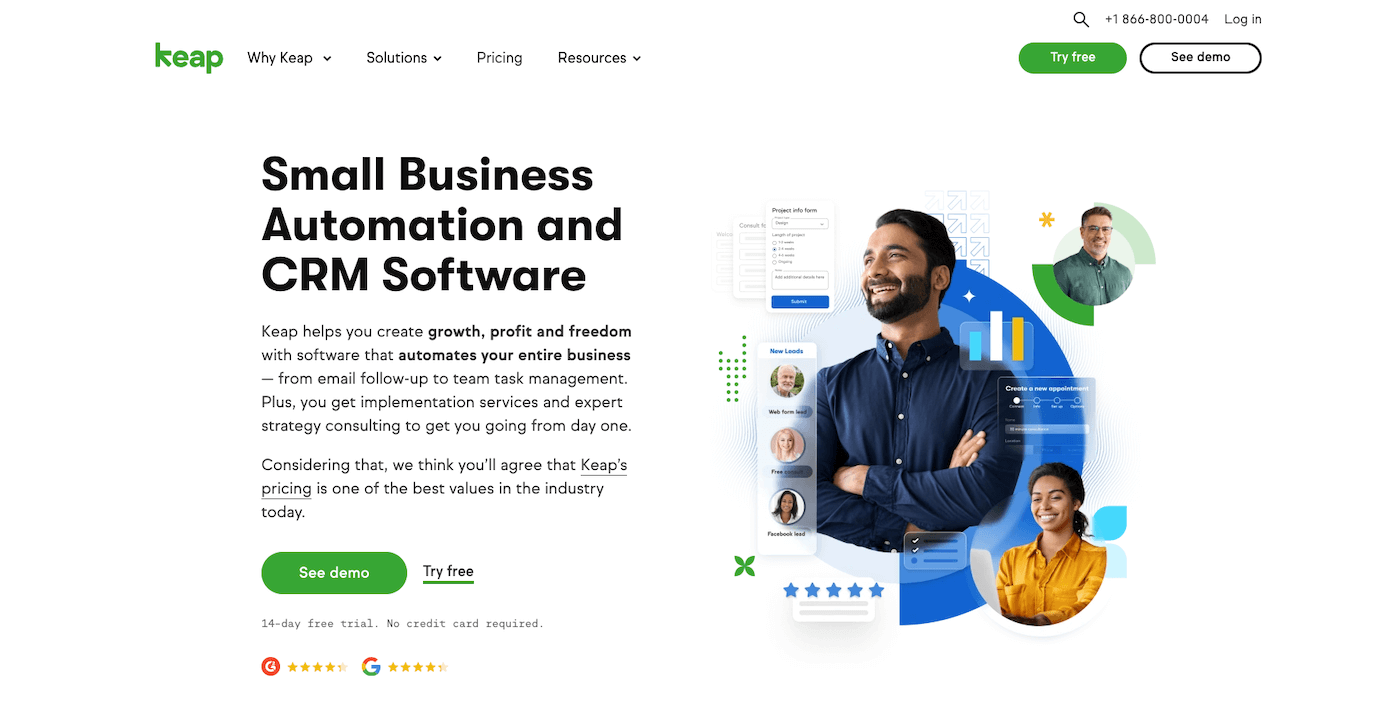 Infusionsoft, or rather Keap, as it's now called, offers a pretty complete service. Marketed towards small business owners, users can make use of their CRM, marketing automation, landing pages and reports (top tier plan).
You can integrate Keap with the existing tools you use, such as Shopify, Magento and WordPress.
Plans and Pricing
All plans are based on 500 contacts and 1 user, though you can pay extra for more of both.
Lite: $79 p/month
Includes CRM, segmentation, appointments, contact segmentation, business phone line and text messaging, invoices and payments, quotes,
Pro: $149 p/month
Advanced automation, recurring payments, landing pages, sales pipeline automation and reports.
Max: $199 p/month
Pro features plus analyics, lead scoring, checkout pages and subscription management.
Pros and Cons
Their visual sales funnel builder is easy to use and has plenty of options available.
Though it's marketed towards small businesses, it carries a medium-sized business price tag – in fact, it's one of the most expensive sales funnel software on this list. Also, 500 contacts is not very many considering how much you're paying, and there's a one-time payment of $499 for coaching.
11. Leadpages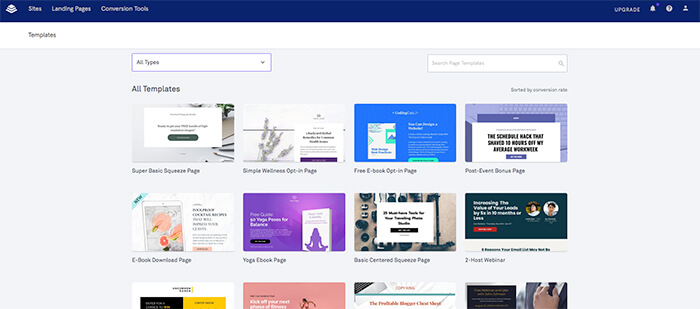 Leadpages could be a good option for entrepreneurs just starting out, as it allows you to build your own mobile responsive website from scratch with their simple drag and drop editor, as well as landing pages, alert bars and pop-ups. They don't offer email marketing software (which is probably why it's a fair bit cheaper than the other tools), though it seems simple enough to integrate this. The best thing about this sales funnel software is that you can collect unlimited leads and you won't be charged for them – all plans are unlimited.
Plans and Pricing
Standard: $37 per month billed monthly / $25 billed annually
1 website, unlimited landing pages, pop-ups, alert bars, free custom domain (when you're billed annually), free hosting, Facebook & Instagram ad builder, weekly group coaching.
Pro: $79 per month billed monthly / $48 billed annually
Everything in the Standard plan plus online sales and payments, unlimited A/B split testing on landing pages, 10 opt-in SMS campaigns.
Advanced: $321 per month billed monthly / $199 billed annually 
Everything in the Pro plan plus advanced integrations, 5 pro sub accounts, 50 extra opt-in SMS campaigns, one-to-one set up assistance and Leadpages virtual workshops.
Pros and Cons
Unlike other sales funnel software providers, you'll always pay the same, regardless of how many leads you collect. Their template selection is modern and sorted by conversion rate, though it is a very small collection. Setting up your website couldn't be easier!
Doesn't include email marketing software and automations – you'll have to integrate with another provider. Their Standard plan is fairly reasonable, however, when you compare their offering with others, their features are a bit limited and not worth the hefty price tag attached to their Advanced plan.
Try Leadpages out by signing up for their 14-day free trial 

12. Landingi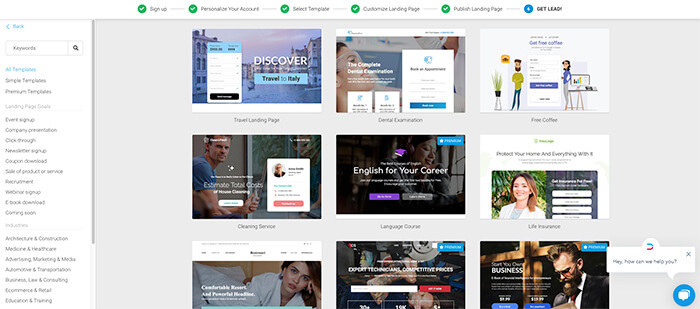 As the name implies, Landingi's main focus is landing pages, and though that isn't to say that you can't build sales funnels with their software, you'll need to rely on other providers to do so. You'll need to integrate the landing page software with your email marketing provider in order to add leads to automations (you can send very simple autoresponders through Landingi but I'd leave the automations to a provider like ActiveCampaign). In their Automate plan ($79 per month) or higher, you can integrate your CRM.
Based on the fact that you'll need to rely on a number of other tools, I wouldn't recommend Landingi for your sales funnels. However, I've included them for their great selection of mobile responsive landing page templates. They are some of the best I've seen, and really easy to edit and publish. If you do run into any problems, they have live chat installed in your dashboard, and they're very quick to respond and help you out.
One thing you need to be aware of is that you'll have to integrate each page form with your CRM or email marketing platform every time – this can get messy and lead to errors.
Plans and Pricing
Core: $39 per month billed monthly / $29 billed annually
Unlimited landing pages, leads, traffic, custom domains and account users. Drag & drop creator, cloud hosting, lead inbox, email, chat and analytics integrations, 150 landing page templates.
Create: $59 per month billed monthly / $45 billed annually
All Core features plus 50 premium templates, custom fonts, 5000 free images library, 600 free icons library, background videos & images and lightboxes.
Automate: $79 per month billed monthly / $59 billed annually
All Create features plus Zapier integrations, CRM integration, A/B split testing, autoresponder and campaign scheduler.
Pros and Cons
Very good selection of modern-looking templates that look as though they would convert well. Not a bad price for a landing page builder.
The autoresponders sent through Landingi are very basic. It also took me a long time to find where to edit these as the section is hidden within the form settings, as are the integrations. When it comes to sales funnels, Landingi is a bit limited – you'd be better off going with a sales funnel software platform like Kartra or Clickfunnels.
If you're still curious, you can try Landingi out for free

13. Instapage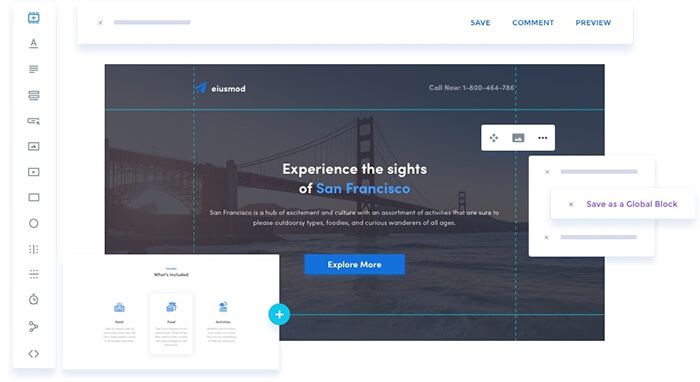 Instapage is a landing page builder which can be used as part of your sales funnel. It proclaims that you could see a 400% increase in conversions using their software by making use of their conversion-optimized, use-case-based templates and sophisticated A/B testing. This is great for businesses that only need landing pages, however, when it comes to sales funnel software, there are other more complete options available. At $129 a month, this is a bit pricey.
Plans and Pricing
Core: $129 per month / $99 billed annually
89 templates, integrations, A/B testing, heatmaps, conversion analytics and forms. 30,000 unique visitors, 30 published landing pages, 5 sub-accounts and 5 team members.
Enterprise: Custom, needs-based offer
Everything in Core plus editable global blocks (used in the editor), AMP pages and experiences, guaranteed uptime, professional page launch services, page migration services, dedicated CSM, custom fonts and custom feature implementation.
Pros and Cons
For a landing page editor it's pretty complete. Heatmaps is a nice feature to see how your users behave on the page, which can help you to improve the page's performance.
If you're looking for more than just a landing page builder then Instapage isn't for you. There are much more complete packages on this list of sales funnel software. Also, it's not the cheapest – you might be better off going for Landingi.
If you'd like to try them out for yourself, sign up for Instapage's 14-day free trial 
Free Funnel Builder
The only free sales funnel builder on this list is Systeme.io. You can set up up to 3 sales funnels made up of 10 steps, so not bad at all!
Unfortunately, in the case of the other providers, even if they do offer a free plan, the sales funnel builder is reserved for paying customers. That said, almost all of them offer a 14-day free trial, so you don't have to commit until you're absolutely sure.
Conclusion: The Best Sales Funnel Builder
If you're still with me, well done! You should now have a good idea as to which sales funnel software is right for your business. As you've seen, prices can vary quite a bit and often important features like email marketing are not part of the core offering, meaning that you have to pay extra for this service with another provider.
In terms of the most complete package, value for money and templates, I'd recommend GetResponse. If you're a small business starting out then their Plus plan ($49 p/month) provides you with all the tools you need to get your sales funnels working seamlessly in no time. However, there is one catch I should make you aware of. GetResponse historically hasn't done so well in our deliverability studies, landing an average of 82% of emails in the main inbox of ISPs. That's not to say that the other tools that offer email marketing on this list would see better results, we'd have to test them to find out.
Systeme.io is a very interesting option because of its free plan and very affordable prices. The fact that its offering includes a wide range of features makes it a great choice for small businesses.
ActiveCampaign is another great all-rounder, especially for those who want to automate every aspect of the customer journey.
ClickFunnels and Kartra both have fairly easy-to-use software and plenty of video tutorials and help getting started, the only thing is, neither of them has a great template selection. If you want to be able to see your sales funnel visually, Clickfunnels is better at showing you how all your actions fit together, though they do have a limit on sales funnels (20) and traffic (20,000 visitors), though no limit on contacts collected, whereas Kartra sets a limit of 2,500.
So, in the end, it really depends on what's important to you.
I hope you found this article helpful. Please share your experiences and questions below. I'm curious to find out how you do with your sales funnels.
We keep our content up to date
28 Mar 2023 - Addd CartFlows
29 Nov 2022 - ActiveCampaign and GetResponse video reviews added
21 Aug 2022 - Changes to Kartra's plans and pricing
07 July 2022 - HubSpot now offers marketing automation on Starter plan
11 May 2022 - Added ActiveCampaign and HubSpot
09 March 2022 - Updated GetResponse's prices
14 Dec 2021 - Added Systeme.io
29 Nov 2021 - Added 'free funnel builder' section
11 May 2021 - Moved Keap down and table up
18 Mar 2021 - Updated Keap's prices and plans
14 April 2020 - Small update
15 Mar 2021 - Thrive changed the name of their product to Thrive Suite
Our Methodology
This article has been written and researched following our EmailTooltester methodology.
Our Methodology