If you're having doubts about whether SendGrid is right for your transactional email needs, there are many other email service providers you can consider.
Some of them are especially affordable, while others have exceptional features.
Meanwhile, others are all-in-one marketing platforms. They offer not just transactional email features, but also email marketing and transactional SMS capabilities.
What are these tools, how do they compare to SendGrid, and which one is for you? Let's find out in this guide to the 12 best SendGrid alternatives!
What Are the Best SendGrid Alternatives?
The best SendGrid alternatives for SaaS and ecommerce businesses include SMTP2Go, MailerSend, Postmark, and Mailgun. These tools offer a good mix of quality transactional email features and great value for money. They also let you send a certain number of emails for free every month via their SMTP servers, which is handy for testing their capabilities.
SendGrid's Biggest Drawbacks
From my research, SendGrid may not be the best option if you fall into any of these categories:
You are a low-volume sender:
SendGrid's free plan is good for sending only 100 emails per day, and its cheapest paid plan is $19.95 per month for 50,000 emails. Startups and smaller businesses that don't need to send that many emails may find such fees pricey compared to other providers like SMTP2Go.
You value simpler, more affordable transactional and marketing email bills:
Transactional emails and marketing emails are two different types of email marketing campaigns.
Transactional emails are emails sent in response to users taking actions on your website. They include order confirmation emails when a user places an order, and password reset emails if a user requests to reset their password. (See some great transactional email examples here.)
On the other hand, marketing emails are emails you proactively send to users to promote your products or services. Examples of marketing emails include newsletter emails and sales announcement emails.
SendGrid bills for transactional and marketing emails as separate products. As a result, you'd potentially need to pay more to send both types of emails. Your billing might get more complicated, too.
In contrast, all-in-one email platforms like Brevo and SendPulse bundle both transactional and marketing emails into their marketing plans.
You don't compromise on deliverability:
SendGrid placed fifth when we tested the email deliverability of nine free SMTP servers. That's really nothing to shout about. Other platforms, such as SMTP2GO, and Postmark, have much more reliable email deliverability.
You intend to automate your email workflows:
I found SendGrid's automation workflow editor rather simplistic. For one, you can't have conditional paths in your automations or set up multiple triggers for them. If you need advanced marketing automation capabilities, try using Postmark together with ActiveCampaign.
12 Best SendGrid Alternatives
Based on my research, here are my top 12 SendGrid alternatives if SendGrid may not be for you!
1. SMTP2Go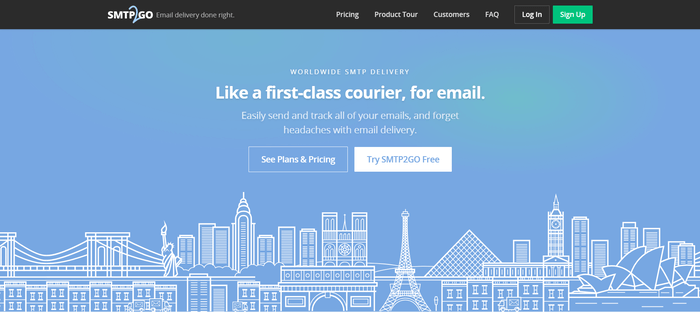 SMTP2Go is a fantastic email delivery service. For one, free users can send 1,000 emails every month for free. Meanwhile, businesses with more modest email needs will like how the platform offers affordable plans with lower send limits.
Apart from its superb deliverability, SMTP2Go also offers features such as worldwide servers, real-time reports, and spam trap detection.
With all these things in mind, it's unsurprising that SMTP2Go is also our pick for Best Transactional Email Provider for 2023!
Where SMTP2Go beats SendGrid:
SMTP2Go excels in email deliverability, coming in tops in our email deliverability tests. (SendGrid trailed behind in fifth place.)
Separately, SMTP2Go's email servers are located all over the world (the US, EU, Australia, New Zealand, and Singapore). This arrangement helps you connect to the server located closest to you, and send emails quicker. You can also use SMTP2Go's EU servers if you need to comply with the GDPR.
In contrast, SendGrid has servers in only the US.
Where SendGrid does better:
Unlike SMTP2Go, SendGrid has built-in functionality for sending email marketing messages. (Though if you especially value email marketing features, Brevo or Mailchimp may be stronger options.)
SMTP2Go pricing
1k emails: free
10k emails: $10 per month (Starter plan)
40k emails: $15 per month (Starter plan)
100k emails: $75 per month (Professional plan)
Discounts available for annual plans
Who is SMTP2Go best suited to?
SMTP2Go is a great go-to alternative to SendGrid if you're sending transactional messages at a lower volume and don't intend to send marketing emails.
2. MailerSend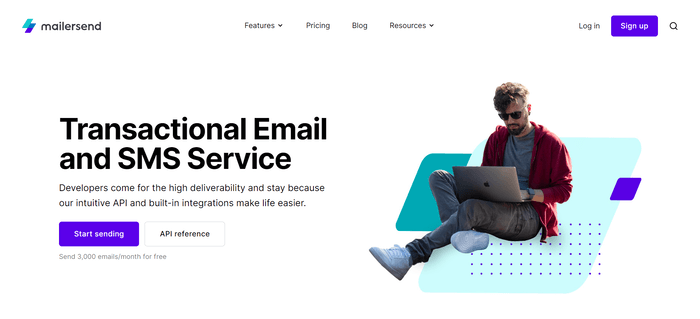 You may find MailerSend especially attractive if you have limited funds to spend on email delivery. This transactional email service provider lets you send up to 3,000 emails per month under its free plan, and you can send even more at just $1 per block of 1,000 emails.
It's only if you need premium features, such as extra seats, transactional SMS, and analytics exports, that you'd need to upgrade to a paid plan.
Other useful MailerSend features include email verification for weeding out invalid email addresses, and custom domain tracking. You can also opt for MailerSend's sister service MailerLite for your email marketing needs.
Where MailerSend beats SendGrid:
MailerSend's drag-and-drop transactional email builder is easy to use. I also like its unique content blocks — such as signature and countdown — for fleshing out your emails. SendGrid's range of email content blocks is more limited.
MailerSend can also send transactional SMSes. SendGrid can't unless you add on Twilio's MessagingX service.
Where SendGrid does better:
SendGrid classifies bounced emails into one of seven categories so you can understand why your email bounced, then take steps to fix the issue. MailerSend will simply categorize email bounces as either "hard" or "soft," which doesn't provide as much visibility into them.
MailerSend pricing
3k emails: free
50k emails: $30 (Premium plan)
100k emails: $60 (Premium plan)
20% yearly discount available
Who is MailerSend best suited to?
MailerSend is a good option for businesses that want to send transactional emails at no or low cost.
3. Postmark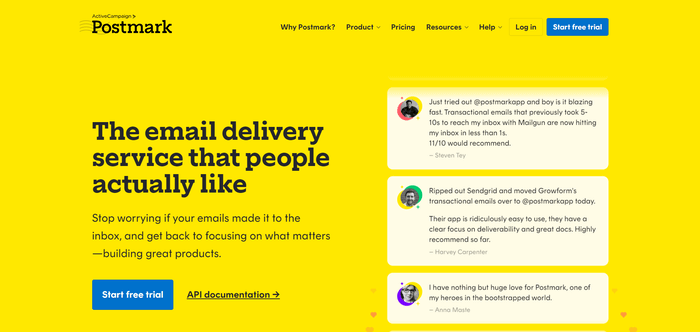 Postmark is a fantastic transactional email platform, offering features such as superior deliverability, template pushing across environments, and inbound email processing for getting into your customers' inboxes and handling their replies.
It also integrates smoothly with parent platform ActiveCampaign, letting you send transactional emails from your marketing automations. (And ActiveCampaign's email marketing automation capabilities are Powerful with a Capital P.)
Finally, if you'll be collecting or processing the personal data of EU residents, you'll be glad to know that Postmark is GDPR-compliant!
Where Postmark beats SendGrid:
Postmark has much higher email deliverability than SendGrid. The former came in second in our deliverability tests, and three places ahead of SendGrid.
And while SendGrid puts some premium features behind more expensive plans, you'll get full access to almost all of Postmark's features at every pricing tier. You'll have to pay more only if you want to send more emails, or use add-ons such as dedicated IP addresses.
Where SendGrid does better:
From our research, Postmark is one of the more expensive email delivery services in the market. SendGrid presents a much more affordable option.
Postmark pricing
100 emails: free
10k emails: $15 per month
50k emails: $55 per month
100k emails: $115 per month
Who is Postmark best suited to?
Businesses with higher budgets for quality transactional email features may find Postmark perfect.
4. Mailgun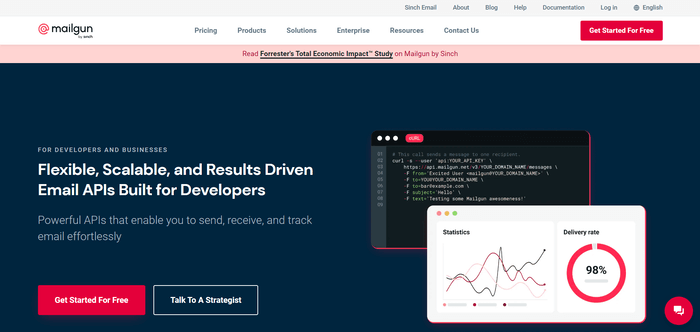 Mailgun is a developer-focused transactional email API service that offers useful deliverability tools for helping your emails reach your recipients.
For example, you can conduct inbox placement tests to see whether your emails are likely to reach the inbox, social or promotions tabs, or even the spam folders of email clients.
Dedicated IPs are also available if you'd rather not risk your sender reputation being affected by the sender reputation of others on the same shared IP address as you.
Mailgun's plans are among the pricier options available, but a pay-as-you-go model lets you send (or verify) extra emails without needing to upgrade to a more expensive plan.
Where Mailgun beats SendGrid:
Mailgun's interface is clean and easy to use. SendGrid's isn't too bad either, but its low-contrast color scheme can make navigating the interface difficult at times.
A machine learning-powered send time optimization feature can also help deliver your emails at the time when your recipients are most likely to open them. Neither SendGrid nor many other Simple Mail Transfer Protocol (SMTP) email services I've tested offer such a feature.
Where SendGrid does better:
SendGrid has a forever-free plan that lets you send up to 100 emails per day. Mailgun doesn't — you get to trial its features for free for a month before being upgraded to its paid Foundation plan.
Mailgun pricing
50k emails: $35 per month (Foundation plan)
100k emails: $75 per month (Foundation plan)
Who is Mailgun best suited to?
Go with Mailgun if you're a developer in search of quality transactional email API infrastructure and features.
5. Elastic Email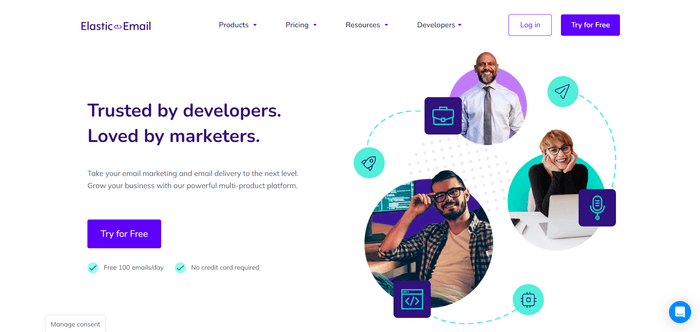 Elastic Email provides both email API and email marketing services, with cost-effectiveness being one of its main selling points.
For example, its plans are among the lowest-priced available. You can also send up to 100 emails per day for free, which is on par with the sending limits for SendGrid's free plan.
That said, Elastic Email's deliverability isn't great – The platform finished in ninth (and last) place in our deliverability tests for SMTP servers. In case you're wondering, SendGrid placed fifth in the same tests. Not the best score but at least it still fared better?
Where Elastic Email beats SendGrid:
Elastic Email is one of the cheapest SMTP service providers I've seen on the market.
Regardless of whether you're a free user or paying customer on its most expensive plan, Elastic Email offers an average support response time of just one day. SendGrid doesn't guarantee support response times for free users — in fact, it prioritizes responding to queries from customers on higher-tiered plans.
Where SendGrid does better:
With SendGrid, you can get up to 30 days' worth of email activity history (for an extra fee). Elastic Email keeps email logs for only up to a week.
Elastic Email pricing
100 emails/day: $0
10k emails: $9 per month (Starter plan)
50k emails: $15 (Starter plan)
100k emails: $25 (Starter plan)
Who is Elastic Email best suited to?
If you're new to sending SMTP emails, Elastic Email might provide a zero-cost testbed for you to learn the ropes before transitioning to another provider. (You could use SendGrid for the same purpose, but you might have to wait longer to hear back from support.)
6. Mailtrap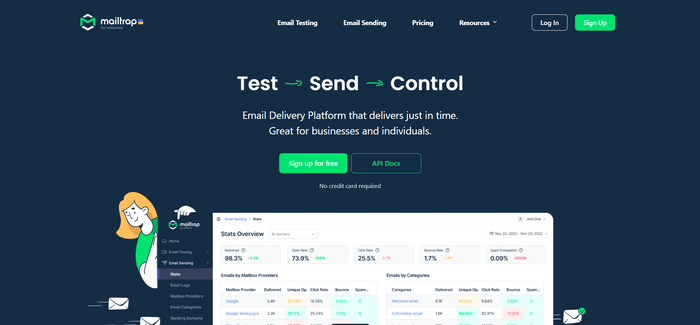 Mailtrap is more of an email testing solution, checking your spam score, and analyzing your emails' HTML for compatibility with major email clients.
That said, it also has typical features for sending emails via API or SMTP relay. After sending your emails, you'll get detailed email analytics on your delivery rate, unique open rate, bounce rate, and more across various mailbox providers.
Where Mailtrap beats SendGrid:
Mailtrap provides a test inbox for you to test your emails without bothering your customers. You can even test sending your emails to multiple recipients. SendGrid doesn't offer a similar test inbox.
Depending on your plan, Mailtrap provides up to 60 days' worth of email logs for reviewing your email activity. In SendGrid, the default option is only either three or seven days' worth of records, and you have to pay to access your email activity history over the last 30 days.
Where SendGrid does better:
While SendGrid offers 24/7 support over platforms such as support tickets and chat, Mailtrap provides only email support if you want to get help from a human agent. There's also no mention of email support hours.
Mailtrap pricing
1k emails: $0
10k emails: $10 per month (Individual plan)
40k emails: $14 per month (Individual plan)
100k emails: $30 per month (Individual plan)
Who is Mailtrap best suited to?
If you intend to subject your emails to rigorous testing before sending them, Mailtrap will provide the tools you'll need.
7. Amazon SES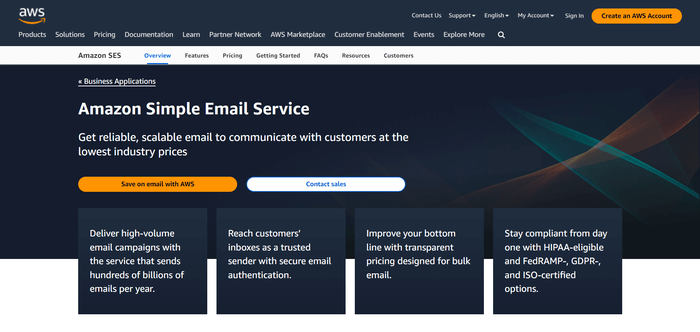 Apart from being a leading ecommerce marketplace and cloud computing service provider, Amazon also maintains a Simple Email Service (SES) for helping businesses send transactional and marketing emails to customers.
If you're using Amazon Elastic Compute Cloud (EC2), you can send up to 3,000 emails for free every month (limited to the first year), with subsequent emails costing $0.10 per 1,000-email block. That's not too bad a deal! But be prepared to pay extra if your emails contain attachments.
And despite its name, the Amazon SES isn't that simple to use. Unless you're an enterprise organization sending millions of emails every month, you're likely better off with a different (and easier-to-use) email service.
Where Amazon SES beats SendGrid:
Amazon EC2 users can send up to 3,000 emails per month for free with Amazon SES within the first year. (Charges may still apply for items such as outgoing mail data and EC2 data transfers, however.) At best, SendGrid lets you send up to 100 emails per day for free.
If you already own IP addresses, you can use these to send emails via Amazon SES under the platform's Bring Your Own IP service. From my research, SendGrid requires you to use either its shared or dedicated IP addresses.
Where SendGrid does better:
SendGrid is much more user-friendly than Amazon SES. Some non-tech users have voiced their frustration about the Amazon SES dashboard being difficult to use.
Amazon SES users also need to pay for a separate support plan to get help from a support agent. SendGrid's plans all include varying degrees of support.
Amazon SES pricing
10k emails: $1 per month
50k emails: $5 per month
100k emails: $10 per month
Extra cost for attachments
Who is Amazon SES best suited to?
Amazon SES might be suitable for enterprise businesses with dedicated IT teams for managing their email operations.
8. Mailjet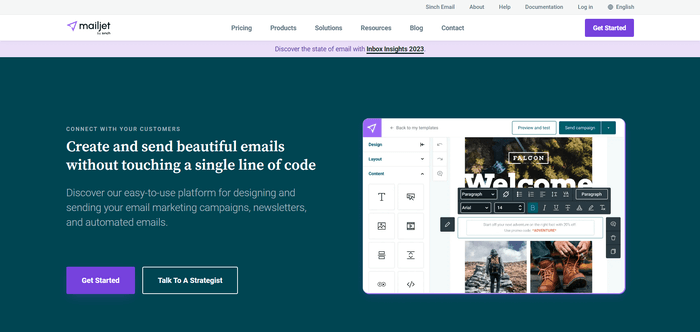 Mailjet combines email marketing with email API services in one platform, so it's got some useful email marketing features you may not find in other transactional email solutions. These include A/B testing, marketing automation, and dynamic email content.
Most of Mailjet's email API-related features are available right off the bat on its rather generous free plan. So you generally have to upgrade only if you need to send more emails or want access to email marketing features.
Where Mailjet beats SendGrid:
Using Mailjet's linked section feature, you can link email sections to multiple templates and update these templates simultaneously when you edit your linked section. Not many other SMTP email providers I've tested — SendGrid included — offer such a convenient feature.
Free Mailjet users can send up to 200 bulk emails per day, or up to 6,000 emails per month, at no cost. This beats SendGrid's free plan offering of up to 100 daily emails.
Where SendGrid does better:
SendGrid offers more detailed bounce classifications to help you understand why your emails have bounced. Mailjet distinguishes only between hard and soft bounces.
Mailjet pricing
6k emails: $0 (daily limit: 200)
15k emails: $15 per month (Essential plan)
50k emails: $35 per month (Essential plan)
100k email: $95 per month (Premium plan)
Discounts available for annual plans
Learn more about Mailjet pricing here.
Who is Mailjet best suited to?
Mailjet is a strong choice for managing marketing and transactional emails in one platform. (But if you also want to send SMS or WhatsApp messages, check out Brevo instead.)
> Read our full Mailjet review
9. Brevo (formerly Sendinblue)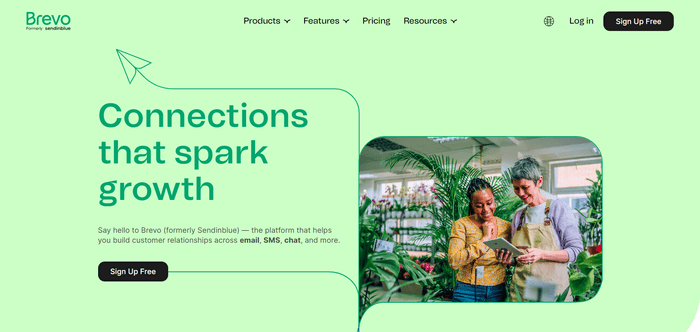 Previously known as Sendinblue, Brevo is an omnichannel platform for sending email marketing campaigns, transactional emails, and even non-email communications like SMS and WhatsApp messages. This makes it handy for managing all your customer communications in one place.
Brevo is also a good choice if you're looking for a free SMTP service with marketing features. With its free plan, you can set up marketing automations and send up to 300 marketing or transactional emails per day.
Where Brevo beats SendGrid:
Brevo offers more flexible automation capabilities. These include the setting up of if/else conditions and taking actions such as updating a contact attribute. SendGrid's automations are more limited in scope and can't do the same.
Unlike SendGrid, which charges for transactional and marketing emails separately, Brevo's marketing plans include transactional emails. This makes for simpler billing.
Where SendGrid does better:
SendGrid has native email validation features. Brevo doesn't, so you'd need to integrate a third-party solution to validate your emails.
Brevo pricing
9k emails: $0 (daily limit: 300)
4k emails: $35 per month (Starter plan)
60,000: $49 per month (Starter plan)
100,000: $115 per month (Starter plan)
10% yearly discount available
Learn more about Brevo pricing here.
Who is Brevo best suited to?
Use Brevo if you want to engage customers from an all-in-one marketing and transactional email platform without breaking the bank.
10. SendPulse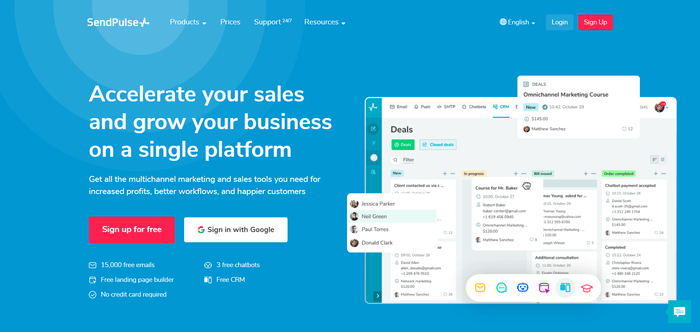 The sheer generosity of SendPulse's free transactional email plan is what first caught my eye. This email service provider lets you send 12,000 transactional emails per month for free! Very few SMTP email service providers offer such generous sending allowances.
This email service provider also has email marketing, sales CRM, landing pages, chatbot features, and more. The free plan limits for these are quite generous too — for instance, you can send up to 15,000 marketing emails to up to 500 subscribers every month.
All these omnichannel marketing features are available in separate pricing plans, so you pay for only the features you need.
Where SendPulse beats SendGrid:
Using SendPulse, you can send a whopping 12,000 transactional emails per month, or up to 400 emails per day, for free. These limits are much higher than SendGrid's limit of 100 daily emails (which works out to 3,000 emails per month).
You also get a full marketing platform for sending marketing emails, SMSes, and web push notifications, setting up chatbots, and more. You'll miss out on many of these (marketing emails being a notable exception) if you were to opt for SendGrid instead.
Where SendGrid does better:
SendGrid offers more detailed reporting features. For example, you can compare the performance of emails according to different categories you've set up, or your recipients' browsers. You won't get such deep customer insights in SendPulse.
SendPulse pricing
12k emails: $0
25k emails: $8.85 per month (Basic plan)
50k emails: $16.85 per month (Basic plan)
100k emails: $ 74.85 per month (Pro plan)
Discounts available for 6-month and yearly plans
Who is SendPulse best suited to?
Pick SendPulse if you want to send lots of emails (both transactional and marketing ones) for free!
11. Mailchimp Transactional Email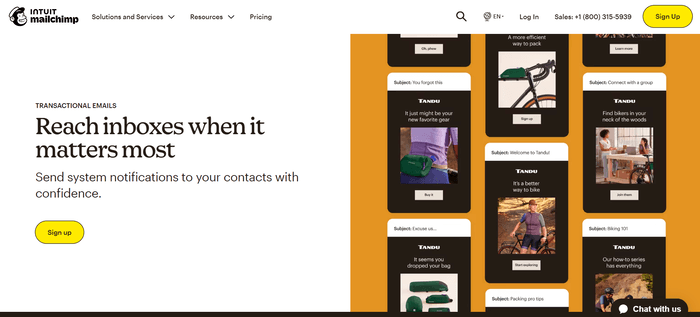 Mailchimp is well known for its email marketing and landing page features. But did you know it does transactional email too?
It does so through its Mandrill app, which looks a tad more dated than the Mailchimp interface. Still, you'll find all the usual features such as sending via API and SMTP, inbound email processing, and reports.
Just note that Mailchimp Transactional Email is a paid add-on to Mailchimp's email marketing software. You can't unbundle the two if you need only the former. A free demo is available, but it's good for only sending 500 emails to your verified domain.
Where Mailchimp Transactional Email beats SendGrid:
You can run split tests in Mailchimp to test different versions of your transactional emails and identify the best-performing ones. SendGrid doesn't have a similar split test feature.
If you're already using Mailchimp for your marketing email campaigns and social media marketing, you may find it convenient to add on the platform's transactional email service instead of signing up for a separate provider.
Where SendGrid does better:
Transactional email is an add-on to Mailchimp's email marketing plans and there's no way to use just Mailchimp Transactional Email by itself. Accordingly, you may find using Mailchimp for your transactional email needs rather pricey. SendGrid's pricing plans are cheaper.
Mailchimp Transactional Email pricing
10k emails: $20 per month
50k emails: $40 per month
100k emails: $80 per month
(+ the costs of a regular Mailchimp account)
Learn more about Mailchimp pricing here.
Who is Mailchimp Transactional Email best suited to?
Going with Mailchimp Transactional Email may make the most sense if you're already a Mailchimp user and want to conveniently manage your transactional email bill together with your email marketing one.
> Read our full Mailchimp review
12. Gmail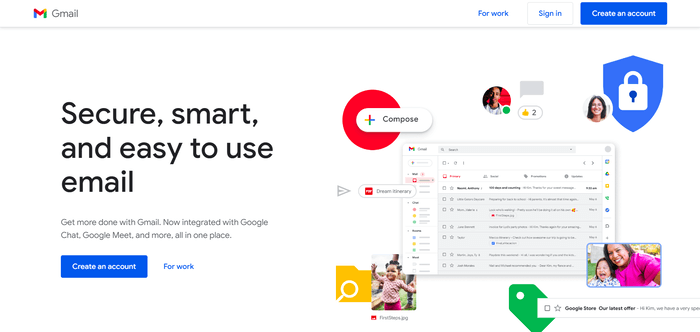 If you're a free Gmail user and know its interface like the back of your hand, sending your emails via the platform's SMTP server could be tempting. We'd just suggest taking up a paid Google Workspace plan so you can send emails from your business domain.
Otherwise, your emails will be sent from the @gmail.com domain, which may not look the most professional.
Signing up for Google Workspace will also increase your daily email sending limit from 500 to 2,000. However, you can't send emails to more than 2,000 unique recipients outside of your domain every day.
There are other downsides to Google Workspace's SMTP offering, as you'll learn about below.
Where Gmail beats SendGrid:
If you sign up for Google Workspace, you get access to not only Google's SMTP servers but also other business apps such as Drive, Calendar, Docs, and Meet. SendGrid focuses on email delivery, so it doesn't offer similar apps.
Where SendGrid does better:
SendGrid offers a simple design editor for adding features such as columns, buttons, and social icons to your emails. Gmail's email editor doesn't, so you'll largely be limited to sending simple text emails.
SMTP sending with Google Workspace also involves several complicated steps (such as setting up a Google App project and enabling the Google API).
There is a cap of 100 recipients per email if you're using Gmail's SMTP server. SendGrid's limit is 10X that, at 1,000.
Gmail pricing
From $6 per user per month (Business Starter plan)
Learn more about Google Workspace pricing here.
Who is Gmail best suited to?
Gmail is probably best for casual email senders who don't need to send that many emails per day and are fine with their emails coming from an @gmail.com domain.
SendGrid Alternatives: Final Conclusion
There are reasons why some businesses favor SendGrid — it's relatively affordable for high-volume sending, it has useful spam and inbox testing features, and it also provides all users with 24/7 support.
That said, SendGrid might not be cost-effective for smaller businesses that don't need to send that many transactional emails. Neither does the tool have fantastic deliverability or automation features.
So what are your options if you're looking for another transactional email solution?
As a whole, the best SendGrid alternatives are:
Want to do more research before deciding? Then check out our guide to the best transactional email services.
I'm also available for questions if you have any — just drop them in the comments below!
We keep our content up to date
14 Sep 2023 - Small addition
03 Aug 2023 - Change in Amazon Simple Email Service's free tier
Our Methodology
This article has been written and researched following our EmailTooltester methodology.
Our Methodology