Picture this: You've just launched your new website. Sleek design, top-notch content, and you're ready to see the registrations pour in.
You've thought of everything – or so you thought. After a while, you start noticing that your users are not getting your emails. Signup confirmations, order receipts, password resets – all of these emails seem to be going into a digital black hole.
But what's going on?
If you're a WordPress user, you might be relying on PHP mail to send your emails (the standard method for WordPress). The problem with this is that it's a less than reliable method. After all, spammers are known to abuse PHP mail, leading major email providers like Gmail and Outlook to often block it.
This issue might have brought you here: you need a reliable, free SMTP server – and no, it's probably not the one provided by your web hosting company. It may work better than PHP mail, but it could still get blocked if you're sending more than a handful of emails each day.
The 10 Best Free SMTP Servers
To get your emails successfully delivered, we've put together a list of free SMTP servers (also called SMTP relay service) that have gone through our rigorous deliverability tests. And here's the best part – they are not just reliable, they're also completely free to use with certain limitations.
So, without further ado, here is our comprehensive list of the best free SMTP servers, ranked on a variety of quality factors:
Deliverability Scores
In order to find out which free SMTP services get your emails delivered, we've done four rounds of deliverability tests for nine different transactional email service providers.
Similar to our regular deliverability tests we run for a range of different email marketing providers, we used Glockapps for our testing. This testing tool allows us to send test emails to a seed list of more than 20 international mailbox providers such as Gmail, Outlook and Yahoo. Glockapps then automatically analyzes where the emails arrived correctly.
These are the results for our free SMTP server providers:
| Rank | Provider | Test 1 | Test 2 | Test 3 | Test 4 | Average |
| --- | --- | --- | --- | --- | --- | --- |
| 1 | SMTP2GO | 95% | 94% | 97% | 96% | 96% |
| 2 | Postmark | 97% | 95% | 96% | 87% | 94% |
| 3 | Mailersend | 92% | 75% | 86% | 94% | 87% |
| 4 | Mailjet | 84% | 92% | 72% | 92% | 85% |
| 5 | SendGrid | 82% | 86% | 87% | 73% | 82% |
| 6 | Brevo (Sendinblue) | 84% | 72% | 78% | 85% | 80% |
| 7 | Mailtrap | 66% | 91% | 64% | 87% | 77% |
| 8 | SendPulse | 56% | 84% | 80% | 74% | 74% |
| 9 | Elastic Email | 60% | 41% | 79% | 58% | 60% |
While deliverability is indeed the most critical factor in choosing an SMTP sending service, it isn't the sole deciding factor. Therefore, let's delve deeper into the unique features and benefits that each of these services offers:
SMTP2GO – Our Clear Winner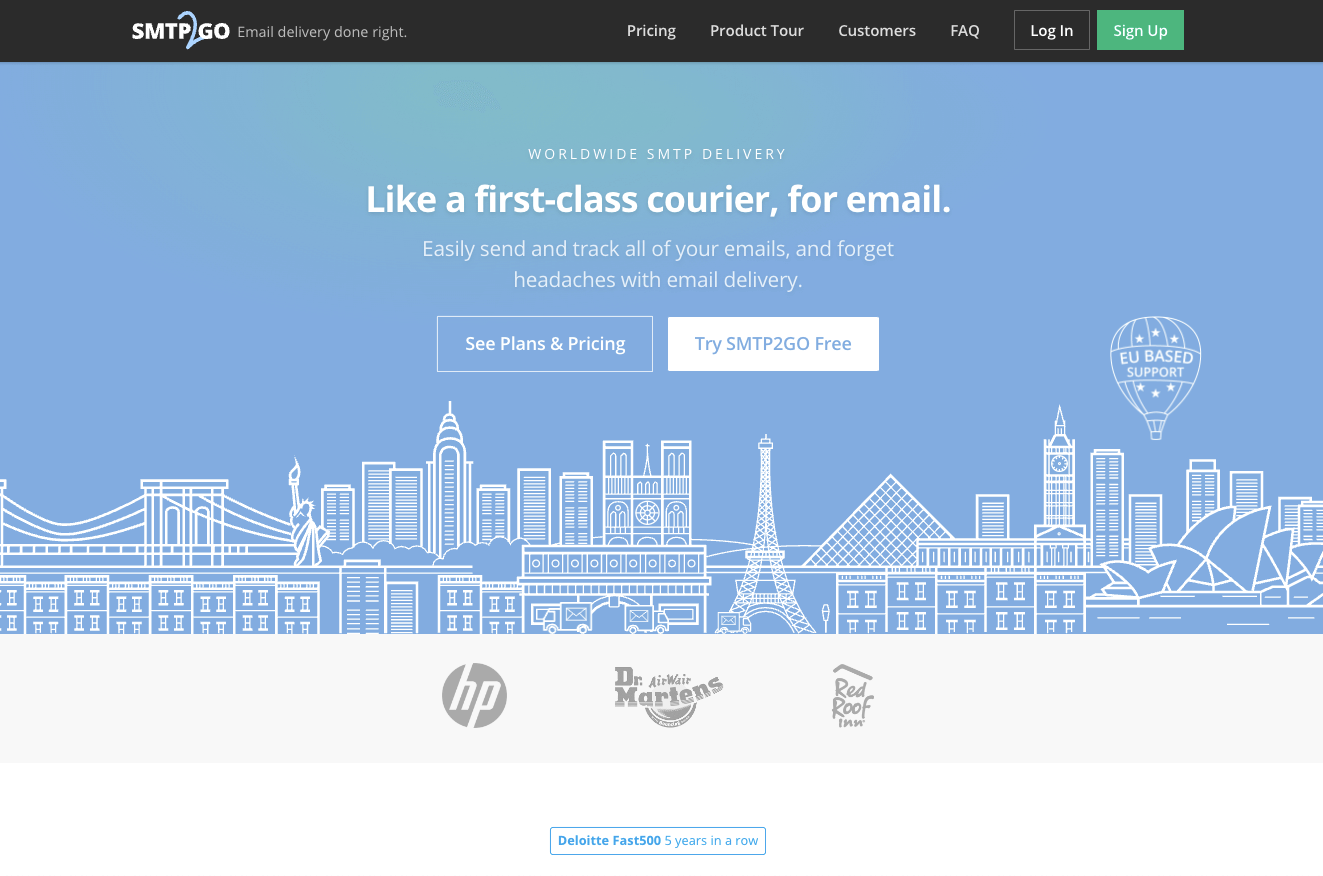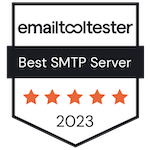 We awarded SMTP2GO our Best SMTP Server badge for 2023!
Hailing from New Zealand, this company offers the ability to send up to 1,000 emails for free per month via their SMTP servers. Despite the company's website having a somewhat old-school appearance, it would be a mistake to underestimate their service due to this facade. Indeed, they provide top-notch deliverability!
Benefits of Using SMTP2GO
Outstanding deliverability: we accomplished a fantastic deliverability rate of 96% on average.
Generous free plan: the free SMTP server allows sending up to 1,000 emails per month at no charge and with no daily cap. Even the paid plans are very affordable compared to other providers.
Effective customer service: we experienced fast and efficient live chat assistance
Availability of hosting in the EU: an essential feature if compliance with GDPR standards is mandatory
Drawbacks of Using SMTP2GO
Rate limits: The free plan permits sending only 25 emails each hour, though we were able to get this limit removed after talking to support
MailerSend – Great Value at $0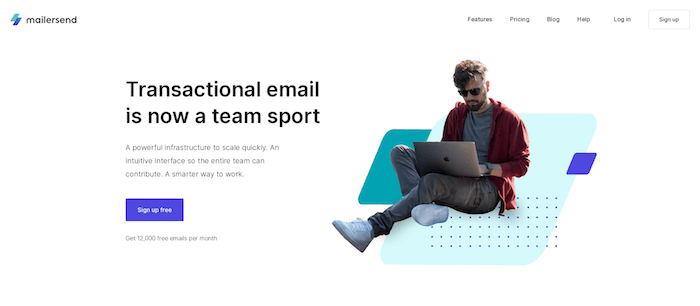 If you're seeking a generous amount of free emails without a daily limit, MailerSend might just be your ideal SMTP service provider. As a branch of MailerLite, an established email service provider from Lithuania, MailerSend specializes in delivering your transactional emails for free, or for a nominal fee if you're sending in large volumes.
While there are other SMTP servers allowing a similar monthly email count, what sets MailerSend apart from many other email service providers is what it doesn't impose: a daily cap. With a fully approved account, you have the flexibility to send all 3,000 emails in a single day.
And if you have even more to send? The cost of additional emails is attractively low, at just $1.00 per 1,000 emails.
Benefits of Using MailerSend
Generous free package: On offer is a monthly quota of 3,000 emails at zero cost!
Excellent deliverability: MailerSend came out third-best in our deliverability tests.
Quality at a low cost: Their pricing plans rank among the most competitive in the market.
Fast approval: The speed of their approval process outpaced many of the other transactional email services.
Drawbacks of using MailerSend
It's hard to fault MailerSend for anything other than 'only' having the third-best deliverability rate.
SendPulse: Free Plan Par Excellence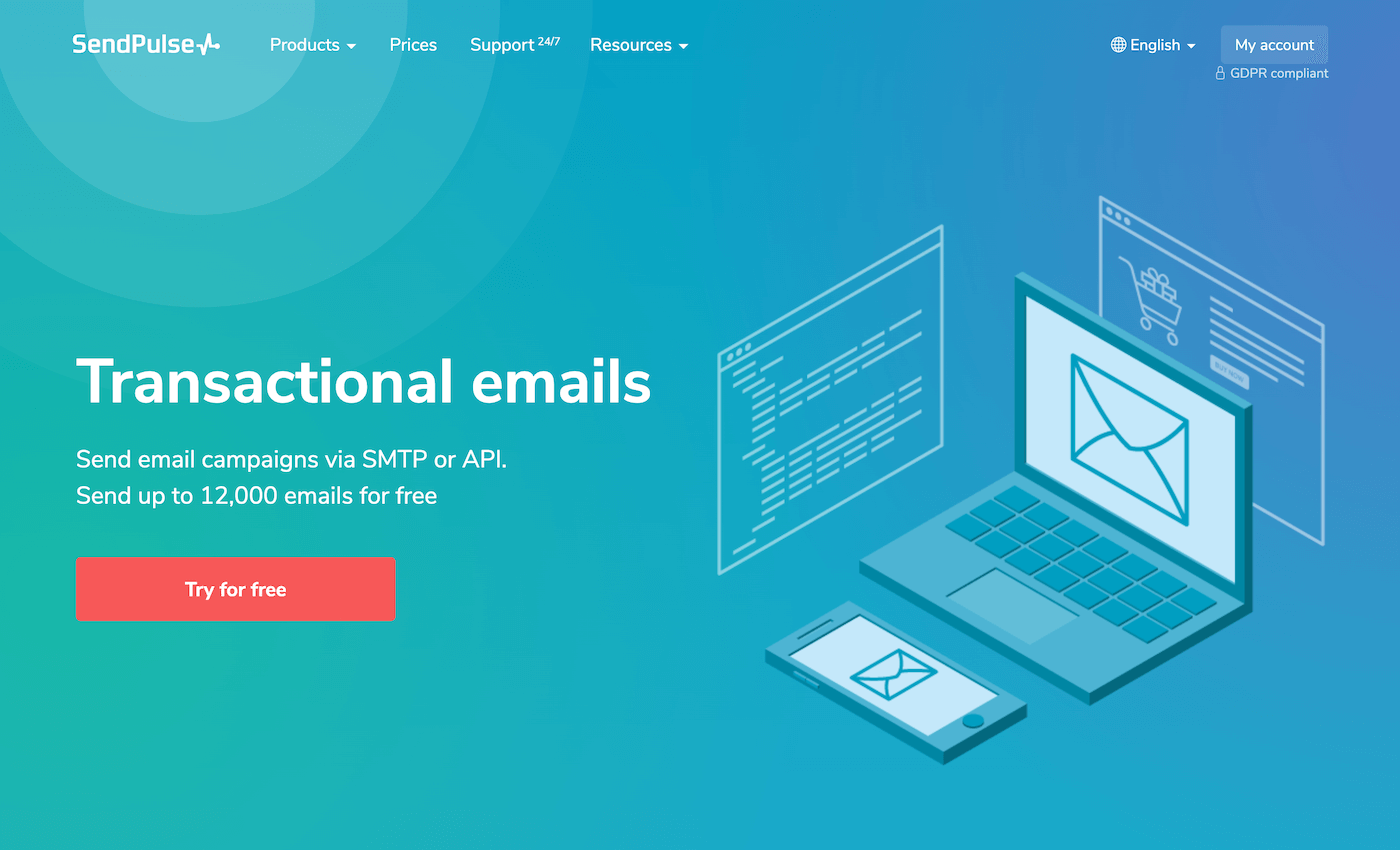 For those seeking an email service provider that offers the largest quantity of free emails, your search ends here. SendPulse, a Ukrainian company with a global presence, provides you with the liberty to send up to 12,000 emails every month for free via SMTP or API.
Additionally, they offer a comprehensive newsletter editor complete with templates, also free for up to 500 subscribers (and 15k emails). If you have an affinity for the latest technology, you'll be delighted to know that SendPulse supports AMP for Email, which enables you to add interactive elements and forms to your newsletters.
Benefits of Using SendPulse
Highly generous free plan: Includes 12k emails every month
Complete marketing platform: Comes with a newsletter editor, CRM, email automation, chatbots, SMS, landing page editor, and more
Affordable paid plans: Even when you outgrow the free plan, the transition to a paid one won't hurt your pocket too much
Drawbacks of Using SendPulse
Deliverability concerns: Average deliverability stands at only 74%, leading to many emails landing in spam or not being delivered at all. Notably, issues primarily arose with AOL and Yahoo
Brevo (formerly Sendinblue) – Send up to 9,000 emails per month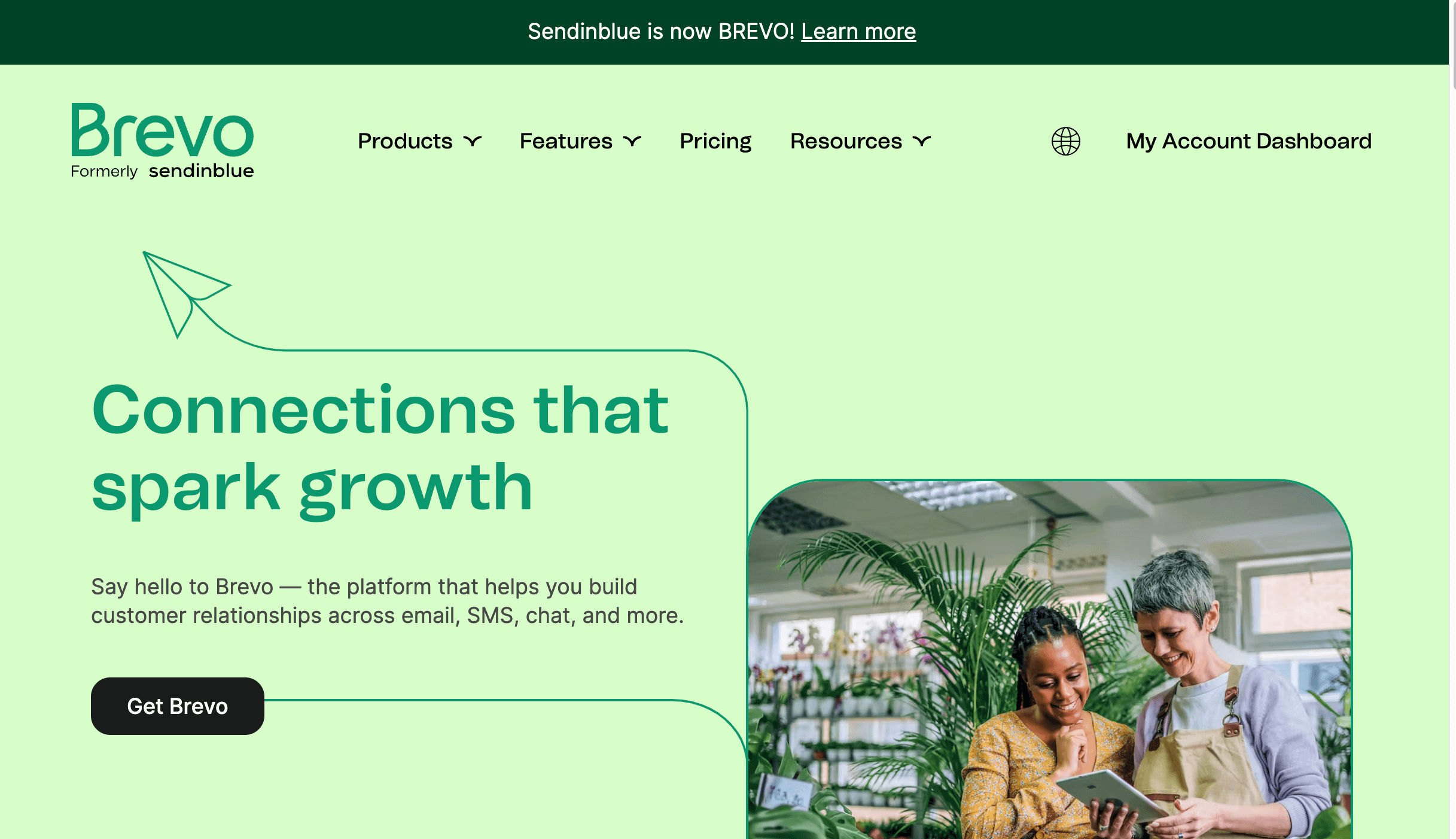 If securing a high volume of free emails is your primary concern, French-based Brevo may well be the match for you. With an allocation of up to 9,000 free emails, it offers more than most other SMTP providers. However, there is a catch: a daily limit is set at 300 emails.
Brevo brings more to the table than just high volume; it's a comprehensive email marketing suite that includes a CRM, newsletter templates, and even functionalities like live chat, all of which you can also use for free. If you're in search of an all-encompassing marketing suite, Brevo might be just what you need.
Benefits of Using Brevo
All-in-one marketing suite: comes with a featured email marketing service with a drag and drop editor, templates, SMS marketing and even a CRM.
Free plan: send up to 9,000 emails per month at no cost. Paid plans are very affordable too.
Drawbacks of Using Brevo
Deliverability rate: the main downside is their weak deliverability results. Their scores aren't the most consistent, which can lead to lost emails.
Rigid pricing: while the email allowances are very generous, other services allow you to purchase emails in increments of 1,000. With Brevo, you need to upgrade to the next-higher pricing tier.
Mailjet – Versatile Newsletter Service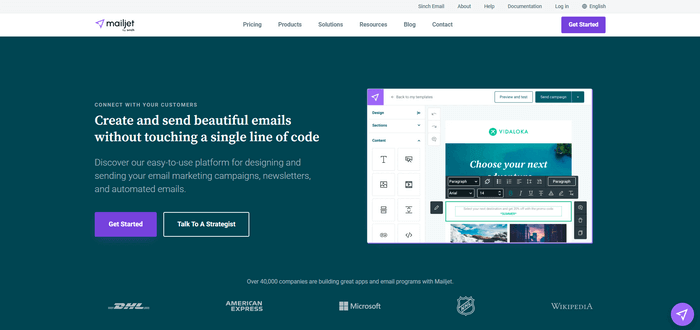 Much like Brevo, Mailjet is a great choice if you require not only a free SMTP server but also a comprehensive newsletter service. This includes templates, basic email automations, A/B testing, and a user-friendly drag-and-drop editor.
Although their free quota of 6,000 emails appears generous, it's important to note that the number of emails you can send daily is capped at 200.
Benefits of Using Mailjet
Free plan: an allowance of up to 6,000 emails monthly with a cap of 200 daily
Good deliverability: The mean score across our two rounds of testing was a commendable 85%.
Newsletter editor included: Access their template editor for creating newsletters without any extra charges!
Drawbacks of using Mailjet
Setup slightly more complicated: Relative to other services we evaluated, the setup process for Mailjet was more complex.
Limited support: we found that for certain issues, support won't help on the free plan (we asked them about their poor deliverability performance to Yahoo).
Mailtrap – Email Testing Experts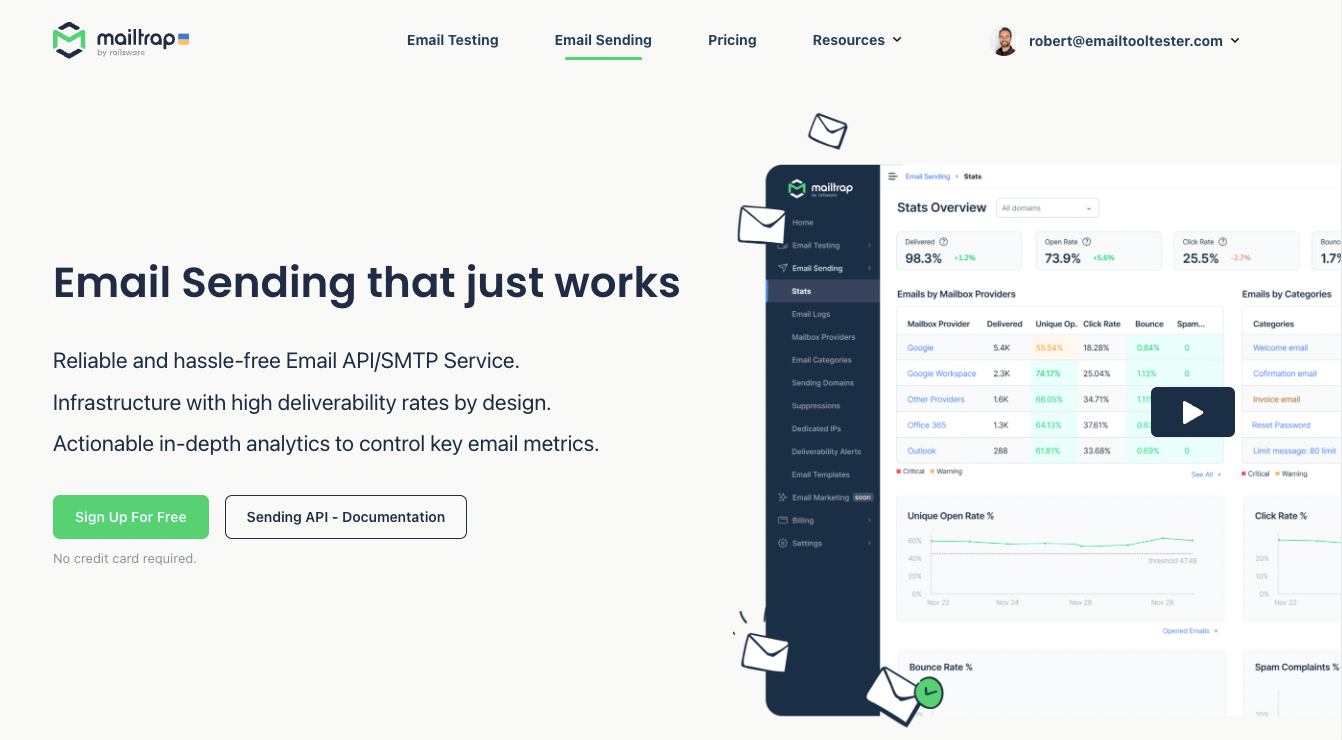 Primarily, Mailtrap operates in the field of email testing, offering a sandbox environment for inspecting and debugging emails across staging, development, and QA environments. Complementing this, they also provide a free SMTP server that permits the sending of up to 1,000 emails per month.
Given their somewhat inconsistent deliverability rate, Mailtrap may not be our first choice for an SMTP server. However, it might be a compelling option if you also wish to leverage their email testing functionality.
Benefits of Using Mailtrap
Decent free plan: 1,000 emails per month at no cost
Unique testing features: they offer a fake SMTP server that doesn't send any actual emails
Drawbacks of Using Mailtrap
Deliverability seems inconsistent: our results were highly volatile (round 1 and 3 very good, round 2 and 4 quite the opposite).
Postmark – High Quality But Pricey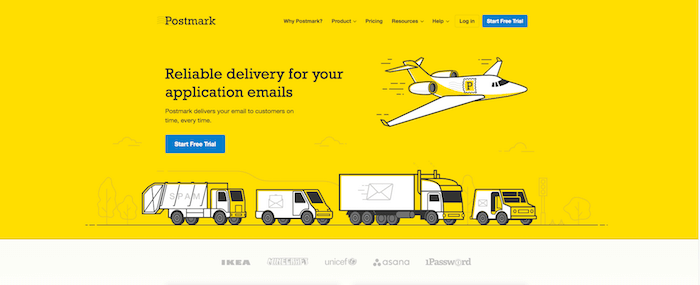 Postmark is part of the ActiveCampaign company, an email marketing service we rate highly here on EmailTooltester.
If a good deliverability rate is your main concern, Postmark might be the one for you. But their free SMTP servers only allow up to 100 emails per month, so it's not the best service if your budget is $0.
Paid plans are also more pricey than with other transactional email providers, starting at $15 for up to 10,000 emails per month.
Benefits of Using Postmark
Excellent deliverability rate: An average of 94% puts them at the very top of our deliverability comparison
Integrations with ActiveCampaign: connect Postmark to your ActiveCampaign automations
Drawbacks of Using Postmark
Only 100 emails for free: not the most generous free plan
Expensive: quality comes at a price. Postmark charges top Dollar for their paid plans.
Not ideal for use in the EU: if you need to comply with the GDPR, you need to know that Postmark doesn't offer data hosting options inside the European Union. All their data is hosted in the United States.
SendGrid – For High-Volume Senders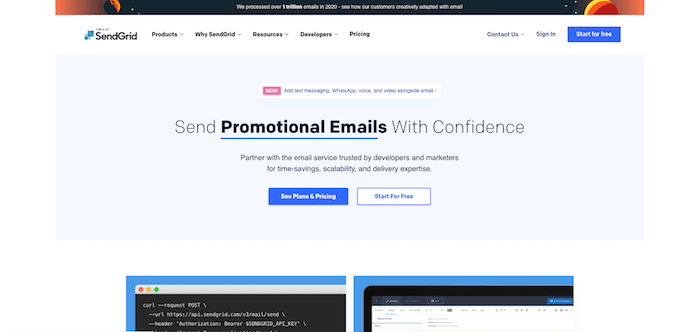 Like Postmark, SendGrid also lets you send 100 emails per month for free. Where they differentiate themselves from other SMTP email providers is in their interpretation of 'bulk email' – with them, it truly means high volume.
Their paid plans start at 50,000 emails per month for only $19.95. So, while their free plan may not be particularly noteworthy, SendGrid could emerge as an interesting choice if your operation involves sending emails in very large quantities.
Benefits of Using SendGrid
Low prices for high-volume email: especially useful if you have a large contact list
Drawbacks of Using SendGrid
Very limited free plan: many other Sendgrid alternatives offer much more for free
High threshold for paid plans: the lowest paid plan requires you to sign up for 50k emails per month.
Gmail – Using Google's free SMTP servers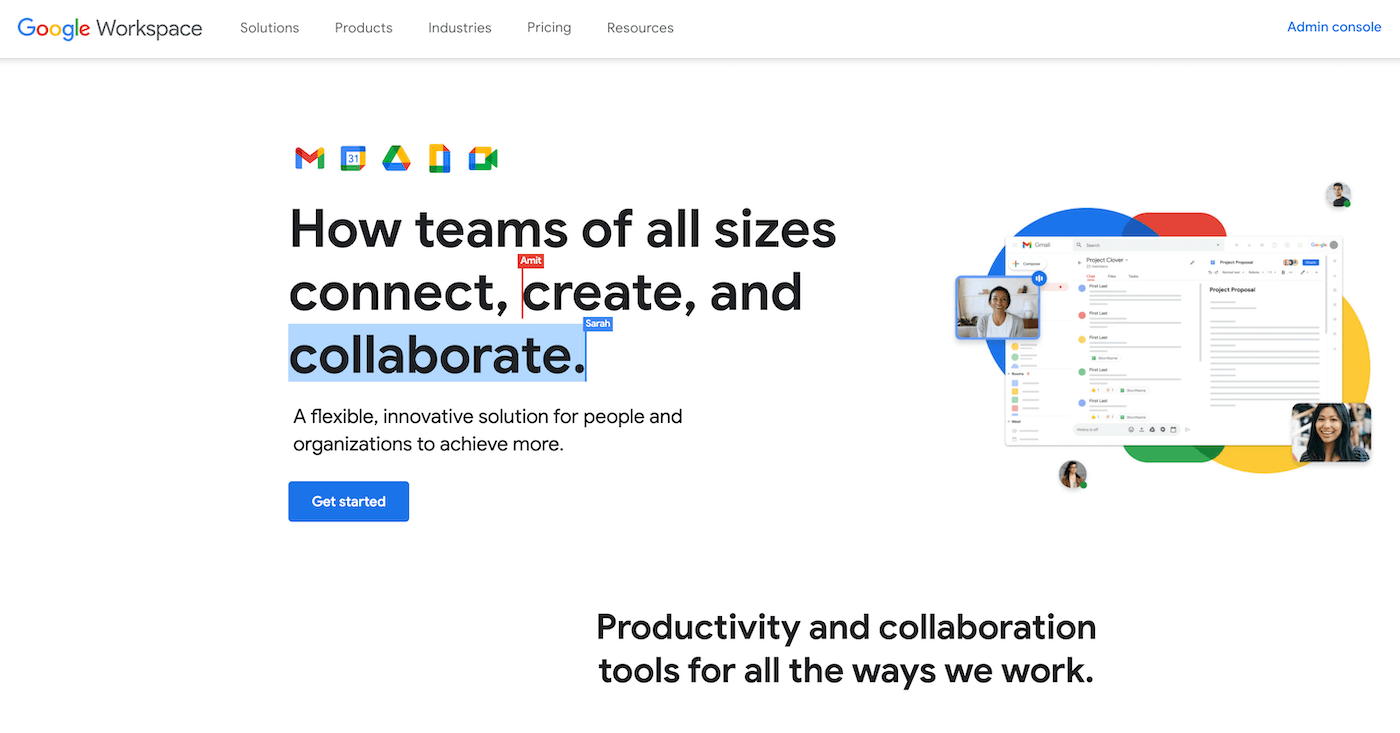 With a commanding market share of around 35%, there's a chance that you're already a Gmail user. So, why not consider their SMTP server? Their offer is quite compelling: the ability to send up to 500 emails per day for free.
However, there is a catch: you're restricted to using your @gmail.com email address as the sender. In a business context, you'd likely prefer to send emails from your own domain name.
To accommodate this need, there's Google Workspace, which provides a generous 2,000 SMTP emails per day. Sounds significantly better, doesn't it? There's just one caveat: you have to be a paying Google Workspace customer to use it.
Benefits of Using Google's SMTP servers
Relatively high allowance: send up to 2,000 emails daily as a paid Google Workspace customer
Use Google's trusted servers: while we weren't able to include them in our deliverability testing, we assume the Google's deliverability is very high.
Drawbacks of Using Google's SMTP servers
Must use your @gmail email address: it's only completely free if you use your Gmail address.
Hard limits: once you hit the sending limit, you won't be able to send any further email for 24 hours. Also important: the number of recipients per message can't be higher than 100 – this in particular might be a dealbreaker for many.
Complicated to set up: while the regular Gmail setup is straightforward, using it via Google Workspace (which is required if you want to use your company domain) is a lot more complicated.
> Learn how to set up SMTP for Google Workspace
Elastic Email – Doesn't Deliver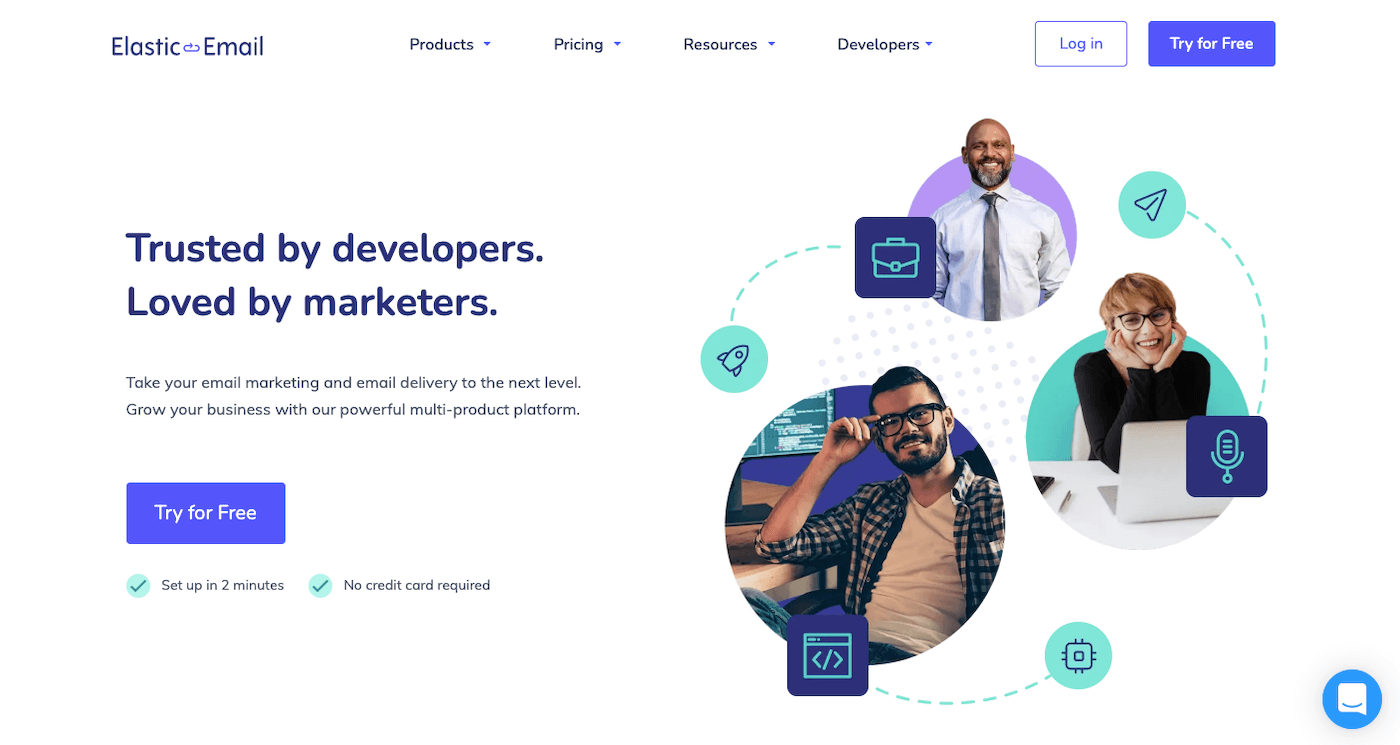 Operating from Poland, this email service provider offers two primary services: their Email API and Email Marketing tools. If you're in the market for a transactional email provider, their Email API product, which includes a free SMTP server, might pique your interest.
However, with a limit of 100 emails per day, the free plan is very restrictive. This limitation becomes more significant given the fact that their deliverability rate was the poorest among all providers we tested. According to their support, this is due to the shared IP addresses utilized in their free accounts. It's essential to bear this in mind if you're considering their free plan.
Benefits of Using Elastic Email
Cheap prices: yes, their prices are low. We aren't sure about the value, though.
Live chat support: thankfully, I had a very patient support staff who helped with the setup
Drawbacks of Using Elastic Email
Poor deliverability: they had the lowest scores of all the providers – Outlook, Yahoo and AOL sent our messages to the spam folder. When I talked to support about it, they explained to me that free users only get a shared IP address, which seems to be responsible for the poor results due to its sender reputation. But as we see with other services like SMTP2GO, even free plans can achieve top email deliverability rates.
> Try Elastic Emails free plan
How does an SMTP server work?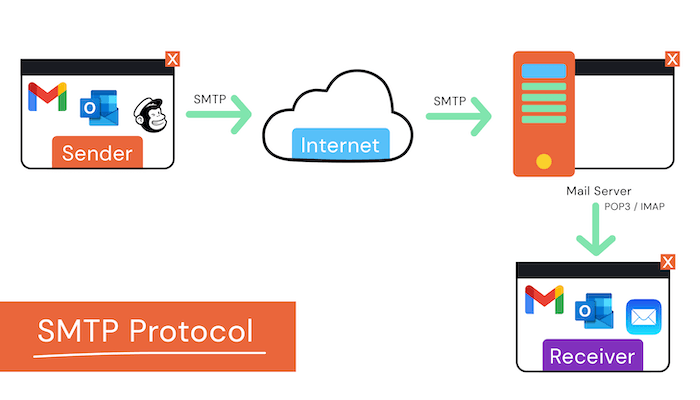 An SMTP server uses the Simple Mail Transfer Protocol to handle the sending of emails. When you want to send an email, your email client first authenticates with your SMTP server. After successful authentication, your email message is sent to this server.
Then the server queries the DNS (visualized by the Internet cloud) to find out which SMTP server is responsible for the recipient's domain and forwards the email there. That mail server will then verify the recipient's email address and either place the email in their inbox or handle errors, like bouncing back the message if it can't be delivered.
In cases where immediate delivery isn't possible, the SMTP server queues the email for later attempts. The server also employs security measures such as encryption and may use additional verification methods like SPF, DKIM, and DMARC to combat spam and ensure email integrity.
SMTP servers work in tandem with other types of servers, like POP3 or IMAP, which handle incoming emails, creating a seamless email experience.
Conclusion: Which is the best free SMTP server?
By now, you should have a much clearer idea of which email service might be the best fit for your needs. There's a plethora of options available, but we've done our best to separate the wheat from the chaff.
Our comparison revolved around two primary considerations:
The free email allowance
The deliverability rate
Best Overall SMTP Provider: SMTP2GO. They provide a strong deliverability rate along with an appealing free plan that allows up to 1,000 emails per month.
Best Service by Quantity: SendPulse gives you 12,000 emails for free – however, their deliverability is not ideal. Alternative: MailerSend enables you to send up to 3,000 emails per month while maintaining an above-average delivery rate.
Best Free All-in-One Newsletter Service: Brevo. With Brevo, you can send up to 300 emails per day and also benefit from features such as a drag-and-drop editor and email automation.
If you're still uncertain, don't hesitate to leave your questions in the comments below!
FAQ: Free SMTP Providers
SMTP stands for Simple Mail Transfer Protocol. It's a protocol used to send email messages between servers. Most email systems that send mail over the Internet use SMTP for sending messages from one server to another.
SMTP isn't the only way of sending emails. Pretty much all the SMTP services we discuss below also allow you to send email via an Application Programming Interface (API). An API is generally faster and more flexible than SMTP, but can be more complex to implement.
In our tests, we found SMTP2GO to be the best free provider. It offers exceptional deliverability and includes a free allowance of 1,000 emails every month.
We keep our content up to date
21 Sep 2023 - Technical explanation of SMTP added
24 Jul 2023 - Small update for Postmark
04 Jul 2023 - Smaller updates and corrections
30 Jun 2023 - SendPulse added
Our Methodology
This article has been written and researched following our EmailTooltester methodology.
Our Methodology