Email marketing is an essential tool for businesses to connect with their audience and drive engagement. However, the success of your email marketing campaigns being delivered to your audience is affected by one key factor, one that many people are unfamiliar with, the email deliverability rate of your provider.
We'll provide you with an overview of email deliverability and how HubSpot performs in this sector, taking a look at email deliverability rates and capabilities by analyzing their results from our bi-annual email deliverability tests.
As you may know, we've been conducting our own email deliverability tests for over four years now and it's safe to say that each year, we are learning new and incredible things about our top email service providers, and email deliverability in general.
HubSpot Email Deliverability Rate:
In our latest round of testing (May 2023), Hubspot achieved an email deliverability rate of 80.2%. But over the last three rounds of tests, it has achieved an average email deliverability rate of 76.53%. Considering that Hubspot is a popular choice in the email marketing world, their deliverability rates are pretty disappointing, especially in comparison to less known and cheaper email tools out there. They started off strong during our 7th round in 2021 and since then their rates have fluctuated. However, in our most recent test, they scored 80.2%, bringing them twelfth out of fifteen providers, which was quite a shocking result overall.
| Deliverability Test Round | Round 7 (2021-Feb) | Round 8 (2021-sept) | Round 9 (2022-Apr) | Round 10 (2022 Oct) | Round 11 (May 2023) | Average of last 3 Rounds | Average of last 5 Rounds |
| --- | --- | --- | --- | --- | --- | --- | --- |
| HubSpot Deliverability Rate | 92% | 67% | 68% | 81.33% | 80.2% | 76.53% | 77.72% |
HubSpot Email Deliverability
Here's a summary of how HubSpot has scored during our email deliverability tests over the years.
Placement in Gmail Promotions Tab vs. Primary Inbox:

HubSpot's deliverability rates to Gmail inbox have varied over the last 5 test rounds, but have never made it to 100%
HubSpot achieved its best deliverability rate of 91.6% in March 2021 but since then the rates have rapidly decreased.
In the latest round, June 2023, HubSpot's deliverability rate to Gmail inbox was 75.4%, which is their highest result out of the last 5 rounds

Deliverability to Microsoft (Outlook and Hotmail):

In the April 2022 round, HubSpot had a deliverability rate of 27.1% to Microsoft (Outlook and Hotmail).
In the January 2023, testing round, HubSpot's deliverability rate to these providers was 95.7%

Deliverability to Yahoo:

HubSpot's deliverability rate to Yahoo has been consistently high, with rates of 100% in multiple testing rounds, including the most recent round in June 2023.

Deliverability to AOL:

In the June 2023 testing round, HubSpot's deliverability rate to AOL dropped to 97% from 100% across the last four rounds
The Importance of Email Deliverability
Email deliverability has a significant influence on whether your emails reach recipients' inboxes or whether they get lost along the way, ending up in junk or spam folders. While email marketers are well-versed in best practices for maintaining high deliverability rates, there's no guarantee that even meticulously crafted emails will avoid spam folders. This inconsistency is one reason why we continue to conduct bi-annual tests to measure the deliverability rates of top email marketing services, revealing surprising fluctuations from round to round.
Our Email Deliverability Test Insights:
Our bi-annual email deliverability tests highlight the disparities in deliverability rates among different email marketing service providers. We have collected data over several rounds of testing, in order to determine the average deliverability rates of popular email service providers like ActiveCampaign, AWeber, Benchmark, Constant Contact, ConvertKit, and HubSpot, among others.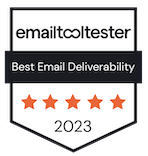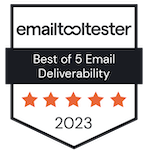 The results showed fluctuating deliverability rates over time, however, some providers consistently performed well, such as MailerLite, who we presented with our Best Deliverability and Best of 5 Email Deliverability badges this year.
While on the other hand, other providers struggled to maintain consistent deliverability, some of which saw a huge decrease.
MailerLite vs HubSpot Deliverability Rates:
As we just mentioned, during our recent June 2023 test, MailerLite emerged as a star performer in regard to deliverability rates. They boasted an impressive average deliverability rate across multiple rounds. Scoring an average of 95.85% in the last five rounds vs Hubspot, who scored an average of 79.67%.
MailerLite's outstanding deliverability rate demonstrates the importance of utilizing proper email authentication methods, monitoring your sender's reputation, and other key deliverability practices.
Interpreting Deliverability Data:
The deliverability rates reported in our tests offer valuable insights into the performance of different email marketing service providers. Providers like ActiveCampaign and Constant Contact consistently demonstrated strong deliverability, while other providers like Moosend struggled to deliver any emails to Gmail inboxes, delivering almost everything to promotions tabs.
Here is a quick summary of both tabs:
The Gmail promotions tab is a folder within the recipient's email inbox where all commercial, promotional, or marketing emails are delivered and stored for the user. Some may see it as another version of a spam folder.
The Gmail primary tab essentially acts as the user's main inbox and tab, therefore companies want their emails to arrive in this tab to increase the likelihood of their email campaigns being seen by the user.
Dedicated IP Address:
HubSpot primarily operates on shared IP addresses which means using the same IP as multiple senders. This is the option that we chose to test Hubspot's deliverability with during our latest rounds.
Many companies choose this shared IP option as it is the less expensive option. However, the downside to using this shared IP is that your sender reputation is influenced by other senders using that same IP address. Therefore all senders should be following their very best email marketing practices. By this we mean, following the recommended guidelines for good list hygiene, and other factors that affect email deliverability.
Alternatively, HubSpot provides premium users the option to acquire a dedicated IP. This option is best for high-volume senders. With this option, they have sole control over their sender's reputation, which exclusively minimizes the risk of being penalized for potential negative actions by other parties sharing the same IP.
HubSpot Deliverability Features:
Authentication:
HubSpot offers the implementation of authentication protocols, including SPF and DKIM, which are responsible for authenticating the sender's identity and enhancing the chances of emails landing in recipients' inboxes.
List management:
HubSpot provides users with tools for list segmentation and personalization, enabling you to tailor specific content that resonates with individual subscribers. You can also filter out unengaged contacts, which helps your campaign performance. In addition to this, you can also add a frequency cap to your users, to ensure that a single subscriber does not receive too many emails.
Testing:
HubSpot's A/B testing capabilities are there to help you fine-tune your email content, test your subject lines, and adjust your send times for optimal user engagement.
Reporting:
Through its comprehensive reporting and monitoring features, HubSpot helps marketers to assess the performance of their campaigns and make data-driven adjustments to improve their deliverability over time. You can also view, segment, and export deliverability reports for each of your campaigns.
Watch our Email Deliverability Best Practices video:
HubSpot Deliverability: An overview:
What we've found from our deliverability tests is that HubSpot has managed to deliver a high volume of emails for both Yahoo and AOL. However, HubSpot's emails have frequently landed in the Promotions tab in Gmail and also struggled to reach another key provider, Microsoft. Failing to reach both Gmail and Microsoft can have an extremely negative impact on your company's visibility.
It's important to note that email deliverability rates can vary over time and across different email deliverability testing methodologies. The data we provide offers insights into HubSpot's performance across various rounds of testing, but real-world results for individual users may differ based on factors such as list quality, email content, engagement, and email sending reputation.
If you plan on using HubSpot for your email marketing campaigns, we advise you to regularly monitor your own email deliverability and engagement metrics to ensure the best possible results for your specific audience and goals.
We keep our content up to date
02 Sept - General Update
7 Sept - General update
1
Our Methodology
This article has been written and researched following our EmailTooltester methodology.
Our Methodology