HubSpot is a big name in the sales and marketing world. If you haven't used one of its products, you're likely to have found yourself on its website via one of its blog articles. In fact, it's worth analyzing HubSpot's very successful inbound marketing strategy and seeing how you can apply it to your business.
But first, back to the data.
How Much of The Market Does HubSpot Own?
HubSpot owns almost a third of the marketing automation market share – 37.32% to be precise (data provided by datanyze on the 22 Aug 2023).
It went up by almost 6% compared to 2022. On 26 Jan 2022, HubSpot's market share was at 31.61%.
That's a pretty sizable chunk, wouldn't you say?
How long has HubSpot even been around for, you might ask? Well, it was founded in 2006 by Brian Halligan and Dharmesh Shah at the Massachusetts Institute of Technology (MIT). In 2010, it had already grown to an impressive $15.6 million, and in 2022, the company reported revenues of more than $1.7 billion:
| Year | HubSpot Revenue | Growth Rate |
| --- | --- | --- |
| 2022 | $1,731 m | 33.15% |
| 2021 | $1,300 m | 47.20% |
| 2020 | $883.0 m | 30.86% |
| 2019 | $674.9 m | 31.59% |
| 2018 | $513.0 m | 36.57% |
| 2017 | $375.6 m | – |
This chart, taken from BuiltWith, gives you an idea of how HubSpot has grown over the years: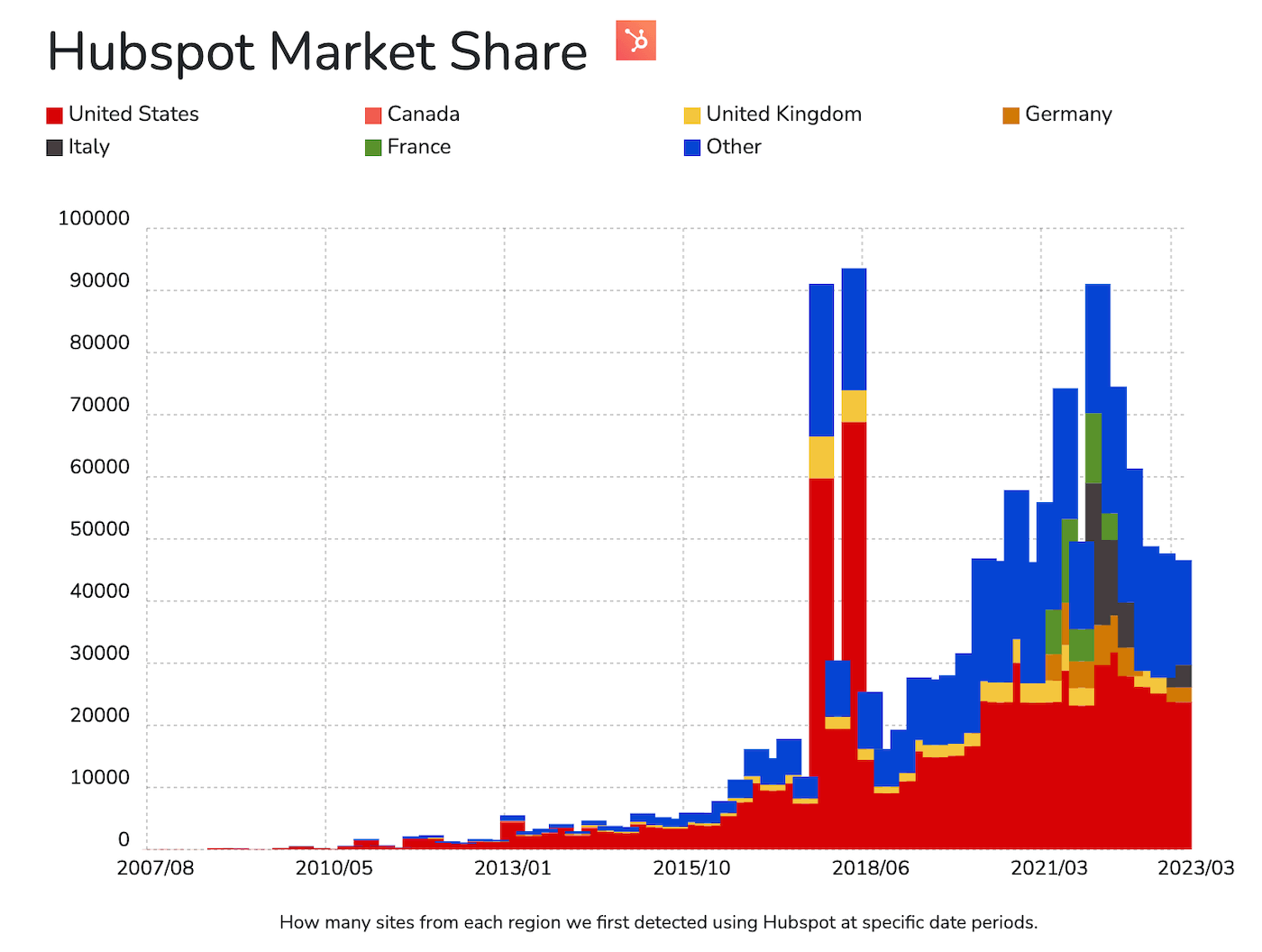 It's interesting to note the sharp increase in sites in 2017. What happened that year? Well, firstly, HubSpot acquired Kemvi, an artificial intelligence and machine learning startup.
It was also named the 7th best place to work by CNBC despite the release of Dan Lyons exposé on the "digital sweatshop" HubSpot was supposedly operating. This didn't seem to impact on its sales, though.
How Many Global Searches Does it Get a Month?
These figures are taken from Ahrefs in Jan 2022, and, of course, they will change slightly every month, but it's intriguing to look at these statistics against the market share percentage and that of HubSpot's competitors.

Company name:
Hubspot: 821K
Adobe: 3.1M
Oracle: 930K
ActiveCampaign: 101K
Salesforce: 1.8M
Specific product:
HubSpot CRM: 36K
Adobe Experience Cloud: 7.5K / Adobe Marketing Cloud: 4.5K
Oracle Marketing Cloud: 1.3K
ActiveCampaign: 101K
Salesforce Pardot: 6.8K
Who Are HubSpot's Competitors in The Marketing Automation Industry?
| Competitor | Market Share Jun 2021 | Market Share Jan 2022 | Market Share Aug 2023 |
| --- | --- | --- | --- |
| HubSpot | 29.55% | 31.61% | 37.32% |
| Adobe Experience Cloud (formerly Adobe Marketing Cloud) | 11.79% | 7.89% | 7.68% |
| Oracle Marketing Cloud | 8.27% | 7.51% | 7.36% |
| ActiveCampaign | 8.31% | 9.98% | 7.23% |
| Welcome | – | – | 6.88% |
| Salesforce Pardot | 4.77% | 4.21% | 3.79% |
| RD Station | 1.96% | 2.48% | 3.38% |
| Adobe Marketo Engage | 3.00% | 3.18% | 3.02% |
| SharpSpring | 2.29% | 2.43% | 1.89% |
| Salesforce Marketing Cloud | 2.15% | 1.79% | 1.52% |
| Mautic | 1.67% | 1.81% | 1.69% |
| Drawbridge | 2.24% | 1.52% | – (acquired by LinkedIn) |
[data provided by datanyze, growing market shares highlighted in bold]
HubSpot has shown remarkable growth and dominance. As of August 2023, the data shows HubSpot's continued market leadership with a commanding 37.32% share, a significant increase from its already dominant 29.55% in June 2021.
While other major competitors like Adobe Experience Cloud and Oracle Marketing Cloud have experienced marginal fluctuations, with their market shares hovering around 7-8%, HubSpot has managed to surge ahead.
How Did HubSpot Get so Big?
We've established that HubSpot is a pretty huge company. In fact, it employs almost 5,496 people (as of Sept 2021).
What's the secret to its success? Well, a great deal of it is no doubt owed to its very generous free CRM plan, which was launched in 2014 as a CRM solution for small businesses. This plan gives you unlimited users, data, and up to 1,000,000 contacts with no time limit or expiration date – pretty appealing, right?
It's interesting to note that this freemium approach is also partly the secret to Mailchimp's success, a company that owns a whopping 72.68% of the email marketing pie.
But offering a free plan isn't the only reason HubSpot has gotten to where it is today.
HubSpot has worked hard to become an authoritative voice in the digital marketing world, providing detailed information and resources via its blog, online courses, downloadables and webinars – and everyone has access for free! This approach has a name: inbound marketing, and it has done wonders for branding and attracting new customers.
Pair this with an extremely easy to use interface and excellent support, and you get happy, loyal customers who will recommend the product to everyone they know.
How Much is HubSpot Worth?
HubSpot, a publicly-traded company (HUBS), has seen its shares gain massively since the beginning of the Covid-19 outbreak. At the end of March 2020 its net worth was at $5B, now a little more than a year on (June 2021) it's worth $27.5B. In the pandemic's lifetime, its net worth has increased by $22.5B!
Since then, its net worth has gone down slightly to $25.16B (Aug 2023), but it's still nothing to be sniffed at.
HubSpot Market Share: Final Thoughts & Look to The Future
What's in store for HubSpot in the coming years? In light of the fact that we are moving ever so rapidly into a more digital world, it's likely that more and more businesses will be looking for free CRM software to help them manage their sales and marketing.
That said, HubSpot does have some popular competitors with some appealing advantages.
Check out our HubSpot alternatives article for more information.
Want to see what all the fuss is about? Sign up to HubSpot's free CRM plan here.
Find out what Salesforce's market share is, and just how big Mailchimp is. 
You might also be interested in our complete guide to email marketing statistics. 
We keep our content up to date
22 Aug 2023 - General update
26 Jan 2022 - Updated all figures 
23 Jun 2021 - Updated market share figure and net worth
Our Methodology
This article has been written and researched following our EmailTooltester methodology.
Our Methodology