Kartra is aimed at solo-preneurs looking to take their business online. And I have to say that Kartra's wide range of features do seem to facilitate this.
Even the lowest tier plan comes with all features, including email marketing, landing pages and helpdesk.
But how much will all this cost you and is it worth it?
In this pricing guide, I'm going to be looking at each of Kartra's plans, in order to give you a better idea of which one is right for you. I've also added a comparison table further down for anyone who'd like to see how Kartra compares to a couple of other all-in-one marketing solutions.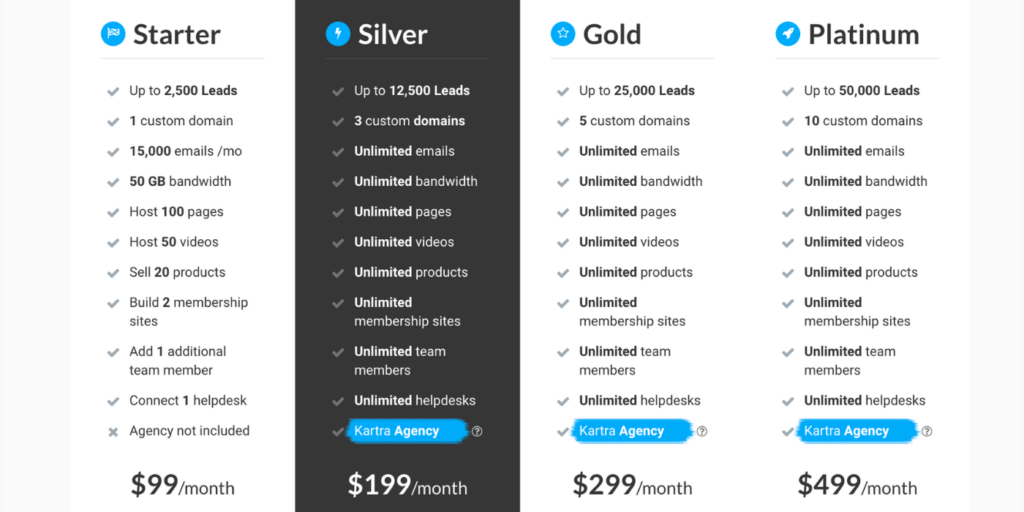 Kartra Pricing Plans Summary
Starter Plan – $99/month – includes 2,500 contacts
Silver Plan – $199/month – includes 12,500 contacts
Gold Plan – $299/month – includes 25,000 contacts
Platinum Plan – $399/month – includes 50,000 contacts
Enterprise Plan – Contact support
Those who commit to a whole year will have a 25% discount applied to whichever plan they've selected, so, if you can, it makes sense to pay annually.
The main difference between the plans is the number of contacts you're allowed and how many emails you can send to them. The number of domains and the bandwidth you have at your disposal also varies.
Take a look at the table below to compare Kartra's 4 plans and their features:
Kartra Pricing Packages and Features
| | Starter | Silver | Gold | Platinum |
| --- | --- | --- | --- | --- |
| Price | $99 | $199 | $299 | $499 |
| Pre-designed sales funnels | Included | Included | Included | Included |
| Contacts | 2,500 | 12,500 | 25,000 | 50,000 |
| Products | Unlimited | Unlimited | Unlimited | Unlimited |
| Landing pages | 100 | Unlimited | Unlimited | Unlimited |
| Domains | 1 | 3 | 5 | 10 |
| Helpdesk with live chat | 1 portal | Unlimited portals | Unlimited portals | Unlimited portals |
| Bandwidth | 50 GB | Unlimited | Unlimited | Unlimited |
| Email marketing | 15,000/month | 125,000/month | 250,000/month | 500,000/month |
| Surveys & quizzes | Included | Included | Included | Included |
| Membership sites | 2 | Unlimited | Unlimited | Unlimited |
| Video hosting | Included | Included | Included | Included |
| Course hosting | Included | Included | Included | Included |
| Affiliate management | Included | Included | Included | Included |
| Kartra Agency | Not included | Included | Included | Included |
Note: You can add additional domains, emails and bandwidth to your account without having to upgrade to the next plan. This is pretty handy as there's such a big jump in price from one plan to another.
Kartra also offers a 30-day money-back guarantee if you're not satisfied with the product.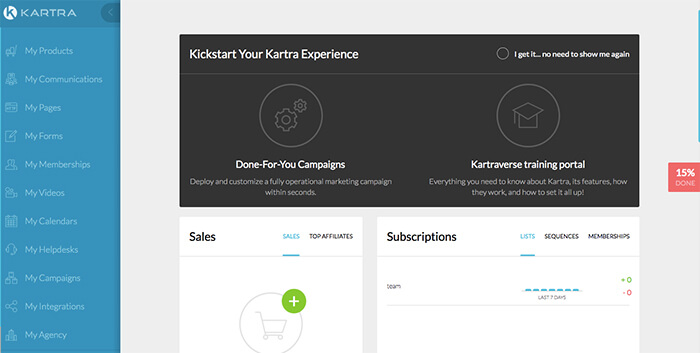 Kartra Starter Plan
This is the best option for those who are just getting started, or for smaller businesses with less than 2,500 contacts.
The fact that Kartra comes with already built sales funnels makes it a really easy-to-use tool for beginners. You won't need to code or design anything yourself, some copy is even done for you. This will no doubt be pretty appealing to solo-preneurs. All plans now include surveys and quizzes.
But what are the limitations to the Starter plan?
Well, if you manage more than one site, you'll need to move to the next plan as Starter only allows for 1 domain and 100 landing pages. Those uploading a lot of video content might also find the 50GB bandwidth limit too restricting.
Kartra Silver Plan
Kartra's Silver plan is the cheapest option if you want to take advantage of the 'Agency' feature. As implied by the name, this is an in-built management software for agencies managing multiple clients. It's pretty cool as you can see everything at a glance, including sales, visitors and leads.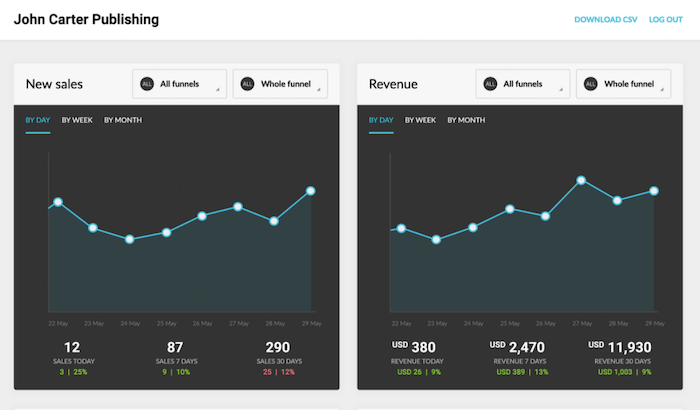 What's more, the Silver plan allows for unlimited landing pages, membership sites, helpdesk portals and products, making it a prime option for small-to-medium-sized businesses with under 12,500 contacts.
Kartra Gold Plan
Complete with an allowance of 25,000 contacts and 250GBs of bandwidth, the Gold plan is a great solution for medium-sized businesses. You can also add up to 5 domains.
Kartra Platinum
At $499 a month, the Platinum plan isn't cheap. In fact, for this price, I'd expect unlimited emails – you can actually only send 500,000/month. For $370/month, GetResponse allows you to send unlimited emails to 50,000 subscribers. Unlimited landing pages, funnels and products are also included.
Kartra Enterprise
Contact a sales representative for pricing and features.
Kartra Alternatives
You might have already looked into some Kartra alternatives like ClickFunnels. In fact, there are a number of interesting sales funnel tools out there.
Take a look at how Kartra compares to the top 3 sales funnel solutions:
Features
Kartra
(Starter plan)
GetResponse
(PLUS plan)
ClickFunnels
(Starter plan)
Price
$99/month for 2,500 contacts
$49/month for 1,000 contacts
$59/month for 2,500
$79/month for 5,000
$95/month for 10,000
$97/month for unlimited contacts
Funnels
Unlimited
5 sales funnels (Unlimited for $99/month)
20 funnels (up to 20,000 visitors)
Email marketing
Yes
Yes
No
Landing pages
100 pages and website builder
Unlimited
100 pages
CRM
Yes
Yes
Yes
Webinars
Yes
100 attendees
Yes
Ecommerce
Yes (20 products)
Yes
No
Social media campaigns
No
Yes
No
Payment processing
Yes
Payment gateway integration
Payment gateway integration
Reports
Yes
Yes
Yes
More information
> Try Kartra for free
> Try GetResponse for free
> Try ClickFunnels for free
As you can see, GetResponse offers 1,000 contacts and unlimited emails and landing pages for $49/month. This is a great option for small businesses as its pricing structure makes it much easier to scale up as you grow.
Kartra and ClickFunnels appear to offer a pretty similar package, however, aside from ClickFunnel's cap on funnels and visitors, its design templates just aren't all that attractive or modern-looking. Kartra, on the other hand, has some really nice templates and a host of awesome ready-made funnels.
Kartra Pricing: Is it Worth it?
This depends on how many of the features you'll actually use. After all, this is an all-in-one solution for businesses that need everything from landing pages to email marketing to video hosting.
I have to say that it simplifies things massively being able to manage all this from one tool and Kartra's interface is very user-friendly, even for complete beginners.
However, because of the price, it won't be for everyone. After all, businesses just starting out will find $99/month much too expensive, especially when you can find excellent free services for your email marketing, landing page and CRM needs.
That said, if you're on a paid plan for more than a couple of tools, you'll find that paying for just one tool actually works out cheaper. I'd recommend that you weigh up what you'd be paying for each individual tool (landing page builder, email marketing & automation software, ecommerce platform, affiliate management system, etc.) and do the math.
And, of course, make sure to try the software out before you commit.
> Try Kartra for free for 14 days
We keep our content up to date
September 4, 2023 - 14-day trial now free
August 11, 2022 - Changes to Plans and Pricing
August 18, 2021 - Surveys and quizzes added
Our Methodology
This article has been written and researched following our EmailTooltester methodology.
Our Methodology