ClickFunnels claims that its Platinum plan is worth more than a 4-year college education (founder Russel Brunson actually gives students permission to drop out of school in one of his many videos!), and at $3,564 a year that would indeed reflect the actual cost of attending some European universities. So, is it really worth it and is it really the best option for you?
I came across ClickFunnels when reviewing sales funnel software and have to say I wasn't entirely convinced; everything felt so salesy and expensive… and when I say 'salesy' I mean overly pushy and unsophisticated.
It's also quite infuriating that prices are not shown on the ClickFunnels website (or, rather, main landing page). Instead, there are a ton of call-to-action buttons telling you to sign up for the 14-day free trial. Like I said, it's all a bit much.
ClickFunnels Pricing Summary
So, how much does ClickFunnels cost? Well, in a nutshell, you're looking at paying $97/month for 20 sales funnels, 100 landing pages and 3 domains or $297/month for unlimited funnels and landing pages and 9 domains. There is also the TwoCommaClub plan, however, at $2,497/month it's a little out of the small business owner's price range.
Take a look at the table below to compare the 3 plans and their features:
How Much is ClickFunnels, and What Does it Include?
| Features | ClickFunnels Starter | Platinum | TwoCommaClub |
| --- | --- | --- | --- |
| Price | $97/month | $297/month | $2,497/month |
| Available Users | 1 | 3 | 10 |
| No. of funnels | 20 | Unlimited | Unlimited |
| Landing pages | 100 | Unlimited | Unlimited |
| Domain names | 3 | 9 | 27 |
| Payment gateways | 3 | 9 | 27 |
| Follow-up funnels | No | Unlimited | Unlimited |
| Live chat support | Included | Priority support | Priority support + VIP phone support |
| Email marketing (autoresponders, automation, broadcasts) | No | Yes | Yes |
| Segmentation | No | Yes | Yes |
| Lead scoring | No | Yes | Yes |
| Backpack | No | Yes | Yes |
| Branded affiliate platform & features | No | Yes | Yes |
| Membership sites/Subscription plans | Yes | Yes | Yes |
Should I sign up for the Starter plan?
A nice thing about the Starter plan is that the membership area is included, and the pages inside that area do not count towards your 100-page limit.
However, as you've seen in the table above, the Starter plan actually doesn't come with all that much. You're limited to 20 funnels and follow-up funnels (i.e. following up with leads who have come out the other end of your funnel) are not included.
Aside from that, an important limitation to note is the absence of email marketing, which you are 100% going to need in order to build email funnels and make your sales funnels profitable. Of course, you can integrate ClickFunnels with an email marketing tool, but this comes with an added cost and $97/month is already a fairly big expense for small businesses.
I'd recommend you take a look at GetResponse, an email marketing tool that comes with sales funnels, landing pages, webinars and a CRM.
Jump down to the ClickFunnels Alternatives section to compare ClickFunnels to GetResponse and Kartra, 2 tools we rate pretty highly.
When to Use the Platinum Plan
Marketing agencies will benefit from the unlimited sales funnels, landing pages and follow-up funnels. Plus, you'll be able to manage 9 domains on your account.
Those who manage affiliates or influencers will find the affiliate platform helpful, as here you can manage paid and owed commissions and track your top affiliates. (Note: I haven't tested this software. If you're specifically looking for this kind of software, check out these affiliate platforms, which we have tested first-hand.)
We do not recommend signing up for the Platinum plan simply for the email marketing features – there are tons of excellent, affordable, and even free, email marketing services on the market, which will no doubt offer much better-looking email templates.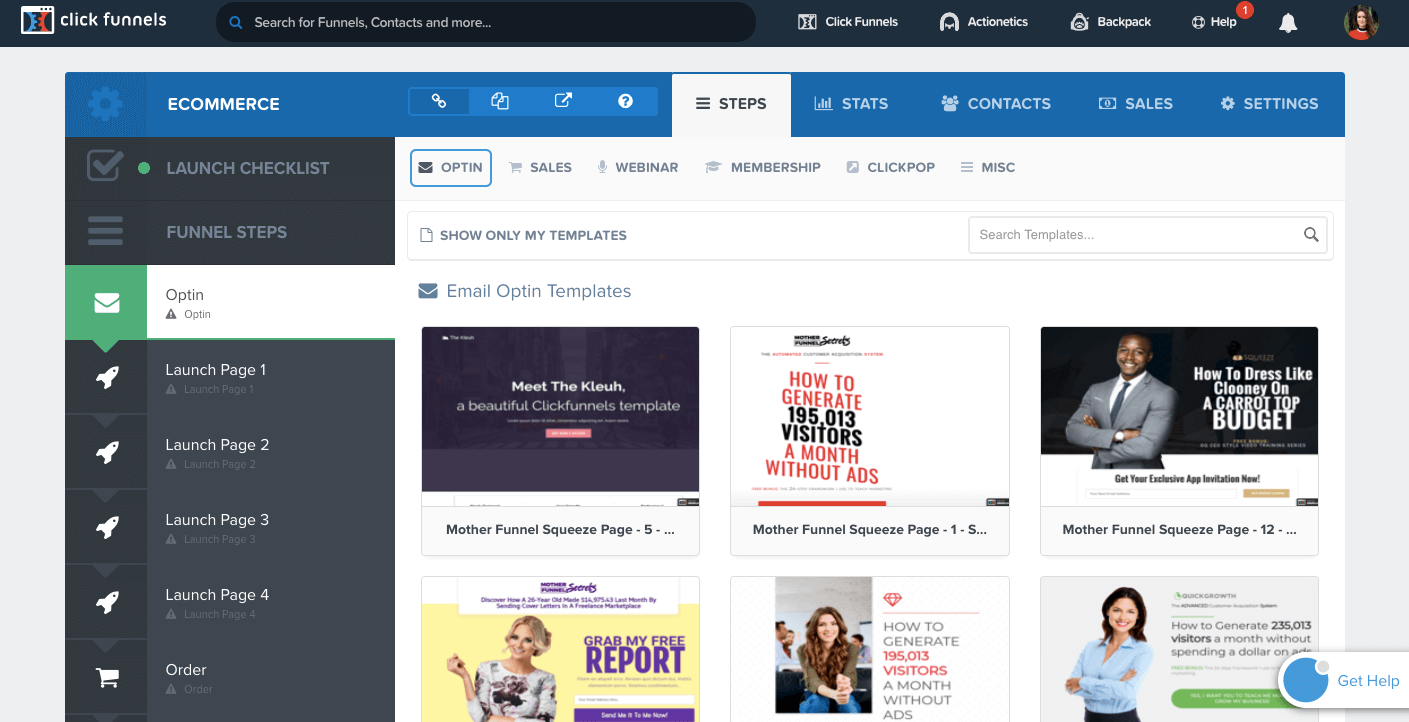 ClickFunnels Free Trial
ClickFunnels does offer a 14-day free trial, though you'll have to give them your credit card details to sign up. Some people have complained of being charged after canceling their account. We signed up for the free trial and had no trouble canceling and weren't charged anything.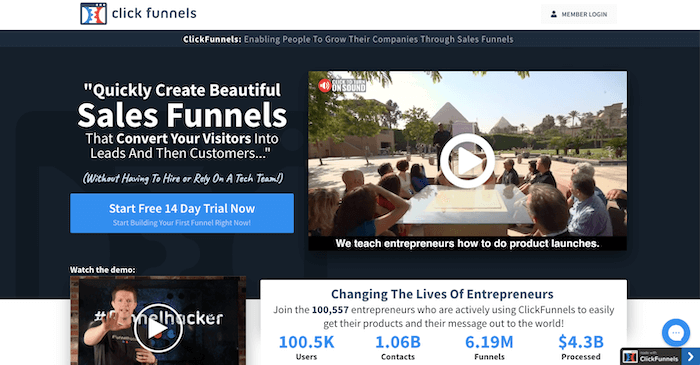 Is ClickFunnels Legit?
Founder Russel Brunson is not selling sales funnel software, he's selling people a new life, a way out from the jobs they dislike, and he tells people their whole lives will change by using ClickFunnels.
This is a big promise, and you might be asking yourself, Is this guy for real? If I sign up and follow his instruction, can I really become a millionaire as he says?
Well, quite frankly, the answer is…it's unlikely. Yes, there will be people who have made a decent amount of money using this software and employing his teachings, but there will also be plenty of people who have spent $300 a month and haven't seen any returns. At the end of the day, if you don't have a great business idea, then going for the more expensive software isn't a sure way to turn it into a success.
Yes, ClickFunnels is a legitimate business, but what I'm trying to say is don't get too wrapped up in the hype.
My advice would be to look into other software companies offering similar solutions in order to compare prices, features and reviews. Here are some other sales funnel tools we've reviewed.
ClickFunnels Pricing: Is it Worth it?
As you can probably tell, I'm a little wary of ClickFunnels. In my experience, when things sound too good to be true, they usually are.
Once you get past the ostentatious marketing and persistent upselling, the platform is fairly easy-to-use and the sales funnel examples they give are really helpful for beginners. From a design standpoint, the templates could really do with a revamp, though.
But is it worth the money? Having looked into a number of ClickFunnels alternatives, I can tell you that there are cheaper and better ways to get your online business off the ground.
For example, GetResponse is half the price of ClickFunnels and offers you so much more in the way of features, like email marketing and unlimited landing pages, for example. If you've got less than 1,000 contacts, you don't need to spend almost $100/month for unlimited contacts. Instead, I'd recommend paying less and scaling up.
Take a look at how ClickFunnels' offering compares to the competition:

ClickFunnels Alternatives
Features
ClickFunnels (Starter plan)
GetResponse (PLUS plan)
Kartra (Starter plan)
Price
$97/month for unlimited contacts
$49/month for 1,000 contacts

$59/month for 2,500

$79/month for 5,000

$95/month for 10,000

$99/month for 2,500 contacts
Funnels
20 funnels (up to 20,000 visitors)
5 sales funnels

(Unlimited for $99/month)

Unlimited
Email marketing
No
Yes
Yes
Landing pages
100 pages
Unlimited
100 pages and website builder
CRM
Yes
Yes
Yes
Webinars
Yes
100 attendees
Yes
Ecommerce
No
Yes
Yes (20 products)
Membership area
Yes
Yes
Yes (2 sites)
Social media campaigns
No
Yes
No
Payment processing
Payment gateway integration
Payment gateway integration
Yes
Reports
Yes
Yes
Yes
More information
> Try ClickFunnels for free
> Try GetResponse for free
> Try Kartra for $1
Being able to follow up with your leads via an email marketing strategy is crucial. Both GetResponse and Kartra come with email marketing. Kartra also comes with unlimited sales funnels. Check out some more great ClickFunnels alternatives here.
Of course, if you're really serious about email marketing, ActiveCampaign's marketing automation software is hard to beat (learn more in our ActiveCampaign vs ClickFunnels comparison).
I'd always recommend making the most of free trials. Luckily, all 3 allow you to test out the sales funnel software (and all the other features they come with) for 14 days.
We keep our content up to date
18 Oct 2021 - Updated information on membership sites
30 Jun 2021 - Updated plans and pricing
Our Methodology
This article has been written and researched following our EmailTooltester methodology.
Our Methodology