The past two years have seen vast changes in the way we work as a response to the pandemic. Namely, more and more of the US workforce and beyond are working remotely, either part-time or every day, which has subsequently increased reliance on video conferencing platforms.
Most of us have become pretty familiar with various video call applications, from Zoom to Microsoft Teams. Whether you're a camera-off kind of person (especially on a Monday) or someone who leads the group conversations front and center, we all have a preferred video call platform.
Following the success of our 2021 study of the most popular video call platforms worldwide, we have updated this data to determine the current most popular video conference applications and their approximate market share.
Please note
: since there is no reliable market share data available, we are using the search volumes for each of the 17 largest companies across 118 countries to discover which video call platform is dominating the market. While this is not the exact market share, it is a good indication of its popularity and usage. Learn more in our
methodology
.
The platforms analyzed include:
BigBlueButton
Bluejeans Meetings
ClickMeeting
Glip
Google Hangouts
Google Meet
GoToMeeting
Houseparty
Lifesize
Microsoft Teams
Nextiva
RingCentral Video
Skype
Slack
U MeetingZoom
Webex
The most popular video conferencing platforms in each country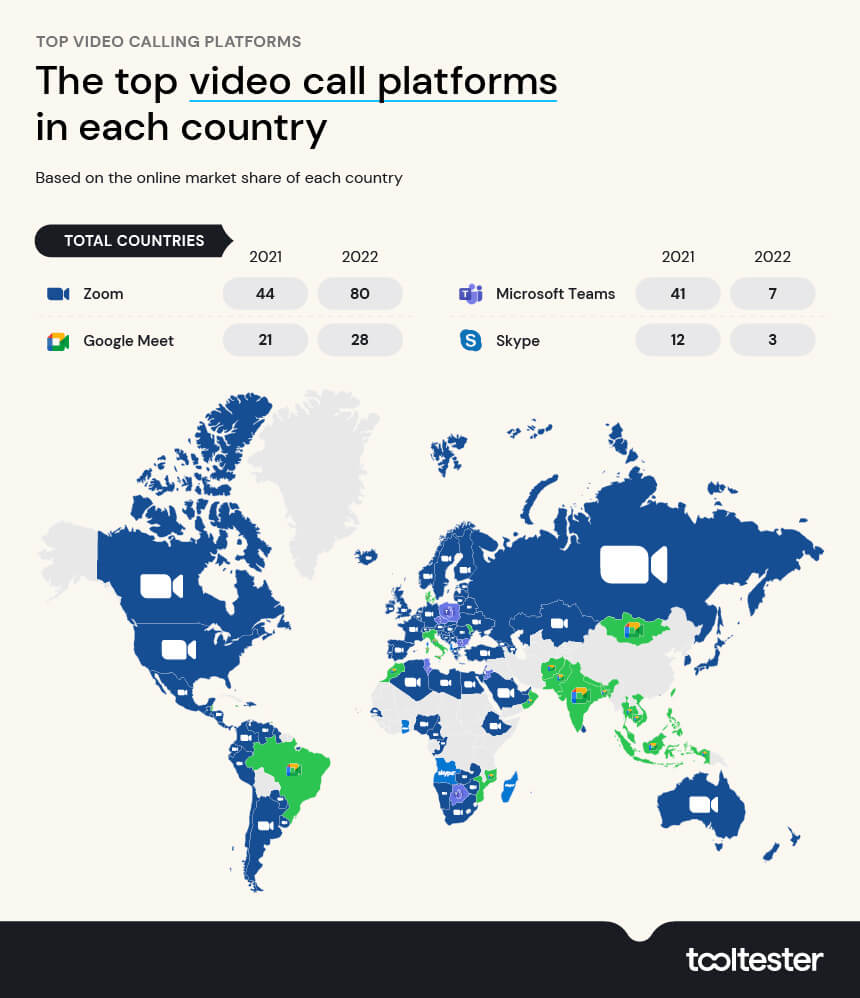 Zoom zooms ahead as it is revealed as the most popular video call platform
Our study found that 80 countries (66% of all countries analyzed) have Zoom as their most popular video call app, from Australia and Canada to the United States and the United Kingdom. Last year, we found that Zoom was the most popular platform in 44 countries, so this has almost doubled year-on-year showing the unrelenting popularity of the video call application.
A huge selling point of Zoom is that the free version allows up to 100 participants for up to 40 minutes, making this a favorite amongst educators, businesses, and social callers alike. Several countries including the Bahamas, Ecuador, France, and Lithuania did not have Zoom as their most popular video call platform last year but the video communications provider has now taken over.
Contrastingly, Vietnam, Brazil, and Bangladesh had Zoom come out as the preferred application last year but now Google Meet is the frontrunner. It certainly helps that it's included by default in the Google Workspace package.
However, according to data from Statista, Zoom.us had close to 1.3 billion unique global visitors in May 2022, down from 1.4 billion visitors in December 2021.
Interestingly our study corroborates this as it revealed despite continuing to come out on top for the second year in a row, Zoom's percentage of global searches has decreased by 6% year-on-year. Our best guess is that this happened because lockdowns are a thing of the past now in most areas of the world.
Google Meet and Microsoft Teams complete the top three
With 28 countries having Google Meet as their most popular video call platform, and 7 with Microsoft Teams, these make up the top three applications. Microsoft Teams saw a significant decrease when compared to 2021 which used to be the top tool in 41 countries, an -83% decrease.
This could be due to questions regarding Microsoft Teams' security, a recent study found gaps in the third-party app security model of both Slack and Teams.
The market share of the four top video conferencing platforms in each country
Find our table of selected OECD and EU countries here:
Approx. Market Share For Top 4 Global Platforms %
Country
Most Popular Platform
Microsoft Teams
Google Meet
Skype
Zoom
Australia
Zoom
18.22% ↑
9.97% ↑
6.71% ↓
49.86% ↑
Belgium
Zoom
13.67% ↓
20.44% ↑
13.67% ↓
37.37% ↓
Canada
Zoom
14.24% ↑
21.29% ↑
5.20% ↓
47.32% ↓
Denmark
Google Meet
15.59% ↓
28.52% ↑
10.42% ↓
28.52% ↑
Finland
Zoom
13.73% ↓
20.60% ↓
11.23% ↓
37.58% ↑
France
Zoom
5.35% ↓
11.94% ↑
17.78% ↓
48.64% ↑
Germany
Zoom
20.65% ↑
6.21% ↑
11.32% ↓
37.74% ↑
Ireland
Zoom
19.48% ↑
7.12% ↑
5.82% ↑
52.90% ↓
Italy
Google Meet
7.42% ↑
45.24% ↑
9.07% ↓
30.23% ↓
Japan
Zoom
2.36% ↓
4.31% ↑
3.51% ↑
71.43% ↓
Norway
Zoom
13.22% ↓
16.17% ↑
10.81% ↓
36.16% ↑
Poland
Microsoft Teams
30.65% ↓
13.80% ↑
16.78% ↓
25.16% ↑
Romania
Zoom
14.77% ↓
27.00% ↓
9.87% ↓
40.27% ↑
Spain
Zoom
8.83% ↓
19.62% ↑
16.11% ↓
43.93% ↓
Sweden
Zoom
11.95% ↑
21.83% ↑
11.95% ↓
32.63% ↑
United Kingdom
Zoom
23.74% ↑
8.67% ↑
5.83% ↓
52.65% ↓
United States
Zoom
9.54% ↑
11.63% ↑
4.29% ↓
58.36% ↓
The arrows indicate the change since 2021
Find our searchable table of all 118 countries here:
The full data can be found here.
Zoom has a market share of over 50% in both the UK and the US
Zoom makes up 53% of all video call platform searches in the UK and 58% in the US. The five countries that had the highest usage attributed to Zoom were Uruguay, South Korea, Israel, Ecuador, and Japan, with all having over 70%.
Worth noting, however, is that Zoom's market share is going down in many countries. While Zoom is still the dominant platform in most countries, other providers are quickly gaining market shares.
Google Meet is the second most popular video call platform worldwide
In terms of market share gains, Google Meet is the big winner. 28 countries host Google Meet as their most popular video conferencing platform, including Thailand, Brazil, Italy, and India. Malaysia has a market share of 74% for Google Meet, followed by Taiwan with 61% and the Phillippines also at 61%.
Video call platforms market share 2021 vs 2022
The global video conferencing market size is expected to reach $7.71 billion in 2022, increasing to $19.73 billion by 2030. As more competitors join the ever-growing market and the depth of our demands and reliance increase, who will be the global market leader?
Analyzing the global search volume of this year and comparing it to 2021 and 2020, we are able to identify which video call platforms are growing.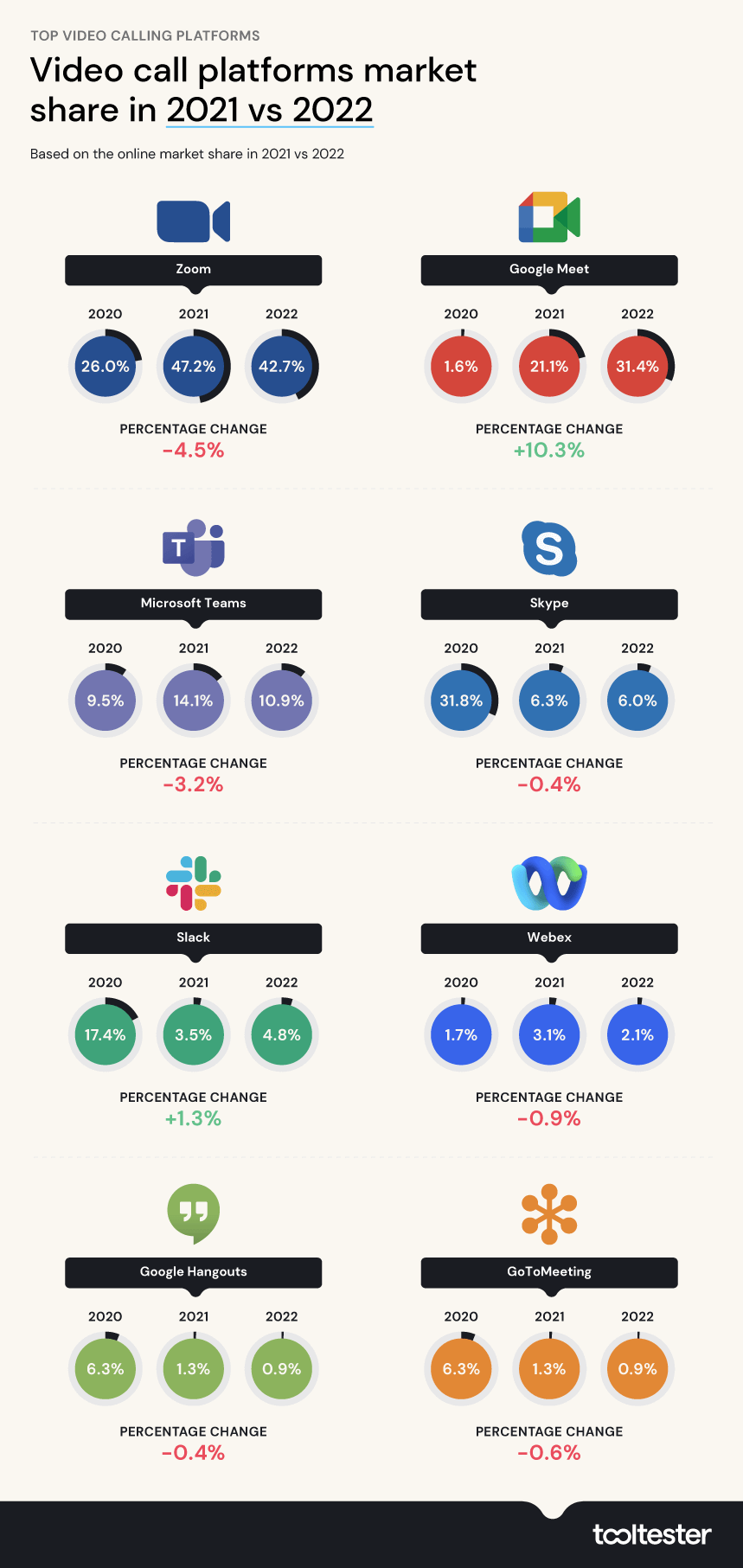 Google Meet goes from strength-to-strength increasing by +10%
With a global market share jumping from 21.1% in 2020 to 31.4% in 2022, Google Meet takes the crown for the highest annual growth rate. Obviously, their powerful free plan that doesn't cut off your calls after 40 minutes certainly helps.
Interestingly, despite remaining the most popular platform overall, Zoom had the largest annual decrease of just over 4.5%, Zoom stock prices at the start of October 2021 were at $255.05 and is now just $73.59 as of October 2022. Could Google Meet take the top spot in 2023?
Skype sees a decrease of -81.13% from 2020 to now
In 2020 Skype had 31.8% of all global searches for video call platforms, which now stands at 6% in 2022, this is a huge decrease of nearly 81% in two years. There are numerous potential factors for this including lack of end-to-end encryption, Skype phasing out their 'Skype for Business' service as of June 2022 and unclear pricing.
Video conferencing call platforms have become a part of most everyday lives, with this showing no sign of slowing down. The fact that these video call platforms are now also integrated in online booking tools like Calendly enhances their popularity even more.
If you're looking to start your own business, remotely or in an office, it is important to find the right application for your needs. You will also require an email marketing service, at EmailToolTester, we compare the best newsletter services and CRMs available, allowing you to be fully informed on which tool will offer you the best service.
Methodology
Our study analyzed the number of online searches for 17 of the most popular video conferencing platforms around the world, in 118 countries, using SEMrush. We divided the number of searches each platform received in each country by the total number of searches for all 16 platforms, to determine their market share. Global market share was then calculated using the total number of searches across all 118 countries. This data was then compared with data pulled utilizing the same method in 2021 and 2020.
You might also be interested in our complete guide to email marketing statistics. 
We keep our content up to date
04 Jan 2023 - New Image (Top video call platform by country)
06 Oct 2022 - Complete update of the article
Our Methodology
This article has been written and researched following our EmailTooltester methodology.
Our Methodology