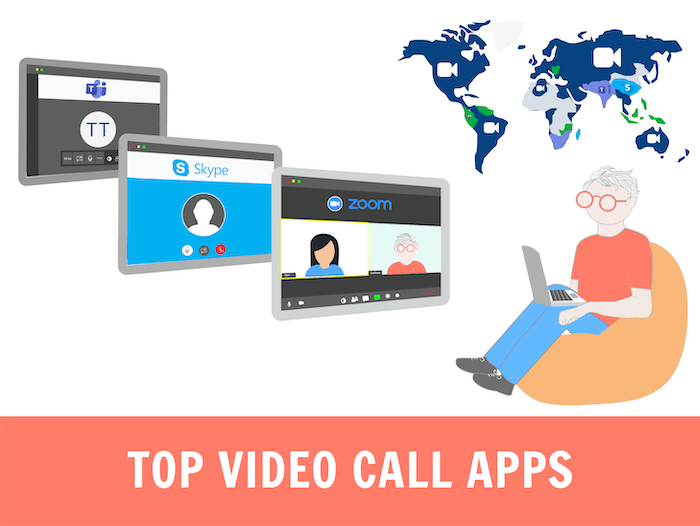 When the pandemic hit, millions of employees were forced to work from home, causing many potential problems for businesses and the people themselves.
How are we going to communicate?
Can we work as effectively?
In just a few weeks, countless people around the world had installed applications like Zoom, Microsoft Teams and Google Hangouts, to aid them in working from home and staying in touch with colleagues and friends.
Now, virtual meetings have become the new norm in business, and it's fair to say we all have our favourite video conferencing platform – but which one takes the reign as the most popular, and what does it look like worldwide?
Taking market share percentages from global search volume – we have mapped out the most popular video conferencing platforms in every country around the world, comparing the following platforms:
Skype
Slack
Google Meet
Zoom Meetings
Microsoft Teams
Google Hangouts
Houseparty
GoToMeeting
RingCentral Video
ClickMeeting
U Meeting
BigBlueButton
Bluejeans Meetings
Lifesize
Glip
Nextiva
Mapped: The top video conferencing platforms in each country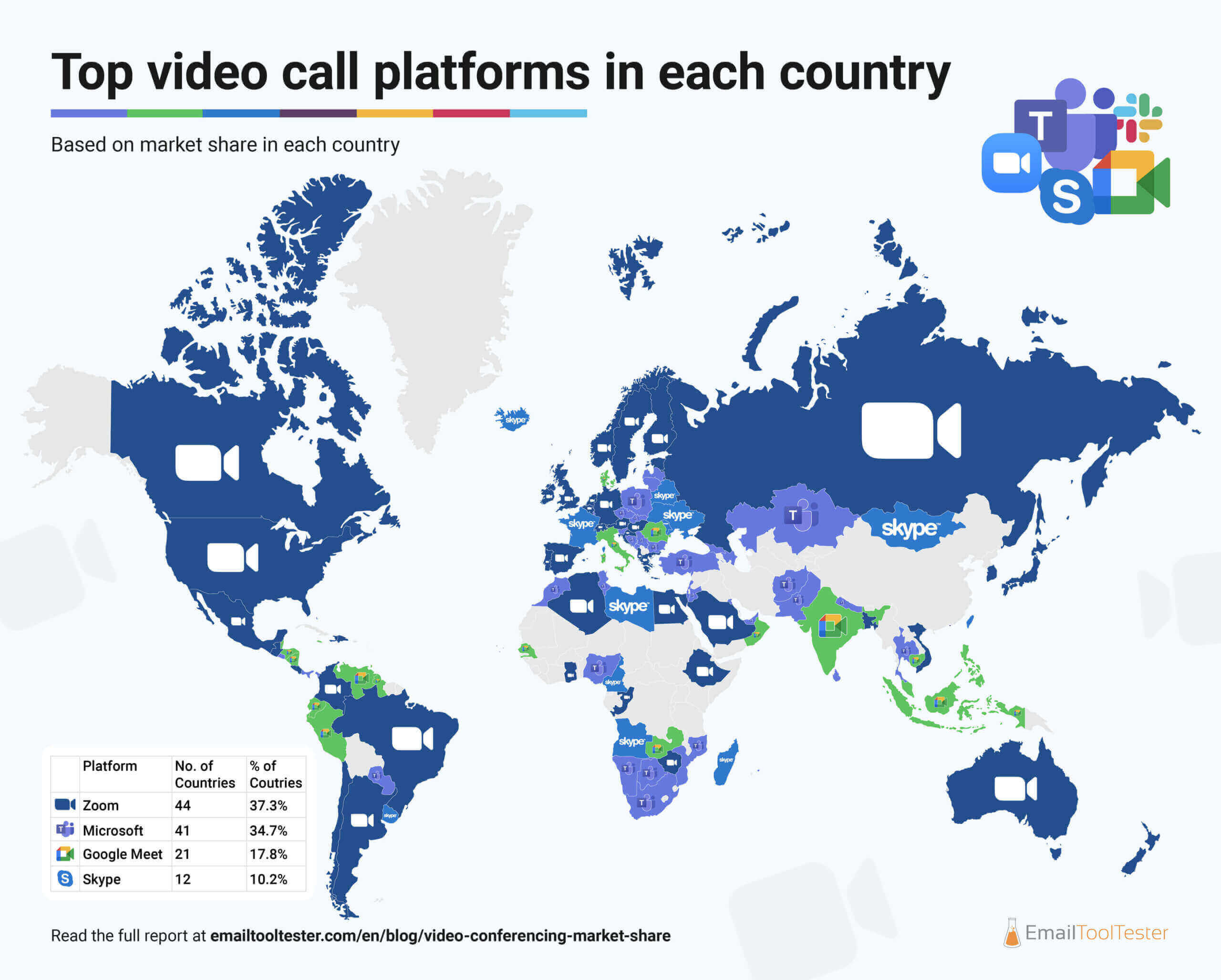 Zoom is the most popular video conferencing platform in the world, dominating the market in 44 countries
With a huge 300 million daily meeting participants, Zoom is known widely to accommodate families and friends to host their quizzes and general meet-ups, especially during the pandemic when people are struggling to see each other.
Zoom is the top platform in 44 countries, including the UK and the US, largely due to the fact it offers 40-minute free video calls for up to 100 attendees, meaning those all-important video calls can be made without worry.
In second place with 75million active users every day, is Microsoft Teams, a collaborative workspace that allows for workplace conversations, teamwork, video chats, and document sharing. Coming out on top in 41 countries, it's just shy of Zoom's total.
Zoom has an average of 51% of the video conferencing market share in the 44 countries it leads in, whilst Microsoft Teams has just 45%.
Google Meet takes third place with 21 countries choosing it as their go-to application. The platform dominates in many southeast Asian countries, such as Singapore, the Philippines, and Malaysia.
The video conferencing market share of the 4 top video conferencing platforms in each country
Market Share For Top 4 Global Platforms %
Country
Most Popular Platform
Microsoft Teams
Google Meet
Skype
Zoom
Australia
Zoom
14.81%
4.45%
9.93%
49.55%
Belgium
Zoom
14.87%
9.94%
18.08%
40.42%
Canada
Zoom
10.97%
10.97%
7.34%
53.67%
Denmark
Google Meet
18.84%
28.19%
12.61%
28.19%
Finland
Zoom
14.66%
21.92%
14.66%
2.39%
France
Skype
12.33%
8.28%
50.48%
9.20%
Germany
Zoom
18.65%
2.51%
18.65%
40.69%
Iceland
Skype
46.07%
16.89%
24.95%
13.82%
Ireland
Zoom
6.27%
1.25%
2.81%
84.75%
Italy
Google Meet
1.29%
35.08%
19.25%
35.08%
Japan
Zoom
3.05%
3.73%
5.55%
76.76%
New Zealand
Zoom
10.85%
4.85%
8.89%
54.10%
Norway
Zoom
16.27%
10.91%
16.27%
36.38%
Poland
Microsoft Teams
43.46%
5.81%
19.43%
23.77%
Romania
Google Meet
22.33%
49.93%
15.02%
5.50%
Russia
Zoom
7.17%
3.93%
16.00%
65.24%
Spain
Zoom
8.47%
10.37%
18.94%
51.66%
Sweden
Zoom
11.92%
21.80%
14.57%
32.51%
United Arab Emirates
Microsoft Teams
41.91%
12.61%
3.78%
34.24%
United Kingdom
Zoom
19.56%
4.01%
7.34%
55.43%
United States
Zoom
7.93%
11.89%
4.40%
59.90%
The full data for all 122 countries analysed can be found here.
Zoom dominates in the UK and US, with a market share of over 55%
Zoom holds a landslide video conferencing market share in many critical countries, including Japan, the UK, the US, Canada, New Zealand, Russia, and South Korea. The platform has risen up as the most popular for Europe as a whole, with Spain, Finland, Germany, Norway, and many others favouring over the 16 other platforms.
Microsoft Teams dominates in many countries with much smaller markets. A few of the larger wins for the platform include Poland, Iceland, South Africa, and the United Arab Emirates with a ruling market share of over 40% in each.
Video conferencing global market shares
The demand for video conferencing platforms is higher than ever, and the global video conferencing market size is expected to reach $10.92 billion by 2027. By looking at the global search volume, our study revealed the total market share for each video call platform, and compared 2020 vs 2021, to see which platforms achieved the most growth during the pandemic.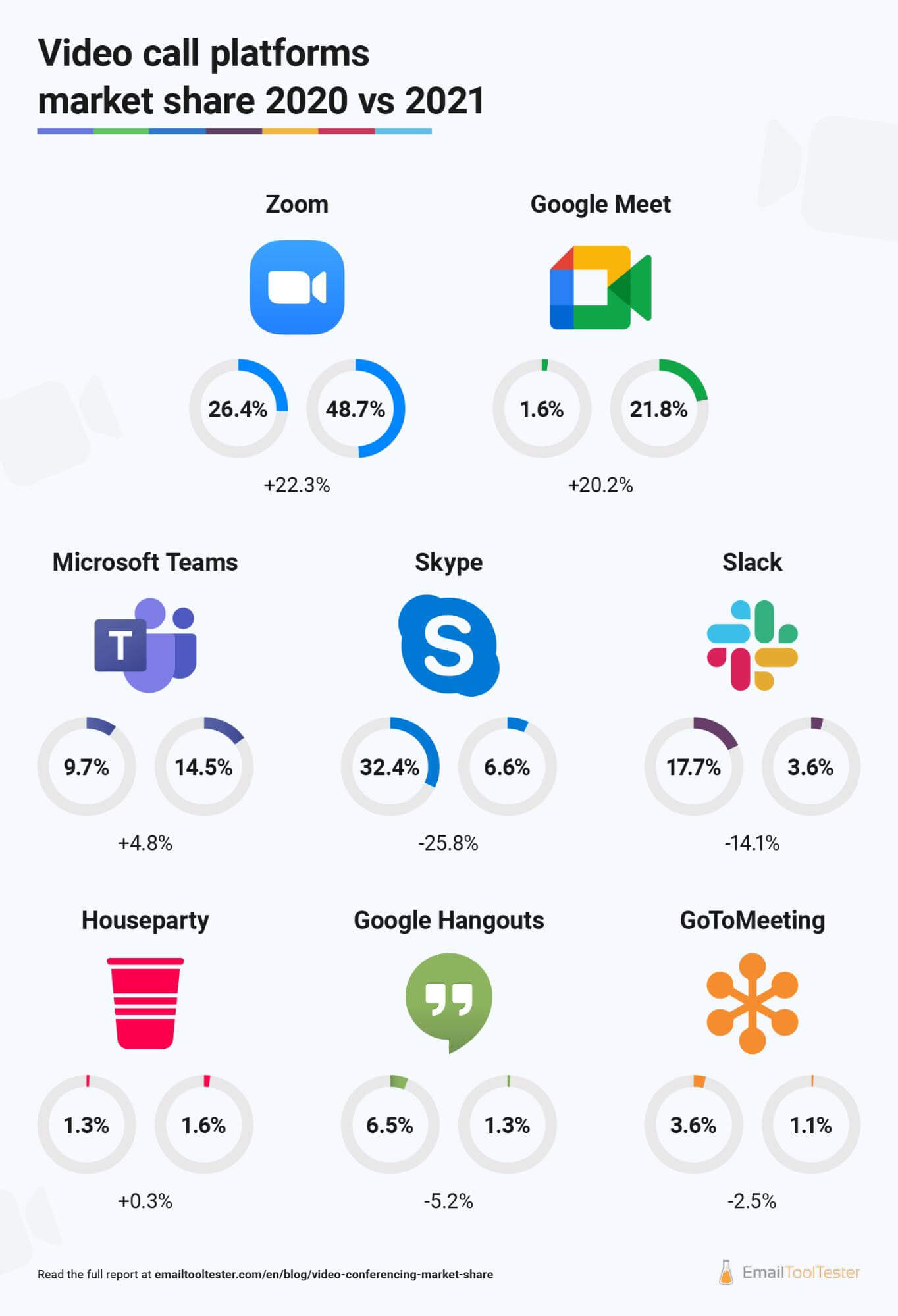 Skype lost 26% of the global market share during the pandemic
Skype, previously popular worldwide for free long-distance communications, saw the biggest drop in global market shares in the past year. In February 2020, pre-pandemic, Skype reigned in first place, with a 32% market share. In 2021 Skype has seen a substantial loss of 26 points, to just 7% of the market share, losing out to Zoom, who also offer a free level of service to their customers.
The Zoom icon has become synonymous with lockdown. It owns almost half (49%) of the global market share, and has seen the biggest year-on-year growth of all the platforms, almost doubling in size by gaining 22 points. With the market size standing at $5.32 billion in 2019, Zoom's share is worth an estimated $2.6 billion.
Despite Microsoft Teams being top in 41 countries, it only has a small global market share of 15%, but continues to gain popularity with a 5 points growth from 2020.
At one point in time, Houseparty was the app everyone was talking about. The ability to have a massive virtual get together and play games was a huge plus for people, and its popularity surged in the first lockdown.
Houseparty reported they had 50 million sign-ups in March 2020 and became the No. 1 Social app in 82 countries. However, it failed to maintain its users' loyalty due to a smear campaign that circulated about the app being hacked. The app disappointingly now has just a 1.6% global market share.
Video conferencing applications have become a regular part of everyday life, and are due to continue growing in popularity with most workplaces opting for a dual work environment of office and home. If you're looking to start your own business, remotely or in an office, you'll need an email marketing service to get the word out there online. At EmailToolTester, we compare the best newsletter services and CRM's available, allowing you to be fully informed on which tool will offer you the best service.
Methodology
Our study analysed the number of online searches for 16 of the most popular video conferencing platforms around the world, in 122 countries, using Semrush. We divided the number of searches each platform received in each country by the total number of searches for all 16 platforms, to determine their market share. Global market share was then calculated using the total number of searches across all 122 countries.
You might also be interested in our complete guide to email marketing statistics.