Here's a fun fact: when Google first released Gmail in 2004, many dismissed it as an April Fool's joke.
The 1 GB of storage offered just seemed too good to be true (back then, rivals like Hotmail and Yahoo only offered 2 MB). And the April 1 release date obviously didn't help, either.
17 years later, around 1 in 4 users now use Gmail for their email.
What's more – Gmail now also forms an integral part of Google Workspace (formerly G Suite), one of the most widely-used online productivity suites in the world.
With Google Workspace's applications extending beyond email to include documents, file storage, calendars, chat and messaging tools, and many more, Google Workspace is no doubt a comprehensive solution for collaboration and communication – whether you're a business, solopreneur, school or nonprofit.
But as impressive as Google Workspace's capabilities are, it does have its limitations – and it's worth weighing these up before making a decision.
In this Google Workspace review, we'll take you through the most important things to be aware of, to help you decide whether Google Workspace is right for you.
Let's start by quickly taking a look at why you would use Google Workspace, and what its pros and cons are.
Why Would I Use Google Workspace?
Google Workspace is well-suited to:
Small-to-medium businesses looking to use an application tool set where their teams can easily collaborate and share files, and where administrators can control access and security settings
Solopreneurs or freelancers who want an affordable solution for email and productivity tools, and who want to be able to easily share work with clients and partners
Schools and educational institutions who want to enable collaboration between teachers and students (note – there is a version of Google Workspace for Education that is free)
Nonprofits who want to take advantage of Google Workspace's free version for nonprofits
Anyone who prefers to work out of the cloud, as opposed to using desktop solutions and local storage
Google Workspace Review: Pros and Cons
Pros
Convenience: There's huge value in having all of your office productivity tools in one place. With Google Workspace, switching between email, documents, calendars and chat is a seamless experience – one that saves an immeasurable amount of time and effort.
Ease of use: Google Workspace's products are simple and easy to adapt to. For example, Docs and Sheets offer a stripped-down yet functional experience of familiar tools like Microsoft Word and Excel. Other tools, including the Admin Console, are also straightforward to navigate and intuitive to use.
Collaboration and sharing: One of Google Workspace's strongest suits is how effortlessly it facilitates collaboration between team members. Multiple team members can be working out of the same document at the same time, and files can quickly be shared between different users.
Everything runs in the cloud: Google really pioneered the concept of working out of the cloud (and eventually forced competitors like Microsoft to do the same). All the Google Workspace apps run out of web browsers, meaning there's no software to download, and changes to documents are autosaved and made in real-time.
Range of apps: As we'll see in a moment, Google Workspace's range of productivity and collaboration tools is impressive, covering the vast majority of needs.
Plenty of cloud storage: On Business and Enterprise plans, users get between 30 GB and unlimited storage. Also, files created in Google Docs, Sheets, Slides, etc. don't go toward your storage limit.
Free version available: Many of the tools (Gmail, Docs, Drive, etc.) are available to use for free (for personal accounts), with some storage limits and a @gmail.com email address. When you sign up to Google Workspace, however, you get a free 14-day trial to set up a professional email address and try out extra features like the Admin Console.
Integrations: Google Workspace has a massive, ever-growing amount of integrations with every kind of tool you can image (CRMs, web development, email marketing, accounting and finance, academic, and so on). This makes it possible for Google Workspace to easily slot into any existing processes.
Cons
Not as advanced as Microsoft Office: When you compare Docs, Sheets and Slides to the desktop versions of Word, Excel and PowerPoint, you'll find that they're not quite as advanced. They lack a lot of the formatting flexibility and functionality you'll find in the Microsoft tools, which could be limiting for some.
Requires internet access: Google Workspace is all cloud-based, meaning that you need an internet connection to be able to use a lot of it. That being said, some offline functionality is available (e.g. being able to edit documents offline and sync changes once you're back online).
Compatibility with Microsoft: While Docs, Sheets and Slides do support Microsoft formats for the most part, at times there can be some issues with displaying/converting certain elements – not ideal if you'll be continuing to work a lot with Microsoft Office tools.
Security: Having data hosted in the cloud always presents a more heightened security risk compared to hosting data locally, although Google Workspace does let you implement measures like 2-step verification to minimize the risk.
Issues with having multiple accounts: If you have multiple accounts with Google (e.g. a professional and personal account), it can get a little cumbersome having to switch between accounts and log in almost every time. It would be nice if Google Workspace always recognized the last login you used when moving between applications.
Prices on higher plans: While the Business Starter plan is relatively affordable at $6/user/month, organizations opting for the mid-tier Business Standard plan will find themselves forking over $12/user/month – not super cheap if you have a lot of employees.
Now, let's take a look at the steps involved in setting up a Google Workspace account.
Getting Started With Google Workspace
Creating an account
Creating an account with Google Workspace is a surprisingly simple process, with just a few quick steps involved. You're first asked to enter a few details about your business – name, number of employees, country – and for some contact details.
You're then prompted to connect your account to a domain – you can use one that you already own, or purchase a new one through Google Workspace.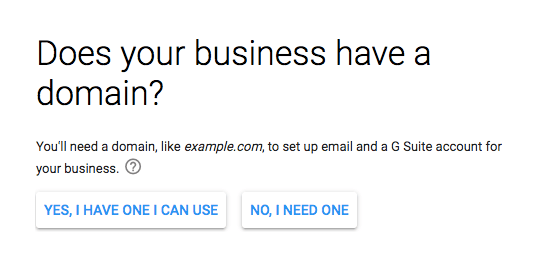 Tip – If you need to purchase a domain, we'd actually recommend doing it through a domain provider like Namecheap instead of through Google Workspace – you'll find better support, and most likely save yourself a bit of money too.
Next, you'll be asked to enter the email address you want to use (with the domain you've nominated at the previous step) – for example, inka@yourbusiness.com – and to input a password.
Finally, you just need to choose the plan you want to purchase – a Flexible plan with a month-to-month contract, or an Annual plan that will commit you to a yearly contract. (Note that Google Workspace will be free for the first 14 days – you can cancel during this period without making any payment if you decide Google Workspace isn't for you).
However, one annoying thing if you want to sign up for the Basic plan is that you'll only have the option of signing up to the Business Standard plan at this stage. You'll need to downgrade to the Basic plan a little later.
Plus, you'll notice that that there's no actual discount applied to an Annual plan, making you wonder why you'd choose an Annual plan in the first place (especially as you'll need to pay a 'closeout' charge to cancel). Discounts are available, but usually only if you sign up through a Google representative or reseller, rather than online.
Setting up Google Workspace
The next steps involve adding people to your Google Workspace account (if you have team members you want to invite), and verifying your domain name to connect your new email. New team members will be sent login details via email, and you can personalize this notification email too.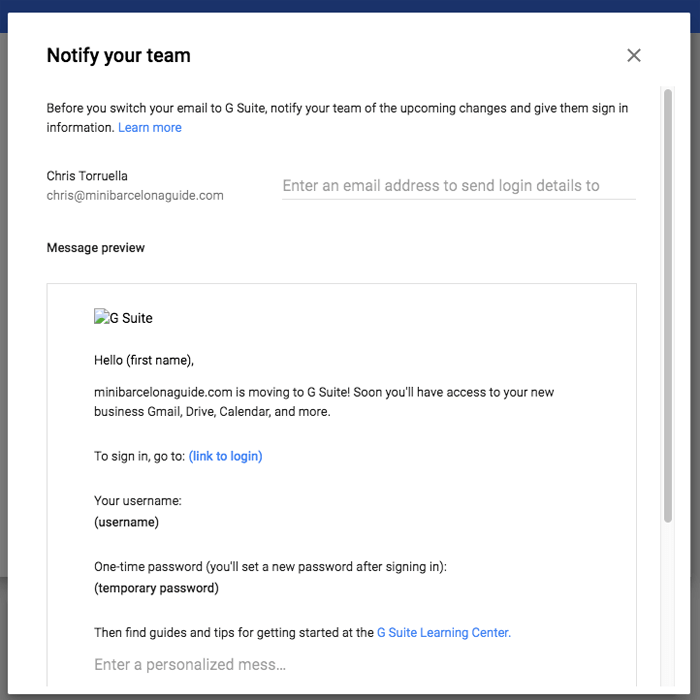 To verify your domain, you can choose from several options:
Adding a domain host record via TXT or CNAME
Adding a domain host MX record
Uploading an HTML file to your website
Adding a meta tag to your website
Once that's been completed, you'll be able to access your Admin Console, where you'll manage everything to do with your Google Workspace account, including email, users, apps, devices, reports and integrations. Google Workspace's Setup Wizard can help to guide you through this process.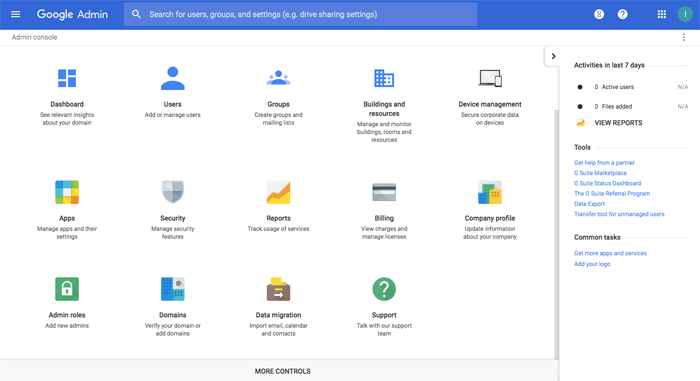 Google Workspace Applications
As we've mentioned, a real strength of Google Workspace is the variety of productivity and collaboration tools it offers. Here's a quick run-through of its main applications:
Gmail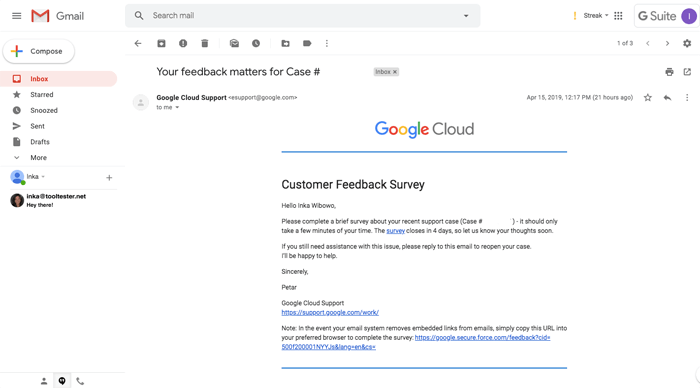 At the very core of Google Workspace is Gmail, an application that most of us are probably familiar with, whether we've used it for personal or professional email.
While the interface for Google Workspace's version of Gmail is pretty much identical to the Gmail you'd use for personal email, it actually includes a few enhanced features. Aside from being able to use an email address with your own domain, these include:
Being able to read and draft emails offline
Being able to create group email addresses
Enabling read receipts
Allowing users to use Gmail in other mail clients (e.g. Outlook)
Allowing users to delegate mailbox access to others
Enabling S/MIME encryption
And more
What we liked: Gmail feels familiar and is generally easy to use. Within the Gmail application, you're also able to access Google Meet for video calls, and also chat with colleagues – a great example of how tightly integrated Google Workspace's applications are. There are also plenty of handy extensions you can use, such as Streak, which allows for email tracking, pipeline management and mail merge, and Checker Plus for managing multiple Gmail accounts.
What could be improved: One drawback is that, as a web-based app, it feels very different for users who are accustomed to using software like Outlook. At times, it can feel a bit limited (for example, Gmail makes use of labels rather than folders, which might not be convenient for everyone). In my opinion, this isn't a deal-breaker, however, and functionality-wise it still lets you do most things that you'd need to do with your email – especially when you have the right extensions enabled.
Calendar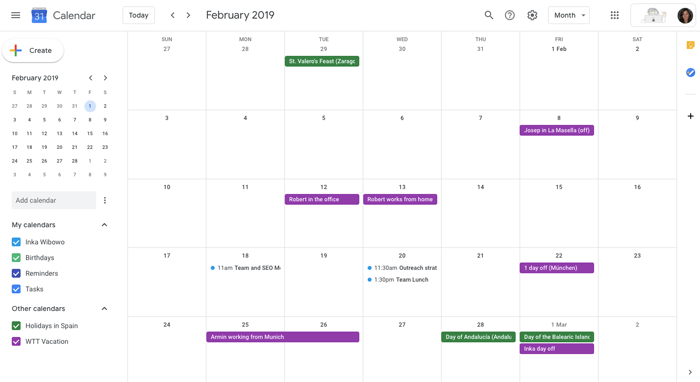 Calendar is another popular application that requires little introduction. Like Gmail, Google Workspace's version of Calendar is similar to the free version that you might already be familiar with. Calendars can easily be shared between team members, and integrate with other Google Workspace applications like Gmail and Hangouts.
What we liked: Calendar is designed to allow users to easily share events, meetings, tasks and reminders with each other, and even allows you to see the availability of resources such as meeting rooms and equipment. There's even a useful 'Find a time' feature that lets you view multiple users' calendars to find free slots. It lets you import external calendars like Outlook and iCal, and even syncs with Exchange calendars if you need to keep using them.
What could be improved: There's actually very little to fault with Calendar, which works pretty well for the most part. Minor issues would be that working out of multiple calendars can sometimes be fidgety and that the national 'Holidays' calendar that gets added by default sometimes displays holidays that are irrelevant (e.g. holidays in other states or regions).
Drive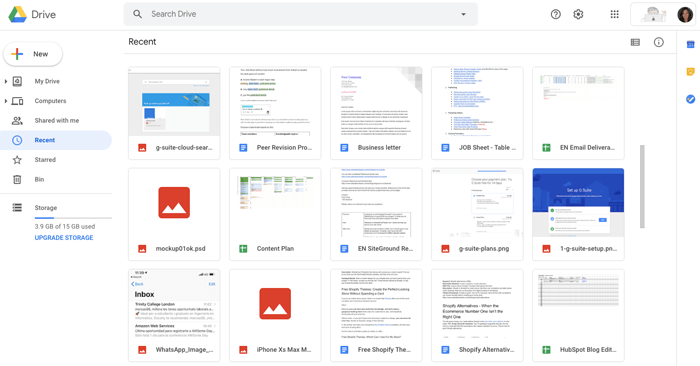 Google Drive is a powerful storage tool (and Dropbox alternative) that lets you store files in the cloud, and easily access them via a web browser, your desktop (e.g. via Google File Stream), or on mobile devices. It's popular, too – Drive  hit the 1 billion user mark in 2018, so imagine just how many it has now! It's one of Google's most widely-used products.
What we liked: Drive makes it really easy for users to access and share files, and if you're using Google File Stream, accessing files is seamless – it feels really like you're opening files straight from your computer. Administrators can control sharing settings (e.g. specifying whether users can share files with people outside the organization). Files created with Docs, Sheets and Slides don't go towards your storage limit, and on Google Workspace's Enterprise plan, you get unlimited storage (more on that below).
What could be improved: While sharing within your organization (or with other Google accounts) is easy, sharing with non-Google email addresses can be a pain as it requires them to sign up for a Google account. It can also get a little messy if you're logged into multiple Google accounts (e.g. a professional and a personal account) – whenever you access Drive via the web, it always logs you into the default account, rather than the one you last used to access Drive.
Docs, Sheets and Slides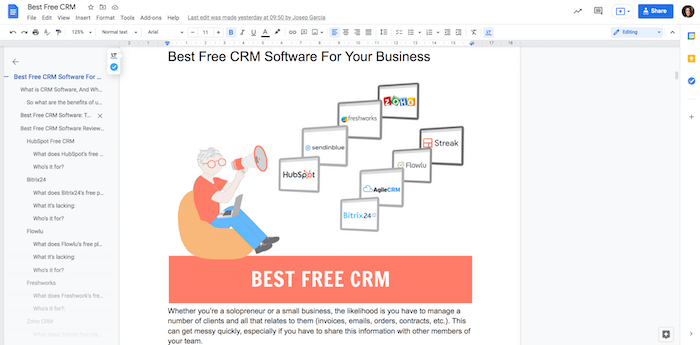 Within Drive, you also get access to Google Docs, Sheets and Slides – Google's answer to Microsoft Word, Excel and PowerPoint. Docs, Sheets and Slides offer a simplified yet functional version of Microsoft's products. They're compatible with Microsoft Office file formats, and are familiar enough for most users to be able to start using straight away.
What we liked: These productivity tools work fast, and changes are made in real-time – no saving is required. You can have multiple users collaborating on the same document at the same time, without having to worry about conflicting changes. The commenting system (especially for Docs) works extremely well. Plus, the version control is great – you can revert to old versions (which get saved automatically) very easily.
What could be improved: As they're all web-based, it's worth noting that Docs, Sheets and Slides aren't quite as powerful as the desktop versions of Word, Excel and PowerPoint. It doesn't offer all the functionality you'd find in Microsoft's applications (e.g. formatting flexibility, advanced spreadsheet formulas), so might not be ideal if you need to create documents with these features.
Hangouts, Google Meet and Chat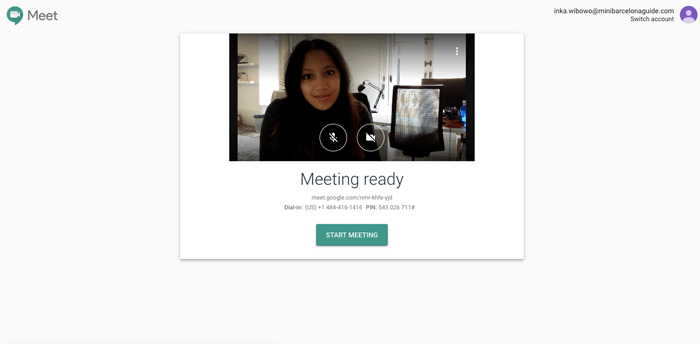 While you might be familiar with Hangouts, Google's video calling application, Google Meet and Chat are perhaps a little less familiar as they were only released a couple of years ago. But there's no huge mystery here – Meet is Google Workspace's video conferencing tool that lets you schedule video calls in advance, and Chat is Google Workspace's business chat tool (similar to Slack).
What we liked: We're big fans of Meet and Chat's integration within Gmail, which lets you use these tools straight from your email without having to access a separate application. As you'd expect, sharing Drive files and documents within both tools is seamless. Both tools are pretty powerful, too. Chat supports up to 28 languages, and Meet has integrations with Calendar, presentation features, and even the ability to live stream (available on the Enterprise plan).
The ability to record and save meetings is available on the Business Standard plan and higher.
Additional apps
Other applications included in Google Workspace are:
Sites – For creating (very) simple websites for internal or public use (e.g. intranets, project hubs, wikis)
Keep – Google's note-taking and list-keeping app
App Maker – An intuitive, low-code app maker that allows teams to build custom apps (available on the Business Standard, Plus and Enterprise plans)
Cloud Search – A powerful search tool that lets you simultaneously search through all your Google Workspace Properties (Gmail, Drive, Sites, Groups, Calendar, etc.)
Other Features
Of course, Google Workspace is more than just the apps that it offers – many of which are actually available for free for individual users. The advantage of using Google Workspace is that, if you're managing teams, you also get to control user settings, access, security, data and more. Here's a quick rundown of the extra admin and security features available with Google Workspace:
Admin Console
We've touched on this already, but the Admin Console dashboard is a powerful yet easy-to-use way to manage your organization's Google Workspace setup. Remember the times when you had to beg your sysadmin to create an email account for your new employee? Not anymore. Here, you can do things like:
Add and manage users
Enable and configure security settings (e.g. 2-step verification)
Enable/disable apps for individual users
Access reports and logs on usage patterns, sharing and collaboration
Use the universal search bar to search through users, groups, settings and help
Manage devices
Manage integrations with third-party apps
Control where different data is stored (e.g. US vs Europe)
Google Vault
This archiving application allows you to manage how you retain and hold Google Workspace data, including emails, chats, and files on Google Drive. It lets you search through, export and place legal holds on data in order to meet any regulatory requirements that apply to your organization. Note that this is only available on the Business Plus and Enterprise plans.
Google Workspace Support
There are several avenues of support offered by Google Workspace. The first is the Help Center, which is available to all users and offers step-by-step instructions on setting up different aspects of your Google Workspace account. We found it thorough and easy to follow, with plenty of useful information to help you configure Google Workspace as needed (e.g. different Quick Start guides depending on how large your business is).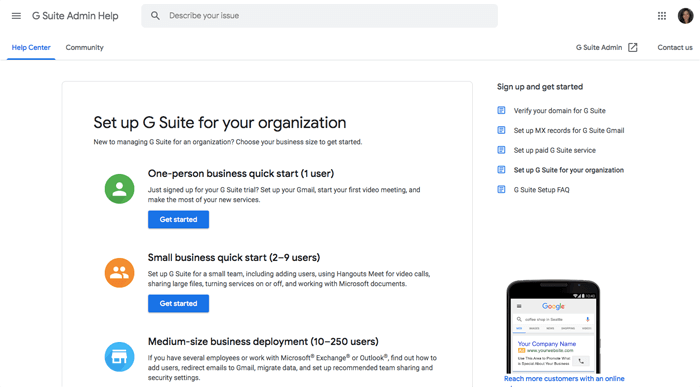 Administrators also get access to 24/7 phone, email and chat support. Phone and email support is available in 14 languages. We found the chat support to be relatively fast and useful, with support agents putting in a genuine effort to try to solve our problems (rather than pointing us to existing Help Center articles).
Other help resources include a community user forum, and the Google Cloud Connect Community.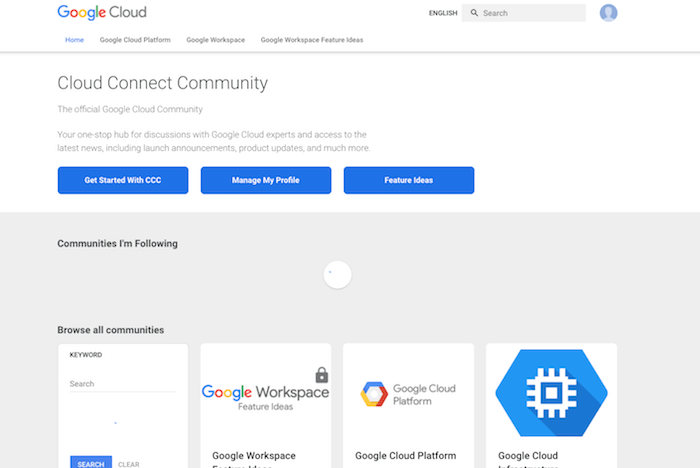 Pricing
For business users, Google Workspace is available on three different plans:
Google Workspace Business Starter, which costs $6 per user per month. It includes email, all the main applications and 30 GB of storage
Google Workspace Business Standard, which costs $12 per user per month, and comes with 2 TB of storage, plus a few extra archiving and search features
Google Workspace Business Plus, which costs $18 per user per month, and comes with 5 TB of storage, plus additional video conferencing participants and security controls
Google Workspace Enterprise, which comes with everything included in the Business Plus plan, with additional admin and security controls and unlimited storage
Most small-to-medium businesses would probably opt for the Business Standard plan, where you don't have to worry about running out of storage space. You might also choose to put some users on the Enterprise plan if you need that extra level of administrative control.
Overall, Google Workspace's plans are generally affordable, especially when compared to similar plans offered by Microsoft Office 365.
Costs obviously add up when you're working with larger teams, but if granting users access to these applications is important, you'd struggle to find a more cost-effective alternative. For that reason, it might make sense to work with forwarding email addresses. These are free to set up – in this guide we show you how.
To find out which plan would be right for you, check out our Google Workspace pricing guide. Special plans are also available for schools and non-profit organizations.
As we mentioned earlier, discounts may be available if you sign up for annual plans, but in most cases only if you sign up through a Google representative (rather than signing up online).
Note about G Suite legacy free edition: Google recently announced that if you have the G Suite legacy free edition (the one they stopped offering in Dec 2012), you need to upgrade to a paid Google Workspace subscription to keep your services. The G Suite legacy free edition will no longer be available starting May 1, 2022, when you will be transitioned to Google Workspace. You'll be able to use this at no cost until July 1, 2022.
Having experienced quite the backlash, Google will now be offering the Essentials Starter plan for Google Workspace. It's completely free, but there's a pretty big catch: You have to supply your own email address, and it doesn't offer access to Gmail.
Google Workspace Review: Final Thoughts
There's a lot to unpack with Google Workspace, and with so many apps, features and plans offered, it's not always easy to get your head around what exactly is included, and what the advantage of a paid plan is over free versions for personal accounts (which give you access to key tools like Gmail, Drive and Docs).
However, we think Google Workspace is a great solution for professional or business users who:
Want an email address on their own domain
Don't want to worry about going over storage limits
Prefer working in the cloud
Need access to productivity applications
Want to enable easily collaboration between team members
Want to be able to control things like user access, sharing settings and security configurations
Its pricing also makes it one of the more affordable productivity solution suites. While there are similarly-priced plans for Microsoft Office, none offer unlimited storage without paying extra, giving Google Workspace a huge advantage.
In short: we think Google Workspace holds its own against comparable solutions and could be a good fit if your team is on the small-to-medium side. To try it out for free for 14 days, click here.
Have any thoughts or questions to share about Google Workspace review? Let us know in the comments below!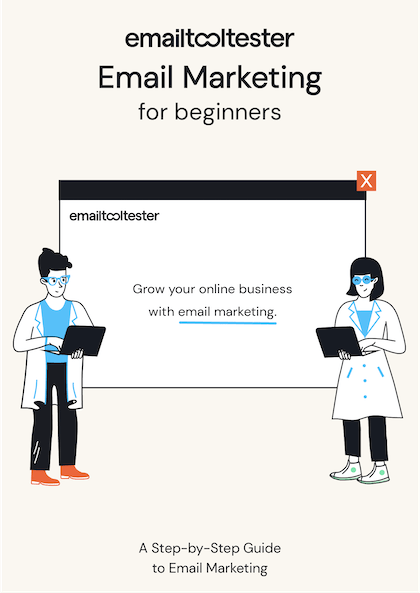 Email Marketing Crash Course: Step-by-Step Guide
Our email marketing course for beginners: ideal for small and medium-sized businesses, online stores and bloggers. It shows you all the steps you need to send your first email campaign. Best of all, it's free!
Sign up to receive your copy immediately!
We keep our content up to date
08 Jan 2023 - Small update regarding forwarding email addresses
25 Jan 2022 - Added note about G Suite legacy free edition
17 Jun 2021 - General update
22 Feb 2021 - Updated plan names
15 Oct 2020 - 'G Suite' was changed to 'Google Workspace'
Our Methodology
This article has been written and researched following our EmailTooltester methodology.
Our Methodology