In recent years, MailerLite has become the go-to email marketing service for businesses looking to get their email marketing efforts up and running while sticking to a tight budget.
In fact, MailerLite is a tool we've repeatedly awarded for its ease of use, value for money, and excellent deliverability rates. And if you think as highly of the tool as we do, you may feel as though MailerLite is hard to beat.
Despite this, we can't deny that it still lacks some advanced features found in other email marketing services – often at a similar cost.
With this in mind, let's delve deeper into top-notch MailerLite alternatives that might be better matched to your specific needs. Whether you're an email marketing novice or a seasoned pro, understanding what's out there can help you make a more informed choice.
MailerLite's Biggest Drawbacks
Here are the main reasons why MailerLite might not be right for you:
Missing Some Pro Features:
"You get what you pay for" rings particularly true here. Even with its competitive pricing (which starts at $15/month for 500 contacts on the Growing Business plan), MailerLite users miss out on several premium features. The absence of full reporting, CRM capabilities, and spam/design testing can sometimes leave more advanced marketers wanting more.
Rigorous Approval Process:
High deliverability rates are a must in email marketing, and MailerLite's stringent approval process no doubt contributes to its strong performance in deliverability. However, the approval period (which can take up to 24 hours) might come off as excessive to those eager to jump in and get started.
Template Limitations:
If you're using the free version of MailerLite, be prepared to craft your emails from scratch. Access to newsletter and landing page templates is exclusive to paid users. And if you're keen on using the HTML editor, you'll need to be on the pricier Advanced plan, which starts at $20/month for 500 subscribers.
Subscriber Management:
MailerLite keeps it basic. While it does cover essential ground, the platform doesn't offer advanced subscriber management tools, with limited options for creating segments based on behavior. It also lacks an extensive tagging system to help businesses categorize subscribers more flexibly, using a more rigid "Groups" structure instead.
Automation Gaps:
The beauty of email marketing lies in automation, and while MailerLite does offer automated workflows for standard triggers, it stops short of more advanced ones. For instance, the inability to set automations based on page visits can be a major shortcoming for users who are serious about implementing a marketing automation strategy.
With that in mind, let's take a look at the MailerLite alternatives that could better serve your needs.
10 MailerLite Alternatives
1. Brevo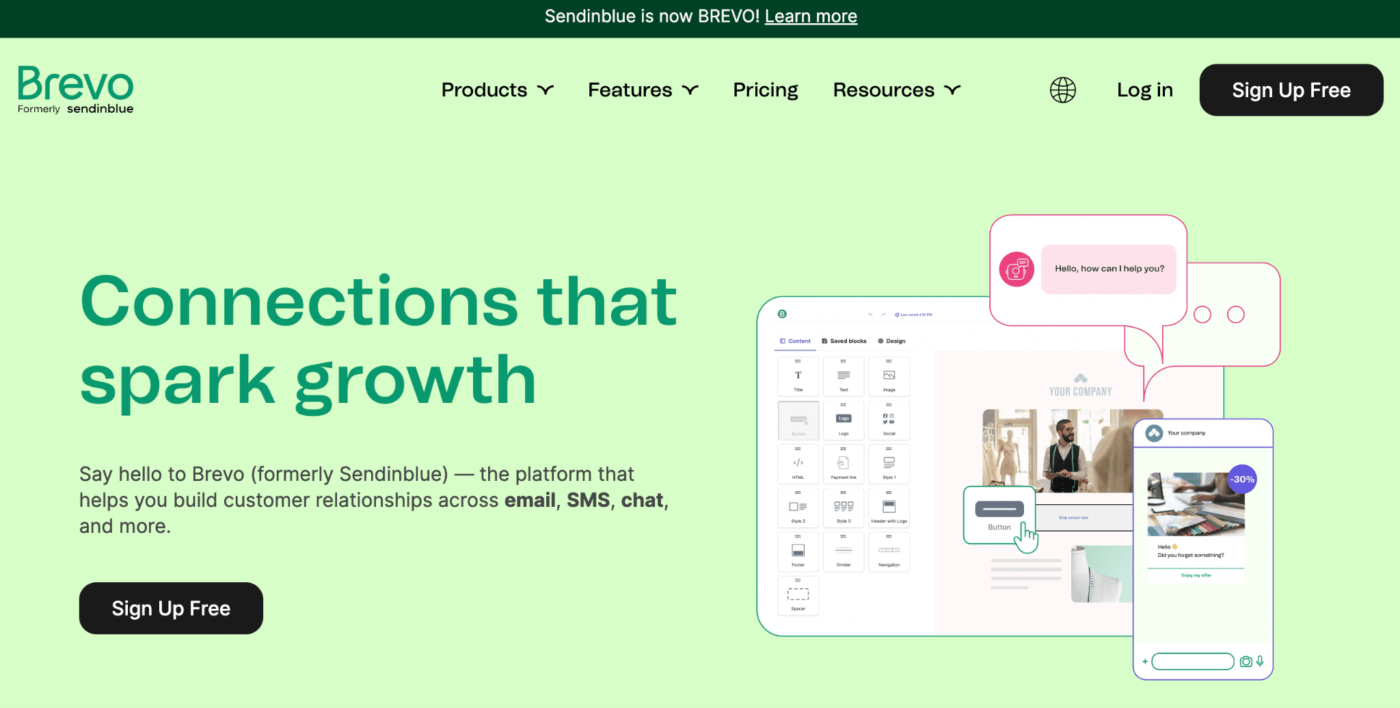 While MailerLite does email campaigns really well, Brevo (formerly Sendinblue) turns it up a notch. With a slick automation workflow designer, Brevo lets you craft campaigns triggered not just by opens and clicks, but even by visits to your website. What's more, it also allows you to send transactional emails such as password resets, purchase confirmations, and more. With MailerLite, you need an add-on service (MailerSend) for this.
Brevo also offers advanced features such as SMS and WhatsApp campaigns. And for those on the higher-tier Business plan? A/B testing, landing pages, Facebook ads, and more are all in the mix.
Pricing is where things really get interesting. While MailerLite charges based on your subscriber count, Brevo takes a different route, charging per email instead. This means you can have unlimited contacts, and there's no added cost. And if you only send the occasional newsletter, Brevo offers a useful pay-as-you-go option.
Brevo video review:
Where Brevo beats MailerLite:
Brevo's free plan generally gives you more than MailerLite. For example, you won't have access to newsletter or landing page templates on MailerLite's free plan, which is a pretty big limitation.
If you need advanced features like SMS marketing, live chat, or sales CRM functionalities, MailerLite doesn't provide these capabilities like Brevo does. It also requires you to subscribe to its separate MailerSend service for transactional emails.
Price-wise, we find Brevo to be more competitive, especially if you're working with larger lists. Brevo's prices start at $25/month. You can compare Brevo and MailerLite's costs using our email marketing cost calculator.
Where MailerLite wins:
Among all the email marketing software we've evaluated, MailerLite stands out for its exceptional email deliverability. Recently, Brevo's deliverability performance has seen a decline, which is obviously not ideal if you're sending regular campaigns.
Another big difference is that MailerLite users can sell digital products, including subscriptions, directly from the platform. This is a feature that Brevo currently doesn't offer.
When we'd recommend Brevo:
When stacked up against MailerLite, Brevo shines for those with a hefty contact list but who aren't hitting "Send" all that often. If you're on the hunt for a tool that offers great bang for your buck, with perks like CRM, SMS, and live chat, then Brevo is definitely worth a closer look.
2. Moosend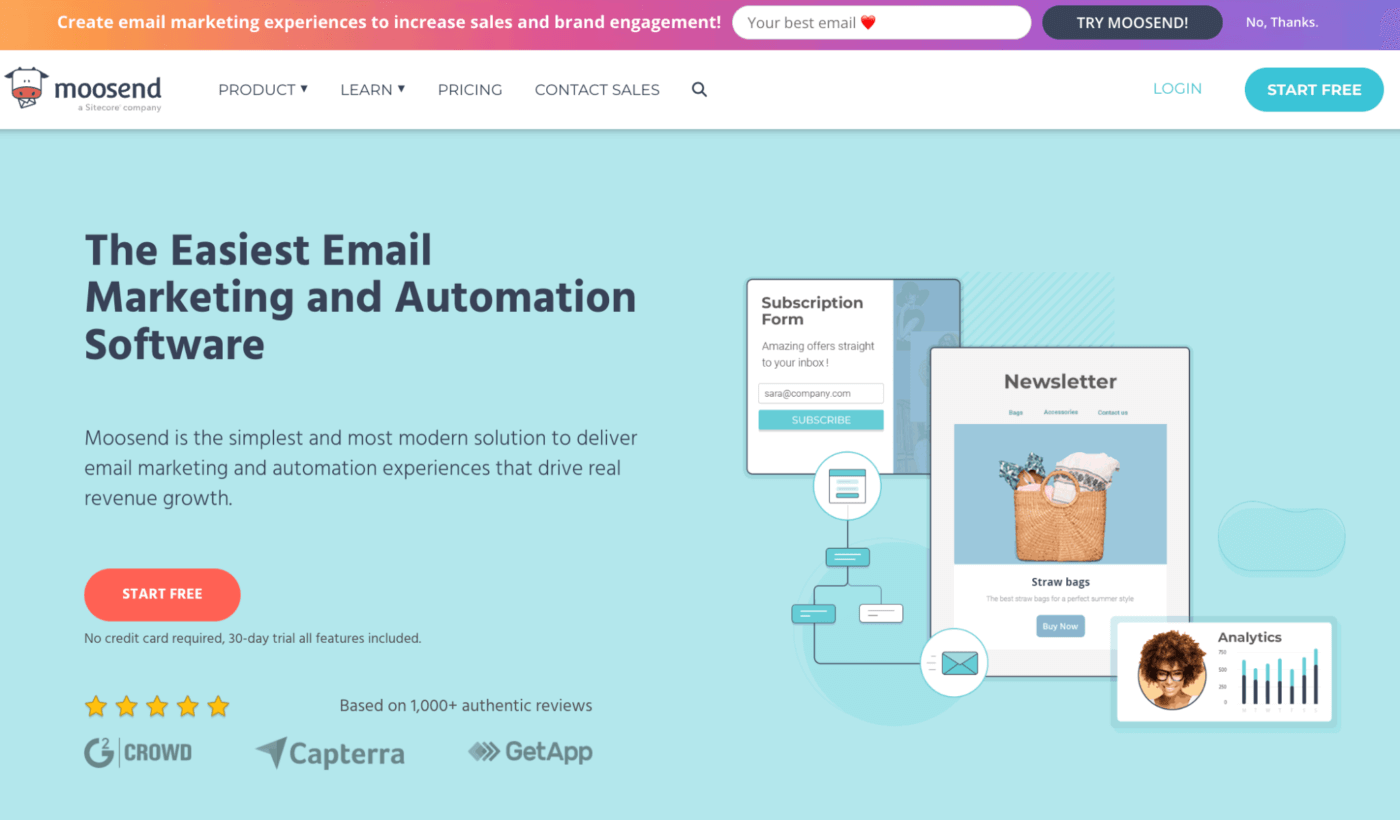 This is an obvious one and one of the best alternatives. The two share many similarities, especially when it comes to their easy-to-use drag-and-drop editors. But what really stands out for Moosend is its affordable pricing, which starts at $9/month – and includes unlimited emails, plus automations, transactional emails, and landing pages.
But it doesn't stop there. You've got the power to A/B test subject lines, as well as insert email countdown timers to ramp up urgency. Another bonus is the ability to directly drop comments and feedback on designs within the tool, which is a feature you won't readily find in other email marketing services.
Its automations are also impressive, with an intuitive automation builder, and a wide range of templates to start from (e.g. abandoned carts campaigns, upsell emails, anniversary flows).
Where Moosend beats MailerLite:
Moosend comes with a handy feature for free spam and design testing. This checks if your email can dodge the spam filters across big-name email clients and even gives you tips to improve your design. With MailerLite, you can sneak a peek at how your design looks on desktop and mobile but you can't view it across various email clients or test for spam.
Moosend also comes out stronger in terms of automations, with a solid range of "recipes" to get started with, and the option to trigger automations based on website/product views (which is not available with MailerLite).
Where MailerLite wins:
Moosend recently removed its free plan, so if you were hoping to use Moosend for free, it's sadly not an option (as it is with MailerLite). However, it does offer a free 30-day trial to let you test the platform out.
We also found Moosend's selection of signup forms and email templates to be more limited than MailerLite's. And its deliverability rates were average, lagging behind MailerLite's.
When we'd recommend Moosend:
Moosend's pricing is extremely competitive and comes with a stack of useful extras, so anyone looking for a budget-friendly yet versatile tool should seriously consider Moosend.
3. GetResponse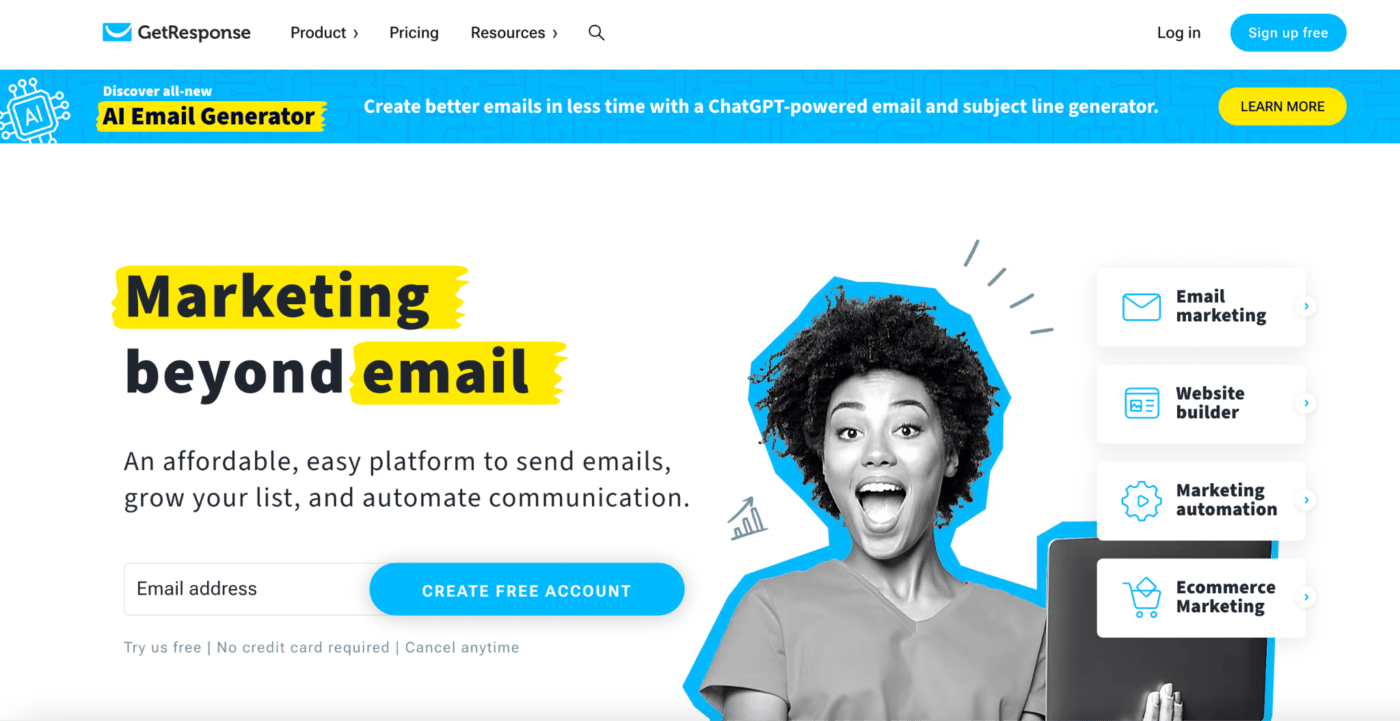 GetResponse offers a wide selection of features, including the ability to host your own webinars – something we haven't found in any other email marketing service! Yet, it avoids overwhelming users with a steep learning curve. In fact, it's remarkably user-friendly.
The email service provider boasts an intuitive drag-and-drop email builder, allowing you to infuse your branding, fonts, colors, and media.
Despite being at the pricier end of the spectrum, GetResponse justifies its cost with a comprehensive library of pre-built automations. These cover everything from winback campaigns and welcome sequences to post-purchase retargeting and loyalty campaigns, all of which can be customized to fit your specific needs.
It's a powerful tool that manages to balance complexity with accessibility, making it a strong choice for those looking to create sophisticated campaigns without the headaches.
GetResponse video review:
Where GetResponse beats MailerLite:
On paper, both offer a similar feature range, including landing pages, a website builder, the ability to sell products, and AI assistant. But GetResponse takes it even further, with additional features such as webinars, live chat widgets, and sales funnels (note that most of these require GetResponse's higher-level plans).
GetResponse's reporting and contact management features are also stronger than MailerLite's. For example, GetResponse lets you add a wide range of conditions to segment your subscriber list automatically. It also allows you to deep dive into everything from contact data, to newsletter and automation performance.
Where MailerLite wins:
To access additional automations and advanced segmentation with GetResponse, you'll need to upgrade from the affordable Email Marketing plan (from $19/month) to the Marketing Automation plan – and there is a significant jump in cost.
It's also not so budget-friendly for ecommerce owners – features such as ecommerce tracking and abandoned cart emails require the very pricey Ecommerce Marketing plan (starting at around $100/month).
Finally, our testing has revealed that the deliverability rates are much lower compared to MailerLite.
When we'd recommend GetResponse:
GetResponse is ideal for sales-driven small and medium-sized businesses in search of a comprehensive marketing tool. With its blend of advanced automations, sales funnel tools, CRM, and an integrated webinar solution, it offers great value considering the array of features available.
4. SendPulse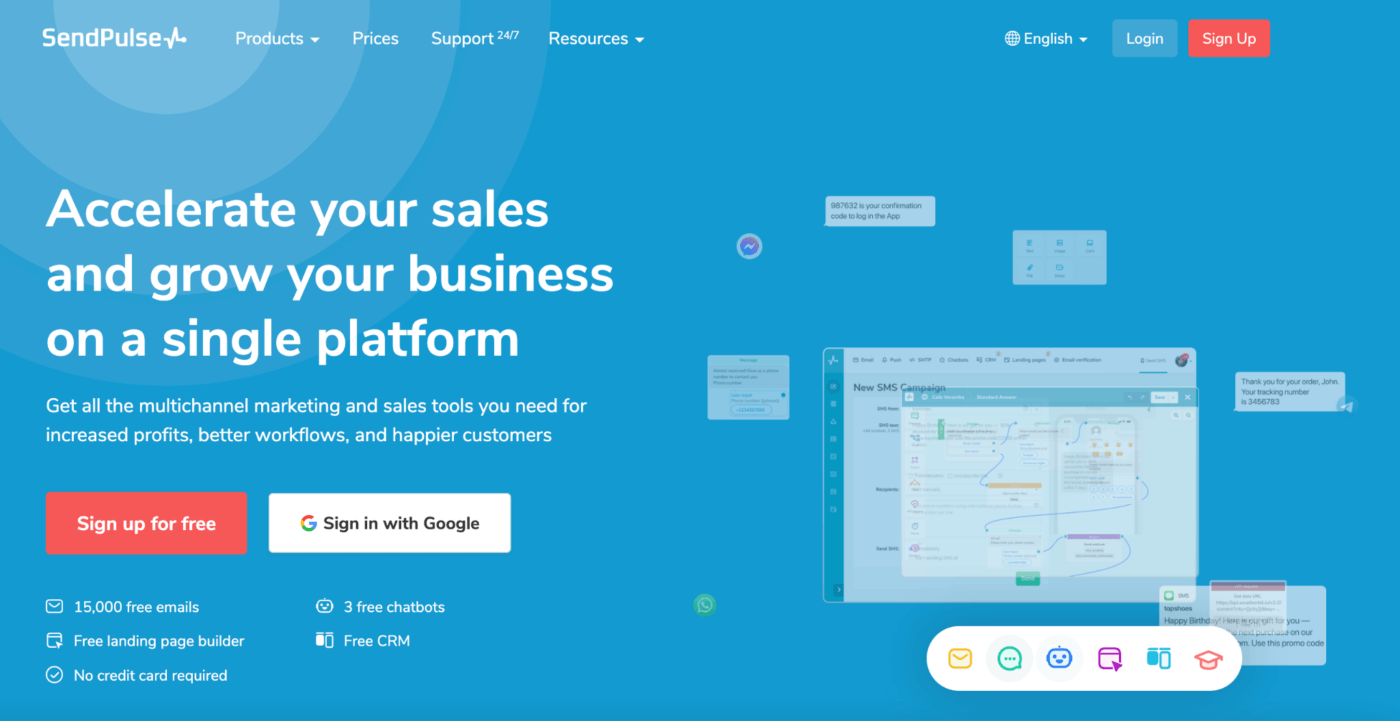 SendPulse provides a complete marketing ecosystem, including an affordable email marketing software that lets users craft attractive branded emails. One noteworthy feature is its built-in spam checker, which can help you steer clear of blacklists and boost deliverability.
With SendPulse, you can send automated emails such as welcome emails, abandoned cart reminders, and notifications based on user behavior. As your business evolves, you can add on extras such as chatbots, web push notifications, and SMS campaigns to align with your needs.
Features like email marketing, transactional emails, sales CRM, landing pages, chatbots, and more are included with SendPulse's generous free plan, which lets you send 15,000 marketing emails to 500 subscribers monthly.
Where SendPulse beats MailerLite:
With SendPulse, you get a full marketing platform for sending marketing emails, SMSes, web push notifications, chatbots, and more. You'll miss out on many of these features with MailerLite.
In addition to marketing emails, the free plan also gives you a generous allowance of 12,000 transactional emails per month. MailerLite's transactional email service only allows for 3,000 free emails per month.
Where MailerLite wins:
We find MailerLite's interface to be easier to navigate than SendPulse, with SendPulse's editor at times buggy and slow. Automations are also much easier to set up with MailerLite as SendPulse's autoresponder editor isn't very intuitive.
In terms of transactional emails, we also found MailerLite's MailerSend service to hit much higher deliverability rates than SendPulse.
When we'd recommend SendPulse:
Opt for SendPulse if you're seeking the robust features and capabilities usually found in pricey email marketing tools but without the hefty cost. What makes SendPulse stand out is its adaptability; it grows with you, allowing you to incorporate more channels as your business scales. If you have ambitious goals, SendPulse is a solid choice.
5. Omnisend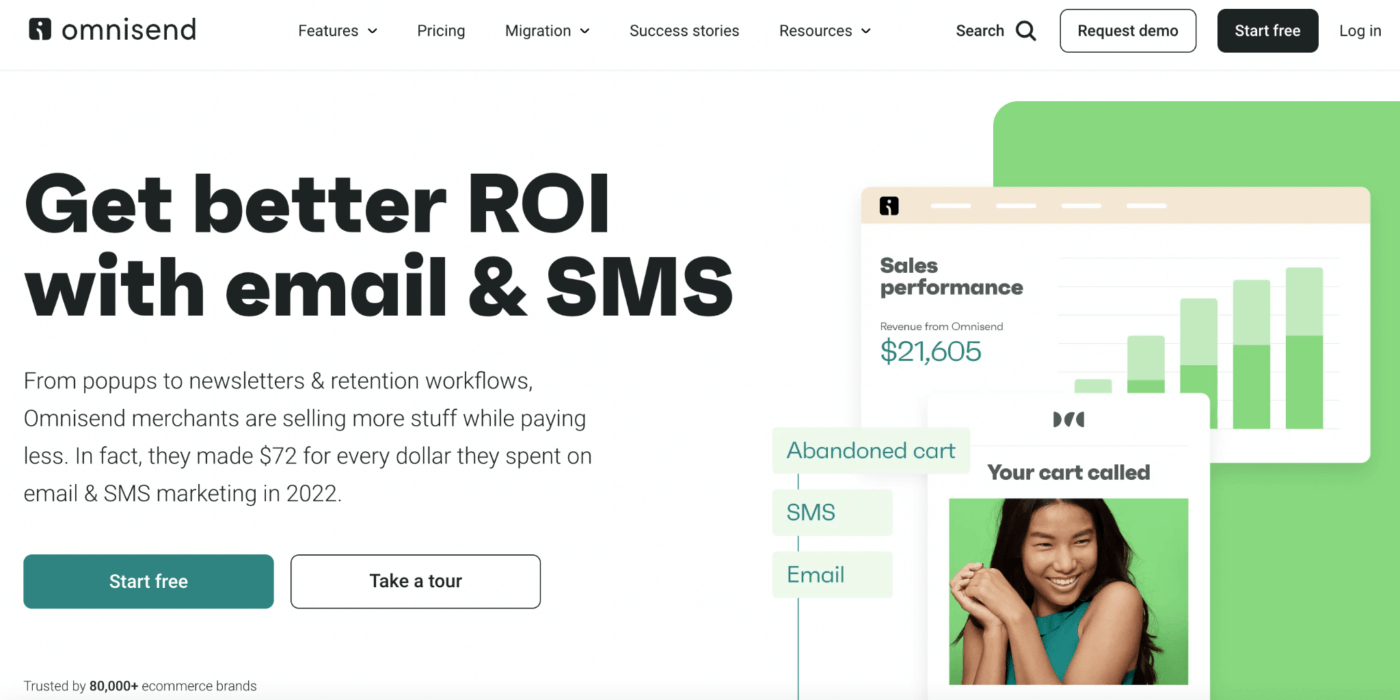 Omnisend is our top pick if you're running an online store. Its wide range of ecommerce automations (including abandoned cart sequences, order confirmations, and back-in-stock reminders), and niche ecommerce features makes it one of the best email marketing solutions for ecommerce.
By "niche features", we mean a wheel of fortune form to incentivize sign-ups, interactive gift boxes, automated product recommendations, and live view website tracking – which you definitely won't find in most email marketing services (and certainly not in MailerLite!).
With Omnisend, you can even incorporate push notifications and SMS automations into your campaigns, making it an ideal option for omnichannel marketing.
Omnisend video review:
Where Omnisend beats MailerLite:
There's no doubt that Omnisend is much stronger in the ecommerce game. It integrates with more ecommerce platforms (including OpenCart and BigCommerce), and as we mentioned before, offers interesting features to help store owners boost email sales.
With Omnisend, you can also segment new subscribers based on specific details (e.g. customers who purchased a specific product), which can help you target your emails better.
Where MailerLite wins:
While you do get access to email templates on Omnisend's free plan (which you don't with MailerLite), its template range is pretty limited. Its designs also aren't as eye-catching as MailerLite's.
Deliverability also doesn't seem to be one of Omnisend's strong points, as we discovered in our tests. MailerLite has a much better track record in this regard.
When we'd recommend Omnisend:
Price-wise, Omnisend comes out slightly higher than MailerLite – but it's worth it if you run an online store. Omnisend's wider range of ecommerce integrations, automations, and email features can make a huge difference in driving sales from your email campaigns.
6. ActiveCampaign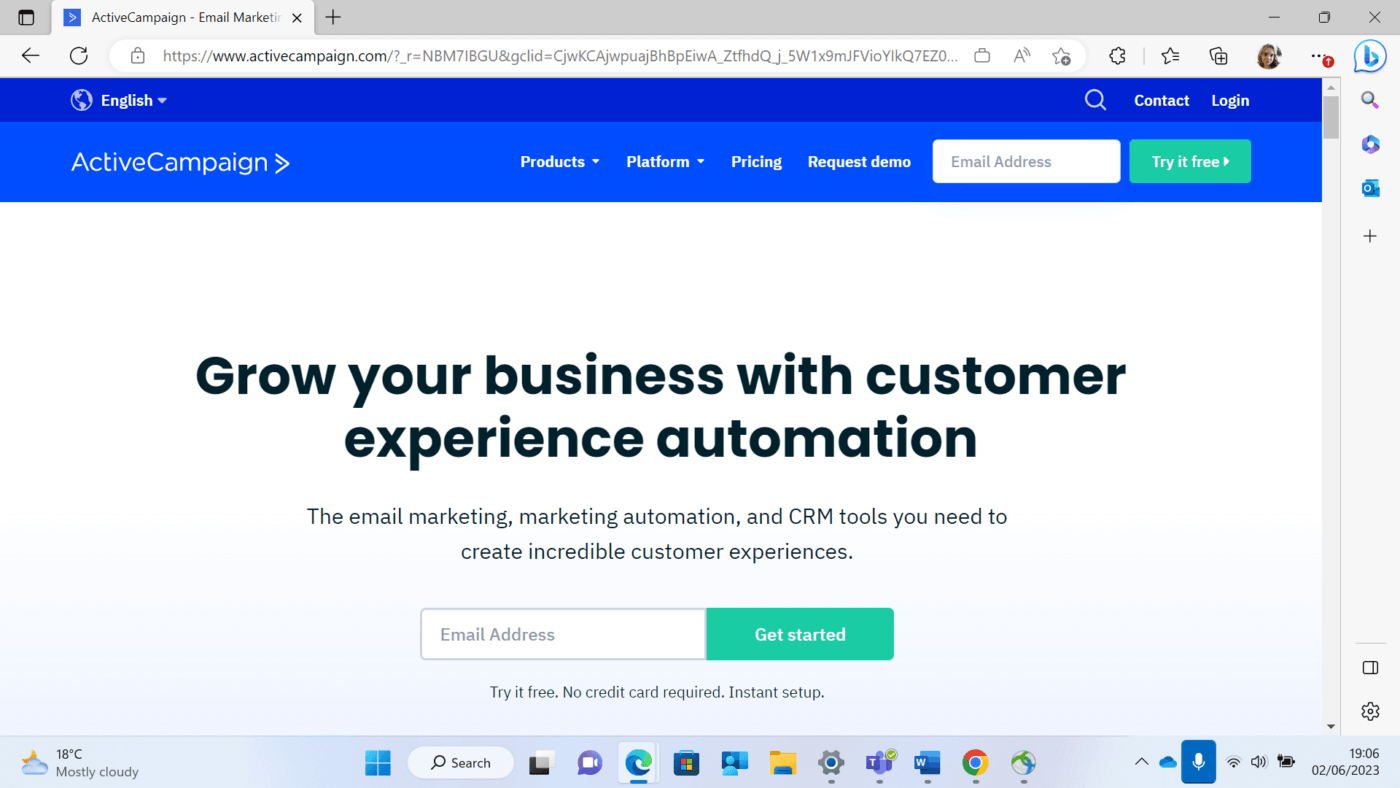 If you find MailerLite's automations too basic, you'll want to check out ActiveCampaign. With ActiveCampaign, you gain the power to automate responses based on your website visitors' behavior, employing intricate if/when/then logic. In our view, it's one of the best platforms for automation and contact segmentation.
This also extends to its comprehensive CRM (available as a separate product or as part of a bundle), which simplifies the management of sales directly from the backend, and allows you to better target 'at risk' or 'hot' leads.
Embracing the growing trend around AI, ActiveCampaign has also introduced a content generator that leverages the GPT engine, which can help you write newsletters with very little effort.
ActiveCampaign video review:
Where ActiveCampaign beats MailerLite:
ActiveCampaign stands out with its advanced automation features, surpassing the capabilities of most of the email marketing software we've reviewed here. With around 900 workflows to start from, there's virtually no limit to the sales and marketing processes you can automate.
ActiveCampaign also offers more sophisticated reporting than MailerLite, with deeper insights into email performance, behavioral data, and deal pipelines.
Where MailerLite wins:
With such an extensive range of features, it's no surprise that ActiveCampaign is the more expensive option, with plans starting at $39 plan (no free plan is available).
MailerLite is also the more beginner-friendly email marketing platform, with a more intuitive backend and a shallower learning curve than ActiveCampaign. Read more about MailerLite vs ActiveCampaign in our complete guide.
When we'd recommend ActiveCampaign:
ActiveCampaign is an especially good fit for power users such as ecommerce stores and B2B companies looking to optimize their lead generation process through the integrated CRM. Additionally, marketing agencies might find ActiveCampaign's white labeling features particularly useful.
7. Mailjet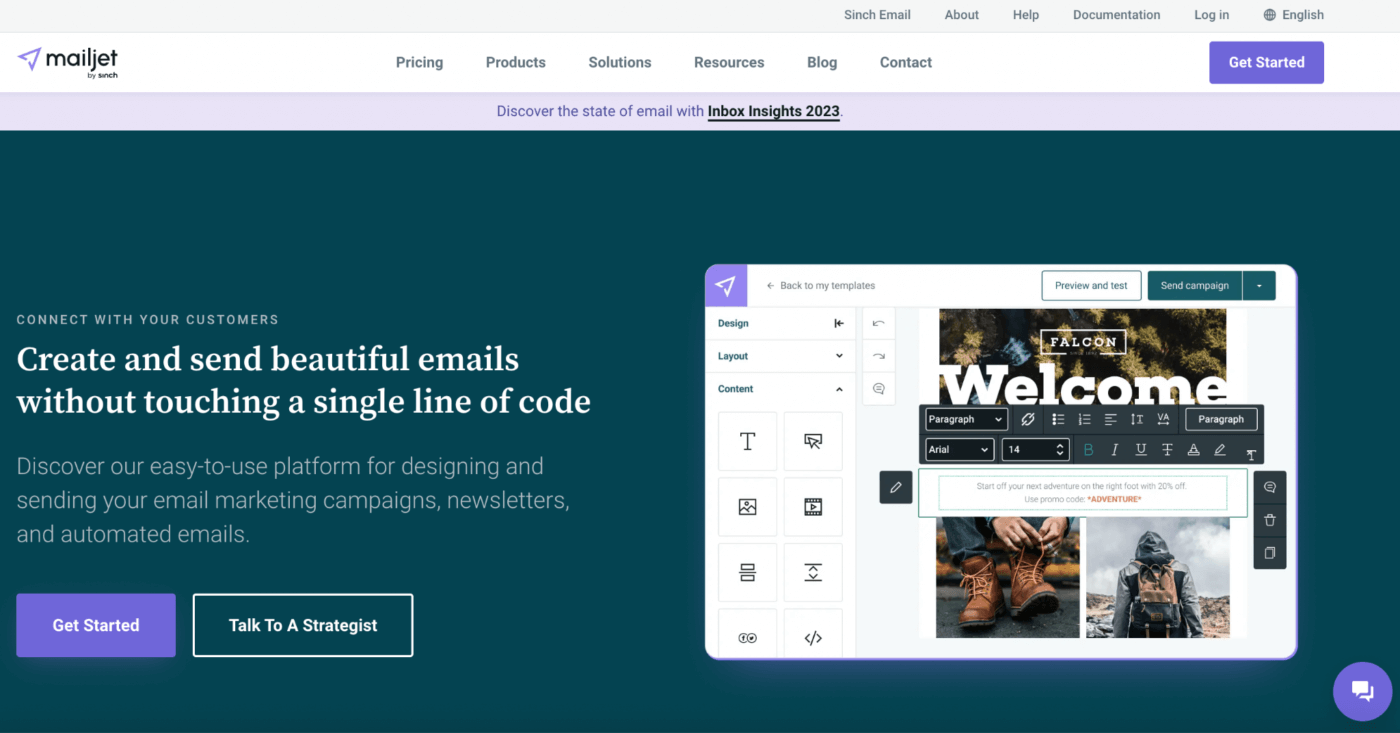 Mailjet is geared towards collaborative email marketing, particularly for small teams. Its standout collaboration feature allows entire teams to work on an email in real time. Coupled with a wide range of features (including SMS marketing), Mailjet presents a versatile and collaboration-friendly alternative to MailerLite.
What sets Mailjet apart further is its integration of email marketing with email API services, all in one platform. In fact, most of Mailjet's transactional email features are available right off the bat on its free plan, which lets you send up to 6,000 emails a month.
While Mailjet is an affordable email marketing software, be mindful that costs can escalate if you require advanced features like automations, A/B testing, and dynamic content.
Where Mailjet beats MailerLite:
It's hard to beat Mailjet's competitive pricing for basic email campaigns. Unlike MailerLite, Mailjet charges based on monthly email sends rather than list size. If you have a large list but don't plan to send more than 15,000 emails per month, the Premium plan will cost you just $15/month. (By comparison, a monthly subscription to MailerLite for 15,000 contacts will cost you close to $100/month!)
Its real-time collaboration is also a novel concept in email marketing (picture the collaborative capabilities of Google Docs but in an email editor). Team members can comment and lock sections to prevent simultaneous edits by others, while the campaign approval process allows managers to have the final say and sign off on campaigns.
Where MailerLite wins:
Compared to MailerLite, Mailjet's segmentation conditions are more restrictive, with only basic filtering conditions available, and limited filters for email engagement. In general, we found list management to be more user-friendly with MailerLite. For example, while MailerLite automatically unsubscribes hard bounces, Mailjet makes this a manual task.
We also found the automation conditions a bit too limited, lacking conditions like 'if opened/unopened'. It's a big drawback that you can't edit workflows once activated, or reactivate an inactive workflow.
MailerLite's landing page and website builder also make it the more comprehensive platform if you're looking to run lead generation campaigns.
When we'd recommend Mailjet:
Mailjet caters to small teams seeking a collaborative approach (for example, agency users), and is also well-suited for less-technical users, thanks to its no-code templates. It's also a strong option for sending transactional emails. If you value seamless integration, Mailjet's wide range of integrations with ecommerce platforms, CRMs, and social media, will be particularly appealing.
8. MailChimp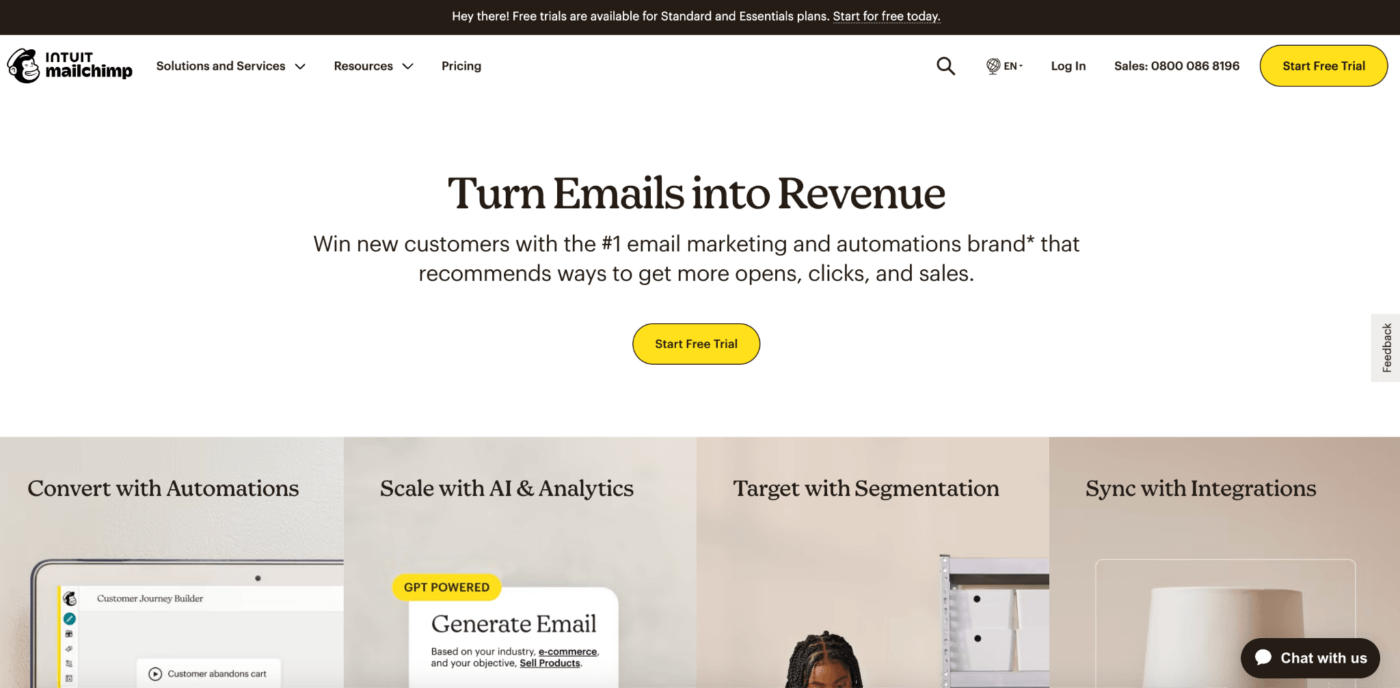 This email marketing giant hardly needs an introduction. It's MailerLite's biggest competitor, with both sharing similar reputations as user-friendly marketing tools for small-to-medium businesses.
But there are a few reasons why MailChimp is not as high on this list as you might expect. The biggest one is price, with MailChimp charging between 20-50% more than MailerLite for similar-sized subscriber lists. We also find that subscriber management can get complicated with MailChimp (as you'll see in a second).
Still, MailChimp does have its strengths. It offers a much wider range of automations than MailerLite, including advanced ecommerce flows. And its reporting features are also more comprehensive, with the ability to track activity from social media (which isn't available with MailerLite).
MailChimp video review:
Where MailChimp beats MailerLite:
While MailerLite provides basic reporting and ecommerce tracking for Shopify and WooCommerce, it lacks social media tracking and information on email clients. MailChimp lets you pull in data from a wider range of ecommerce platforms (including Shopify, Magento, BigCommerce, WooCommerce, PrestaShop, and more) and includes social media and email client data.
Another bonus with Mailchimp is that you can preview how your email will look on various email clients, with 25 Inbox Preview tokens to use every month (on paid plans).
Where MailerLite wins:
Aside from the more affordable price tag for paid plans, MailerLite's free plan allows for 1,000 subscribers and 12,000 monthly emails, which is much more generous than Mailchimp's 500 subscribers and 1,000-email limit. You also won't be charged for unsubscribed or bounced contacts, as you would with MailChimp.
Features-wise, MailerLite offers a more user-friendly approach to list management, allowing segmentation and automation for moving subscribers between groups and charging for subscribers only once regardless of the number of groups or segments they belong to.
MailChimp also isn't appropriate if you're an affiliate marketer, as this is an industry that's prohibited in its Terms of Use.
When we'd recommend MailChimp:
MailChimp makes more sense if having a wider range of integrations is important to you, and if you need more comprehensive reporting. Also, check out our MailerLite vs MailChimp guide for a more detailed look into how they compare.
9. Constant Contact

Constant Contact is another big name in email marketing, having been around since 1995. It remains relatively popular, although its outdated editor and backend make it seem like a dinosaur compared to the email service providers on this list – and a more expensive one at that.
Still, it offers a few features that are niche in the industry. These include the ability to manage event invitations, registrations, and tickets (via their Eventbrite integration), plus social media scheduling, logo creation, and digital product selling.
It also provides integrations with thousands of apps and consistently performs well in our deliverability tests.
Constant Contact video review:
Where Constant Contact beats MailerLite:
If you run regular events, Constant Contact's event management features can help you streamline the invitation and registration process. Bear in mind that this feature comes at a cost: 5.4% + $0.80 for each ticket sold or transaction conducted.
Where MailerLite wins:
Constant Contact's autoresponders are fairly basic, offering only welcome and anniversary emails, along with triggered automations based on opens and clicks.
The email templates look a bit dated, and registration forms are also basic, with no option to add custom fields.
We've found that MailerLite's customer support tends to be easier to reach. Lastly, considering the lack of advanced features, Constant Contact's pricing (which starts at $50 for a small list of 2,500 contacts), is not as competitive as MailerLite's.
When we'd recommend Constant Contact:
While Constant Contact is a much pricier tool than MailerLite (with little to justify this premium), it's an interesting option if you run regular events and want to manage invitations and registrations within a single platform.
> Try Constant Contact for free
10. ConvertKit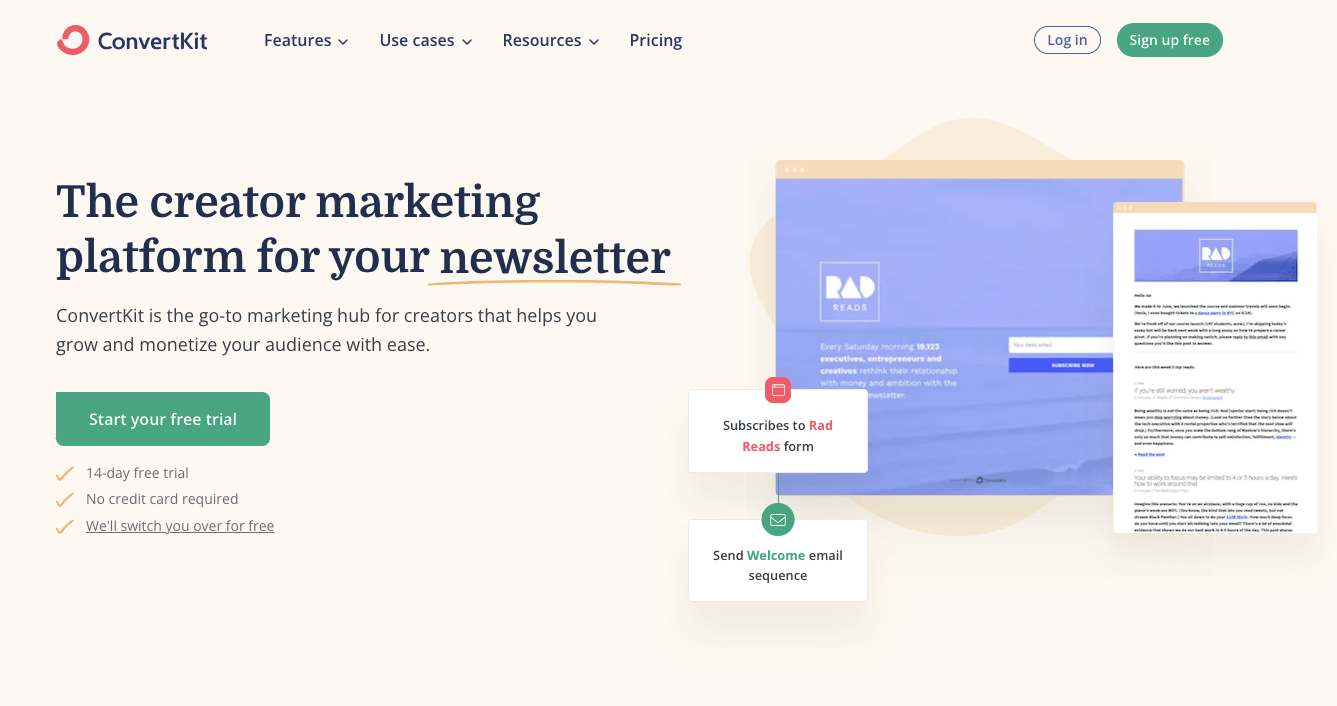 Designed to serve the unique needs of bloggers and creators, ConvertKit offers a range of features that go beyond simple email marketing. From crafting beautiful email campaigns to visual automations to setting up intricate "if this, then that" sequences, the email marketing software also allows for advanced subscriber segmentation options and even direct product sales.
What stands out is the Creator Network feature, which helps you grow your audience through partnerships with other creators. While ConvertKit's forms and landing pages may be basic, they are incredibly user-friendly and compatible with all major blogging platforms.
Another interesting feature is the ability to convert your emails into web pages and monetize access to them, a particularly useful function if you offer paid newsletters.
ConvertKit video review:
Where ConvertKit beats MailerLite:
ConvertKit lets you easily set up email sequences and build out visual workflows for automation. What's especially useful is the tagging feature, which lets you tailor your messages based on actions like link clicks or form submissions. It's also handy for sending targeted emails to specific groups, e.g. new vs. repeat customers. Doing something similar with MailerLite takes a bit more effort (using "groups" rather than "tags").
The Creator Network is also a unique feature that can help to grow your newsletter's audience through cross-promotion and recommendations.
Where MailerLite wins:
ConvertKit's pricing plans are on the higher side, particularly when stacked against more feature-rich services like MailerLite.
The email design choices are also limited, with a scant selection of templates. And the landing page editor leaves a lot to be desired in terms of user-friendliness and template quality.
You can read more in our MailerLite vs ConvertKit comparison.
Where we'd recommend ConvertKit:
ConvertKit is recommended for marketers and creators who want to run highly targeted automated campaigns, thanks to its robust tagging and segmentation features. It's also ideal for those looking to manage their entire campaign, including landing pages, within a single platform. If you're a creative professional aiming to sell digital products or subscriptions, ConvertKit's unique and easy-to-use digital selling feature—available even on the free plan—makes it a compelling choice.
MailerLite Alternatives: Conclusion
While MailerLite offers a wide range of features and excellent value for money, it does fall short in some areas – especially where advanced functionalities are concerned.
With these MailerLite alternatives, you're bound to find a service that matches your specific needs – so if any of these have caught your attention, we'd encourage you to try them out for free.
Still need help picking out a MailerLite alternative? Let us know about your requirements in the comments section below, and we'll try to find you the right solution!
Our Methodology
This article has been written and researched following our EmailTooltester methodology.
Our Methodology