Review of the Versatile Newsletter2Go Newsletter Tool
Newsletter2Go started up in Berlin in 2011, making it something of a newcomer on the block compared to its competition. The entire platform was relaunched not that long ago.
There are three different pricing plans to choose from: Lite, Standard, and Pro. The features included vary considerably depending on which plan you opt for. The price you pay is also determined by the number of emails you send per month, rather than being based on subscribers. Users who don't write to the same recipients multiple times each month will find this a more cost-effective option than those offered by most of the competitors.
Interestingly, costs can come down even further if newsletter campaigns perform well. Newsletter2Go offers this reward system with the main aim of landing good customers who won't receive any complaints about spam. This unique concept is known as "Credit Payback".
New features are also being added all the time. These include: responsive design templates, autoresponder emails, and effective recipient management which is ideal for agencies.
We'll be looking at the strengths and weaknesses offered by the Berlin-based company in more detail below.
Newsletter2Go Screenshots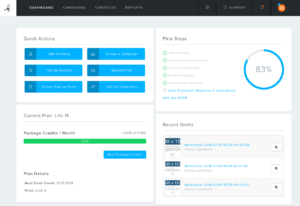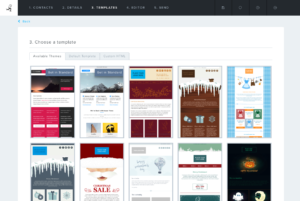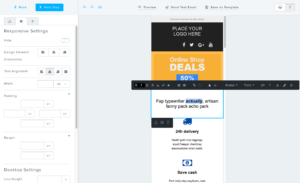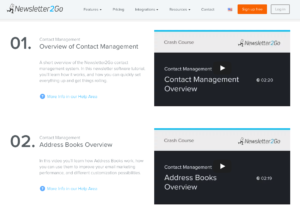 Newsletter2Go Pricing
$ 0
1,000 Subscribers
1,000 Emails
Lite plan: the first 1,000 emails are free each month
$ 20
2,500 Subscribers
2,500 Emails
Lite plan, price based on emails sent. Discount available for yearly plan.
$ 40
5,000 Subscribers
5,000 Emails
Lite plan, price based on emails sent. Discount available for yearly plan.
$ 55
7,500 Subscribers
7,500 Emails
Lite plan, price based on emails sent. Discount available for yearly plan.
$ 80
10,000 Subscribers
10,000 Emails
Lite plan, price based on emails sent. Discount available for yearly plan.
$ 125
20,000 Subscribers
20,000 Emails
Lite plan, price based on emails sent. Discount available for yearly plan.
The prices shown here are for the Lite package. There are three Newsletter2Go plans in total: LITE, STANDARD, and PRO.
The LITE package is recommended for beginners given that it includes 1000 emails per month at no cost.
The STANDARD package (from $20 per month) comes with the address book feature, a 1 GB media library, the option to send files as email attachments, and more.
The PRO package (from $275 per month) is unlimited, making it the optimum choice for agencies. Pay as you go plans are also available.
Pros and Cons
Pros
Recipient list management

This feature comes with extremely granular segmentation options. The address book feature makes it possible to manage different recipient target groups and geographical regions, among other things.

Very good deliverability rates

Newsletter2Go consistently scores very high inbox placement rates.

Excellent free plan

1000 emails are included free of charge each month along with all of the functions that fall under the Lite package.

High data protection standards

This is an advantage for companies that have to comply with the European data protection regulations. Data is only ever managed in Germany.
Conclusion
Following the upgrade to the new software version, Newsletter2Go has been improved in a number of ways. The interface has a fresh new look and above all the form editor and report options are much more effective.
Having said that, it is still lacking in functionality in a few key areas – the most important being a proper autoresponder feature. As Newsletter2Go has always been incredibly open to innovation, it should only be a matter of time before we see email automation features.
Flat-rate plans would be ideal for those who write to the same contacts multiple times in a month. As Newsletter2Go calculates the costs on the basis of the number of emails sent (rather than the recipients), the price can end up skyrocketing as it stands. However, the Lite plan can be extremely cost-effective for users who know that they will only be sending one newsletter per month.
Our verdict is that anyone who is looking for a cheap and cheerful solution for sending newsletters and doesn't require any really advanced features (such as automation workflows) will find themselves in safe hands with this Berlin-based provider.
We keep our content up to date
04 Sep 2018 – Initial review created.
Our Methodology
This review has been written and researched following our EmailToolTester methodology.
Our Methodology