Imagine you're starting a new business or working as a freelancer from your home address. However, for reasons of privacy, you may not want to use your home address.
There are many places where your address can show up: if you're doing email marketing, you need to put it in the footer according to the CAN-SPAM Act. If you have a website, it's often a requirement in certain industries to include a physical address on your "Contact Us" or "About Us" page.
Plus, various official forms and documentation may require the inclusion of an address – some of which may go into the public record.
So, what are your options? In this article, we will explore several solutions for setting up an alternate mailing address, allowing you to take control of your personal information.
Popular alternatives for virtual mailing address include:
Each option comes with its own unique advantages and drawbacks, which we will elaborate upon.
Our preferred option
: for most people, a
virtual mailbox
is the best solution. It's almost as cheap as a PO box (starting at around $6-10/month) and has the advantage that you get your mail conveniently delivered via email. An added bonus is that you can, unlike a PO box, use it as an official business address.
Virtual Mailbox Services: Convenience and Flexibility
Virtual mailbox services have emerged as a convenient and flexible option for managing physical mail remotely. These services provide a physical address for mail reception, scanning the mail and uploading it to an online portal for viewing, management, and forwarding capabilities.
How Virtual Mailbox Services Work
Virtual mailbox services function by providing you with a physical address to receive your mail and packages. Upon receipt, the mail is scanned and uploaded to an online portal, where you can view and manage it from any location, at any time. These services offer additional features such as mail forwarding, scanning, and shredding, providing a comprehensive solution for managing your mail remotely.
Top Virtual Mailbox Service Providers
Several virtual mailbox service providers have gained popularity due to their features and pricing. Some of the top ones include:
Anytime Mailbox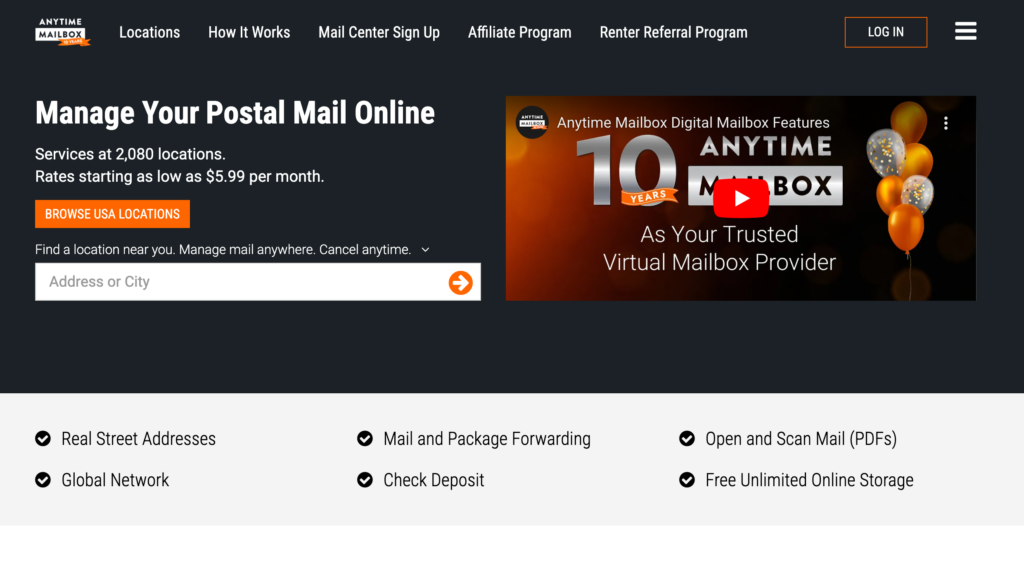 Anytime Mailbox provides mail scanning, mail forwarding, package acceptance, and virtual address services worldwide, including UK, Canada, Australia and South Africa. Starts at $5.99/ month.
iPostal1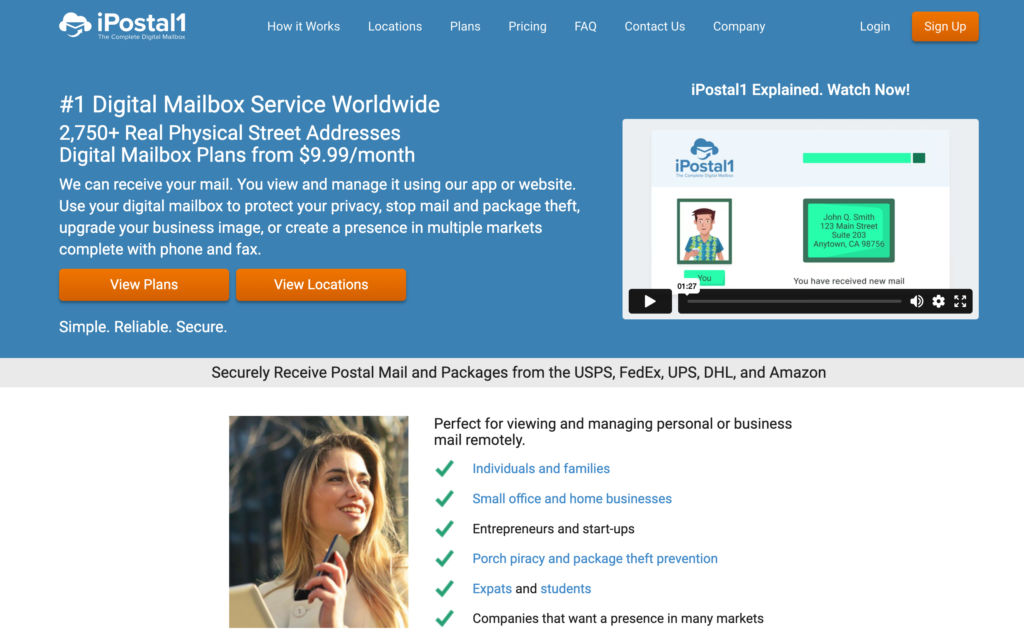 iPostal1 offers mail scanning, mail forwarding, and package acceptance services. Available worldwide including UK and Canada. Starts at $9.99/month
US Global Mail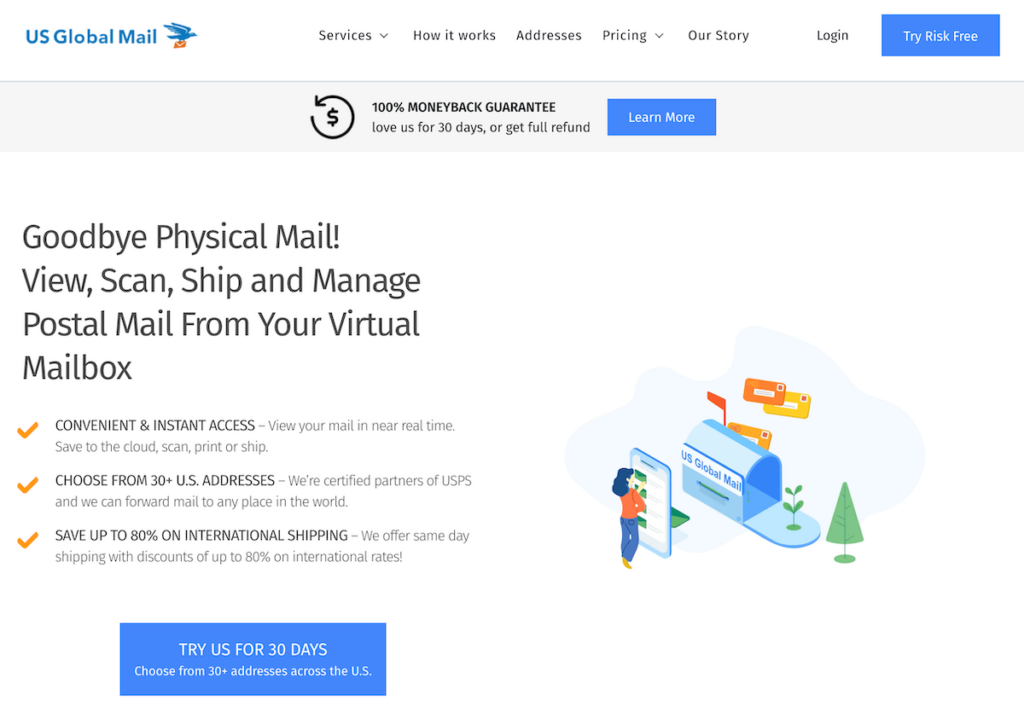 US Global Mail: offers mail scanning, mail forwarding, package acceptance, virtual address, and mail storage services. Overall, they have the best online reviews. US only. Starts at $9.95/month
Traveling Mailbox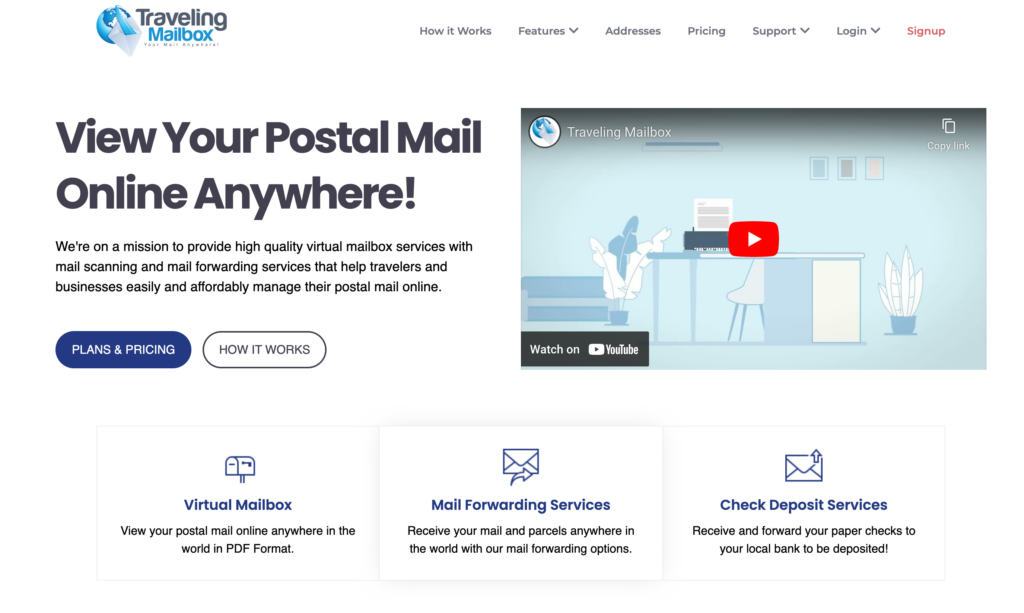 Traveling Mailbox: mail scanning and forwarding, package acceptance and check deposit services all over the US. Their online reviews are a bit mixed, with many people complaining about poor customer support. Starts at $15/month.
Cost Comparison with Traditional Alternatives
When comparing costs, virtual mailbox services have a similar price point as traditional alternatives like post office boxes and UPS Store mailboxes. However, virtual mailbox services also scan your mail, making it available online, whatever you are, saving you trips to the post office.
By offering more features and flexibility at a lower cost, virtual mailbox services present a compelling value proposition for businesses and individuals seeking an alternate mailing address.
However, it's important to select a trusted provider to avoid having to change the address due to the virtual mailbox provider faltering or relocating.
Post Office Boxes: A Traditional Solution
Post office boxes (PO Boxes) have been a classic solution for an alternate mailing address for years. They provide a secure and lockable mailbox at a post office with a unique box number, allowing you to receive mail away from your home or business address. A post office box comes in various sizes and costs, depending on the anticipated volume of mail and duration of the rental period.
However, they also carry certain limitations: the most important one is that you can't actually register your business under a PO box address. It's fine, however, to use a PO box address in the footer of your email newsletters, for example, to fulfil the CAN-SPAM requirements.
How to Set Up a PO Box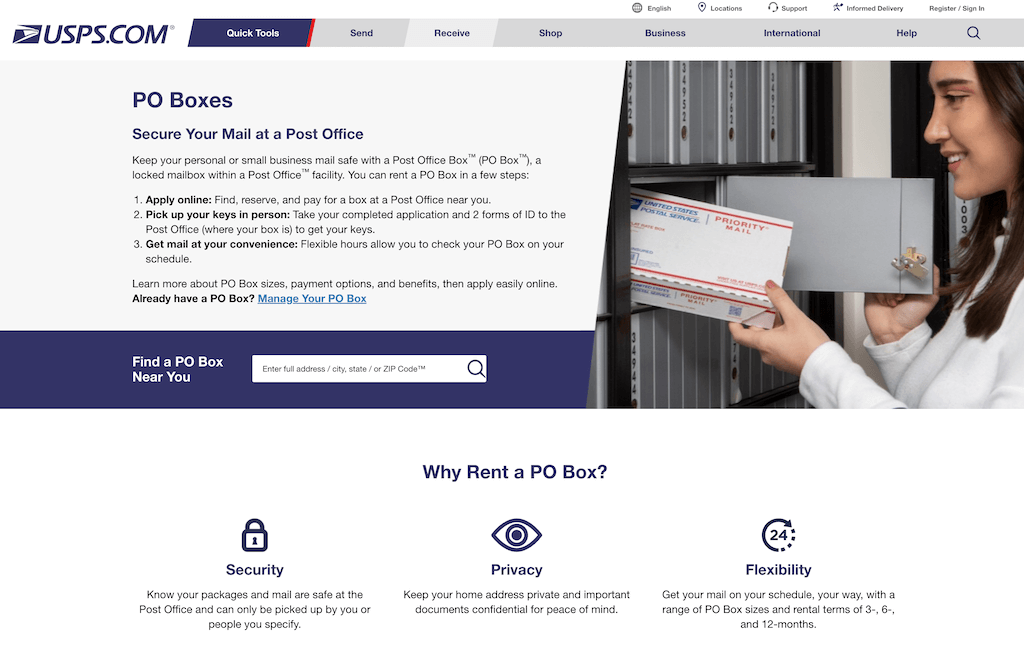 Setting up a PO Box is pretty straightforward. You can either apply online via the USPS website (or Royal Mail in the UK) or visit your local post office in person to complete the application form. You will need to provide two valid forms of identification, along with a valid credit or debit card for payment. Once your application is approved, you will receive a unique PO Box number and access code.
Costs and Sizes
The cost of a PO Box depends on its size and location, with prices generally ranging from $5 to $40 per month, making the $5 plan a very affordable option if you mainly want to use the address but aren't going to receive a lot of actual mail.
Sizes vary from small (3" x 5") to large (10" x 10"), depending on your anticipated volume of mail.
Limitations of PO Boxes
Despite their convenience, PO Boxes have some notable limitations. Here are a few to consider:
Depending on the post office, they are often only accessible during post office hours, which may not be ideal if you have a busy schedule.
PO Boxes are generally compact and can accommodate only a limited amount of mail.
They can only receive mail from USPS sources, restricting the delivery options available.
UPS Store Mailboxes: A Slightly More Modern Option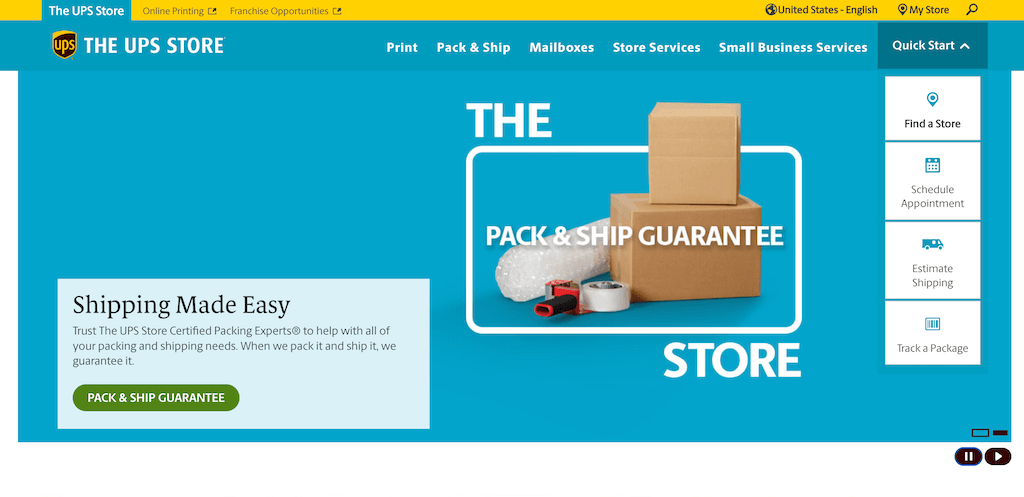 As a modern alternative to traditional PO Boxes, UPS Store Mailboxes offer additional features and benefits. Located at UPS Store locations, these mailboxes provide a real street address for receiving mail and packages from various shipping carriers, offering more flexibility than a PO Box.
Setting Up a UPS Store Mailbox
To set up a UPS Store Mailbox, visit a UPS Store location and complete an application form, providing proof of identity and address. A setup fee may be applicable, and payment can be made using a credit or debit card.
Upon successful account setup, you'll be assigned a unique mailbox number and access code, allowing you to start receiving mail and packages at your new alternate address.
Pricing and Features
UPS Store Mailboxes come in various sizes and prices, depending on the location, with prices typically ranging from $10 to $30 per month. They offer numerous features, such as 24/7 access, mail forwarding, and package acceptance from all carriers, providing a more comprehensive solution compared to traditional PO Boxes.
Comparing UPS Store Mailboxes and PO Boxes
When comparing UPS Store Mailboxes with PO Boxes, several advantages become apparent. UPS Store Mailboxes offer:
24/7 access
Package acceptance from all carriers
Mail forwarding
A real street address, which works for business registration purposes
These features make UPS Store Mailboxes a more flexible and convenient option. However, they tend to be more expensive than PO Boxes and may not offer the same level of privacy. Ultimately, the decision comes down to your specific needs, priorities, and budget.
Using a Coworking Space or Shared Office Address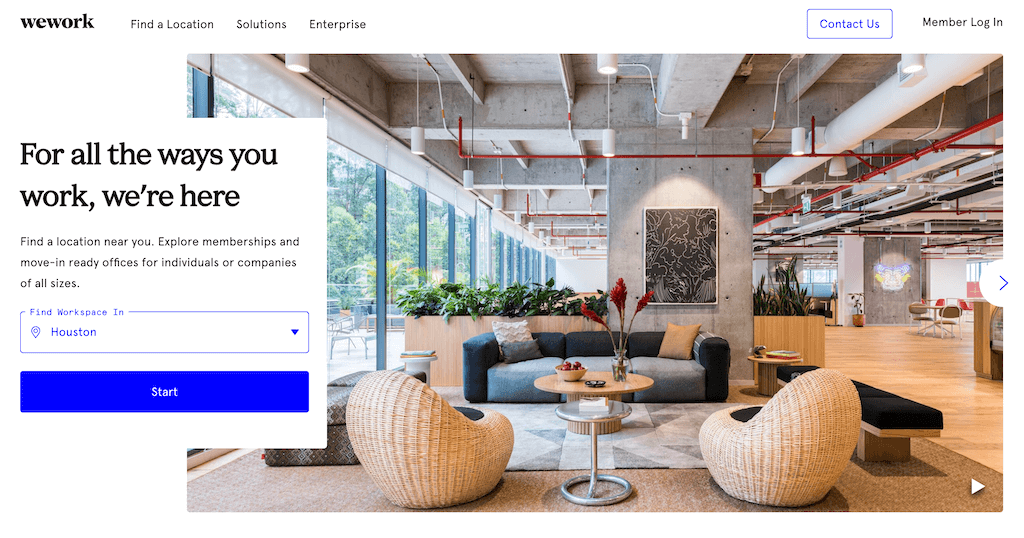 Coworking spaces and shared office addresses provide another option for a professional alternate mailing address. Let's see what this option entails:
Finding a Suitable Coworking Space
To find a coworking space that meets your needs and offers mailing services, start by conducting a Google search using the query '[location] + coworking space' to generate a list of options in your area.
Costs and Membership Options
The costs and membership options of coworking spaces vary, with:
Day passes typically ranging from $20 to $70
Monthly community memberships ranging from $260 to $600
Private office spaces are typically also available at a higher cost.
Due to its much higher cost, this option obviously only makes sense if you wanted to rent office space anyway. Also, keep in mind that you may have to stop using this address once you stop your subscription to the coworking space (unless the coworking space doesn't mind).
Other creative address solutions
Another solution is using the business address of a friend or spouse. This option allows you to avoid using your home address and provides you with a physical location for your business. However, this must be done with the consent of the person whose address you're using.
And finally an option that I don't recommend but I've seen on some websites. If you aren't expecting any mail to be delivered to you, you can also invent an address. You could find an office building or coworking space and just use that address on your website or email footer. Chances are slim that someone actually checks if the address is real. Needless to say, you obviously can't register your business under a fake address. I would also only recommend this as a last resort if you can't afford anything else.
Conclusion
When selecting an alternate mailing address, various options cater to different needs:
Most solopreneurs and freelancers will find virtual mailbox services a cost-effective way for easy digital mail access and management.
Budget-conscious individuals might prefer PO boxes for affordability, but they can't serve as official business addresses.
Businesses valuing professionalism should consider UPS Store Mailboxes for a real address and diverse package acceptance, albeit at a higher cost than PO boxes.
Freelancers or startups desiring a workspace can opt for coworking spaces for both an address and a collaborative environment.
Temporary solutions might involve using a trusted friend's business address, but avoid fabricating addresses due to legal concerns.
Ultimately, the best choice depends on your business requirements, budget, and desired image.
Let me know if you have any questions by leaving a comment!
FAQ
Virtual mailbox services offer a physical address to receive mail, scan it, and upload it to an online portal for secure viewing, management, and forwarding.
UPS Store Mailboxes come with varying costs and features, ranging from $10 to $30 per month depending on the location. Features include 24/7 access, mail forwarding, and package acceptance from all carriers.
Our Methodology
This article has been written and researched following our EmailTooltester methodology.
Our Methodology