Launched a few years ago, Wix's email marketing service (formerly known as Wix Shoutout) is designed to be a simple, easy-to-use add-on to any Wix website.
Now found within Wix's Ascend bundle – which also includes live chat, invoices, video and lead capture – the email marketing tool is very much designed to make Wix users' lives easier. Contacts collected via Wix sites (for example, store customers and contact form submissions) are automatically funneled into Ascend (which acts as a CRM), meaning you can run email campaigns to these contacts with just a few clicks. You can also automatically add store products and blog posts from your Wix site into your newsletters.
Sounds amazing, right? We thought so too – which is why we decided to try it out for ourselves. And we found some things we really liked – but some things we also think need more work.
So here's our summary of the 12 things you absolutely need to know about Wix email marketing. We hope it helps you decide whether it's right for your email marketing strategy!
1. Why would I use Ascend by Wix?
Here are the top reasons why we'd recommend Wix's email marketing tool:
You already have a Wix site, online store, or blog. You're looking for a newsletter tool that seamlessly slots into your site, and can send newsletters, updates and offers to your site's members/customers
You love Wix's beautifully-designed, easy-to-use website templates, and want something similar for your newsletters
You only need basic reporting (email opens, clicks, unsubscribes, etc.)
You don't want to spend too much (or anything at all!)
You want to benefit from the other features Ascend offers, e.g. live chat or their video maker
You only want to run a handful of campaigns every month
The main thing to stress about Wix email marketing is that its features are basic. You won't find any deep-level reporting or advanced automation here (at least not yet). So if you're a bigger business that needs these features, it's simply not for you. Instead, we'd recommend checking out other more advanced newsletter services here.
2. Is there a Wix email marketing free plan?
Yes, there is! Wix Ascend has a free plan that comes pre-installed when you sign up to the website builder. It lets you send out 3 Wix-branded email campaigns and up to 5,000 emails per month. It's not a massive allowance, but if you have a smaller list and only send out a few newsletters a month, it will do the job. If you need any more than this, you can upgrade any time to one of their Premium plans (see #3 below for more info).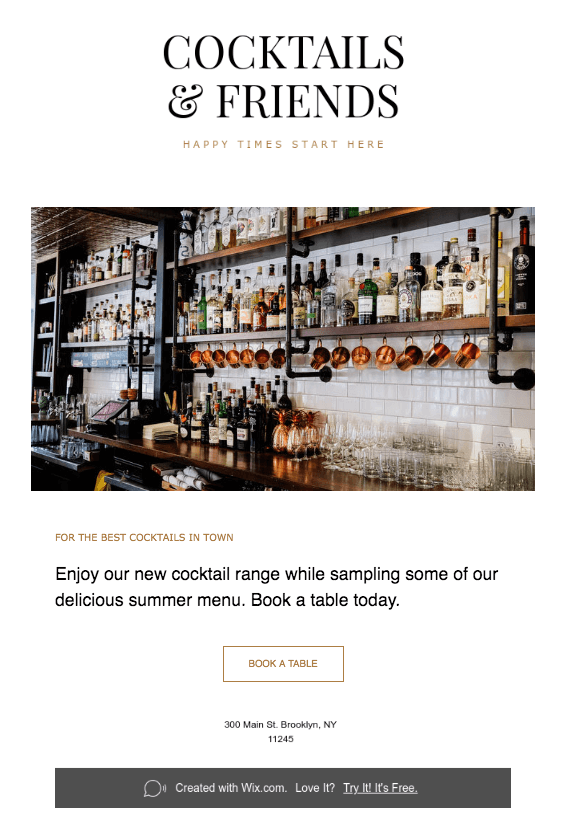 Of course, nothing is ever completely free – your emails will display with Wix branding. Also note there are other providers offering free plans, so if you're absolutely set on using a free service, it's worth checking them out too.
3. Wix Ascend Pricing: How much are their paid plans?
Ascend offers three different paid plans, which can be paid for on a monthly, yearly, or bi-yearly basis:
| | Basic | Essential | Unlimited |
| --- | --- | --- | --- |
| Num of campaigns per month | 5 | 20 | Unlimited |
| Num of emails per month | 9,500 | 50,000 | 1,000,000 |
| Num of contacts | 10,000 | 25,000 | 200,000 |
| Remove Wix ads in email? | No | Yes | Yes |
| Forms | 10 forms with unlimited fields | 20 forms with unlimited fields | Unlimited forms & features |
| Automations | Up to 7 (max 2 actions) | Up to 20 (max 10 actions) | Unlimited (max 10 actions) |
| Videos | 5 per month | 10 per month | 15 per month |
| Recurring payment plan collection | 5 | Unlimited | Unlimited |
| Personalized chatbox | Yes | Yes | Yes |
| Social media | 5 posts p/month | 20 posts p/month | Unlimited |
| Monthly plan | $12/month | $29/month | $59/month |
| Yearly plan | $10/month | $24/month | $49/month |
Find more details on Ascend's pricing here (you'll need to be logged into Wix to see it). Note that you'll benefit from 25% off if you pay for 2 years, and all plans come with a 14-day money-back guarantee.
Despite the fact that Wix put up their prices when they changed the name from Wix Shoutout to Ascend, you'll find that their pricing is very competitive compared to other providers. The increase in price came with the addition of features such as personalization, their video maker and social media sharing, however, we still feel it has a bit to go in order to compete with  more complete email marketing services.
4. How easy is Wix email marketing to use?
If you're familiar with Wix, you'll have no trouble making your way around Ascend, as it's managed from the same main menu that you use to manage your website. You'll find the newsletter editor under 'Marketing & SEO' > 'Email Marketing'.
If you're not a Wix user, the main menu is a little different, but you'll still find it easy to use. It's one of the benefits of having such a simple, pared-down tool – with just a few menu options available, navigating to where you need to go is super clear.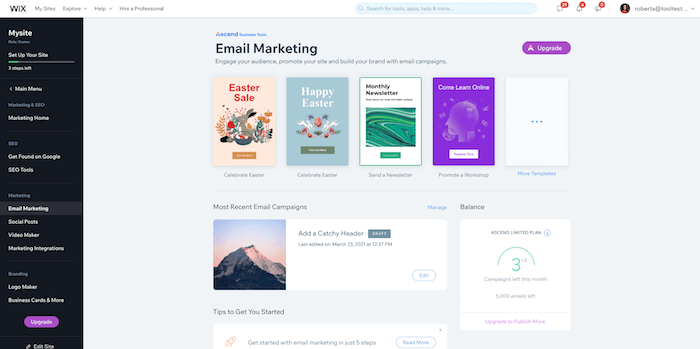 The email editor feels a lot like Wix's site editor, with all your text and image editing done inline. Sections, such as images, buttons and columns, can be added by clicking the 'Add' icon on the left, and dragging and dropping them in.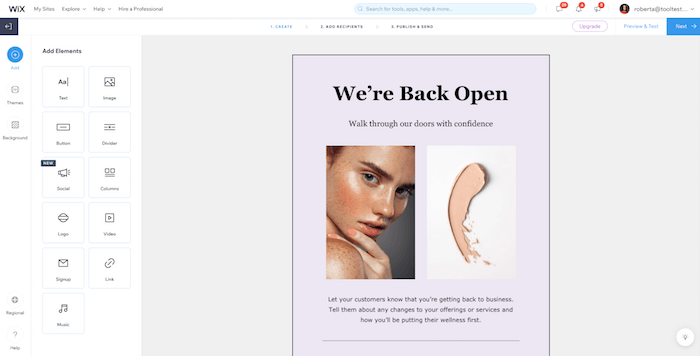 Usability has always been a strong point for Wix, and with their email editor, they once again pass with flying colors.
5. How good are Wix's templates?
Wix are famous for their stunning website designs, so if you're expecting the same of their email templates, you might just be a little disappointed. Sure, the templates they do have are clean and modern, and mobile-responsive too. But there aren't that many to choose from (around 16, on our last count) – in fact, there are less now than a few years ago.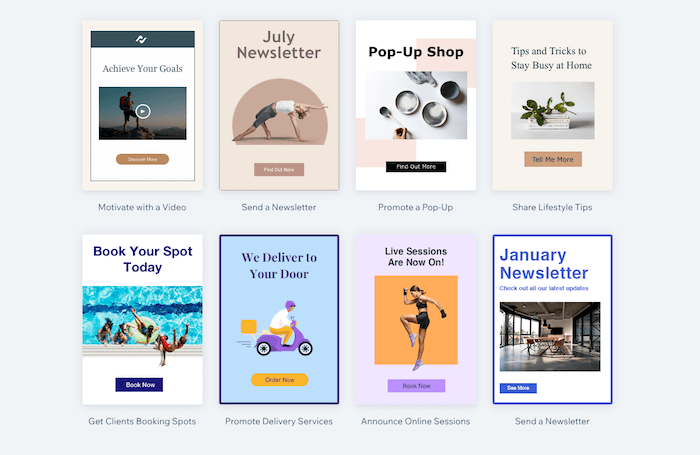 That being said, the templates are very easy to customize, and styles, backgrounds, colors and layouts can all be changed. So all in all, not too bad. Hopefully, they add to their template library in the future.
Available templates include:
Blog updates
Sales announcements
New products/collections (Ascend integrates with your store products, so you can easily insert them into your emails)
Discounts, coupons and special offers
Event invitations and promotions
Newsletters
6. What about list management?
When it comes to emial list management, adding contacts is easy enough. You can bulk import contacts by uploading a CSV file, or even connecting your Gmail account. Contacts can also be added manually, so it's pretty similar to most other tools.
There is a huge advantage to using Wix email marketing for you Wix site, and that's the integration between the two. In fact, your site and Ascend will share the same contacts module (Wix Contacts). This means that all contact form sign-ups and ecommerce customers are stored in the same place.
What's more, each contact will have an automatically-assigned label telling you where they came from (such as 'Contacted me' or 'Customer').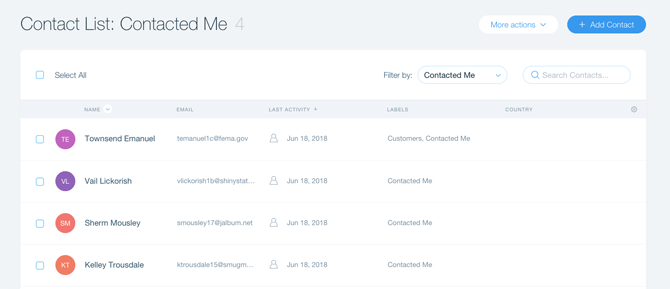 This lets you do some very cool things – for example, send welcome emails to new sign-ups, promote your latest blog post to subscribers, or send special promotions to your customers. You can even assign your own labels to contacts (and assign multiple labels), if you want to categorize your contacts even further. This can also be automated via one of the automation workflows.
Unfortunately, there's no other way to group contacts aside from using the labels, so it's a very simple method of segmentation.
You can add custom fields to your list, but again, these are pretty basic – your only options are to add text, number, date and URL field types. Instead, it's better to use Wix Forms to manage custom fields (see #9).
7. Does Wix offer email automation?
Yes – at a basic level. If you have a Wix site, you can use the 'Automated emails' function within your site to set up autoresponders, for when someone signs up on your site or makes a purchase, for example.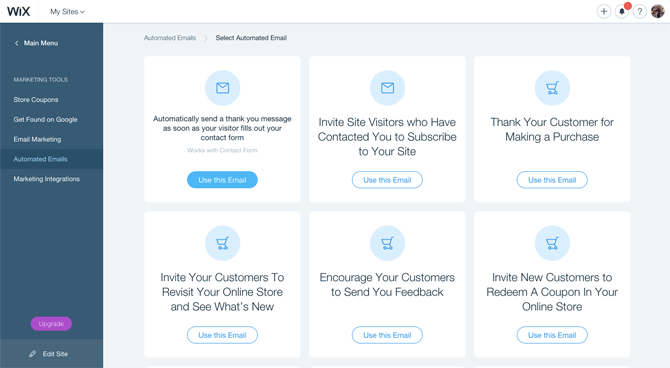 You can even specify when you want the email to be sent (for example, 1 day after the contact has taken the action), and whether it should only be sent once or multiple times.
Wix's automated emails are pretty basic, if you're serious about automating your email marketing then there are better tools out there for you.
8. What kind of reporting do they have?
Just the bare essentials, really. For each email send, you'll get basic stats such as total emails sent, opens, clicks, and total emails undelivered. You'll also be able to see who opened, clicked, etc.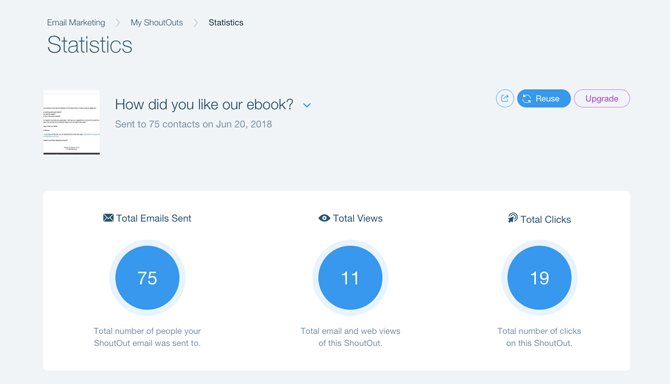 It all comes in a clean visual summary, so it's very easy to read. If you're not bothered by the lack of more advanced reports (such as click heat maps or geolocation), this level of reporting should be adequate.
9. How flexible are Wix's forms?
You'll be prompted to use the Wix Forms app, which provides you with a good amount of flexibility, and will also integrate with your Ascend contacts.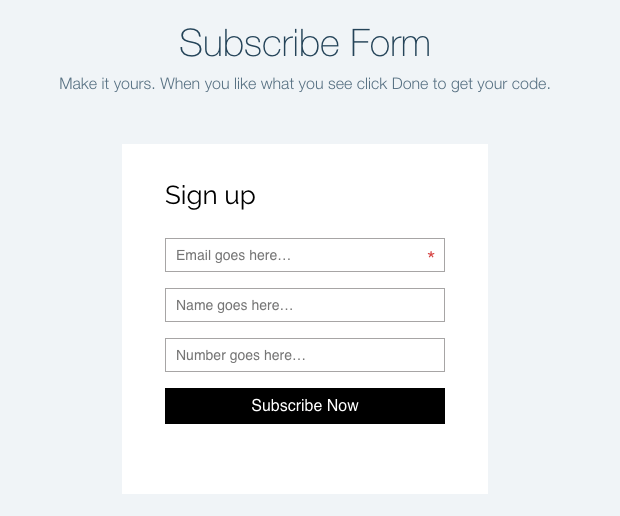 A number of fields are available, though the more advanced ones (file upload and signature field) are reserved for those on one of the paid plans. You can also add reCAPTCHA to filter spam.
10. Wix email deliverability
We were pleasantly surprised with Wix's deliverability, based on the handful of deliverability tests we ran. Even on the free plan, we were able to use our own domain email address as the sender address, and deliverability averaged around 87% (that's not bad compared to other tools we've tested!).
We did test with a relatively small list, though, so we can't say for certain that you'd get the same result with bigger lists. And we always recommend authenticating your domain as well.
Note that you aren't able to use email subdomains as the sender (e.g. yourname@subdomain.domain.com), or emails from public domains like Gmail or Yahoo – instead, Wix email marketing will use its own authenticated email domain (e.g. yourname@wixsite.com).
11. What other features does Ascend by Wix offer?
Languages: The editor is available in all the same languages as the Wix website editor – so 19 in total.
Support: If you're on Ascend's free, Basic, Professional or Unlimited plan, you'll get access to their knowledge base, and also be able to submit tickets online (although this feature is a little hidden, and they can be a little slow to answer). Customers on the Unlimited plan will have VIP Support, which includes phone and priority support.
Bounce management: Wix automatically adds hard bounces and rejected emails to the 'Bounced' group in 'Contacts', excluding these contacts from receiving future emails.
Personalized chatbox: All plans allow you to add live chat to your site and manage chats via the mobile app.
Social media: You can create and share social media posts directly from your Ascend dashboard. There are tons of very cool designs to choose from – much more than in the email marketing section. These can also be scheduled in advance on Wix.
Video maker: This is to help you create videos for social media and YouTube. It's pretty basic, but you can have some fun with it.
Accept payments: You can do so via chat and forms, which really helps to streamline the process. It's also possible to set up recurring payments and automatically issue invoices.
Automations: The email marketing automations are pretty basic, though you will also have access to other CRM-based workflows to help save you time.
12. Wix email marketing vs Mailchimp – How does it compare?
We figured you'd want to know how Wix email marketing stacks up to other more popular newsletter tools, such as MailChimp. We're not really sure we can compare the two, though. MailChimp is a fully-fledged email marketing tool, while Wix does only a fraction of what MailChimp does. No prizes for guessing who the winner would be!
It's perhaps more useful to take a look at the features available in each service, to get a feel for how complete MailChimp is compared to Wix, and understand whether Ascend by Wix, which includes email marketing, would meet all your requirements.
| Feature | Wix Email Marketing (Ascend) | MailChimp |
| --- | --- | --- |
| Drag and drop editor | Yes | Yes |
| Responsive templates | Yes | Yes |
| Plain text emails | No | Yes |
| Personalization | Yes | Yes |
| A/B testing | No | Yes |
| List management | Yes (basic – labels only) | Yes (advanced segmentation) |
| Double opt-in | No | Yes |
| Email automation | Yes (basic autoresponders, only with Wix site) | Yes |
| Landing pages | No (but you can build these with Wix's website builder) | Yes |
| Registration forms | Yes, via Wix Forms | Yes |
| Reports | Yes (basic) | Yes (advanced) |
| Use your own email domain address | Yes | Yes |
| Spam and design testing | No | Design only |
| Bounce management | Yes | Yes |
| Social media integration | Yes | Yes |
If you want a full picture of what MailChimp offers, check out our in-depth MailChimp review. You might also be interested in these Mailchimp alternatives.
Other alternatives
Brevo (Formerly Sendinblue) – All-in-one product with unlimited contacts

As you've probably gathered by now, Wix ShoutOut is fine for basic email marketing, but what about those who are in need of more advanced automations or detailed reporting?
Yes, Mailchimp is an alternative, but you'll notice that multi-step automation workflows are only available on the higher tier plans, which start from $14.99 for just 500 contacts.
Brevo allows for unlimited contacts on all plans (including the free plan) and comes with generous sending allowances. The fact that Brevo doesn't set a cap on contacts means it's a very affordable all-in-one solution for those who have a lot of contacts but send few emails. At $35/month for 20K emails, it's a pretty good deal, especially since it comes with advanced marketing automation, web tracking, CRM and segmentation.
For more detailed information on Brevo, check out our review. 
See how Brevo vs Mailchimp compare.
MailerLite – If you want unlimited emails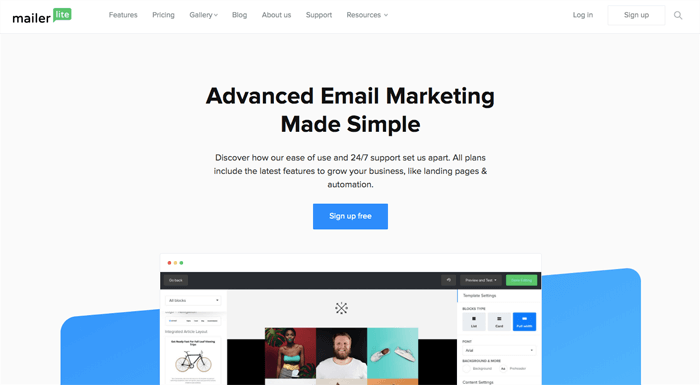 If 9,500 emails/month isn't enough – which is what the Ascend Basic plan comes with for $12/month – then you might want to look at MailerLite. This email marketing tool offers users unlimited emails for just $15/month. It's a really easy-to-use tool, and it comes with plenty of modern, responsive email templates.
For more detailed information on MailerLite, check out our review.
Final thoughts on Wix email marketing
We want to love Wix email marketing as much as love Wix's website builder, we really do. And it definitely has some great perks – affordable pricing, ease of use, responsive email templates. Its strongest point, though, is its seamless integration with Wix Contacts, allowing you to effortlessly run email marketing campaigns to your website contacts.
But would we recommend it over other tools? No. You'll find there are other, more complete tools that do a much better job of email marketing.
We'd definitely encourage Wix users to give it a go on the free plan. You might find a few useful automated campaigns you can set up, which could really help to boost your customer engagement and improve your website's success, but you'll probably find you outgrow it as you learn the true potential of email marketing.
Do you have any other questions about Wix ShoutOut? Ask us by posting in the comments below!
You might also find our guide to the best email marketing for Shopify useful.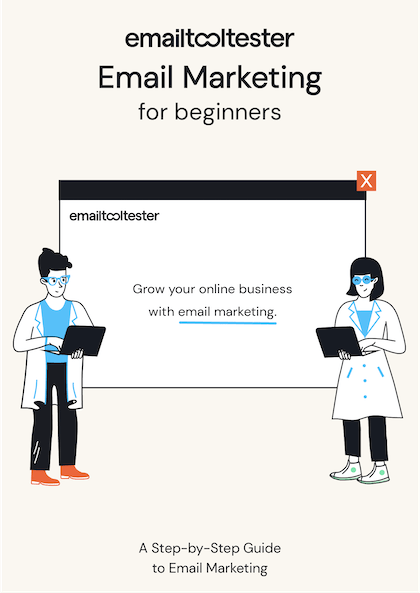 Email Marketing Crash Course: Step-by-Step Guide
Our email marketing course for beginners: ideal for small and medium-sized businesses, online stores and bloggers. It shows you all the steps you need to send your first email campaign. Best of all, it's free!
Sign up to receive your copy immediately!
We keep our content up to date
17 Feb 2022 - Brevo increased sending allowance
25 Mar 2021 - Big general update + changed name from Wix Shoutout to Wix email marketing. Prices increased
Our Methodology
This article has been written and researched following our EmailTooltester methodology.
Our Methodology