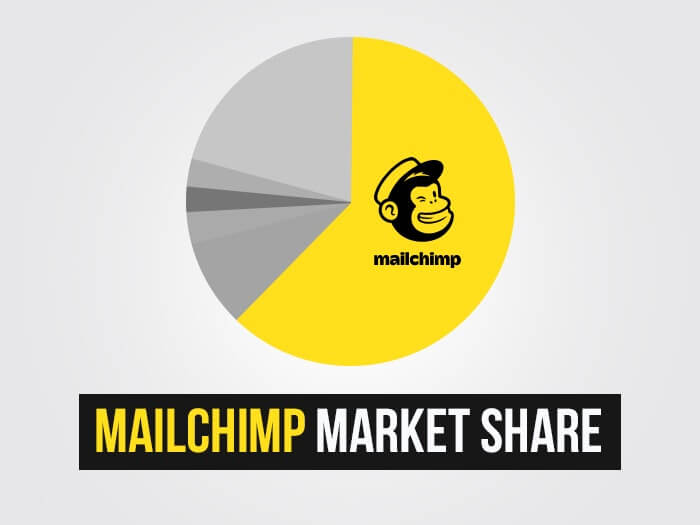 Everyone has heard of Mailchimp. It is literally the most popular email marketing platform on the market. But I guess if you've found your way here, you want to know just how popular.
We've been keeping a close eye on Mailchimp over the years, reviewing new features such as landing pages, changes in pricing and the product as a whole – it's certainly an interesting company to watch evolve.
Read on to find out all the juicy statistics on the world's (but mainly America's) most used email marketing platform.
How Much of The Market Does Mailchimp Own?
According to Datanyze, Mailchimp owns 62.23% of the market share. That's huge! 
Its biggest competitor, and email marketing veteran, Constant Contact, owns just 8.69%.
Considering that Constant Contact has been around since 1995, you'd think that they'd have the experience to stay ahead of the game, but no.
As we see time and time again, it's very easy to get stuck in your ways as a company. So what did Mailchimp do that Constant Contact didn't? Well, as you can see in this Mailchimp vs Constant Contact comparison, quite a lot. Jump ahead to find out how Mailchimp got so big.
This chart, taken from BuiltWith, gives you an idea of how Mailchimp has grown over the years: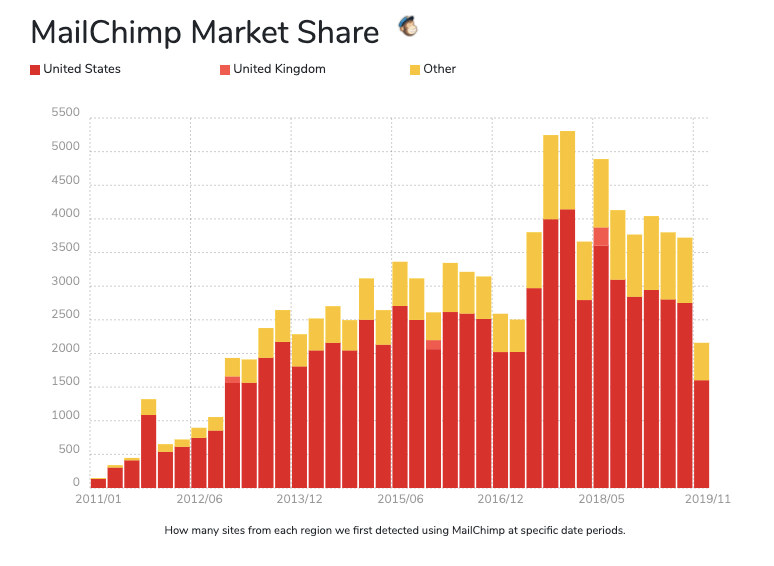 How Many Global Searches Does it Get a Month?
These figures are taken from Ahrefs, and, of course, they will change slightly every month, but it's interesting to look at these statistics against the market share percentage and that of Mailchimp's competitors.
Constant Contact: 576K
Campaign Monitor: 61K
AWeber: 88K
Mailjet: 132K
Who Are Mailchimp's Competitors?
As I've mentioned above, Mailchimp's biggest competitor is Constant Contact, which owns 8.69% of the market (according to Datanzye) – a fraction of what Mailchimp owns. In fact, the top 5 Mailchimp competitors only amount to 17.08% of the market share. So, yeah, I think it's fair to say that Mailchimp is in a league of its own.
| Email Marketing Platform | Market Share |
| --- | --- |
| Mailchimp | 62.23% |
| Constant Contact | 8.69% |
| Campaign Monitor | 3.30% |
| AWeber | 2.55% |
| Mailjet | 2.54% |
Who Uses Mailchimp?
In Mailchimp's 2019 annual report, it states the following statistics for that year:
The total number of active users was 12,328,937
Almost 11K people signed up for a Mailchimp account every day
5,476,608 multichannel campaigns were sent out by its customers
10,794 emails were sent out every second!
55 different languages were used in emails sent through Mailchimp – the five most common are English, Spanish, French, Russian and Portuguese
Just under half of all paid users live in the USA
Some of the biggest companies using Mailchimp are TransferWise, Penguin Random House and PayPal.
How Much Money Are Mailchimp Users Making?
With 839.5 million ecommerce orders generated by Mailchimp users in 2019 (2.3 million every day), I think it's fair to say that quite a bit of money is being made.
In light of these figures, it's worth noting the power of email marketing and why it really needs to be made good use of by marketers and business owners, especially small business owners and entrepreneurs. We created a handy ebook for all those wanting to get started with or improve their email marketing, you can download it here.
Mailchimp Revenue Over The Years
These are estimates, taken from various sources, but it gives you an idea.
| Year | Revenue |
| --- | --- |
| 2019 | $700 million |
| 2018 | $600 million |
| 2017 | $525 million |
| 2016 | $400 million |
| 2015 | $280 million |
Sources: TechCrunch, Forbes, Inc.com, NYTimes
Who Owns Mailchimp?
Mailchimp was set up by Ben Chestnut and Mark Armstrong in 2001 – yep, that's right, Mailchimp is 19 years old.
It currently has a total of 1,125 employees and 5 offices.
How Did Mailchimp Get so Big?
If you're interested in business, email marketing, marketing in general, or software development, you might be asking yourself How did Mailchimp get so massive? I've certainly asked myself the same question.
We can find part of the answer in founder Ben Chestnut's comments to the New York Times where he explains that Mailchimp's success stems from the fact that it had "a proximity to its customers that its competitors lacked."
He says that as Mailchimp "was itself a small business, it understood what those businesses wanted out of their marketing tools. Its offerings were cheaper, it added features more quickly, and it allowed greater customizations to fit customers' needs."
Combine that with a lovable brand (namely Freddie the chimp), very generous freemium accounts and a great marketing strategy that delighted customers and you've got yourself 62% of the market share! (To put it simply.)
With its informal tone and easy-to-use software, Mailchimp turned email marketing on its head. With Mailchimp, something that was reserved for techies and large corporations was now:
Simple
Friendly
Free (in many cases)
And even fun!
Heck, it even gives you hi-fives for sending out a campaign and has been known to send you (weird) 'swag' like crocheted hats for your pet.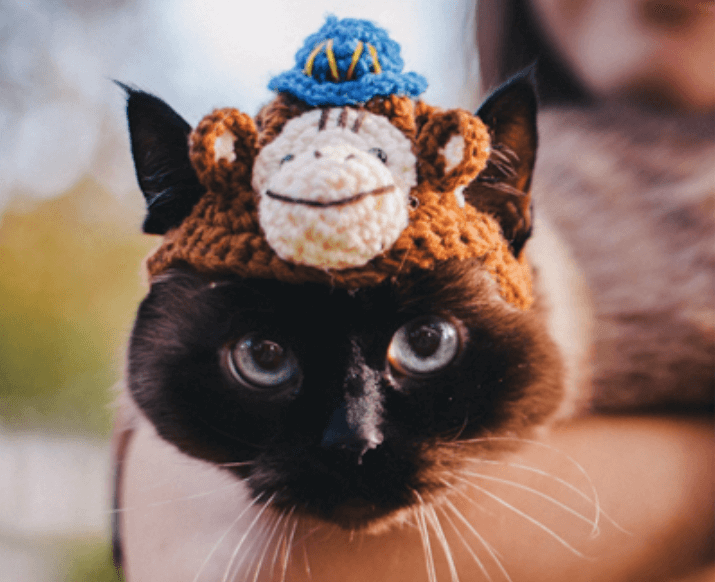 Source: https://amplifier.com/case-studies/mailchimp
Mailchimp Market Share: Final Thoughts & Look to The Future
So there you have it, everything you need to know about Mailchimp's market share.
But what's next for the email marketing titan?
What new features will it be bringing out in 2020 and the coming years?
Will it throw another curveball at us as it did in May 2019 with its new pricing model?
Keep an eye on our Mailchimp review where we'll be covering all of the above.
If you're in need of an email marketing service, you might like to check out these excellent Mailchimp alternatives.