Real estate is a fiercely competitive, constantly-evolving industry. You need to market yourself to stay on top of people's minds so they know to come to you when it's time to buy, sell, or invest.
Traditional advertising can solve this, but it's prohibitive in the long run. Costs associated with print ads, billboards, and TV commercials are often through the roof. And they don't always yield the best results.
Real estate email marketing is a cost-effective alternative. It offers considerable advantages, from targeting the right audience to fostering trust to increasing conversions (and beyond!). All for a fraction of a press ad.
If you've been looking into this strategy for quite some time, you've come to the right place.
In this article, we'll discuss:
Real estate email marketing benefits and examples
The best email marketing tools and features, and
Practical steps to help you become a household name among your leads.
So, let's get started!
The Benefits of Email Marketing For Real Estate
89% of realtors already use email to stay in touch with prospects, but using it for marketing is equally valuable. It's a relatively low-effort exercise that can reap huge rewards for your real estate business. Here are some of the biggest benefits email marketing can bring:
☑ Cost-Effective Marketing
A one-time feature magazine or newspaper feature can set you back between $250 and $1,000.
Email marketing costs less and provides a more sustainable way to market your listings–especially if you opt for a cheap email marketing service.
An email marketing service can cost as little as $5 for a mailing list of 1,000 subscribers, while also saving money on printing, postage, and placement fees associated with traditional advertising.
Market segmentation in real estate helps pinpoint which audience group will benefit most from a particular property. Examples include locations (city vs suburban) and property types (residential vs commercial space).
With email marketing, you bring these segments into the picture and send out targeted content. You can base your messaging on various factors, such as geographical location, property type, spending power, demographics, and buying/selling stage.
☑ Brand Awareness and Visibility
An analysis showed that home buyers need an average of 52 touchpoints to complete the buying process. For commercial spaces, bureaucratic obstacles can make things go even slower.
Real estate email marketing can keep your brand in front of your audience. You can engage them with different touchpoints until they're ready to make the big purchase.
☑ Lead Generation, Relationship Building, and Conversion
Email marketing in the industry can generate an annual conversion rate of 3.5%, while organic search yields 2.2% and paid search 2.0%. It could be the key to increasing sales.
Creating a series of marketing emails to promote regular listings, open houses, and market updates can entice potential buyers, sellers, and investors to take action.
By regularly showing up in clients' or prospects' inboxes with useful information, you can establish yourself as an expert and a trustworthy source. Your credibility will grow, and readers will be more likely to look to you for advice and services.
Emails make sharing information much easier than brochures and leaflets. They're the perfect engine to drive word-of-mouth referrals, expanding your reach and drawing in new prospects.
With just a few clicks, your audience can share your valuable content with their families, friends, and colleagues.
If you're hesitant about adding email marketing because it's another marketing ball to juggle, email service providers often have automation features you can leverage.
With these features, you can streamline your messages and reach the right audience at the right time–no need to get your hands dirty. Look for platforms that simplify tasks such as scheduling emails or automating email delivery when someone viewed a listing. We'll show you six platforms that do these and more, so read on.
☑ Measurable Results and Analytics
Unlike traditional advertising, email marketing provides tangible and trackable results. Metrics such as open rates, click-through rates, conversion rates, and engagement rates lift the fog, revealing which email marketing campaigns are or aren't working for you. With a clearer perspective, you can make adjustments to optimize future campaigns.
Seeing the benefits of real estate email marketing, let's see how it works in practice. In the next section, we're off to the land of real estate email marketing examples.
Examples of Email Marketing Campaigns in Real Estate
Property Listings
Email updates are a good place to showcase existing inventory. By putting your property listings in the spotlight, you're letting buyer leads know what's available.
But remember that not all buyers want the same thing. Let's take homebuyers for instance. Some may want a home in a quiet cul-de-sac. Others may desire to live right in the center of a bustling city. Other preferences exist–with the location being just one of many factors to consider if you want your email listings to reel in results.
Here's where email segmentation comes into play. Let's say you have subscribers who appreciate the outdoor activities that are part of the suburban lifestyle. You know this because when they signed up to receive your email, they marked a checkbox indicating that access to nature was a priority. They're a perfect match for this new neighborhood, Tehaleh. Time to send those subscribers a listing email.
This is an email example from Tehaleh's property developer Newland:
Before displaying the available homes, the company warms up readers by sharing a quick neighborhood guide. This is effective in capturing the attention of the target audience.
Then comes the property listings. As you can see from the above, property listing emails can have more than one call to action. Because you need to give subscribers access to more information for each listing.
But don't forget to add a main call-to-action button (CTA) at the bottom to help people sort through the available options. It can be a minimum viable action, such as "Contact us", "Send us a message", or in Tehaleh by Newland's case, "Schedule a visit".
Better yet, simply focus on one listing per email. Here's a great example from Irpino Real Estate: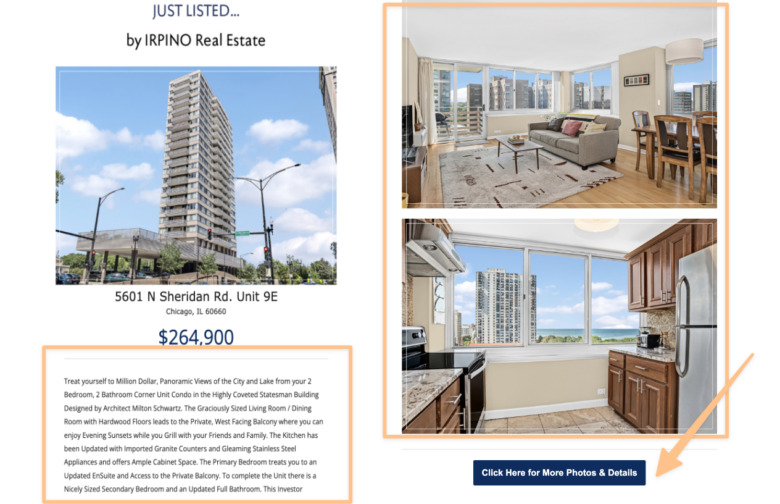 A new listing email can include property details, high-quality images, links to a virtual tour, and of course, your contact information. Virtual tours are useful to half of potential customers, so don't leave this bonus out: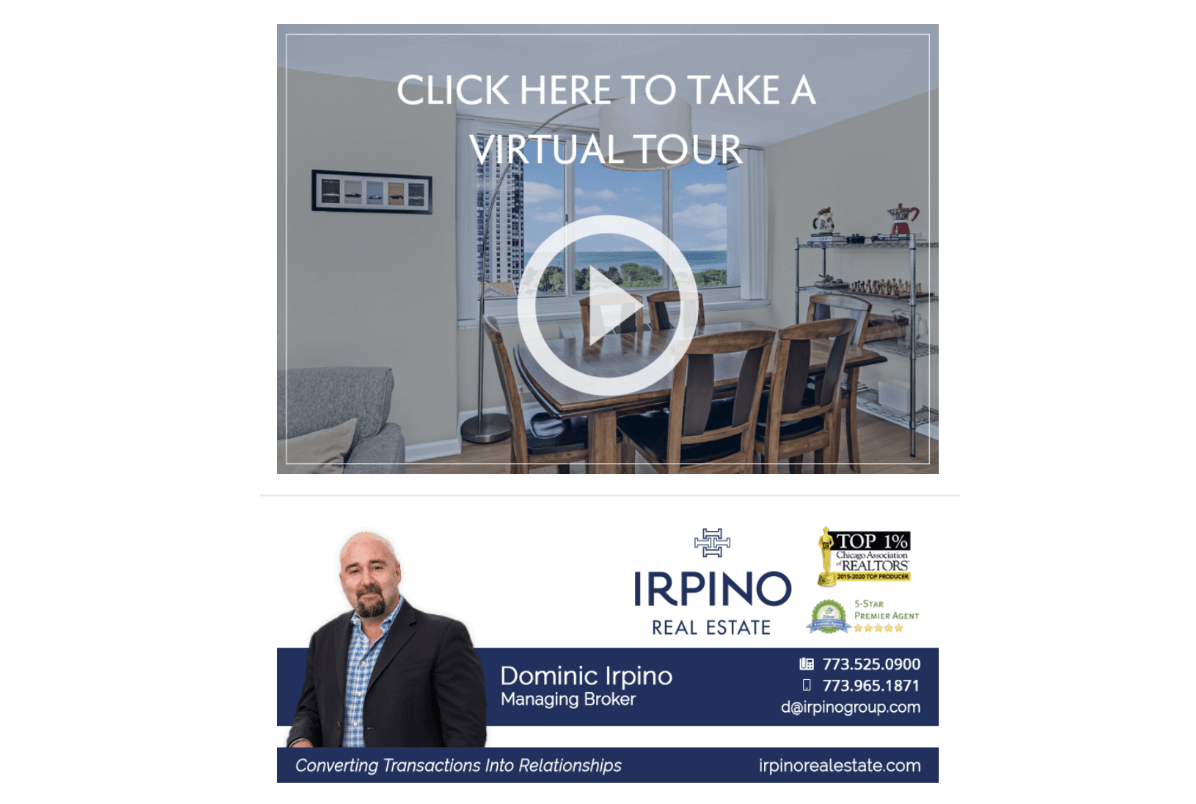 Open House Invitations
Your email list contains your open house guest list. But you don't want to send your invite to everyone on your list. Your invites should only go out to people who expressed interest in the property's location, size, layout, and other characteristics. So like with property listing emails, segmentation and personalization are important.
Most open house invitations are designed like flyers. This template by Newsletter Builder covers the basics: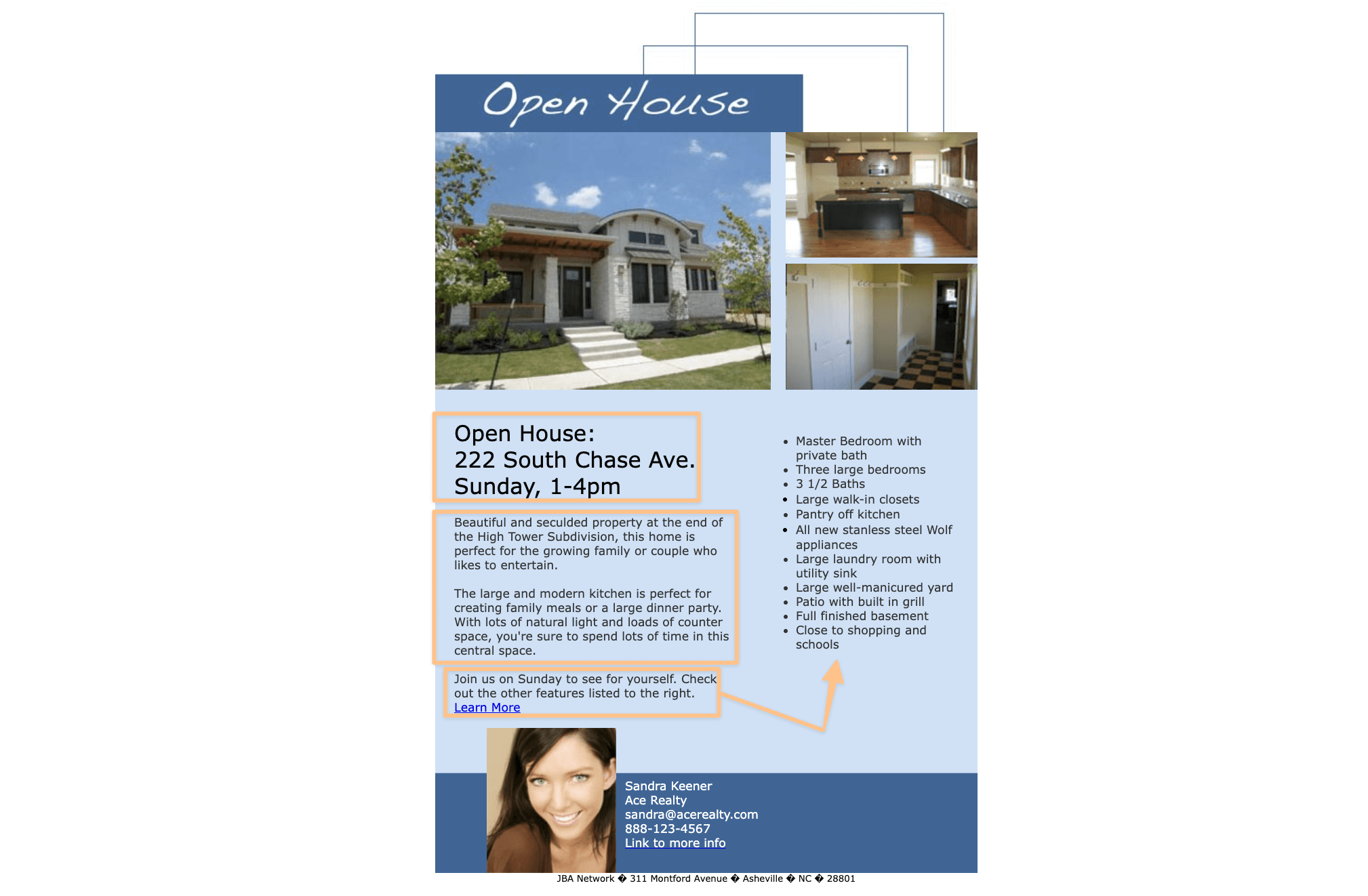 It includes a short introduction and highlights unique features, recent renovations, and special amenities distinguishing the property from the rest.
As with all open house invites, the template also ensures event details are prominent. Some important details to highlight are:
Date, time, and duration of the open house
Specific information, including the number of scheduled time slots or if it's a flexible open house
Directions and contact information, including phone number and email
But if there's one thing we'd change: it's the photos. It would be nice to see compelling visuals of the notable features mentioned. We'd love to take a peek at the aforementioned large walk-in closets rather than a regular hallway.
A last piece of advice: Top off your open house invite email with an explicit and attention-worthy subject line (Ex: Join us for an Open House: [Property Address] this Sunday!) and a personalized greeting, and you're gold!
Market Updates and Newsletters
Newsletters and market updates provide valuable local market insights to your audience. Using this strategy also positions you as an expert who's reliable and up-to-date–and as you know, property buyers are drawn to that.
Here's an example of a well-designed and informative newsletter from New Jersey realtor Jackie Konopka: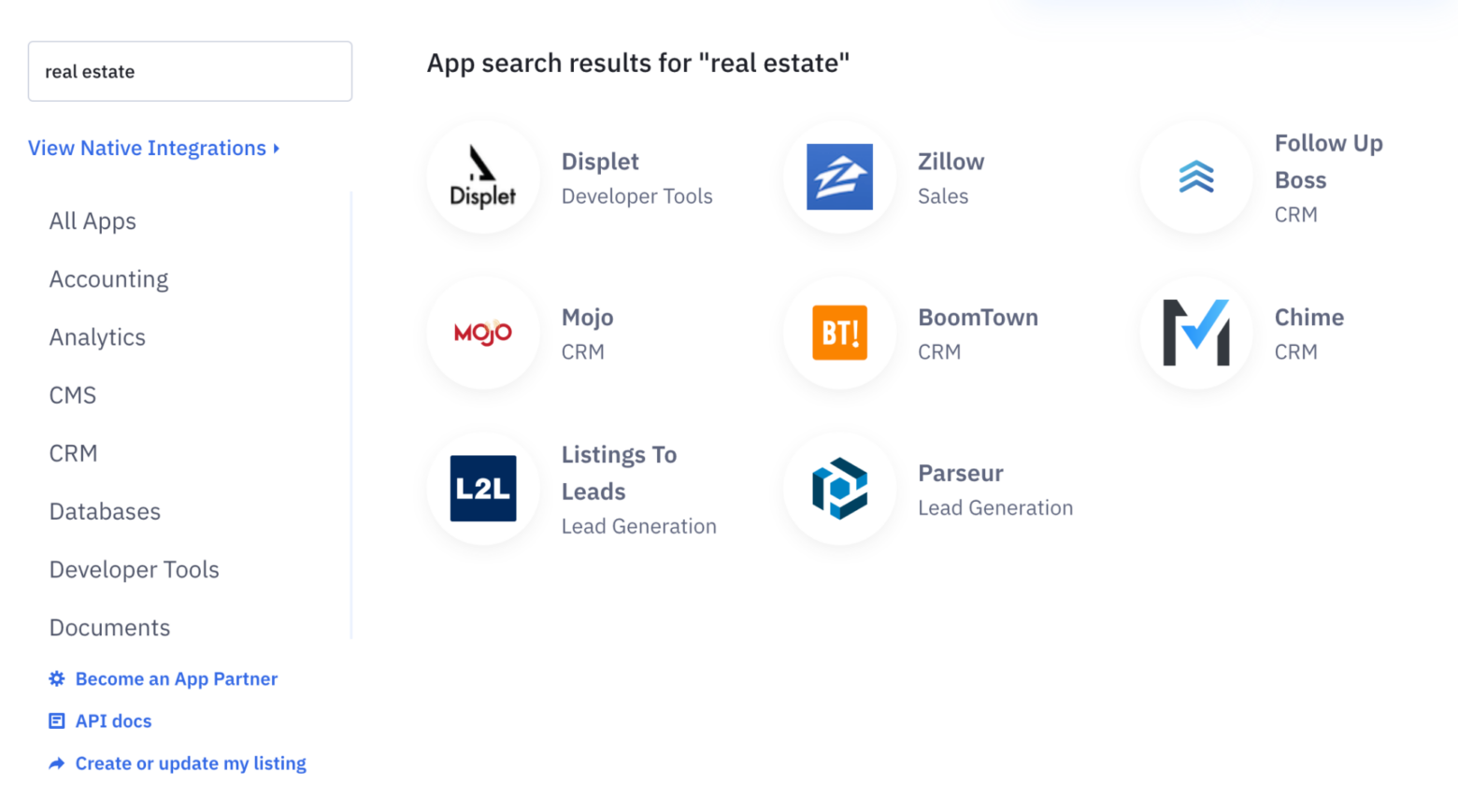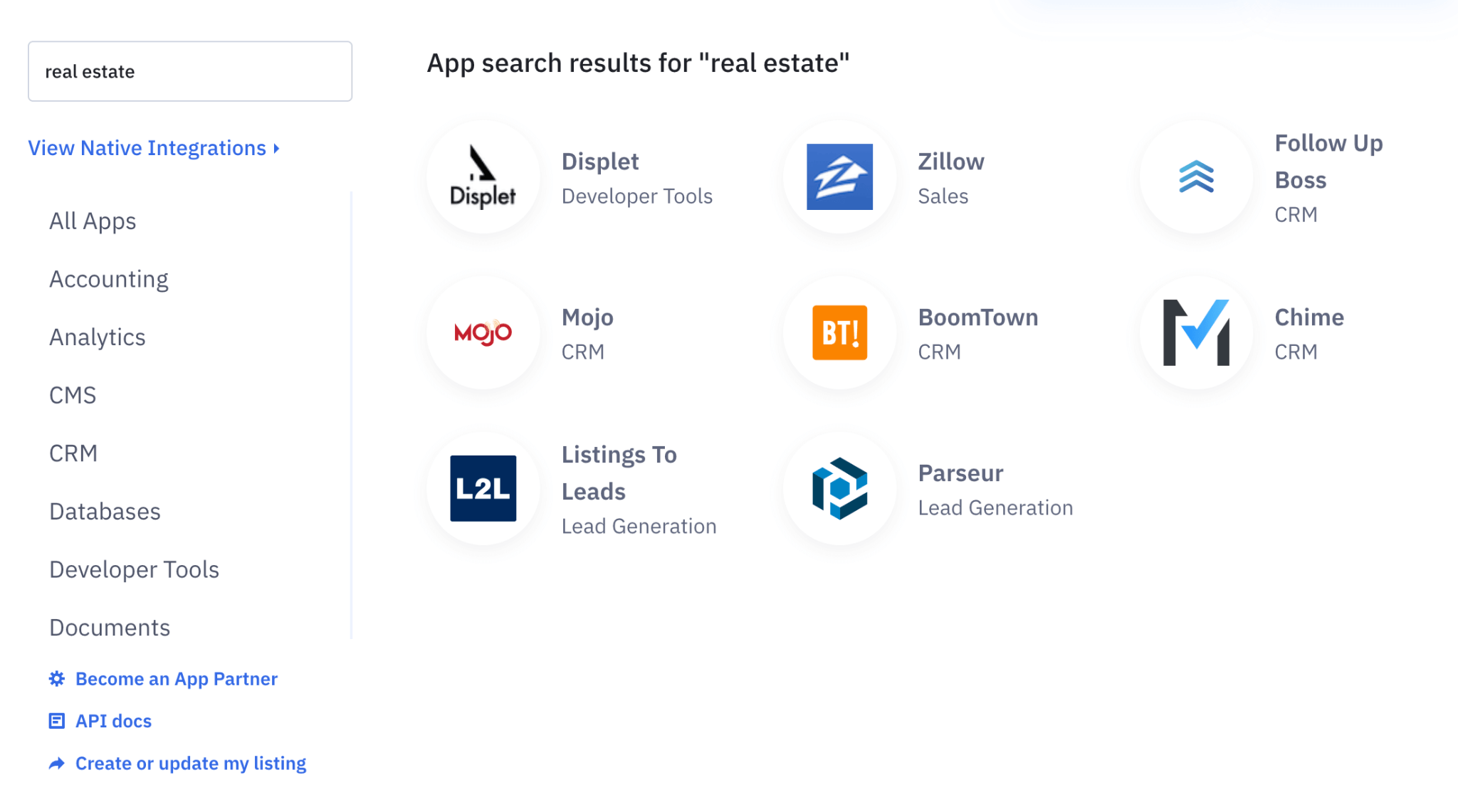 If you already have an active blog, leverage that. Toronto-based firm BREL regularly sends a round-up of its recent posts intended for buyers and realtors: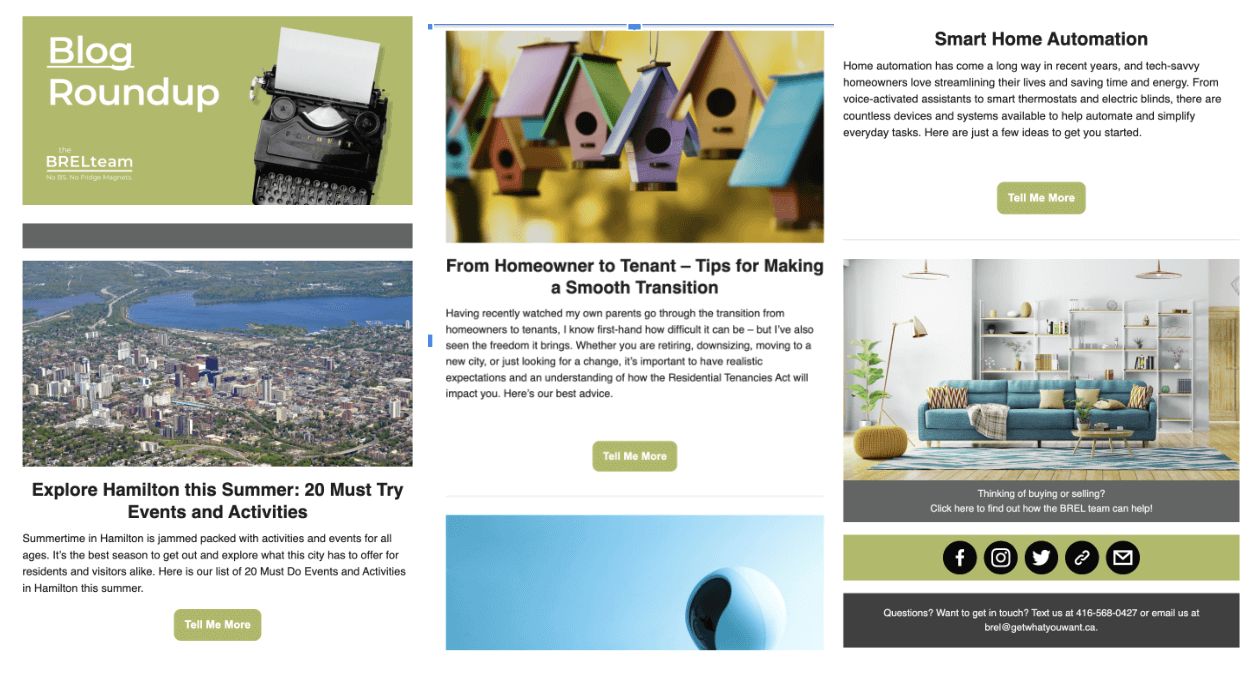 Insights you can share include market trends, property values, mortgage rates, neighborhood developments, and helpful advice.
Testimonials and Success Stories
Here's a shocking statistic: Only 14% of buyers trust real estate agents. The rest believe agents won't reveal a property's negative features to them.
One way to build trust is by proving to your potential clients that your integrity is solid and you'll always level with them. In fact, you've probably earned a slew of success stories and testimonials from your past clients.
Share these glowing endorsements with your database. Both video and written content work. If you have videos on YouTube, simply link to them from your emails.
Photos, client quotes, and details about the successful transaction are also useful. If you don't have a collection of praise files yet, roll your sleeves up because you can also use email to build it up. These templates might help.
Another workaround is to tell your own stories. How were you able to help a client? This snippet from real estate professional Julie Taylor's newsletter can easily be translated to an email newsletter. She explained how they secured a condo for a client in 2012. Once she was ready to relocate to the suburbs three years later, Taylor's team helped her once more. This time to sell the unit at a profit: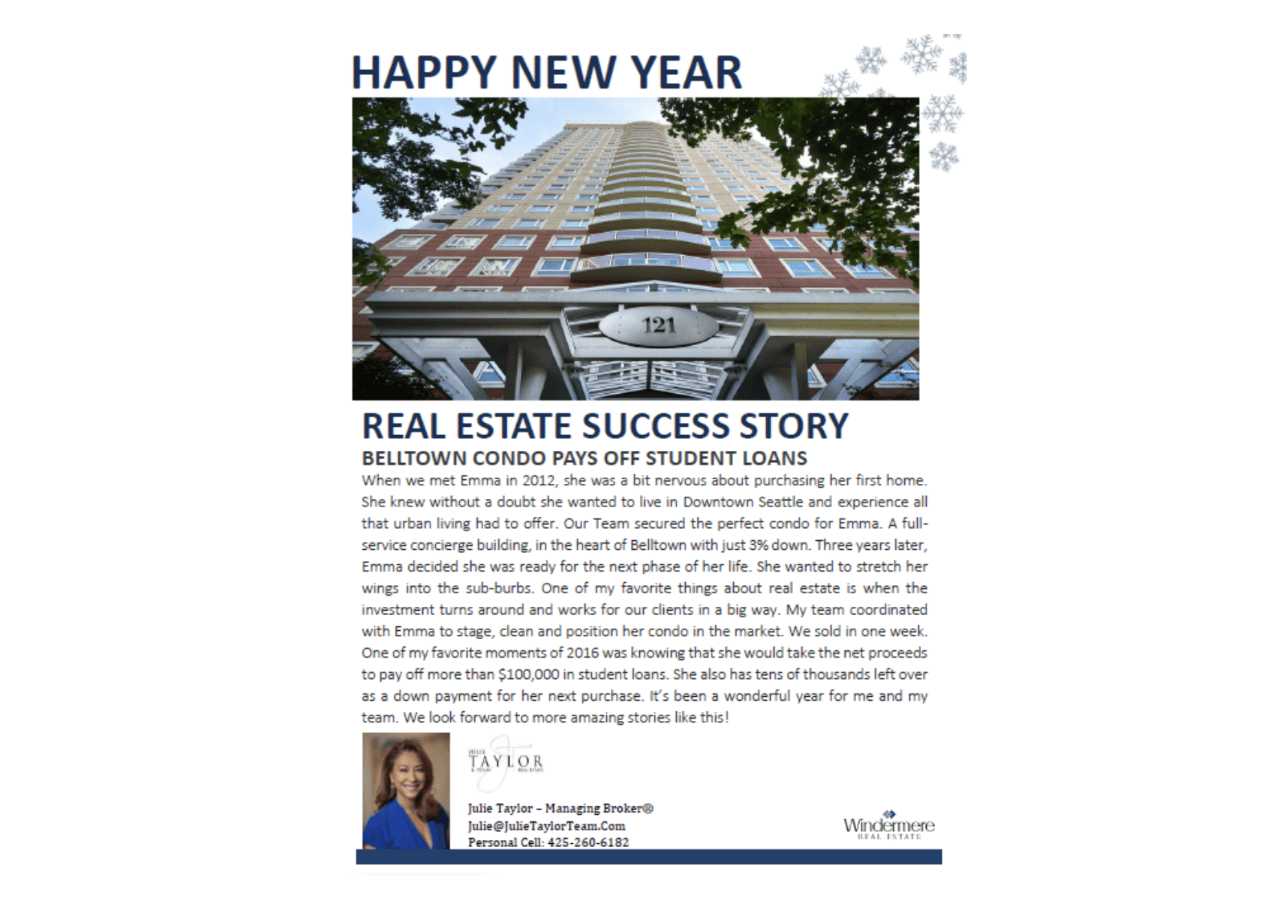 Referral Programs
In a 2022 survey, 36% of sellers found a real estate agent through referrals. Emails, being shareable, are a good channel to start a referral program. Once a successful transaction has been completed, you can request a referral from the satisfied client.
It doesn't matter if they're a property buyer, investor, or seller; referral programs generate new leads and expand networks.
Here's a good template from Unlayer: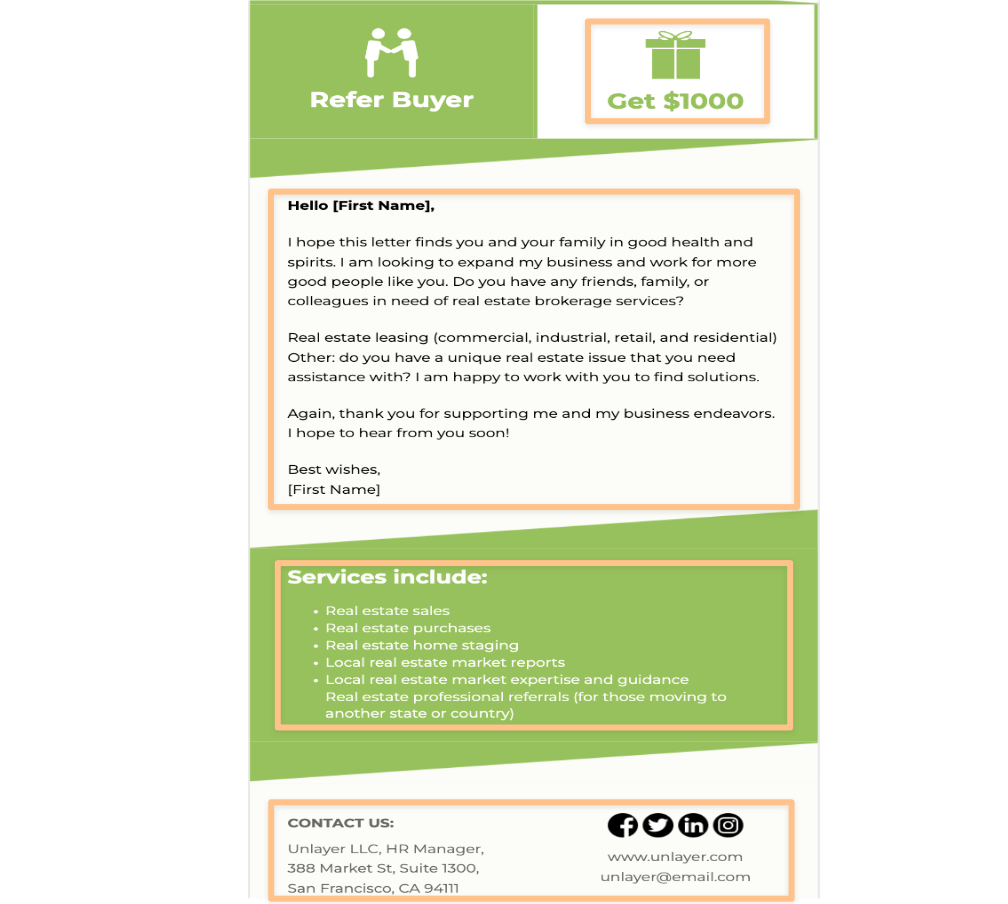 This referral email works great because of its clear and direct message. Once the formality's out of the way, it goes straight to the point of the email. There's also a breakdown of the real estate agent's services at the bottom.
Having all the pertinent information in this brochure-like email makes it easier for people to send it to others. If recipients want to know more, they can simply refer to the email for contact information.
Rewards increase referral likelihood. And the template did well, displaying the $1000 cash reward in the banner. It's a good way to catch people's attention and encourage them to participate.
Special Event Announcements
Event marketing has long been a popular marketing strategy, with 72% of surveyed organizers finding in-person events effective.
It's also a marketing strategy that keeps on giving. After throwing a "mega open house," Rob Jehnsen Company was able to repurpose the event's content on different platforms, such as Instagram, YouTube, and Facebook.
But none of this would have been possible without email. The real estate agency used it to send invites to the event, in conjunction with phone calls and direct mail.
Other in-person events you can hold include property showcases, networking opportunities, charity events, real estate workshops, investment programs, homebuyer seminars, expert talks, or plain and simple client appreciation parties.
But there's always an excuse to throw a party. Take it from Irpino Real Estate, which celebrated 150 Google Reviews with a party. This invitation reminder outlines what guests will get for showing up, event details, and RSVP options: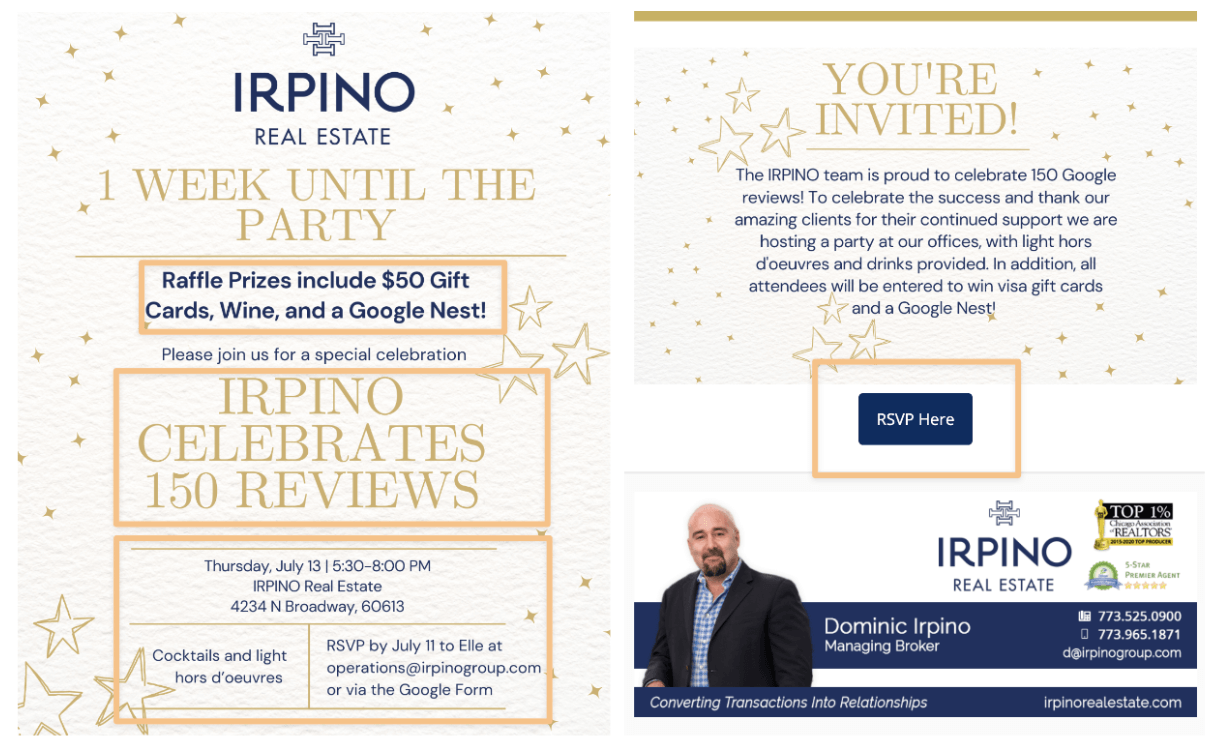 Source: Irpino Real Estate
Of course, special announcement emails aren't limited to in-person events. You can also use this medium to spread the news about your upcoming webinars or other virtual events.
Drip Campaigns for Buyers and Sellers
Drip campaigns are a series of friendly and helpful messages sent automatically to your subscribers over a period of time. These campaigns keep leads engaged and cultivate long-term relationships with them.
And there are many types you can use to hook both buyers and sellers. In fact, you can pull from some of the examples above to create a sequence.
You can start with a new subscriber welcome email drip. Your first emails could be about your brand, services, and success stories.
Fox Marin Associates offer a well-curated initial email. It features a brief intro with a lovely short video, what the company stands for, a sneak peek of its insightful blog posts, and wraps it up with social media buttons.
However, it's missing a hint of personal touch, such as the recipient's name: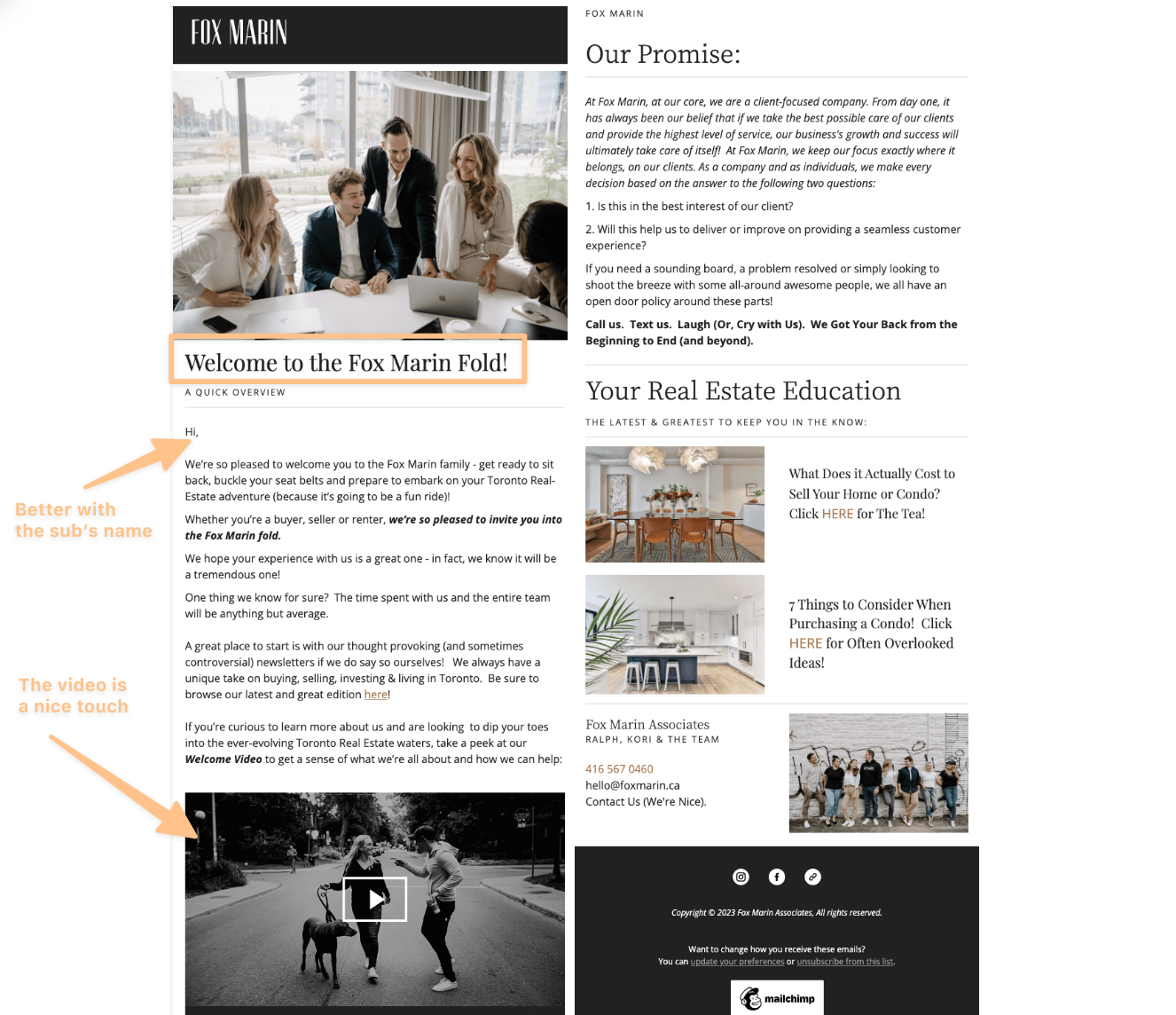 As interest continues to grow, you can offer them a downloadable resource–maybe a home buying or selling guide (this is where campaigns like email funnels shine).
If they like it, they'll be inclined to follow your blog and social media platforms. It's time to invite them to join you there–explicitly. Finally, if they delve deeper into your content (you'll be able to know this if you set up your marketing automation platform to track webpage visits), encourage them to seek out a consultation.
Other ideas are drip campaigns for a referral program, and home buying/selling tips. Regardless of what drip campaign/s you decide to run, segment subscribers into interests and preferences to deliver highly-tailored content. Keep your brand's voice and values consistent across all emails, too.
After seeing these real estate marketing ideas, you might want to dive right into real estate email marketing. But before that, you need to find a reliable email service provider.
In the subsequent sections, we'll discuss what features and platforms real estate agents and firms should consider.
Features To Look For in an Email Marketing Software for Real Estate
Lead Capture and Opt-in Forms: Opt-in forms are helpful for growing your email list and targeting specific segments. Integrating your platform with lead capture forms on your website or landing pages lets you collect potential buyers' and sellers' email addresses and other relevant information. It will be the starting point of your email marketing strategy.
Web tracking: Knowing how your recipients interact with your website content can help you understand their interests and segment them more effectively. Make sure the platform you choose can collect and monitor meaningful data.
Contact Management: Effective contact segmentation hinges on how robust your platform's contact management features are. At the very least, your realtor email marketing service should allow you to categorize contacts by location, property preferences, and transaction stage.
Personalization: Making emails personalized with recipients' names, locations, and other relevant information increases engagement. Choose an email marketing platform that allows for dynamic content insertion, segmentation, and other customization features.
Email Templates: Marketing emails and newsletters are more than just words on a page. Real estate-specific email templates can help you cut down on design time and effort while maintaining a professional appearance.
Automation and Drip Campaigns: Real estate drip campaigns are effective for nurturing leads, sharing relevant property information, showcasing success stories, and enhancing brand engagement. Many platforms automate these campaigns for you, as well as other sequences.
Analytics and Reporting: Metrics, such as open and click-through rates, help you evaluate your email marketing efforts. Knowing your email open and click-through rates is crucial to campaign success. This data identifies which emails and content resonate with your audience and informs how you can improve future ones.
Integration with CRM and IDX platforms: Syncing your email marketing service with your Customer Relationship Management (CRM) system and Internet Data Exchange (IDX) for your MLS listings streamlines lead management, keeps track of buyer and seller interactions, and allows you to send more targeted content. Some platforms on our list have built-in CRMs.
Mobile Responsiveness: Use email marketing software that offers mobile-friendly email templates, so your readers can view your emails no matter what device they're using. Editors can also help you customize your email to fit different screen sizes on some platforms.
Compliance and Privacy: The real estate industry is required to comply with data protection laws. Protect user information by looking for email marketing platforms that offer GDPR or CAN-SPAM Act compliance (depending on where you're based), unsubscribe options, and data encryption.
We've rounded up six platforms that tick all these boxes. Here are some of the best email marketing services for real estate businesses.
6 Best Email Marketing Services for Real Estate
1. ActiveCampaign
If you're looking for a platform you can integrate with your current tools, ActiveCampaign is worth looking into. You can connect it to more than 930 apps, including property marketplace Zillow and real estate CRMs, such as Mojo and BoomTown: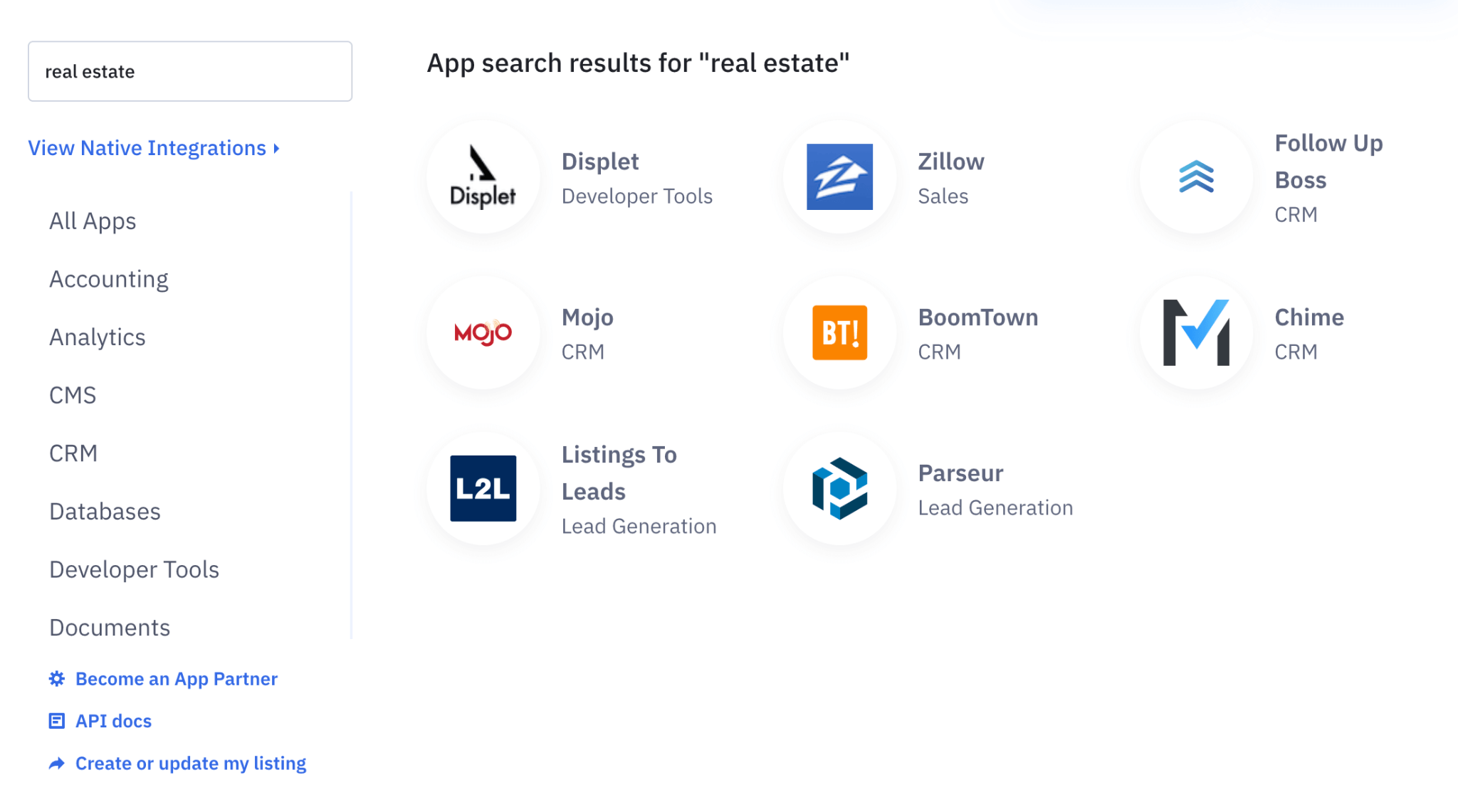 ActiveCampaign also offers its own advanced CRM (for a cost). This tool allows you to input client information, such as contact details, preferences, and timelines. It also houses listing information, so you can send everything via email seamlessly.
ActiveCampaign also has lofty email marketing automation features, which are some of the best ones out there. You can use it to trigger real estate email marketing campaigns based on tags, customer actions, purchase journeys, etc. It's even possible to automate sending individual sales emails with it.
With all these perks, it's no wonder they don't have a free plan and the available options are pricey, with plans starting at $39 per month.
ActiveCampaign Pros
Over 900 integrations available
Full-featured CRM add-on
Comprehensive marketing automations
ActiveCampaign Cons
No free plan, and relatively pricey paid plans
Not beginner-friendly
> Read our Active Campaign "appraisal report" here.
> Or sign up without a downpayment here. It's free for the next 14 days.
2. GetResponse
GetResponse provides real estate agents with beginner-friendly tools for email marketing and beyond (their tagline). It has over 150 templates for emails and newsletters. You can take advantage of its business templates for your various purposes, and events templates for open house invitations, activity announcements, etc: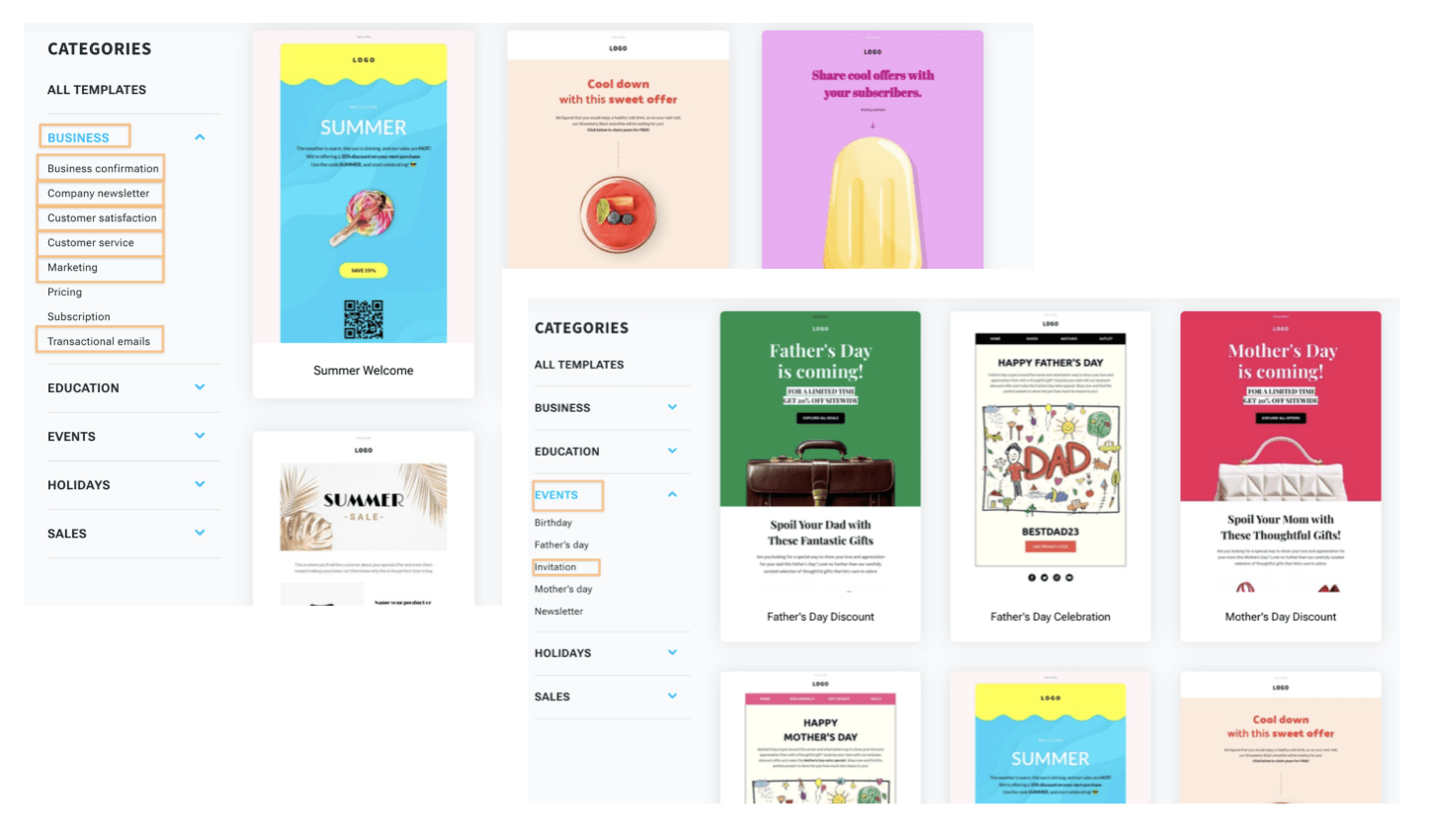 Or you can design your own email template if none fits your needs. Aside from templates, you have access to automation features, most notably list segmentation and drip campaigns (though you'll need a higher-tiered plan, which start at a hefty $59 per month).
GetResponse also links to Facebook, the social platform of choice for many real estate agents. With this integration, you can run ads and update your lead database. Other integrations include SaveMyLeads, Helpscout, and CRM tools such as Zendesk and Zoho. The platform also has a built-in CRM, as well as tools for creating landing pages, webinars, and other marketing materials.
GetResponse Pros
Wide range of email templates and good customization features
Automation features, including list segmentation and drip campaigns
Useful marketing and management integrations
GetResponse Cons
> Read our Get Response "appraisal report" here.
> Or sign up without a downpayment for their free plan.
3. MailerLite
MailerLite is light on the pocket yet hefty in terms of benefits for real estate email marketers just starting out. First, it features a clear and intuitive main dashboard and drag-and-drop editor: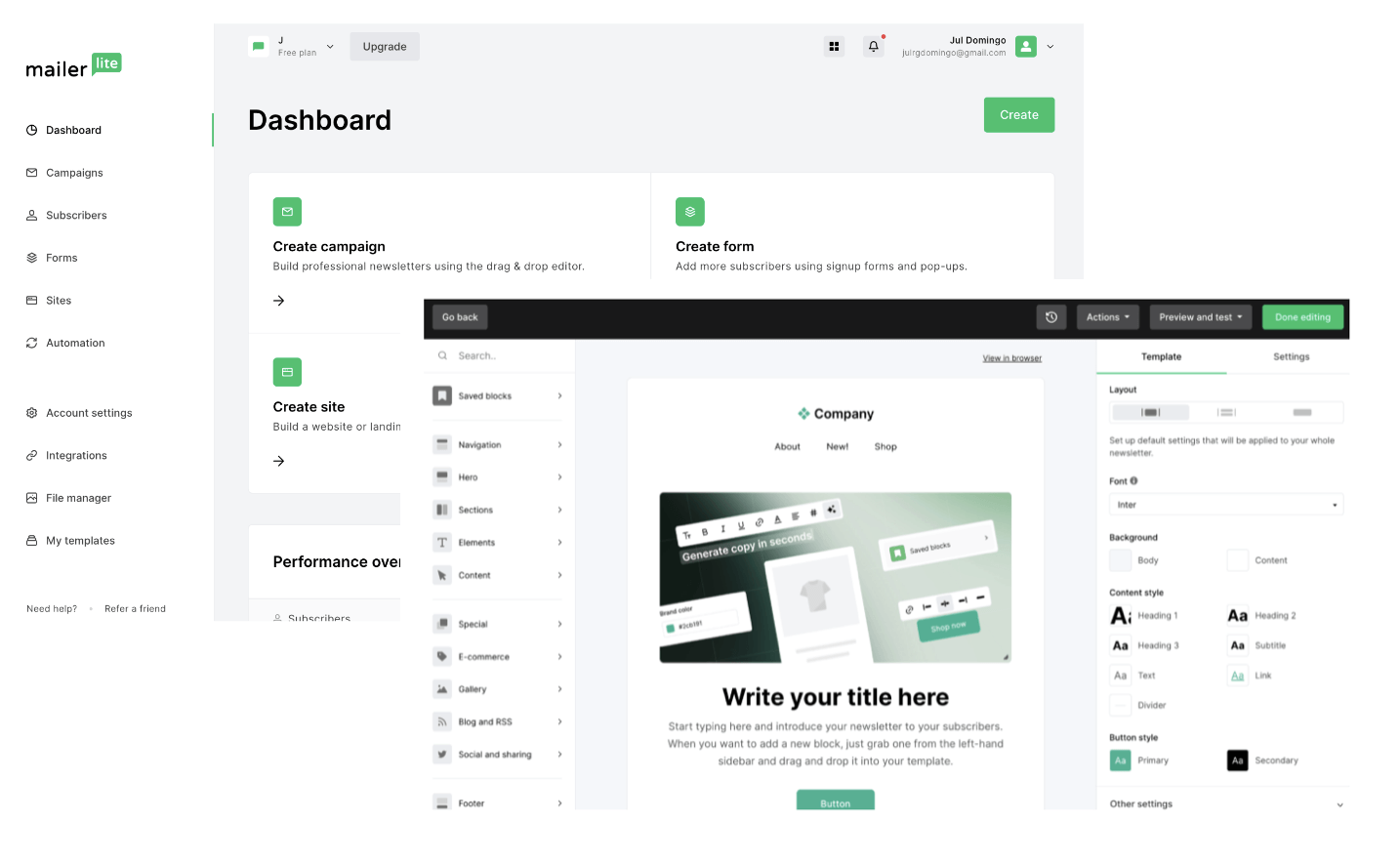 Second, you can start free for up to 1,000 subscribers. You'll have access to functional tools for designing mobile-friendly emails, performing A/B testing, creating basic reports, and automating email sequences. You can even send transactional messages and surveys.
The free plan is also enough to create 1 website, unlimited sign-up forms and pop-ups, and up to 10 landing pages. Pretty generous, right?
But if you want access to customizable newsletter templates, advanced A/B testing, Facebook advertising, and other perks, a paid plan is needed. The good news is that plans are affordable, starting at $15 per month.
We also consistently see great results when testing email deliverability. Although, its reporting capabilities could use an upgrade.
MailerLite Pros
Generous free plan and affordable paid plans
User-friendly interfaces
Good email deliverability
MailerLite Cons
Newsletter templates not included in the free plan
Reporting capabilities, even for paid plans, are basic
> Read our MailerLite "appraisal report" here.
> Or sign up without a downpayment here. It's free for up to 1,000 subscribers.
4. Brevo (formerly Sendinblue)
Brevo is another heavy-hitter in the world of budget and beginner-friendly email marketing services. Brevo offers three email builders: a rich text editor, an HTML editor, and a drag-and drop-editor. Drag-and-drop editing is made simple with Brevo's 40+ responsive email templates. All these are available in its free plan.
Since Brevo is an all-in-one sales and marketing platform, you can also use it for lead management. It tracks deals, manages your contacts and pipelines, and automates tasks like sending follow-ups: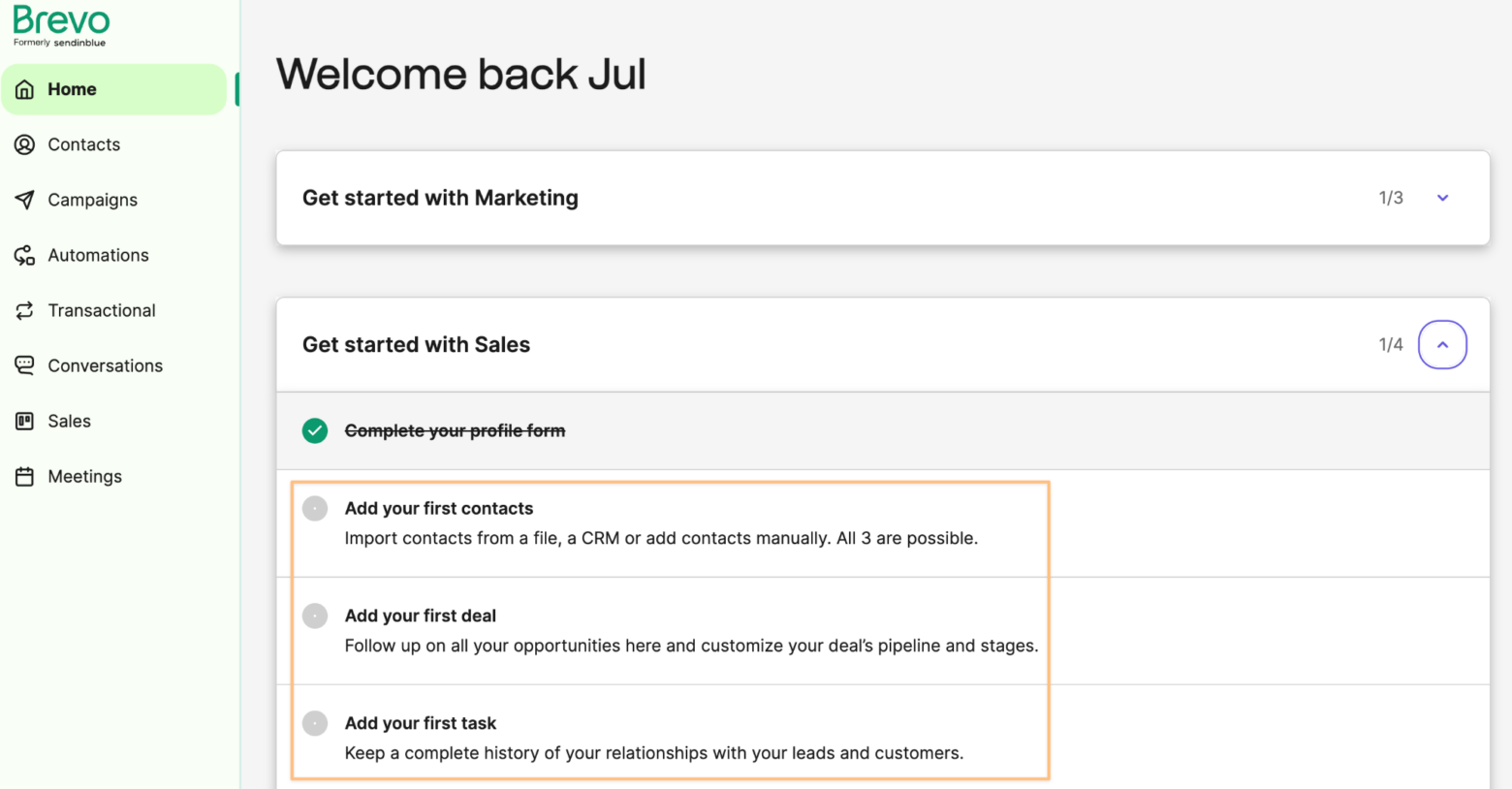 These free tools won't only support your email marketing strategy but also your entire real estate practice. Another golden bonus is its workflow automation. It allows you to do many useful things beyond sending emails. You can also use it to send SMS or branded WhatsApp messages. (Facebook Ads setup is also available, but you'll need a Business Plan to enjoy it.)
However, there are a few hitches in this free plan: You're tied to a maximum of 300 emails a day and have zero access to reporting. Paid plans are low cost, but these (save for the Enterprise plan) also have a catch: there is only one inbox per plan. It might not be that effective for a real estate firm.
Brevo Pros
Generous free plan and low-cost paid plans, starting at $25 per month
Easy-to-use email builders
Sophisticated workflow automation
Brevo Cons
One inbox per plan (except custom plans)
Low sending limit on the free plan
Deliverability rates tend to fluctuate, as we've identified in our tests
> Read our Brevo "appraisal report" here.
> Or sign up without a downpayment here for Brevo's free plan.
5. HubSpot
Hubspot is a known freemium CRM tool. With it, you can create and manage leads and deals, offer live chat support, customize capture forms and do many other things that a real estate company or professional might need.
Plus, it boasts powerful email marketing and tracking features–hence it made it to our list.
The free CRM Suite plan includes 2,000 branded emails per month and email tracking for up to 200 emails. It also allows you to customize content based on subscribers' property values in your CRM.
While group mailing is unavailable with HubSpot CRM, you can still email a handful of leads in one go with its email marketing tool.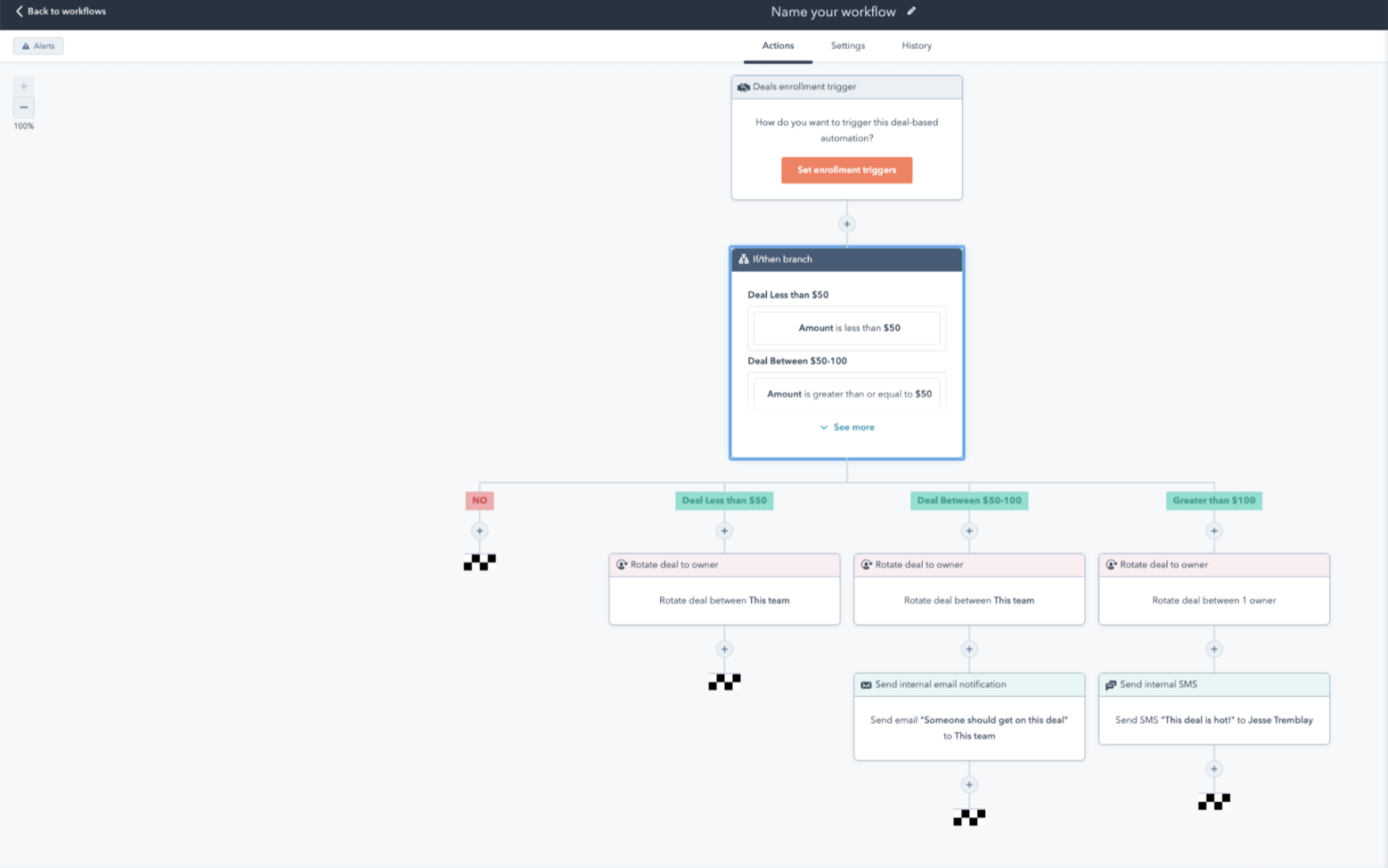 To enjoy HubSpot's legendary automation prowess, you'll have to go for a paid plan. Doing so will allow you to trigger actions based on how subscribers react to your emails. Paid plans also have other perks, such as lead scoring, sophisticated analytics, and excellent customer support. However, HubSpot's paid plans are pricey (starting at $20 per month) and rife with hidden charges.
Hubspot Pros
CRM tool with built-in email marketing capabilities that can be used for free (with restrictions)
Personalized email content
Hubspot Cons
May not be scalable due to exorbitant pricing (and plans can be confusing)
Free email marketing capabilities are limited (e.g. you're allowed to create just 1 automation)
> Read our HubSpot "appraisal report" here.
> Or sign up without a downpayment for HubSpot's free plan.
6. MailChimp
MailChimp, like ActiveCampaign, is a powerhouse for integrations and add-ons, spanning different categories. Real estate professionals and organizations can benefit from integrated analytics, contact management, customer service, and marketing tools: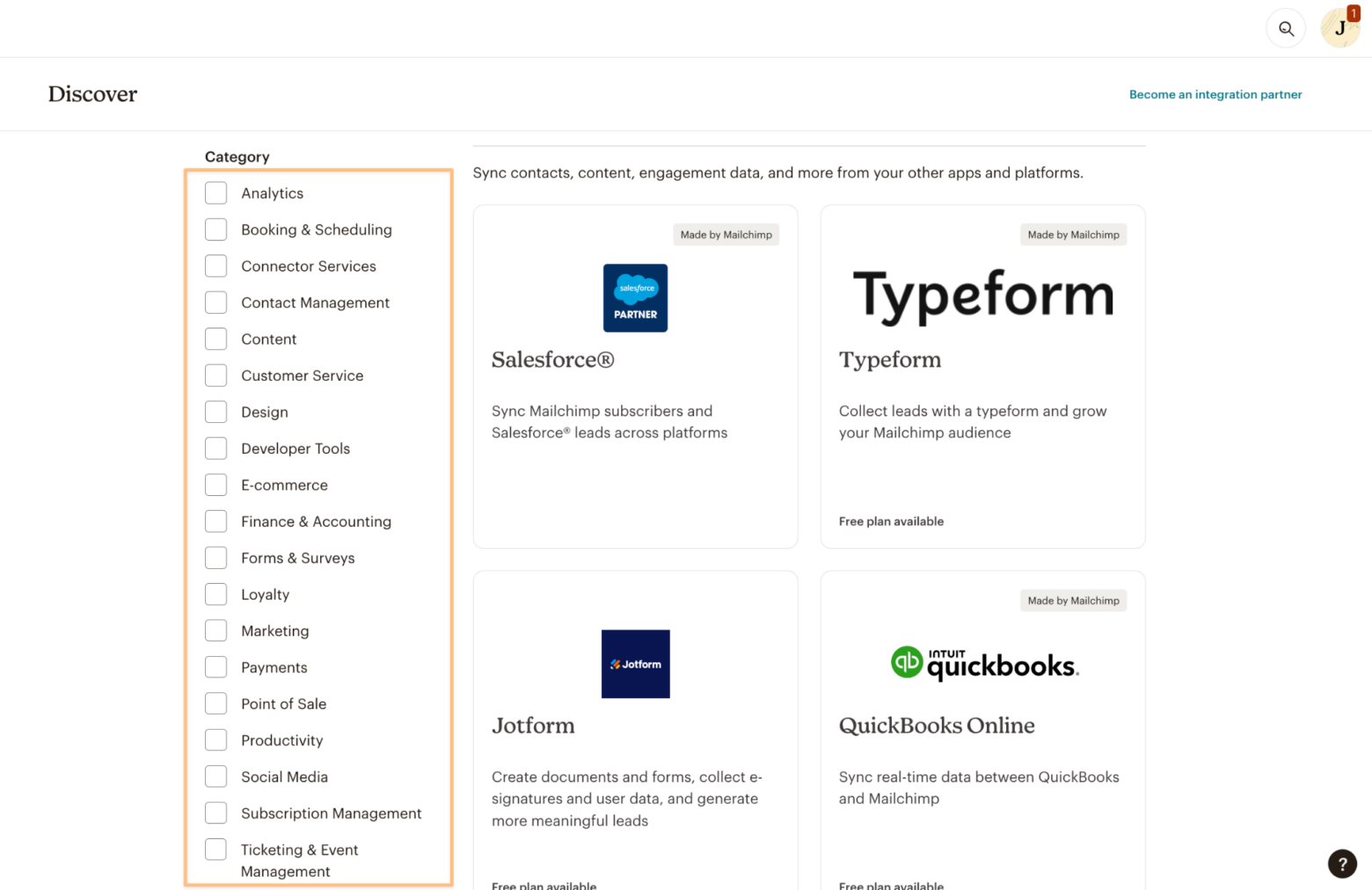 On its own, MailChimp lets you create email campaigns with its simple yet powerful editor. It also does well with email performance checks, segmentation, and automation. Best of all, MailChimp is always keeping things up-to-date. Its recent addition of appointment scheduling software is helpful for property visits and viewing purposes.
On the downside, basic features, such as email scheduling, aren't available on its free plan. This is enough reason to go for paid plans, which start at $13 per month. However, these plans get expensive quickly once your list starts growing. Another issue is that MailChimp bases its pricing on subscriber count, charging even for unsubscribed and inactive database contacts.
Pros
Wide-ranging categories of integrations
Innovative and keeps features fresh
Cons
No email scheduling on the free plan
Expensive paid plans
> Read our MailChimp "appraisal report" here.
> Or sign up without a downpayment here.
Now that you have an idea of how to pick the right email marketing software for your industry, you could use a quick guide on how to run this new marketing strategy. We'll dive into it below.
8 Practical Steps to Get Your Real Estate Email Marketing Started
1. Define the email purpose and strategy: The purpose will guide the content you put out. Setting goals, however, requires some considerations. Your target audience, professional experience, selling points, and expertise will inform the kinds of campaigns you'll run, and how you can achieve your desired outcomes.
2. Choose your email marketing software: There are many services out there, but we've selected six of the best for your industry. These tools can help segment your audience and automate your campaigns. Others have more bells and whistles, while some are more affordable. Pick one that suits your email marketing strategy, purpose, and budget.
3. Grow your email list: Planning how to build and strengthen your email list should be one of your first tasks. Make it a point to collect email addresses from website visitors, social media followers, and open house attendees. You can also motivate signups by offering free market reports, guides, or exclusive listings. To design an effective sign-up form, here are 18 tips with examples.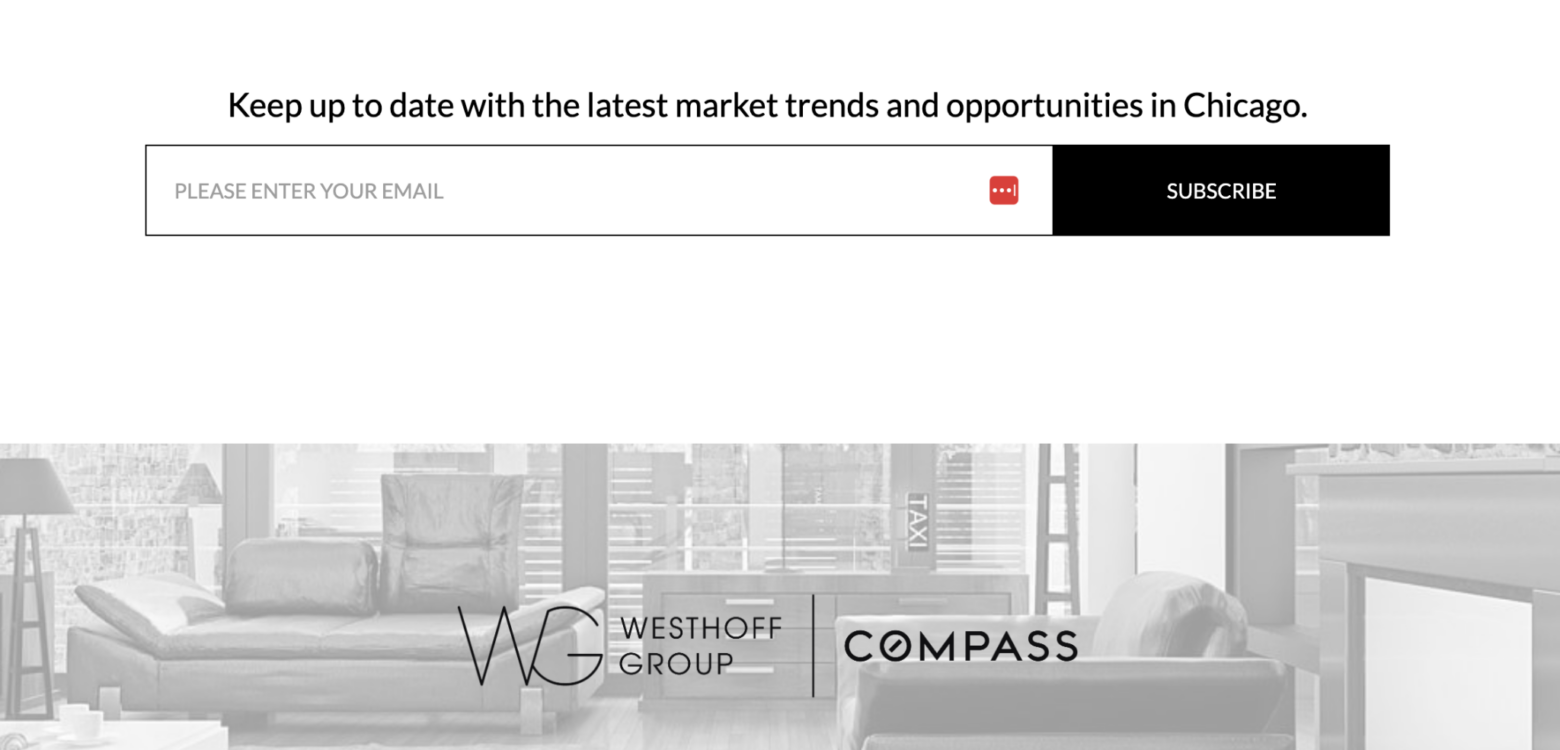 An example of a sign-up form: Westhoff Group
4. Set up a schedule and plan your content: Consider drip campaigns, market updates, home buying/selling tips, local events, featured listings, client testimonials, and other examples we've outlined above. Meanwhile, keeping your audience's attention requires a regular cadence. Once a week seems common in real estate.
5. Design mobile-friendly emails: Aside from having a clean and visually-appealing design, your emails should also be mobile-friendly. Choose an email marketing service that offers mobile-friendly templates, or allows you to upload your own.
6. Comply with regulations: Spoofed emails (spam and phishing attempts that make the message appear to come from a familiar source) can result in big losses for real estate companies and their clients. Case in point: A Memphis agency suffered a $200,000 loss from this scam. Learn about GDPR and CAN-SPAM regulations for email marketing, as well as ways to make sure your systems and servers are secure.
7. Test out different elements: A/B testing can help optimize your campaigns. And it's also the fun part–experimenting with subject lines, content formats, and call-to-action buttons to see which works best for your audience. For tips on how to do this effectively, read this article.
8. Analyze results and adapt: Regularly review different email KPIs, such as open rates, click-through rates, and conversions. Your findings should influence and evolve your strategy. This is the key to delivering valuable content consistently.
Email Marketing for Real Estate: The Bottom Line
An effective email marketing strategy for real estate professionals needs the right tool, ideas, and steps. We've covered all of these in this article.
To find the best email marketing software for your real estate business, we'd encourage you to check out our reviews and test out different platforms. Here are our picks for you, depending on your needs:
Best of luck, and happy email service provider hunting!
Our Methodology
This article has been written and researched following our EmailTooltester methodology.
Our Methodology