In today's digital age, email marketing has become an essential tool for businesses to reach their customers and promote their products or services. However, managing email campaigns can be challenging and time-consuming, especially for businesses with large customer bases. This is where an Email Service Provider (ESP) comes in handy.
What is an ESP in Marketing?
An Email Service Provider (ESP) is a digital platform that enables businesses to create, send, and track email campaigns to their target audience. ESPs provide businesses with tools to manage their email marketing campaigns, such as email list segmentation, email design templates, automation workflows, and email performance metrics tracking.
By using an ESP, businesses can create effective and personalized email campaigns, increase their email marketing ROI, and reach their email marketing strategy's goals – whether that's getting more newsletter signups, generating leads, or driving sales – more efficiently.
Is Gmail / Outlook / AOL an ESP?
The answer is no, Gmail / Outlook / AOL, etc. are not ESPs. They are generally known as "email providers". The web or mobile applications that emails are sent to and where users can check their emails can also be referred to as "email clients" or "email software". They are not designed for email marketing campaigns and automation.
Why Use an ESP?
One of the significant advantages of using an ESP is that it provides businesses with a centralized platform to manage everything involved in email marketing. This enables businesses to optimize their email campaigns, making them more effective in reaching their target audience and achieving their marketing goals.
Another advantage of using a marketing ESP is that it provides businesses with advanced email marketing features that may not be available in traditional email clients such as Outlook and Gmail.
These features include:
Email personalization
A/B testing for email subject lines and email content
Spam testing
Email analytics
Email and marketing automation
Lead capture forms
Website tracking
Audience segmentation
Another important advantage is the ability to integrate ESPs with other systems. Small-to-medium-sized companies tend to use a variety of web-based tools to manage the various aspects of their sales and marketing efforts, and it makes things a lot easier when these tools can talk directly with one another.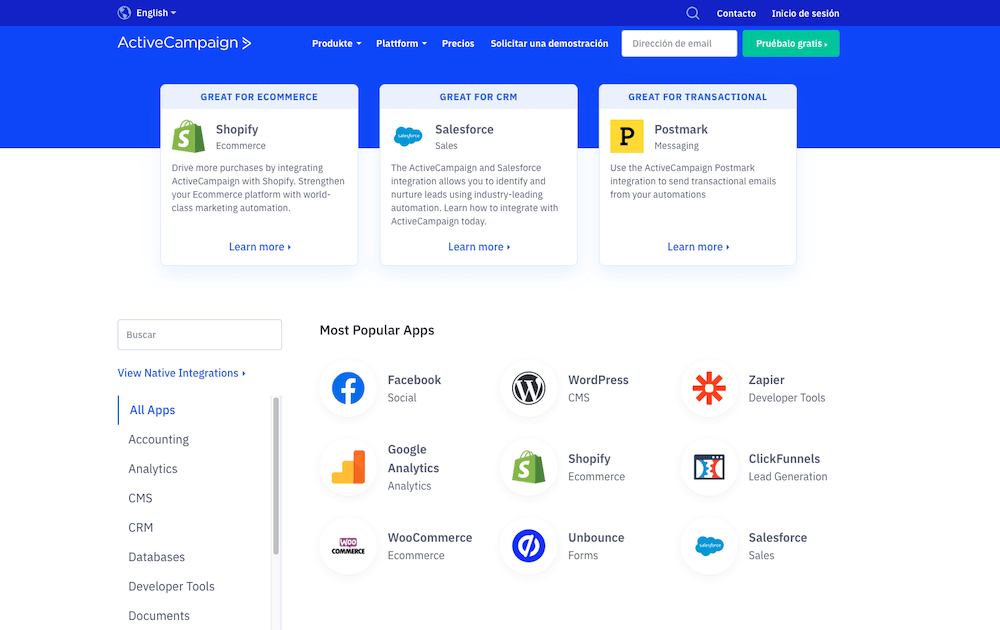 ActiveCampaign's top integrations
For example, if you run an ecommerce business and want to send out marketing emails to your customers, you'll need an email marketing tool that integrates with Shopify (or whichever ecommerce platform you might use). That way, you can tailor your emails to your customers and include relevant content (such as information about products they've purchased, recommended products, and special offers).
Contact relationship management software (CRMs), which allow you to manage leads, prospects, and sales opportunities, is also a key part of many businesses. Luckily, most ESPs will integrate seamlessly with the best CRMs for small businesses, allowing you to personalize your emails based on data saved in the contact's profile (such as their job title, or where they are in their buying stage).
By utilizing these advanced features and integrations, businesses can improve their email campaigns' effectiveness and increase their ROI.
What Email Service Provider to Choose
Choosing the right ESP for your business is crucial. There are many email service providers available on the market, each with its own set of features and pricing models. Some popular email marketing ESPs include Mailchimp (though don't forget to check out the Mailchimp alternatives first), ActiveCampaign, Constant Contact, and Brevo. When selecting an ESP, businesses should consider their email marketing goals, budget, and the features they require.
Smart Quiz: Use Our Interactive Tool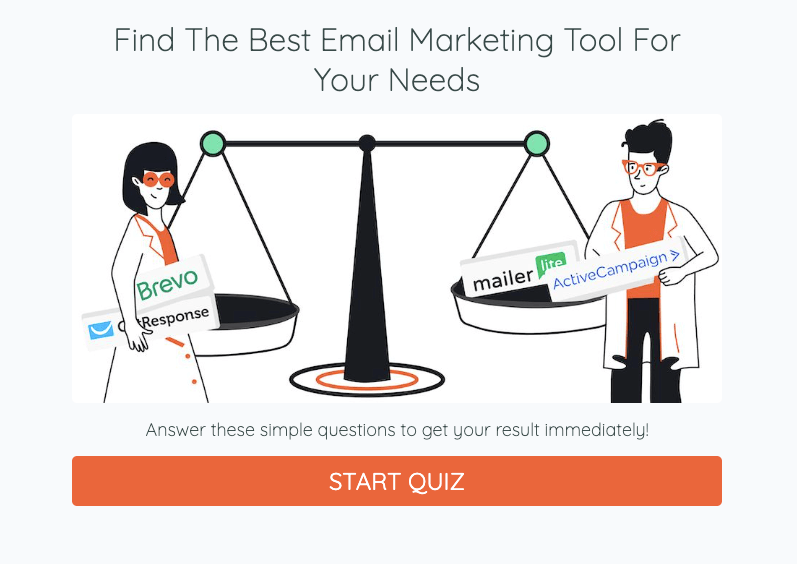 Here is a quick breakdown of the best email marketing service providers and their prices:
| Use Case | Email Service Provider | Free Option Available? | Paid Plans |
| --- | --- | --- | --- |
| Best ESP for marketing automation | ActiveCampaign | Not available for free | From $39/mo |
| Most intuitive ESP | MailerLite | Available for free | From $25/mo |
| Best range of advanced features | GetResponse | Available for free | From $19/mo |
| Great value for money | Brevo | Available for free | From $35/mo |
| Best ESP for ecommerce automation | Omnisend | Available for free | From $16/mo |
| Most features available for free | Mailchimp | Available for free | From $13/mo |
Check out our newsletter software comparison chart for more information.
Conclusion
In conclusion, an ESP is a powerful tool that businesses can use to manage their email marketing campaigns and contact lists more effectively, saving them a significant amount of time. By selecting the right ESP for their business, marketers can create successful email marketing campaigns that help them achieve their marketing goals.
If you have any questions about ESPs and their uses, drop us a comment below.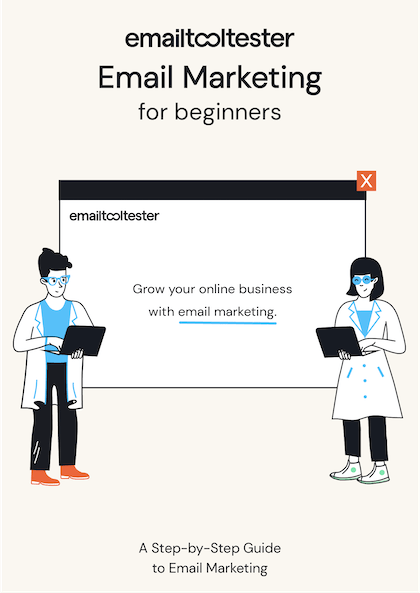 Email Marketing Crash Course: Step-by-Step Guide
Our email marketing course for beginners: ideal for small and medium-sized businesses, online stores and bloggers. It shows you all the steps you need to send your first email campaign. Best of all, it's free!
Sign up to receive your copy immediately!
We keep our content up to date
17 Jul 2023 - Added smart quiz
Our Methodology
This article has been written and researched following our EmailTooltester methodology.
Our Methodology