We're all familiar with Google, but if you're a business user, you've probably also come across Google Workspace at some stage, though you probably knew it by its former name: G Suite.
What is Google Workspace, exactly?
Google Workspace is Google's range of cloud-based office productivity tools. It initially only included Gmail, Docs, and Sheets, but in recent years, Google has also added tools like Google Drive, Hangouts, Meet Video (among many others).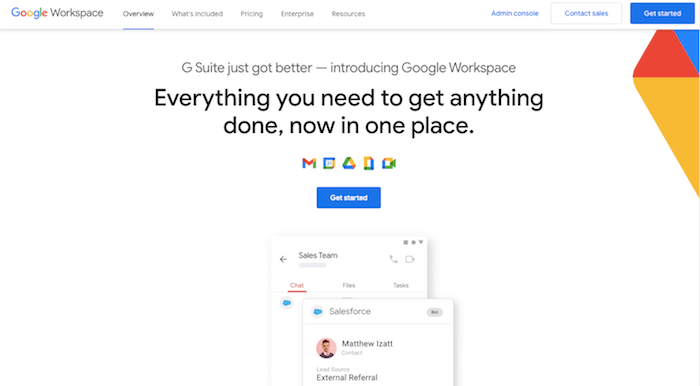 Typically, Google Workspace was seen as the cheaper option for business productivity tools, especially in relation to its biggest rival, Microsoft Office 365 (read our detailed review of the Office 365 suite here).
This has made it popular with millions of small-to-medium businesses worldwide. Higher-level plans offering advanced archiving, security and administrative features have also made it an attractive choice for larger enterprises.
The recent announcement of the shutdown of Google's G Suite Legacy account is causing a real backlash, potentially launching a class-action lawsuit. With users left in the lurch and angry, it's left many wondering: Is Google Workspace still a viable option?
Find out as we take you through everything you need to know about the new Google Workspace pricing, to help you make a decision.
Google Workspace Pricing: How much does it cost?
Google Workspace offers four main plans:
Business Starter
, which costs $6/user/month and comes with 30 GB of Google Drive storage;
Business Standard
, which costs $12/user/month and provides 2 TB of storage and extra security and admin controls;
Business Plus, which costs $18/user/month and comes with 5 TB of cloud storage and enhanced security; and Enterprise, with unlimited storage and advanced controls – you'll need to contact sales for a quote.
This might be manageable if you're a smaller business with just a handful of users.
But it could sting a little if you're a mid-large-sized business, running your entire team's email, storage and productivity tools out of Google Workspace.
Still, you might find it's worth it if what you're getting for that price meets your business's requirements. So let's take a look at what tools and features you get access to on each Google Workspace plan.
What's Included in Each Google Workspace Plan
Each plan will give you access to your own email account and all the Google Workspace productivity and collaboration tools. The main differences lie in storage allowance, security features, and the level of administrative control you have over the products.
| Google Workspace | Business Starter | Business Standard | Business Plus | Enterprise |
| --- | --- | --- | --- | --- |
| Price with 1 year commitment | $6/user/month | $12/user/month | $18/user/month | Contact sales |
| Price when billed monthly | $7.20/user/month | $14.40/user/month | $21.60/user/month | Contact sales |
| Professional email (using your own domain) | Yes | Yes | Yes | Yes |
| Google Workspace Products (Gmail, Drive, Docs, Sheets, Slides, Calendar, Hangouts, Meet, Forms, Sites) | Yes | Yes | Yes | Yes |
| File storage (pooled storage that is shared across the organization) | 30 GB/user | 2 TB/user | 5 TB/user | Unlimited |
| 24/7 support | Yes | Yes | Yes | Yes |
| App Maker | No | Yes | Yes | Yes |
| Max. number of video participants | 100 | 150 | 500 | 500 |
| Ability to record and save video & voice conferences | No | Yes | Yes | Yes |
| Live-streaming on Meet Video | No | No | No | Yes |
| Cloud Search (advanced enterprise-wide search through Gmail, Drive, Docs, etc.) | No | Yes | Yes | Yes |
| Advanced enterprise controls (data loss prevention, security center, security key management, etc.) | No | No | No | Yes |
| Alerts for changes to Drive documents | No | Yes | Yes | Yes |
| Google Vault security (archiving for mail and chat messages, export features, etc.) | No | No | Yes | Yes |
| Ability to set rules for device management | No | No | No | Yes |
Which Google Workspace Plan Should You Choose?
Google Workspace Business Starter
This plan would be a good option if:
You're a freelancer, solopreneur or small business owner who manages a small team (i.e. less than 5 employees)
You want an email address on your own domain
You want to run your office tools out of Google (e.g. as opposed to Microsoft Office)
You don't work with large file formats and don't need a huge amount of space to store files and emails
You don't need archiving for your emails and chat messages, or advanced admin and security controls
However, if you have a bigger team and/or don't think the 30 GB of personal storage will cut it, then it's worth considering one of the higher plans.
Google Workspace Business Standard
The $6/user/month price difference between Google Workspace Business Starter and Business Standard means that the Standard plan may not be a realistic option for some businesses. However, we'd recommend this plan if:
You manage a medium-to-large sized team
You want access to all the features of Google Workspace Business Starter, but also want email and message archiving (Google Vault)
You don't want to worry about running out of storage space for your files (2 TB should be enough for most small businesses)
Easily syncing and sharing files across teams/the company is important to you
You plan to use Google Hangouts for video conferencing and would have less than 150 participants on any call
You don't need advanced admin and security controls (e.g. data loss prevention, security key management)
Of course, if you need even greater control and more advanced security features, then Business Plus would be the way to go.
Google Workspace Business Plus
At $18/month/user, this plan is directed at larger businesses. We'd recommend it if:
You are in need of more advanced security features
2 TB per user isn't enough for you. The Business Plus plan allows for 5 TB per user
You regularly host very large video conferences with up to 500 participants
Google Workspace Enterprise
This is ideal for businesses and enterprises that need the features offered by Google Workspace Business Plus, but also:
Have larger teams, and therefore require greater admin and security controls over their Google Workspace apps
Need advanced security features such as device management rules, security key management and data loss prevention
Aside from having access to email archiving via Google Vault, need to be able to integrate with third-party archiving tools like Barracuda or Mailstore
The good thing is that you can purchase different plans for different users within your business. For example, if you only want Enterprise for some of your users, you don't have to commit your entire team to it. This could help you reduce your monthly cost significantly.
There are also special plans available for schools (Google Workspace for Education and Google Workspace Enterprise for Education), and non-profits (Google Workspace for Non-profits).
Plans can be billed monthly or annually.
Google Workspace Pricing: Final thoughts
After taking this all in, you might be wondering, is Google Workspace worth it?
Well, there are a few things to consider here. Firstly, Google Workspace Business Starter and Business Standard are still more affordable than comparable plans for Microsoft Office 365.
Plus, you're looking at a fairly complete suite of office productivity applications and email, plus some generous storage allowances (especially on Google Workspace Business Standard).
As you've seen, there is a range of plans catering to different budgets and requirements, meaning that you have a good chance of finding one that's right for you.
Sure, we wouldn't recommend it if you were only looking for an email hosting solution for your business (there are other providers that are much cheaper, e.g. Namecheap).
But in our view, you get a decent amount for what you're paying – enough to be able to comfortably run many of your business's key functions through Google Workspace.
Still have questions about Google Workspace? Or want to share your experience with it? Leave us a comment below.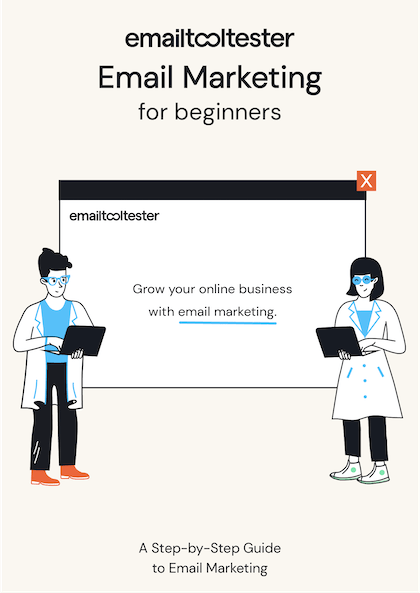 Email Marketing Crash Course: Step-by-Step Guide
Our email marketing course for beginners: ideal for small and medium-sized businesses, online stores and bloggers. It shows you all the steps you need to send your first email campaign. Best of all, it's free!
Sign up to receive your copy immediately!
We keep our content up to date
28 Sep 2023 - Added new monthly prices and other smaller details
08 Jan 2023 - Added information about forwarding email addresses
07 Feb 2022 - Added note about Essentials Starter plan
25 Jan 2022 - Added note about G Suite legacy free edition
22 Feb 2021 - Updated names of plans and features
15 Oct 2020 - The name was updated from 'G Suite' to 'Google Workspace'
Our Methodology
This article has been written and researched following our EmailTooltester methodology.
Our Methodology