How many hours of work have been put into Big Tech companies by their employees and how has this contributed to their growth?
Big Tech companies all had to start somewhere. There is no such thing as overnight success and to make it big requires a lot of time and effort from both founders and employees.
The latter is what our 'Human Hours' project focuses on: how many hours of work did it take to build big tech and help them achieve big financial milestones?
We think it's important for all entrepreneurs to recognize that success comes from a team, and want to put into context the amount of effort that has gone into making some of the most aspirational names in tech.
This study reviews salaries, revenue, and employee information across some of the largest Big Tech companies in the world to calculate the human power required to succeed.
Key findings
Netflix hit $100 billion in total revenue in the fewest amount of employee hours, at over 107 million hours, followed by Meta with over 148 million hours.
Alphabet (formerly Google) took the fewest amount of employee hours to get to $1 million in total revenue at 5,961 hours.
Netflix has the highest revenue per hour of employee's time at $1,319, closely followed by Apple ($1,284).
Samsung and Alphabet (Google) added the most employees in their first 10 years (21,896 and 16,802 respectively).
OpenAI had more employees in its 8th year (2022) than Microsoft did in 8 years of business (335 vs 220).
OpenAI's first 10-year employee growth (17,500%) is estimated to be a higher percentage increase than Netflix (4,233%) and Samsung (15,982%) in their first 10 years.
Amazon has the most employees out of all Big Tech organizations and had exponential growth during the pandemic, doubling its workforce from its 26th to 28th year (2019-2021) of business.
Human hours worked at Big Tech companies
To set the scene, it's good to get an overview of just how many employees work at these Big Tech companies and approximately how many hours they may spend at these jobs. Of course, these hours vary greatly, but we took the average amount of hours for the tech sector, from the U.S. Bureau of Labor Statistics, and applied that to the latest employee figures.
Samsung, the oldest company in our analysis, leads the way with over 14.6 billion hours worked by its employees since its inception in 1969. The online ecommerce giant, Amazon (initially called Cadabra) started much later in 1994 but is not far off the electronics leader in terms of the number of employee hours at almost 14 billion.
Smaller tech businesses like Shopify and newcomer, OpenAI, help to provide useful comparisons between other giants as they have far fewer employees but still manage to pull in hundreds of millions of dollars.
Business
Employees
(2022)
Employee hours worked
(2022)
Employee days worked
(2022)
Employee hours worked
(Inception to 2023) ↓
Employee days worked
(Inception to 2023)

Samsung Electronics
(est. 1969)

339,420
635,564,814
16,948,395
14,698,822,569
391,968,602
Amazon
(est. 1994)
1,541,000
2,885,522,500
76,947,267
13,996,911,794
373,250,981
Microsoft
(est. 1975)
221,000
413,822,500
11,035,267
4,709,910,411
125,597,611
Apple
(est. 1976)
164,000
307,090,000
8,189,067
3,379,423,530
90,117,961
Alphabet (Google)
(est.1998)
190,234
356,213,165
9,499,018
2,220,705,732
59,218,820
Tesla
(est. 2003)
127,855
239,408,488
6,384,226
892,011,708
23,786,979
Meta (Facebook)
(est. 2004)
86,482
161,937,545
4,318,335
696,895,881
18,583,890
Netflix
(est. 1997)
12,800
23,968,000
639,147
152,064,220
4,055,046
Shopify
(est. 2006)
11,600
21,721,000
579,227
82,313,963
2,195,039
Spotify
(est. 2006)
8,359
15,652,228
417,393
67,784,800
1,807,595
OpenAI
(est. 2015)
335
627,288
16,728
4,185,168
111,604
Employee growth over time in Big Tech
Employee growth looks very different across our analyzed businesses. The newcomer, OpenAI, had but a few hundred employees in 2022, whereas tech giant, Amazon, had over 1.5 million.
You can see Amazon's exponential growth in the company's 26th-28th year, where it doubled its workforce from 798,000 to over 1.6 million. No other tech companies come close to that. At the five-year mark, Amazon had 2,100 employees, Samsung had 2,000, and Apple had the third highest at 1,000.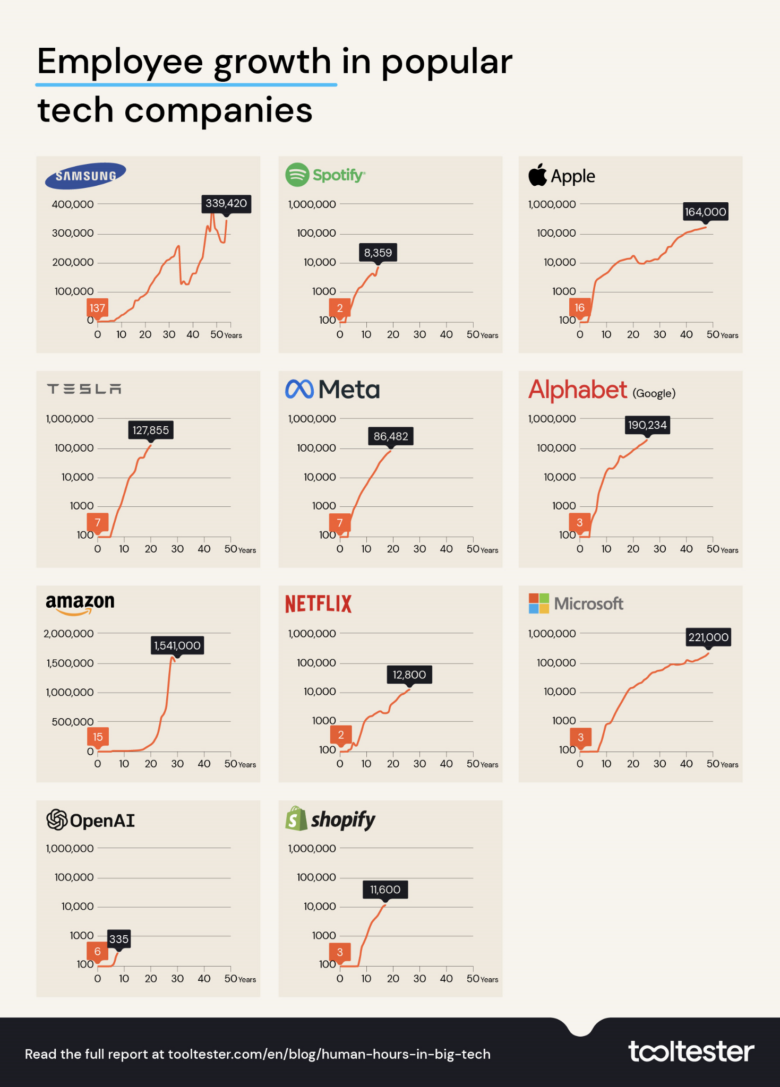 At the 10-year mark, Samsung has far more employees than Amazon (22,033 vs 7,800), and Google is in second position with 16,805 people. While OpenAI hasn't hit ten years yet, in its eighth year (2022) the AI company had 335 employees which was actually more than Microsoft did at that point (220).
While Shopify has a sharp employee growth at over 53,233%, this is due to the business having just three employees in its early days and later growing in 2009 and 2010 to 40 and exponentially growing from there to 1,900 in 2016.
Business
Employee Growth
Over First 10 Years of Business
Employees Added
in First 10 Years of Business
Alphabet (Google)
560,067%
16,802
Spotify
147,900%
2,958
Meta (Facebook)
90,429%
6,330
Shopify
53,233%
1,897
Amazon
51,900%
7,785
Tesla
42,243%
2,957
Microsoft
28,567%
857
Apple
28,400%
4,544
Samsung
15,982%
21,896
Netflix
4,233%
1,270
OpenAI
17,500%*
1,050*
*Growth projection based on data from the previous 8 years.
For those companies that have been around for two decades, we see an average employee count of 66,262, ranging from 117,300 at Amazon to 4,700 at Netflix.
Only three companies in our analysis have 30 years of employee data. At this point, Samsung was employing 212,000 people, Microsoft 57,000, and Apple had a more modest headcount of 16,820.
OpenAI projected growth
As OpenAI is the tech newcomer in our analysis, we isolated their data and projected what the next five years could look like based on their current growth trajectory. Their first ten-year growth would put them above Netflix and Samsung in terms of the percentage increase in employees. They are also projected to increase their overall employee headcount by 1,050, more than the 857 Microsoft achieved in the same time frame.
This growth could likely be exponentially bigger than our projections show as their ChatGPT product exploded in 2023 putting the company truly on the map. A truly accurate projection for any of these Big Tech businesses is challenging in 2023 due to the mass sector layoffs that happened throughout the year.
How many human hours did it take tech companies to reach financial milestones?
Analyzing historical revenue and employee figures from financial reports, we can see how many hours of work it took these businesses to hit certain milestones, from $1 million to $100 billion.
An important note here is that the same data was not available for all companies due to financials not being disclosed at certain points of growth, or in the case of OpenAI, they're too new to have hit certain revenue amounts.
Human hours to reach $1 million
Separate studies show it takes the average billionaire tech entrepreneur approximately 4.8 years to hit their first $1 million. While this may be aspirational for us looking to grow our tech businesses, it's important to note that these entrepreneurs didn't get there on their own.
In fact, our data analysis shows that Alphabet (then Google) needed 5,961 hours of human effort to hit their first million, which was substantially quicker than any other tech business in our research, with Shopify the second-quickest at just 16,365 human hours.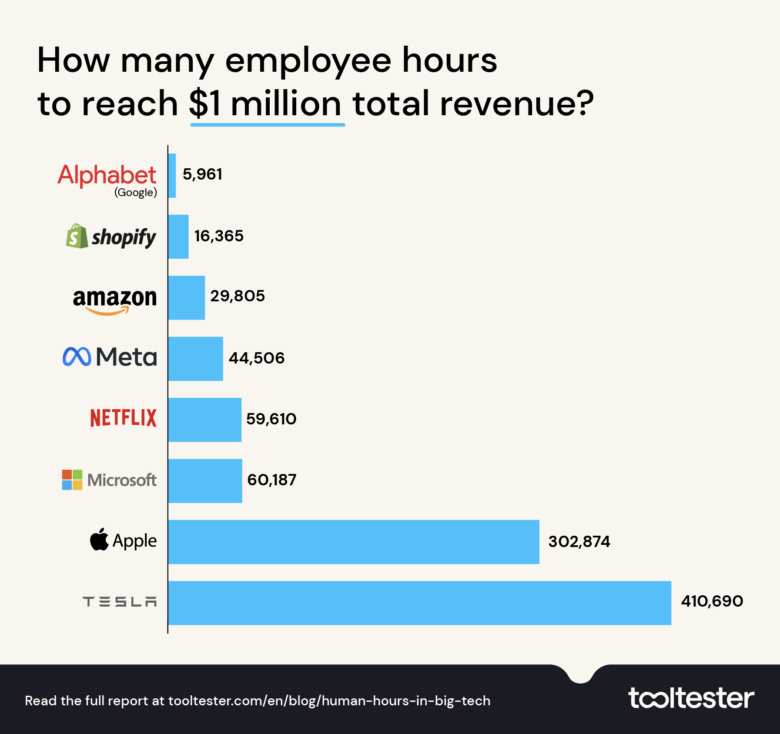 Note: Similar data was not publicly available for Spotify, OpenAI, and Samsung.
Apple took slightly longer than other businesses as they only made around 200 of their first Apple I computer, which was replaced in 1977 by the Apple II which became a huge commercial success, pushing them well past $1 million in revenue to well over $8.6 million in 1978. Their first computer introduced them to the tech world and primed an audience for complete disruption.
Human hours to reach $100 million
How many hours of work did it take employees of these tech companies before revenue reached $100 million?
Alphabet (Google), the world's third largest tech company continues to lead the way at this point, with under 84,000 hours of work put into the company before it hit $100 million total revenue in 1999 with 39 employees.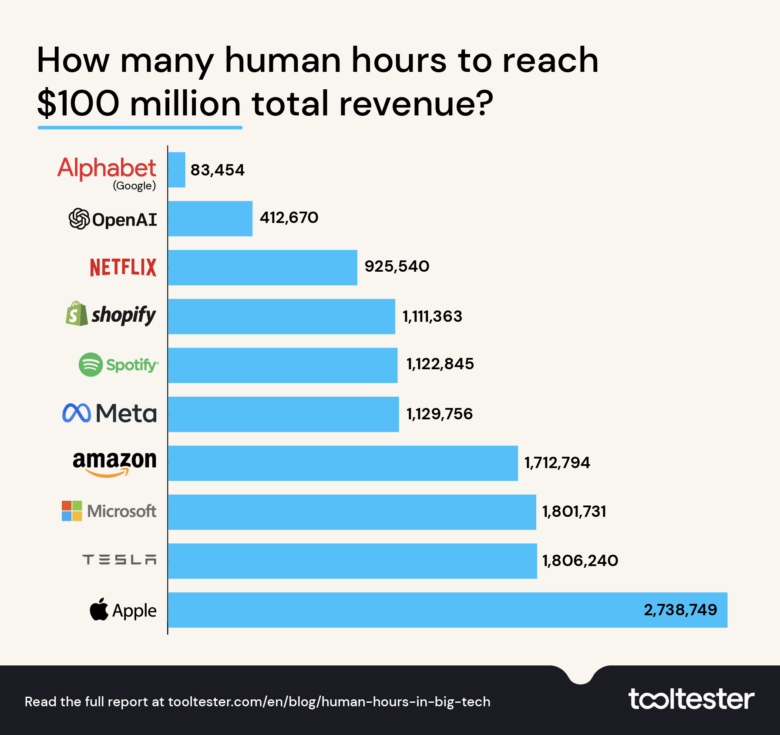 Note: Similar data was not publicly available for Samsung due to fewer annual revenue figures in the first 30 years.
Extra (and newer) data on OpenAI allows us to see just how significant the growth of this tech company has been compared to many other giants in the industry.
OpenAI surpassed the $100 million total revenue milestone in 2019, four years after its beginning, with approximately 100 employees. 2019 saw the AI company partner with Microsoft and officially move into a for-profit model.
Human hours to reach $1 billion
What makes a billion-dollar tech company? Employees working tens of millions of hours, it turns out.
Netflix managed to cross the magic $1 billion threshold with the fewest amount of employee time (2.76m hours) closely followed by Alphabet (3.36m hours) and Spotify (4.03m hours).
Perhaps unsurprisingly, the most common trend throughout this analysis is that those tech companies with physical products and manufacturing responsibilities require more employee time to hit revenue milestones.
While Alphabet's Google sells physical smart home devices, smartphones, and other consumer tech now, the vast majority (77.6% at the end of 2022) of its revenue comes from advertising. Cloud computing and other software (e.g. Google Workspace) are also negligible in terms of revenue.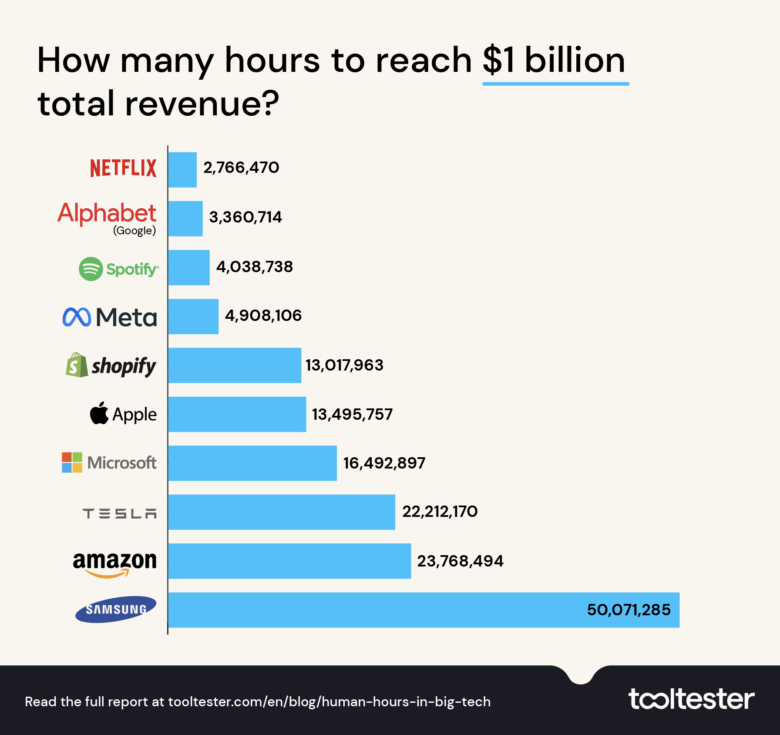 Note: Similar data was not available for OpenAI as they have not yet reported $1 billion in total revenue.
Human hours to reach $100 billion
Netflix still remains up front at this milestone with over 107 million employee hours propelling them to the $100 billion total revenue mark. We now see Meta (Facebook) climbing the rankings, hitting $100 billion in the second-fewest hours, with over 148 million employee hours put in across its various businesses to help make it the tech giant it is today. Reports show Meta hit $100 billion in revenue in 2017, 13 years since its inception.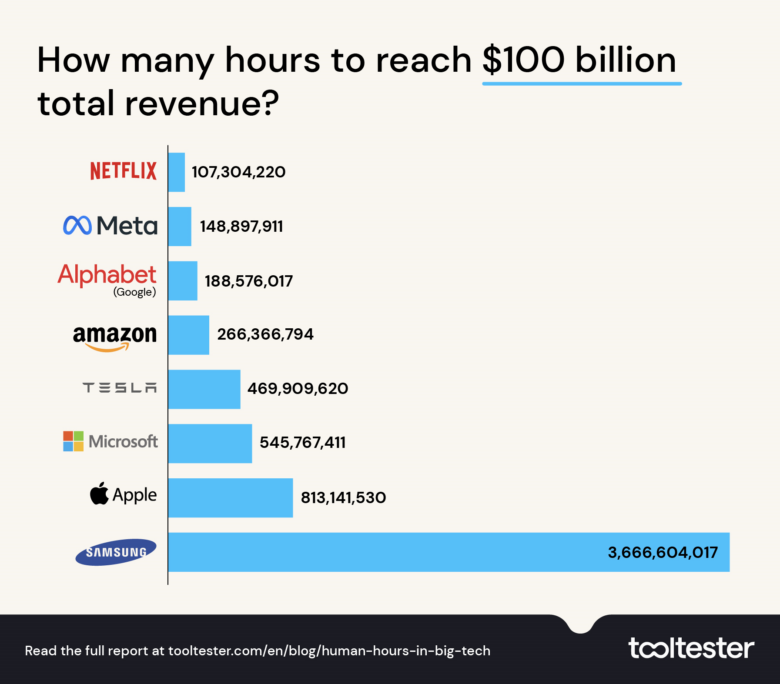 Note: Similar data not available for Spotify, Shopify, and OpenAI as they have not yet reported on $100 billion total revenue.
Musk's Tesla hit the $100 billion mark in 2020 after a record-breaking 2019, with 469 million employee hours worked up to that point since 2003.
Revenue per hour of employee time
Using this data, we can also find out how much annual revenue is generated per employee in these companies to highlight the vast contribution of the individual in building Big Tech businesses.
The graph below reveals the full revenue per employee hour in 2022 across the tech businesses analyzed compared to the average hourly wage.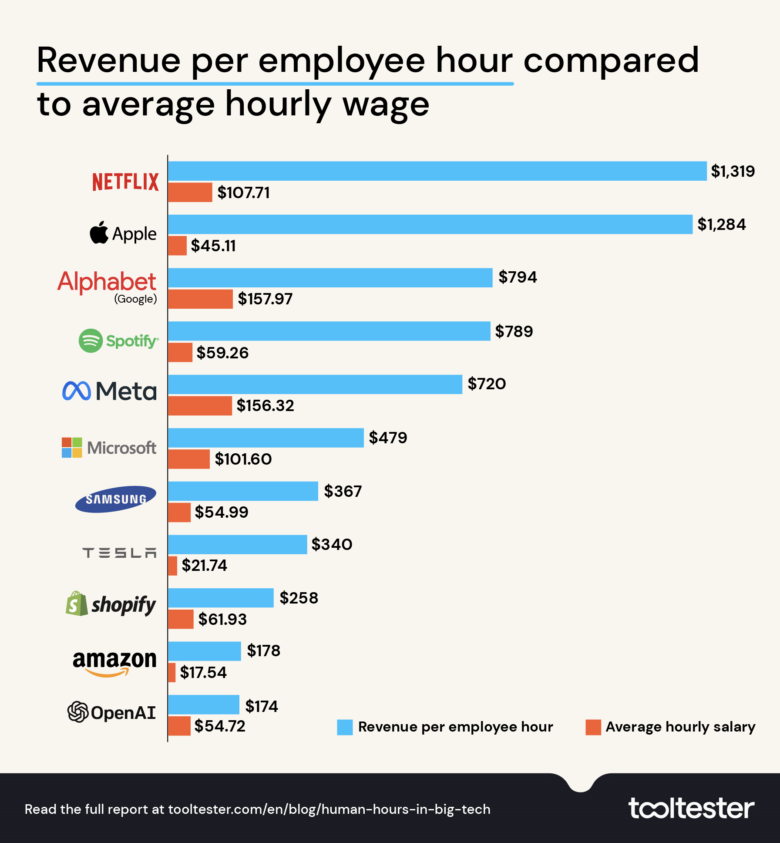 Rounded to the nearest dollar, Netflix has the highest revenue generated by one hour of employee time at $1,319. 2022 figures show the streaming giant had around 12,800 employees, paid an average of $107 per hour, accumulating over 23.96 million hours of time worked.
Just behind Netflix was Apple with $1,284 earned per employee hour, across its workforce of approximately 164,000 people, paid an average of $45/hr, in 25 different countries.
While Alphabet (Google) is often the fastest business in this analysis to hit big financial milestones, its employees' hourly contribution to revenue is behind Netflix and Apple. Alphabet's revenue earned per employee is nearly identical to Spotify's interestingly. The music streaming giant achieved $1 billion in far fewer human hours however.
Has this inspired you to grow your tech business further? Take a look at how email marketing can help to grow startups with our comprehensive guides.
Methodology
Popular and influential Big Tech businesses were chosen from a range of online rankings, (such as the Fortune 500 tech companies, Top 15 tech companies, 10 most valuable tech companies) and those that featured prominently in tech news in 2022 and 2023.
Some businesses, like TikTok, were considered for the study, but the lack of financial data meant a comparative analysis could not be created. This was often the case for many Chinese-owned Big Tech companies. Samsung data for 1969 reflects Samsung Holdings which included Samsung Electronics as it was formed in this year. The rest of the Samsung data refers to Samsung Electronics division exclusively.
Financial and employee data for each company was collated from industry news reports, earnings reports from each company filed, and other financial sources listed in the spreadsheet below.
Average salary data primarily came from SEC Annual Reports relevant to the Securities Exchange Act Of 1934, such as this one for Apple. Spotify and Samsung salary data were supported by Payscale analytics, and OpenAI salary information came from Salary.com. To calculate the average hourly wage, these annual salaries were divided by the average number of tech employee hours per week over time, according to data from the U.S. Bureau of Labor Statistics. Average annual tech worker hours took the BLS' average for 50 working weeks and assumed two weeks would be unworked for paid vacation, as shown by the BLS.
In some instances, financial and employee data was not publicly available for every single year a business has been running. In these cases, we used various formulas to average and forecast across annual gaps to fill in patchy data to get from one financial report to another.
Sources
The full list of nearly 100 sources for employee and company financial data that supported this analysis can be viewed in this Google Sheet.
---

This work is licensed under a Creative Commons Attribution 4.0 International License.
---
We keep our content up to date
11 Aug 2023 - Small update
Our Methodology
This article has been written and researched following our EmailTooltester methodology.
Our Methodology