If you're not happy with Mailchimp but can't decide between the two relatively new players, MailerLite and ConvertKit, you're not alone!
In a sea of endless email marketing automation options, businesses and creators are seeking simplicity and flexibility.
Many of us look for an email marketing tool that offers the "complete package," especially if you're a small business owner who doesn't have a lot of time to spend on a complicated email marketing strategy.
However, opting for a complete package might also lead to complicated features or paying for things that your business doesn't need at this stage.
Fortunately, both MailerLite and ConvertKit offer simple but robust packages that are perfect for those looking for a modern email marketing service.
Which one should you choose? It all depends on your needs.
Our in-depth reviews of MailerLite and ConvertKit offer a detailed analysis of the tools as a whole, but this MailerLite vs ConvertKit head-to-head will tell you exactly how each tool matches up to its competitor.
MailerLite vs ConvertKit: Summary
MailerLite wins if you're looking for a simple yet more complete package with easy-to-use editing tools. It's made for business owners, as opposed to ConvertKit, which is an email marketing tool for bloggers and creators. Both come with some interesting features such as a landing page editor and marketing automation, but how do they actually perform?
Ease of Use and Editor
Both MailerLite and ConvertKit want to be easier to use than Mailchimp. While setting up is pretty easy with both tools, if you're looking for an easy-to-use visual editor, only MailerLite succeeds in this regard.
Both services have pretty simple and easy-to-use dashboards. MailerLite lets you access all the main features from the get-go right from its jargon-free dashboard. ConvertKit is also straightforward, perhaps because it has fewer features. However, when it comes to actually creating emails, MailerLite comes out ahead.
MailerLite's editor is actually our favorite of all the tools we've tested!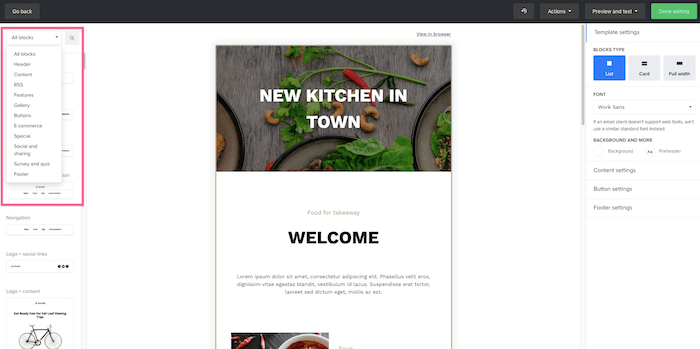 ConvertKit's lack of a drag and drop editor makes designing emails a clunky process, where the desired outcome isn't often reached. This is ironic seen as it's marketed as a tool for creators.
Winner: MailerLite wins this round for usability: 1-0
Design and Flexibility
MailerLite offers a drag-and-drop editor, unlike ConvertKit, which has a bare-bones, text-based email editor. If you wanted to edit a ConvertKit template, you'd be better off knowing some HTML/CSS.
Even if you're not a designer, MailerLite's ease of use and flexibility make it easy to create beautiful emails due to their range of content blocks and design options. Templates are available on MailerLite's paid plan and the 14-day premium trial.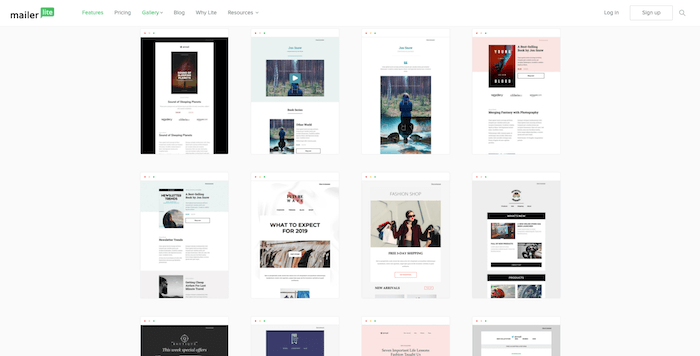 You get 74 pre-designed templates, and you can even pick a particular type of campaign (for example, events). It's pretty easy to customize the template to match your brand using the rich text editor, but if you know HTML/CSS, you can do it that way (but it's not necessary). If you want to, you can create templates from scratch using the drag-and-drop editor. It doesn't get much easier than that.
ConvertKit likes to keep things super simple by just offering plain-text email templates – they do this to ensure good deliverability rates (more on that below).
You can change colors, fonts, and button styles, but not too much more. If you wanted to add videos and images, you'd have to know HTML/CSS.
Winner: MailerLite for more flexibility and options: 2-0
Email Automations
Both MailerLite and ConvertKit offer good email automation features in case you wanted to spend a day at the beach.
MailerLite lets you create a multistep workflow using its visual builder. These can be based on campaign actions, such as opens and links clicked, or conditions based on custom fields and segments.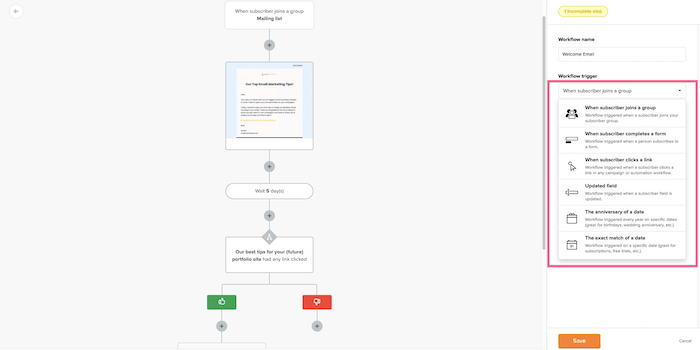 The editor is easy-to-use, and it's included on MailerLite's free plan, whereas you'll have to pay for automation with ConvertKit.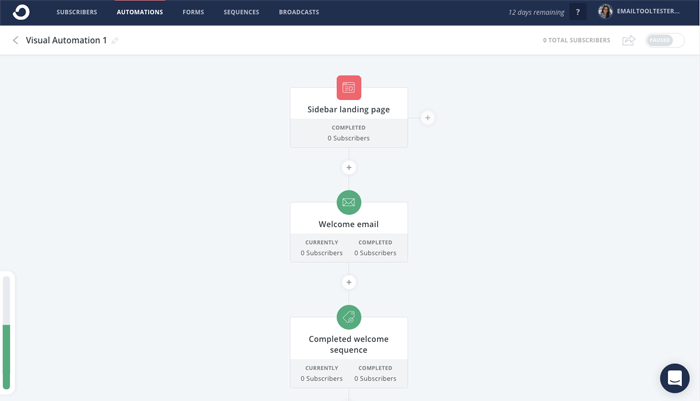 With ConvertKit, you can also create email sequences and workflow-based visual automations. One of the coolest features is that you can customize your communications using tags for different events (e.g. when a user clicks a link or subscribes to a form). If you wanted to do that with MailerLite, it's a bit more work.
Winner: Both ConvertKit and MailerLite do a good job when it comes to automation, which is why they both get a point. However, if you need more complex automations, take a look at these tools: 3-1
Registration Forms
In order to build your list of subscribers, you need a sign-up form, of course. With both MailerLite and ConvertKit, you can create GDPR-compliant forms and landing pages (even if you don't have a website).
Both offer pop-up, slide-in and embedded forms that are simple and sleek. If you want to customize forms, however, MailerLite is the better option. Like with most things in ConvertKit, a lack of options means making any changes is a frustrating process.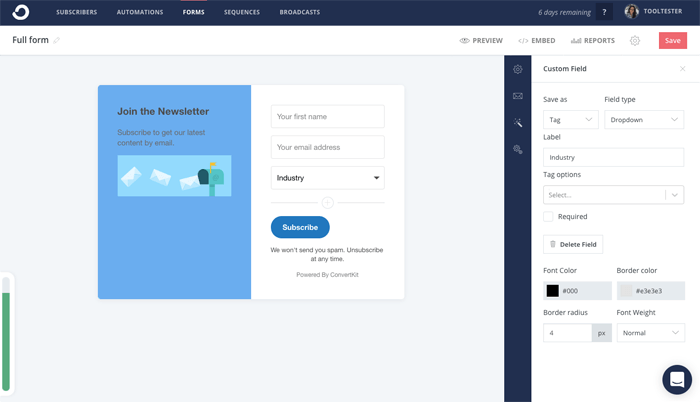 Winner: MailerLite wins for customization: 4-1
Spam and Design Testing
MailerLite lets you preview your emails on desktop and mobile, but that's as far as it goes. ConvertKit only gives the option to preview on desktop, which means you can't be sure if your emails are responsive. Spam testing is also not available, but it checks and flags emails for links that may cause emails to go to spam (like short URLs and PayPal links).
Winner: No winners here, as spam and design testing are pretty much non-existent in both.
Landing Page Builder
Though both include a landing page builder on their free plan, the options available in each tool are quite different.
MailerLite offers many more landing page templates, plus the option to add more elements to up engagement and conversions, like videos, quizzes, testimonials and image carousels.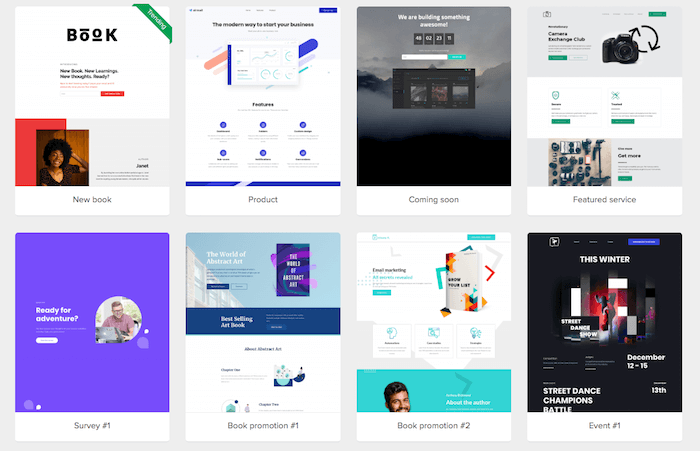 ConvertKit lets you change colors and styles to match your brand, but that's pretty much it. You can't even hyperlink an image, which seems like something pretty standard. As with the email editor, there is no way to easily move elements around the page.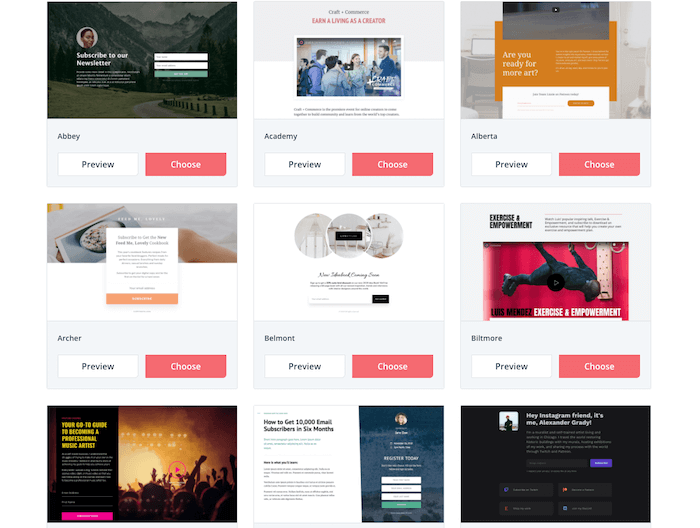 Winner: MailerLite gets a point here for user experience and design options: 5-1
Reporting
While MailerLite doesn't offer social media or email client stats, it does offer data for opens, clicks, unsubscribes, and devices. You can also track purchases for Shopify and WooCommerce.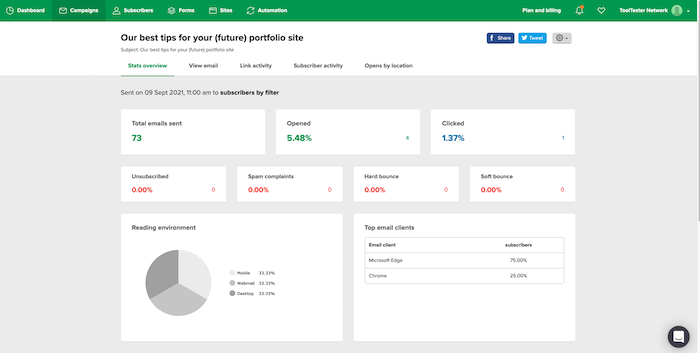 ConvertKit's reporting is really basic, offering only click rates, open rates, unsubscribes, and you have to view stats for specific emails – there isn't a dashboard to see your overall stats.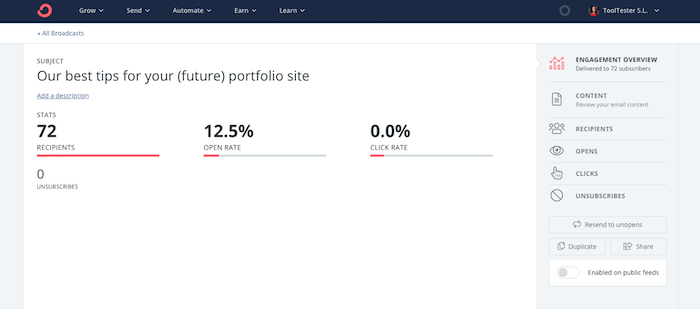 Winner: MailerLite wins again: 6-1
Deliverability
It's imperative that the email tool you select has good deliverability, otherwise all your efforts leading up to sending your campaign will have been for nothing.
We've been tracking the deliverability of the providers we review for a number of years.
Here are the average figures of how they performed in our last 3 rounds of bi-annual deliverability tests (Mar 2021 – Jan 2023):
| | MAILERLITE | CONVERTKIT |
| --- | --- | --- |
| Overall Deliverability Rate | 95.24% | 88.16% |
Winner: It's a close one, but the point ultimately goes to MailerLite for its slightly higher deliverability rate. In fact, MailerLite has won the top score for a number of recent rounds: 7-1
Integrations and Extras
ConvertKit has about 90 integrations including Shopify, Stripe, WooCommerce, SumoMe, ConvertPlug, Wix, WordPress, and other big names you'd expect. You can use it with Zapier too, which opens up a ton of other options. However, it doesn't integrate with any major CRMs, surprisingly. Its website mentions some "integrations" that aren't quite seamless: you'd have to copy and paste the HTML code.
MailerLite also offers plenty of integration options (Shopify and WordPress, for example), and Zapier. It gives you access to the developer API, so you can use it with other apps.
Both are listed in our top email marketing tools for Shopify if you'd like to see how they compare.
Winner: It's a tie: 8-2
Support
Both offer support via email and chat. ConvertKit has been pretty responsive and knowledgeable.
MailerLite's support is also very good. They have the same few agents who get back to you with thoughtful and detailed responses.
Both services have pretty good tutorials or help articles for those who prefer self-help.
Winner: Pretty close tie here, although MailerLite has a better knowledge base: 9-3
Prices
Both offer a free plan if you have less than 1,000 subscribers. ConvertKit's free plan offers unlimited emails, landing pages and forms, while MailerLite's free plan gives you an allowance of 12,000 emails (still pretty generous) and is limited to 10 landing pages.
When you get to the paid Growing Business plan, MailerLite offers landing page and email templates (no templates are included on the free plan), unlimited emails, priority email support and the ability to remove MailerLite's branding.
ConvertKit's free plan allows you to sell digital products and subscriptions (a feature available on MailerLite's paid plans) and its paid plans come with integration options like API, automated email sequences and funnels, link corrections for sent emails, deliverability reporting, and free migration from another tool.
Let's take a look at their lowest-level plans to compare:
| | MAILERLITE | CONVERTKIT |
| --- | --- | --- |
| Free plan | 1,000 subscribers | 1,000 subscribers |
| 2,500 subscribers | $25/mo | $49/mo (for 3,000 subscribers) |
| 5,000 subscribers | $39/mo | $79/mo |
| 10,000 subscribers | $73/mo | $119/mo |
| 25,000 subscribers | $159/mo | $199/mo |
| 50,000 subscribers | $289/mo | $379/mo |
| 100,000 subscribers | $440/mo | $679/mo |
Winner: MailerLite wins this round for value for money and affordability.
The final score is 10-3, crowning MailerLite the overall winner.
Detailed Features Comparison (Table)
Ease of Use
Editor
Personalization
Email types
Choice and Flexibility of Template Designs
Email Marketing Automation
List Management
Registration Forms/ Opt-in & Opt-out- Process
Deliverability
Reports and Analysis
Languages
Spam- and Design-Testing
Bounce Management
Blocklist
Storage available for data and images
Unlimited
Unlimited
Authentication
Own Domain
Different levels of account access
Integrations
Landing Page Builder
Customer Support
Prices

Up to 1,000: $0/mo

Up to 2,500: $25/mo

Up to 5,000: $39/mo

Up to 10,000: $73/mo

Up to 20,000: $139/mo

Up to 30,000: $189/mo

Up to 40,000: $249/mo

Up to 50,000: $289/mo

Up to 300: $0/mo

Up to 300: $15/mo

Up to 1,000: $29/mo

Up to 3,000: $49/mo

Up to 5,000: $79/mo

Up to 10,000: $119/mo

Up to 25,000: $199/mo

Up to 55,000: $379/mo

Up to 105,000: $679/mo

Overall rating
MailerLite vs Convertkit: Final Thoughts
While it goes without saying that choosing an email marketing tool boils down to your personal requirements, overall, MailerLite is still the best option for value for money, flexibility, and usability.
While some people just want the simplicity of ConvertKit's basic email editor, MailerLite's flexibility ultimately fits a wider range of businesses.
Considering ConvertKit targets solopreneurs and freelancers, its prices are on the expensive side, and this will no doubt be a key factor in your decision-making. There are other platforms which we think are much stronger MailerLite alternatives.
Leave a comment if you have any questions – I'd be more than happy to help!
Do you want to collect more email subscribers? Check out our guide to email marketing lead generation.
We keep our content up to date
09 March 2023 - Updated deliverability averages
28 March 2022 - Updated pricing section
27 Apr 2022 - Updated deliverability averages
Our Methodology
This article has been written and researched following our EmailTooltester methodology.
Our Methodology