Bloggers who focus solely on building an audience on social media are at the mercy of changing algorithms, outages, and the whims of third-party apps.
Almost one million users deleted their accounts when Elon Musk took over Twitter last year and each new Instagram algorithm update brings a fresh wave of panic.
I'm quietly smug every time something like this happens because I've been building my audience elsewhere for 10 years—via email.
If Twitter changes to X or goes offline completely, I'll be fine. My growing list of 4,000+ subscribers has given me access to their sacred inboxes. This means they want to hear from me and will hear from me (not just if they're lucky and come across my latest social post while scrolling through their feed).
It's with a backdrop of 10 years of experience that I say this: Email marketing for bloggers is incredibly important. In fact, I'd go so far as to say it's the most important thing you should be doing if you want to grow a loyal audience without holding your breath every time a social media platform makes an announcement.
In this article, I'll talk about how email marketing has been great for my business, how you can get started yourself, and the best email marketing software for bloggers.
The benefits of email marketing for bloggers
Aside from adding another way for you to connect with your audience to your repertoire, email marketing for bloggers has a wealth of benefits.
Build a loyal following
The people who read my newsletter and open my emails are my most loyal fans. They respond to my messages, comment on social media, share my stuff, and buy my products.
Showing up in someone's inbox is an intimate chance to create a deep connection and foster an ongoing relationship. It's far more personal than hoping your post makes it onto someone's social feed (if they even have social media, that is).
Generate website traffic
Platforms like Instagram and TikTok make it really difficult to share links. They want users to stay on-site, so why would they promote links that take them elsewhere? I regularly link to new blog posts and landing pages from emails with an average click-through rate of 5.06% — five times higher than the average click-through rate from social media.

This is because you have the captive attention of email readers. They haven't already moved on to the next post in their feed.
Monetize your offers
This month alone, I've sold 23 products and generated $1,058 from my emails.

Your email list is full of people who value what you're putting out which creates opportunities for monetization. You can sell courses, subscriptions, products, downloads, or coaching sessions directly through email, adding another revenue stream to your business.
Send targeted content
Social media platforms are one-to-many.
Your posts are fired off, unpersonalized, to however many followers you have. With email, you can segment your audience based on how they found you or their interests and use that information to send tailored content. This improves loyalty, but it also increases your chance of sales.
Nurture leads
Not everyone is ready to buy straight away—particularly if they're just scrolling social media to pass the time. But, when you show up regularly in someone's inbox, you can remind them why they should buy from you and make sure you're front-of-mind when they are ready to buy.
My email welcome sequence gently introduces new subscribers to my brand and products over a period of 10 days. Someone who wasn't ready to purchase at the start is more likely to be ready at the end when they understand the product better, and have a stronger relationship with me and my brand.
Scale your efforts
Perhaps the best thing about email marketing for bloggers is you can "set it and forget it". I created a new welcome sequence two months ago. It took me a day or two to write it and set it up, but it now goes out on autopilot to anyone who signs up for my email list.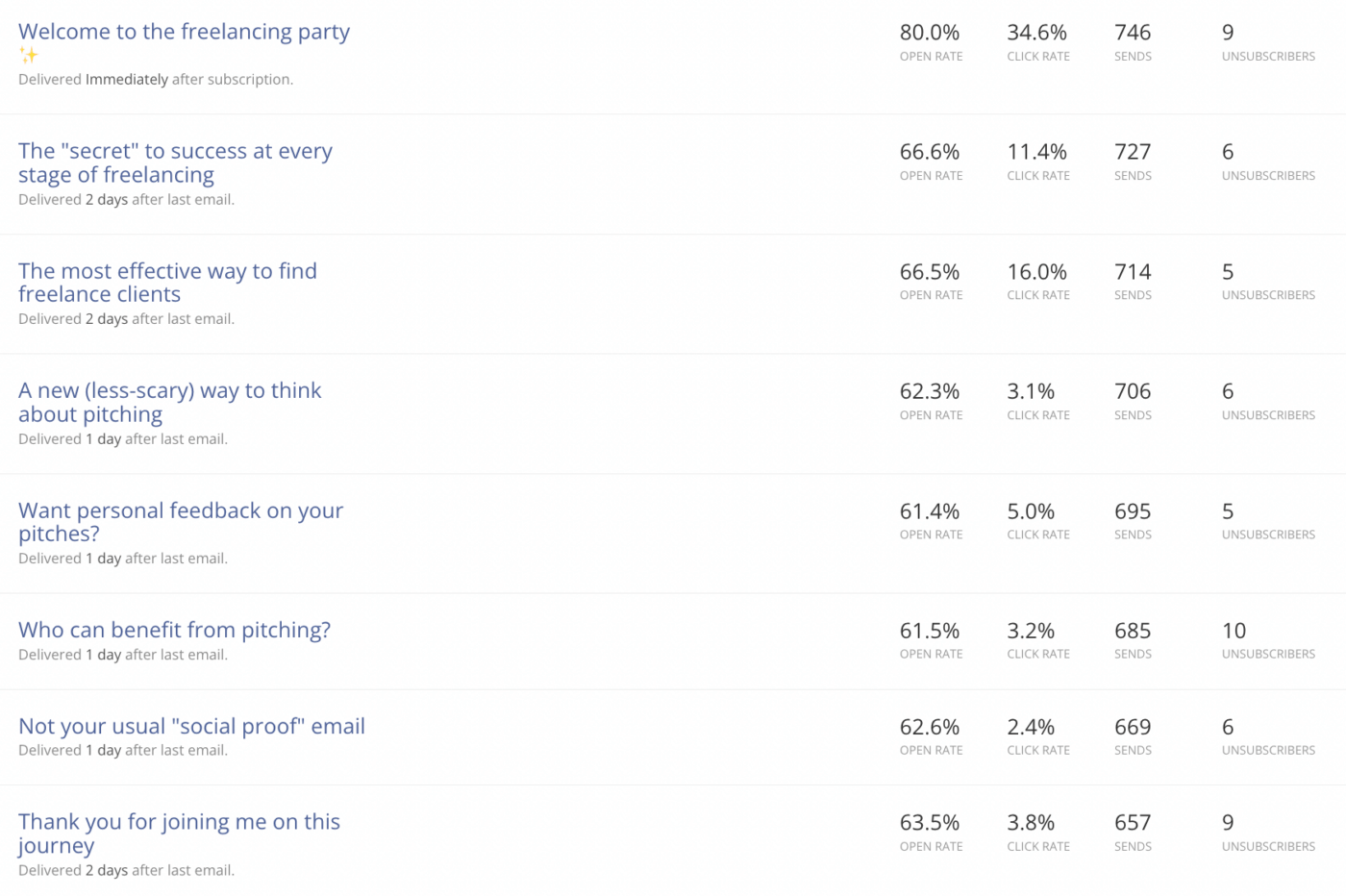 I can focus on creating fresh content, improving products, and working with clients without having to worry about manually nurturing new leads.
What to look for in an email marketing service for bloggers
I've used two email providers so far (Mailchimp and ConvertKit), but I've experimented with many over the years. When you're getting into email marketing, you ideally want it to be easy and friction-free so you can get started as quickly as possible.
These are the key things I (and many other bloggers!) look for in an email marketing service.
Ease of use
Complicated tools can be a major headache—especially if you're blogging on the side with limited time. You don't want to spend hours on hold to support or have to go through a huge learning curve every time you want to try a new feature.
Instead, make sure the provider you choose has the following.
Drag-and-drop builders: If, like me, you're a complete novice when it comes to coding, choose a tool that lets you build emails and landing pages with a handy drag-and-drop interface. It's a game-changer to be able to see what your forms and landing pages look like before you hit publish.
Templates: Creating an email or landing page from scratch can take a huge amount of time. I always look for tools that have beautiful pre-made templates I can simply put my own stamp on.
Customer support: Responsive, helpful customer support is a must. If you're selling products and rely on your email list to nurture leads, you want one that can tackle any obstacles as quickly as possible.
Affordability
How much does the email marketing software cost? This can vary depending on the features you need and the size of your list.
Most platforms increase in price when you reach subscriber milestones like 1,000, 3,000, and 5,000. I always recommend shopping around when you're coming up to a new milestone to see if you're getting the most bang for your buck. (You can also compare prices with our email marketing cost calculator.)
Many email marketing services offer a free package for bloggers with less than 500 subscribers. So, if you're just getting started, you can often do it with no added costs (great if you want to test out a few tools to begin with).
Forms and landing pages
I didn't realize the importance of forms and landing pages until I started creating multiple offers and products. Choose an email marketing service that has a selection of forms and landing pages to choose from in your industry. Using templates saves a ton of time and ensures you're creating landing pages that are geared for conversions.
Easy integration with your blogging platform
Look for an email service provider that integrates seamlessly with your blogging platform. Most of the major providers are set up to connect with key website builders like WordPress, Squarespace, Wix, and Weebly, so you shouldn't have any major problems.
Check out how difficult it is to integrate too—do you need to download a plugin, for example? Or can you simply paste a shortcode into a textbox?
I also check that the tools I use integrate with my chosen course platforms so that when someone buys a course on Teachable or Gumroad it's logged in my email marketing tool. This makes it much easier to create sequences for buyers without having to manually add them to different segments.
Automations and sequences
I used Mailchimp when I was starting out, which had very limited automation options on the tier I was using. It was expensive to upgrade to a tier that had automations—money I didn't want to spend. But I soon felt limited in what I was able to send to my audience.
When I switched to ConvertKit, I was able to set up automated sequences based on behavior triggers and create interlinking email flows that whirred away behind the scenes. If you want to build out sequences and dabble with email marketing automation (highly recommend!), then look for a provider that lets you do this without breaking the bank.
I particularly like the visual automated sequences feature that ConvertKit has, and I know a few other tools have the same. If I were to switch providers now, this would definitely be something I'd add to my criteria.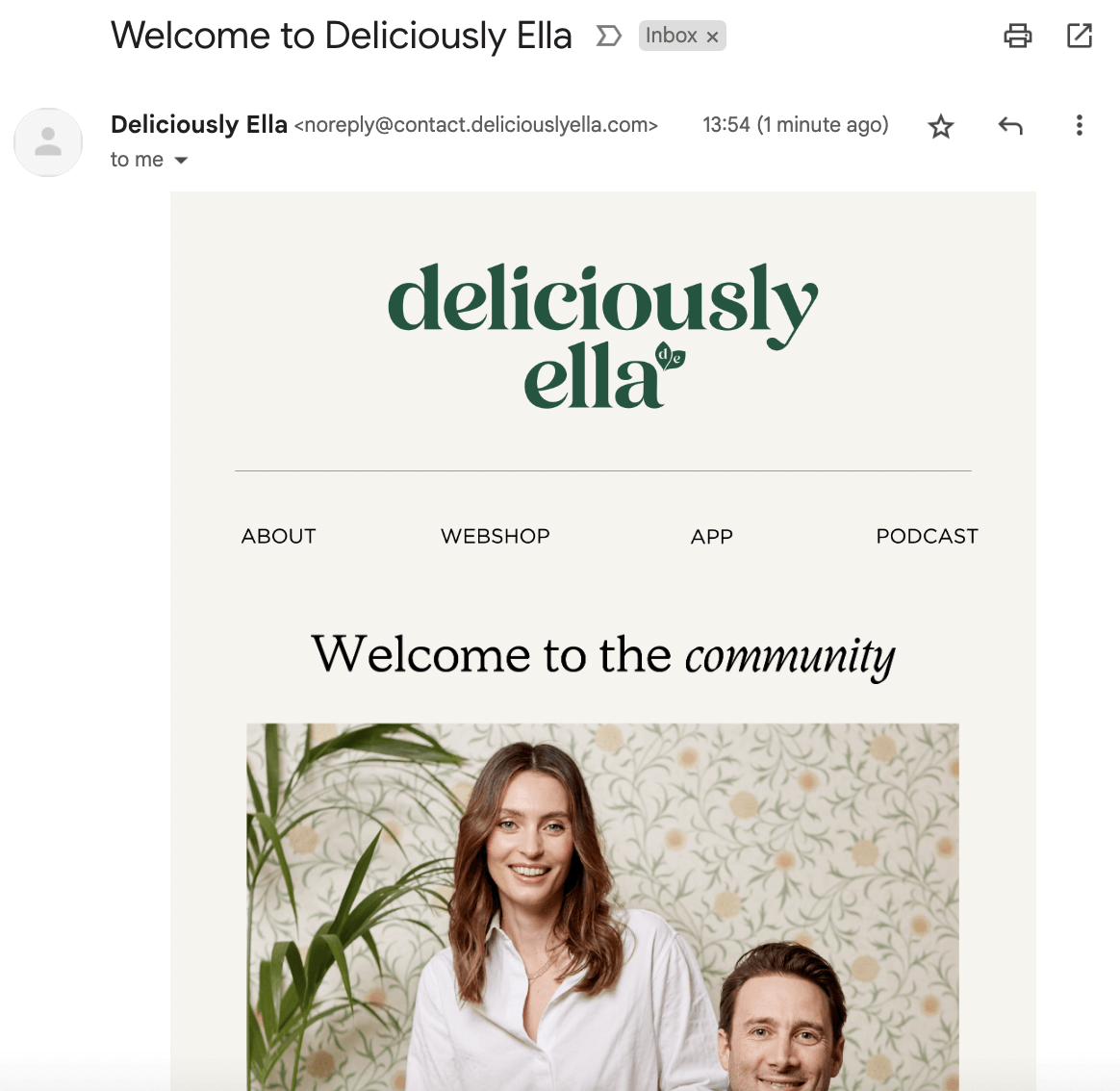 Deliverability
There's no point in sending emails if they don't reach the end user. Check the deliverability each provider has to make sure your emails will actually reach their destination. Check out our deliverability tests on the top email providers.
The best email marketing software for bloggers
Based on the criteria we've identified above, here are the best email marketing software we've found to help you build a loyal following for your blog.
1. ConvertKit

ConvertKit was designed with bloggers and creators in mind. As well as visual automations, you can set up complex "if this, then that" sequences, segment subscribers, and even sell products directly through the platform.
I particularly like the Creator Network feature that helps me grow my audience by partnering with other creators and recommending similar newsletters. The forms and landing pages are quite basic, but they're very easy to set up and integrate with any major blogging platform.

The pros of using ConvertKit as a blogger:
Sell products directly through ConvertKit
Grow your list with the built-in Creator Network
Create visual automated sequences
Integrates easily with major blogging platforms
Set up tip jars to get paid for your content
The cons of using ConvertKit as a blogger:
Who ConvertKit is best for: Bloggers that plan on selling products. The direct selling feature makes it easy to create a product store and an email list all in one place.
Read our ConvertKit review or get started for free.
2. Mailerlite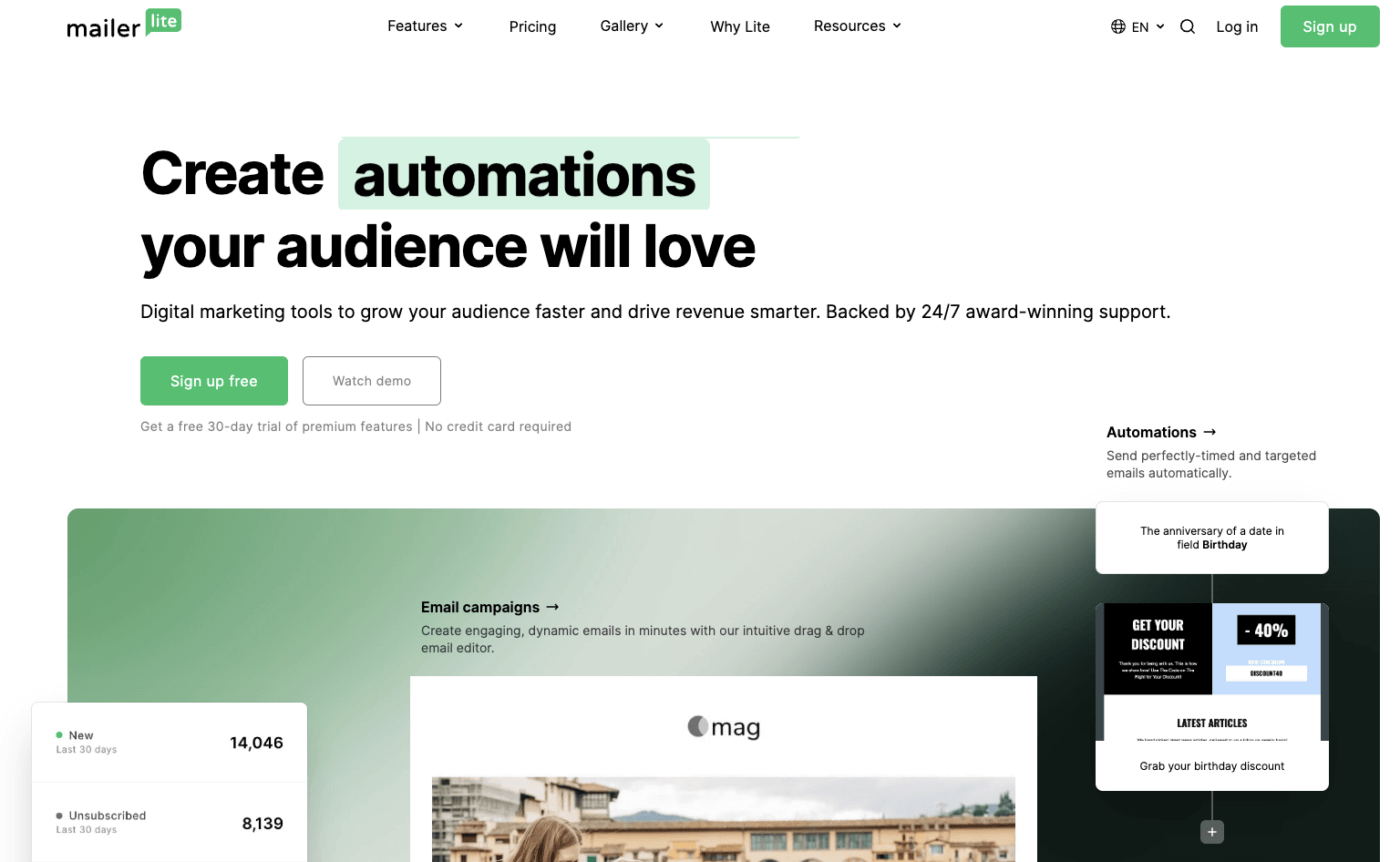 Mailerlite came out top in our most recent deliverability test, so at least you'll know your emails are ending up in the right place.
The platform comes with a ton of features that are great for bloggers, including drag-and-drop editors, paid newsletter subscriptions, and even the ability to create a Mailerlite blog. Like ConvertKit, you can also sell products directly through your account and build landing pages from scratch using pre-made building blocks.
It's one of the most affordable tools on this list, starting at $25 for unlimited emails a month and up to 2,500 subscribers.
The pros of using Mailerlite as a blogger:
Sell products directly through the platform
Create a blog on Mailerlite
Offer paid newsletter subscriptions for extra revenue
Build customized landing pages with drag-and-drop blocks
Very affordable for bloggers, with a free plan available for up to 1,000 subscribers
The cons of using Mailerlite as a blogger:
You need a custom email address that includes your domain name
Rigorous approval process to get started
Unable to tag subscribers and create complex segments
Who Mailerlite is best for: Use Mailerlite if you're looking for a cheap way to start your email marketing efforts. The cost is a great pro, but there's a chance you'll have to move on when you need more complex features as you grow.
Read our review of Mailerlite or get started for free.
3. Brevo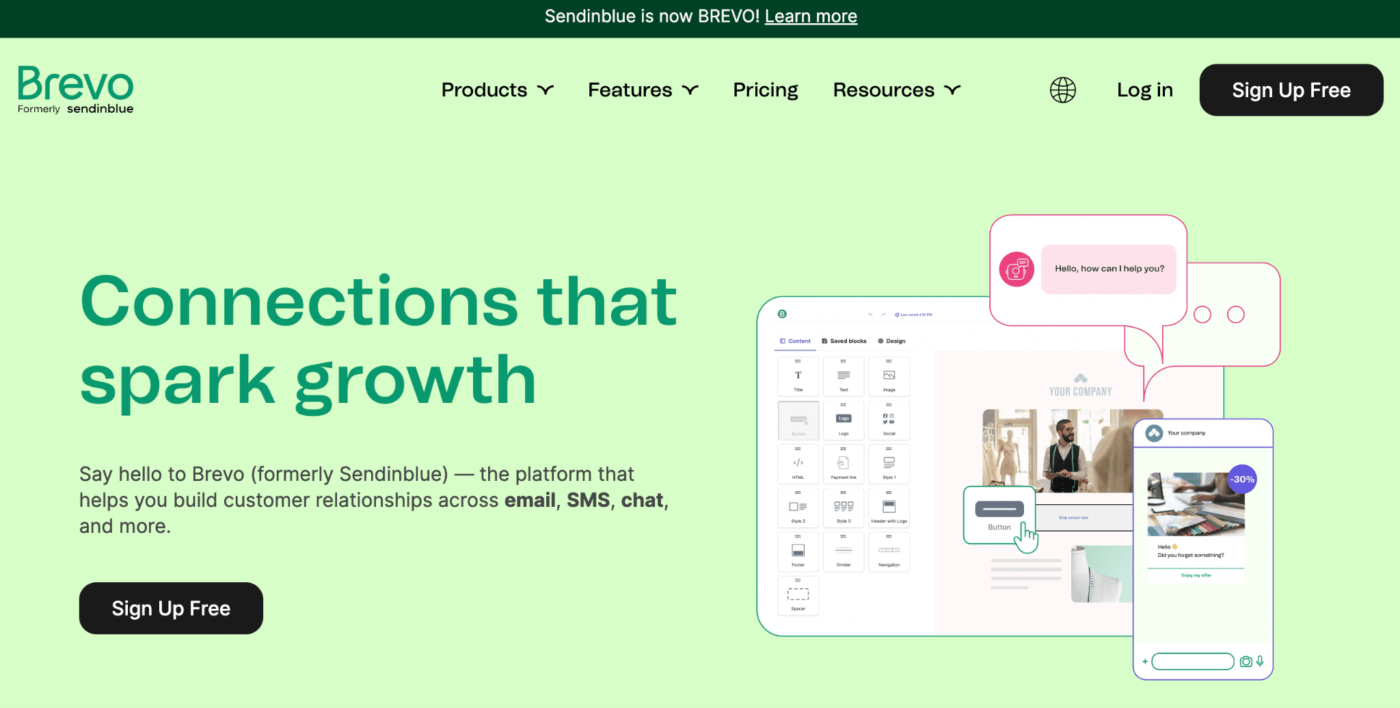 Brevo (formerly Sendinblue) is unusual in that it charges you for how many emails you send each month rather than the number of subscribers you have. Great if you only send a weekly newsletter, but it can get costly if you have a large list with multiple automated sequences.
However, the tool has a ton of powerful features for bloggers, including hundreds of templates and built-in image editing. The drag-and-drop email and landing page editor make it easy to brand your emails.
The pros of using Brevo as a blogger:
Charges by the number of emails sent, not the number of subscribers (Brevo prices start at $35 for 40,000 emails per month. A free plan is also available)
Hundreds of beautiful, pre-made templates to choose from
You can run ads to your landing pages through the platform
Powerful segmentation for personalization
The cons of using Brevo as a blogger:
Our deliverability tests didn't show Brevo in a good light
The editor is easy to use, but limited in design options
The web app can be slow when loading certain pages
Who Brevo is best for: Use Brevo if you want to unlock powerful automation and segmentation features at a low price.
Read our review of Brevo or get started for free.
4. MailChimp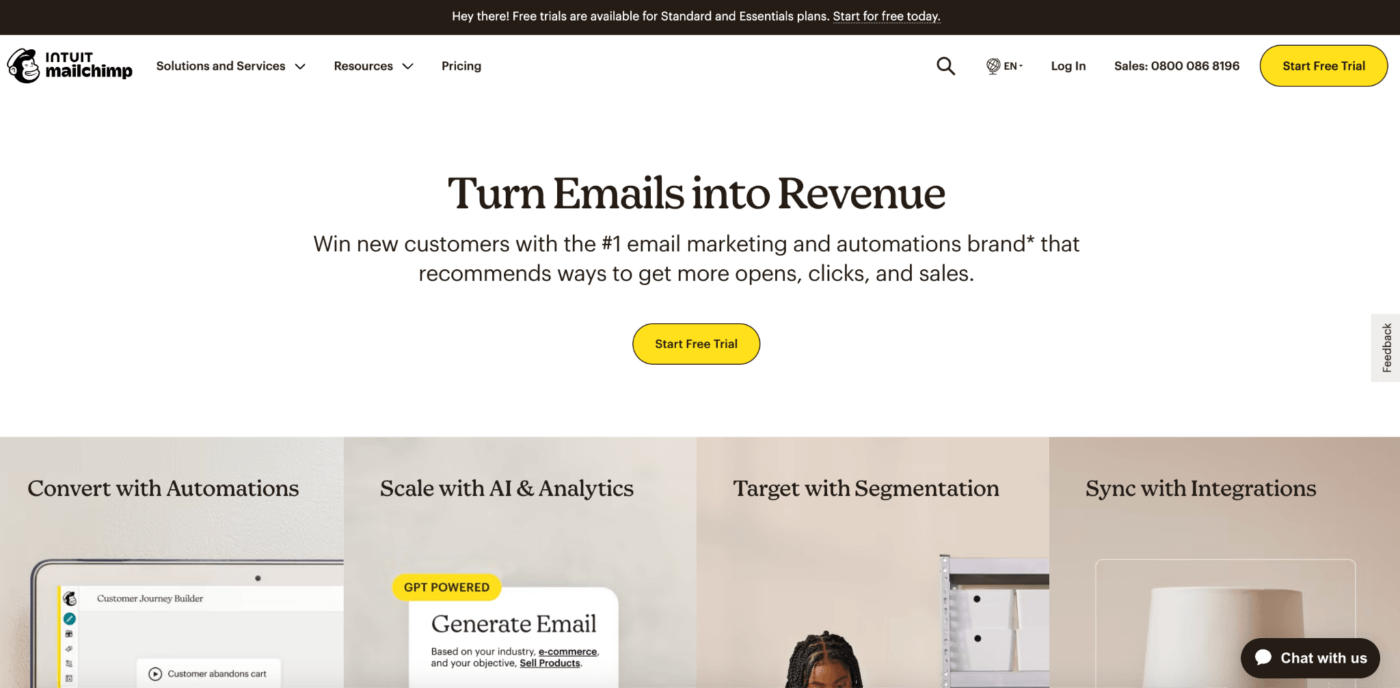 MailChimp was the very first email marketing service I used and it served me well for what I needed at the time. Today, it has a wealth of new features, including a menu of powerful integrations, automation features, and a library of eye-catching templates.
But be careful—if your business model involves generating commission on affiliate links, it might not be the tool for you. While you can include affiliate links in your emails, MailChimp doesn't allow affiliate marketing because "affiliate marketers are generating business for someone else".
The pros of using MailChimp as a blogger:
Drag-and-drop templates that can easily be customized
Over 500 integration options
New AI tool analyzes your email performance and recommends improvements
24/7 customer service
The pros of using MailChimp as a blogger:
High-cost subscription plans can be prohibitive to new bloggers – a list of 2,500 subscribers costs $39.50 per month
Charges for inactive subscribers and even those who have unsubscribed
You can't schedule emails on the free plan
Who MailChimp is best for: MailChimp is one of the best email marketing tools if you want to integrate your email campaigns with other platforms, like your blog, course platforms, calendar tools, and subscription tools.
Read our review of MailChimp or get started for free.
5. Moosend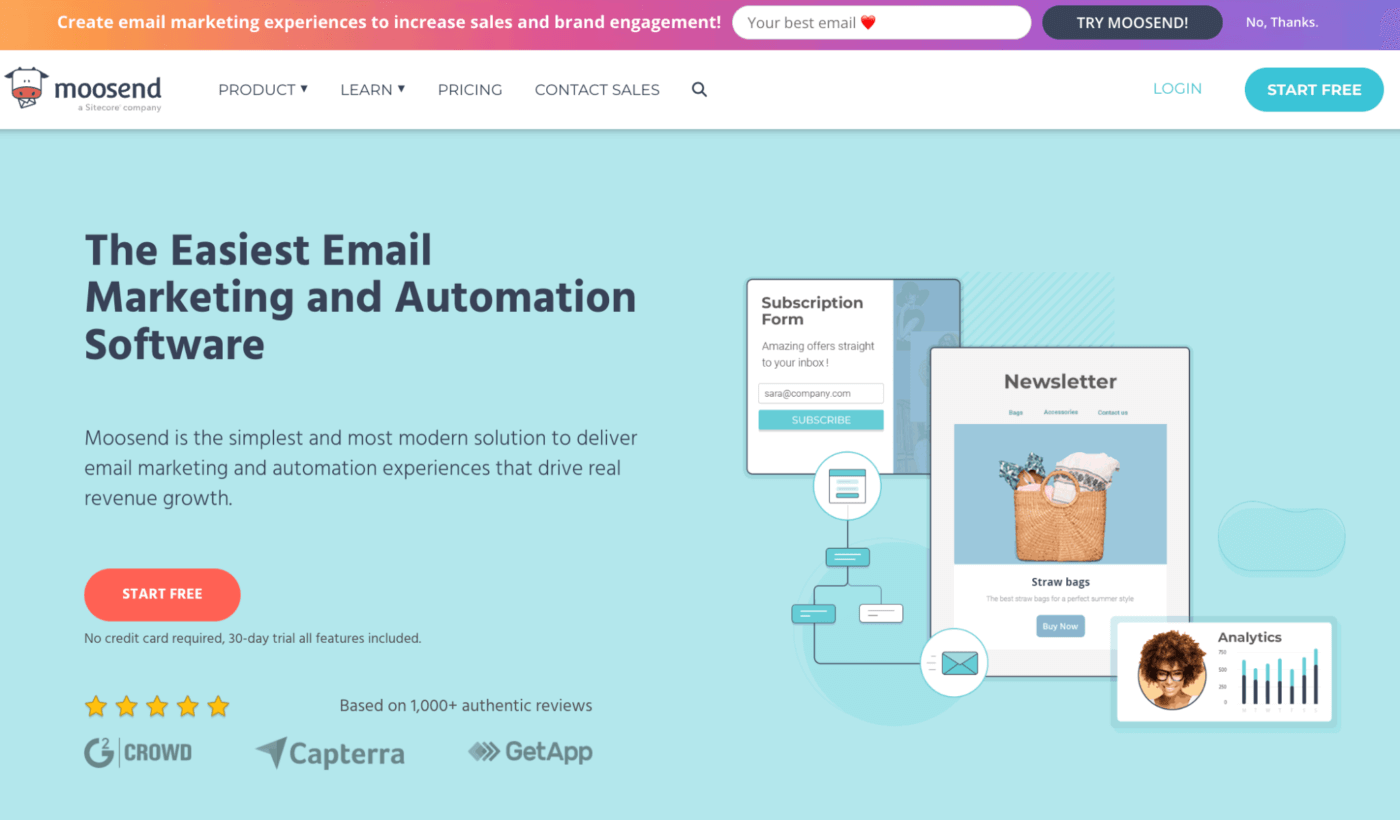 Moosend is an affordable email marketing platform for new bloggers. It comes equipped with key email marketing features like a customizable drag-and-drop newsletter editor, list segmentation, and templated forms and landing pages. If you have time-limited offers, you can add countdown timers to your emails to create a sense of urgency.
The visual workflow builder lets you map out automated sequences and you can use over 100 triggers to create highly-targeted sequences.
The pros of using Moosend as a blogger:
Pro features at affordable pricing starting at $9 per month
Built-in countdown timers for urgency
Visual workflow builder for easy, automated sequences
Beautiful newsletter templates
The cons of using Moosend as a blogger:
The signup form templates and landing pages are a little out of date
Fewer integrations than other providers on this list
Moosend got rid of its free plan, which was great for bloggers just starting out
Who Moosend is best for: Moosend is the best email marketing platform for bloggers who want to create multiple automated workflows quickly. The automation templates make it easy to get started and the 100+ triggers can help you create intricate sequences.
Read our review of Moosend or get started for free.
6. GetResponse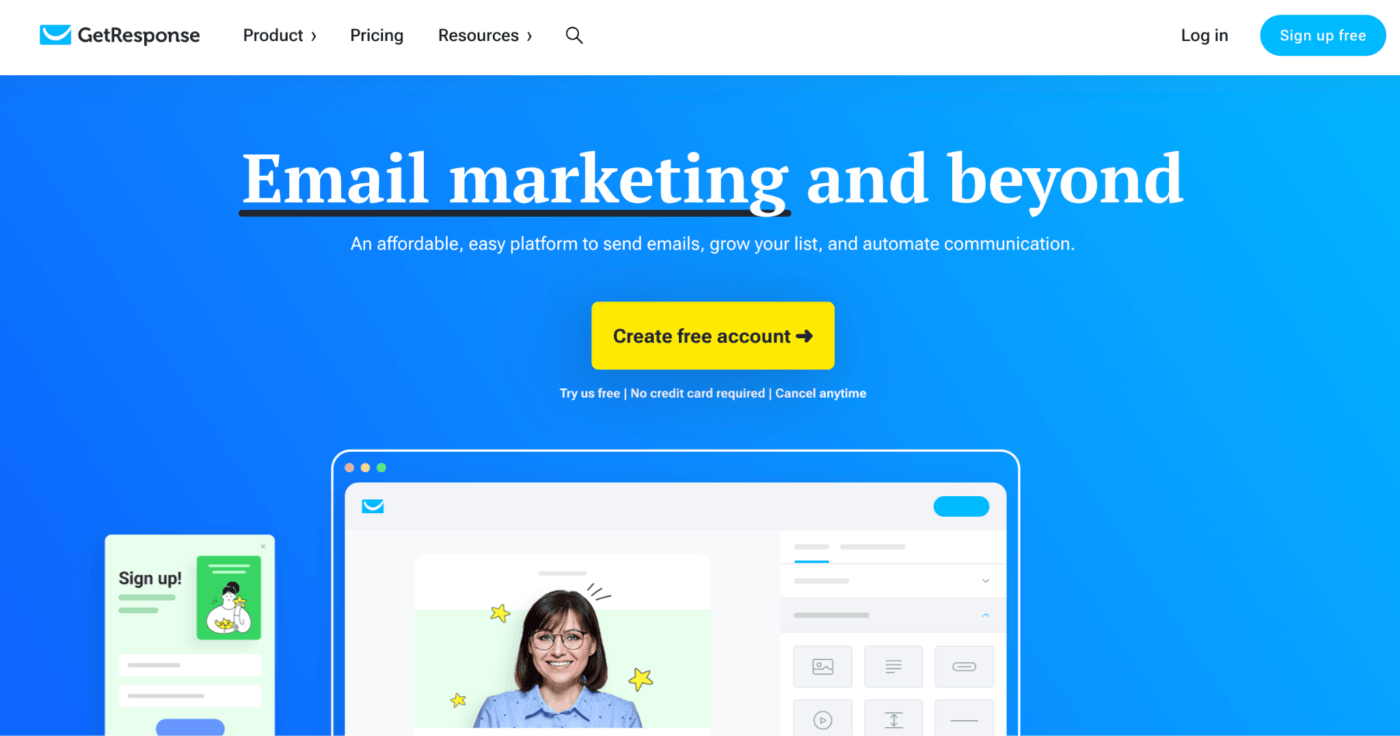 GetResponse is one of the only email marketing tools that hits two birds with one stone: It's affordable and has a ton of features ideal for bloggers. The custom landing pages are easy to set up and make your own and the advanced automation options mean you can set up complex sequences and let them work their magic.
Perhaps the best thing about GetResponse though is its Conversion Funnel feature that lets you build out a sales funnel from existing (tried-and-tested) templates. You can even create an online store where you can sell products, downloads, courses, and training.
The pros of using GetResponse as a blogger:
Get help setting up a sales funnel that actually works
Very affordable for the number of features you get, with plans starting at $19 per month
Automatically segment your list with a range of criteria
Excellent live chat customer service
The cons of using GetResponse as a blogger:
GetResponse is let down by its deliverability
The email automations feature is only available on higher tiers
Limited customization for some form types
You can't create emails from within the automations builder
Who GetResponse is best for: GetResponse is the ideal email marketing software for bloggers who want to create detailed sales funnels to sell webinars, products, and training. The Conversion Funnel feature is unparalleled when it comes to this.
Read our review of GetResponse or get started for free.
7. MailDroppa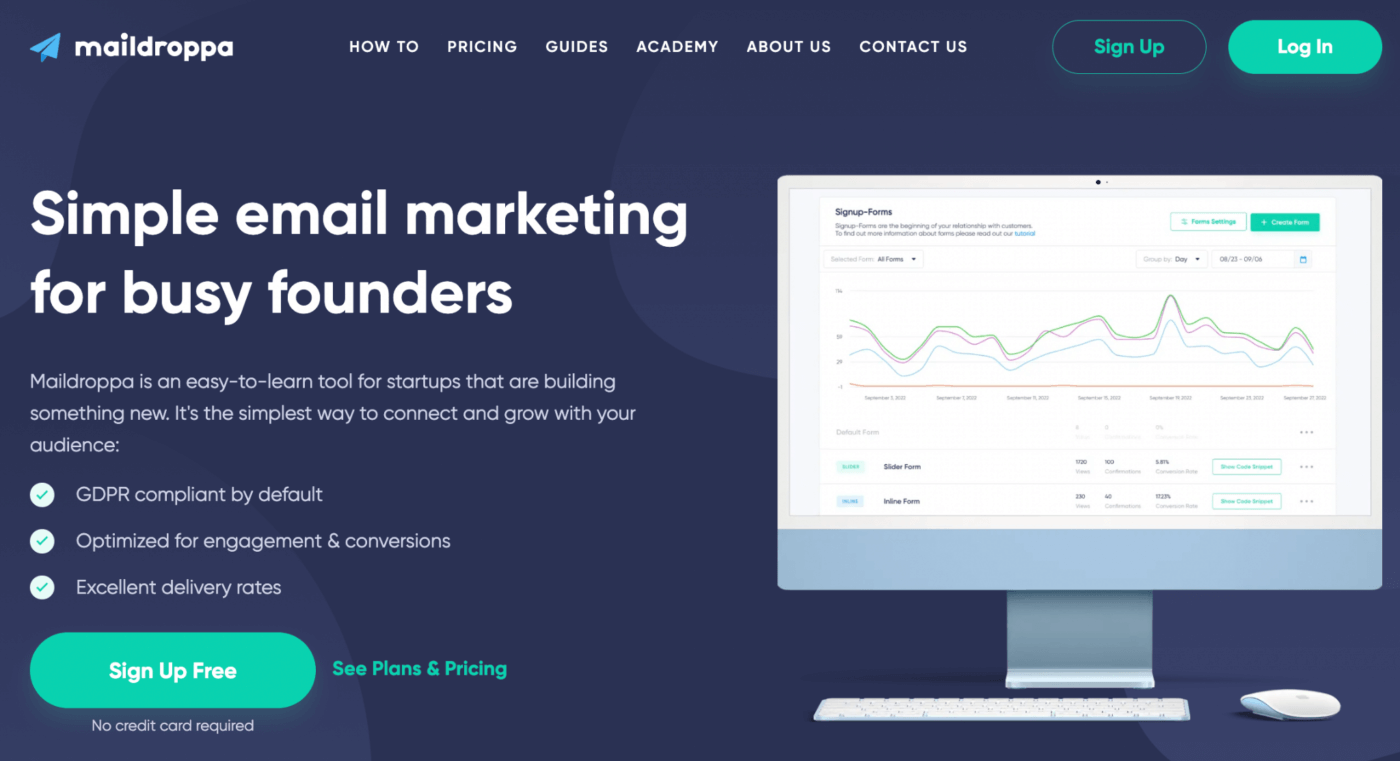 If you're after the cheapest email marketing software on the block, MailDroppa could be a great fit. It's simple but effective, with pre-made signup forms, advanced filtering, and scheduling options.
The downside is you're pretty limited on email design. You can't send HTML-designed emails via MailDroppa and are instead limited to rich text emails. This is fine if you're wanting to send very basic emails to subscribers, but can be a problem if you want to send media-rich, highly-branded newsletters or sequences.
The pros of using MailDroppa as a blogger:
Super affordable – plans start at $5 per month
Built-in GDPR compliance for peace of mind
Easy to get set up and started
Great segmentation and tagging capabilities
The cons of using MailDroppa as a blogger:
Limited to rich-text emails (no HTML)
No visual templates for your emails
Limited advanced automations for sequences
Who MailDroppa is best for: MailDroppa is one of the best email marketing services for bloggers that want a simple, cheap option. It's ideal if you want to send text-based messages to your audience without the complicated learning curve of additional features.
Get started with MailDroppa for free.
8. Flodesk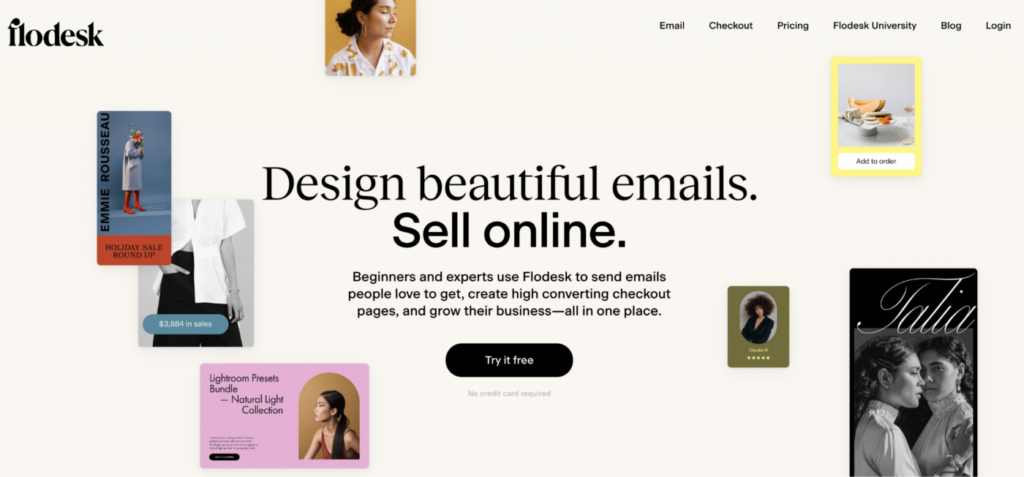 Flodesk is the perfect email marketing software for bloggers working in visual industries, like fashion, arts and crafts, and photography. With just a flat rate of $35 per month for its Email plan, you might pay a little more to get started – but you won't need to worry about skyrocketing costs when your subscriber list grows.
Flodesk takes its design aesthetic seriously so you can easily create beautifully branded email marketing campaigns, newsletters, and even checkout pages made from one of the many original templates or created from scratch.
You can enhance the sales experience for your courses, products, and training by sending personalized thank-you emails after a customer has bought from you, and by adding eye-catching upsell designs to a pop up form or opt in form.
The pros of using Flodesk as a blogger:
Unlimited subscribers
Beautiful templates and newsletter designs to choose from
Create on-brand checkout pages and upsell widgets with no hidden fees
Responsive customer support
Quickly set up automated sequences that look great
The cons of using Flodesk as a blogger:
Costly to get started — only beneficial if you already have a significant audience, since Flodesk charges a flat rate regardless of how many subscribers you have
Limited advanced features, like integrations, automation, and segmentation
Who Flodesk is best for: Flodesk is the best email marketing software for bloggers that are big on visuals, and content creators with a growing list. The beautiful templates and design-focused angle of Flodesk means you can create stunning emails in seconds, plus you can easily manage sales under the same roof.
Get started with Flodesk for free.
9. Substack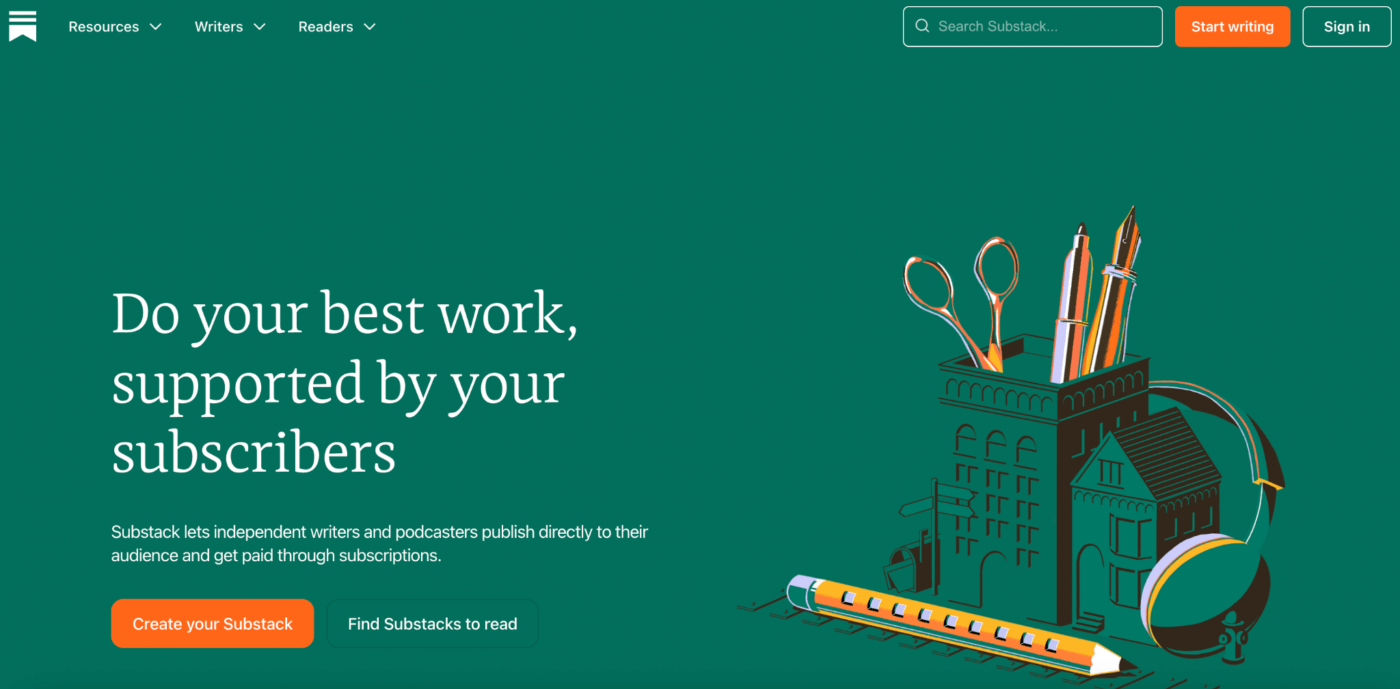 While Substack is marketed as a subscription service for bloggers, creators, and independent writers, it's often used as an email marketing tool. You can publish directly to your audience and each newsletter automatically goes into a repository that you can share as a blog.
The biggest perk is you can create different tiers of subscriptions, including free and paid, and publish different content to each audience. Unlike other email marketing software, Substack also doubles up as a directory of searchable content.
Subscribers can find all of their favorite newsletters in a scrolling feed by setting up an account and checking their Substack inbox. The platform evokes a sense of nostalgia from the days of old-school blogging in that way, but it comes with some modern social media features as well.
Readers can check other user's recommendations or explore and use filters to find relevant newsletters and email lists which can be a great way to grow your audience.
The pros of using Substack as a blogger:
Create tiers of subscriptions and get paid to share content
Grow your audience with a searchable directory
Build a shareable blog from your existing newsletter editions
Free to use – you only pay if you're selling paid subscriptions
The cons of using Substack as a blogger:
Very basic email designs that aren't particularly customizable
No automation or sequencing features
You can't segment your audience (apart from paid/non-paid tiers)
Who Substack is best for: Writers or bloggers who want to go back to basics and share their words with subscribers. It's best if you're not looking for any additional features, but plan to get paid for sharing your content.
Get started with Substack for free.
Email marketing for bloggers: 5 steps to get started
Now you know the pros of email marketing for bloggers and what to look out for in a tool, let's dive into how you can set yourself up for the best chance of success.
1. Pick a provider: Choose an email marketing tool that meets your needs. Keep in mind your budget, your goals, and how you plan to use email marketing automation to serve your blogging efforts.
2. Plan your email marketing campaigns: Map out your email marketing strategy and a newsletter cadence if that's something you plan to do. Decide how often you'll email subscribers, what content you want to include in your email sequences, and the topics you want to cover. For example, you might choose to publish a fortnightly newsletter, share a quick email to promote each new blog post, and create a five-day welcome sequence that goes out to new subscribers.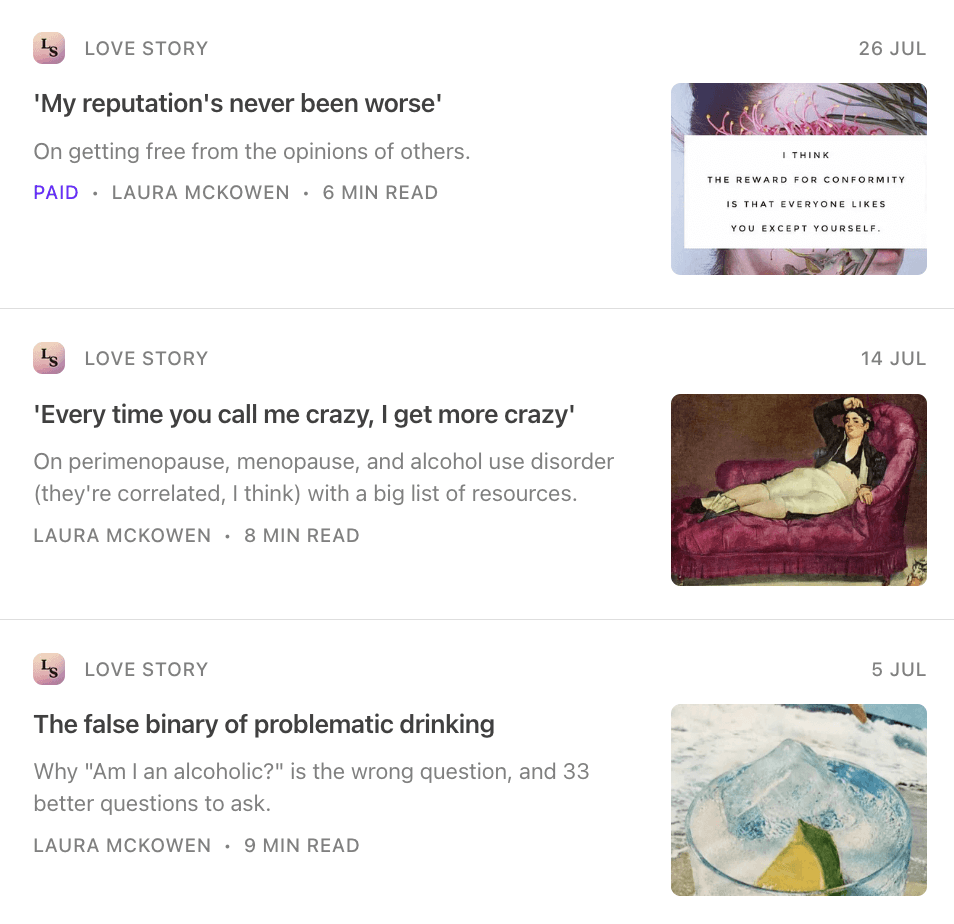 3. Build your audience: Add signup forms to your blog. Create branded forms and offer freebies to collect email addresses, and explain what readers will get out of signing up for your email list.

4. Send your first email: You don't need to wait until you have 100 or 1,000 people on your list to get started. As soon as you have your first few email subscribers you can send out your first email. Use these to gather feedback for future emails and to explore what topics and format your audience likes best.
5. Add as you go: Start simple with your email marketing efforts. Send one email at a time and create one or two short sequences. As you start to add new products and offers to your business, you can add automated sequences and segments to go with them. Over time, you'll build up an intricate web of automated emails alongside your regular newsletters and blog post promotions.
Why email marketing for bloggers is a must-do
Growing an email list has been one of the best things I've done for my blog and my brand. Building a loyal following and sharing valuable content with subscribers has allowed me to earn extra income, increase my credibility in the market, and grow my reach. The key is choosing the right email marketing software and planning out an email marketing strategy that meets your goals and circumstances.
Have any questions about how to use email marketing to boost your blog's success? Let us know in the comments below!
Our Methodology
This article has been written and researched following our EmailTooltester methodology.
Our Methodology