Despite HubSpot's popularity, many people are looking for HubSpot alternatives. And though the Free CRM plan is very appealing, the price tags attached to its higher-tier paid plans aren't so attractive for small businesses.
But what about ActiveCampaign? How do its prices compare to HubSpot's and what features does it offer? We're going to look at all of this and more in this ActiveCampaign vs HubSpot comparison.
What's the Main Difference Between ActiveCampaign and HubSpot?
ActiveCampaign is a Chicago-based marketing automation tool primarily targeted towards email marketers, whereas HubSpot offers various 'hubs' for sales, marketing and customer service teams.
This myriad of features makes HubSpot a slightly more diverse product, however, you won't actually have access to its expansive collection of features unless you put up the cash. Instead, most opt for a single Hub or discounted bundle (note that this comes with a 12-month commitment).
Though ActiveCampaign doesn't offer the same kind of suite as HubSpot, it is a very decent CRM and email marketing software – in fact, we named it the best email marketing service due to its powerful automation and thorough reporting (both important features in any good email marketing strategy).
ActiveCampaign and HubSpot are both excellent sales funnel tools.
Unlike HubSpot, which offers a very generous Free CRM plan, ActiveCampaign only offers a 15-day free trial. ActiveCampaign's prices start at $39/month for 1,000 contacts and go up pretty steadily from there, however, you won't encounter any hidden fees as you might with HubSpot (more on prices further down).
We list both providers in this guide on the best CRM for small business owners, but how do they do when put head to head?
Let's get stuck in to find out!
If you prefer, you can watch our video reviews of each tool below:
ActiveCampaign Video Review
HubSpot Video Review
Ease of Use
Opting for a powerful solution can often mean you're faced with a steep learning curve. Though that's not necessarily the case with these two tools, I'd still say that HubSpot was slightly easier to use than ActiveCampaign.
HubSpot's interface is clean and uncomplicated, with live chat support on hand if you get stuck. There are plenty of customization options without it feeling overwhelming like it does with powerhouse CRMs like Salesforce. There is also a helpful tour of the software, so you can see how everything works before getting started.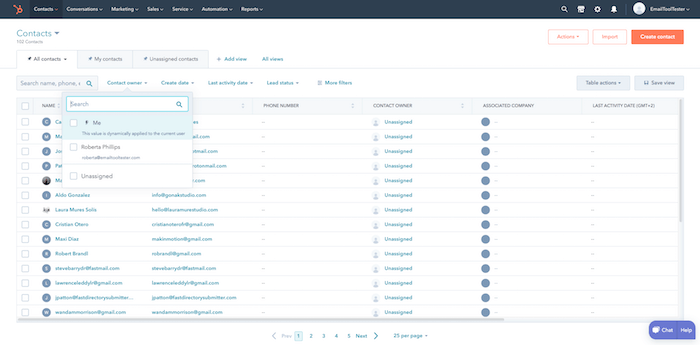 What's nice is that you can organize your dashboard to show the information that's important to you, meaning less time wasted digging. You can also see exactly how each of your salespeople is performing directly on your dashboard.
Though ActiveCampaign's interface is also pretty intuitive, and you can decide exactly what you see in your dashboard by adding sections like tasks, campaigns, top contacts, etc., there are a lot of sub-elements in the menu, which could lead to more time searching. There is, however, a handy search bar you can use to search for a particular contact, campaign or deal. One thing that ActiveCampaign customers have complained about is the fact that you can't add multiple email addresses for the same contact/lead. HubSpot, on the other hand, does allow it.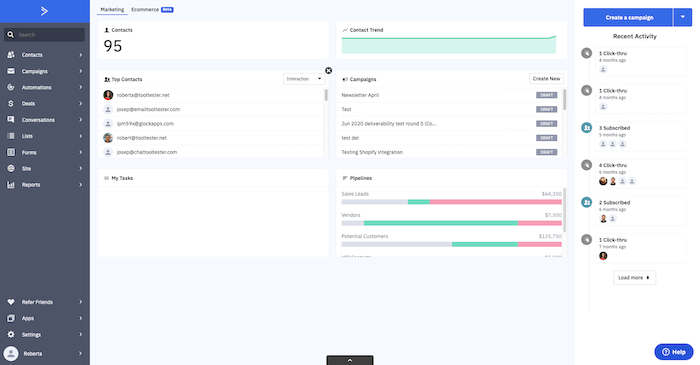 Setting up an email campaign is pretty straightforward; there are tooltips that pop up when you hover over a particular element to explain how it works, and there is a live chat widget if you get stuck. The Content Manager section allows you to store all your content assets in one place, accessible to the whole team.
Adding a deal is a breeze and the fact that you have so many automation templates to work from means that automating everything from contacts and list management to your emails and deals is a simple and satisfying process.
Winner: Though both are easy-to-use tools, ActiveCampaign does come with a slightly steeper learning curve for beginners. That's why we're giving HubSpot the first point.
Customization and Pipeline Management
Both platforms offer a large amount of flexibility and customization. As I mentioned above, you can customize what you see in the dashboard on both tools, so you get a clear picture the moment you open the platform. HubSpot takes it a step further by allowing you to build your reporting dashboard from scratch, giving you the option to choose who you share it with from your team.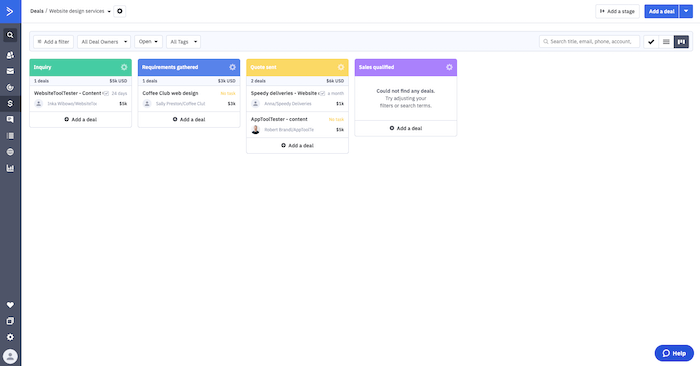 In terms of the deal pipeline, you'll find you have a great amount of flexibility on both platforms.
With ActiveCampaign, stages are fully customizable, so you can create as many as you'd like to match your existing sales process. If you have multiple sales processes (e.g. for each product or service you offer), you can also create a pipeline for each of these.
HubSpot also allows you to customize everything to your needs, with the additional advantage of offering far more filters than ActiveCampaign. However, the free HubSpot plan will only allow for 1 pipeline and the Starter plan allows for 2.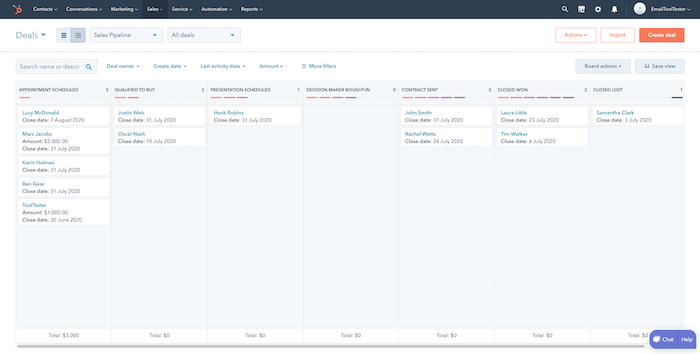 Within the deals pipeline, you can edit columns and add as many custom properties as you need. A search bar is also present, as it is with ActiveCampaign.
Both platforms use a drag and drop mechanism to move deals through the sales stages. If you're familiar with Trello you'll get the hang of it almost instantly.
Winner: In terms of customization and pipeline management, you can do a lot with both tools. There are some pluses and minus for both (e.g. the number of filters on offer or the number of pipelines you can have), which means I'm awarding both a point here. 1-2 to HubSpot.
Sales and Marketing Automation
ActiveCampaign is a very popular and powerful marketing automation tool. In fact, it offers enterprise-grade automation at a small-to-medium-sized business-level price. For just $39/month you'll have access to its marketing automation features, plus much more on the higher tier Professional plan, which starts at $187 for 2,500 contacts.
Features included are: segmentation, dynamic content, site tracking, lead scoring, CRM and sales automation, split automations, etc. There really is no limit to what you can do with ActiveCampaign.
Note that the plans are now divided into Sales and Marketing plans, so if you need a mix of features, I'd recommend going for a bundle, which starts at $116/month.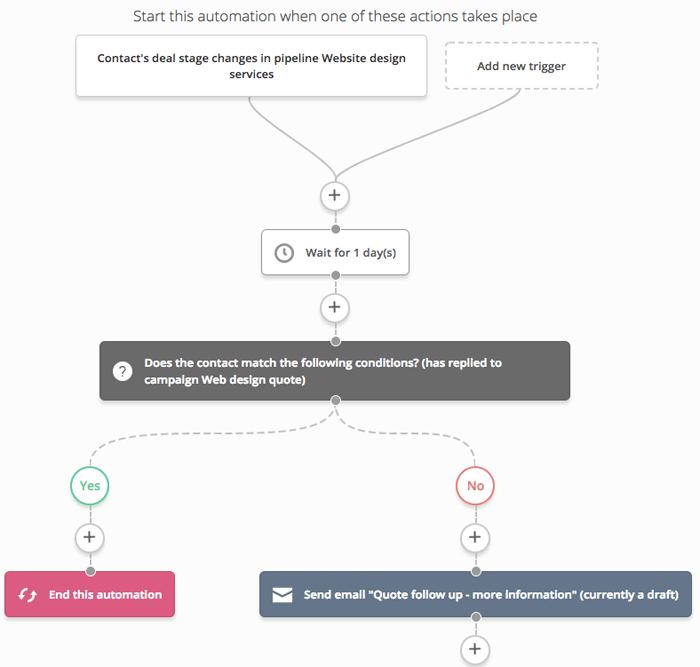 HubSpot's Starter plan ($20/month) does come with email automation, however, it is a bit limited. If you want full omnichannel marketing automation, you're looking at paying $890/month for 2,000 contacts! And because of the way its plans are organized (Sales or Marketing), you'll have to decide whether you need sales automation ($500/mo) or marketing automation ($890/mo) because signing up for a bundle would mean paying $1,781/month.
Winner: ActiveCampaign is a clear winner due to its excellent automations and much more reasonable prices. 2-2.
Email Marketing
HubSpot's Free CRM plan allows you to send up to 2,000 promotional emails a month to your contacts, though all the design templates are reserved for paying users. Alternatively, you could sign up for the Marketing Starter plan for $20/month for 1,000 contacts and 5,000 emails (email templates included).
ActiveCampaign, on the other hand, offers a good variety of templates on its most basic plan. For 1,000 contacts you'll pay $39/month. What's more, ActiveCampaign lets you send unlimited emails.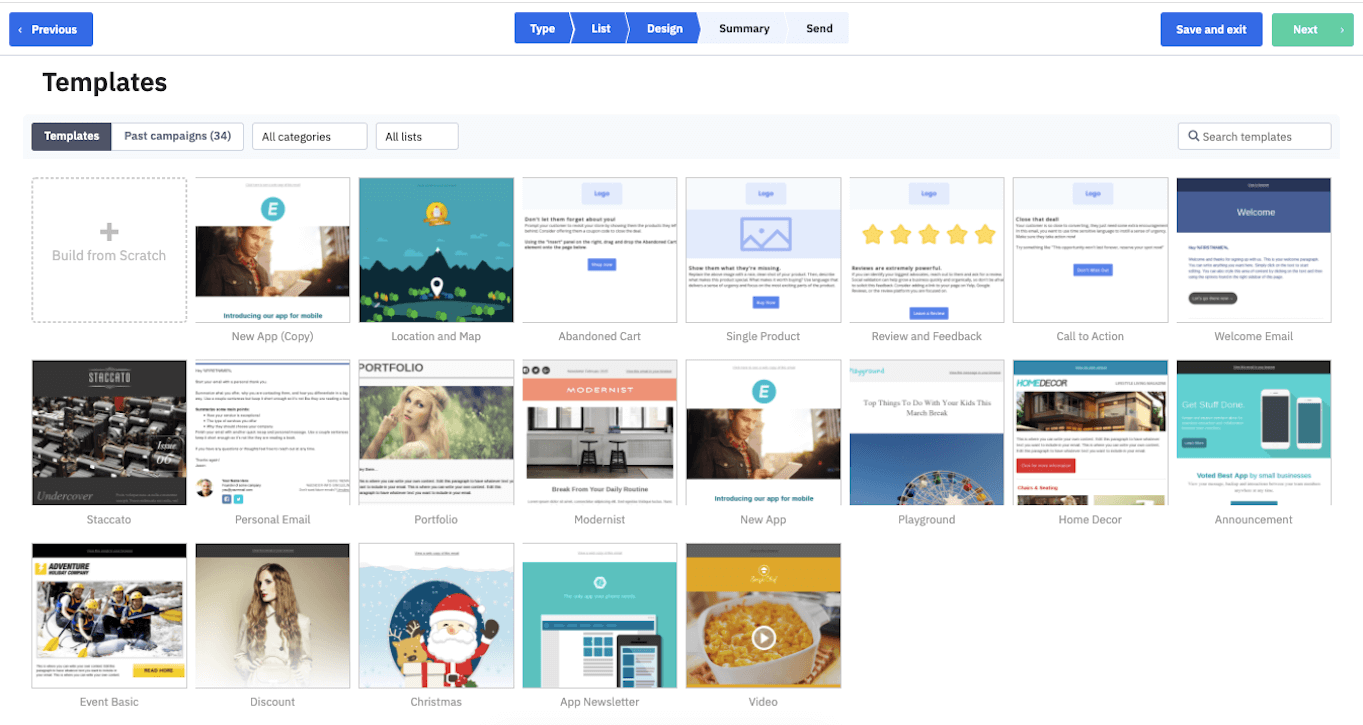 A great feature of both tools is campaign reporting. More on that below.
> Find out more about ActiveCampaign and HubSpot's email marketing features here.
Winner: Taking into account the limitations of HubSpot's free plan and the price of the paid account, I'm going to give this point to ActiveCampaign. After all, it better caters to email marketers than HubSpot, which is primarily a CRM tool. 3-2 to ActiveCampaign.
Deliverability
This is a very important one if you're sending out newsletters and other marketing communications via email.
We've been monitoring the deliverability of the top email marketing providers for a number of years now, more recently incorporating HubSpot into our tests.
Here are the average figures of how they performed in our last 3 rounds of bi-annual deliverability tests:
| | HUBSPOT | ACTIVECAMPAIGN |
| --- | --- | --- |
| Overall Deliverability Rate | 76.53% | 92.03% |
Though HubSpot did very well in the beginning, its rates fell quite a bit in our most recent tests. ActiveCampaign, on the other hand, has a consistently good track record, continuously scoring in the early to mid-nineties.
Winner: This point has to go to ActiveCampaign considering HubSpot's deliverability rates need some improvement.
Reporting
The reporting features for both HubSpot and ActiveCampaign are excellent. As you can see in the screenshot below, ActiveCampaign has a report for everything (contacts, deals, email newsletters, automations, ecommerce, etc.), meaning you can analyze every aspect of your sales and marketing efforts in detail. A cool feature of ActiveCampaign is the Deal Task Overview Report, which gives you access to data on CRM-related tasks and outcomes.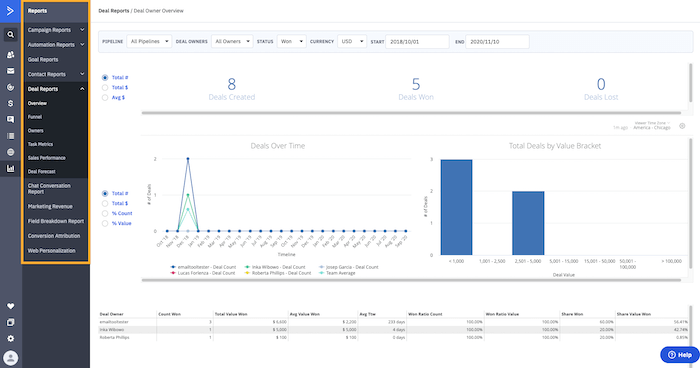 With HubSpot, you can choose what appears on your reporting dashboard and you can see multiple reports side-by-side. This makes it really easy to get a more holistic view of what's working and what isn't, and, as you also have the sales rep performance data, you can see who's working and who isn't. What's more, you have the option to make your reports public or private and choose who specifically you want to share what with.

Winner: Both platforms really shine in the area of reporting. The only thing I'd say is that I find it slightly easier to read HubSpot's and I like that you can create your own reporting dashboard. It's only by a sliver, but I'm giving this point to HubSpot. The score: 4-3.
Integrations and Apps
You won't find yourself short of apps and integrations with either of these tools. Of course, you'll be able to integrate with your CMS, ecommerce platform, analytics tools, and much more. If you can't find what you're looking for, setting up an API is always an option. You can take a look at ActiveCampaign's integrations here.
HubSpot slightly limits what integrations are available on the free plan, though with a total of 40 you should be ok.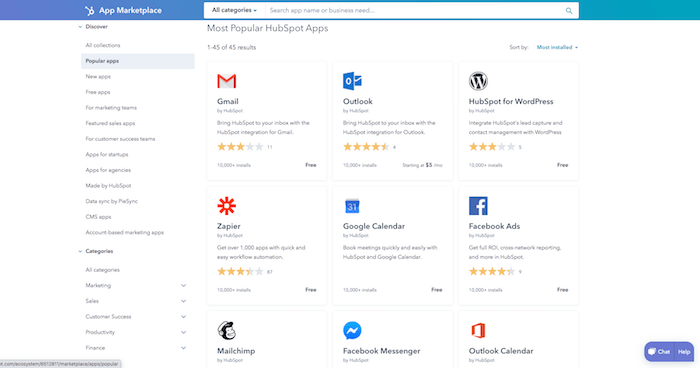 Both HubSpot and ActiveCampaign have a mobile app, available on both Android and iOS.
Winner: Due to the fact that both offer numerous integrations, I'm going to have to give both a point here. It's neck and neck at 5-4.
Support
HubSpot's free users have access to the HubSpot Community but you'll need to upgrade to the Starter plan in order to gain access to in-app and email support. Phone support is only available to those on the expensive Professional plan.
One of the nice things about HubSpot is that it has an excellent selection of resources in the form of free courses, guides, articles and ebooks.
ActiveCampaign provides support via chat and email on all plans, and phone support only on the Enterprise plan. It also offers an extensive knowledge base, video courses and a community forum. There is also one-to-one training available on the Plus plan and up.
In terms of the support given, these are two tools that take customer service pretty seriously, so you can expect to get your questions answered to a high standard.
Winner: Considering that both offer multiple support channels and a wide range of resources and learning materials, I'm awarding each a point for their support. 6-5.
Prices
ActiveCampaign's plans and pricing recently changed in order to separate the marketing and sales features. The plans are based on the features you require and how many contacts you have. All Marketing plans come with unlimited emails, so you don't need to worry about being charged extra if you go over your allowance.
Prices for the Lite Marketing plan start at $39/month and go up incrementally, however, you will see a clear price jump if you upgrade your plan because you need additional features ($39 becomes $70 for 1,000 contacts on the Plus plan).
HubSpot has a similarly complicated pricing structure: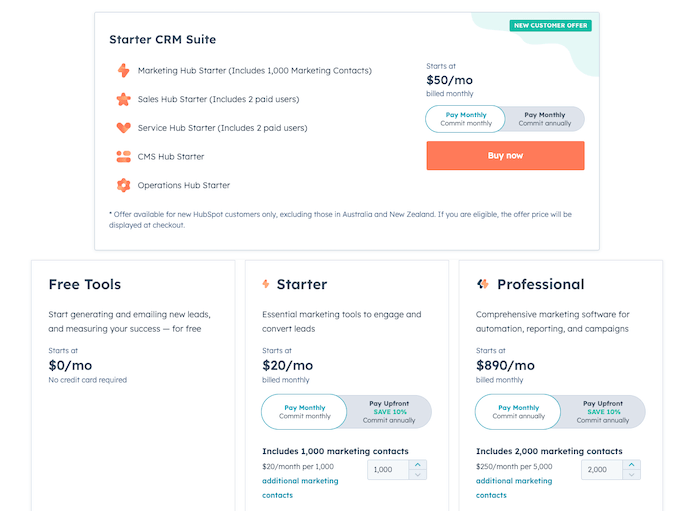 As you can see, its plans are separated into Marketing, CRM & Sales and Service, and there are various tiers within these with wildly different prices that range from $20 – $890. I'm going to focus on the Marketing plans:
ActiveCampaign
HubSpot (Marketing)
Free plan
No free plan
Free trial available
You can add unlimited users and 1M contacts
Limited features & HubSpot branding
Starter/Lite
Prices start at $39/month for 1000 contacts and unlimited emails
Prices start at $20/month for 1,000 contacts and 2,000 emails
Plus
Prices start at $70/month for 1000 contacts and unlimited emails
–
Professional
Prices start at $187/month for 2,500 contacts and unlimited emails
$890/month for 2,000 contacts and 20,000 emails
Enterprise
Contact sales
$3,600/ month for 10,000 contacts and 200,000 emails
HubSpot's free CRM plan is pretty generous, with the ability to add unlimited users and 1M contacts. However, if you're comparing ActiveCampaign and HubSpot, you're most likely interested in the automation, reporting and analytics features, which you'll only have access to on the Marketing Starter plan and higher.
Though ActiveCampaign doesn't have a free plan, if you compare the two platforms' paid starter plans then they come out similarly. It's when you compare the professional plans that things start to look a bit differently.
Comparing the Professional Plans
HubSpot's Professional plan will cost you $890/month plus onboarding fees ($3,000 one-time payment required), compared to ActiveCampaign's $187. But what's included and how do the features compare?
| FEATURES | ActiveCampaign | HubSpot |
| --- | --- | --- |
| Contacts | From 1,000 | From 2,000 |
| Live chat & Conversational bots | Yes | Yes |
| Mobile app | Yes | Yes |
| Emails | Unlimited | 20,000 |
| Landing pages | Yes | Yes |
| List segmentation | Yes | Yes |
| Phone support | Yes | Yes |
| Reporting dashboard | Yes | Up to 25 |
| Workflows | Yes | Up to 300 |
| Blog | No | Yes |
| Deal pipeline | Yes | Up to 15 |
| One-to-one training | 3 months | Some training offered |
| SEO recommendations & optimizations | No | Yes |
| Content strategy | No | Yes |
As you can see, the two providers' Professional plans aren't all that different in terms of features. The advantages to using HubSpot include having access to SEO recommendations & optimizations, a blog and help with your content strategy, but is it really worth paying $890/month for this? I don't thik so.
For a fraction of the price, ActiveCampaign offers a pretty appealing package for those who need a top omnichannel software solution.
Check our guide to ActiveCamapign's landing pages if you're interested in that feature.
HubSpot's Hidden Costs
Another reason to look for a HubSpot alternative is its hidden costs.
If its higher-tier prices weren't high enough, you're also required to pay onboarding fees on the Professional and Enterprise plans: a one-off payment of $3,000 and $6,000 respectively. Quite frankly, I was shocked by these figures and therefore wouldn't recommend HubSpot's higher-tier plans to small-to-medium companies.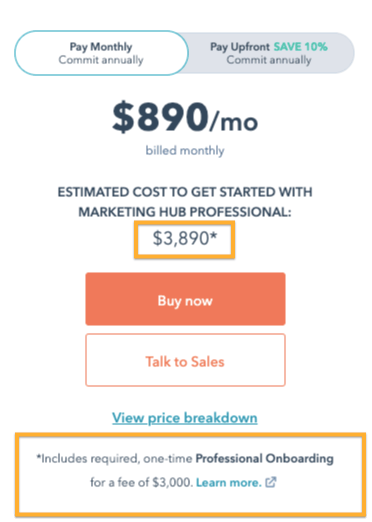 Winner: In my opinion, HubSpot's elevated prices and hidden costs are simply not justified. ActiveCampaign's pricing is much more accessible for small businesses looking to scale, and the features are just as good as HubSpot's. ActiveCampaign wins this round.
Final score: 7-5 to ActiveCampaign!
ActiveCampaign vs HubSpot: Final Thoughts
That was pretty touch and go for a while, but ActiveCampaign finally brought it back and won the race! The last time I saw such a close head-to-head was between Pipedrive and HubSpot, where HubSpot won by the skin of its teeth.
So what are the key takeaways from this HubSpot vs ActiveCampaign comparison?
If you're a small business looking for a free customer relationship management software with basic marketing features then HubSpot's Free CRM plan is a great tool to get started with. However, as you've just seen, the paid plans get very pricey very quickly and ActiveCampaign's plans are much more reasonably priced, making it a better solution for those wanting to scale.
But if you are after software that does it all (and I really mean everything related to digital marketing) and don't mind the steeper price, then you should certainly put HubSpot through its paces.
With ActiveCampaign, you'll only pay for what you need and you'll find even its lower-tier plan to include fairly advanced features. If you're serious about automation, ActiveCampaign is the way to go as it will help you save tons of time and surely give you a great return on investment. Check our ActiveCampaign tutorial quick-start guide to get your account up and running with ease.
You can try out both of the tools for free via these links:
Try ActiveCampaign for free for 15 days
Leave a comment if you have any questions – I'd be more than happy to help!
You also might be interested in these comparison guides:
We keep our content up to date
11 Oct 2023 - New video added
13 Jul 2023 - Updated deliverability averages
24 Apr 2023 - Added video review for HubSpot
10 Marc 2023 - Updated prices for both providers
29 Nov 2022 - New ActiveCampaign video added
27 Apr 2022 - Updated deliverability averages
18 Nov 2021 - Added deliverability section
22 Jul 2021 - Updated reporting section
Our Methodology
This article has been written and researched following our EmailTooltester methodology.
Our Methodology