Let me make a confession.
I used to be a huge fan of MailChimp.
This was probably about 10 years ago, when I was just getting started in the world of email marketing, and using MailChimp for many of the small business clients I was working for.
I loved its ease of use, templates and designs. And yes, I thought that little monkey of theirs was pretty darn cute, too.
For me, as a newbie marketer, MailChimp's easy learning curve was perfect.
Since then, I've worked with a lot of other email marketing software. And on much bigger (and more complex) campaigns than the simple newsletter campaigns I was running out of MailChimp.
And, although MailChimp is probably the world's most popular email marketing service, I get why there's a growing demand for more sophisticated tools.
Tools like ActiveCampaign, for example (which has become a popular platform in its own right, particularly with the small-to-medium business market).
If you're considering between ActiveCampaign and MailChimp, I'm guessing it's because:
You've curious as to why MailChimp is so popular
You're interested in ActiveCampaign's features (advanced automations, CRM, flexible segmentation, etc.)
You're a little unsure whether the pricing of either tool is really justified (especially when there are other cheaper providers around)
In this comparison, I'll do my best to answer those questions, and help you decide which one is right for your email marketing strategy.
So, ActiveCampaign vs MailChimp – who would come out on top?
ActiveCampaign vs Mailchimp: Which to Choose?
Before we go into more detail, let me outline the main differences between ActiveCampaign and Mailchimp:
While Mailchimp is, without a doubt, the more popular of the two, ActiveCampaign offers better marketing automation, list management, and higher deliverability
Mailchimp is more affordable for smaller lists and offers a free email marketing plan
ActiveCampaign includes other advanced features such as a fully-fledged CRM with deal pipelines and lead scoring
ActiveCampaign vs Mailchimp Video Review
ActiveCampaign Video Review
Mailchimp Video Review
Ease of use and editor
Let's start by taking a look at how easy ActiveCampaign and MailChimp are to use.
Back in the day, MailChimp's claim to fame was its ease of use. It came out at a time when email marketing software was built for enterprises, expensive, and way too complicated for the average user to manage.
Nowadays, they still retain much of that simplicity with a mostly easy-to-navigate interface, and a drag-and-drop email editor that's intuitive to use.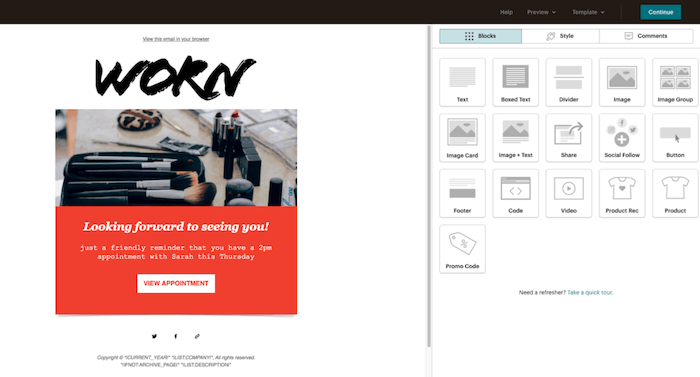 In a way, I think MailChimp helped to set the standard for what we now know as the easy-to-use email editor – it's very familiar, with no big surprises.
My main criticism of MailChimp with respect to ease of use, however, is that landing pages are not present in the main navigation. You can create one by hitting Create, however, it's not clear where these live once set up.
That, and the fact that creating both automation and forms can get a little messy – but more on that later.
Now, let's take a look at ActiveCampaign, bearing in mind that it's designed to be a more powerful platform with a broader range of advanced features.
You'd expect the interface to be complicated, but surprisingly, it's not. It's fast and easy to navigate through, with a polished user experience.
Building emails is also made easy with their drag-and-drop editor. Its clean design and myriad of content and styling options help you achieve the desired result in no time.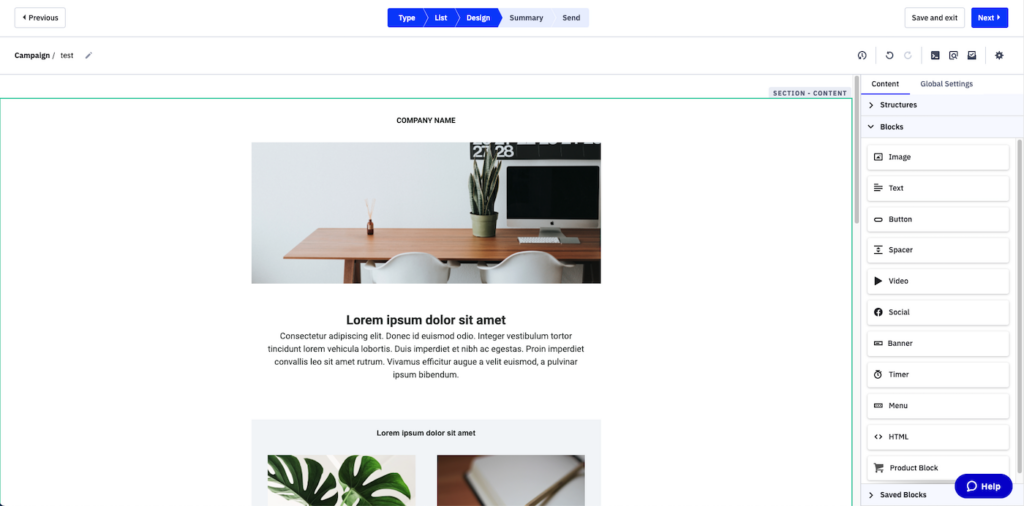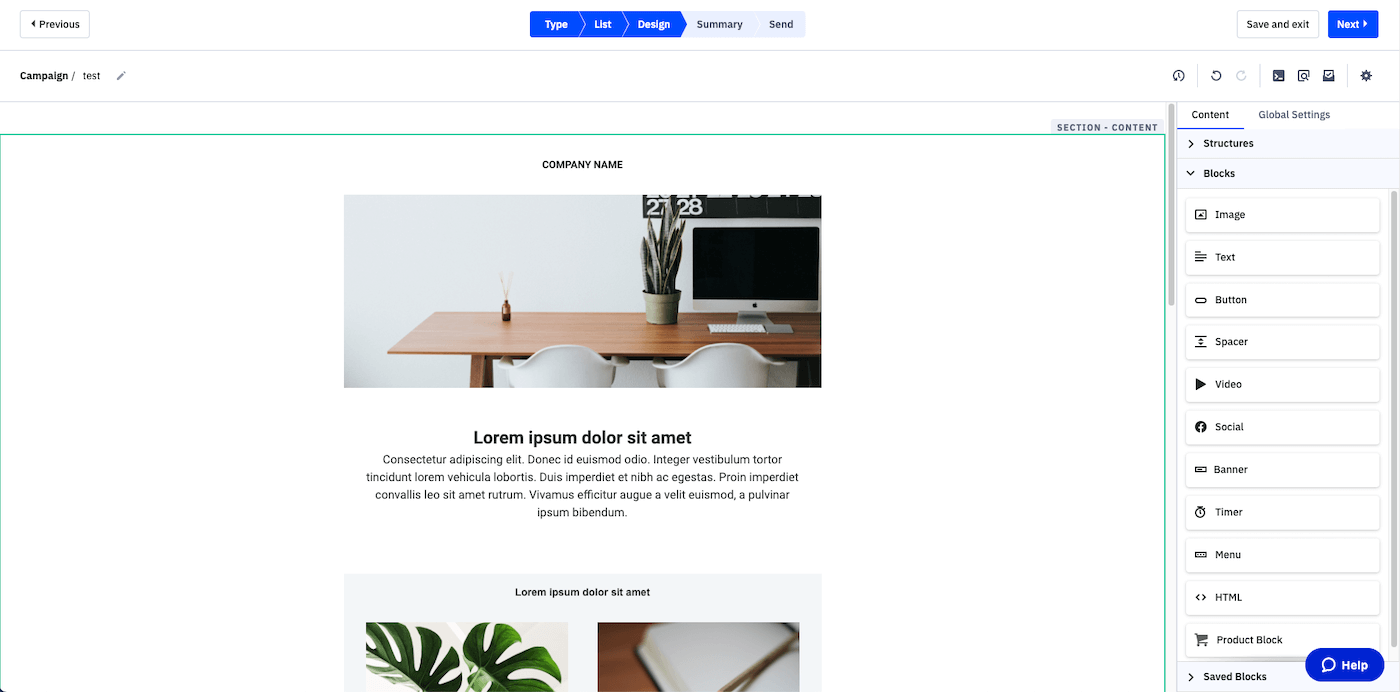 That being said, ActiveCampaign overall is probably not as beginner-friendly as MailChimp (due to the depth of features available). Automations, for example, require a fair bit of practice to get your head around.
This may be okay if you're technically inclined and not afraid to roll your sleeves up. However, it can be overwhelming for a complete beginner.
So, if having a tool that's easy to use is at the very top of your list, there's one winner here.
Winner: ActiveCampaign is fine if you're willing to put in the time and effort to get familiar with it, but MailChimp is definitely easier to master. The first round goes to MailChimp!
Design and Flexibility
How do ActiveCampaign and MailChimp fare when it comes to design?
In order to get access to MailChimp's more modern designs, you'll need to be on the Standard plan or higher. Unfortunately, the templates available on the free and Essentials plan look a bit outdated. There are also 14 boilerplate layouts that you can customize with your own colors and images.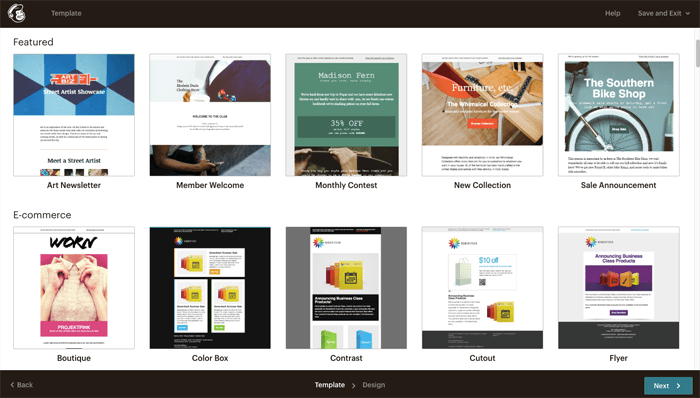 In general, you get a decent amount of flexibility to adjust designs, thanks to the different content blocks you can drag and drop in (text, images, social buttons and even products and promo codes). There's also an option to upload your own coded templates if you'd like, but, again, this option is reserved for those on the Standard plan and higher.
ActiveCampaign offers 250+ nicely designed and mobile-friendly templates, flexible content blocks, and the ability to import your own templates. The good thing is that all these options are available across all plans. Furthermore, they offer users a free customized email design on the Plus plan and higher.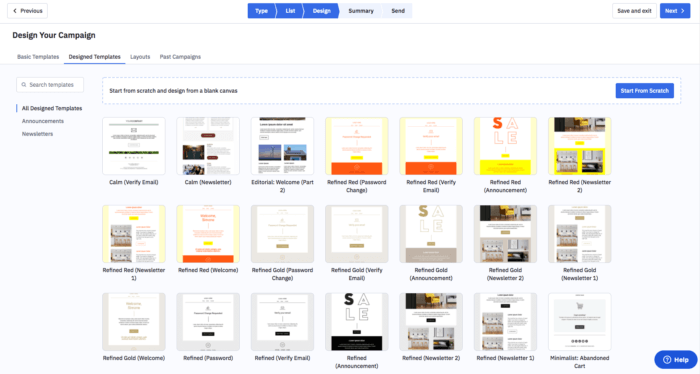 Winner: ActiveCampaign takes the point here for making its designs accessible to all users. 1-1
List management
One bugbear that users often have with MailChimp is its email list management. Why?
Well, unlike ActiveCampaign, MailChimp's lists are mutually exclusive. That means that you can't include contacts on different lists in the same campaigns. And as MailChimp charge per subscriber, it also means that if you have the same contact on different lists, you're paying for them twice.
This separation makes sense if you're running multiple businesses or projects – but it's annoying and costly otherwise.
I'd go so far as to say that MailChimp's list management is unnecessarily complicated. Aside from lists, they also have other ways of organizing contacts including tags, segments and groups – which I feel is a bit overkill, as the distinction between these isn't very clear at first.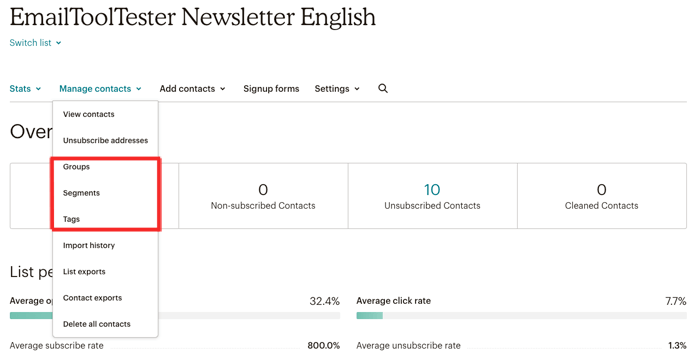 ActiveCampaign's approach is very different. Lists are less rigid, meaning that the same campaigns can be sent to contacts on different lists.
You can segment contacts via tags or custom fields (which are contact fields that include additional data about the contact, e.g. location or interests, etc.). Tags and custom fields can even be added or removed via automation.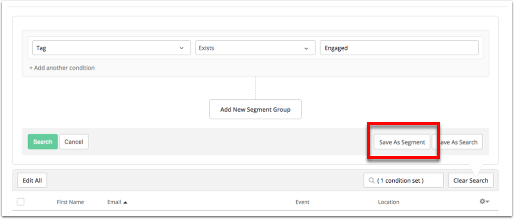 A cool new feature of ActiveCampaign's email editor is that you can set it so contacts who click on a link or image are segmented into a particular list – this isn't something we've seen in other editors.
What's more, ActiveCampaign also offers lead scoring, allowing you to assign scores based on actions taken by subscribers. It's extremely powerful stuff – and that's why they come out on top here.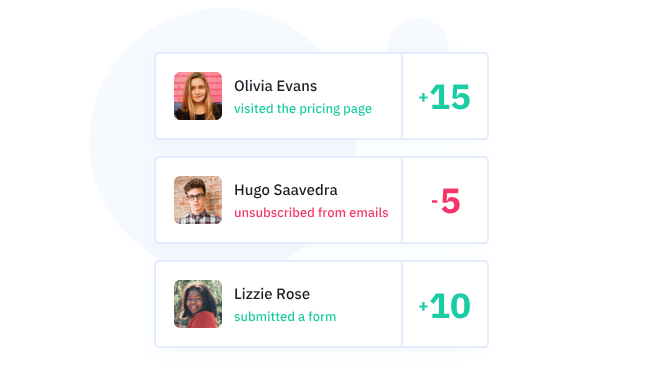 Winner: ActiveCampaign's list management features are truly impressive. MailChimp do an okay job but could probably make this a little more straightforward. 1-2
Marketing automation
Although MailChimp describe themselves as 'a powerful marketing automation platform', their automation capabilities pale in comparison to what ActiveCampaign offer.
MailChimp do have a good range of automated campaigns available (including abandoned cart campaigns and product purchase confirmations). Thankfully, they recently updated the automations editor, making it much more user-friendly.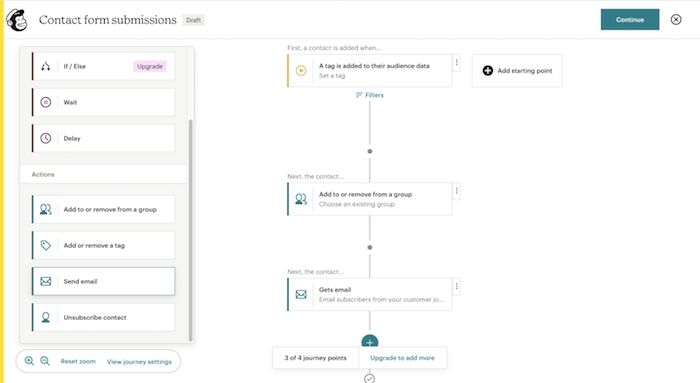 ActiveCampaign, on the other hand, offer the kind of automations you'd expect to see in much more expensive software. You can combine any number of triggers, actions and conditions to build sophisticated workflows for sending emails, scoring leads, segmenting and tagging data, and more.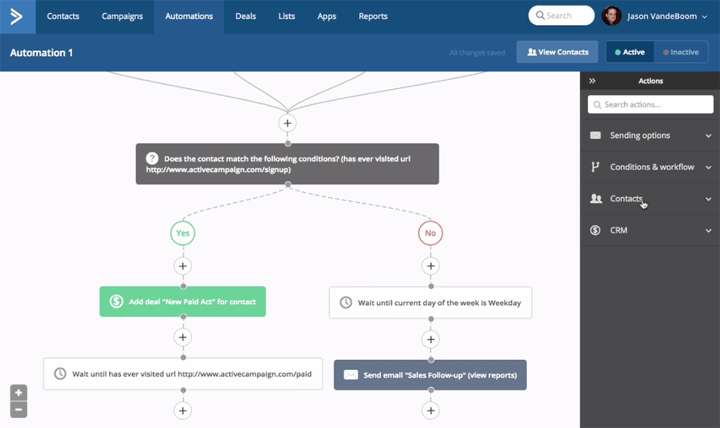 Plus, there's seamless integration with their inbuilt CRM, meaning that sales processes (such as follow-ups and one-to-one messaging) can be automated too.
Winner: It's very hard to beat ActiveCampaign at the automation game, taking us to a 1-3.
Registration forms
It's a standard feature in email marketing software nowadays. But let's take a look at how easy it is to set up a form in ActiveCampaign vs MailChimp.
ActiveCampaign provide a few options for creating different forms, including inline, floating bar, floating box, and modal (pop-up). The form editor is visual and easy to use, and adding new fields is also straightforward.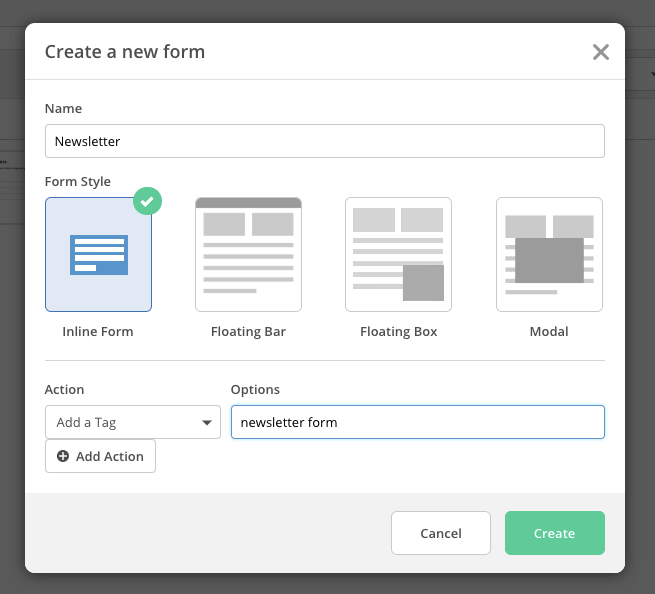 The forms (which are responsive) can be embedded, linked to, or even added directly to WordPress or Facebook if you have these integrations set up. You also get options to associate forms with lists, tags and even deals.
MailChimp also lets you create embedded or pop-up forms, but with a couple of differences – it's nowhere near as easy to do, and not all forms appear to be mobile-responsive, either.
Sure, the form builder (where you edit the form fields and design) is intuitive to use, but you actually use a different editor when creating an embedded form, and then a different one again when using a pop-up form.
I'm not sure why they make it so complicated, but ActiveCampaign's simpler approach is a lot easier to get your head around.
Winner: ActiveCampaign take out this round (and the lead!), 1-4.
CRM
MailChimp doesn't have a CRM per se, although they do claim that you can use MailChimp as a CRM.
Technically I guess this is true – MailChimp gives you access to comprehensive contact data, revenue reports, and ecommerce integrations.
But this doesn't really compare to ActiveCampaign's purpose-built CRM, which does a much better job of managing deals and opportunities, and linking marketing activities with sales processes.
That's because ActiveCampaign CRM allows you to build pipelines, create deal records, assign deal owners, and even automate your sales communications and processes. You can gain access to their CRM through their Sales plan or Bundle plan.

However, you can read more about it in our ActiveCampaign CRM review, but I have to say that having the ability to combine a CRM with an email marketing tool is pretty impressive.
Winner: MailChimp have a bit of catching up to do, as ActiveCampaign put themselves firmly ahead in this round. 1-5
Spam and design testing
MailChimp offers a decent amount in the way of design testing. Aside from your standard desktop and mobile previews, there's also their Inbox Preview feature which lets you preview emails in various email clients. If you have a monthly plan, you'll have 25 Inbox Preview tokens to use every month (and you can always buy more if needed).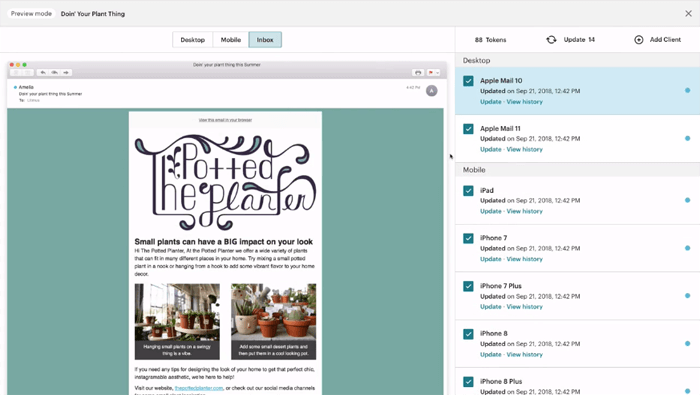 You also get a link checker that picks up on any missing links, and an app where you can preview your email on your phone. However, there's no spam testing offered.
It's the opposite with ActiveCampaign – while they have a spam check (using SpamAssassin) that automatically checks every email before you send, design previews are limited to desktop and email previews. Email client previews aren't included, at least not for free – you need to buy extra credits to be able to access these. And at $5 for 5 tests, it's not the most affordable.
Winner: MailChimp provide design testing for free, while ActiveCampaign provide spam testing – so let's call it even. That takes us to 6-2, with ActiveCampaign in the lead.
Reporting
Both ActiveCampaign and MailChimp do an excellent job of reports. Each tool provides the following:
Email performance (opens, clicks, bounces, unsubscribes, etc.)
Links clicked
Geolocation
Social performance
Automation reports
Ecommerce reports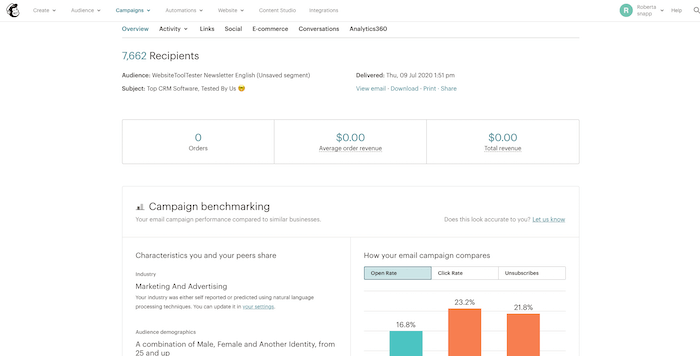 On top of everything listed above, ActiveCampaign also provide deal reports, which are summaries of the deals in the CRM. Here, you can check reports such as deals over time, funnel overviews, and deal owner by reports.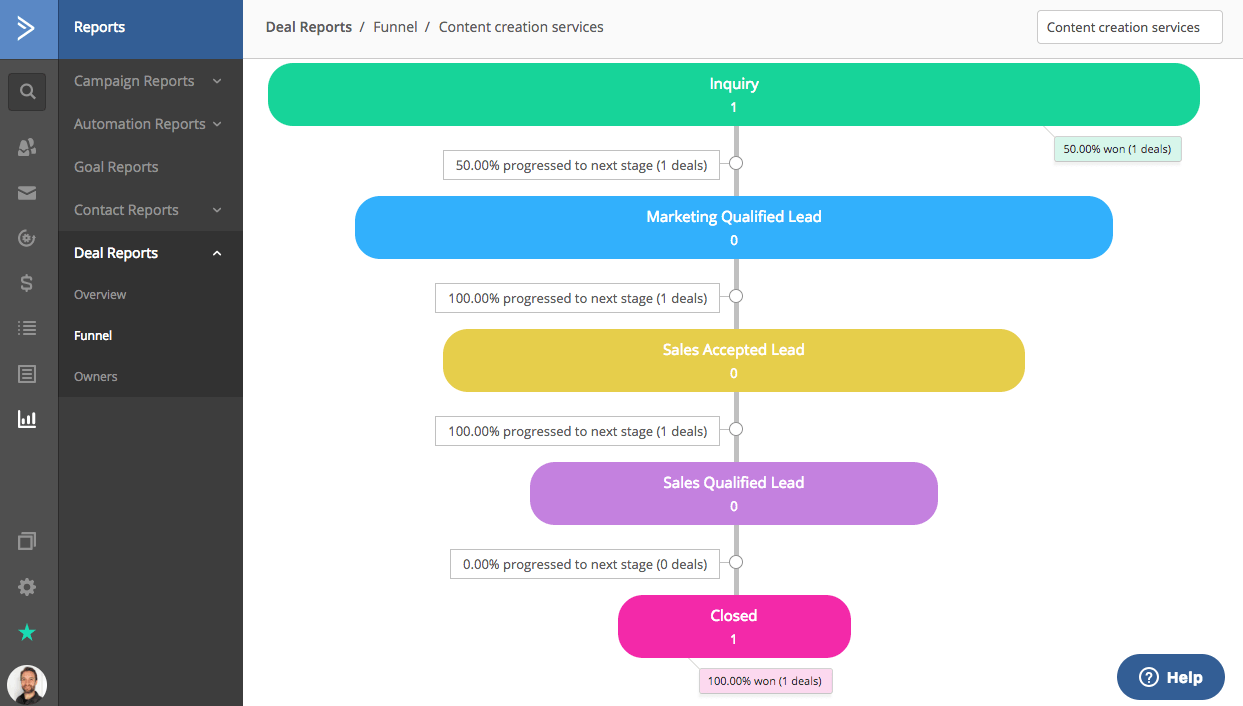 MailChimp, however, offer slightly more in the way of ecommerce reports, as ActiveCampaign only allows 'deep data' reporting with Shopify, BigCommerce and WooCommerce.
Winner: Honestly, they're pretty on par here. ActiveCampaign would be the better choice if you want access to deal reports, however, MailChimp provides ecommerce reporting for more tools. Again, a point to both! 7-3
Deliverability
We've taken a look at ActiveCampaign vs MailChimp's features, but what about how they perform in terms of deliverability?
While it's a factor that often gets overlooked, we're committed to testing the deliverability of top email marketing providers, including Mailchimp and ActiveCampaign.
Here are the average figures of how they performed in our last 3 rounds of bi-annual deliverability tests (Mar 2021 – Apr 2022):
| | MAILCHIMP | ACTIVECAMPAIGN |
| --- | --- | --- |
| Overall Deliverability Rate | 87.88% | 91.66% |
Overall, ActiveCampaign has had much better deliverability rates than Mailchimp, winning numerous rounds. Although it's fair to say that Mailchimp have caught up pretty quickly.
Winner: ActiveCampaign take this round. If you've lost count, they're comfortably leading the way 8:3. Let's see if MailChimp can catch up in the last few rounds…
Landing Page Builder
Most email marketing tools offer a landing page builder nowadays, and ActiveCampaign and Mailchimp are no exceptions. Mailchimp was one of the first to do so, ActiveCampaign took slightly longer to jump on the bandwagon.
The main difference is that Mailchimp offers this feature for free, whereas ActiveCampaign makes you pay for it at a very high price ($23/month). For that price, you'd expect them to be pretty advanced, and they are; you can create personalized web experiences by hiding or removing certain elements. The templates are varied and easy to edit, and the landing pages are hosted on a custom domain or subdomain. Find out more about ActiveCampaign's landing pages here.
Mailchimp's landing page builder is easy to use, and you can sell items straight from your landing page. The only thing is there are only 10 templates to choose from.

Winner: Despite Mailchimp's limited selection of designs, the fact that you can create landing pages for free with them is a big plus. They take this point. 8:4
Integrations and extras
Both ActiveCampaign and MailChimp are popular tools, so it stands to reason that they'd each provide a decent amount of integrations with other tools.
MailChimp offer over 300, with integrations to all your biggest CRMs, ecommerce platforms (including Shopify), CMS and web builders, and social networks. Plus, they connect to Zapier, opening up the integration possibilities even further.
ActiveCampaign provide integrations with over 850 apps, and also connect with Zapier.
Winner: Sure, it'd be easy to give this round to the tool with the highest number of integrations, but as this would constantly be changing I'm going to award a point to each – both provide the main integrations that the majority of users would need. 9-5
Support
ActiveCampaign and MailChimp offer similar avenues of support, with email, live chat, knowledge bases and tutorials all available. However as ActiveCampaign is a little more complex to master, they also provide one-on-one training as an option, and a community forum where you can get in touch with other users.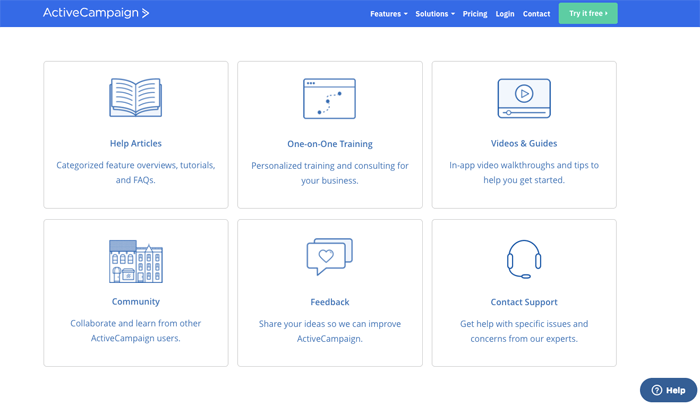 We found ActiveCampaign's support to be a little more accessible than MailChimp's. While you could access ActiveCampaign support from any screen within the tool (thanks to the Help icon in the bottom right corner), MailChimp's email and chat support was only available after you'd gone through their knowledge base.
Winner: With more support options and a much easier way of getting to them, ActiveCampaign take out this round, taking them to a strong 10:5 lead.
Pricing
As we've seen so far, the scales are definitely tipping in ActiveCampaign's favor, especially when it comes to the range and depth of features on offer.
So how do ActiveCampaign and MailChimp compare when it comes to price?
For the number of extras you get, ActiveCampaign would surely charge an arm and a leg, right?
As it turns out, not necessarily. Compared to other similarly-featured enterprise-level automation software (e.g. HubSpot), ActiveCampaign is actually much more budget-friendly.
Let's take a look at their lowest-level plans to see what I mean.
| | ActiveCampaign (Lite) | MailChimp (Essentials) |
| --- | --- | --- |
| Free plan | Not available | 500 contacts for free and 1,000 emails per month |
| 5,000 subscribers | $99 (discounted yearly plan: $69) | $69 |
| 10,000 subscribers | $174 (discounted yearly plan: $111) | $100 |
| 50,000 subscribers | $486 (discounted yearly plan: $239) | $350 |
So, when you have more than 50,000 subscribers, ActiveCampaign and MailChimp's prices start to even out. Unless you choose an annual plan, that's when ActiveCampaign becomes more affordable.
It is worth re-emphasizing, though, that this is on ActiveCampaign's lowest Marketing plan, Lite. This doesn't come with all the features included (e.g. CRM, lead scoring, deep data integrations, landing pages). For those features (and more), you'd need to upgrade to either their Sales plan or combine both Marketing and Sales as a Bundle.
With MailChimp, most features (or most of the useful ones, anyway) are included in their Essentials plan. The only ones missing are advanced segmentation, comparative reports, multivariate testing and premium support, which are only available on the Premium plan.
This plan starts at $299, which is why I don't think it's even worth mentioning – it's way too expensive for what you get in return.
However, a few other pros in MailChimp's favor are that they offer a Forever Free plan as well as prepaid plans. ActiveCampaign don't provide either; just a free 14-day trial.
Winner: This one's a bit tough. On paper, MailChimp are cheaper (when dealing with smaller subscribers volumes), but in terms of value for money, ActiveCampaign's Lite Marketing Plan is better in our opinion.
It's hard to compare the two when they play in such different leagues, but I think it comes down to which of the two I feel is overpriced for what it offers. And I genuinely feel that it's MailChimp. So, this round goes to ActiveCampaign.
(Note: if you're looking for a really cheap alternative to ActiveCampaign, check out our ActiveCampaign vs tinyEmail comparison.)
That means that we have a winner… ActiveCampaign!
Detailed comparison of features
Ease of Use
Editor
Personalization
Email types
Choice and Flexibility of Template Designs
Email Marketing Automation
List Management
Registration Forms/ Opt-in & Opt-out- Process
Deliverability
Reports and Analysis
Languages
Spam- and Design-Testing
Bounce Management
Blocklist
Storage available for data and images
Unlimited
unlimited
Authentication
Own Domain
Different levels of account access
Integrations
Landing Page Builder
Customer Support
Prices

Up to 1,000: $39/mo

Up to 2,500: $61/mo

Up to 5,000: $99/mo

Up to 10,000: $174/mo

Up to 50,000: $486/mo

Up to 500: $0/mo

Up to 2,500: $39.50/mo

Up to 10,000: $100/mo

Up to 20,000: $220/mo

Up to 30,000: $295/mo

Up to 40,000: $330/mo

Up to 50,000: $350/mo

Overall rating
ActiveCampaign vs MailChimp: Final thoughts
There's a good reason why ActiveCampaign is our site's #1 tool. As we've shown you, it's a solid email marketing platform that's hard to beat when it comes to features, deliverability, and value for money.
Is it the right tool for you? If you're looking for advanced features – marketing automation, CRM, list management, and so on – and have the budget for it, then I'd recommend ActiveCampaign without hesitation.
But what if you're working with a tighter budget? What if ease of use is more important to you?
In this case, MailChimp would be the better option – but just be aware that there are now tools that are even cheaper, easier to use, and offer similar features (MailerLite, for example).
So if you're in this group, I'd definitely recommend shopping around. MailChimp may be the champ of email marketing in terms of popularity, but there are plenty of other tools out there that give it a serious run for its money.
You can see how other popular email marketing platforms and Mailchimp alternatives compare in the following comparisons:
See how what ActiveCampaign alternatives are out there in these comparisons:
Leave a comment if you have any questions – I'd be glad to help!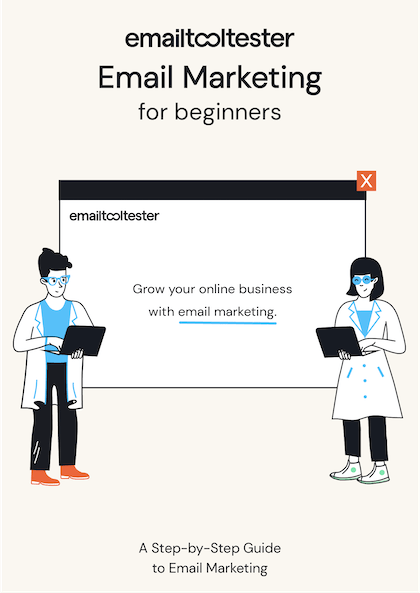 Email Marketing Crash Course: Step-by-Step Guide
Our email marketing course for beginners: ideal for small and medium-sized businesses, online stores and bloggers. It shows you all the steps you need to send your first email campaign. Best of all, it's free!
Sign up to receive your copy immediately!
We keep our content up to date
12 April 2023 - Updated banner 
16 March 2023 - Added video review 
09 March 2023 - Updated deliverability averages
01 March 2023 - Changes to ActiveCampaigns plans and pricing
29 Nov 2022 - Added video reviews of each email marketing service
07 Sept 2022 - General update
27 Apr 2022 - Updated deliverability averages
19 May 2021 - Updated design and automation sections. Added landing page section
16 Mar 2021 - Updated deliverability section based on the latest round of testing
31 Aug 2020 - Updated the deliverability averages
24 July, 2019 - Deliverability averages updated to include the latest round of testing
10 Feb, 2020 - Deliverability averages updated to include the latest round of testing
Our Methodology
This article has been written and researched following our EmailTooltester methodology.
Our Methodology