Want to start a newsletter, but wondering if it's absolutely necessary? You've already set up triggered emails and other types of email marketing campaigns. Do you really need a newsletter, too?
Well, there are many benefits of newsletters. Not least is the fact that no matter what type or size of business you run, an email newsletter will help you build relationships with your email subscribers, leading to increased conversions.
In this post, I'll share the numerous other benefits of newsletters – and what you need to do to achieve them. And by the time you finish reading, you'll have learned why they are an essential part of your email marketing strategy.
Sounds good? Let's get to it.
1. Build your email list
Yes, you need a lead magnet to build your email list. But who says a lead magnet has to be downloadable content? One benefit of newsletters is that they can serve as a lead magnet that attracts subscribers to your email list.
Many people will subscribe to your email newsletter if you're offering something valuable. This means offering more than just weekly updates and special discounts. You have to provide value that educates your audience, solves their problems, or even entertains them.
For instance, an Excel coach may have a weekly newsletter that teaches newbies how to use different Excel functions. Another great example is this Really Good Emails Newsletter opt-in offer that promises the best email designs.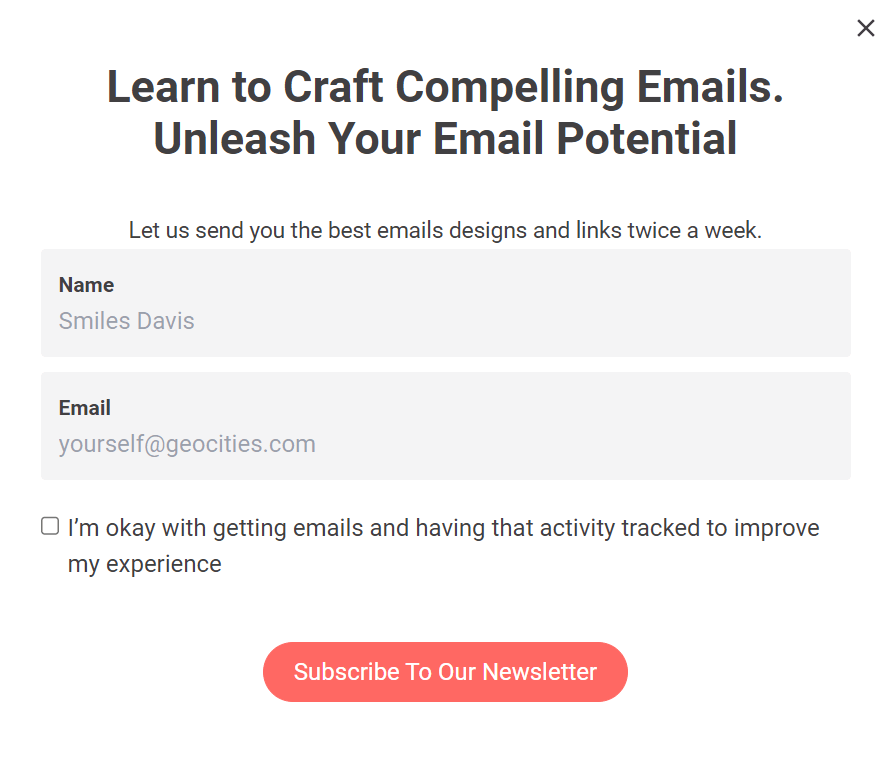 Lead magnet newsletter example
2. Build a relationship with your subscribers
Newsletter emails encourage interaction with subscribers. When done right, they contain minimal promotional content and more helpful content. This helps you build and nurture a long-term relationship with your subscribers.
For instance, newsletter content about how you overcame a problem they may be facing will create a sense of kinship. Also, sharing behind-the-scenes peeks, success stories, secret tips, and expert hacks in your newsletter can help build your relationship.
This Process.st newsletter email provides helpful information to help subscribers overcome distractions: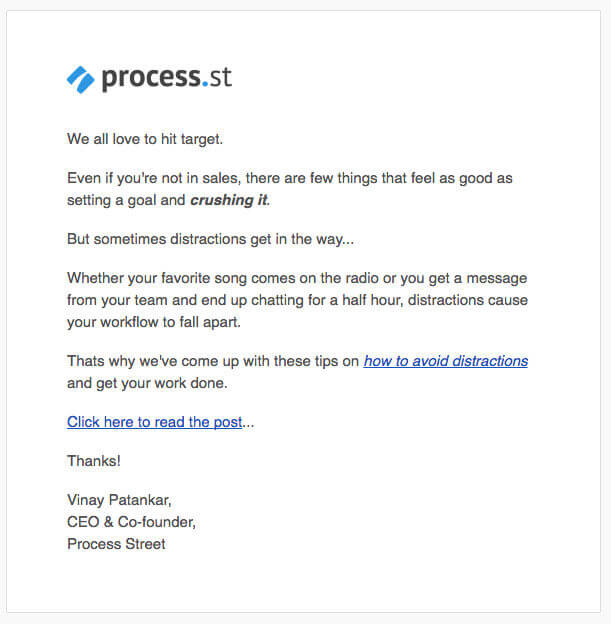 Newsletter that builds relationship
3. Establish your expertise in your field
Newsletters enable you to share your insights, showcase your knowledge, and demonstrate your experience. Doing this builds your credibility and establishes you as an expert in your field.
Consequently, you'll be seen as an authority, and your subscribers will engage more with your business. Let's say you're a marketing guru; sharing exclusive marketing strategies you've implemented successfully, and insights on the latest trends, will help position you as an expert.
A real-life example is Harry Dry's newsletter, in which he shares practical copywriting examples and tips with images.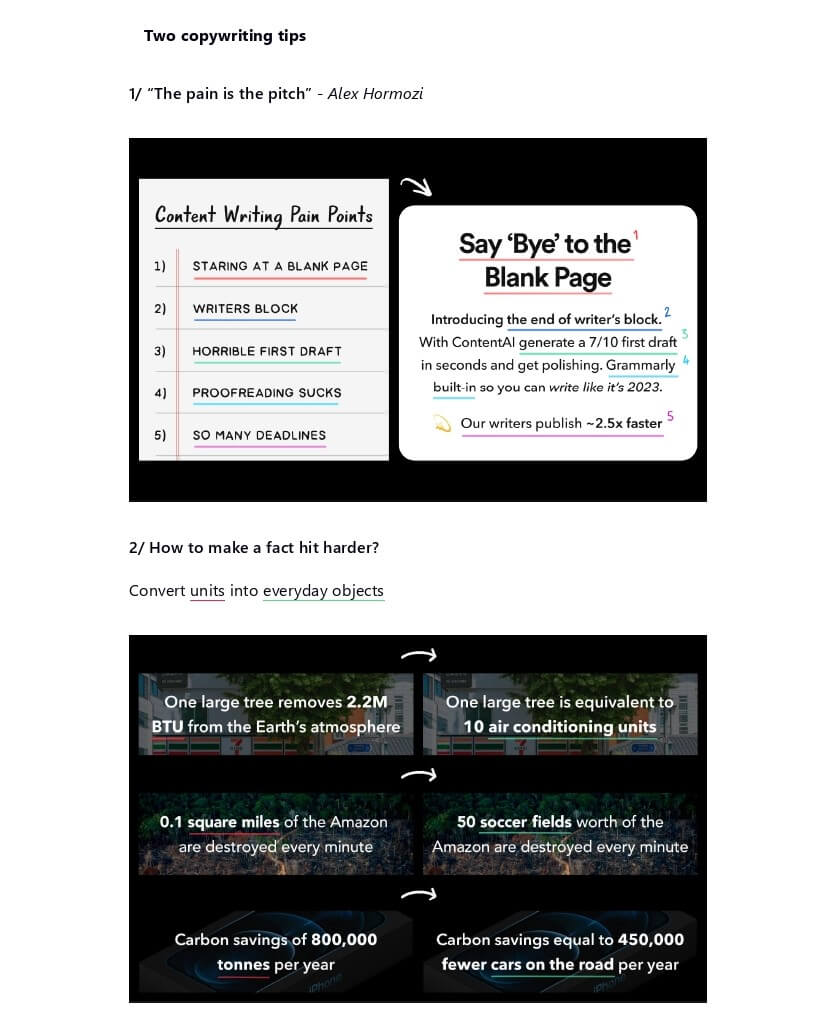 Newsletter that establishes expertise
4. Build and keep your brand top of mind
Newsletters are not one-time blast emails. Rather, they are sent regularly, which makes your interaction with your subscribers frequent.
This frequent interaction builds your brand awareness. Besides being familiar with your brand colors and logo, subscribers will get to know you and your business values. And, of course, you'll be top of mind when they're ready to make a purchase.
Moreover, if you constantly share valuable newsletter content, subscribers will share your brand with friends and family. You could even offer rewards in your email newsletter for recommending your business.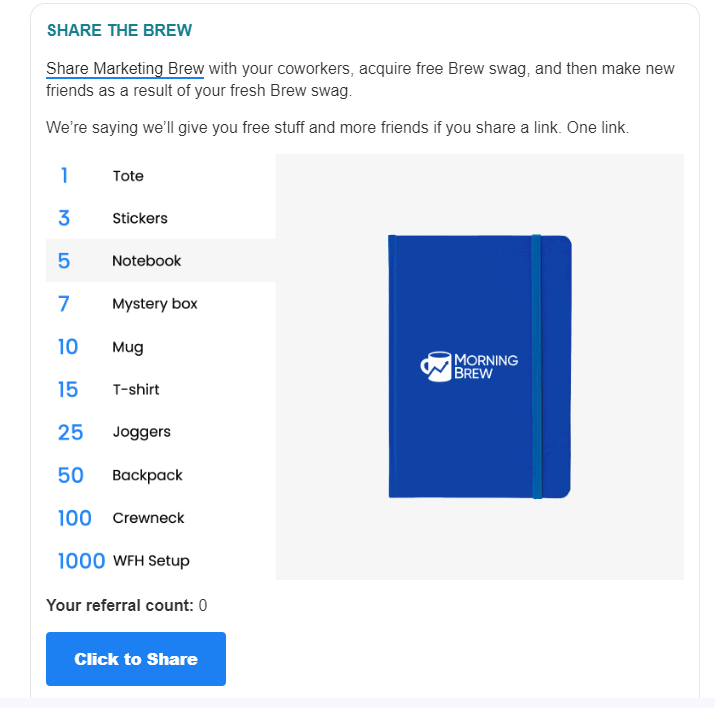 Newsletter to build brand
5. Send more personalized emails
Another benefit of newsletters is that they can be segmented and personalized to engage subscribers better. This enables you to send more targeted emails that will connect with each subscriber.
Segmentation involves dividing subscribers into groups based on their characteristics, behaviors, and interests. And, email personalization strategies, like using subscribers' names in the email subject line, can attract engagement.
For instance, if you run a fashion brand, you could segment by gender. This will enable you to send separate style tips to male and female subscribers. Also, you can personalize the email by using male and female models, like the Everlane emails below.
Personalized newsletter email
6. Make exclusive announcements
Beyond sharing helpful and valuable content, you can use your newsletter to share exclusive announcements with your loyal subscribers. This includes special events, new promos, and upcoming launch announcements.
Imagine your company is planning a new software or features launch. Announcing it and offering access to your subscribers before the general public will make them feel special, and generate buzz for your new offer. An example is this Semrush email.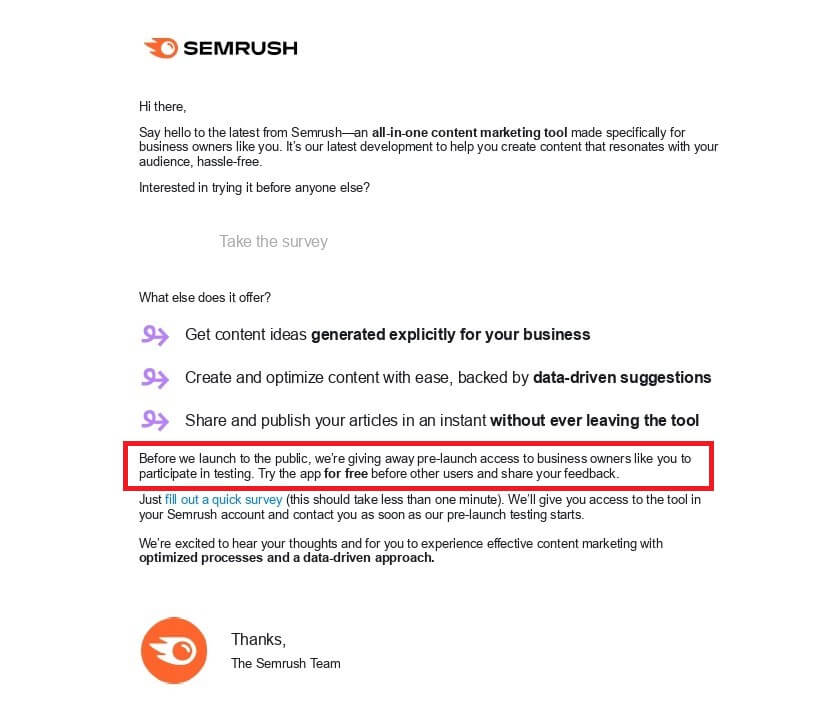 Exclusive preview newsletter
7. Synergy with other digital marketing channels
Although email marketing is an effective strategy on its own, synergy across all digital marketing channels is crucial for the best results. Newsletters work well with other channels, including social media and content marketing.
For instance, you can use your newsletter to drive engagement on social media platforms. Say you're running a social media contest; sending a newsletter about it to your subscribers will increase participation. An example is this Canva newsletter email inviting subscribers to participate in a design challenge.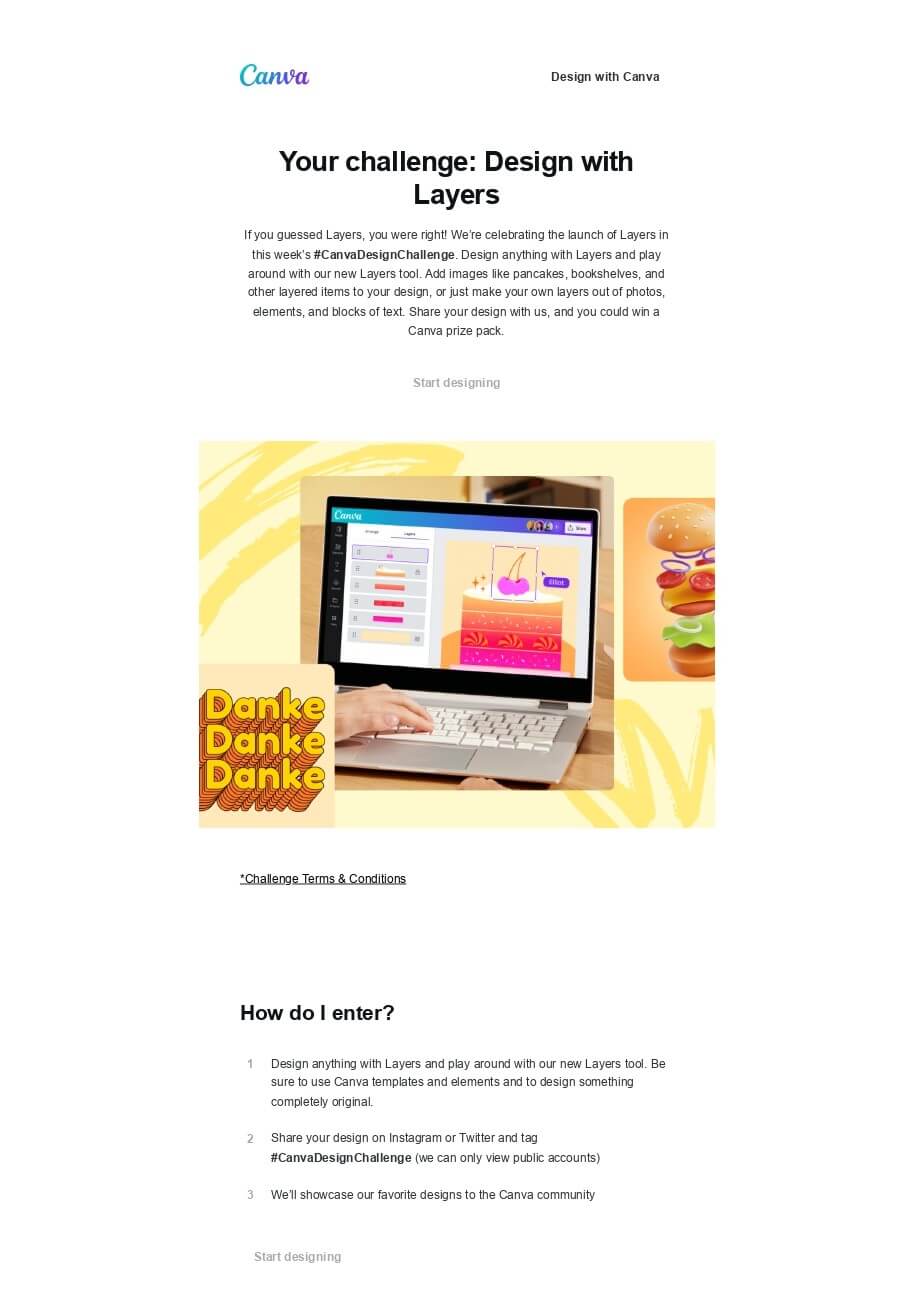 Social competition newsletter
8. Increase website traffic
The benefits of newsletters also include driving traffic to your website, making you more independent of SEO and paid ads. Many newsletters often have a link or two directed to their website. Some newsletters even include blog post roundups with links to the complete post.
But beyond blog posts, you can direct subscribers to your products or services pages. Or recommend helpful content available on your website. An example is this Learning with Semrush newsletter.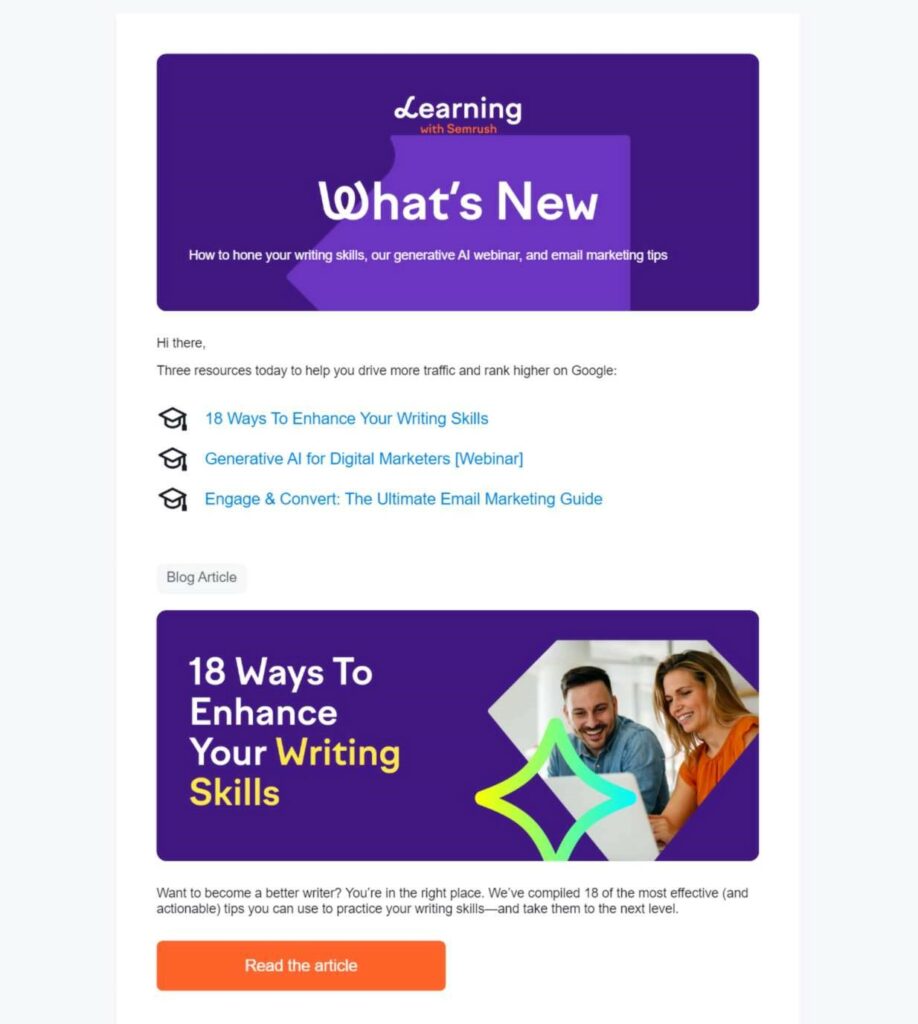 Newsletter that drives website traffic
Here's another example for product-based businesses. Say you run a home decor online store; you could send a newsletter about simple tips to transform a room and link to corresponding products on your website. Subscribers would not only click to check out the product, there's a chance that they'll also convert!
9. Turn subscribers into customers
Sure, the primary aim of newsletters isn't to make sales, but to make a connection and share valuable information. Still, you can convert your email newsletter subscribers into customers.
Say you're a fitness coach. You can send a newsletter showcasing the success story of one of your students and what they did differently. Then, encourage your subscribers to sign up to your program if they need assistance.
Moreover, sending helpful newsletter content frequently nurtures your relationship with subscribers, which can build trust and encourage them to buy from you. For instance, some days ago, James Clear sent an email to his 3-2-1 newsletter subscribers asking them to sign up for his new masterclass. Surely, he'll convert some subscribers to students.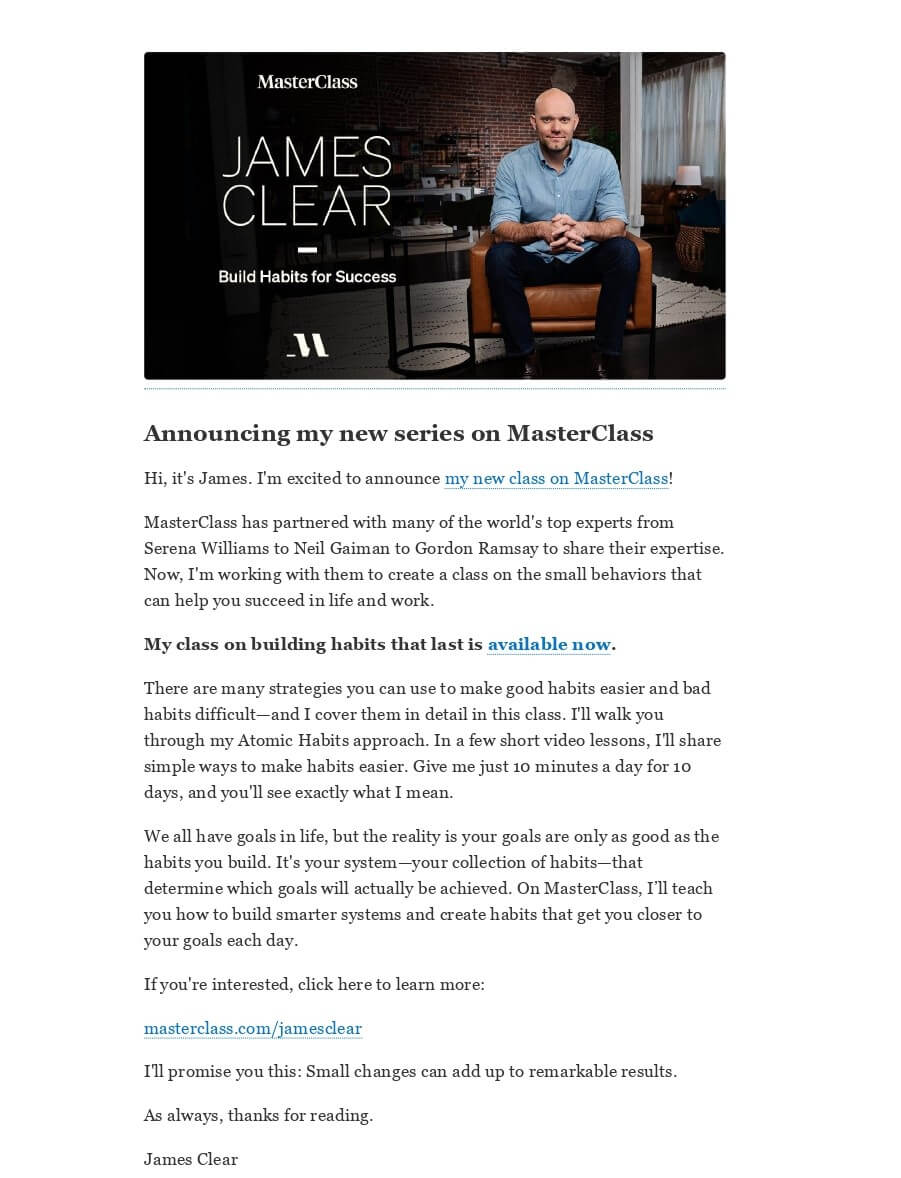 Newsletter that converts subscribers
10. Gain valuable insights
Newsletter analytics provide valuable insights about subscribers who are potential clients. This insight will help you understand their behaviors and discover their needs and pain points.
And, with A/B testing, you can deduce what works and what doesn't. Metrics like open, click-through and conversion rates will guide you on how best to engage and convert subscribers to customers.
You can A/B test the newsletter email subject line, content, design, and layout. This example from Constant Contact tests the email design.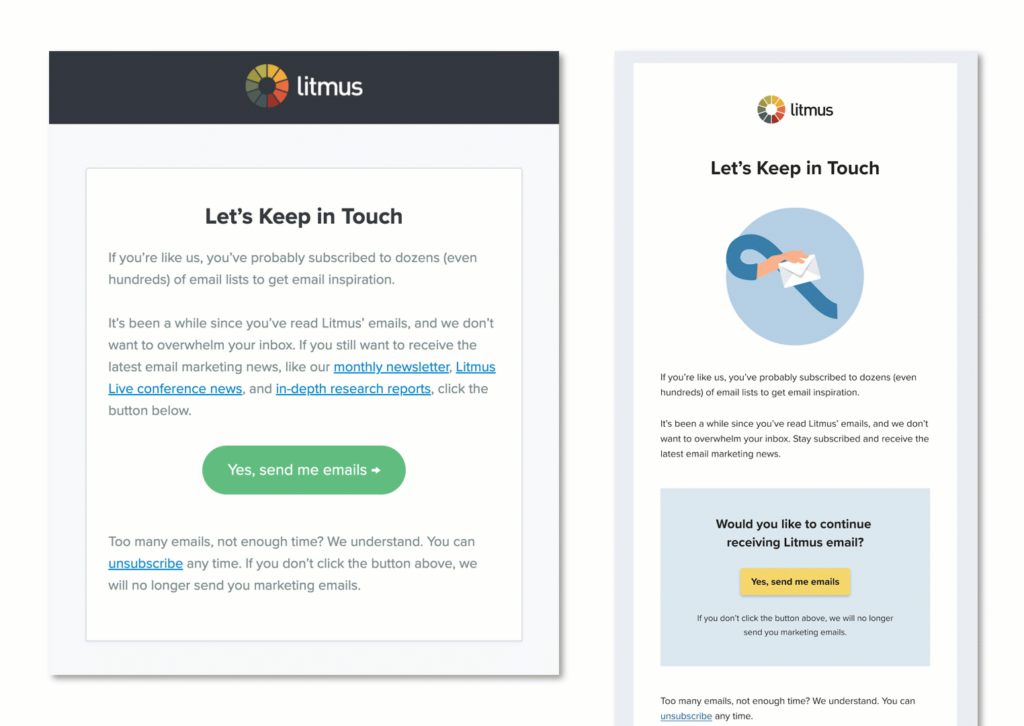 Newsletter A/B test
11. Keep your email list clean
A clean email list is crucial for effective email list management. A not-so-obvious benefit of newsletters is that they make it easy to keep your list clean by enabling you to track your email subscribers' behaviors.
Because you (ideally) send newsletter emails frequently and not once in a while, you can easily identify inactive subscribers who aren't engaging with your emails. Then, send a re-engagement newsletter or give them a chance to opt out before you remove them.
Better yet, you could include a call-to-action in your newsletter, like Marketing Brew, to confirm if subscribers are still interested in receiving your newsletter.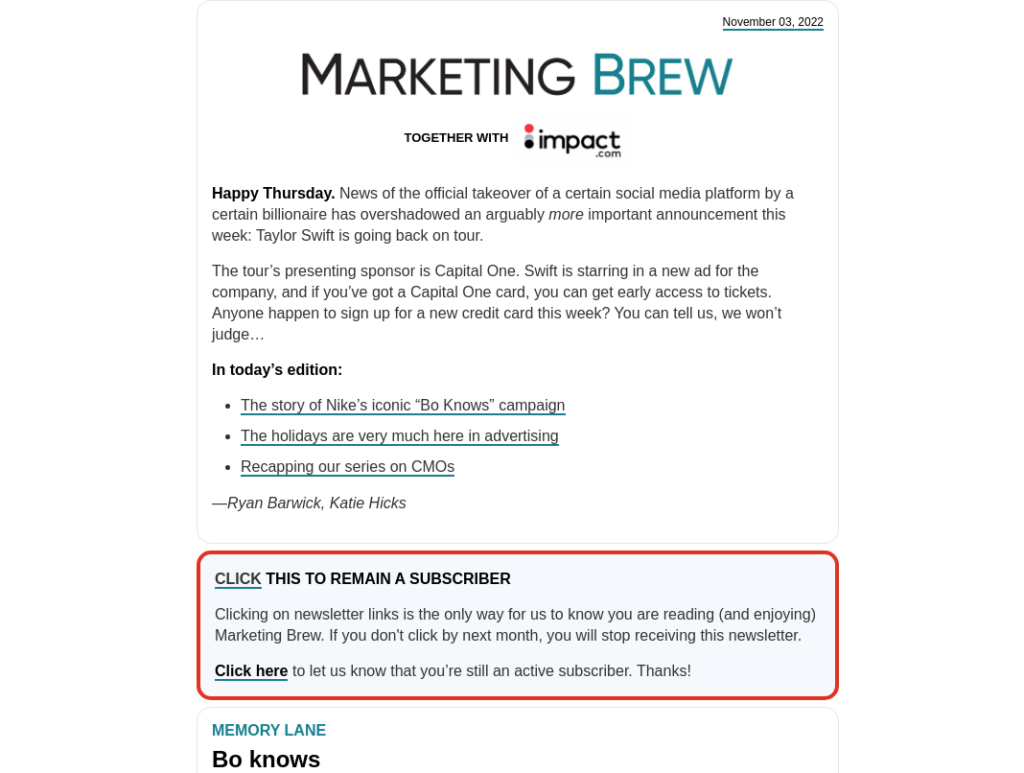 Re-engagement email newsletter
12. Low cost, high reward
There's no doubt that email marketing is the most cost-effective digital marketing strategy. According to several studies, it offers an ROI of up to 3600%. However, newsletters are even more "low cost, high reward."
They offer a higher ROI than one-time sales campaigns, as they are sent more regularly with more opportunities for conversion. What's more, you don't have to hire an email copywriter or designer. You can simply repurpose your existing content (e.g., blog posts) and use a single design template.
The major cost of running a newsletter is the subscription fee for your email marketing platform. And, if you're a small business with less than 500 subscribers, you may even get a free account on top platforms like GetResponse.

Newsletter email free plan
Conclusion
Most digital marketing experts (including me) recommend including a newsletter as part of your email marketing strategy. And, that's because of the numerous benefits of newsletters outlined in this post.
Whether you're a small business or medium-sized company, a service-based or product-based business, running a newsletter can benefit your business. And, there's no one-size-fits-all perfect type of newsletter.
You can choose to do blog roundups, share industry news, give company updates, solve problems, discuss the latest trends, and more. Just remember that newsletters are not for blatantly promoting your business, but for building relationships that result in conversion.
If you need more help setting up your business or company newsletter, check out this step-by-step guide for creating newsletters and insider newsletter tips to hook your subscribers. You can also drop any questions you may have about newsletters in the comment section.
Our Methodology
This article has been written and researched following our EmailTooltester methodology.
Our Methodology