Since you already spend time writing and designing your email newsletters, why not try making money off newsletters as well?
Turning a newsletter into a money-making asset isn't an impossible task. There are many ways of doing so, and various newsletter creators have had major success with newsletter monetization (as we'll share below!)
So if you'd like to join their ranks and profit from your newsletters, we'd love to help you get started! Keep reading as we share:
How to monetize a newsletter,
The best email marketing software for monetizing a newsletter,
How to send your subscribers targeted newsletter content (for more relevant monetization opportunities!), and more.
How to Get Started with Newsletter Monetization
If you're wondering how to make money with a newsletter, the first step is to create an email newsletter. After that, there are many email monetization strategies you can use, such as selling paid newsletter subscriptions, charging for newsletter ads, or adding affiliate links. If you grow and segment your email list well, your newsletter can become very profitable.
8 Ways of Monetizing a Newsletter
So how do newsletters make money? And is it something for you? Let's take a look at these 8 strategies on how to make money from newsletters.
1. Paid newsletters
If you put out especially good newsletter content, why not charge for access to it? You could sell monthly or annual newsletter subscriptions, and earn recurring and predictable revenue.
Of the best paid newsletters out there, Flow State is one of them.
This newsletter is sent every weekday and shares two hours of music perfect for working.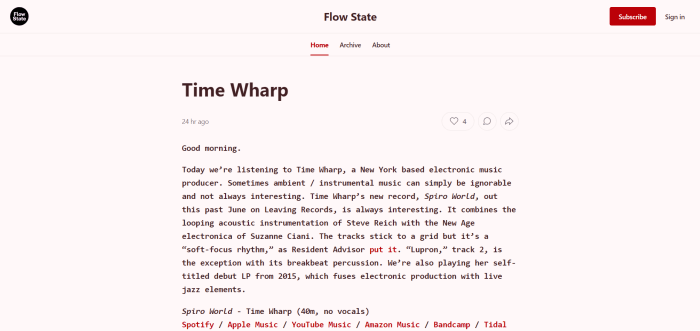 A monthly subscription to Flow State costs $5. The newsletter currently has "hundreds" of paying subscribers, so you can imagine how much it makes every month!
This newsletter is sent via Substack, an online tool especially designed for writers and podcasters to monetize their newsletters. While subscribers can read your newsletters for free, you also have the option to offer your audience some bonuses and exclusive content through a paid subscription.
In Flow State's case, paid subscribers enjoy privileges such as an ad-free newsletter and access to private Spotify playlists.
According to the Substack newsletter platform, about 5–10% of free newsletter subscribers will go on to become paid subscribers. This means you'll need a pretty sizable email list to make the paid newsletter business model succeed for you.
2. Memberships and paid communities
Instead of monetizing your newsletter directly, you could offer it as part of a paid membership or community.
In other words, your newsletter will be one perk that people can enjoy if they join your paid community (for example, your members-only website). They technically won't be paying for your newsletter itself.
The Mind the Product Membership is an example of such a revenue model at work:
Users pay to be a member of the Mind the Product community. When they do so, they'll get access to an online discussion forum and Ask Me Anything sessions with product experts, among other benefits.
They'll also receive Prioritised, which is Mind the Product's weekly product management newsletter.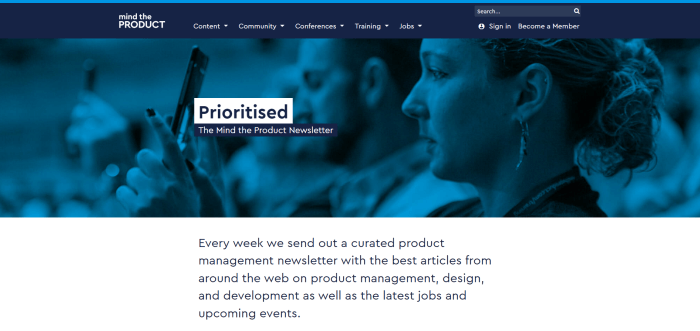 If you already run a paid course or community, adding a newsletter offering to it shouldn't be too resource-intensive. Doing so can also increase the value that members get out of your online community.
But if you're trying to build a new paid community – and new associated premium offerings – around your newsletter, you might find that a more challenging task.
3. Newsletter sponsorships
With a newsletter sponsorship, you can sell emails for money in the form of letting a brand pay to "take over" your newsletters.
The Superpath content marketing newsletter operates on such a sponsored content model, where different brands sponsor the newsletter every week.
In return, the newsletter features the brand's name at the top, together with a short pitch on its offerings, before going into its main content for the week.
For this particular edition of the Superpath newsletter, you'll see that it was sponsored by the knowledge platform Terkel:
Be strategic when approaching potential sponsors for your newsletter. There should be a good fit between what the sponsor offers and what your newsletter readers need.
This way, you maximize the chances of subscribers responding positively to the sponsor's offer – such as signing up for a free trial or buying their products.
Then, if sponsors get a positive return on investment (ROI) from sponsoring your newsletter, they'd be more likely to continue doing so.
4. Affiliate marketing
Get paid to promote others' products in your newsletters!
First, sign up for an affiliate program with a brand whose products you want to promote. You can then generate custom affiliate links for adding to your emails.
For instance, this call to action (CTA) to check out the RightMessage website personalization platform in Pat Flynn's Smart Passive Income newsletter is an affiliate link: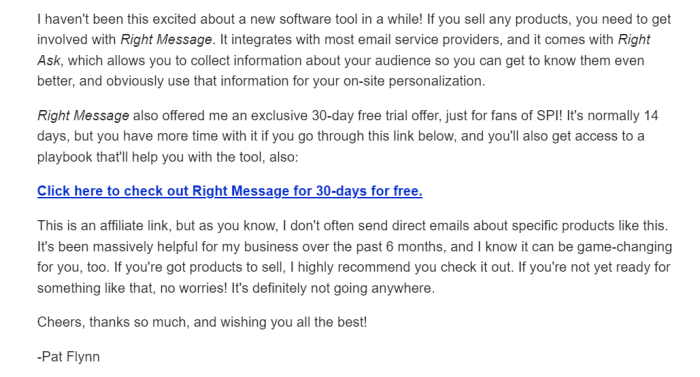 Then, whenever someone makes a purchase through your affiliate link, you could earn a sweet commission.
Not sure where to find affiliate programs? Amazon Marketplace is a great start. It pays a 1–20% commission for orders placed through affiliate links, and you have no shortage of products to promote.
In line with the Federal Trade Commission (FTC)'s affiliate disclosure guidelines, however, you'll need to disclose your referral program partnerships in your newsletters.
This disclosure should also be "clear and conspicuous." Take a look at how the Smart Passive Income newsletter transparently states the affiliate nature of its CTA link in the paragraph after it, for example.
5. Sell your digital or physical products/services
If you create your own products or services for sale, seize the opportunity to promote them in your newsletter.
After all, you'll earn 100% of the revenue from the sale – compared to the smaller percentage of affiliate commission you'd earn from promoting others' products.
Here, we have a newsletter from the School of Basketry Art promoting an upcoming paid basketry workshop.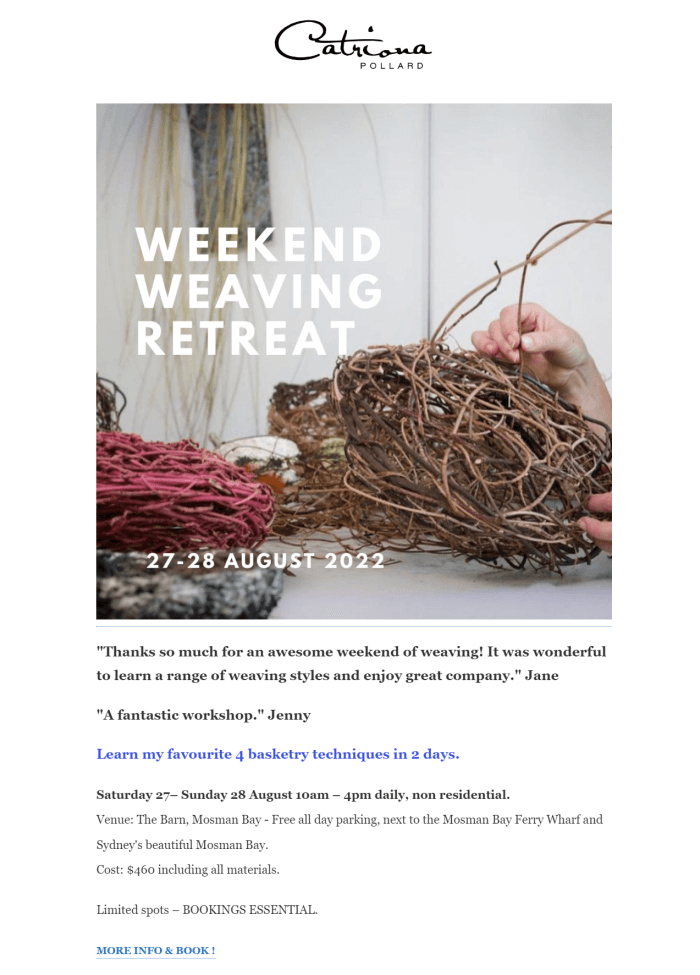 As you'll be in charge of fulfilling your subscribers' orders, test your fulfillment process thoroughly before sending your newsletter:
Click your CTA links to check if they send subscribers to the right landing pages.
Do test purchases to confirm that subscribers can make payment for your products/services.
(For digital products) Verify that subscribers will receive the right items after making payment.
6. Sell ad space in your email newsletters
Selling ads is a tried-and-tested monetization method that's been around since newsletters first appeared in print.
Here, you'll pitch your newsletter to brands that may be keen to advertise with you. In exchange for an advertising fee, they'll get dedicated ad space in your email newsletters to promote their products or services.
Just like this ad for end credits platform ENDCRAWL in this Tao of Color newsletter: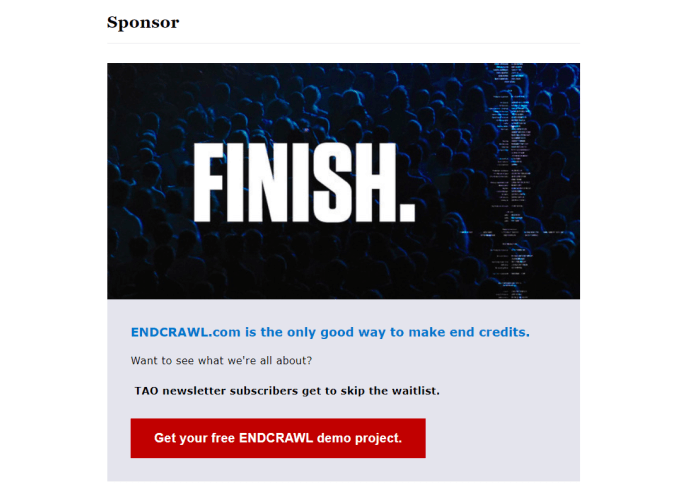 When placing ads in email newsletters, some brands will provide their own ad copy and images. On the other hand, some will ask you to create such collateral for them.
Either way, find out the advertiser's needs and work with them to make the advertising partnership a success.
7. Promote your branded merch in your newsletter
Do you sell a line of branded merch? Likewise, promote it in your newsletter!
Just like what the Morning Brew did when it launched new Morning Brew-themed clothing, notebooks, tote bags, and more: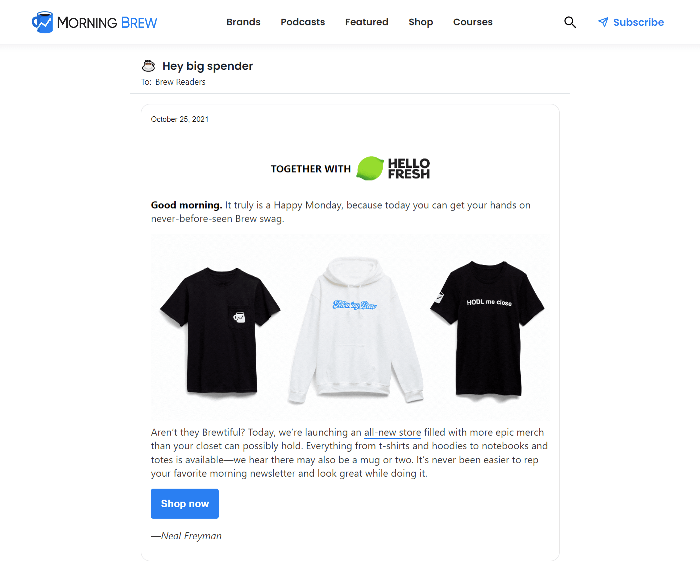 If you have a large email list of fans, you could see your stuff quickly getting snapped up after you've talked about them in your newsletter.
Pro tip! Apart from promoting your merch in a dedicated section of your newsletter, you could also add your merch store link to your newsletter header or footer template.
By doing so, you'll subtly but regularly remind your subscribers that you have merch – and that if they want to get their hands on it, your store is just one click away.
8. Use your email newsletter as part of a sales funnel
Some organizations that send newsletters will email subscribers only when they have new products or upcoming sales. (This practice is especially common in the fashion industry.)
But the newer trend, especially for creators, is to not be 100% promotional with your newsletters.
Instead, you'll use your newsletter as a sales funnel, and create high-quality content to nurture your subscribers.
Such content is typically free content that's relevant to your subscribers' interests, needs, and pain points (find out more in our guide to lead generation). No immediate pitching of products – the focus is on providing value so your subscribers grow to like and trust you.
It is only later on in the relationship that you start promoting your products. And if you've built enough goodwill with your subscribers at this point, they may be more than happy to buy.
This newsletter by Jake Rich Travels illustrates what we mean here (heads-up – the newsletter is pretty long, for good reason!):

The email starts with a review of the latest GoPro Hero 11 camera model to educate subscribers on its pros and cons.
It is only after delivering such value that the email transitions to a pitch for a paid camera masterclass.
Are Email Newsletters Profitable?
They can be! Just take these highly successful newsletters:
Of course, you don't need to enjoy such eye-popping levels of success to have a profitable email newsletter.
The key is to earn enough newsletter revenue to have leftover earnings after covering expenses such as your:
For example, let's say your newsletter earns you $6,000 in monthly recurring revenue, and that your monthly expenses are $4,000.
That leaves you with a respectable $2,000 in profit – which means your newsletter is profitable!
How to Create an Email Newsletter
If you're unsure of how to create a newsletter, there are five main steps:
Signing up for email marketing software: There are various software you can use to run your newsletter, such as Mailchimp, ActiveCampaign, MailerLite, and more. We'll cover what we think is the best email marketing software in the next section, so keep reading!
Importing your newsletter mailing list: Add your newsletter subscribers to your chosen email marketing software so you can start emailing them. But don't worry if you don't have any subscribers yet – the next step will help you grow your email list!
Setting up your newsletter sign-up form: Design your sign-up forms and embed them on your website to get new subscribers to your newsletter.
Setting up your first email newsletter campaign: Create your email using an email template provided by your email marketing software, or a free newsletter template from a newsletter template creator, and add your content. Select your newsletter recipients, then hit send!
Monitoring your newsletter performance: Review email metrics, such as your open rate and sales conversion rate, to evaluate how successful your newsletter has been. Afterward, use your findings to improve future newsletters.
Learn more about how to create an email newsletter by watching this video:
We've also compiled a massive list of newsletter examples if you need inspiration for your own. And a helpful list of newsletter best practices to get you going.
What's the Best Email Marketing Software to Use?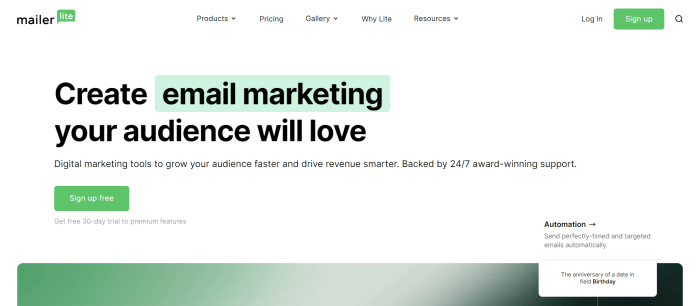 If you're looking for email marketing software that makes it easy to run a newsletter and monetize it too, MailerLite is our top recommendation.
That's because:
MailerLite is easy to use. With its clean and simple user interface, you'll have no trouble getting the hang of it even if you're new to email marketing.
You can get started for free! MailerLite has a generous free plan that lets you send up to 12,000 monthly emails to max 1,000 subscribers.
You can sell and get paid for digital products in one place. Build product pages in MailerLite to showcase your products and connect your Stripe account to start selling. MailerLite also takes care of order fulfillment for you.
You can sell newsletter subscriptions. Apart from helping you take payment for one-off digital product sales, MailerLite can also handle recurring payments for paid newsletter subscriptions.
MailerLite has great deliverability. Based on our deliverability tests, MailerLite has a consistently good track record of helping its users' emails reach their subscribers' inboxes. This is vital because emails that don't get delivered don't get read. Check out our complete guide to email deliverability best practices, for more detailed information on how to improve your email deliverability.
One thing to be aware of, however, is that affiliate marketing is banned in MailerLite. According to MailerLite's terms of use, you can't use the platform to run a business where you "earn a commission by promoting other companies' products."
That said, the email service provider does allow you to use affiliate links in your emails. The platform defines affiliate links as a "way to recommend product or service (sic) to your subscribers in your campaigns."
MailerLite's policies on affiliate marketing and affiliate links can sound contradictory. Because you typically do earn a commission when a subscriber buys something via your affiliate link.
To stay in the clear, we recommend following MailerLite's guidelines on what you can and cannot do with regard to affiliate marketing and affiliate links. These include:
Sending only affiliate offers related to your content.
Not pretending to be another brand.
Not adding links to content prohibited by MailerLite's terms of use, such as porn, multi-level marketing, or "get-rich-quick" schemes.
Learn more about MailerLite in our detailed MailerLite review.
> Test MailerLite out for free
You can also check out more email marketing services here if you're still on the fence.
How to Grow and Segment Your List for Better Targeting
The more subscribers you send your newsletter to, the more attractive your newsletter will become. That's because you can:
Charge more for advertisements and sponsorships
Promote your products, paid community, and merch to more people
Have more people clicking your affiliate links (and generating you more affiliate commission)
And the result of all this is that your email newsletter becomes more profitable!
Lead Generation
So if your email list is currently quite small, growing it via lead generation tactics should be your priority. You can do so by:
Pairing your sign-up forms with attractive lead magnets. Lead magnets are freebies that entice people to subscribe to your email list. For example, if you have embedded your sign-up form on a blog post that shares instructions for sewing a teddy bear, your lead magnet could be a PDF copy of your sewing pattern for readers to use.
Promoting your newsletter on social media. Add a link to your newsletter's sign-up form to your social media profiles. You can also post valuable content on social media and invite followers to subscribe to your newsletter if they want to receive more of such content.
Have others promote your newsletter for you. Do you have friends in the same space as you? You could potentially pick up many new subscribers if they share your newsletter with their followers. And of course, return the favor by promoting their material to your own audience!
Segmentation
Once you have a sizable newsletter, though, it's worth looking into segmenting your subscribers. In other words, you'll split your subscribers into smaller groups according to their interests.
This can sound confusing, especially when we've just shared the benefits of having a large email list. But you'll still be emailing all your subscribers after segmenting them! You'll just be using their interests to tailor the newsletter content they receive.
By sending such targeted newsletters, you ensure that subscribers receive only the content they're interested in – which can help keep them on your email list for longer. You'll also be able to better monetize your email list according to your subscribers' interests.
Here's an example of what we mean:
Let's say you share reviews of romance and spy novels in your newsletter. But some of your subscribers are interested in only your romance novel reviews, while other subscribers want to receive only your spy novel reviews.
In this case, you can segment your subscribers into two categories:
Interested in romance novel reviews
Interested in spy novel reviews
After that, you'd send:
A newsletter containing only romance novel reviews to subscribers in the first category, and
A separate newsletter containing only spy novel reviews to subscribers in the second category.
You can then also add more relevant offers to your newsletters, such as recommending romance novels (via affiliate links) to just your subscribers interested in romance novels.
To segment your subscribers, you'll first need to learn their interests. A good way of doing so is to add options on your sign-up form for subscribers to indicate their interests while they're signing up.
How to Monetize a Newsletter: Conclusion
Once you've created your email newsletter, you have many options for monetizing it – from selling paid newsletter subscriptions to adding affiliate links and promoting your products, and more.
For a start, try adding affiliate links. This is easy to do even if you have a small email list or haven't created any products for sale.
You can then gradually find ways of monetizing your newsletter using other methods, such as using affiliate links and selling newsletter ad space, and promoting your branded merch!
If you're looking for email marketing software for your newsletter, do check out MailerLite for its fantastic newsletter and monetization features (as discussed above). There are other strong email marketing services worth checking out if you'd prefer a different platform.
Got other questions about how to make money from a newsletter? Drop them in the comments below and we'll be happy to help!
We keep our content up to date
07 July 2023 - Updated Substack mention
Our Methodology
This article has been written and researched following our EmailTooltester methodology.
Our Methodology