Email marketing is the most profitable and cost-effective digital marketing strategy. But, let's be real, it can also be exhausting and time-consuming.
First off, the work you have to put in to build an email list. Then, manage the list to keep it clean and healthy. And, don't get me started on the different types of emails you have to send to contacts.
As an email marketer, I understand the struggles. And I know the key to improving the process is email marketing automation. However, automation is much more than just scheduling email campaigns for certain times.
You can set up your emails to be triggered by your contact's actions and behaviors – like when they visit your website or click a link.
Curious? Continue reading to learn more about triggered emails and how they can help increase your revenue. I'll also share how to create them and real-world examples you can model.
Let's start!
What are Triggered Emails?
Triggered emails are automated personalized emails sent based on your contact's behaviors and actions (or inactions). As the name implies, these emails are triggered automatically when your contacts act or behave in a specified way.
Such actions or behaviors could be signing up to your email list, downloading a lead magnet, browsing a sales page, abandoning a filled cart, making a purchase, reaching an anniversary, etc.
Hence, triggered emails can be targeted at leads, prospects, and customers. The goal is to guide them through the different stages of your sales funnel until they become loyal and returning customers.
The magic of triggered emails is in the timing. It's almost psychic, as they are sent in response to your contact's actions. So, they are sent at the right moment, just when you need to capture your contact's attention and nudge them to take your desired action.
Here's a popular example that should resonate with you. Imagine you're browsing an ecommerce store and adding a couple of products to your cart. But then, you get distracted and click away without completing the order. What happens next?
If the store is serious about email marketing, you'll get an abandoned cart email prompting you to complete your order immediately and get a discount or free shipping. That email is a triggered email, which was activated because you failed to complete your order.
Triggered emails aren't for product-based businesses only. They work for service-based businesses too.
Say, you run a medical practice. You could set up a triggered email to send health tips and education to people who visit a particular care service page on your website, and prompt them to come in for a free checkup. Similarly, a real estate agency could send similar properties to someone who has viewed a particular listing on their site.
Why Triggered Emails are Important
Well, triggered emails work! They are sent at exactly the right time to make a positive impact on your contacts. Here's why triggered emails are important:
Save time & effort
Imagine you have to write and send an email manually every time your contacts take an action or behave in a certain way. That would be stressful and almost impossible. You'll certainly miss the opportunity to convert some contacts.
Triggered emails are automated, so they'll save you time and effort. You don't have to do anything when your contacts behave a certain way. Just have them set up, and the emails will be sent automatically.
Meet contacts' expectations
Contacts have certain expectations when they engage with your business. For instance, when a customer makes a purchase, they expect to receive an order confirmation email with tracking details.
Triggered emails enable you to send content and information that prospects and customers expect, in a timely manner. This improves their experience of your business, builds trust, and boosts credibility.
Engage prospects & customers
According to a GetResponse Report, triggered emails have higher open and clickthrough rates than other types of emails. This is no surprise, as they're personalized to resonate with each contact.
For instance, a customer is likely to open an email that shows them how to use a product or service they just purchased. Similarly, a contact who receives an email with a discount offer to celebrate their birthday is likely to engage with the email.
Convert & retain customers
Triggered emails convert leads and prospects to customers. They are sent at the right time to provide value, address objections, and make contacts irresistible offers. For instance, offering a discount on the products on a prospect's wishlist.
They also help retain existing customers. For instance, a triggered email can be sent to remind customers that their subscription is about to expire and nudge them to renew their subscription.
Examples of Triggered Emails
Now that you understand the concept of triggered emails and their importance, let's explore some real-world triggered email examples that you can use in your business.
Welcome emails
A welcome email does more than just thank and welcome new contacts. It's your chance to make a good first impression, starting by ensuring that they receive it as soon as they join your list or enter your sales funnel.
Hence, your welcome email should be a triggered email. Leads and customers will drop into your funnel at different times. And, you really can't keep up if you were to send it to each of them manually.
Moreover, a trigger-based welcome sequence ensures that new contacts have a personalized welcome experience. For instance, you can create separate welcome sequences for the different ways in which contacts join your list (i.e. the triggers).
So, some contacts may trigger a particular welcome email by subscribing to your newsletter. Others may get a different welcome email when they download a lead magnet PDF or even sign up for a free trial.
For instance, this welcome email was sent to me when I submitted my email address in exchange for access to an exclusive Creative Marketer Library.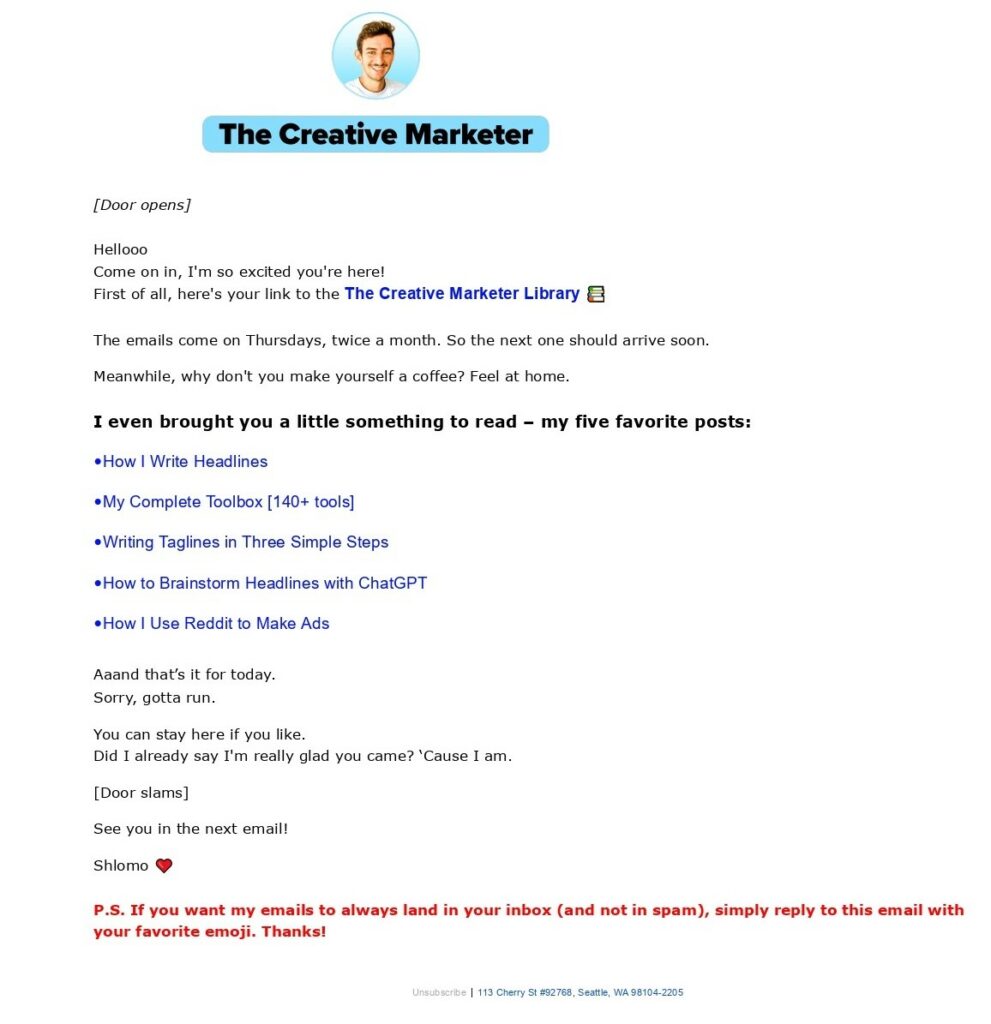 Onboarding emails
Onboarding emails are sent to customers to guide them on how to get started using your products or services. Thus, they are triggered emails that are sent immediately after a customer makes a purchase or books your services.
A typical onboarding triggered email would showcase how the different features of your products or services can help solve their problems. And, it would have a CTA (call to action) that nudges the customer to take action toward utilizing their purchase.
The goal is to deliver an exceptional customer experience and help them achieve value quickly. Take this onboarding email I got after joining Glassdoor. It provided links to how I can get started using Glassdoor to find a job I love, connect with employees, and get paid my worth.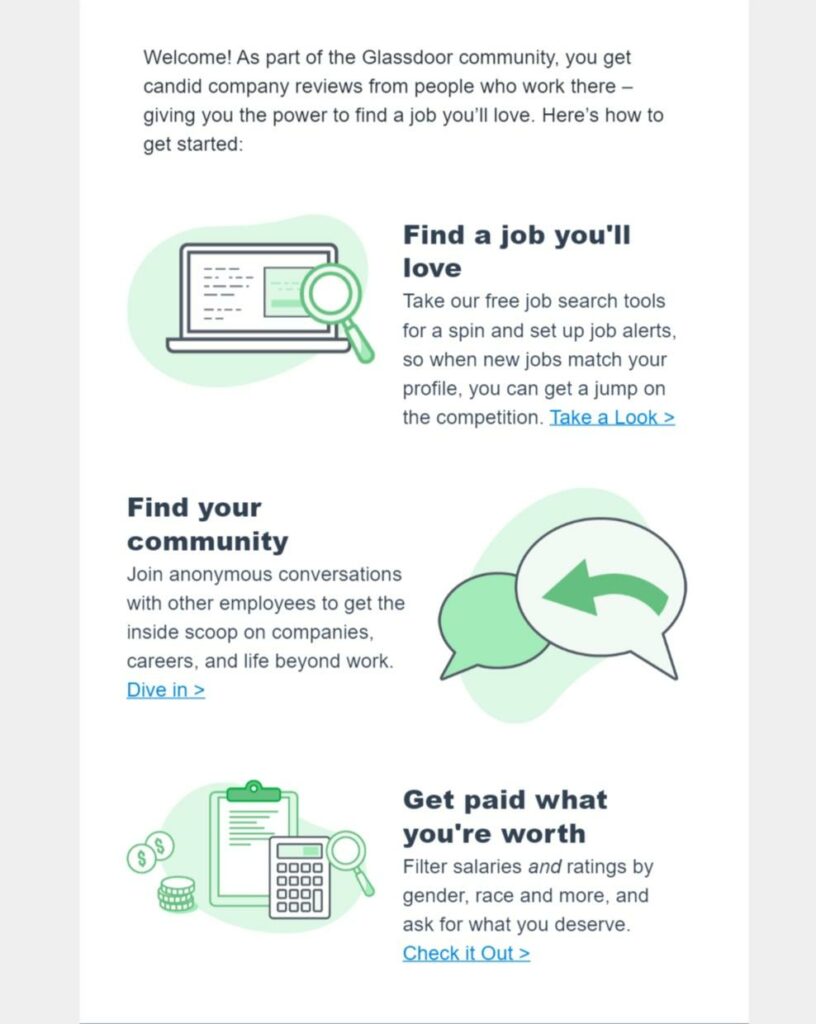 Product Catalog Emails
Think of a traditional product catalog. It's essentially a document that lists the different products offered by a business, along with the product information. A product catalog email is just slightly different.
Triggered product catalog emails are sent to prospects and customers based on their previous purchases or products they've shown interest in. That is, only a select product is showcased.
Examples of product catalog emails you may send include new arrival emails, back-in-stock emails, low inventory emails, and price increase emails. And, all based on their previous purchase or interests.
For instance, the recipient of this email had previously liked or bought items from the Homme brand on the Thread website. So, when the store got new arrivals of the brand, the email was triggered to send to them.

Recommendation Emails
Recommendation emails suggest products or services to contacts based on their preferences and interactions. Hence, past purchases and browsing histories are used to set up the email to trigger.
Although there are numerous types, the most popular triggered recommendation emails are cross-sells and upsell emails.
Cross-sell emails encourage customers to add complementary or related products to their orders. So, they should be triggered immediately after the initial purchase. An example is a laptop bag cross-sell email sent to a customer who purchased a laptop.
On the other hand, an upsell email nudges customers to purchase a premium version of a product. For instance, I got this LastPass recommendation email because I'm on their free plan. And, they offered a 20% off incentive if I upgraded my account immediately.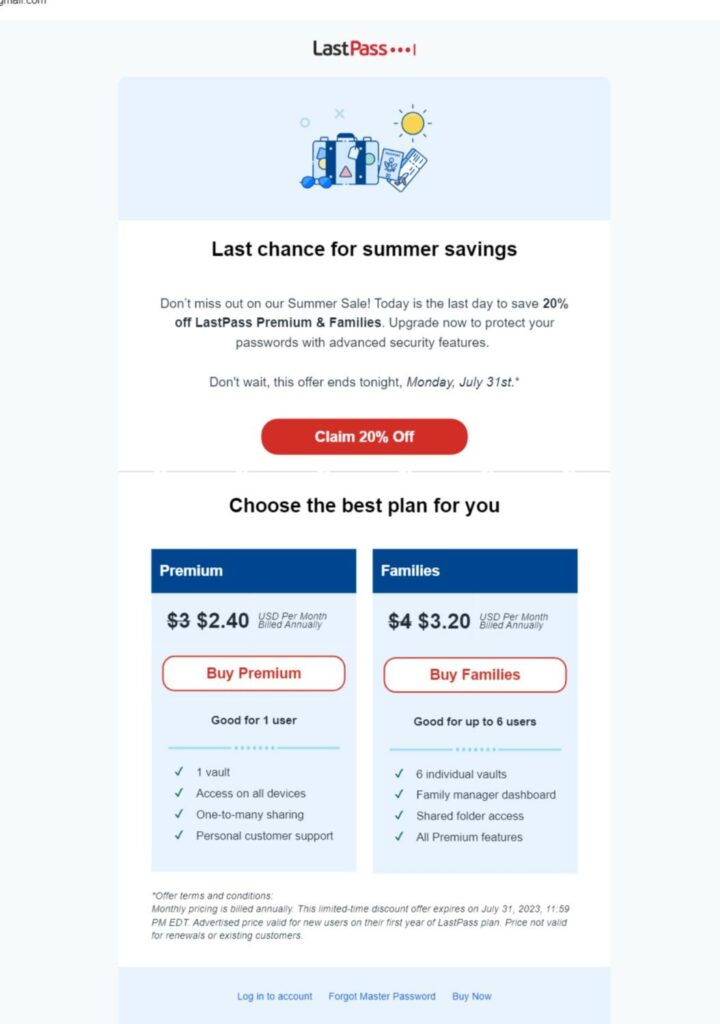 Abandoned Cart Emails
Abandoned cart emails are the most popular trigger email, especially for ecommerce businesses. They are triggered when customers fail to check out the products in their cart.
As much as 70% of online shoppers abandon their cart, according to the Baymard Institute. However, with a 45% open rate, you can set up an abandoned cart trigger email to try to get almost half of them to complete their order.
To nudge them to check out their cart, you can offer incentives to crush the reason for incomplete orders. For instance, like BetterBrand, you might offer free shipping, as postage cost is one of the reasons customers don't complete their orders.

If you already have an abandoned cart email, consider making it a sequence. Instead of a single email that just reminds them of their order, create 2 to 3 email series to address different reasons for the abandoned cart.
Order Confirmation Emails
Sending an order confirmation email reassures customers that their purchase was successful. Hence, you have to set it up to be triggered automatically and sent immediately after the order is placed.
Think about it from your customer's perspective. Imagine you're the customer, and after making a purchase, it takes forever to receive an email confirming the status of your order. You certainly won't have a good impression of the business.
Besides the usual order confirmation email for products, which often includes shipping details and tracking information, the email can take other forms.
For instance, the booking confirmation email airlines send, which includes information like the check-in time and luggage size. Here's another example in which a storytelling format was used (maybe a little over the top, though!).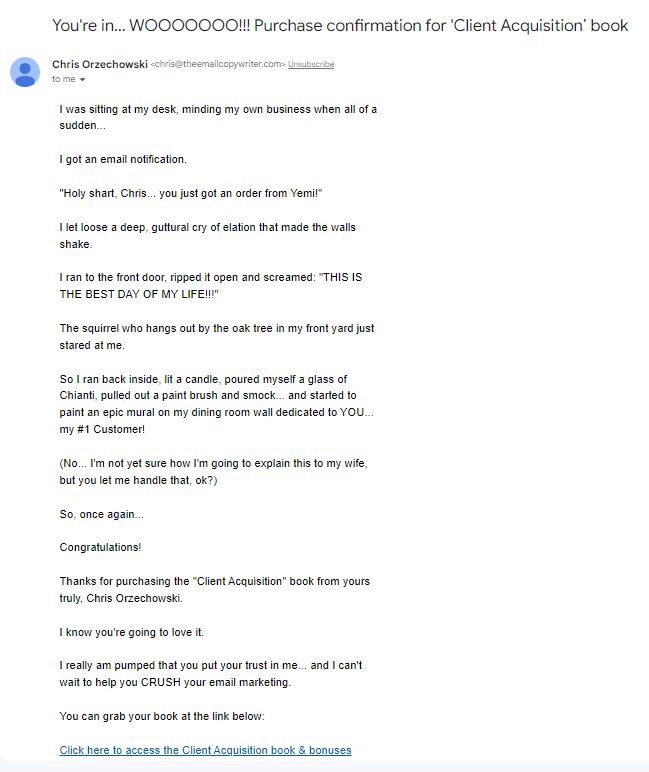 Remarketing Emails
Many customers who interact with your business won't convert immediately. They may visit your landing pages, attend your webinar, and browse through your product catalog without making a purchase.
So, you might want to set up a remarketing email that's triggered after they engage with your marketing materials. This email will remind them of the value you're offering and encourage them to take the next step.
An effective remarketing email is personalized and timely. It provides more details about the offer or products, handles contacts' possible objections, and shares case studies and testimonials.
One example is this London Northeastern Railway email that's triggered to send to contacts who have searched London fares on the website.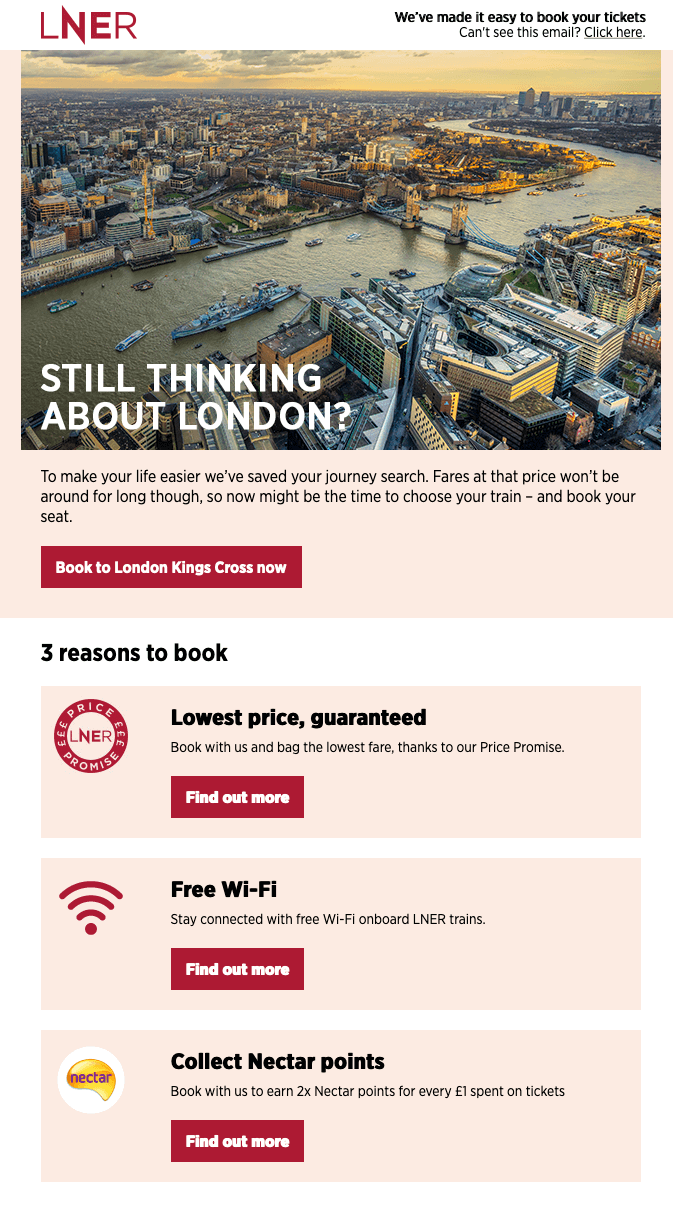 Account Notification Emails
Sending emails to notify contacts of the activities and events related to their account on your business platform is crucial. But more importantly, the email should be set to trigger immediately after the activity takes place.
Account notification emails include password change confirmation, login activity alerts, preference settings updates, and subscription renewal reminders. These help keep contacts informed and updated.
Google, Facebook, and Instagram are some of the brands that have set up a triggered notification email to send every time an account is logged in from a new device. Check out this one I got from Binance.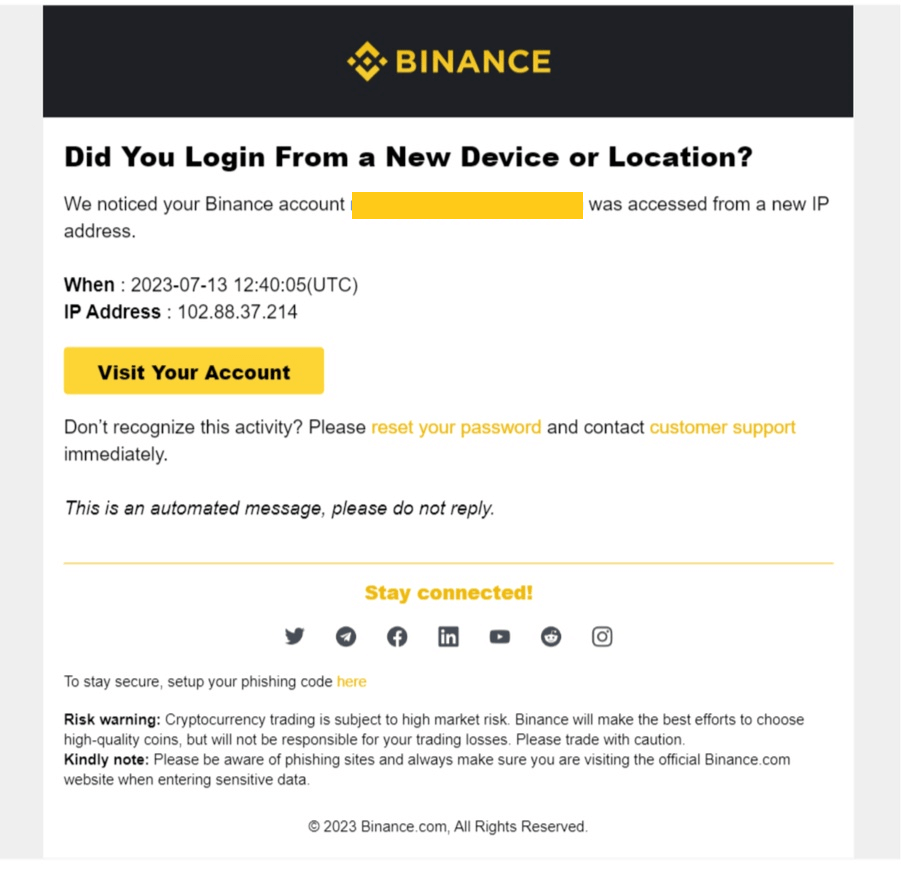 Personal Event Emails
Personal event emails are sent to celebrate special occasions in your contact's life, such as their birthday anniversaries. They make contacts feel valued, which enhances your relationship with them.
Emails that celebrate your business accomplishments and significant milestones in your relationship with contacts, such as membership milestones, are also examples of personal event emails.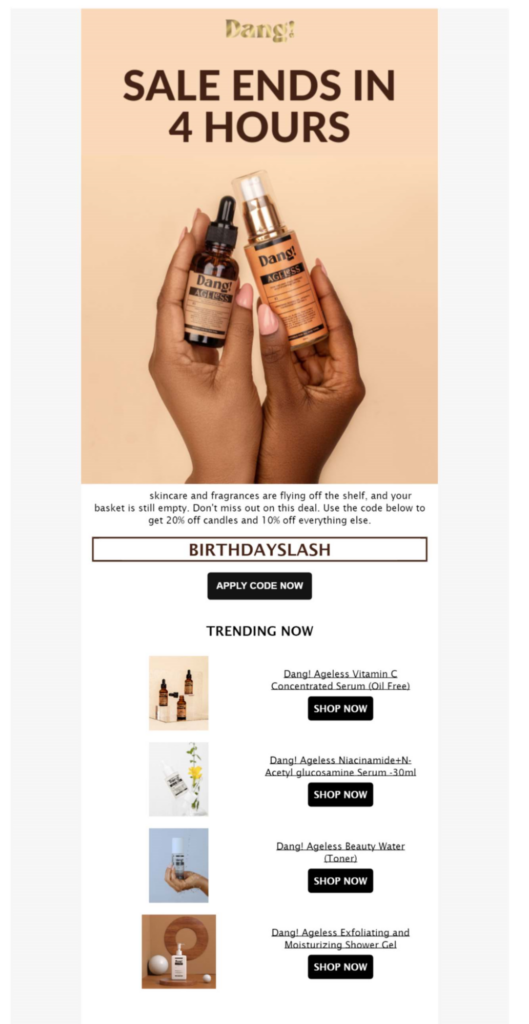 Because they are tied to each contact's specific occasion or event, personal event emails have to be triggered at a specific date associated with the contact. You could also include special offers or gifts tailored to each contact.
Re-engagement Emails
Existing customers who haven't made a purchase recently and contacts who haven't engaged with your emails in a while can be re-engaged with a triggered email.
Just like this Typeform email, you can set up a re-engagement email to be triggered after a certain period of customer or contact inactivity. So, you won't have to manually search for inactive contacts every other month.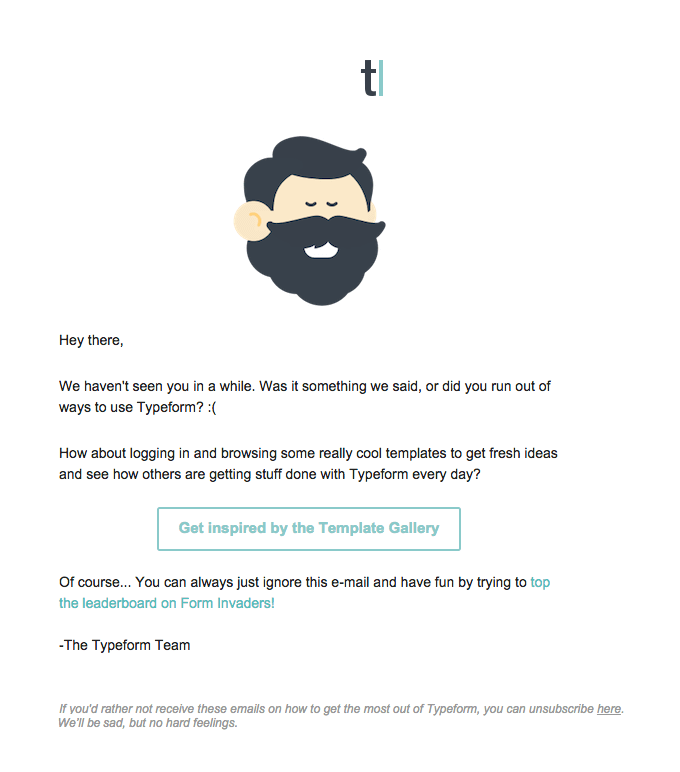 To re-engage previous customers, you could send them a special win-back offer, exclusive access, or product update. Contacts can be re-engaged by re-introducing them to your brand and asking them to update their preferences.
Cancelation Emails
Sending a cancelation email is important for customer experience. Even though it means that you're losing a prospect or customer, it gives contacts a good impression of your business.
Cancelation emails assure contacts that their request to cancel their order, subscription, or membership has been processed successfully. So, it's crucial for it to be triggered as soon as they hit the cancelation button.
An example is this email I received from Namecheap after canceling my domain hosting with them.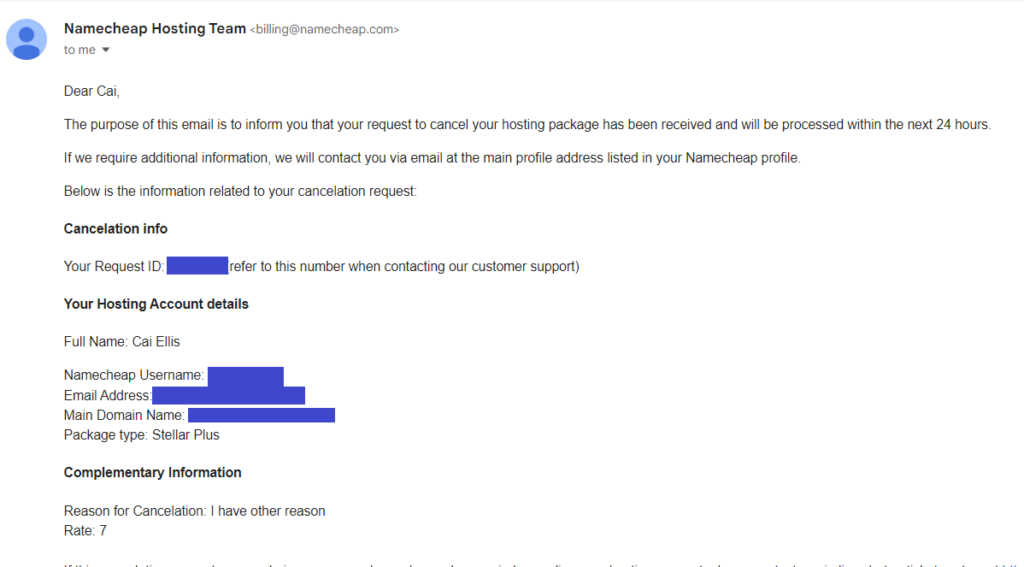 How to Create Triggered Emails
The exact steps to creating triggered emails depend on your email marketing platform. Each platform has different triggered email settings. However, here's the general process to create triggered emails.
Step #1: Define your trigger points
Start by asking yourself some questions:
"At what stage in the sales funnel do you want your contacts to receive a triggered email?"
"What actions and behaviors will trigger an email?"
"Which triggered emails will be sent?"
These questions will help you define your trigger points. And to answer them, you need a deep understanding of your contacts' actions, behaviors, and interests.
The trigger point is the specific action a contact will take that will activate your ESP to send the triggered email to your contacts automatically. Hence, you need to map out your customer journey and sales funnel stages to identify your contacts' potential actions.
Step #2: Create a captivating triggered email
Your triggered email must be captivating to attract attention and engage contacts. So, ensure that your email has a compelling subject line. It's the first thing your customer will see, so it needs to be attention-grabbing.
Furthermore, create persuasive email content that is clear and concise. It should also address your contact's interests and provide value. And, include a strong CTA that will compel them to take your desired action.
Step #3: Set up automation
After identifying your trigger points and creating the triggered emails, it's time to set it up on your email marketing platform. As mentioned previously, each platform has its own setup steps.
However, whichever email marketing service you're using, ensure that you're on a plan that allows you to set up triggered emails to send automatically. And, after everything is set up, test the triggers to confirm that they work.
Check out our reviews of the top email marketing services to find one that's suitable for your business needs. If you already have a way to set up these automations, you might only need a transactional email service instead.
Triggered Email Best Practices
The following triggered email best practices will help you maximize their impact and drive conversions.
Personalize each email
It may seem like we mention personalization a lot. But that's because it makes your emails unique to each contact, which increases engagement and click-through rate compared to generic emails.
So, make sure you personalize your triggered emails beyond adding the contact's name to the subject line. Use other personal information like gender, and their interests and behavior to tailor the email to each contact.
An example of a triggered email that can be personalized is the recommendation email. If you're sending a cross-sell email, you could ensure that the product you're recommending is of the same brand or color as their initial purchase.
If you'd like to learn more email personalization strategies, check out this comprehensive email personalization guide.
Segment your contacts
Segmentation involves grouping contacts based on their characteristics, behaviors, or preferences. Doing this improves the relevance of your triggered emails and helps you avoid sending generic emails to all of your contacts.
Let's say you run a pet store, and an existing customer abandons an order. You already know that they are a dog owner, and because you've put them in the dog owning segment, instead of a generic abandoned cart email, the triggered email could feature a sad-eyed dog image along with exclusive offers for dog-related items.
Offer valuable content
Incentives like discounts and coupons are valuable. However, valuable content also works to get contacts to take action. You can send content that solves your contacts' problems or educate them with helpful tips and tutorials.
Nevertheless, avoid overwhelming them with lengthy content. Make it clear and concise, and use bullet points, headings, and short paragraphs. Also, include media such as images and gifs to make the content engaging.
For instance, the welcome series of a fitness brand may include emails that offer workout tips, meal planning templates, and exclusive workout videos to help new contacts kickstart their fitness journey.
Optimize the design
Besides the text content, also pay attention to the layout and design of your triggered emails. Use a responsive layout that looks great both on desktop and mobile devices. And, create visually appealing email designs with images and suitable colors.
For instance, if you run an online store, you'll need to include high-quality images of your products. A travel business would need captivating images of travel destinations. And some many businesses will use a header that incorporates their brand color and logo.
Time it right
Sending emails at the right time is the whole point of triggered emails. It's why they are automated. So, make sure that you set up the emails to be triggered at the right moment when they would make the most impact.
For instance, you should send abandoned cart emails within hours of the abandonment. Not days (or weeks) after. If you have a sequence, you may send the next emails in the series days apart.
Test, Track, and Optimize
A/B test different elements of your triggered emails. You can test the subject lines, content and design, and CTA to find the version with the best impact. Even the time the emails are triggered can be tested.
Monitor how contacts are engaging with your triggered emails. Keep track of metrics like open, click-through, and conversion rates. And, use the insights you gain to optimize the emails for better results.
Conclusion
With triggered emails, you're not just sending emails. You're having two-way interactions with your contacts.
They take an action, and you respond with a message that resonates with their needs. And they take another action, and you respond again. And, the cycle continues until they convert.
From welcoming new email contacts, to reminding prospects of their abandoned cart and providing information about their purchase, triggered emails are incredibly relevant and engaging.
If you're interested in taking your email marketing to the next level, then you should try triggered emails. Let us know how it works for you in the comments.
Our Methodology
This article has been written and researched following our EmailTooltester methodology.
Our Methodology