I'm going to be honest with you, I'm not the biggest ClickFunnels fan.
You know how you can really fall in love with a product due to excellent branding? Well, ClickFunnels' ostentatious marketing materials did just the opposite to me.
But, of course, it isn't just the branding that puts people off. It's also the price, the poor customer service and the less than attractive design templates.
All of this urged me to look into ClickFunnels' competitors to find out how they compare. In this article, you will find a number of great options, like GetResponse and Kartra, and I hope that one of them turns out to be the perfect ClickFunnels alternative for your business.
ClickFunnels Alternative Overview
For an all-in-one software and better value for money, I'd go for either GetResponse, Systeme.io or Kartra. If you're on WordPress, check out Thrive Suite.
What Does a ClickFunnels Alternative Need?
In order to take your business online and set up high-converting sales funnels, a ClickFunnels alternative needs to be robust and well-rounded.
It also needs to come with the following features and functionalities: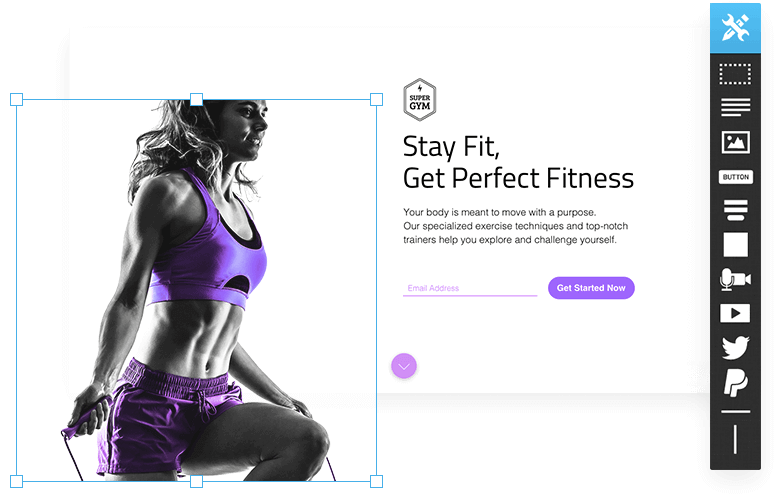 Landing page builder – so you can create a website (if you don't already have one), plus all the landing pages you need for your campaigns. This should also allow you to use a custom domain.
Email marketing & automation – so you can create email funnels and send leads follow-up emails, add them to automation workflows and keep them up-to-date by sending them your newsletters.
Forms – so users can sign up to your newsletter, event, request your services, etc.
Payment processing – so you can process payments securely.
What is ClickFunnels and Are There Any Advantages to Using it?
ClickFunnels is a website and sales funnel builder that promises to help businesses automate their sales process. It attracts entrepreneurs with its promise to make them millionaires and claims that its overpriced Platinum plan is worth more than a 4-year college education.
So there must be some advantages to using ClickFunnels, right?
ClickFunnels does give you a good amount of training materials, even with its entry plan
It's quick and easy to get up and running, as it includes hosting
There is a big ClickFunnels community and plenty of training events and challenges to get involved in (though these, of course, come with a pretty hefty price tag – you're looking at paying $1000 for general admission!)
The platform is easy enough to use, even if you're a beginner
Why Are People Looking For a ClickFunnels Alternative?
Despite the positives listed above, many people are looking to abandon the tool or find an alternative from the get-go.
Here are some of the reasons why:
Missing features in the entry plan, such as email marketing – this means that you have to integrate with an email service provider and incur the costs that come with
The design templates are spammy and salesy. It's very difficult to find anything that has a modern, clean look
Poor customer support
And, of course, price is the main reason many people are looking for a ClickFunnels alternative. It's expensive and everything feels like an upsell. The Starter plan will cost you $97/month and the Platinum is a staggering $297/month. Find out more about ClickFunnels pricing here
If you know anything about inbound marketing, you'll most likely want to avoid ClickFunnels, which has adopted, and is heavily promoting, a style of marketing that feels almost coercive.
You find yourself getting trapped in one of their own sales funnels and signing up to the free-trial without having been shown any information on pricing, only to find your inbox full of emails from them – I think I was getting about 4 a week.
The types of sales funnels and marketing material they help you to build, unsurprisingly, follow this philosophy, which means that inexperienced marketers can easily fall into the trap and therefore come across as scammy or like a get rich quick venture.
10 ClickFunnels Alternatives You Need to Know
1. GetResponse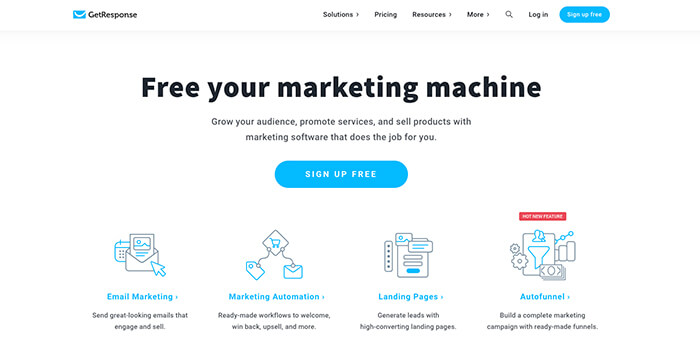 GetResponse is a very complete package. You can set up everything from social media campaigns to landing pages to email automations. You can even sell your products through GetResponse or integrate your account with your existing ecommerce.
GetResponse's Conversion Funnel feature works really well because, visually, it's very clean and helps to give a holistic view of your funnels and how well each part is working. It's quick and easy to set up, with a good selection of modern-looking landing page and newsletter templates.
Where GetResponse beats ClickFunnels
Very complete all-in-one service! Unlike ClickFunnels, GetResponse allows you to host webinars and sell your products on its platform. You'll also have unlimited landing pages and be able to run your social media campaigns directly from your GetResponse account.
Screenshots:
Where ClickFunnels wins
Price-wise, GetResponse is a good option if you're starting out, however, because you pay based on your contact size, GetResponse can get very pricey as you grow. ClickFunnels' Starter plan comes with unlimited contacts so at least you don't need to worry about your monthly bill rising as your business gets bigger.
Plans and Pricing
Prices start from $49/month for 1,000 leads. Discounts are available on annual plans.
2. Systeme.io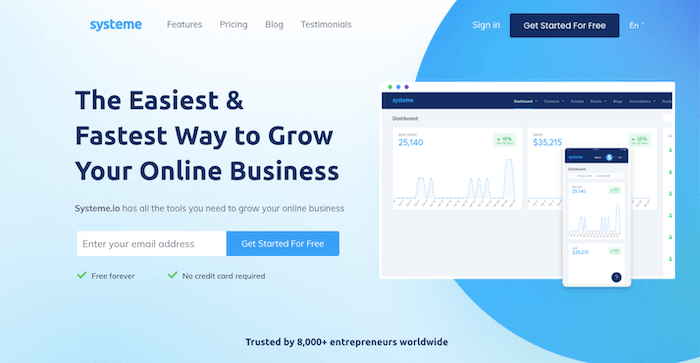 Systeme.io has a wide range of features on offer; you can set up sales funnels, automation workflows, offer online courses, and even set up your own affiliate program to help boost sales.
Its no-fuss interface is easy to navigate, and the help guides are useful. However, there's no live chat on hand to help if you get stuck, just email.
Where Systeme.io beats ClickFunnels
Systeme has a freemium plan, which comes with 2,000 contacts, sales funnels, email marketing and automation and membership sites. Many of these features are reserved for Clickfunnel's pricey Platinum plan ($297/month). Even Systeme's paid plans are very affordable, starting at $32.40/month. Since ClickFunnels doesn't offer a free plan, Systeme definitely beats it when it comes to price. They'll also give you a free 11-page sales funnel template.
Screenshots:
Where ClickFunnels wins
When you set up an account with Systeme.io, you're left slightly in the dark, as there's no setup guide or a list of actions to take. This isn't great for those with little experience.
Plans and Pricing
Free for 2,000 contacts – 3 sales funnels, 1 email campaign and membership site, automation and 1 custom domain.
STARTUP: $32.40/month for 5,000 contacts – 10 sales funnels, 10 email campaigns and 5 membership sites, automation and 3 custom domains.
WEBINAR: $56.40/month for 10,000 contacts – 50 sales funnels, 100 email campaigns and 20 membership sites, automation and 10 custom domains.
ENTERPRISE: $116.40/month for 15,000 contacts – Everything unlimited.
3. Kartra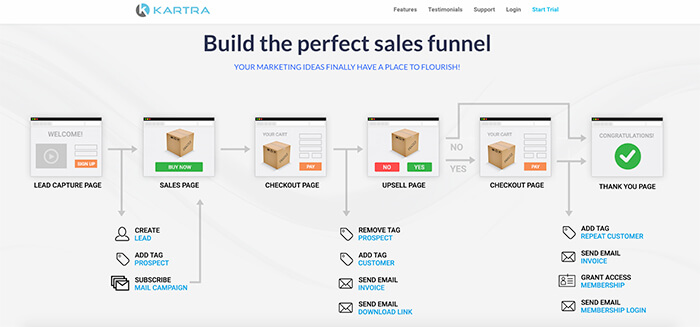 I really like Kartra because you have everything you need at your disposal: website and landing page builder, lead database (CRM), email marketing and automations, opt-in forms, ticketing and live chat, video hosting and checkout forms.
Kartra's easy-to-use interface makes building sales funnels a relatively simple affair. It provides you with a handy checklist and divides everything up into manageable steps, which are all laid out in a visual workflow.
Where Kartra beats ClickFunnels
For about the same price as ClickFunnels, Kartra includes email marketing and unlimited sales funnels (ClickFunnels only includes 20). See more on Kartra's plans and pricing here.
Screenshots:
Where ClickFunnels wins
Like with GetResponse, Kartra's pricing also depends on how many contacts you have, whereas ClickFunnels comes with unlimited contacts.
Plans and Pricing
Prices start from $99/month for 2,500 contacts. Discounts are available on annual plans.
Try Kartra for free for 14 days

4. HubSpot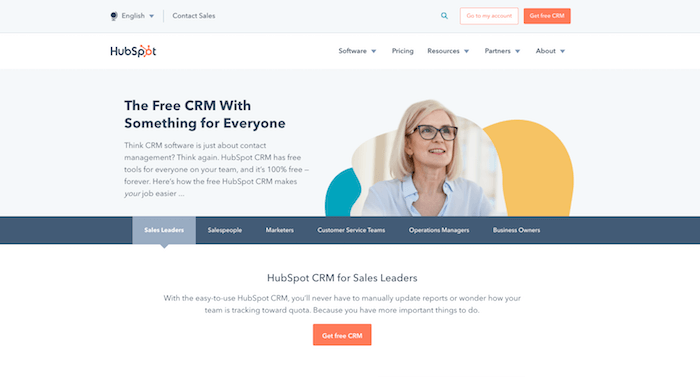 The fact that HubSpot is an all-in-one sales and marketing platform is a big selling point. What's more, you can get started for absolutely nothing with their generous forever free CRM plan, which includes 20 landing pages, 2,000 emails/month, 1 deal pipeline, an online form builder, a CRM, a website builder, and quite a lot more.
Where HubSpot beats ClickFunnels
Aside from the fact that HubSpot offers a very generous free plan, when you compare their lowest tier paid plan with Clickfunnels', it's still cheaper at $50/month. This 'Starter' plan also now comes with marketing automation, which is great news as Clickfunnels charges a hefty $297/month for this feature.
The general look and feel of the interface is much nicer, making it a really easy-to-use software.
Though there are just 13 landing page templates to choose from, these are well-designed and adopt a minimalist look. What's more, you can A/B test them, just like you can with most HubSpot features.
Screenshots:
Where ClickFunnels wins
Once you move onto one of HubSpot's paid plans, you'll need to decide if you want the sales or marketing features, or you'll have to pay extra for a bundle. The good thing with Clickfunnels is that their pricing is much simpler with just 2 plans to choose from.
Plans and Pricing
5. Thrive Suite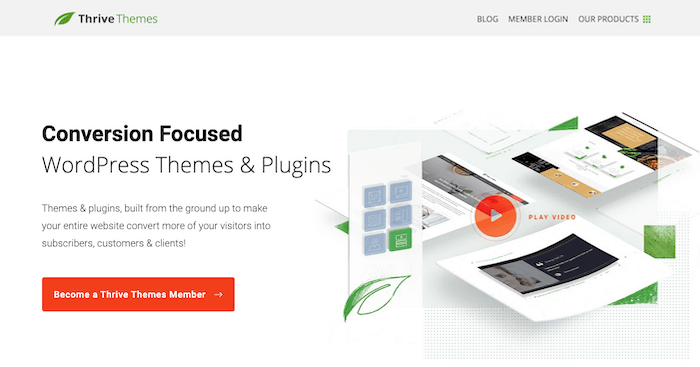 Thrive Suite is a solution for those using WordPress. It comes with conversion-focused themes and plugins, such as contact forms, a drag & drop website and landing page editor and quiz maker. It doesn't come with email marketing but is compatible with most major email service providers.
Where Thrive Suite beats ClickFunnels
Thrive Suite is much more affordable than ClickFunnels. Another advantage is that it offers over 330 modern-looking landing page templates that are in no way salesy or spammy.
Where ClickFunnels wins
Unfortunately, Thrive Suite doesn't have a free trial, though it does come with a 30-day money-back guarantee. It's also not as complete a package as ClickFunnels and there's no visual sales funnel builder.
Plans and Pricing
$30/month (paid quarterly) for access to all themes and plugins.
6. Ontraport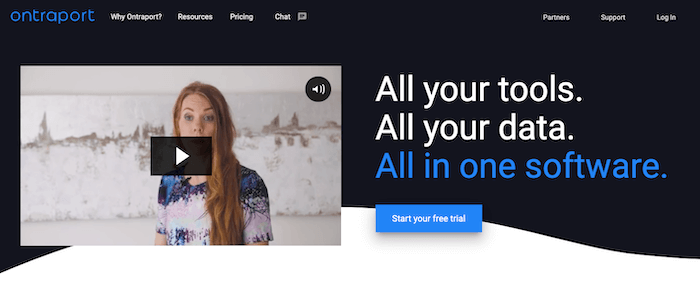 Ontraport, a California-based company, offers an all-in-one marketing software solution.
Complete with email marketing and automation, a built-in CRM, ecommerce, landing pages and membership sites, this tool is a solid ClickFunnels alternative.
Where Ontraport beats ClickFunnels
Unlike ClickFunnels, Ontraport comes with a never-ending list of free automation templates, meaning that you can get very specific and really personalize the buyer experience and the users' journey. Automation is included on the Basic plan.
It also has a great selection of responsive landing page templates, which are easy to edit and A/B test.
Screenshots:
Where ClickFunnels wins
In order to benefit from all the features (i.e. membership sites and ecommerce), you'll be looking at paying $147/month, which is quite a bit more expensive than ClickFunnels.
Plans and Pricing
Plans start at $79/month for 1,000 contacts and unlimited emails. The Plus plan costs $147/month for 2,500 contacts and includes ecommerce features and membership sites.
7. Builderall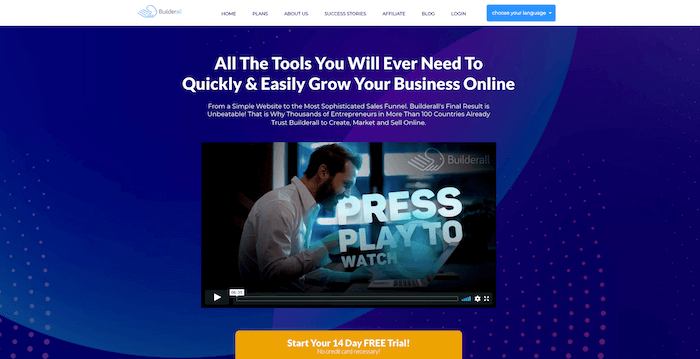 Scrolling through Builderall's lengthy feature list and it seems there's nothing they don't do. You can build your website, landing pages, all types of funnels, e-learning platforms, and much more. You also have a whole host of design tools available to you, including photo and video editing software.
All plans include unlimited impressions and visitors, membership areas and subdomains. You'll also have access to its drag and drop website builder and email marketing and automation features.
Where Builderall beats ClickFunnels
Builderall is much more affordable than ClickFunnels.
Builderall's Premium plan, which comes with all features and unlimited subscribers is just $69.90/month.
Screenshots:
Where ClickFunnels wins
Some of Builderall's features are a bit buggy or are missing key options, for example, there seems to be an issue showing the email and smart website templates. That said, ClickFunnels can also be a bit buggy – I think it comes with offering such a myriad of features instead of focusing on a few key ones and doing them really well.
Plans and Pricing
Its prices are very affordable and its plans very generous, feature-wise. The most complete package will cost you $69.90/month, but there are also cheaper plans available.
8. Samcart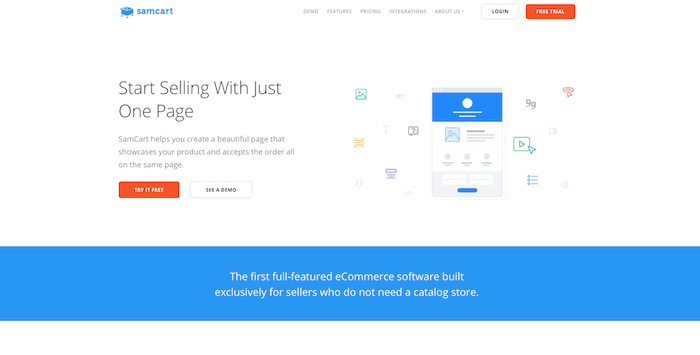 Samcart is all about checkout pages. It comes with 18 templates, which you can split test and edit using the drag & drop editor. PayPal and Stripe are used for payment processing. Samcart is great for upselling and coupons, which are often key aspects in sales funnels.
Where Samcart beats ClickFunnels
Samcart includes unlimited pages and products, even on its Launch plan ($49/month). ClickFunnels sets a limit at 100 pages and doesn't include ecommerce or a website builder.
Screenshots:
Where ClickFunnels wins
Samcart doesn't come with its own built-in CRM, instead, you'll need to integrate with a CRM software and that's only possible on the expensive Scale plan, which costs $199/month.
Plans and Pricing
Prices start at $49/month for unlimited products and pages.
9. Leadpages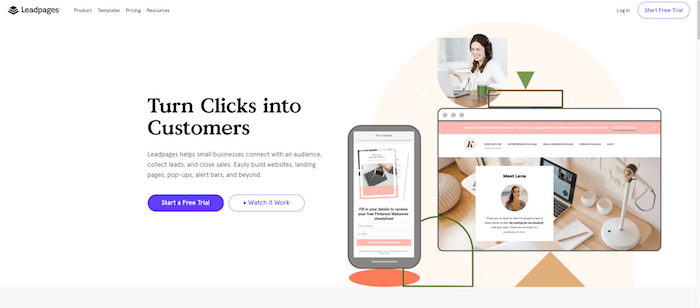 Leadpages isn't as comprehensive as some other tools on this list, however, it could be a good option for those looking to build their own mobile responsive website and/or landing pages with their simple drag and drop editor. Alert bars and pop-ups are also included, but email marketing software is not.
What is included, however, is a handy AI Engine that can generate your landing page copy, headlines, and even images – something that can help you get your sales funnels up and running even quicker.
Where Leadpages beats ClickFunnels
The best thing about Leadpages is that you can collect unlimited leads and create unlimited landing pages on all plans.
The template selection is modern and sorted by conversion rate, with around 250 templates on offer. Setting up your website is a very simple affair.
Screenshots:
Where ClickFunnels wins
Leadpages, as the name implies, is focused on webpages, meaning that features such as email marketing, automation, segmentation and lead scoring – then again, you'd need to fork out $297/month to benefit from these features with Clickfunnels.
Plans and Pricing
Standard: $49 per month billed monthly – 1 website, unlimited landing pages, pop-ups, alert bars, custom domain, hosting
Pro: $99 per month billed monthly – Online sales and payments, unlimited A/B split testing on landing pages, 10 opt-in SMS campaigns
Advanced: Pricing on request. Advanced integrations, 5 pro sub-accounts, 50 extra opt-in SMS campaigns, one-to-one set up assistance
10. Unbounce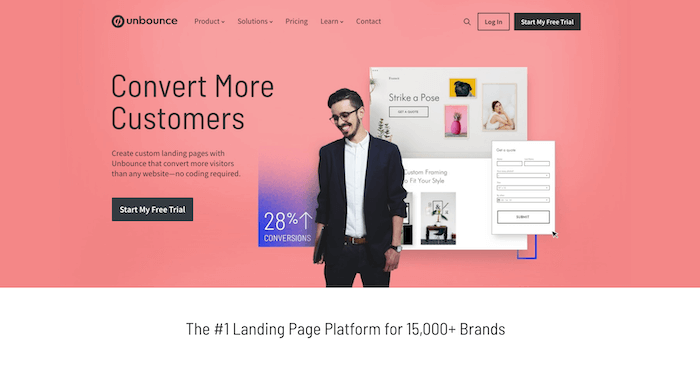 Unbounce is known for its attractive, high-converting landing pages. Though it doesn't offer an all-in-one marketing solution, I thought it would be useful to include the tool in light of the fact that many are looking for an alternative to ClickFunnels' unattractive landing page templates.
It also comes with pop-ups and sticky bars.
Where Unbounce beats ClickFunnels
Of course, Unbounce beats ClickFunnels when it comes to landing page designs. You'll be able to choose between over 100 customizable, high-converting templates, and though traffic is limited, it is a generous allowance (500,000 unique visitors a month).
You can publish the landing pages straight to your own domain, and those on WordPress will find it very easy with the WP landing page plugin.
Some templates have special effects such as video backgrounds, parallax and lightboxes, which is pretty cool.
Screenshots:
Where ClickFunnels wins
For the same price, ClickFunnels will give you more in the way of features. Unbounce doesn't include a built-in CRM or webinars, for example.
Plans and Pricing
Prices start at $99/month for 75 landing pages and 500,000 monthly unique visitors.
ClickFunnels Alternative: The Verdict
As you can see, there are many great ClickFunnels alternatives to choose from. Some are more complete than others, but then again, you might not need all those features.
If you need email marketing and automation then GetResponse is by far the best choice, after all, it is principally an email service provider. Systeme.io and HubSpot also have these capabilities, plus you can get started for free. (We'd also recommend checking out ActiveCampaign, which isn't strictly a sales funnel software, but has powerful sales and marketing automation features that might be better suited to your needs if you're a B2B business – learn more in our ActiveCampaign vs ClickFunnels guide).
If you're on WordPress and are looking for well-designed, conversion-based landing pages then Thrive Suite could be a good option for you. If it's just landing pages you're after, make sure to check out these free landing page builders first.
Are you using any of these ClickFunnels alternatives? Do you know of any others? Let us know in the comments below.
We keep our content up to date
24 Nov 2023 - Updates to Leadpages
04 Sept 2023 - Kartra now offers free 14-day trial
07 July 2022 - HubSpot now offers marketing automation on Starter plan
14 Dec 2021 - Added Systeme.io
06 Jul 2021 - Builderall removed free plan
16 Feb 2021 - Added HubSpot and Leadpages
15 Mar 2021 - Thrive Membership now called Thrive Suite
Our Methodology
This article has been written and researched following our EmailTooltester methodology.
Our Methodology