Comparing ActiveCampaign vs ClickFunnels is a bit like comparing a Swiss Army knife to a specialized chef's knife – both are useful tools, but each excels in different ways.
One of them (ActiveCampaign) is a marketing and sales automation platform for automating common marketing and sales tasks, like sending email drip campaigns or follow-up emails.
Meanwhile, the other (ClickFunnels) is one-stop sales funnel software for setting up email marketing campaigns, sales pages, and checkout functionality to capture leads and sales.
So, clearly, the two platforms do very different things. But they do have shared features, including:
Email marketing tools
Automations
Landing pages
For example, you can use either software to create landing pages for growing your email list, and then send automated emails to subscribers.
And which would be the best marketing platform for this purpose?
Find out as I compare eight key ActiveCampaign and ClickFunnels features in this review!
(Note: There are two versions of the ClickFunnels software: ClickFunnels Classic and the newer ClickFunnels 2.0. This guide compares ActiveCampaign against ClickFunnels 2.0.)
ActiveCampaign vs. ClickFunnels: What's the Main Difference?
The main difference between ActiveCampaign and ClickFunnels is that ActiveCampaign is an
email marketing and sales automation platform
, while ClickFunnels specializes in
sales funnel creation
.
Between the two, ActiveCampaign generally has more extensive email marketing features, such as for sending automated email sequences and targeted campaigns. However, ClickFunnels has features for building end-to-end sales funnels, which ActiveCampaign lacks. These include integrated web pages, email campaigns, and other assets that help get more eyeballs on your offerings, then nurture users towards purchasing the product – all within a single platform.
Pros and Cons of ActiveCampaign
Pros
Sophisticated marketing and sales automation capabilities, including advanced segmentation and personalization
Wide range of email templates
Has 870+ integrations with other platforms
Built-in customer relationship management (CRM) software available
Extensive reports
Cons
No email form templates
The platform's default email forms look plain
No sales funnel feature
Landing pages and ecommerce integrations available only on the higher-tiered Marketing Plus plan and up
Learn more about ActiveCampaign in our video review:
Pros and Cons of ClickFunnels
Pros
Create entire sales funnels with ease
Advanced landing page builder
Detailed contact management profiles
Can help you build and host complete websites
Integrates with many popular platforms, including ecommerce ones
Cons
No embeddable email forms
No email or automation templates
Its automation builder isn't the most user-friendly
Pricey entry-level plan
Round 1: Email Marketing
Email marketing is a big area, so I'll focus on just email forms and email templates here. (I'll cover email automations and landing pages separately later!)
Email Forms
To help you capture new subscribers and leads, the ActiveCampaign email marketing software includes a form builder with all the standard features.
For example, you can drag and drop various form fields into your form to flesh it out, and change its text and button colors.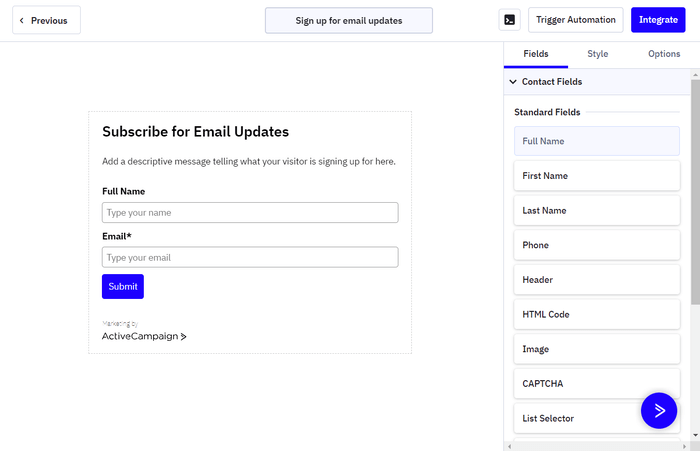 After designing your form, you can embed it into your website via a code snippet or the ActiveCampaign WordPress plugin.
My main gripe is that there are no email form templates — you'll need to design your email forms yourself. And given the plain default look of ActiveCampaign's email forms, they will need a lot of work.
On the flip side, ClickFunnels doesn't offer email forms that you can embed into an existing website. You'll have to create landing pages that come with embedded opt-in forms instead.
Like this one: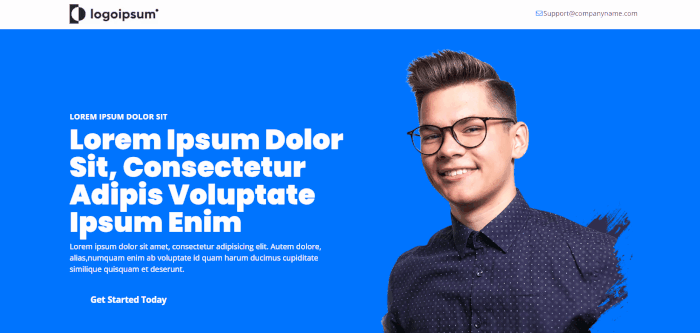 ClickFunnels might work this way as it's meant to be an end-to-end solution for building high-converting web pages and sites. But it would still be nice to have some flexibility here.
(Note: ActiveCampaign has a landing page feature too, and I compare it with ClickFunnels' below.)
Email Templates
Email templates are another thing missing in ClickFunnels. While you can create emails that contain elements like text, images, buttons, and videos, you'll have to design your email campaigns from a blank slate.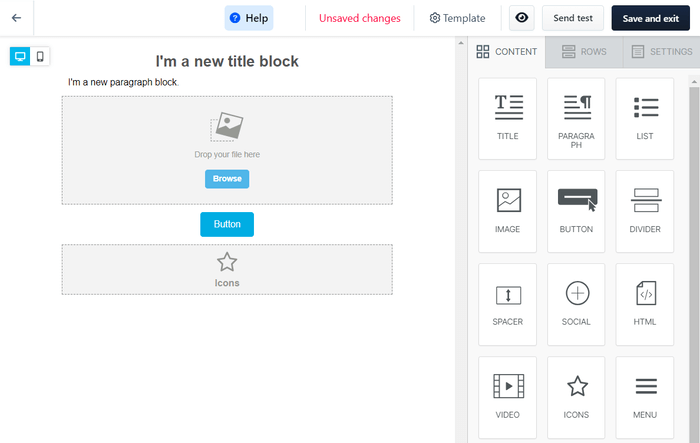 So, if you aren't the best at design, you'll like how ActiveCampaign has a wide range of email campaign templates!
These range from bareboned layouts to templates containing basic elements, and fully designed email templates in all their colorful glory.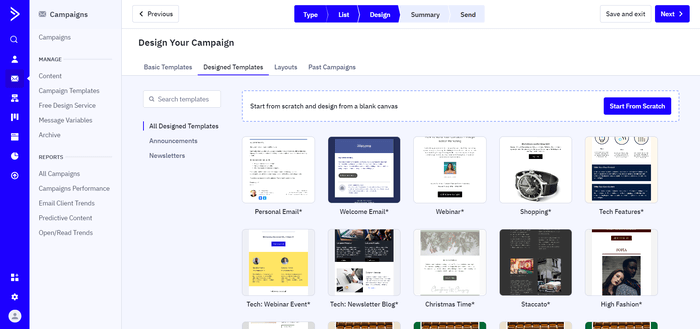 Customizing your chosen template in the campaign builder is also straightforward, thanks to its drag-and-drop editor (which you can see in action in our ActiveCampaign tutorial).
Winner: The marketing platform has room for improvement, but ActiveCampaign takes the first point for offering embeddable email forms, and email templates!
ActiveCampaign 1 – ClickFunnels 0
Round 2: Marketing Automation
ActiveCampaign's marketing and sales automation builder is fantastic, helping you build sophisticated automations containing multiple triggers and actions.
In fact, the marketing automation platform lets you choose from 30 triggers and (if you exclude integration-specific actions) more than 40 actions for automating practically any workflow you can think of. For example, you can trigger email sends based on cart abandonment, page views, email clicks, and more.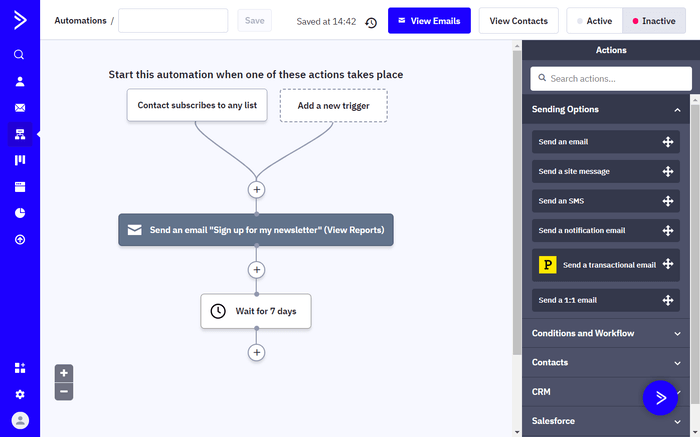 And not to worry if you feel intimidated by all of the available options.
Using ActiveCampaign's automation builder is fairly intuitive. You also get dozens of pre-built automation templates called "recipes," which you can customize to suit your needs.
ClickFunnels' automation feature (called "workflows") is much less powerful in comparison. It provides only a handful of triggers and actions to work with, and each workflow can have only one trigger.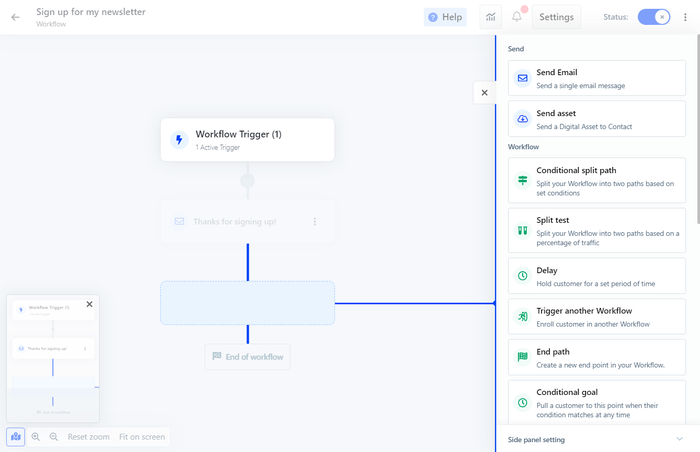 ClickFunnels also doesn't have any workflow templates, so you'll need to build your automations from scratch.
But as a whole, I was most frustrated by how ClickFunnels' workflow builder wasn't the simplest to use.
After adding a "Send Email" action to my workflow, the action stated "No email set" even though I'd already configured all its settings. It took me a while (and lots of rage-clicking) to figure out that I had to click the tiny warning ⚠️ icon to design my email and finally complete the setup.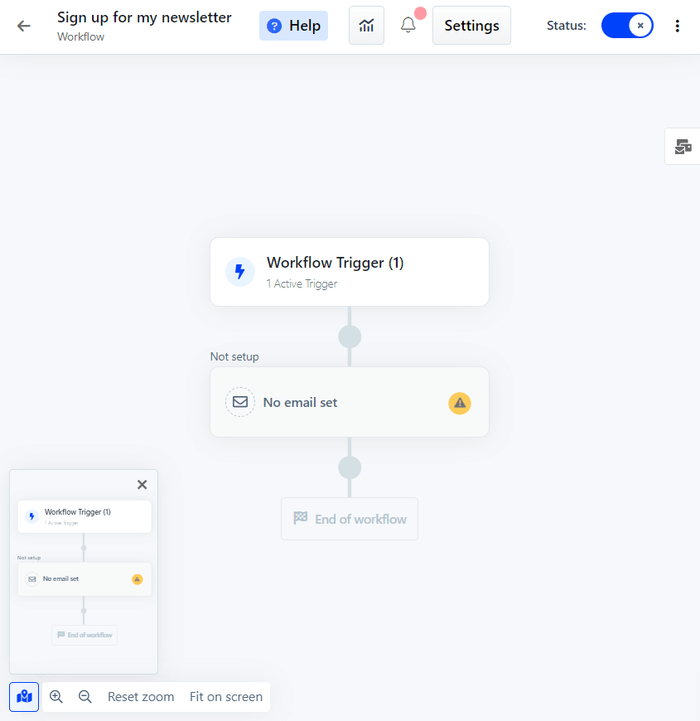 Winner: Definitely ActiveCampaign for its more advanced automation capabilities and more user-friendly automation builder.
ActiveCampaign 2 – ClickFunnels 0
Round 3: Customer Relationship Management (CRM)
If you're one of those small businesses with relatively longer sales cycles, you may find it useful to manage your sales in CRM software.
Among other features, this software helps you track and visualize each deal's progress along the sales funnel. It also consolidates your customers' data and communications with you into profiles for convenient browsing.
And the ActiveCampaign email service provider offers a built-in CRM system for doing just these.
Under the "Deals" tab, you can set up your sales pipeline and add deals to its various stages. You can also filter your deals in ways such as status (like Won or Lost), deal owners, and win probability.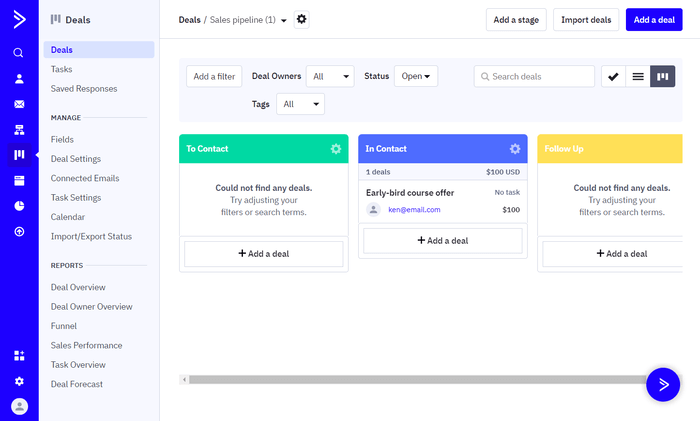 Each contact you add to ActiveCampaign will also get a dedicated profile for displaying their contact details, ongoing deals, automation activity, email history, and even your own internal notes.
It's super helpful for staying on top of your interactions with your contacts no matter how many of them you have.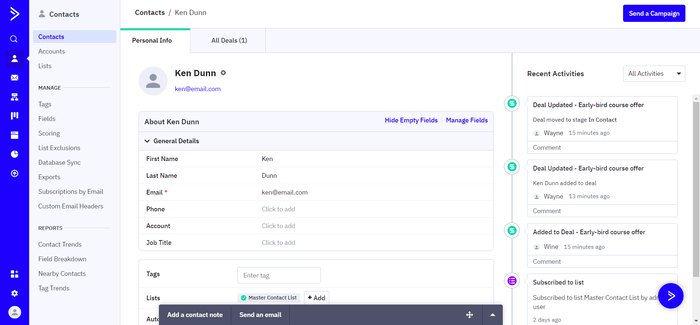 ClickFunnels' contact profiles are also fairly detailed, helping you track your contacts' sales activity, orders, and more.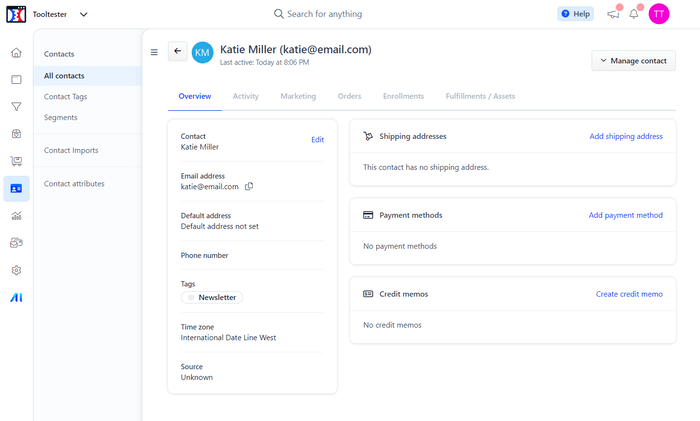 But there are no CRM features for creating deals or viewing them in a pipeline. Not right now, anyway — according to ClickFunnels' website, these features are "coming soon." We'll have to keep a lookout for them!
Winner: Again, it's ActiveCampaign for its more extensive CRM features! Will ClickFunnels ever catch up?
ActiveCampaign 3 – ClickFunnels 0
Round 4: Landing Pages
Creating high-converting landing pages in ActiveCampaign isn't difficult. Start by picking one of ActiveCampaign's 55+ landing page templates (or even a blank one), then edit it in the landing page builder.
Click any aspect of your landing page to adjust its fonts, colors, spacing, and so on. You can also drag in blocks to add more page content.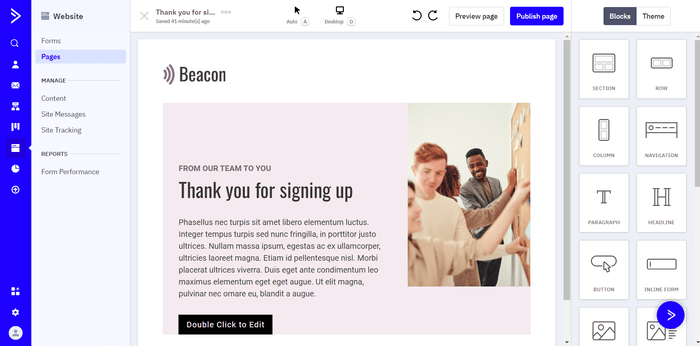 When you're done designing your landing page, preview it in both desktop and mobile modes, and grab its URL for sharing with potential subscribers.
Just be aware that landing pages are available only on ActiveCampaign's Marketing Plus plan or higher, which is rather expensive.
I'll discuss more about the platform's pricing later, and you can also learn more about ActiveCampaign landing pages in our separate guide.
As for ClickFunnels, you also get a nice range of landing page templates for customizing with your content. And ClickFunnels' landing page builder is pretty advanced.
For example, clicking the "Layout" option will show each page element's layout hierarchy on the page. From there, you can conveniently drag your elements to rearrange their positions. Alternatively, duplicate your rows to add new page content while keeping your current design settings.
You can also see whether these elements are viewable on desktop and/or mobile. This is helpful for designing a mobile-friendly version of your page while keeping its standard look for desktops unchanged.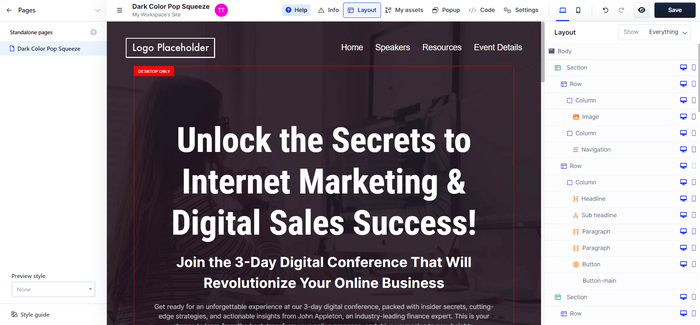 Apart from that, you can drag entire predesigned page sections, like those for special offers, testimonials, or FAQs, into your ClickFunnels landing page. (ActiveCampaign lets you create new page sections too, but you'll have to design them yourself.)
And while you may not need a website to generate email leads, ClickFunnels can help if you want one. Its pricing plans include website hosting — you'll just need to connect your own domain or buy one from ClickFunnels.
Winner: ClickFunnels wins for its especially sophisticated landing page builder! (Yes, the platform has finally gotten its first point!)
ActiveCampaign 3 – ClickFunnels 1
Round 5: Sales Funnels
ClickFunnels lives up to its "Marketing Funnels Made Easy" slogan effortlessly.
It offers pre-built sales funnel templates designed to turn website visitors into email subscribers or customers, depending on your conversion objective.
For example, its funnel pages can help you collect email subscribers and take payment for digital products. Just select your preferred funnel and customize its pages with your content.
You can also run split tests to A/B-test different versions of your email funnel pages. Alternatively, set up conditional split paths to display different sales pages based on how users interacted with previous ones.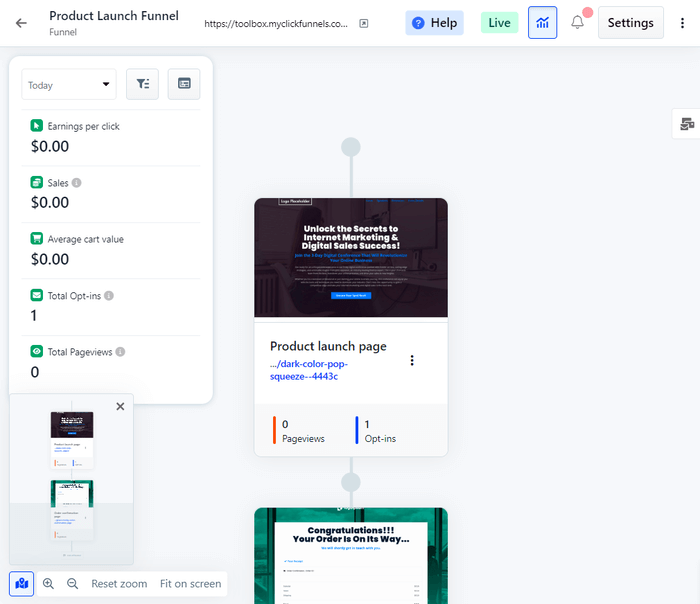 Once you've activated your funnel, ClickFunnels will report on key stats like total page views, opt-ins, and sales.
Meanwhile, ActiveCampaign doesn't have a similar sales funnel builder as it isn't so funnel-focused.
You can create landing pages as mentioned above, but they're solely for getting email sign-ups. They can't take payments.
Neither can you link up multiple pages and direct visitors from one page to the next when they click the pages' call-to-action buttons.
Winner: ClickFunnels, for making sales funnel creation a breeze!
ActiveCampaign 3 – ClickFunnels 2
Round 6: Integrations
ActiveCampaign and ClickFunnels both integrate with a wide variety of apps for different needs. For example, they integrate with:
Ecommerce platform Shopify
Video conferencing software Zoom
Payment processing platform Stripe
According to its pricing page, ActiveCampaign has over 870 integrations. This seems to be more than the number of available ClickFunnels integrations, but what's more important is whether the platforms integrate with the apps you use.
Otherwise, you may end up paying for a tool that can't send or receive data from your existing apps.
See if you can find your apps on ActiveCampaign's integrations list here, and ClickFunnels' here and here.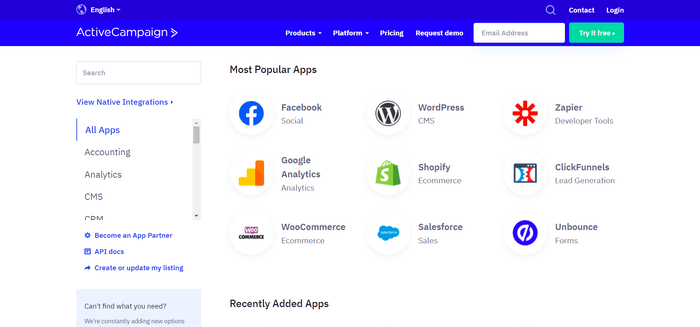 In any case, both platforms support Zapier, which is a middleman integration app that itself connects with more than 5,000 apps. So Zapier can probably help you integrate ActiveCampaign or ClickFunnels with your preferred app if there isn't a direct integration for it.
But unlike ClickFunnels, ActiveCampaign offers some integrations only on its more expensive plans. These include its ecommerce integrations (Marketing Plus plan and up needed), and its Salesforce integration (Marketing Professional plan and up needed).
Winner: The platforms are quite evenly matched here considering how you can use Zapier to integrate them with almost any app.
I'm going to give ActiveCampaign the point since it offers more integrations, but you should double-check whether ActiveCampaign and ClickFunnels integrate with your apps before committing to either of them.
ActiveCampaign 4 – ClickFunnels 2
Round 7: Reporting and Analytics
Click the "Analytics" icon in the ClickFunnels dashboard to get a handy overview of your total sales, orders, and conversion rate for any given period.
You can also view how much revenue you've made and the number of opt-ins you've obtained during this time frame.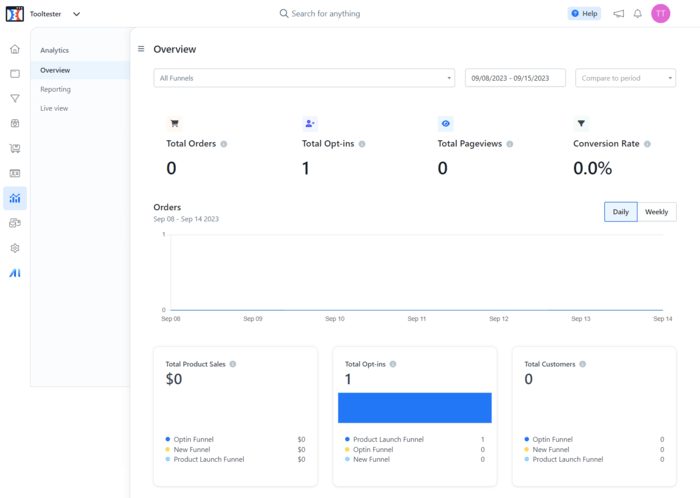 From there, click the "Reporting" tab to access specific reports for sales, opt-ins, page views, customer subscriptions, and more.
For example, you can view a report of all sales you've made over time, or analyze the sales you've made from certain funnels or products.
There's also a "Live View" option for monitoring events in your account as they happen, in a timeline format.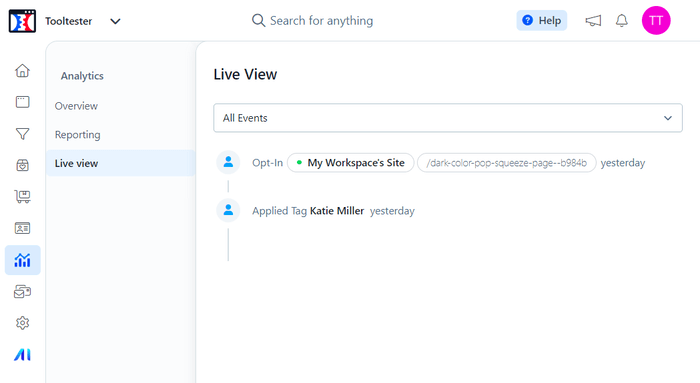 All this is pretty neat, until you jump into ActiveCampaign's reports and realize just how much more in-depth they are.
There are detailed analytics for practically every main ActiveCampaign feature, including automations, campaigns, and deals. Here's a snapshot of the available reports:

For instance, while ClickFunnels' "Opt-ins by landing page" report just shows the number of landing page opt-ins you've obtained, ActiveCampaign's landing page metrics can provide precise figures for form submissions, page views, and button clicks.
Other cool ActiveCampaign reports I didn't find in ClickFunnels include:
And if you have the Marketing Enterprise plan, you can also create your own custom reports.
Winner: ActiveCampaign wins for its impressive range of available reports!
ActiveCampaign 5 – ClickFunnels 2
Round 8: Pricing
Finally, let's look at costs.
ClickFunnels pricing starts at $147/month (monthly billing) for the Basic plan. This plan offers the bulk of the platform's features, including funnels and unlimited workflows, email sequences, and landing pages. It also includes three user seats, 20 funnels, and 10,000 contacts.
On the other hand, ActiveCampaign pricing starts at $39/month for its Marketing Lite plan, billed monthly. This pricing tier is good for one user and up to 1,000 contacts, and also includes features like:
Email marketing
Marketing automation
Basic and inline forms
Segmentation
What you won't get under the Marketing Lite plan are features like pop-up and modal forms, landing pages, and ecommerce integrations. CRM features are also excluded (you'd need a bundled Sales and Marketing plan to access these).
So, at first glance, ActiveCampaign may look like the cheaper option. But for a fairer comparison, I also went to benchmark ClickFunnels' Basic plan pricing against that of ActiveCampaign's Marketing Plus plan for 10,000 contacts.
Doing so helps us compare both platforms' pricing on more equal footing, as you can see from some shared features of their plans below:
| | ClickFunnels Basic plan | ActiveCampaign Marketing Plus plan (for 10,000 contacts) | ActiveCampaign Marketing Lite plan (for 1,000 contacts) |
| --- | --- | --- | --- |
| Number of user seats | 3 | 3 | 1 |
| Number of contacts | 10,000 | 10,000 | 1,000 |
| Email marketing campaigns | ✅ | ✅ | ✅ |
| Automations | ✅ | ✅ | ✅ (except for ecommerce and SMS automations, among others) |
| Landing pages | ✅ | ✅ | ❌ |
| Ecommerce integrations | ✅ | ✅ | ❌ |
| Cost (monthly billing) | $147/month | $287/month | $39/month |
The cost of ActiveCampaign's Marketing Plus plan at the 10,000-contact tier is $287/month, which is almost double that for ClickFunnels!
Winner: I'm going with ActiveCampaign because it ultimately still has a lower starting price. ClickFunnels is the more affordable option only if you have a larger contact list.
ActiveCampaign 6 – ClickFunnels 2
ActiveCampaign vs. ClickFunnels: Who Wins?
Based on our evaluation of the ActiveCampaign pros and cons against those of ClickFunnels, ActiveCampaign has six points while ClickFunnels has two.
So, ActiveCampaign is the superior marketing tool, hands down!
When it comes to ActiveCampaign vs. ClickFunnels, these things helped ActiveCampaign stand out:
Amazing marketing and sales automation capabilities
Wide range of email templates
Hundreds of available third-party integrations
Built-in CRM software
Extensive reports
Given ActiveCampaign's advanced automation and CRM features, it's the better choice for B2B businesses, or those with longer/more complex sales cycles.
That said, ClickFunnels' strong sales funnel and landing page features still make it worthy of consideration if you value having a one-stop solution for getting leads and sales — for example, if you sell digital products, courses, or coaching services.
To learn more about ActiveCampaign, check out these guides:
Alternatively, find more ClickFunnels alternatives here.
You can also try ActiveCampaign and ClickFunnels for free using the links below:
And if you've got questions, drop them in the comments below and I'll get back to you!
Our Methodology
This article has been written and researched following our EmailTooltester methodology.
Our Methodology