Inboxes are full of random product recommendations from big box retailers, legacy brands, and luxury names. Yet many readers are happy to just go with it, as these are brands they know and trust.
But if your startup or mid-sized enterprise tries this approach, it won't go over well. With SMEs, especially digitally-native brands, trust and connection are key. Even if you have a product or service that is a cut above the rest, not all your email subscribers will convert.
The good news is, if they've given you their email addresses, it means they're interested in learning more about your brand. But purchase may not be on the horizon… yet.
Luckily, you can make their time worthwhile by leveraging email funnels. By tailoring your email content to their desires and needs, you will be able to increase their engagement, and can eventually convert them into paying customers.
We've rounded up some excellent email funnel examples to show you how effective they can be. You'll also learn 7 best practices for implementing this strategy.
But before we get into that, let's first review some email funnel marketing basics.
What is an Email Funnel?
Email funnels, aka email marketing funnels or marketing sales funnels, consist of automated messages designed to encourage targeted audiences to convert. This strategy uses a funnel structure to inspire email content, with a wide pool of interested subscribers at the top of the funnel, and a filtered selection of final buyers at the bottom.
Even with email automation, each lead is treated as an individual. Recipients receive emails based on their behavior and interests.
An email funnel differs from typical email advertising because it accounts for where subscribers are in their buying journey. The funnel enables you to track the progression of your subscribers–from discovering your brand to buying products to advocating for your brand.
If you're wondering how the two differ, here's an example of an email advertisement from Vacation, Inc., a direct-to-consumer sunscreen brand known for its nostalgia-themed radio station: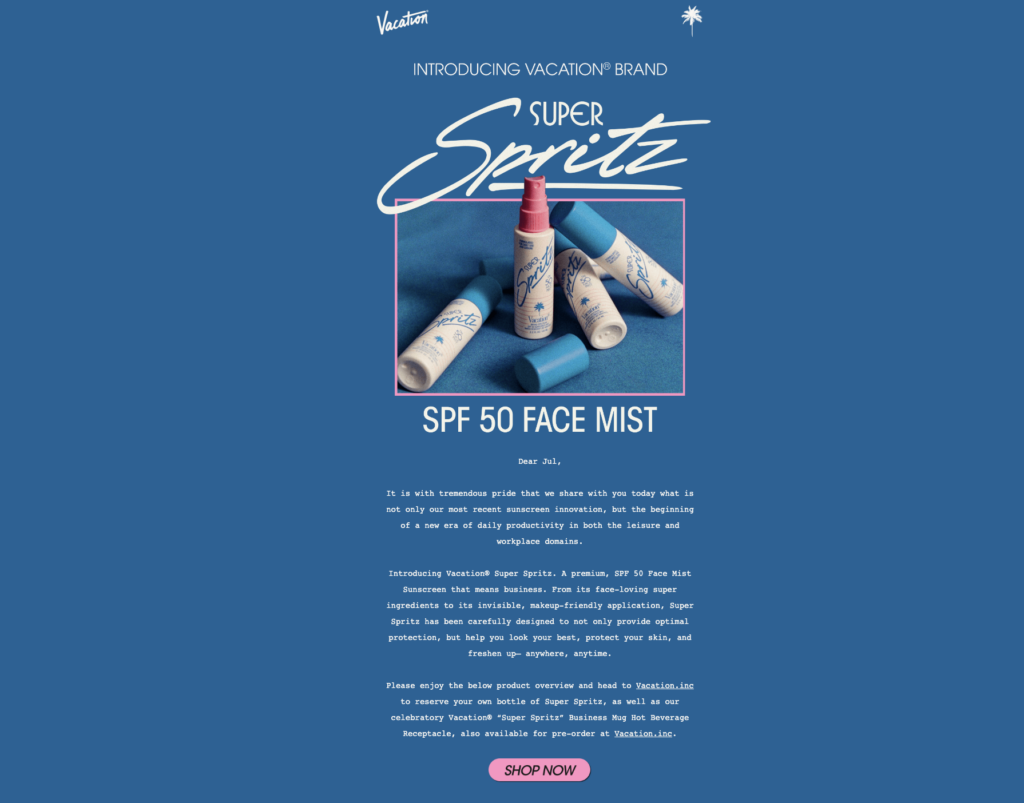 Source: Vacation, Inc
Yes, it mentions the reader's name, so it's somewhat personalized. But it still looks like a flyer that someone would hand out on the street.
Let's compare this with the email below, which came from The Gray Muse, an online store that specializes in enamel pins. After opting in, you'll receive a surprise discount code in your welcome email: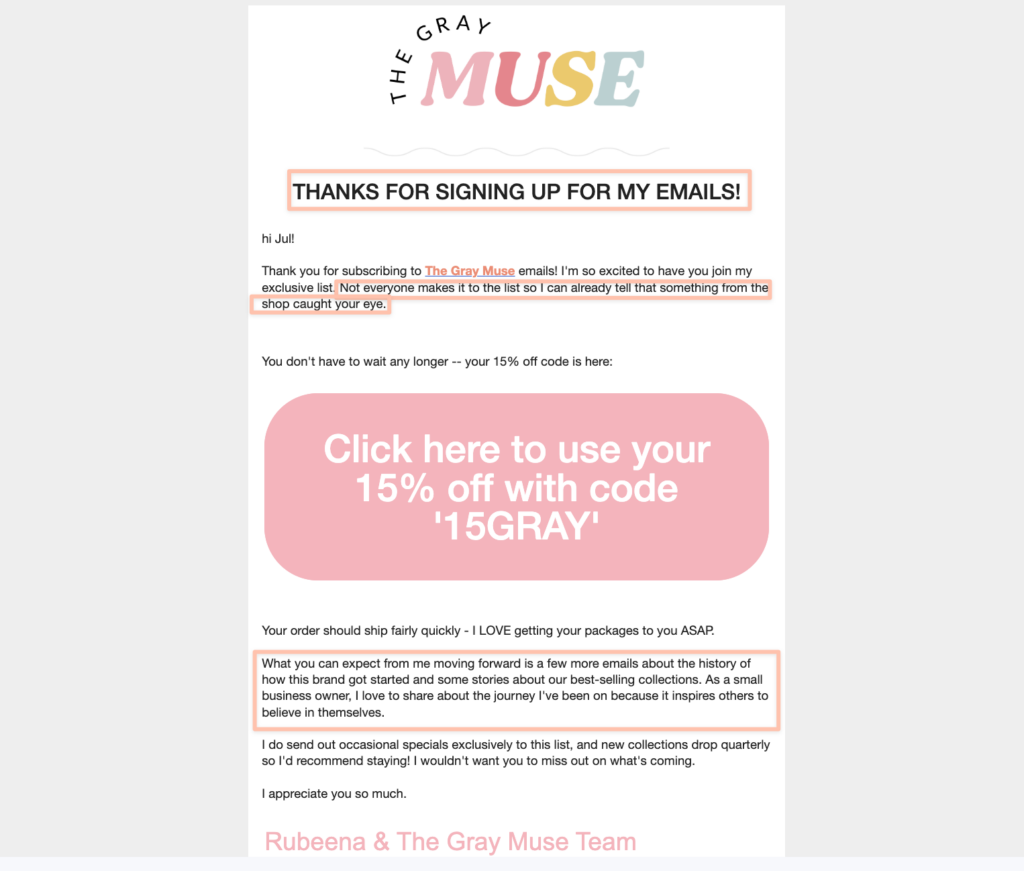 In it, Rubeena and her team also outlined the types of content the prospective customer can expect in future emails.
This level of personalization–and a thoughtful approach–is what makes an email marketing funnel work so well. You're not just taking shots at random. It offers a more strategic approach that leaves the readers feeling seen.
The Basis For Email Funnels and Why They Work
Through an email funnel, interested prospects you've collected through lead generation strategies can become customers. Working out which stage subscribers fit into is key here. It enables you to filter through the types of content that might interest them.
By sending targeted content, you can address any resistance they may have, allowing them to flow smoothly through the funnel.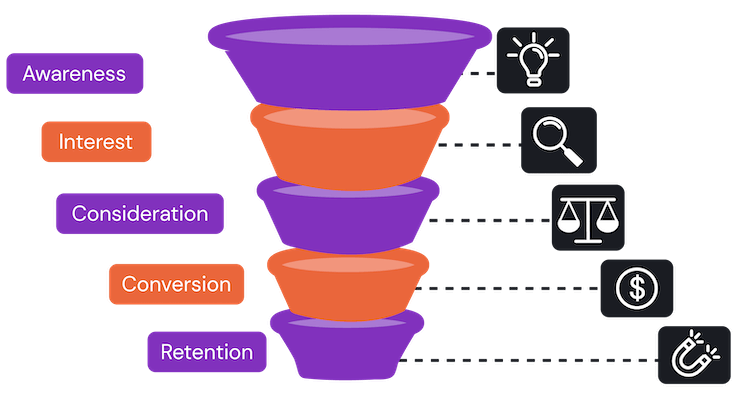 Leads are classified based on their product knowledge and purchase intent. They go through these four basic stages to become paying customers:
Awareness: Visitors leave their emails on your website or landing page and become subscribers.
Interest: Subscribers read your emails and become vested in your content and ideas.
Consideration: Subscribers take a close look at your products and how they can use them.
Conversion or Purchase: Subscribers finally take the plunge and take the action you want them to. This action will depend on your conversion goals, such as sales, subscriptions, donations, or community memberships.
Most marketers use a funnel that includes a fifth stage called Retention. It's where you nurture your new customers to become repeat customers and brand advocates.
Since you're only just getting started with learning how an email marketing funnel works, let's focus on the first four.
There are a number of tactics marketers can use to help email subscribers move down the funnel, such as providing valuable content, establishing urgency, offering discounts, and using social proof to build credibility and trust.
You'll see how these play out once we dive into the email funnel examples below. We've divided them into three different parts:
Top of the Funnel: Awareness to Interest
Middle of the Funnel: Interest to Consideration
Bottom of the Funnel: Consideration to Conversion
Email Funnel Examples: The Breakdown
Before entering an email funnel, your prospects, like water, flow in all directions. You need a vessel to channel some of that toward you.
For this email marketing strategy, the vessel comes in two forms:
Opt-in forms: These forms are direct to the point, only asking for a visitor's email and address. If you send out a newsletter, you're already familiar with this. You can strategically place these forms throughout your website. A non-obtrusive popup also works nicely. Find out more about this tactic in our email list building guide. You may also want to check out these online form builders.
Let's look at how The Gray Muse offers a discount for first-time subscribers on their website. Ecommerce brands often use this strategy: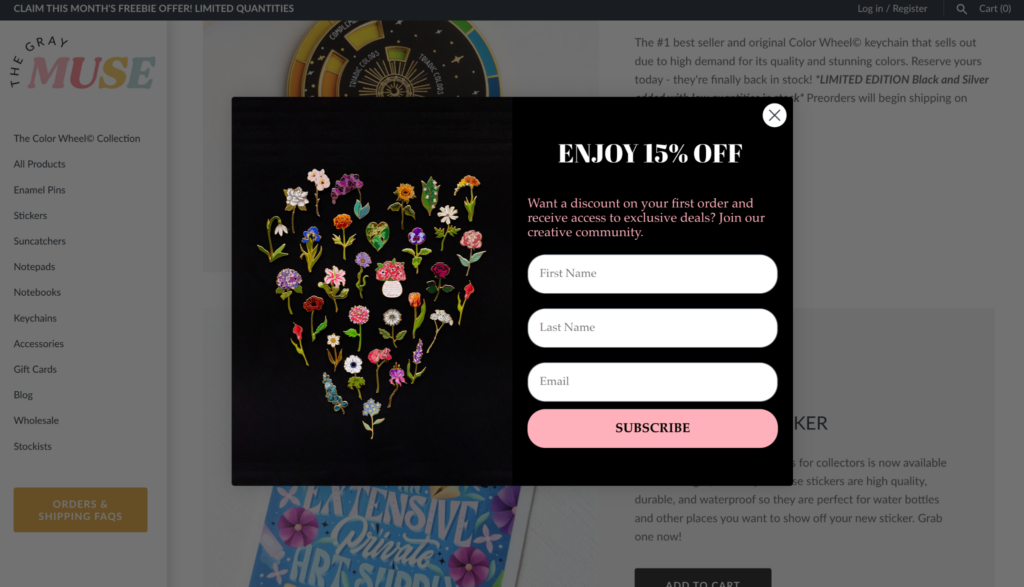 Landing pages: A landing page is used to display a lead magnet, which is often a free resource offered to potential customers (e.g. an ebook, white paper, webinar or course). It can set the tone for what future subscribers can expect from your communications: valuable content.
Here's an example of a landing page for Start Writing Online by Ship 30 for 30, a digital writing program. Landing pages work well for service-oriented and subscription companies: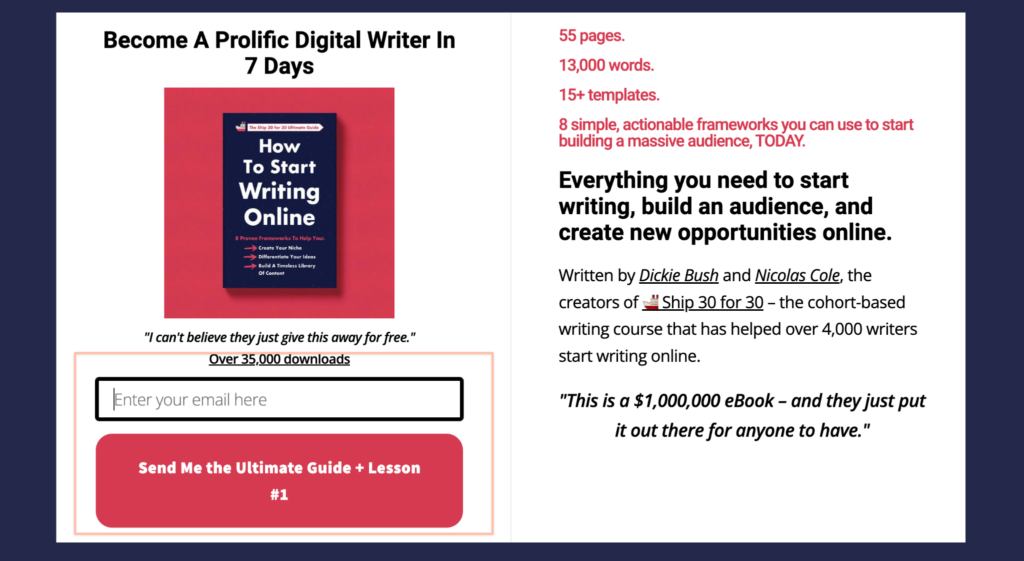 For more information on how to strengthen your email lead generation, read our tips here.
Now that you have the vessel that will allow you to build and grow your list passively, it's time to see how qualified customers can trickle down the funnel.
Top-of-the-funnel (TOFU) email funnel examples
Think of TOFU emails as a chance to create a solid first impression. Just because visitors have left you their email addresses, doesn't mean they'll open your emails every time.
So make sure you get them hooked. At this stage, you have one goal: Transform that awareness to interest. Grab this chance to show them what they can expect from the correspondence.
Say, you promised new subscribers a gift for signing up. It should be the first thing you mention in your email. If it's a downloadable or a coupon, include it in the email right away.
But if you require more housekeeping or personalization, make sure you notify the readers and explain what it's all about.
This is how Ship 30 for 30 gets people interested once they sign up for the free guide. Offering subscribers two paths makes them feel that what's to come is tailored to their needs: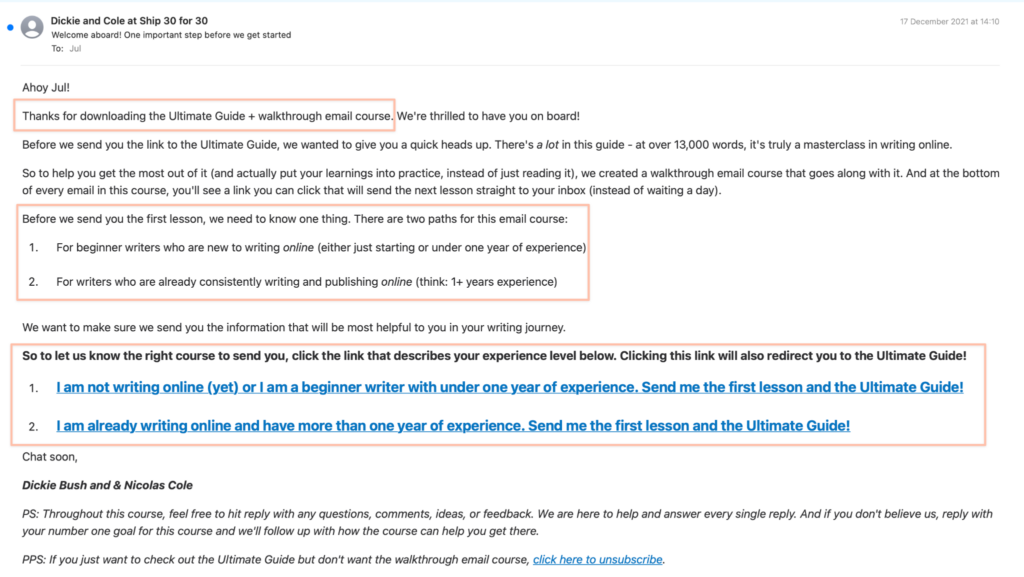 Aside from showcasing value, your TOFU content should foster trust. Make the readers feel the person sitting behind the desk crafting those emails is a real one. Sprout Social findings show that 57% of people who feel connected to a brand increase their spending there, and 76% choose them over their competitors.
Introduce them to your brand story. Make them smile, laugh, or even ugly happy cry, with you. Here's an example of how The Gray Muse laid out its second email: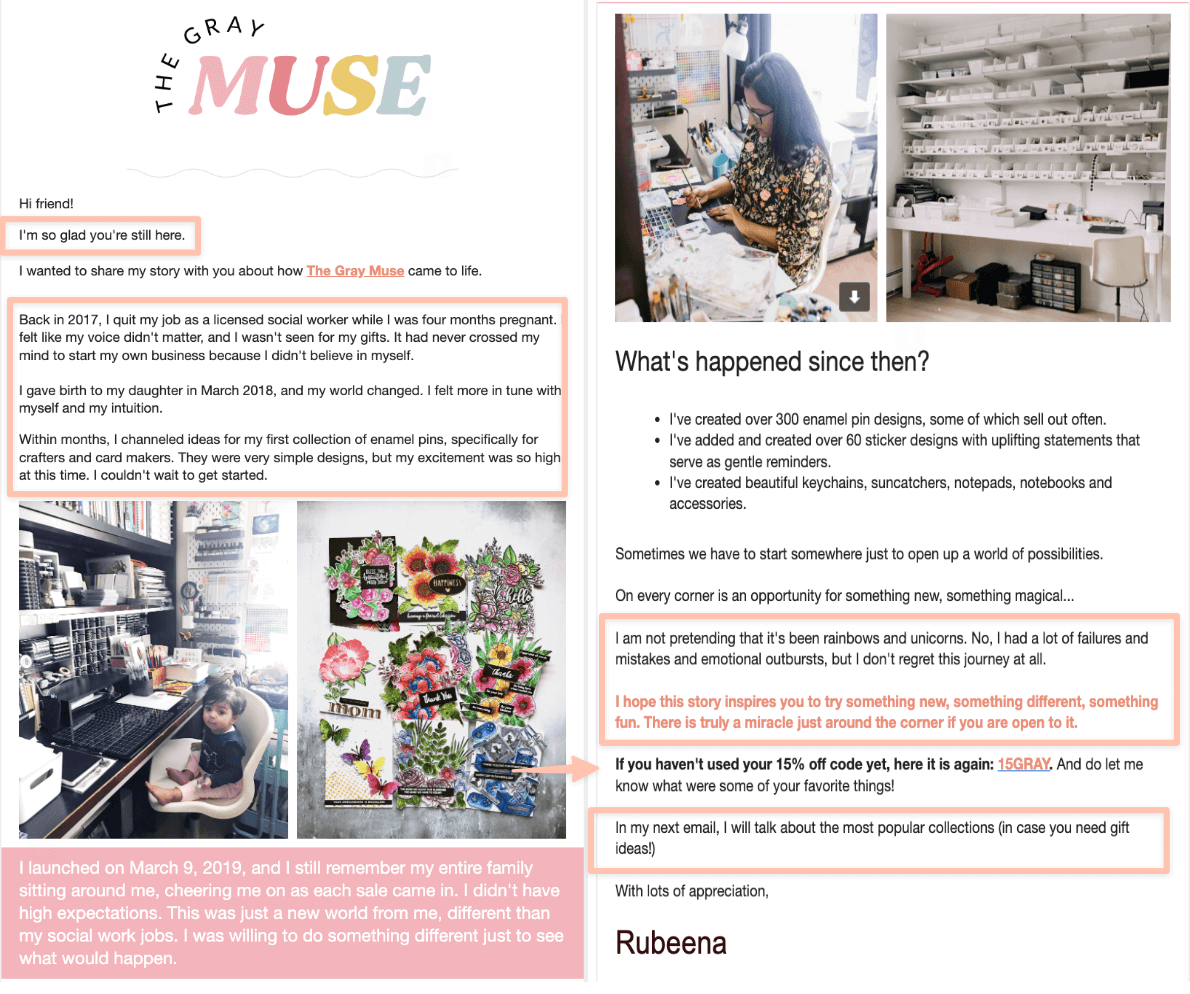 True to their word, the email content revolves around Rubeena's experience transitioning from a social worker to a business owner (with a bonus pic of her cute toddler!). Besides reminding the prospective customer of their discount code, she also explained what will happen next.
If you need more relationship-building TOFU content ideas, try sharing your wins and losses, company mission, and values statements.
Actionable Takeaway
Lay off the sales-driven content for a while. It's hard for people to like a product they've never seen before from a brand they know little about. Remember: The unsubscribe button is just a click away.
Focus on giving prospects a glimpse into who you are and sharing valuable content relevant to them. Set them up for greater engagement, which can eventually lead to their trust and business.
Middle-of-the-funnel (MOFU) email funnel examples
You've done it! You opened the door, drew the subscribers in, and piqued their curiosity. Directly pitching your products *might* seem appropriate at this point.
But think about this: How would you feel if you went into a store to look around–only to have the salesperson go after you, suggesting one thing after another?
Even if you're contemplating purchasing, this behavior will certainly turn you away. In an ideal world, interested shoppers will make a purchase. The reality, however, is quite different. You have to start slow.
This means biding your time to gain a deeper understanding of their problems, motivations, experiences, and interests. Once you have this knowledge, you can use it to create content that resonates with them (ex: giving them solutions to their problems).
To avoid making your emails overly promotional at the beginning, give readers an educational tone.
Emergency supplies brand, JUDY, sends timely emails with helpful tips for dealing with natural disasters. A helpful guide is also included, and you can see that it only added a nifty and concise "Get prepared now" button to the online store ONLY after delivering value: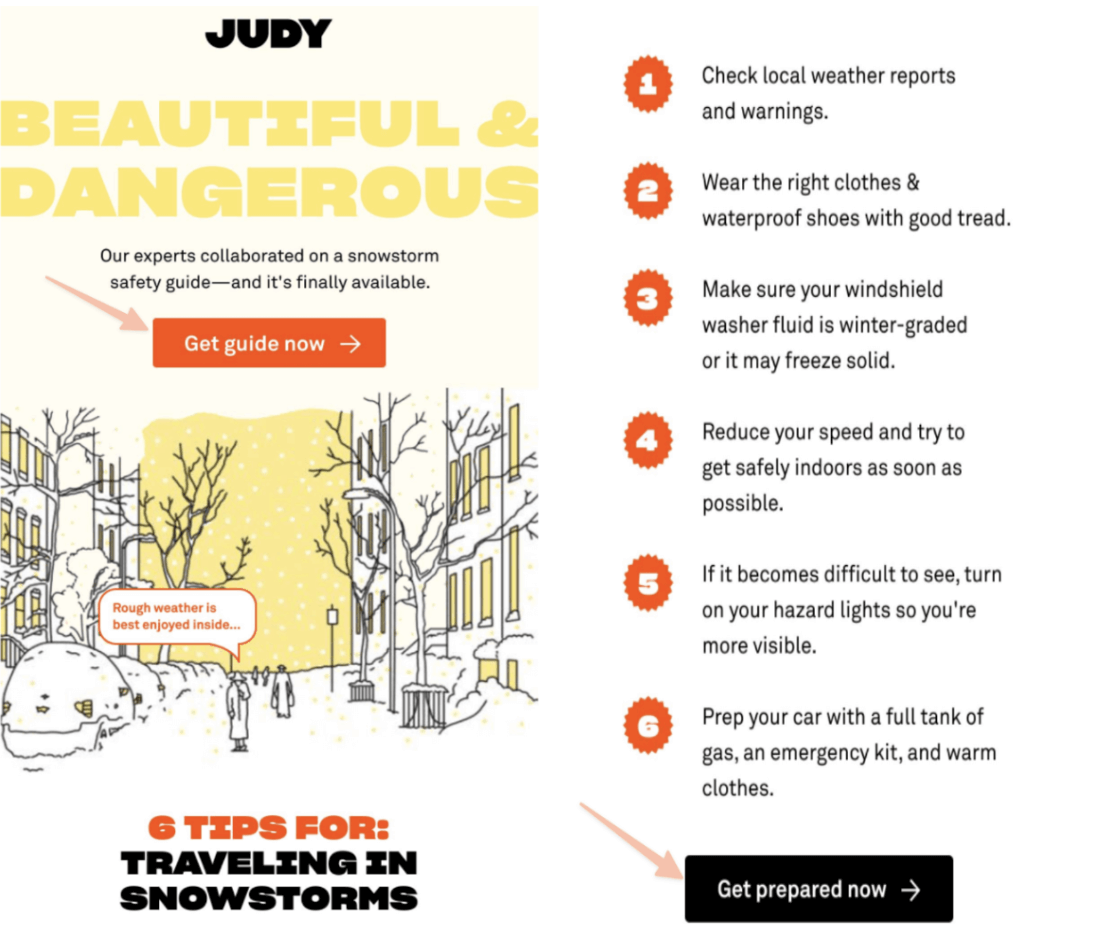 Source: Really Good Emails
Identify your subscribers' pain points and provide them with tips and tricks, without forcing your products upon them. If your content resonates with them, they'll be more inclined to investigate further.
Make sure your emails always have a clear and strong call to action that they can choose to follow up on.
Newsletters are another effective lead-nurturing email marketing strategy that can actually progress readers through your funnel. They keep your brand at the forefront of your prospects' minds while providing them with valuable information.
Let's look at how Fitness Coaching App CoPilot's newsletter The Rep motivates leads to take action through expert knowledge sharing.
The company regularly sends a series of emails with three parts. Each section is filled with these value bombs: the "Warm Up" containing a thought-provoking read, the "Quick HIIT" which features an uplifting video, and a "New Tip" from one of the coaches: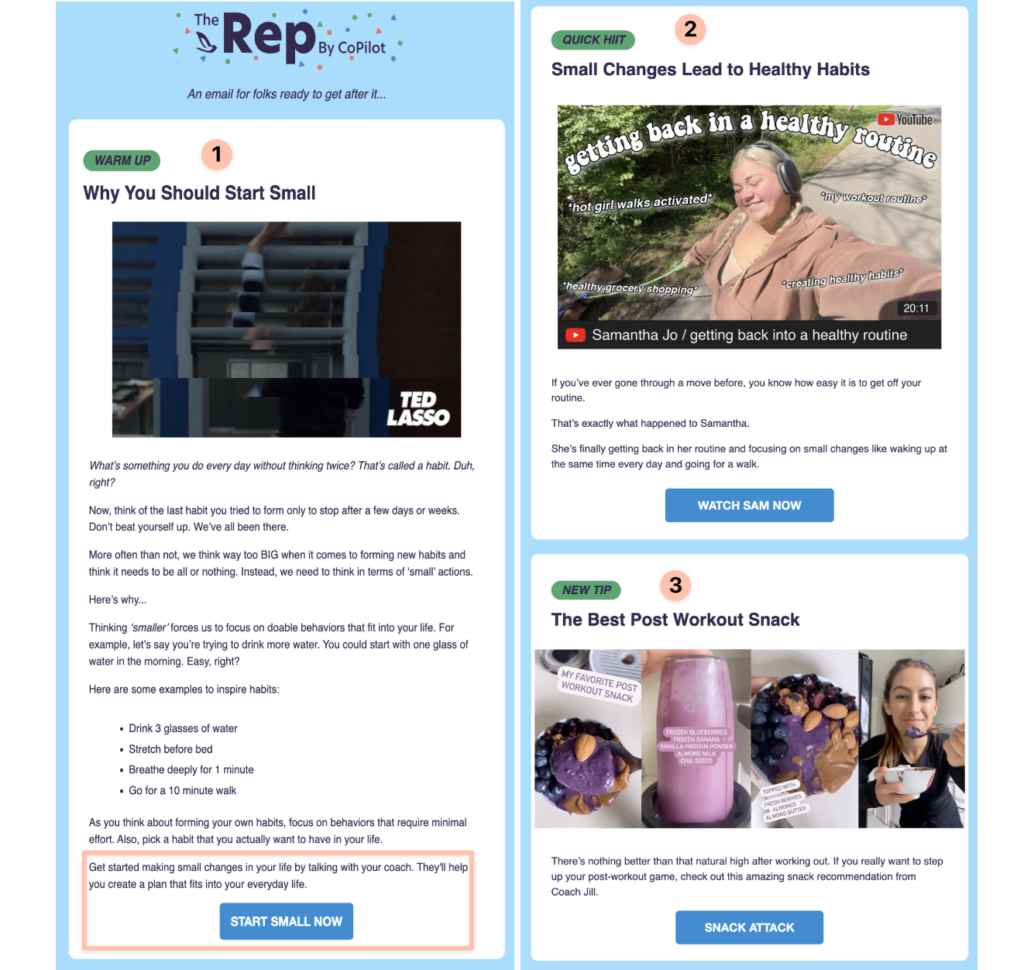 If reading the "warm up" gets you pumped up to start small, Co-Pilot conveniently adds a CTA right after a bit of advice about how coaches can make the process go more smoothly.
The Rep emails are always formatted this way, giving subscribers an idea of what they can expect and look forward to. But if you want to shake things up and have readers do more than open your emails, diversify your offering.
Sending targeted educational content that helps to solve readers' problems is a great way to catch the attention of qualified leads. When they sign up for a freebie, it means they want to know more about your brand enough to interact with you outside their inbox.
This was what TREW Marketing, a marketing agency for tech organizations, was aiming for when it announced a free live webinar in its 2022 holiday newsletter.
It hit all the right chords because tech professionals looking for a competitive edge probably ended up signing up for this State of Marketing webinar. These tech professionals, by the way, fit the mold of the agency's ideal clients.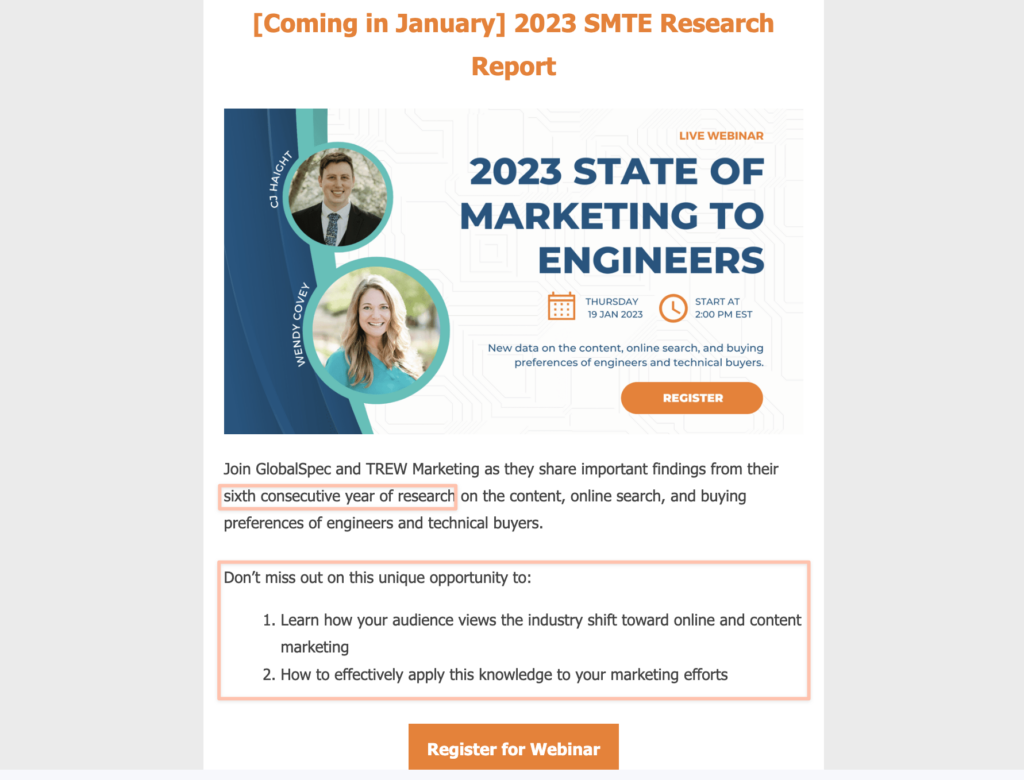 Pay attention to how it highlighted the agency's expertise (It's the 6th year they're doing this! They have to know what they're doing, right?) and laid out what attendees would take away from the event.
The middle-of-the-funnel also offers a great opportunity to dig in deeper and break down any resistance subscribers might have. Send them emails that can strengthen their desire to do business with you while they're in the consideration phase.
Send them snippets or links to your case studies, testimonials, reviews, or product pages to get them excited about your product. Keto-friendly cereal brand, Magic Spoon, took the humorous approach, and pulled its funniest reviews off the internet to create this hilarious email: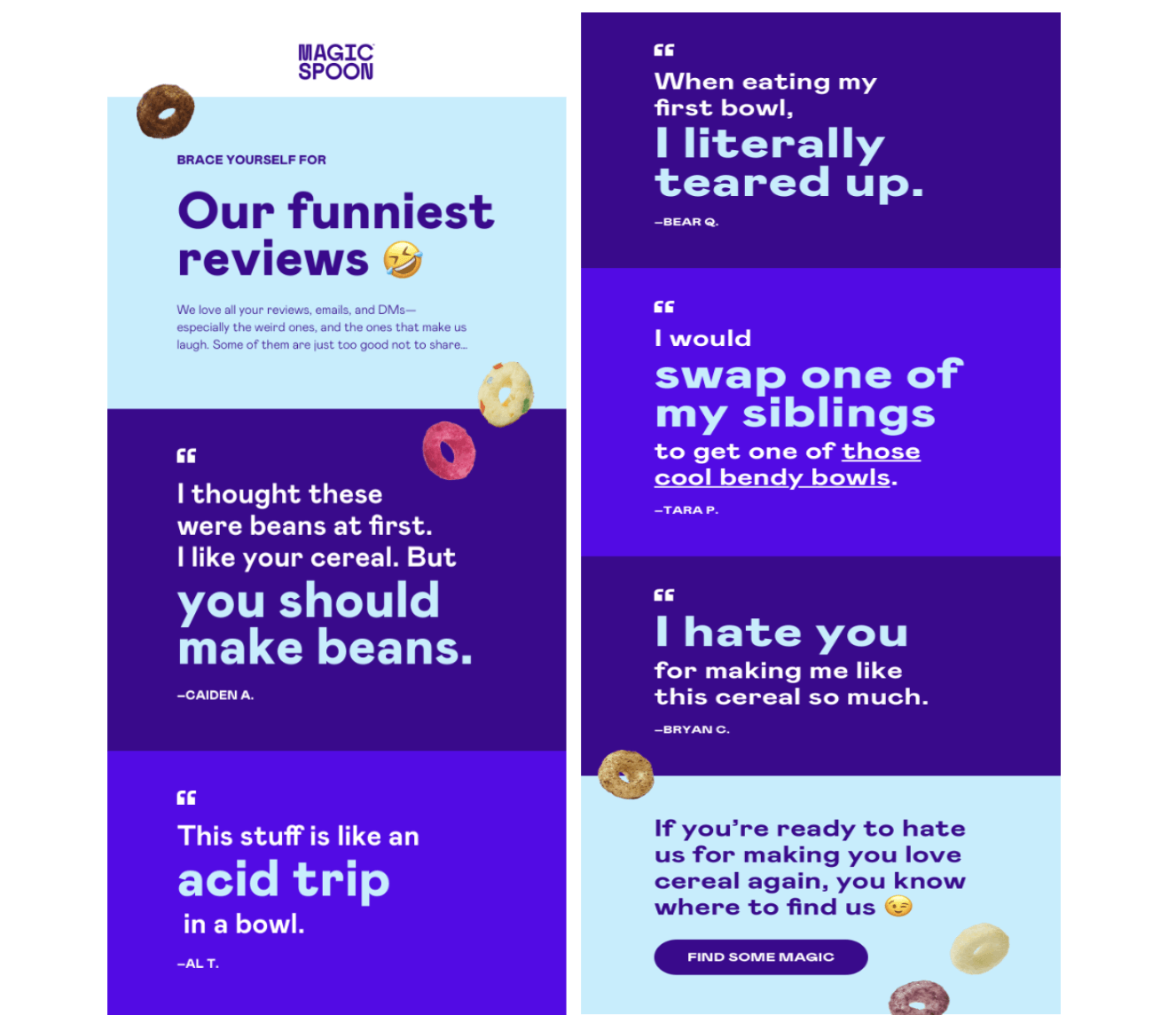 Source: Really Good Emails
Then, the brand capped the email off with a simple brand-aligned CTA. Truth is, once you've established rapport with your readers, you don't have to sell hard. Just let them slide down the funnel on their own.

Actionable Takeaway
MOFU takes up the most time. During this time, you're building customer trust and assessing their willingness to buy. And it's a real nail-biter of will they or won't they, so it's good to have a generous amount of MOFU email content ideas in your back pocket.
Focus on helping customers solve core problems with your offering and removing conversion roadblocks. And make sure you send your emails in a timely manner to remain top of mind during this period.
Since this part of the funnel is long and unpredictable, create content in a variety of formats to keep your leads engaged and more warmed up for the incoming sales pitch.
Bottom-of-the-funnel (BOFU) email funnel examples
As you reach the bottom of your funnel, your email list becomes shorter. Only the few, high-quality leads on the cusp of making their final decision remain. And you need to act fast to avoid being overtaken by the competition.
When your qualified leads go beyond reading your emails, you'll know they're warm for conversion.
They may have tapped that newsletter's CTA button one too many times.
Filled their carts, but didn't push through with checking them out.
Enrolled in a webinar, downloaded a free educational resource, or signed up for a free trial.
You may know who these leads are (thanks to your marketing automation, sales funnel, or lead scoring program), but they're not customers – yet.
If there's anything these actions should tell you, it's that they're *almost ready* to convert. But they're holding tight to that credit card for some reason. This is where an email marketing sales funnel can come into its own. Understanding how your customers interact with your email content can give you insight into why they haven't converted.
When your lead is ready for conversion, they will likely also be looking at your competitors. They're scouring the market to see what's better suited to their needs.
It's a good time to tackle your competitors head-on – for example, by sending feature comparisons or pricing information.
O Positiv uses a table to show the benefits of going with its Retro vitamins over conventional Botox: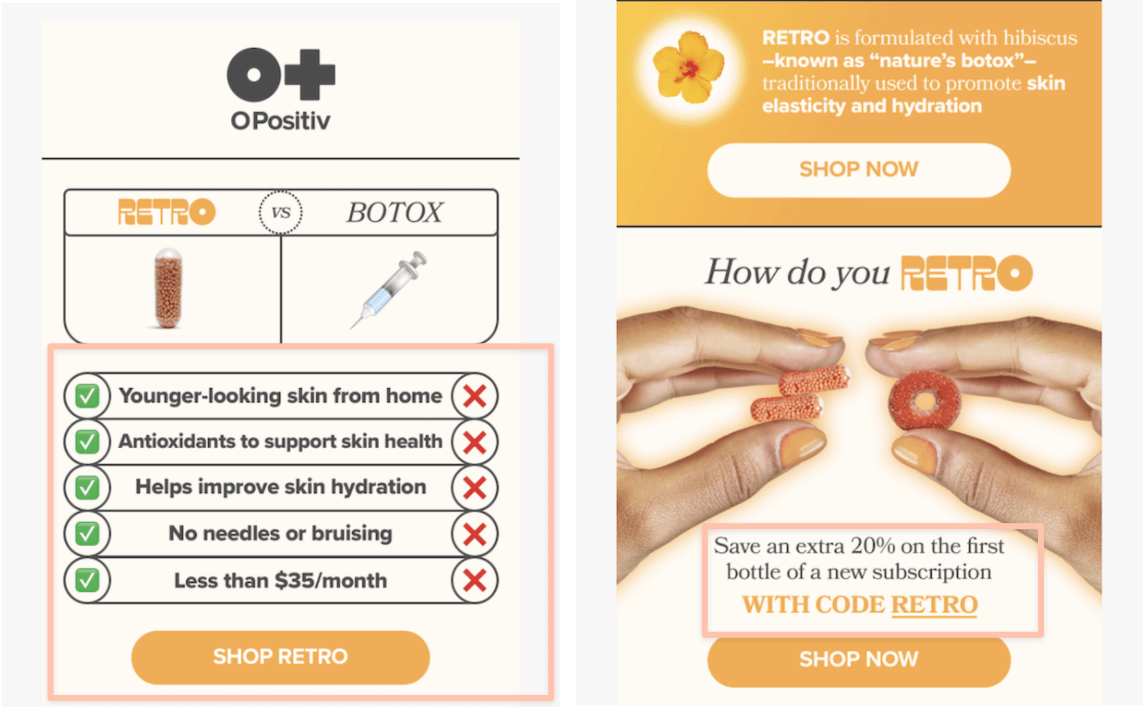 Source: Panoramata
To motivate subscribers into making a purchase, the vitamins brand also throws a 20% discount their way.
Emails with irresistible offers are often the fastest way to seal the deal. They can push these hesitant subscribers to act.
Holiday deals are incredibly effective here. As you get closer to the event, you can send multiple reminders about the same offer.
But waiting for an official holiday before you send your offers might work against you. Like O Positiv, clothing brand, American Giant took matters into their own hands by sending a special discount coupon for first-time shoppers: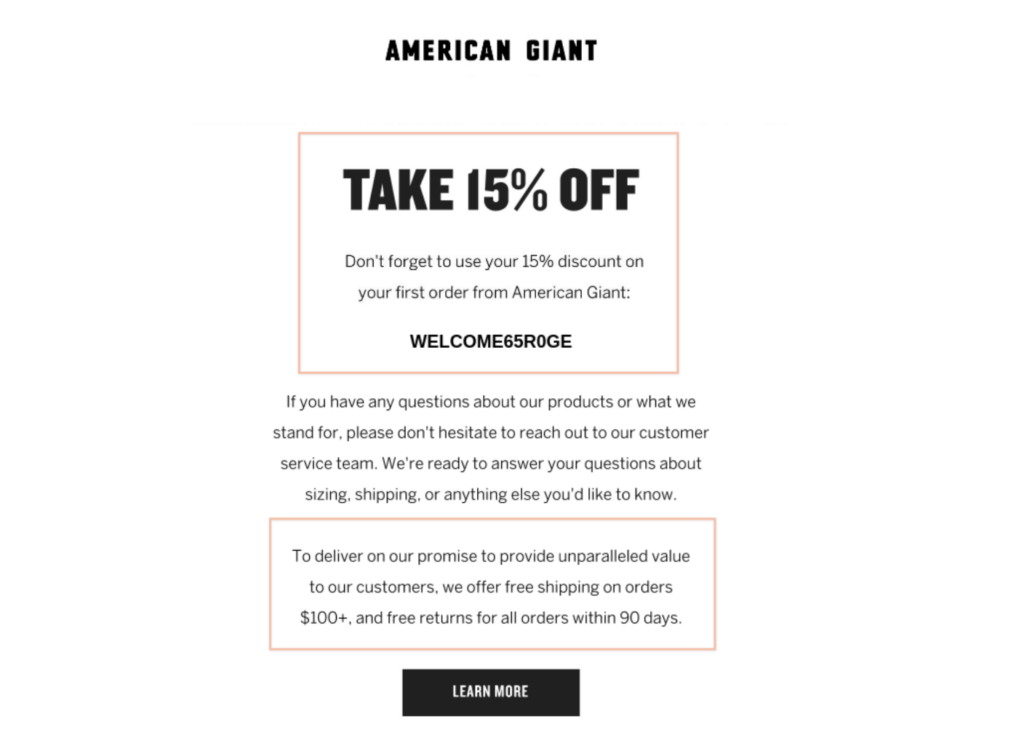 Source: Really Good Emails
The brand also blew past other barriers, such as shipping costs and sizing concerns. By telling shoppers to reach out to them if they have any questions and giving them the lowdown on free shipping and returns, any doubts in their minds are likely to be dispelled. (Another effective tactic could be to include this information under a FAQ section directly within the email.)
Aside from discount codes, offering gifts with purchase will also entice prospects to proceed with their purchase. Who doesn't love free stuff?
Tip: To make the offers work faster, make them time-sensitive. Provide a deadline by which subscribers can enjoy the discount or claim the free gift. Urgency can increase conversion by over 300%.
Other times, you see subscribers add items to their carts and not complete their purchases. The number one reason shoppers abandon carts is unexpected extra costs at checkout.
If you think that's the case for your subscriber, you can borrow some pointers from supplement provider Better Brand. They strategically positioned the words FREE SHIPPING throughout their abandoned cart email copy.
Additionally, the brand ensures the email is highly personalized by including an image and description of the product currently stuck in the cart. This can really evoke a sense of FOMO: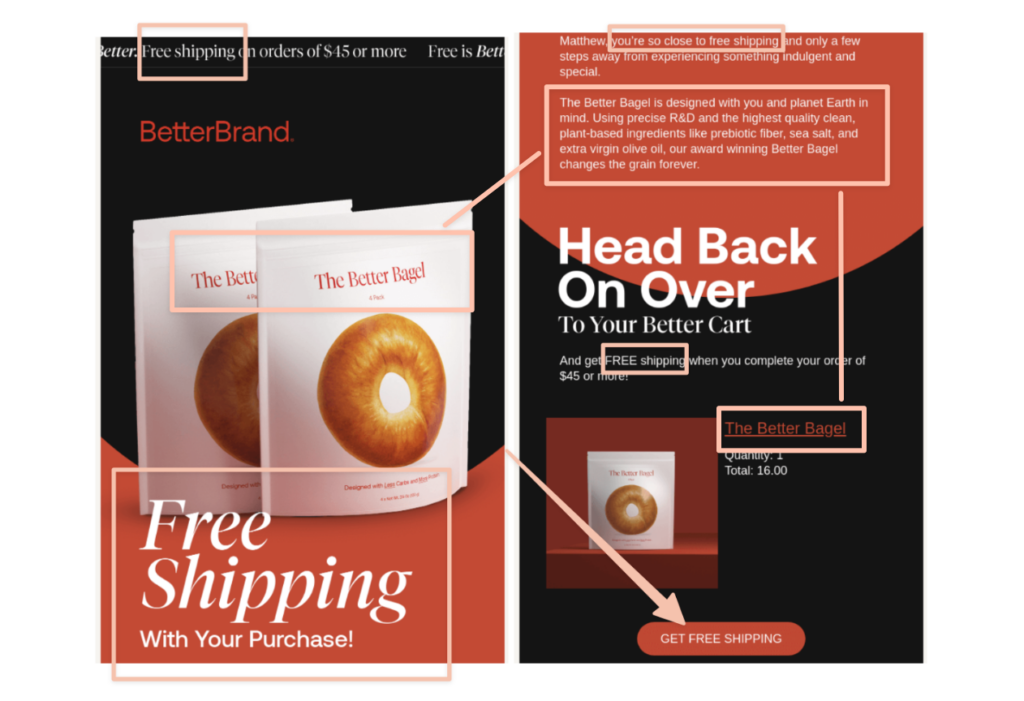 Source: Really Good Emails
Even if the roadblock isn't shipping, sending subscribers a reminder of their abandoned cart can help them get back on track. You can copy Better Brand's strategy and highlight what they'll miss out on if they don't buy from you.
Another way to get retarget these warm leads is by delivering ads relevant to their interests. It gives you an opportunity to increase the average order value by the time they check out.
Footwear and Activewear Brand Asics purposefully added product suggestions (dubbing them best sellers for more compelling appeal) to this abandoned cart email: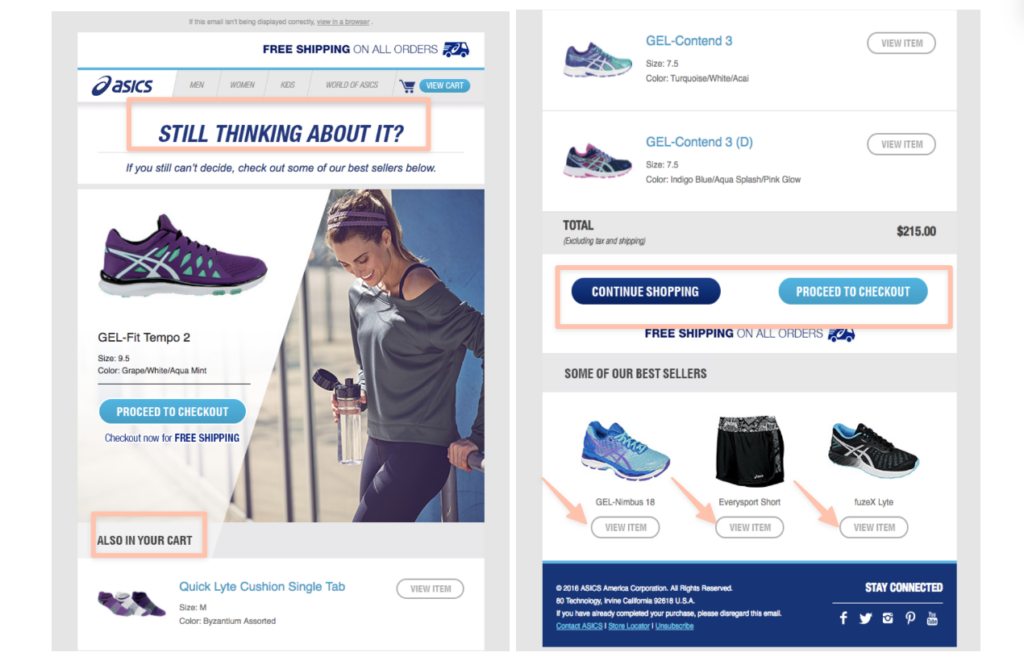 Source: Really Good Emails
The above email examples are great tactics for ecommerce or product-based brands. But it might not work as well if you're running a paid subscription or service business.
To deliver a one-two punch, you can offer a free trial and follow it up with a post-trial email that encourages recipients to sign on or upgrade. Automation software Zapier keeps its follow-up email simple, only emphasizing the benefits of upgrading to a premium plan: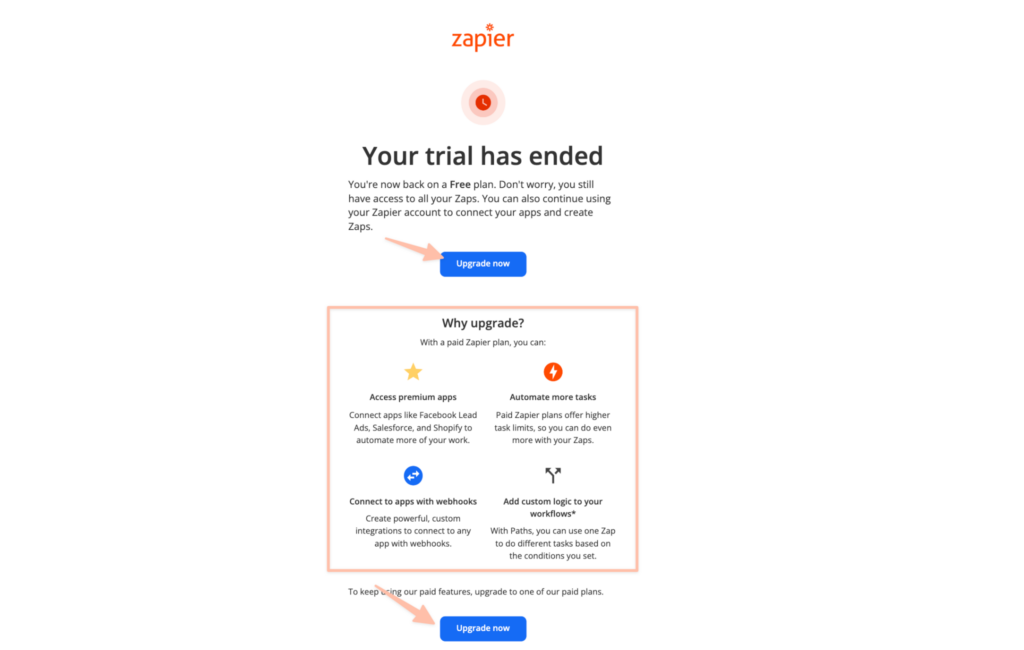 If you're feeling generous, you can make a last-ditch attempt and provide a special offer to free trial users. But make sure you wait until the end of the free trial, since some might sign up anyway without the discount.
Aside from free trials, product demonstrations or a free 1-on-1 consultation are other effective strategies to warm up them up before you request a subscription.
Actionable Takeaway
Your BOFU content will rely on your subscriber's behavior throughout the funnel. It helps you understand where their final resistance is coming from.
It's your last chance to make a positive impression on your prospects. Therefore, you have to be solution-focused and accessible to convert your leads. Pull everything you know about your subscriber and let that knowledge get to work.
This is the stage when you need to encourage them and give them the extra push they need to make the final decision. Craft your email messages with a stronger promotional angle and CTA.
Best Practices for Creating Effective Email Sales Funnels
Segment your email list
This has to be the golden tip: Without segmentation, sending targeted messages won't be as easy.
Organize your email list according to your subscribers' interests, behavior, demographics, and at what stage they enter the email marketing funnel.
Let's talk about that last criterion a little more. Not all readers start from the top of the funnel. A person who left you their email for stock-up alerts is much further down the funnel than someone who subscribed to your newsletter.
That being said, behavior is the most telling indicator. An email marketing funnel is non-linear, and leads can move through it in different ways. So having a response to their bouncing between stages is crucial. (A solid automated program can help with that – see point #7 below.)
Personalize your email messages
Use personal information, such as name and location, to personalize your emails. Relationship-building is what makes an email funnel effective.
Therefore, it's important to convey that you know the reader and their needs. The email examples we've showcased above will give you some ideas to pull this off.
Make your subject lines attention-grabbing
Your subject line is the first thing that subscribers see in their inbox, and it can make or break your email open rates. Effective subject lines can lead to an average open rate of 43%.
Optimize yours with relevant and attention-grabbing words. Just make sure you don't cross over to click-bait territory. (We're looking at you, subject lines that start with "Re:")
It's also important to keep your subject line concise, so you won't go over the available real estate. Many people, 1.7 billion as it happens, browse emails on their phones, so make sure your subject lines fit on any device. You can use our subject lines tester to be sure.
Map out your content well
Plan out the content for each email in your email sales funnel based on your audience's goals and interests. Be sure to include a mix of educational content, promotional content, and calls to action. This will help build trust and loyalty with your subscribers and lead to better long-term results.
Pro Tip: It's always a good idea to create a welcome email drip sequence for subscribers. It can introduce them to your brand and the quality of content they'll receive from you. Check out our guide for more examples and info on drip campaigns.
Create a powerful call-to-action
Your sales funnel emails should have a clear, compelling call-to-action (CTA) that encourages subscribers to click. You can place them at each touchpoint to show them how to proceed.
Generally speaking, it's best to give a single direction in one email–whether it's to download a freebie, register for a webinar, resume shopping, or buy a product. Of course, this doesn't always apply to newsletters, which can include a mix of informative and promotional content.
Make sure your CTA buttons stand out and are easy to click.
Pro Tip: According to StoryBrand CEO Donald Miller, yellow is the best color for "Purchase now" buttons.
Use simple and short phrases that highlight the benefit of the action you want subscribers to take. And always display at least one CTA button above the fold so that people can see it without scrolling down.
Test and optimize
Optimizing your email marketing funnel is continuous. Be ready to A/B test subject lines, CTAs, and email copy to see what works best for your audience.
Measure your email funnel's performance using data and analytics and make adjustments as needed.
Use automation
An email marketing sales funnel is more effective if you deliver timely and relevant content. That last part sounds like a lot of work, but it's not meant to be done manually.
Set up various automation and email marketing campaigns, so you can send messages regardless of what a subscriber does, such as opening an email or clicking a link. Any decent email automation provider will let you easily move contacts from one email funnel to another, without any manual intervention.
So, start by figuring out which email marketing automation software is right for you. The right platform can help you segment subscribers accordingly, collect relevant metrics, and design engaging emails and workflows.
Get Your Email Marketing Funnel Started
If there's one thing you can take away from the article, it's this: Successful email marketing strategies respect the customer journey.
A funnel forms the backbone of these email marketing campaigns.
It allows you to deliver content depending on the stage your buyers are in, whether they're moving from one stage to the next or back to the previous one. As a result, your brand remains at the forefront of people's minds once they're ready to take the plunge.
So put a structure to your e-mail marketing efforts. Aside from brainstorming content, you should also start testing out different marketing funnel tools to help bring your ideas to life. Our guide to sales funnel software is a good place to start your research.
You may also want to check out our guide to CRM with email marketing software.
Have any questions about implementing email funnels in your marketing strategy? Let us know in the comments below!
Our Methodology
This article has been written and researched following our EmailTooltester methodology.
Our Methodology