Email marketing is a great way to stay top-of-mind with your target audience. However, a glance at the typical inbox reveals that many other businesses think the same.
When you send marketing emails to your customers (and potential customers), you're not only going head-to-head with your competitors – you're also battling every email your subscribers receive.
What do you do to get them to open your emails?
And when they do, how do you get them from paying attention to taking action?
In this blog post, we'll talk about how to write a marketing email that resonates with your audience's emotions, needs, and desires – regardless of the type of marketing email you're trying to create.
Whether you're looking to promote products, share valuable content, nurture leads, or simply, engage with your email subscribers, we've outlined six strategies that can help you maximize this powerful marketing channel efficiently.
Now, let's begin powering up your email content.
6 Pointers For Learning How To Write A Marketing E-mail Effectively
From creating a captivating subject line to writing compelling copy, optimizing email design, and leveraging personalization, we'll cover every aspect of crafting high-impact marketing emails.
For each piece of practical advice, we'll provide you with best practices and examples from real campaigns.
1. Lead Your Campaigns with Audience-based Messaging
Email marketing's greatest advantage is its ability to reach audiences at the most opportune time. And you've got meticulous preparation to thank for that. It helps ensures that the right message is delivered to the right audience.
This prep work comes in two parts: defining your audience and segmenting your email list.
(If you've already completed this step–and you're sure you've done a great job–head over to the second tip.)
First, you need to define your audience by creating buyer personas. A Buyer Persona outlines the demographics, interests, and pain points of your ideal customers. This will help you pinpoint the audience you're trying to reach and tailor your message accordingly.
The second part is known as email marketing segmentation. Consider it the secret to serving a fancy, well-curated cheese board at a party, with dairy-free options for vegans and camembert for the soft cheese enthusiasts.
Segmenting your list means paying attention to these particular quirks and preferences your readers have, as well as their needs, behavioral patterns, and email sales funnel stage. This is the reason email marketers use audience segmentation as one of their top three strategies, with 90% using it to create content with a personal touch.
Learn more about personalization here.
Example of Audience-Based Messaging
The following example will help you figure out how to do this. Imagine running an e-commerce brand dedicated to eco-friendly skincare.
Here's how you could create different email lists based on your buyer personas: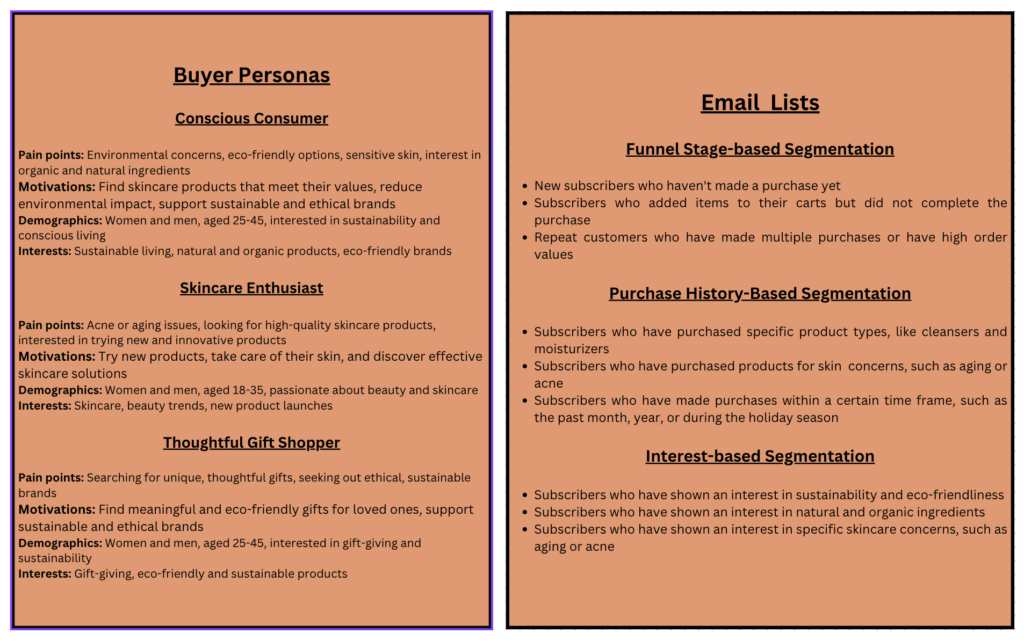 Curating content is easier when you have the above information. Let's take funnel-based segments, for example.
At the top of the funnel, new subscribers may benefit from educational content about how you create eco-friendly products without compromising effectiveness. A newsletter format might work best here. This type of content will resonate with all three buyer personas (the conscious consumer, the skincare enthusiast, and the thoughtful gift shopper) that have yet to buy.
But if you're targeting subscribers with abandoned carts, your strategy will differ. For instance, you can emphasize how conscious consumers are helping the environment when they make purchases from you. Skincare enthusiasts will be more inclined to complete their purchase if you highlighted how the products in their cart can help resolve their skincare issues. And the thoughtful gift shoppers will hit the "check out" button if you talk about how these sustainable products make for unforgettable holiday presents.
(Learn more about creating email sales funnels here.)
It's important to note that the examples above are simply overarching examples of segmentation. You can do this in a number of ways, depending on your subscriber base. Location, for instance, is a typical segmentation criterion for international brands. You don't want your marketing emails to go to waste (or to cause confusion) by sending English-language emails to Spanish-speaking subscribers.
2. Choose a Sender Name Subscribers Will Recognize
Using a proper and recognizable sender name–and by extension, email address–establishes trust and rapport with your audience. It personalizes your emails, instead of just another marketing message (or worse, spam!) crowding their inbox.
42% of email subscribers look at the From field first before deciding to open or skip emails. Familiarity will be your friend in this case, as it will encourage recipients to read your content.
Another reason to swap out your generic From names (like "No Reply" or "Info") is that it boosts deliverability rates. Gmail and other email clients use a variety of algorithms to keep spam out of their systems and safeguard their users. Red flags include misleading From names and certain combinations of words or phrases.
With over 3.4 billion phishing emails sent each day, it's no surprise that some of your subscribers are wary of clicking emails from a random sender. Having a recognizable From name can keep you out of that category.
From Name Best Practices and Examples
Here are some practical tips you can use:
Use Your Brand Name or Real Name
This isn't an either/or situation. Brand names work best for an organization's email marketing campaigns. Personal names work for personal brands. See the examples below.
Direct-to-consumer (DTC) brand Bombas keeps the brand's email address simple. Here's what they use to send a new subscriber a welcome gift:

Meanwhile, prominent figures can get away with using their full name (or if you're Beyonce, just one). Blogger and NYT best-selling author Mark Manson uses the following Sender name and email address:

It's also common to see "Personal Name @ Company Name". B2B organizations often favor this approach to add a human element to their emails.
Time-tracking app Toggl Track sends their newsletter via this Sender Name:

It'll depend on your brand, but it's time to move away from "No Reply" and other generic, non-friendly sender names.
Stay Consistent
Build trust with your subscribers by using the same From name every time. Frequent changes may make it difficult for subscribers to recognize your emails.
There's an exception, however. Some organizations have multiple sender names for different purposes. Toggl Track also has "Toggl Track" (which uses the same email as Caitlyn @ Toggl, though) for sending out weekly reports.

Keep It Short and Simple
Many "From" fields accommodate up to 30 characters. But using all of them isn't a good idea. Like the examples above, using a short From names wins out.
Test Different Names
A/B test different names to determine which resonates with subscribers. Imagine you're a blogger who publishes a weekly newsletter.
Check whether your personal name rings a bell with your subscribers more than your newsletter name. The important thing is to stay on course once you've made a decision. (If newsletters will be your main email marketing strategy, check out our complete guide for more specific tips on how to write a newsletter.)
A similar topic is the
sender email address
. We have a whole article on how you should choose the perfect
sender email address
for your newsletters and transactional messages.
3. Convince Readers To Click with A Compelling Subject Line
Next to a familiar From name should be a killer subject line. 47% of subscribers reported that catchy subject lines have convinced them to open an email.
An email subject line must convey your message in a few yet compelling words to entice readers to open them. They're like movie trailers. They should be short and witty enough to capture a movie's plot and get people excited about opening night.
However, unlike in movie trailers, spoilers are generally welcome in an email subject line. In fact, the clearer and more succinct they are, the better chance you have of communicating effectively. When a subject feels unsatisfactory or vague, 69% of readers will gladly mark your email as spam.
Ensure your marketing emails have a well-crafted subject line – it may be the key to unlocking more opens.
Subject lines Best Practices and Examples
Target audience and industry have an obvious impact on an email subject line. So, there's no cookie-cutter approach that can boost engagement. However, these tips can turn a good subject line into a winning one:
Keep Your Subject Lines Short
Email subject lines take up to 60 characters at most in a desktop inbox, and only 25 to 30 characters on a mobile device.
If you opt for a long subject line, there's a high chance of it getting truncated. If it gets truncated, your reader might miss the point of your email.
We've created a free tool to make sure this doesn't happen to your carefully crafted marketing emails. Try it today.
Be Clear and Simple
Complex words and jargon might give readers a hard time. Use only essential and straightforward words and phrases. In other words, kill your darlings. You don't need to write "Don't Miss Out on This Offer" when you can use a more direct, simpler phrase, such as "Limited Time Offer".
That said, you also need to keep an eye out for factors contributing to a confusing subject line. But keep your playfulness in check and avoid using cryptic language, too many puns, or worse, upside-down fonts: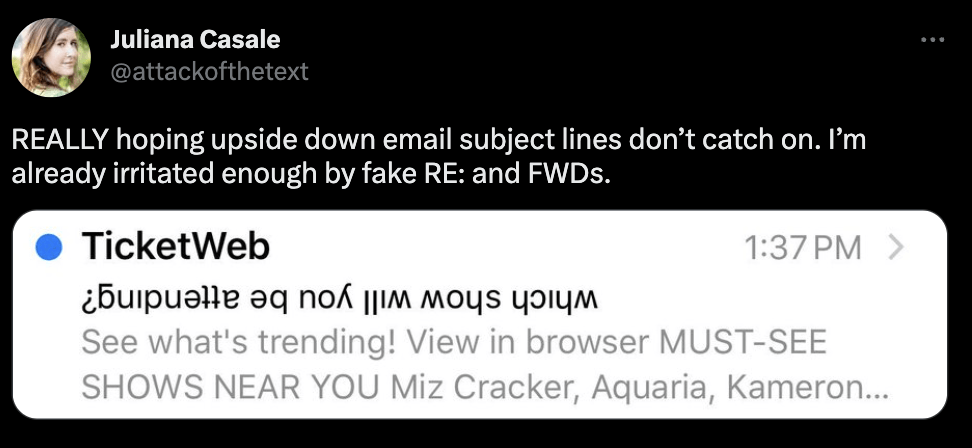 Concentrate on One Idea or Action at a Time
While you may want to give the lowdown of all your email content in one go, the subject line isn't the place to do this. Even newsletters–which tend to cover many headlines, topics, and subtopics–stick to one idea in their email subject lines: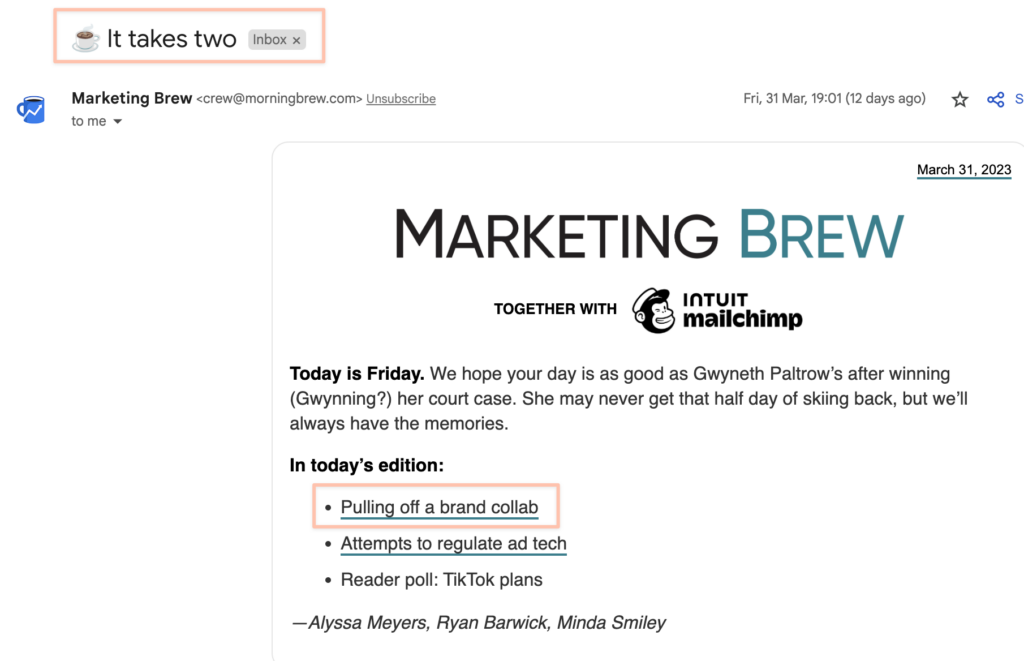 For example, Marketing Brew has three primary points of focus in this issue (plus a few ads, a speaker spotlight, and their usual segments). Nevertheless, they have chosen a subject line that aligns with this newsletter's primary focus. Learn more about how to create an engaging newsletter.
Drive your main point home by using it in the subject line. It can be something that you know will resonate most with your audience, or a specific action you want them to take.
Use Action-oriented Language (when applicable)
We get it: your marketing emails serve different purposes, so your strategies will vary. But if the main purpose of an email is to elicit action rather than inspire curiosity, use persuasive and practical language.
That said, you need to thread the needle carefully. It's easy to cross over to spam trigger word territory with phrases, such as "Act Fast!". The key is to use more specific language that accurately describes your email content.
Learn from DTC brands Vegamour, Bombas, and Pura Vida: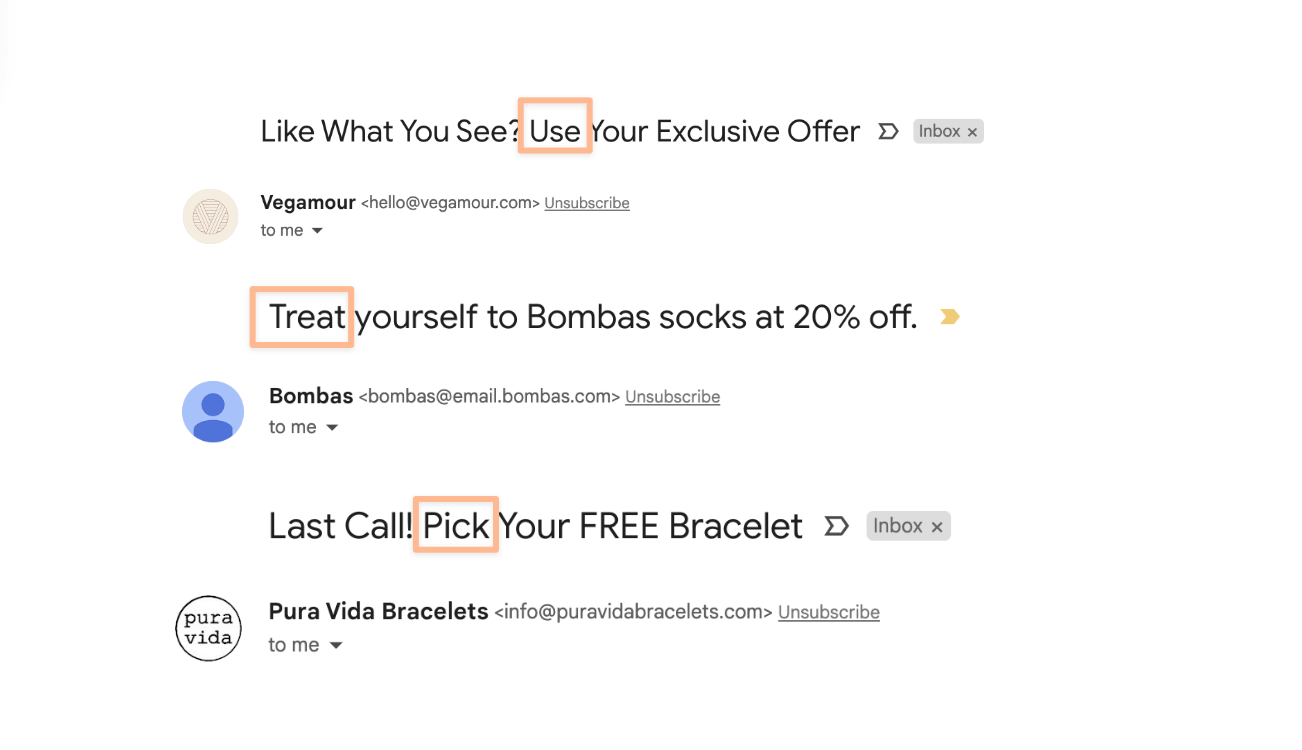 Beware of Misleading Subject Lines
Misleading subject lines are a form of deceit. You risk damaging your brand's reputation and losing your audience's trust.
This includes using a subject line like, "Order Confirmation", "Important Account Update", or "Invoice" for promotional emails. "Invoice" in subject lines, for one, tops the malicious email warning list. It also extends to the clickbait-laden "Re:" and "Fwd:" subject lines: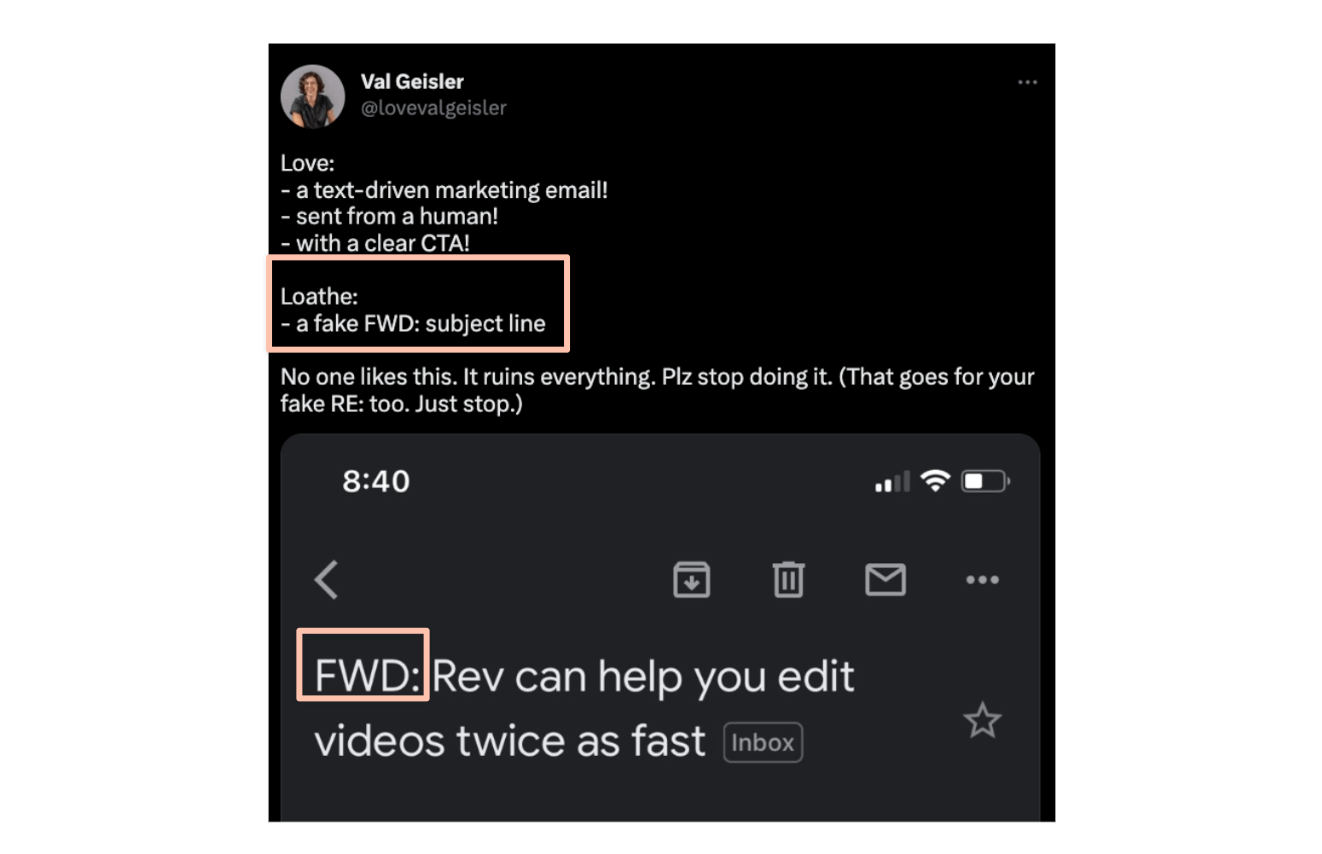 Rethink How You Personalize Email Messages
When we say make it personal, you need to do more than add the recipient's name to the subject line. This email marketing strategy might've worked well before, raising open rates slightly in the past. But subscribers have grown accustomed to (and even tired of) it. In fact, recent research shows that generic words in subject lines now outperform personalized ones by 3%.
Relevance can make a significant difference here. Instead of merely addressing your audience by name, use the information you know about them wisely. For example, send them a "Happy Birthday, [Recipient Name]! Here's a Special Gift for You" email when it's their big day.
Mix Things Up and See What Works
Keep things fresh for your readers by adding new words, using emojis, and using different approaches. And when you do it, don't hold back. Here are some examples and ideas you can consider:
Benefit-driven subject lines highlight what's in it for the customer.
Examples:
Uncover the secret to boosting your productivity by 50%
Grammarly: Save 40% and ensure your writing measures up
Squarespace: Create a free custom link in bio
How-to subject lines offer a solution or teach a specific skill.
Examples:
List-based subject lines promise a list of helpful resources or tips.
Examples:
7 expert-approved ways to improve your skin
SaleCycle: ⏩🔥 3 Simple Urgency Marketing Tactics Guaranteed To Boost Conversions
Site123: ✔️ 10 Cost-Cutting Ideas for Small Businesses
Urgency or scarcity subject lines compel immediate action.
Examples:
Limited time offer: 50% off all products this week only
Only a few spots left for our upcoming event
Sweat Nation: FINAL WEEKEND: Get 30% off your order
Storytelling subject lines provide an emotional connection or a story.
Examples:
Curiosity subject lines spark interest and make the recipient want to know more.
Examples:
You won't believe what we found in our latest market research
Mark Manson: Is this the cure to anxiety
OLIPOP: Soda just got a whole lot better…
A/B testing can help you find out what your audience loves. But you don't have to stick to one style. Analyze the results of your test to see which ones generate the highest open and click-through rates.
4. Don't Ignore Preheader Text Like Many Marketers
If the subject line is the main character, the preheader text (also known as email snippet text or email preview text) is the brilliant supporting actor that rounds out the narrative for the readers before they open your email.

These lines of text don't usually show up in the email body: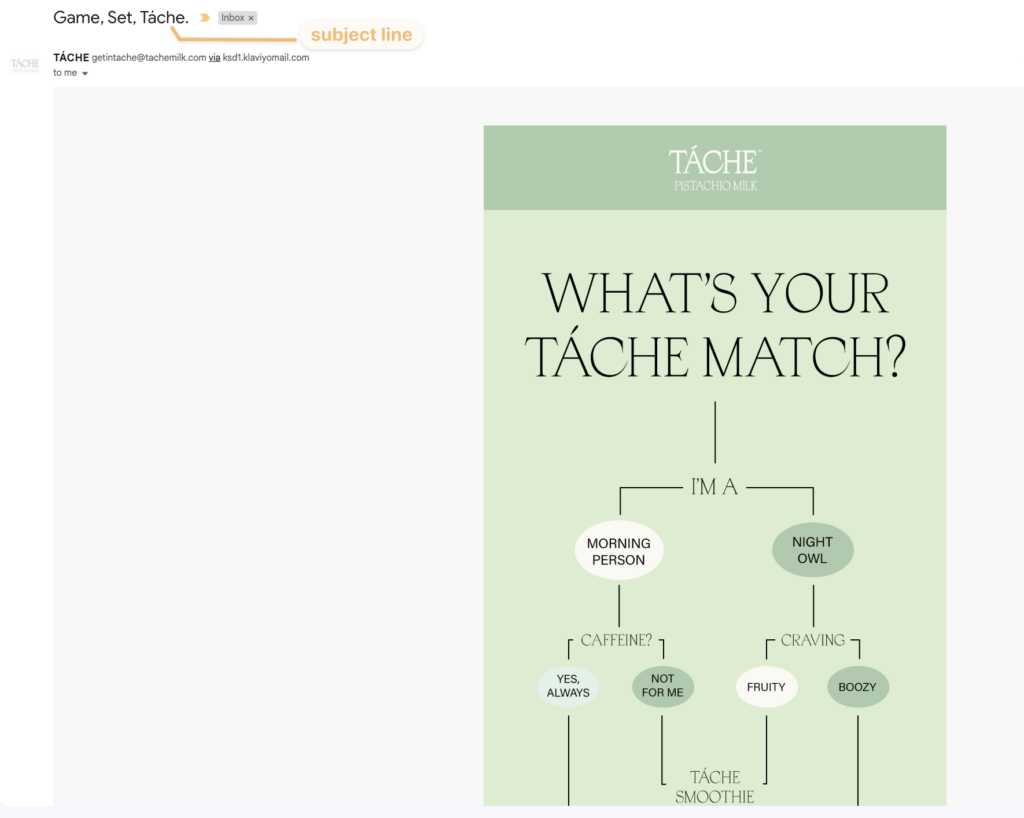 However, they can also be displayed above the header (hence the name "preheader" text):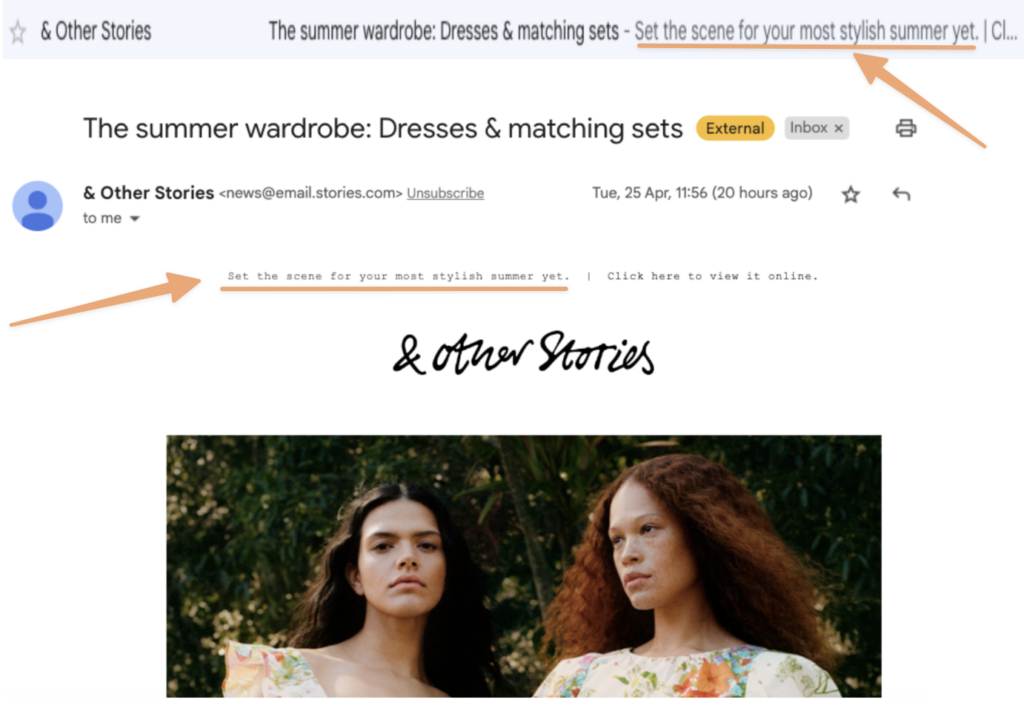 Sure, simply pulling preheader texts from the first few lines of the email itself takes no time and effort. But it's best you take the time to set them up.
GetResponse reported only 25% of marketers used these snippets, but the extra effort generated 5% more opens for them.
This short block of text provides a more fleshed-out summary of the email content. It can provide the context your marketing email recipients need to open your message after being intrigued by your subject line.
Preheader texts can improve your email preview and user experience if they are contextually relevant. They appeal to 24% of readers, boosting open rates by 7%.
Preheader Text Best Practices and Examples
Don't waste valuable email snippet text space with generic phrases like "View in browser" or "Having trouble viewing this email?". Here are a few tips and examples you can use to tease the email's content or highlight a compelling offer:
Align Your Preheader Text with The Subject Line
Keep in mind that your email preview text and email subject line are the dynamic duo that can convince your subscribers to read on. They should fit together to create a cohesive story.
Write a preheader that provides more context or information about the email content without repeating the subject line. The goal is to create continuity and reinforce the subject line's message.
For example, if your subject line is "Shop Our Spring Collection Today", your preheader text could be "Embrace sunny days with our latest arrivals!".
The Newsette does a nifty job ensuring these two work hand-in-hand in driving their reader's attention where they want it:
Be Concise
As you can see from the image above, The Newsette keeps preheaders short and snappy. That's because there's limited space for it. While you can make use of all of its 250 characters, your readers won't be able to see the rest of the sentence.
As a rule of thumb, preheader texts should have a length of 40 to 100 characters. But for them to display well on mobile, lean closer to the shorter range.
Here's how The Newsette's preheader texts appear on an iPhone screen–they still fit within the mobile specifications: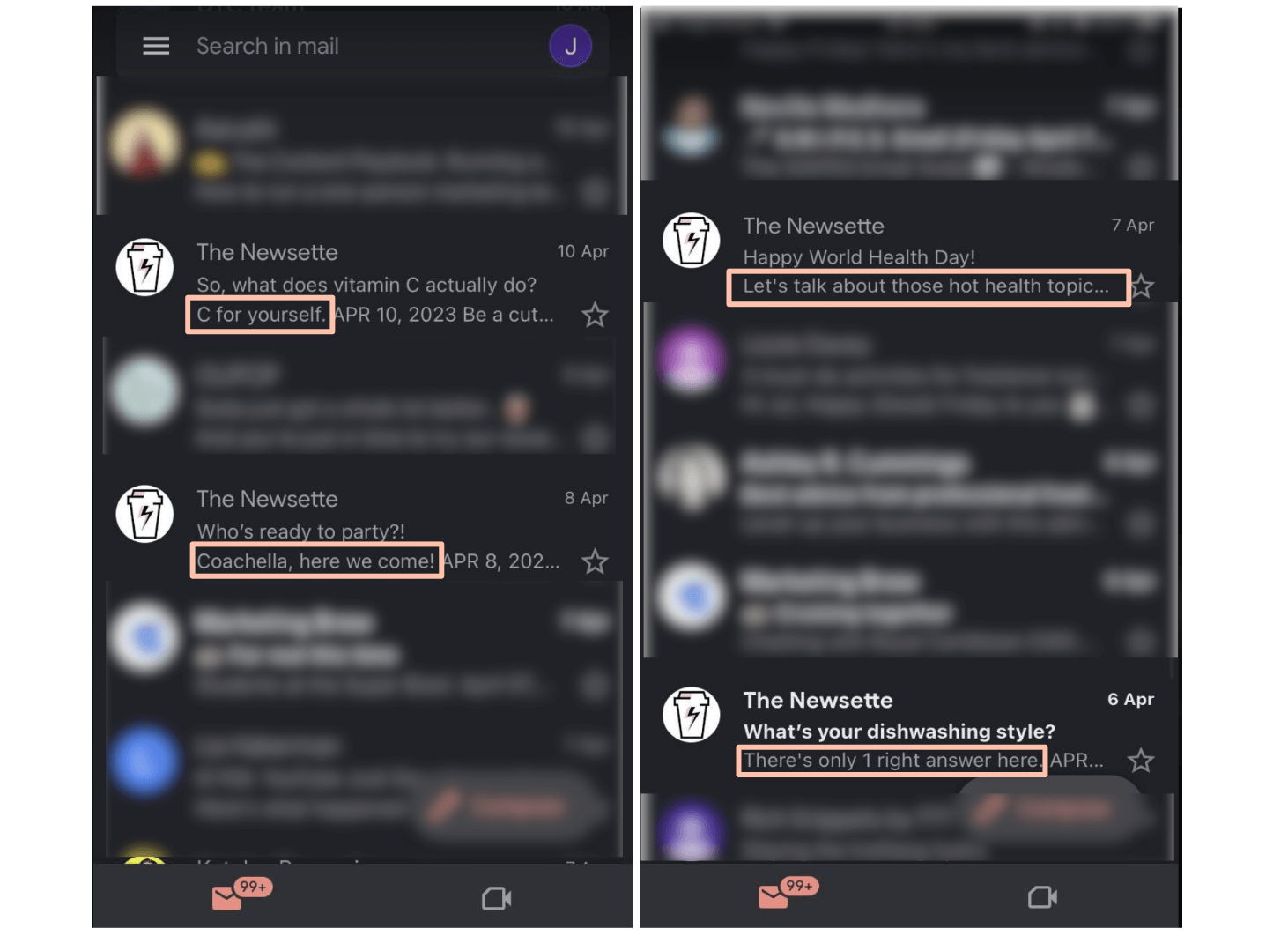 Preview the email snippets in multiple formats by sending out test emails to you and your team, to make sure the content will be accessible on different devices.
5. Enrich Email Marketing Copy with Readability and Value
You've successfully boosted your open rates – excellent job! But how do you keep your readers coming back for more while also driving your click-through rate through the roof? With well-written email content, that's how.
Email Marketing Copy Best Practices And Examples
Email copy is the meat of your email campaign. It can also feed into your readers' desire to continue opening your emails when they see your name in their inbox. Here's what you can do to keep them coming back for more:
Communicate with Conversational, Brand-driven Content
To deliver straightforward, relatable information, write conversational and friendly copy. Don't use jargon, technical language, or overly formal language that might alienate your audience or make your message difficult to understand. The goal is to sound like you're speaking directly to them.
At the same time, feel free to put your brand's unique spin on wording and tone. Don't rely on rigid email templates. Share your stories in your own words. Many businesses have seen that infusing personality into their communications–whether for social media or emails–can make messages more memorable and engaging.
If GIFs and emojis suit your persona, don't be afraid to use them. If humor is part of your marketing strategy, try to elicit a few laughs from your readers.
Take a cue from best-selling author Ash Ambirge who runs the witty and hilarious newsletter Meat & Hair: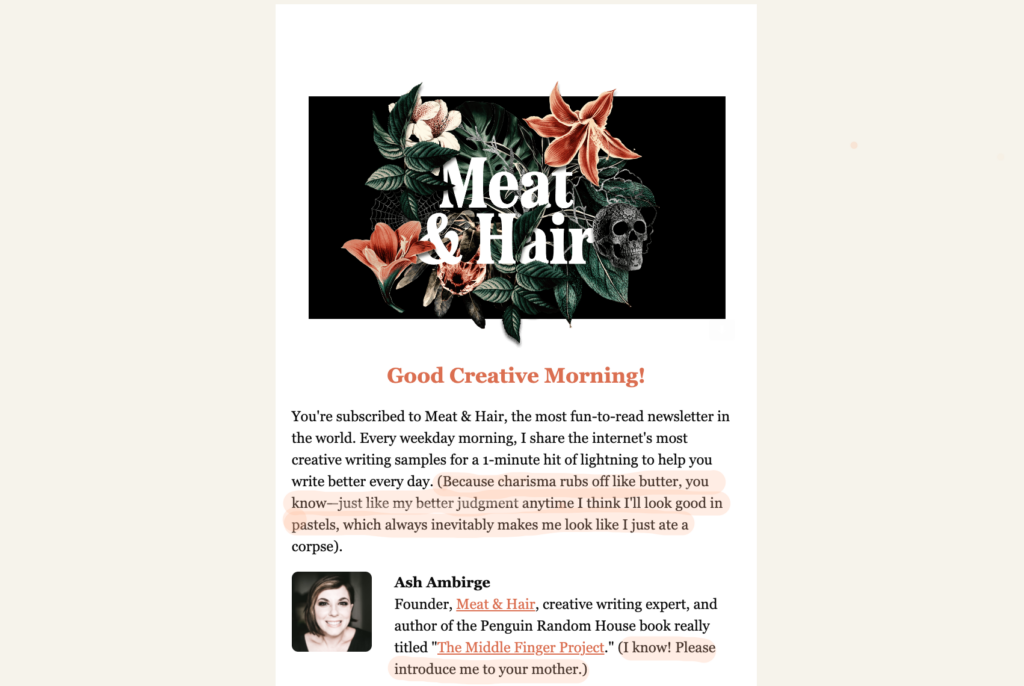 Readers also respond well to relevant and uplifting stories. Stories are a powerful tool to engage them emotionally. The stories you share about your brand, your customers, your employees, or your community can create relationships and evoke emotions in your readers.
Avoid Walls of Text and Endless Paragraphs
Email content should be concise and to the point. Shorter sentences are a lot easier to digest, provided that they're clear and logical.
The format is another considerable factor. Make your content easy on the eye and understandable. Use bullet points, pull quotes, and other techniques to highlight important information and draw the recipient's attention to them.
Visual elements, such as images, infographics, or videos can also break boring blocks of text. In this marketing email, utility tools online retailer The James Brand mixes images with text to enhance its message:
You should, however, be aware of file size and ensure compatibility with mobile devices. Heavy images struggle to escape spam filters for various email clients.
Create Value-Packed Content Based on Industry Trends and Market Data
You can make your content more impactful by knowing what your readers like. Be open to conversations and encourage them to share their thoughts, opinions, and suggestions.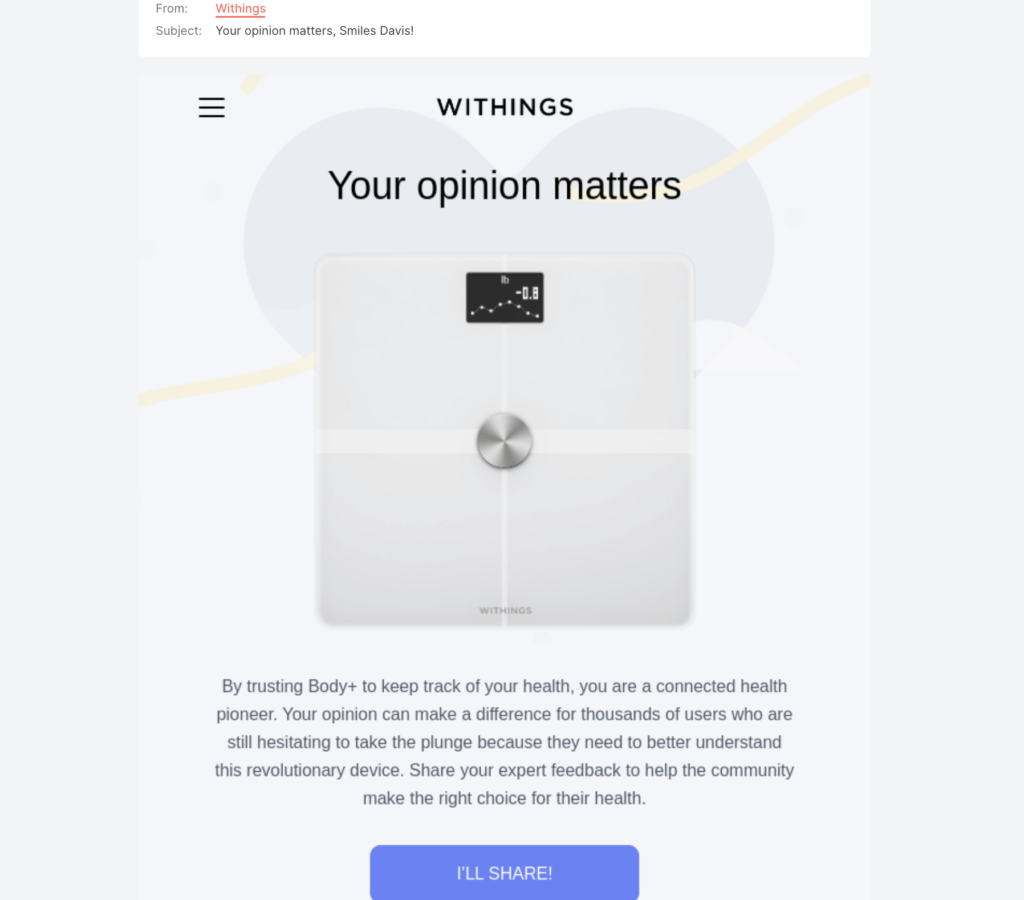 Analyzing your readers' past behaviors, preferences, and interactions can also help you identify which topics are important to them.
Additionally, keeping an eye on industry news, trends, and discussions will enable you to create content that is timely, relevant, and informative for your audience. Email messages that provide insight or commentary on hot industry topics help your readers perceive you as an industry expert they can count on.
6. Make Sticky Call-to-Action (CTA) Buttons
With effective calls to action (CTAs), you're not just giving your readers something to read, you're also guiding them to where you want them.
They're not mere signs on the road, pointing the audience in the right direction. They're more like Vatican City tour guides who will steer and herd them towards St. Peter's Basilica, so they won't have time to stop for gelato.
These buttons and the words you put in them have a huge impact on your overall email performance.
Email CTA Best Practices and Examples
Ditch the stale call to action. Here are a few tips and examples to elevate and optimize your buttons, making them hard to miss.
Make CTAs Context-relevant and Understandable
When writing CTA copy, use concise language that leaves no room for ambiguity. The text should also align with your marketing email content and the user's expectations. Here are some ways you can do this:
Strengthen your CTA with action-oriented verbs. Ex: Get More Info, Download, Claim Your Rewards
Create a sense of urgency for immediate action rather than delaying it. Ex: Don't Miss Out, Shop Today's Sale, Why Wait?
Focus on the benefits that recipients will receive by clicking the button. Ex: Get a Free eBook, Unlock exclusive content, Be Rewarded
The strategy you pick will depend on your marketing email's purpose and provide value to the readers, whether it's to make a purchase, sign up for a newsletter, or access exclusive content.
Support The CTA Copy with Compelling Text
There's only so much you can fit in a small button before it overwhelms the readers. CTAs tend to be short, usually between two and five words. But you have plenty of space in your email copy to seal the deal.
Follow this example by OLIPOP, a healthy soda beverage company. The brand puts its unique value proposition front and center before introducing their simple call to action.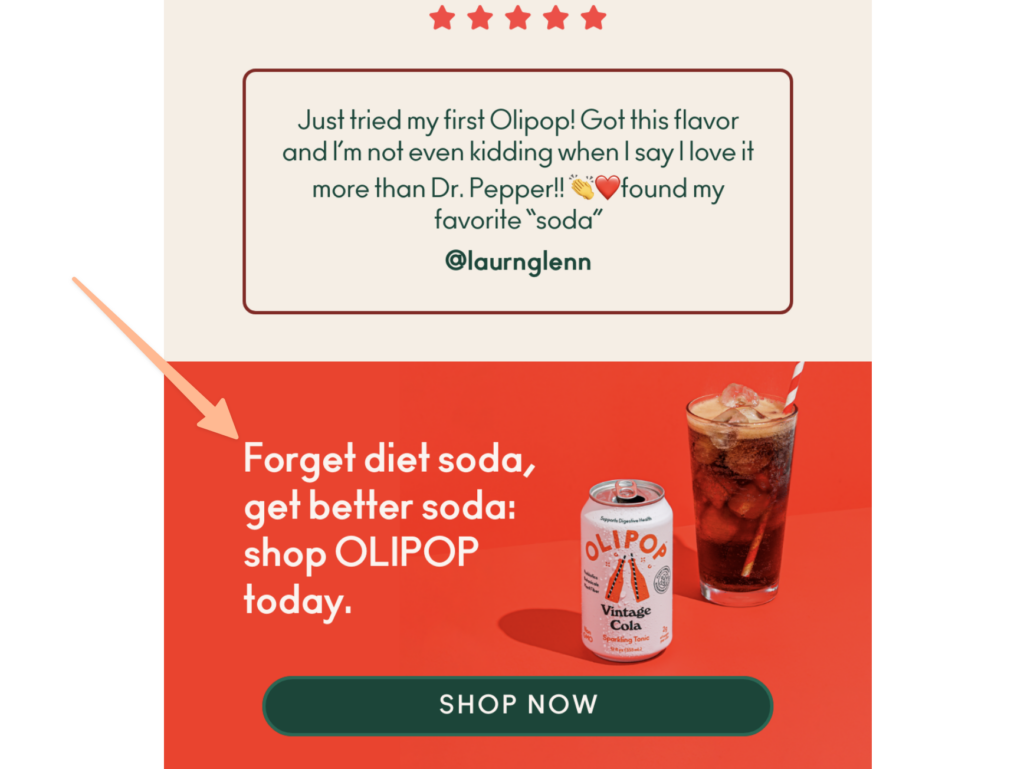 You can also appeal to their struggles and emphasize the benefits of your product. By making your case before the pitch, you can convince your readers to click that button.
Design Your CTA Button To Stand Out
Small tweaks to your button design can make a difference. Campaign Monitor transformed their old CTA to a more eye-catching one, and it ramped up clicks by 127%.
Using contrasting colors will make your CTA more prominent in your marketing email, which is great for the visually impaired (more about this later). Look at Olipop's email above – the brand cleverly paired its peach and red infographic with a deep green button.
Another way to make your CTA stand out is to design the text in a different font style, size, or typography. Be sure not to go overboard to maintain a professional and visually appealing email.
Outdoor Voices knows how to put together a great design, keeping the font style and size change minimal but noticeable. (Although, bolding it would have made a stronger impression):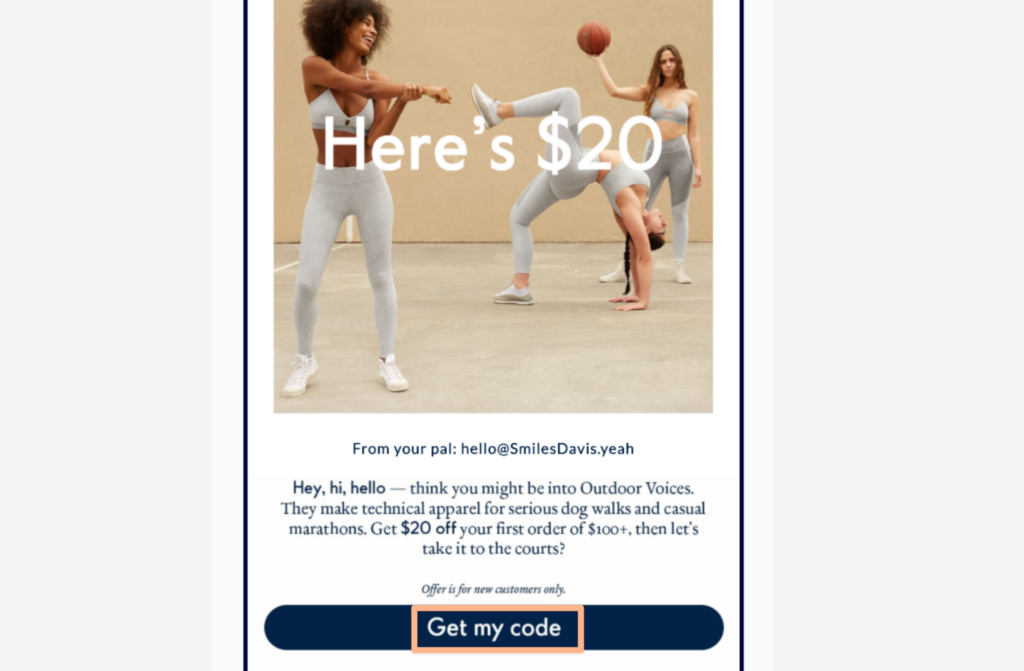 Source: Really Good Emails
You can also take your CTA buttons to a whole nother level by making them interactive. Here's how newly WBENC-certified brand TÁCHE made their simple CTA appear in this email announcement (and you have to admit the CTA copy gels well with the celebration of the brand's success.)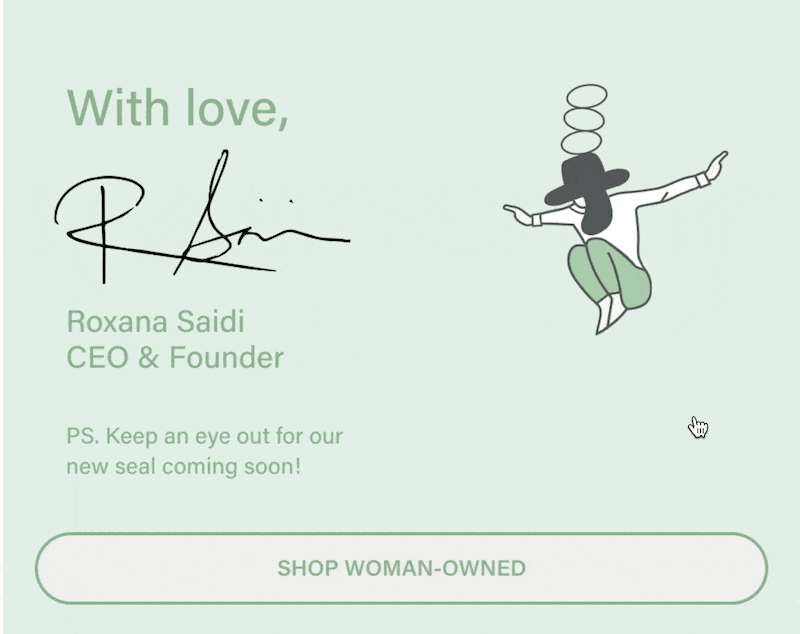 Include more than one CTA (if you want to)
One CTA per marketing email is always an effective approach, but it's not the only approach. The important thing is you don't overwhelm your readers with too many. Otherwise, they might leave. Analysis paralysis is a thing, after all.
The key is having a primary CTA, and designing the rest to be secondary choices.
Multiple CTAs can play to your advantage in certain situations. If you have skimmers or fast scrollers, an above-the-fold CTA won't cut the mustard.
Multiple CTAs also allow you to identify which subscribers go deeper into your long-form email content, such as newsletters. This info will help you target these high-quality leads even better.
Ensure Your CTA is Accessible in These Three Ways
By accessible, we mean three things: proper placement, device compatibility, and accessibility for the visually impaired.
An above-the-fold CTA is the best practice. But so are the middle and bottom ones, if you have a long email copy. These buttons should be easy to locate and recognize.
CTAs must also be responsive–be it on a desktop or mobile device. Remember to test your CTA button design across different email clients, devices, and web browsers to ensure it renders correctly and is effective.
Lastly, provide sufficient color contrast and proper HTML markup. CTAs are typically text-based, but descriptive alt texts are necessary for image-based CTAs, such as TÁCHE's interactive CTA button above. All these will help vision-impaired individuals interact with your content.
With these 6 strategies, you'll be able to fine-tune your next marketing email. They can give you great confidence in the quality of email content you put out, but we still have one more piece of advice before you go: A/B test your marketing emails.
Bonus Tip: Why You Should A/B Test Your Marketing Emails
A/B Testing, also known as split testing, refers to testing one version of your email against another where an element has been modified.
It can give you valuable insights and benefits to improve your email marketing efforts. With these insights, you can make data-driven decisions, adapt to your audience's evolving preferences, and stay ahead of the competition.
Here are some quick tips to make your email A/B tests work and create a more effective marketing email campaign:
Develop a structured testing plan describing the variations, sample sizes, and timeline of your A/B tests. You'll stay organized, track progress, and ensure that your tests are thoroughly conducted.
Test one element at a time. By doing so, you can isolate the effects of specific changes.
Randomly split your audience into equal or similar-sized groups. This is key to ensuring an accurate statistical representation of your entire audience.
Get statistically significant sample sizes for reliable results. Small sample sizes can lead to inaccurate conclusions.
Allow sufficient time for your tests to run. Tests that are ended prematurely may not capture the full impact of changes, since you won't be able to account for different time zones, weekdays, and other factors that may affect email performance.
Focus on email metrics that align with your goals and objectives. Draw meaningful conclusions by tracking and analyzing the performance of each variation.
Keep track of your A/B testing results and document them for future reference. Analyze the results to identify patterns, trends, and insights, and incorporate them into future emails.
Continuously test and optimize your email marketing efforts based on the insights gained from your A/B tests. A/B testing is an ongoing process, and the results of one test serve to inform future tests.
Keep refining your strategies and tactics to keep your email marketing on track and dynamic. Insights from A/B testing can lead you to explore new ideas, approaches, designs, or concepts that you might not have thought of before, eventually leading to breakthroughs.
Read more about how to implement email A/B testing in our complete guide.
Fine-Tune Your Email Marketing Campaigns Today
Creating marketing emails can be a challenging process at every step. But in a crowded inbox, standing out requires something extra.
How do you ensure that people open your emails, take action, and come back for more?
Well-written email content can help you stand out in the sea of mediocre messages. When done right, it also gives you an opportunity to build and strengthen relationships with your audience.
Best of all, with enough persuasion (hint: not pushy) tactics, your email content can trigger an action from your readers, such as making a purchase, signing up for an event, or subscribing to a newsletter. In fact, 50% of subscribers make a purchase from marketing emails once a month.
Having these strategies in your back pocket can help your performance improve over time. Refer to our tips and examples above to make your email marketing campaign more effective (and learn more about which email marketing KPIs to track here).
For more tips on email marketing, read this article.
Or if you're considering upgrading your email marketing software, this blog post offers some suggestions.
Feel free to let us know in the comments below if you have any specific questions about how to write better marketing emails!
We keep our content up to date
24 Aug 2023 - Small addition regarding sender email address
Our Methodology
This article has been written and researched following our EmailTooltester methodology.
Our Methodology