Email marketing is now easier than ever. Going back a decade ago, the tools were clunky, laborious, and really no fun to use at all. But thanks to a new breed of providers there's no excuse anymore. Regardless of the size of your business, you must have an email marketing strategy in place.
Now getting started might be a breeze, but mastering the art of email marketing is another matter. Today, we'll go over some of the main tips that beginners should use to make the most of their campaigns.
Email Marketing Tips and Tricks
Paying close attention to these email marketing tips will give you better results and contribute to a more successful business.
Remember that for every dollar you spend on email marketing, you could get an average of $44 back! Of course, you have to do things right in order to see this excellent return on investment.
These tips will help you get there. So, let's dive in!
1. Answer New Subscribers' Questions ASAP
Chances are that people who just typed their address into your form are interested in your content. The relationship is fresh. They have a lot of questions. This is a golden opportunity to give basic answers and create strong leads as soon as possible.
So how can this be achieved? For instance, by creating a beginner guide or welcome series. Do you sell electric bikes online? Give new subscribers all the info about the basics, such as racing vs electric vs city bikes. It will not only feel like a nice gift for users, but might also reduce the workload of your customer support.
2. Subject Lines – Keep 'Em Snappy
Your subscribers' time is valuable. Nobody wants to waste seconds reading an unnecessarily long email subject – what does that say about the content inside? It's the quickest way to make sure it's archived instantly.
Of course, shorter isn't always better. Maybe your audience is more on the scholarly side, and they'd actually enjoy a bit of purple prose in there. The best way to make sure is to run A/B tests and see which have the best open rates (that's another free tip, by the way). Not all email marketing tools come with this feature, or it might be limited to higher tier plans, so be aware of this when choosing your provider.
You can test the length with our subject line previewer.
Here's a free AI tool to generate subject lines
3. Use Email Automation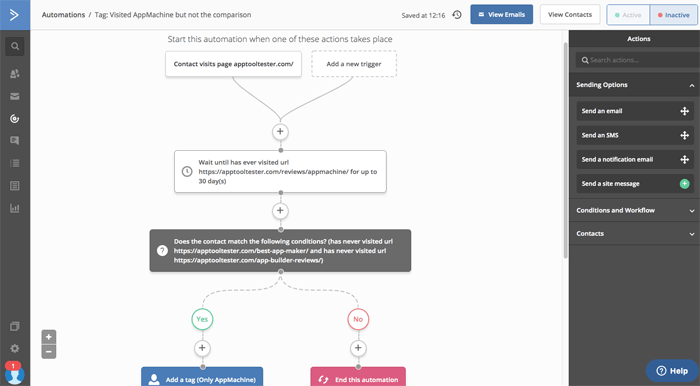 Example of an automated email campaign using ActiveCampaign
Automations might seem overwhelming at first, but they are really the killer feature for businesses. Ecommerce businesses in particular have a lot to gain from them. After all, if it's good enough for Amazon, it can't hurt your small business.
In concrete terms what does it mean? Well, going back to our online bicycle store example, you could monitor how people browse the site and send emails accordingly. For instance, if customers are looking at family bikes, you can send a quick email to nudge them towards your child bike seats page. Combining simple automations with powerful if / when / then logic, the sky's the limit. Check out this article if you are keen to learn more on this subject.
4. Re-evaluate Your Software
With tons of new email marketing solutions popping up every day, it'd be silly not to keep a good eye on competing offers. Especially when it's so easy to import and export your subscriber list via CSV file.
So how do you know you get your money's worth? Ask yourself the basics:
Is my tool a legacy platform I'm still using because I know how?
Am I getting my money's worth?
Am I paying for things like inactive subscribers?
Would I be better off with a pay as you go model?
If you want a quick overview of the best email marketing, our comparison table is a good place to start.
5. Don't Ignore Mobile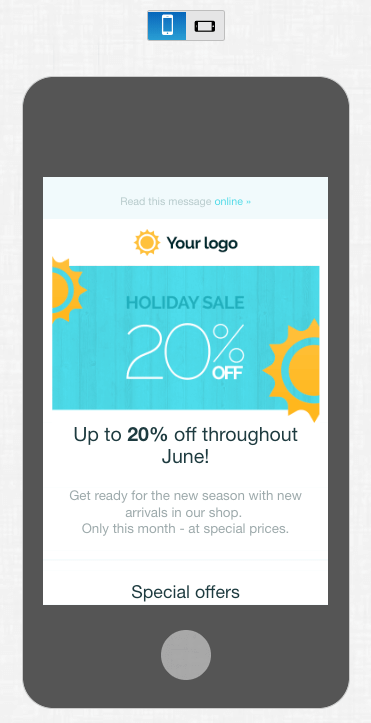 Make sure your emails display correctly on mobile
There's another word for that: responsive designs. Quite simply, it means your newsletter templates should adjust based on the size of the user's screen. Basically, you don't want your message to be all messed up or eally small and incomprehensible if someone opens it on the go.
In our opinion, responsive templates should come out of the box with every newsletter tool. But some providers still don't offer it, so keep that in mind if you're thinking about switching providers. If you don't have responsive templates in your tool, you could always upload your own – see our list of over 700 free newsletter templates here. There are also a number of excellent template builders you can use.
6. HTML Isn't Always Best
Sure, you want your newsletter to look unique, colorful and sleek. But that usually means inserting HTML code, which is not always your best friend. There are times when you want the messages to be short and to the point, so why not keep it simple? No need to go overboard when a couple of good old text lines will work just as well.
Side note, HTML-heavy emails also tend to hurt deliverability (more on that right below).
7. Test Your Deliverability

This comes as a surprise to many, but not all your emails will reach users' inboxes. That success rate is called deliverability, and it can become a bit of a minefield. Luckily for you, we continually run tests on the main providers: you can read the results here.
However, our own tests can only give you pointers. The kind of messages you send or the technical setup (authentication) can influence the results. So it's always a good idea to test deliverability yourself. It's easy enough to do with Glockapps.com and Mail-tester.com.
Note: Make sure to check out our complete guide to email deliverability best practices for detailed information on how to improve your email deliverability.
8. Use a Real Sender Name
Would you keep opening emails from noreply@sender.com? Exactly. Your subscribers won't trust it either. It's easy enough to change your sender name to Joe from CompanyXYZ, so no excuses there. Of course, make sure your domain and sender address are properly authenticated. Find out more about email authentication here.
Bonus tip: try to engage with your new subscribers, get them to reply to your email. This might cause a bit of work for you but the advantage is that you get to know your readers much better AND your deliverability will improve because of the engagement. Gmail, Outlook etc. will notice that and deliver your emails straight to the inbox (as opposed to the promotions folder).
9. Keep Them Timely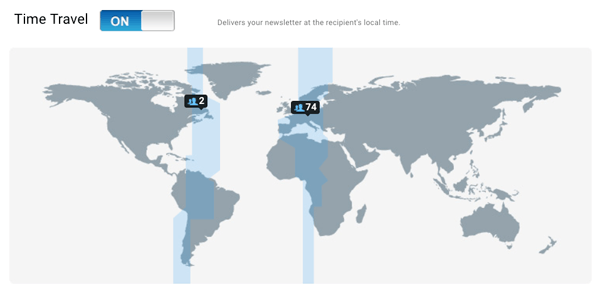 A good email service, like GetResponse, will allow you to send emails based on subscribers' timezones
Email marketing tools will give you the option to schedule your emails. This is good. But what about users in different time zones? The VERY best email marketing tools will also give you the option to schedule emails based on your subscribers' time zones. Use that.
Sending a newsletter in the middle of the night will add your message to a pile of emails the next morning, which is much more likely to be ignored. Do some research and testing to figure out the exact best times to send newsletters to your subscribers.
10. And Not Too Spammy
Nobody likes receiving 10 emails a day from the same person, not even their best friend. So from an online business? You get the point. Spacing out your email sequences is never a bad idea.
But how often should you send your emails? Some will say once a month maximum, unless you have a very close relationship with your subscribers. Some will say special events (Christmas, Valentine's Day, etc.) are when you want to be sending them. Again, it's hard to give clear pointers without knowing the ins and outs of your business, so don't be afraid to experiment with frequency to find what works best for you. But the key thing to remember is that, however often you're sending out your communications, make sure what you're sending brings added value to your subscribers' inbox.
11. A Good Image Won't Hurt
Remember what we said about keeping your emails simple? Well, there's nothing wrong with jazzing them up every once in a while. A nice image can go a long way, especially if you follow the following tips:
600-700px is the ideal width: The size works for mobile and desktop screens.
Not too busy: Your image should be clear enough to be understandable when scaled down to a small screen.
Rule of third: Not the same rule as for photography. This one is about keeping images under one third of the content of your email. The rest should be text.
Keep them light: Certain email clients enforce size limits, so make sure your images are never heavier than 1MB.
12. Animated GIFs Can Also Do Wonders
For those who need more than static stuff, GIFs are a great alternative to video (which are unlikely to play embedded anyway).
Like with the pictures, try and keep them as light and optimized as possible. GIFs can actually be quite heavy, which can make them freeze, or worse, not display at all. You don't want them to frustrate users instead of entertaining them.
Giphy offers an easy-to-use GIF Maker that'll convert your videos into GIFs.
13. Give Us A Story
Storytelling has become a bit of a buzzword in marketing circles, but for a good reason: it really works. This is especially true if you are presenting your business as casual and friendly. We all receive enough promotional emails from cold, faceless businesses to be pleasantly surprised when something arrives that we actually want to read.
So in terms of tips here, the basics are simple. Give a reason for why you're sending the email. Don't hesitate to write in the first person (after all, it is sent by Jane from CompanyXYZ). And structure your message with a clear beginning, middle and end, making it as easy as possible to read for the subscriber.
Check out more tips on how to write a marketing email.
14. Integrate All Channels
This is a two-part tip: first, it's about preserving your brand image across multiple channels. It makes sense that the tone and style of the email should match that of other platforms. So keep the brand colors, the font and the tone of voice consistent.
Secondly, it's about cross promotion. Don't forget to add social media links to your newsletter. Don't forget to add a form subscription link on Twitter and Facebook now and then. It's common sense, but you'd be surprised at how many SMBs fail to perform this simple task.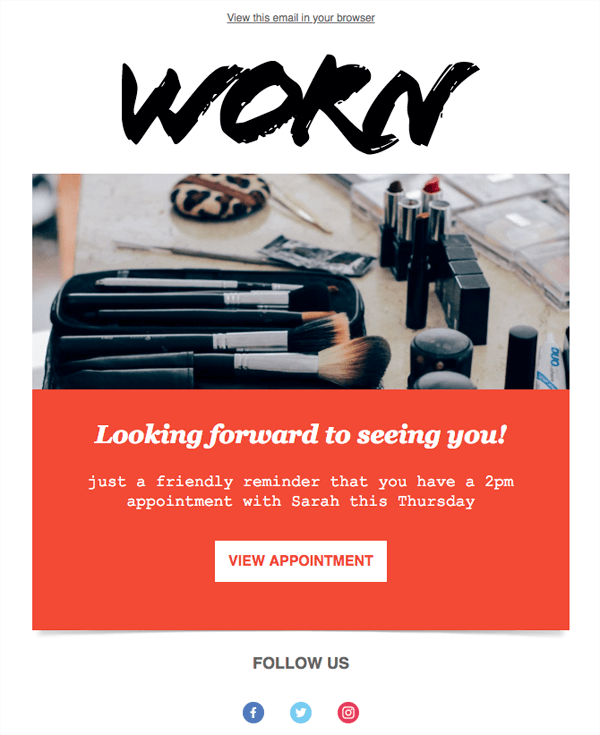 Tools like Mailchimp will allow you to add social media links to your email
15. Refine Your CTAs
We've kept this tip for last, but it should really be the first thing you think about. Your Call To Action (CTA) is the sole reason your email exists in the first place. So make sure you have a clear idea of what you want to achieve as soon as possible. Do I want the user to go straight to the shopping page? Or does the contact need to be nurtured first with informative content before they buy, e.g. a guide or lookbook?
As you can imagine, it's best to focus on one CTA per email. Too many outbound links can confuse the reader and decrease your click-through rate. Keep the language succinct and clear, and make sure the links stand out, both in terms of style and content. You don't want to hide a hyperlink in the middle of a paragraph where it will blend with the rest of the text. Consider using buttons instead.
16. Use AMP Email
Honestly, email hasn't been very innovate in the past decades. However, with the arrival of AMP Email you can now add forms to HTML-based newsletters. This enables your readers to submit contact requests and surveys right from within the inbox. They can even fill their shopping cart within their email service.
So far, it's only supported by a handful of email clients (Gmail, Yahoo, Fair Email and Mail.ru) but since Gmail is huge, it's actually worth playing around with it.
The email marketing services supporting it right now are Aweber, Mailgun and SendPulse for example. We expect this list to grow soon.
Email Marketing Tips: Final Thoughts
As a small business embarking on email marketing, it's a lot to take in, right? As we said earlier, email marketing can quickly become a minefield the deeper you dig into its many options.
But one of its great features is that it's a very controlled experiment. While there are a lot of variables (subject length, image size, time sent… ) all platforms will give you basic analytics. No need to obsess over the results, but if anything stands out, it's your chance to tailor and adjust your next email campaign – especially if you can play with A/B tests.
Those who are ready to spend a bit of time testing different strategies are sure to reap tons of benefits. To learn more about email marketing and how to pick the right newsletter software, check out our free ebook!
Do you have any other tips or questions? Please leave your feedback down below in the comments!
We keep our content up to date
09 March 2023 - A few smaller updates
30 March 2021 - General update
Our Methodology
This article has been written and researched following our EmailTooltester methodology.
Our Methodology