Squarespace has become a popular website builder in recent years. In addition to its slick-looking interface, Squarespace continues to introduce useful functionalities to its website builder, from eCommerce tools to social media templates, and more importantly (for the purposes of this review, at least), its Email Marketing Campaigns add-on.
With such a variety of powerful marketing tools, it seems that Squarespace is transforming from a once simplistic yet attractive website builder to an all-in-one digital marketing solution (similar to a handful of others in this space).
Squarespace users can maximize their brand potential with access to more marketing features than ever before, but how does the Squarespace Email Marketing solution (also known as Squarespace Email Campaigns) compare to the likes of Omnisend, Mailerlite, and Brevo?
In this article, we'll explore everything you need to know about Squarespace Email Campaigns so that you can decide whether this is the email marketing service for you.
Squarespace Email Marketing: Review Summary
If you are an existing Squarespace account holder, Email Campaigns may seem like the ideal email marketing service for small business owners, and we can't deny that using one centralized service to manage both your website and email marketing is extra appealing. But without key marketing features like advanced email automation, user segmentation, and useful reports, it may be worth branching out to other email marketing services such as
Mailerlite
and
Brevo
.
Squarespace strives to position itself as the leading website builder, but let's see how Squarespace Email Campaigns compares with the top email marketing platforms out there today.
Pros and Cons of Squarespace Email Marketing
Pros of using Squarespace Email Campaigns
It's very affordable: The fees are pretty competitive in comparison to other email service providers (ESPs). Although it's pretty basic, their plans start at only $5 a month. Their most expensive plan is $48 a month and is on the generous side, offering unlimited subscribers and up to 250,000 email sends.
Solid selection of email templates: Thanks to Squarespace's effortless style, the e-newsletter templates are all very sleek. Additionally, Squarespace Email Campaigns provide complete brand consistency between your email newsletters and your site.
Extremely user-friendly: Just like the website builder, the Squarespace email Campaigns interface is very easy to use. From building your email template to uploading your contact lists, everything can be carried out with extreme ease.
Easy integration: You can add signup forms throughout your Squarespace site which will import contacts directly to the email marketing platform. E-commerce features are also well integrated making it easy to send post-sales emails to your customers. Keeping everything in one place!
Cons of Squarespace Email Campaigns
Low send limits: There is a 250,000 monthly email send limit on the highest plan (the lowest plan caps email sends at just 500 per month). If you go over this limit, you'll be banned from sending any more emails until the start of the next month. Users with large contact lists will reach this limit pretty quickly.
Limited features: Squarespace lacks key email marketing features such as A/B testing, advanced audience tagging, email sequences, and triggers. While 'email automation' is available on higher plans, this is more similar to simple autoresponders, and can't really compete with more advanced automation providers
Only available to Squarespace site owners: While there is a way to get around this requirement by using a 'parked' site, Squarespace Email Campaigns doesn't make much sense for users who don't have a site with Squarespace, as you can't embed Squarespace's signup forms on non-Squarespace sites
Squarespace Email Marketing Plans and Pricing
Overall Squarespace Email Campaigns paid plans are quite reasonably priced. You can sign up for the cheapest plan for only $7 a month, or $5 billed annually. Unfortunately, the plan is limited to 500 email sends per month, and lacks advanced features such as email automation, although they do offer a generous unlimited subscriber allowance.
There is no official "freemium plan" but you can try out Squarespace Email Campaigns as part of their free trial with no time limit. Although this trial version is limited, it's a great option for marketers with basic email marketing objectives, looking to explore the platform. During this unlimited trial period, you can only send a total of three blast emails, with a maximum of 50,000 sends per campaign. Blast campaigns are single campaigns that you broadcast to one or more mailing lists.
It's safe to say the free trial plan is pretty limited due to its lack of marketing automation, and other advanced email marketing features. It's also worth noting that you are unable to remove the Squarespace branding from your emails. Therefore we don't think the free version of Squarespace Email Campaigns is suitable for companies looking for more complex email marketing solutions.
Due to the limitations with the number of sends for the first two plans, the likelihood of upgrading your account is quite high. That said, the highest tier plan is only $68 monthly with unlimited campaigns, and 250,000 email sends. These plans and pricing make Squarespace Email Campaigns an attractive option for businesses of all sizes looking for an affordable (yet pretty basic) email marketing solution.
Squarespace Plans and Pricing
| | STARTER | CORE | PRO | MAX |
| --- | --- | --- | --- | --- |
| Monthly plan prices | $7/month | $14/month | $34/month | $68/month |
| Yearly plan prices | $5/month | $10/month | $24/month | $48/month |
| Campaigns per month | 3 | 5 | 20 | Unlimited |
| Email sends per month | 500 | 5,000 | 50,000 | 250,000 |
| Automation included? | No | Yes | Yes | Yes |
Squarespace Email Marketing Builder
A huge selling point for Squarespace Email Campaigns is that they offer a vast array of attractive email marketing templates for a variety of email campaigns and customer behaviors. Within the templates tab, you can choose from the following newsletter template categories:
Promote a Product or Service
Promote Classes or Events
Announce a Sale
Share an Update
Send a Follow-Up
Share Your Content
Write a Note
Ask for Support
Say Thanks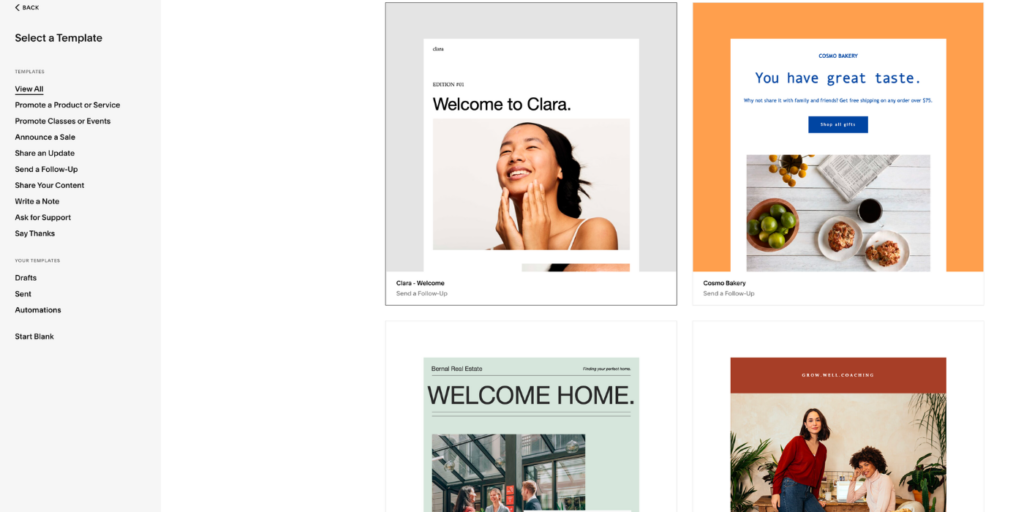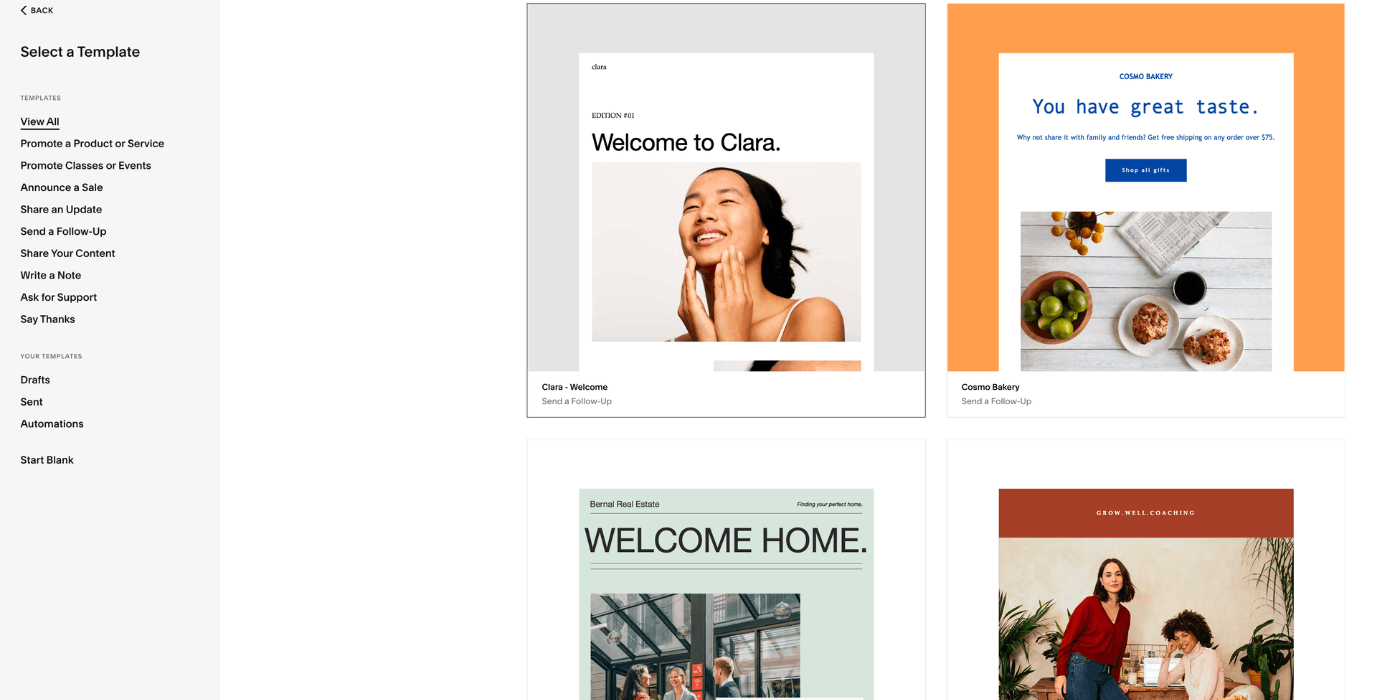 Once you select a template, you'll be directed to the Email Editor. On the top right-hand side, you have the option to "Quickly match your site". This is a very handy feature, enabling you to easily apply your site's logo and color themes to your email template.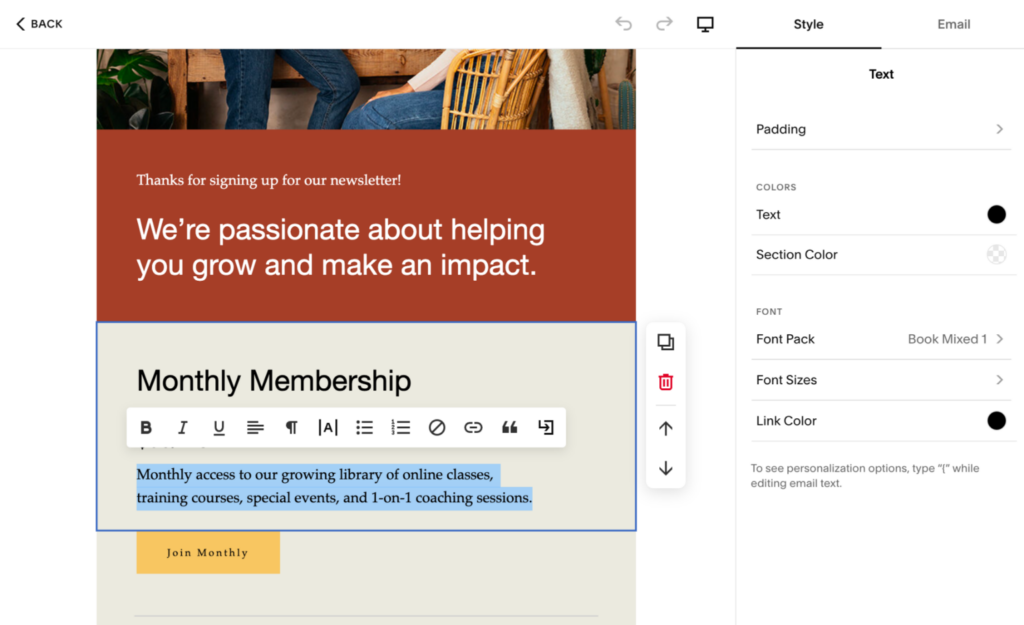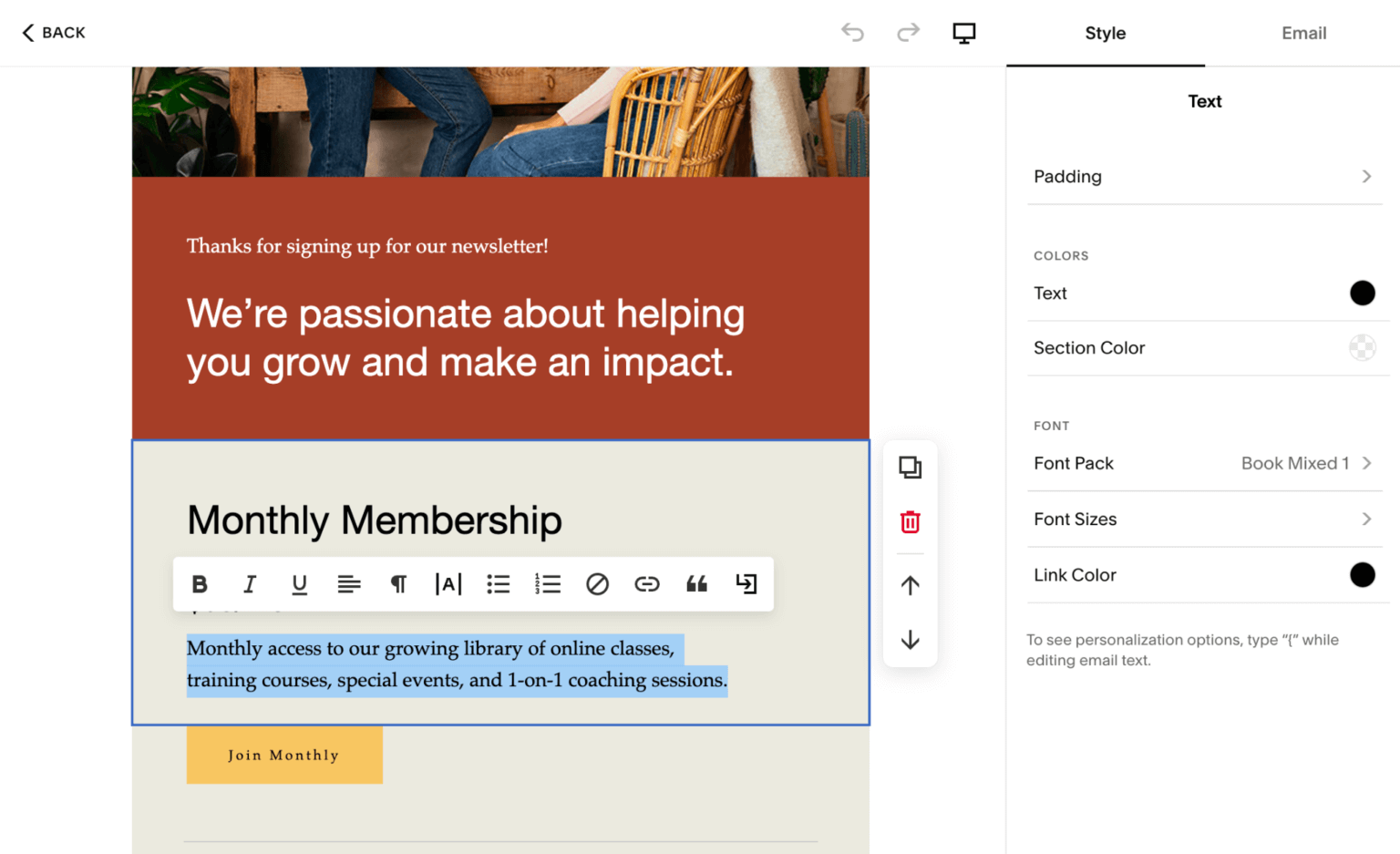 The newsletter templates are easy to edit. You can personalize each template within the email builder. To change the text, you just need to click on the text and you can directly change the font style and size, and written content. For call-to-action buttons (CTAs), you need to click on the existing call-to-action and you can edit the color, alignment, size, and font style within the right-hand side tab.
The images provided within the newsletter templates are free stock images from Unsplash. You can either replace these images by uploading your own files, selecting existing images from your Squarespace gallery, or browsing the stock images available within Squarespace. You can edit the layout of the imagery, by selecting one of the following design styles: Banner, Grid, Card, List, or Left/Right alignment.
Once you are happy with your design, you can preview it on desktop and mobile (all templates are automatically mobile-responsive), and also send a newsletter test to your email. Then once it's ready to go, you can choose to schedule the campaign or send it immediately.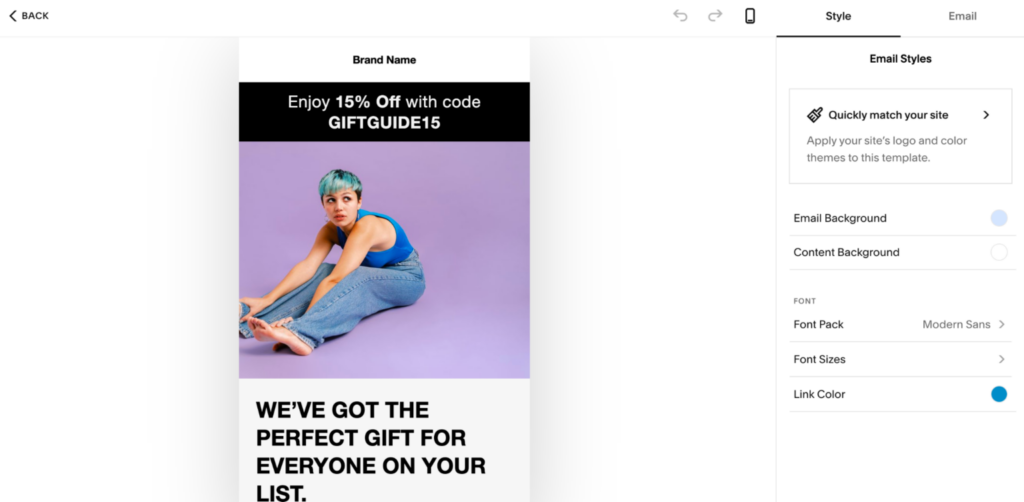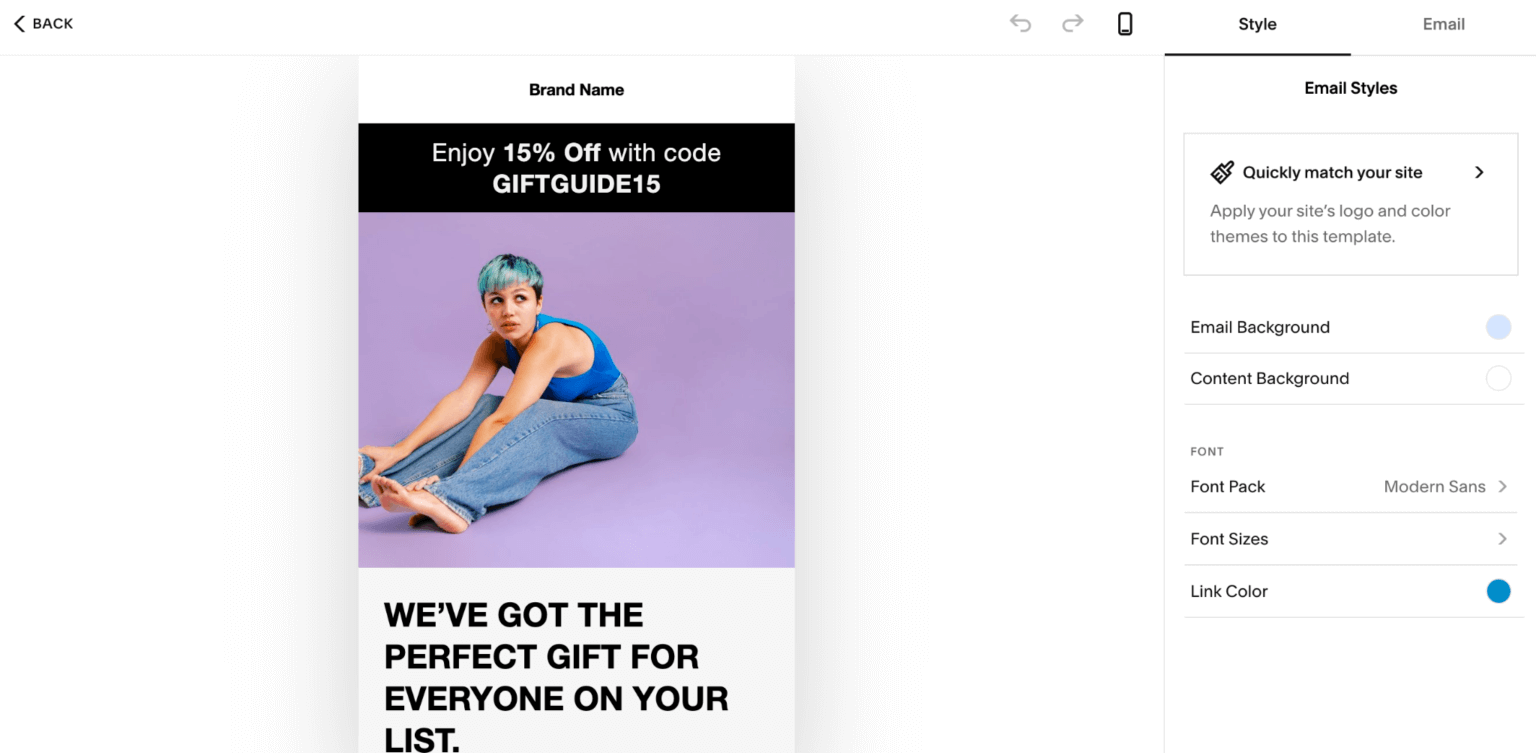 Does Squarespace offer Advanced Email Marketing Features?
If you are looking for an advanced email marketing platform, it's safe to say that Squarespace Email Campaigns Platform is quite limited in terms of advanced features.
While Squarespace email templates can be favored for their modern, eye-pleasing designs, the basic features on offer won't benefit your business if you are looking for more sophisticated solutions.
Squarespace Email Automation:
Within Squarespace Email Campaigns, you only gain access to the email marketing automation feature when you subscribe to the Core Plan. From here, you can choose from 6 automated campaign types; from sign-up-based automations (new subscribers, subscriber rewards, and subscriber "check-ins"), to purchase-based automations (customer thank you emails, product recommendations, and coupons).
Although Squarespace Email Campaigns gives you the ability to send simple automated emails, there are other email marketing platforms such as ActiveCampaign, Brevo, and Moosend that give you access to more advanced email marketing automations, such as the following:
Abandoned Cart
Page visits (email to contacts who visit your website)
Website events (when a customer performs a certain action on your website)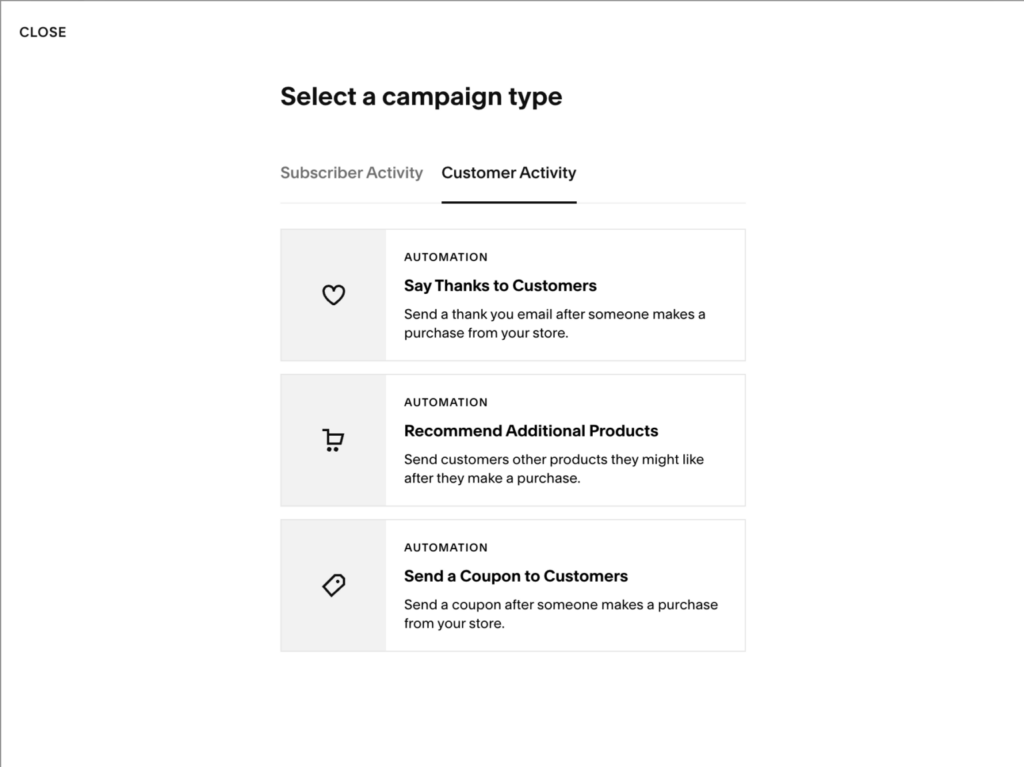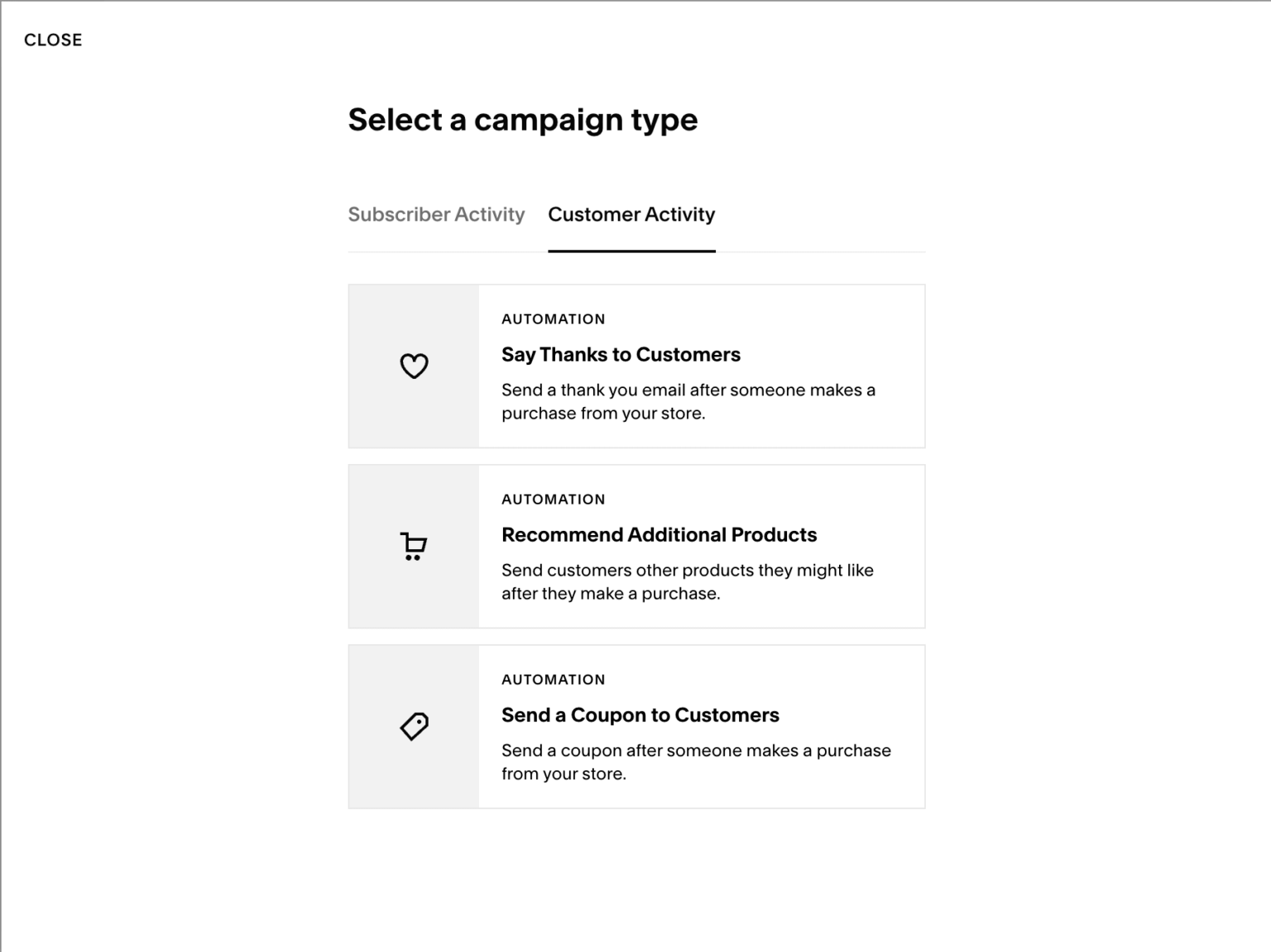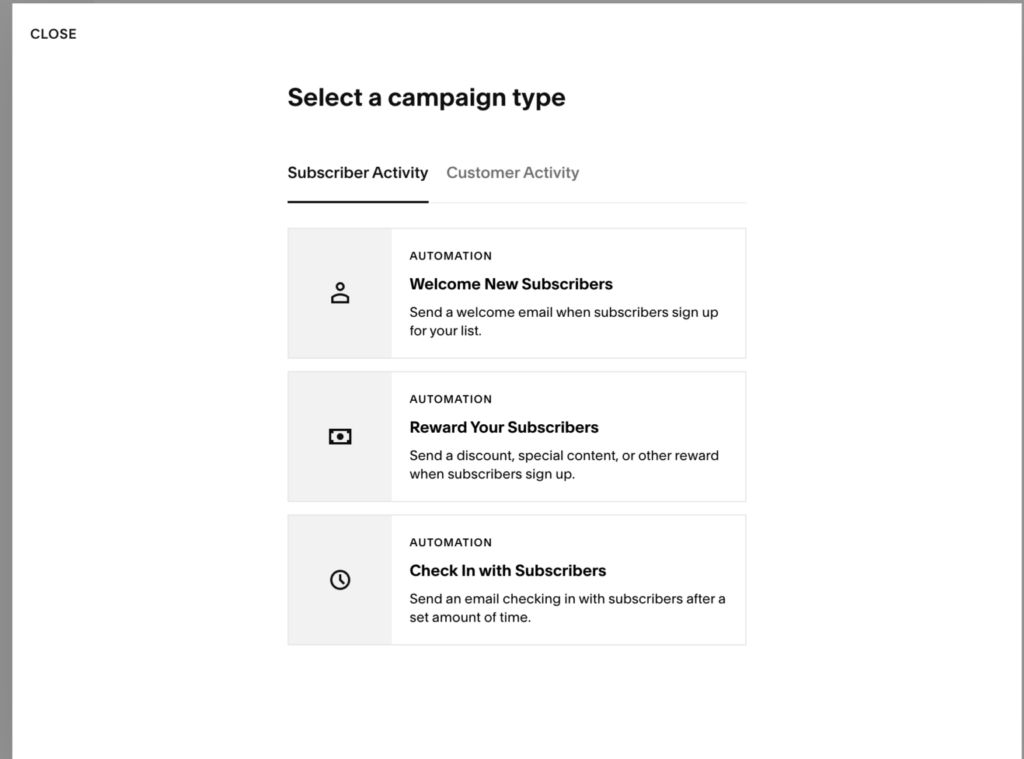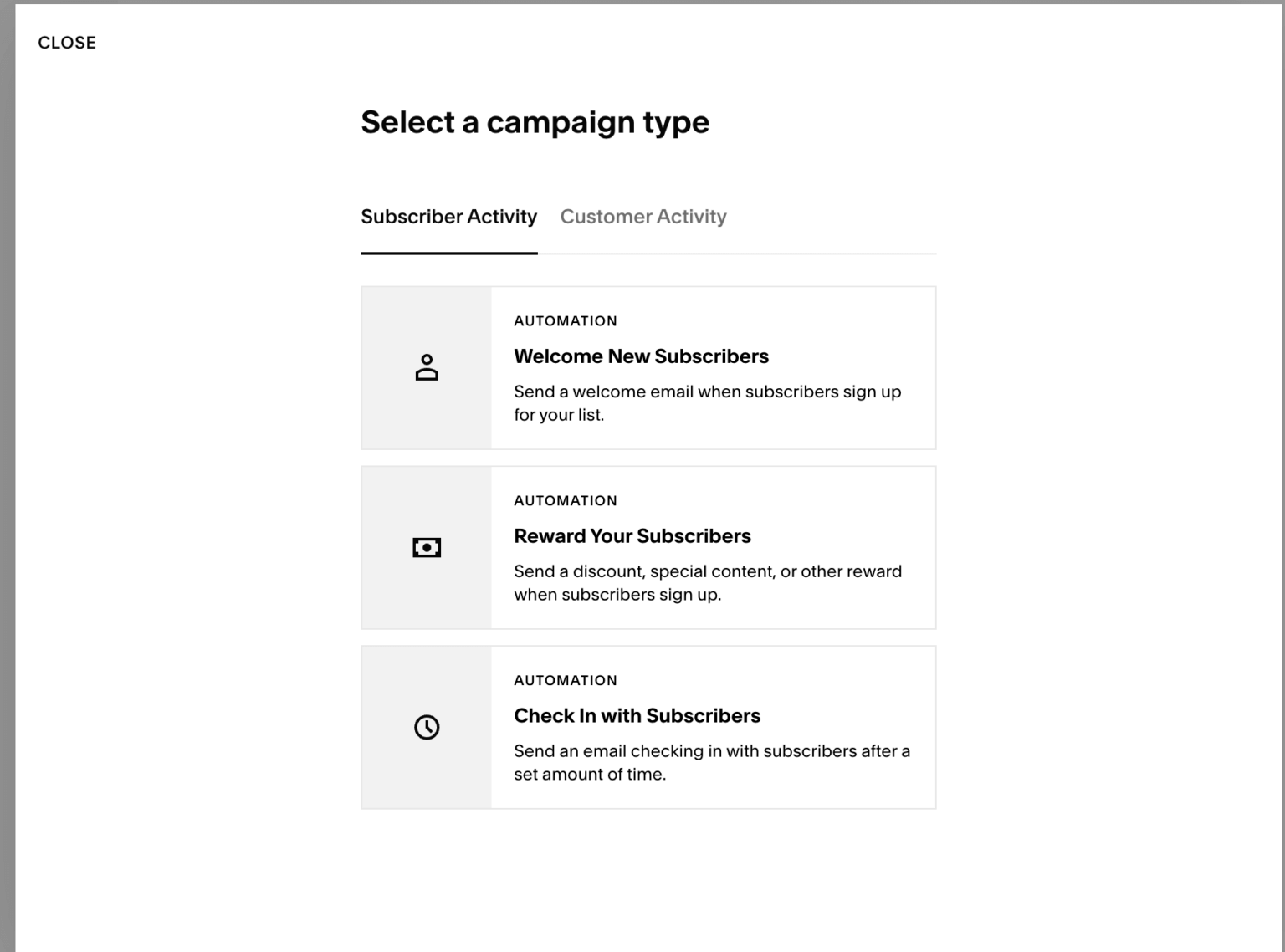 Squarespace Email Send Limits
The monthly send limit for Squarespace is 250,000 email sends on the highest plan, so if you are looking to send more campaigns to a larger database, you'll have to wait until the start of your next billing period to send more. If you are looking to send more than 3 emails a month to a database of 100k, then you may need to branch out to other email marketing services with less restrictive send limits such as Brevo.
Squarespace Segmentation
Just like the other email marketing features we've mentioned, Squarespace's segmentation options are quite basic. Although you do have the ability to tag your users, you can't segment your users by location or customer behaviors, etc. Therefore, if you are looking for more targeted send-outs, this may cause limitations.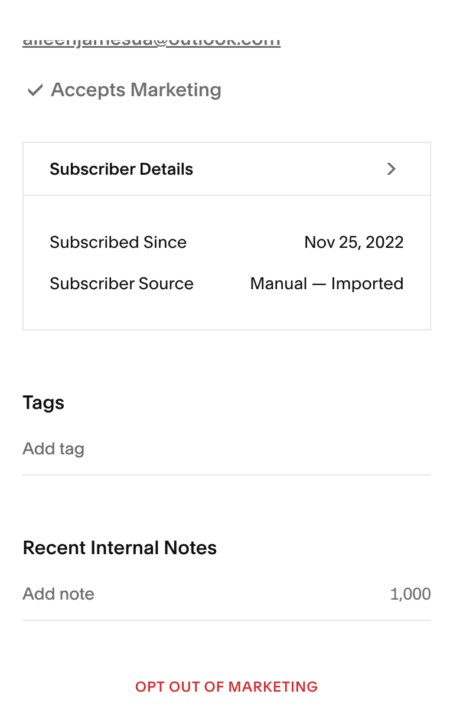 Conclusion: Should I use Squarespace Email Marketing or Another Service?
Overall, the Squarespace Email Campaign platform has a lot to offer to Squarespace website owners. Not only are the plans and pricing options extremely competitive, but there are a number of factors that make Squarespace a desirable option for email marketers. From the high-quality email templates, easy-to-use interface, and convenient integration with the Squarespace platform, it's hard to resist such a dynamic platform.
The main drawback is its lack of advanced marketing automation features, which might be something you need if you run a business and have a more complex sales process, or rely on repeat business – otherwise, it's a feature you might not miss at all.
It's important to take into account that the Squarespace email marketing platform is only a good and convenient option for those with existing Squarespace websites (or those planning to build a Squarespace website). Therefore, if you don't want to rely on Squarespace as your only marketing platform, it may be worth branching out to other email platforms.
In terms of integration, Squarespace can be a great choice for email marketers. Adding a footer or pop-up form to your Squarespace website is easy to do, and will encourage website visitors to sign-up, which will help you build mailing lists. And thanks to the easy integration options, you can easily access your website subscribers and user profiles from the mailing lists section.
Other features such as E-commerce are also well integrated making it easy to send post-purchase emails to users. Overall, Squarespace is a good choice if you want to keep everything in one place, making basic email marketing a breeze.
Recommended if:
You want to focus on basic email marketing on a tight budget
You are looking for great design options and brand consistency
You want to keep all of your marketing efforts in one place
Not recommended if:
Creating complex segments for your subscribers is important to your strategy
You are looking for more advanced email marketing solutions
You want to send regular emails to a large database of contacts
> Try Squarespace Email Campaigns for free
If you'd like to test our knowledge of Squarespace Email Campaigns or you have some feedback on our review, feel free to leave your comments and questions below!
Our Methodology
This article has been written and researched following our EmailTooltester methodology.
Our Methodology