Over a decade ago, I worked for a marketing agency where email marketing campaigns were a big part of our daily grind. Among the many platforms we dabbled in, Mailchimp and Zoho Campaigns were the clear client favorites.
Back then, Mailchimp was the cool kid on the block, offering affordable email marketing solutions with a playful touch. On the other side, we had Zoho. Not only did it offer email marketing, but it also had a handy CRM. And the best part? It didn't cost an arm and a leg.
But times change, and so do our favorite tools. Fast-forward to today, and both platforms have undergone quite the transformation.
The million-dollar question now is: Do they still offer the bang-for-your-buck value they once did? And which one should you pick to elevate your email marketing game?
Sit tight as I delve deep into a feature-by-feature showdown between Mailchimp and Zoho Campaigns to help you make the most informed decision.
Zoho Campaigns vs Mailchimp: Main Differences
While both Mailchimp and Zoho Campaigns have been in the email marketing game for a while, their current offerings show distinct differences. Mailchimp has expanded into a comprehensive all-in-one marketing suite, including features like SMS, transactional emails, and even a website builder.
Zoho Campaigns, on the other hand, is part of Zoho's larger ecosystem of business tools. It offers a budget-friendly standalone product but charges separately for add-ons like landing pages and CRM capabilities.
Neither is a top-rated tool on EmailTooltester – in fact, I find tools like Mailerlite and Brevo to be more affordable, feature-rich alternatives. But, if you have your heart set on either Mailchimp or Zoho, I hope this guide helps you pick the best tool for you!
Ease of Use
Let's kick things off by taking a look at which is the easier tool to use.
From the very beginning, Mailchimp has always marketed itself as an intuitive email marketing platform. Back in the day, this helped it to stand out from the enterprise-level solutions that dominated the market (and weren't exactly beginner-friendly).
Today, I still find it a straightforward platform to use (even though our founder Robert likes to disagree with me here). As soon as you're signed in, you're presented with its clear backend, and can pretty easily find out your way around it: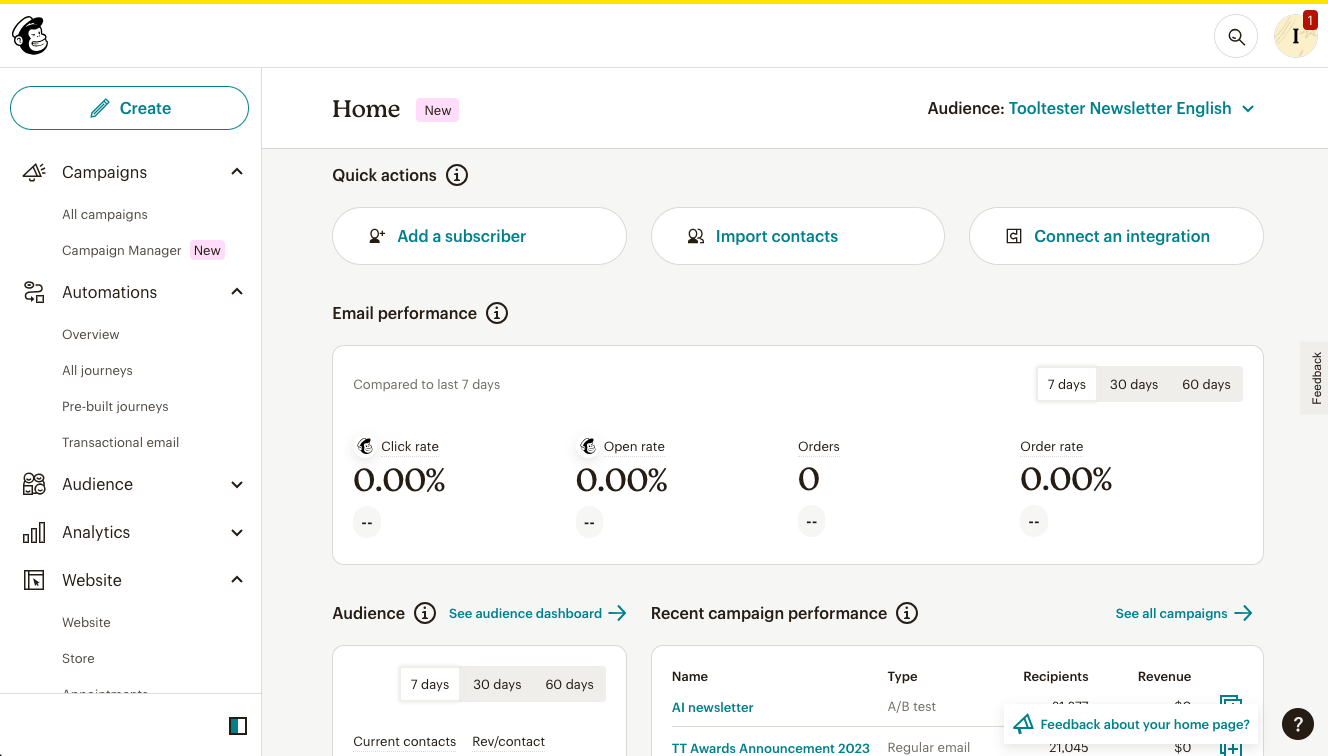 Compared to before, however, there are now so many more features to get your head around. Mailchimp offers not just email marketing, but also automations, multichannel campaigns (such as SMS and socials), landing pages, CRM, and a website builder. It's even possible to sell products directly from the platform, and use AI to generate your email's content.
Despite this, many aspects of it are just as easy to use. The visual email editor lets you create an email in no time using pre-made templates. Just drag and drop your desired content blocks like images, text, or even product showcases. For straightforward email campaigns, it doesn't get easier than this: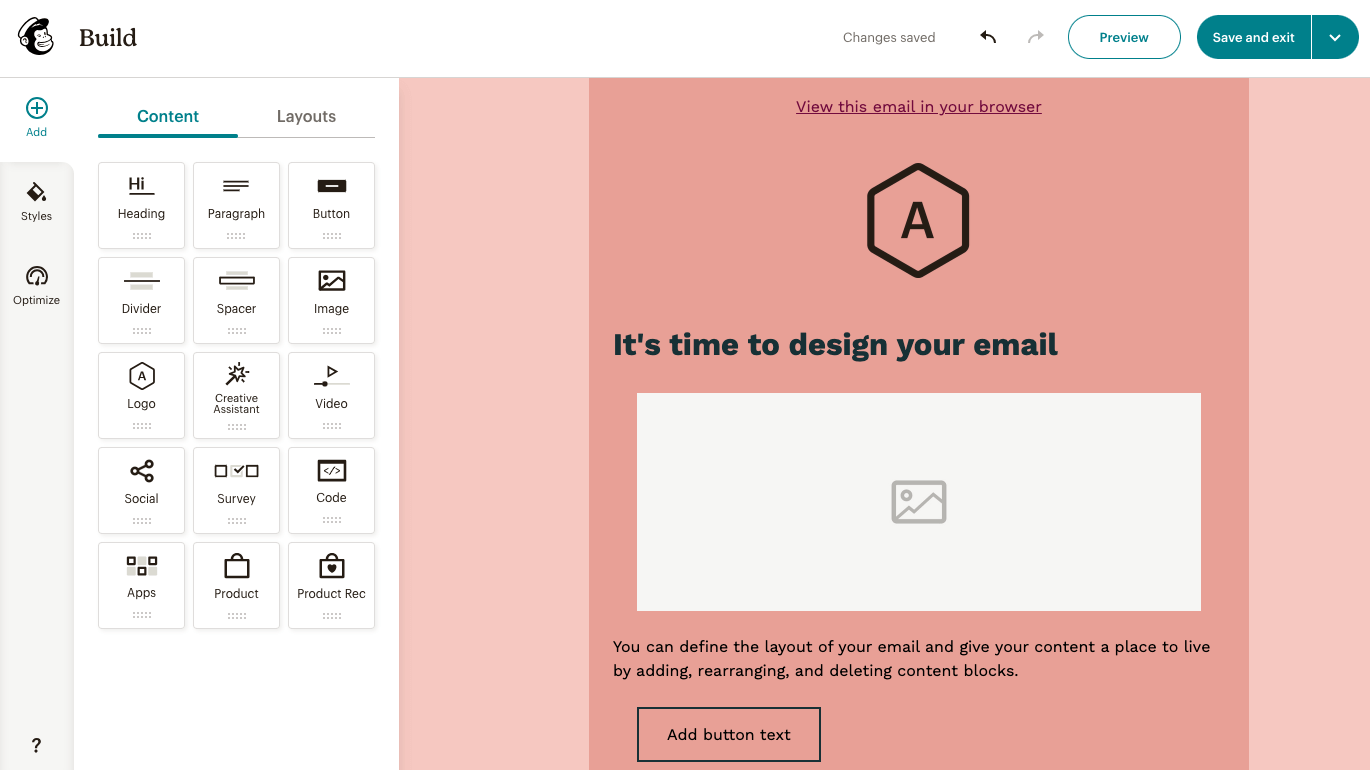 Zoho also simplifies the process of launching email campaigns right from the get-go. They offer the added perk of having a "product expert" reach out to assist with migrating from your current platform and setting up your entire account for you.
While Zoho's platform is relatively easy to navigate, its interface is not the most inspiring. I definitely prefer Mailchimp's fresher, cleaner design to this: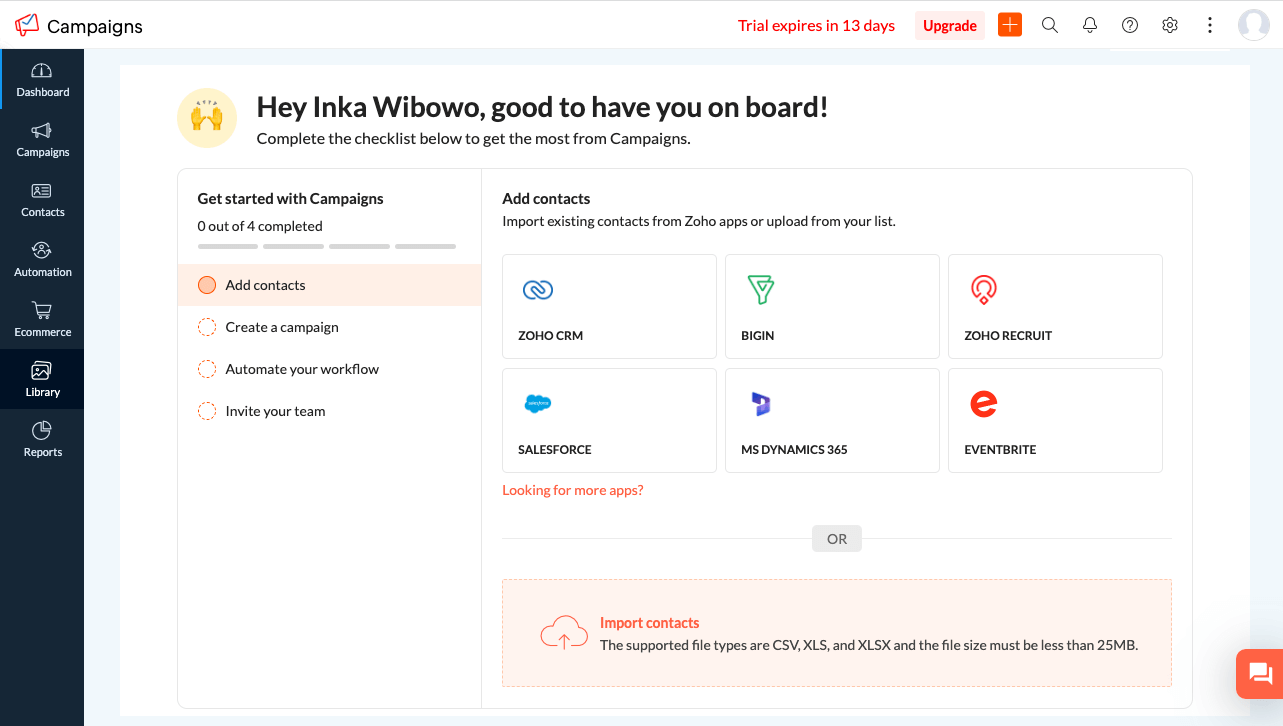 I also find the editor less convenient than Mailchimp's. While it also lets you drag content blocks into your email design, it requires a couple of extra clicks. For example, if you want to add a text block, you have to first select that option, then choose from different text sizes before you can actually drag the block in. Overall, it makes for a clunkier editing experience.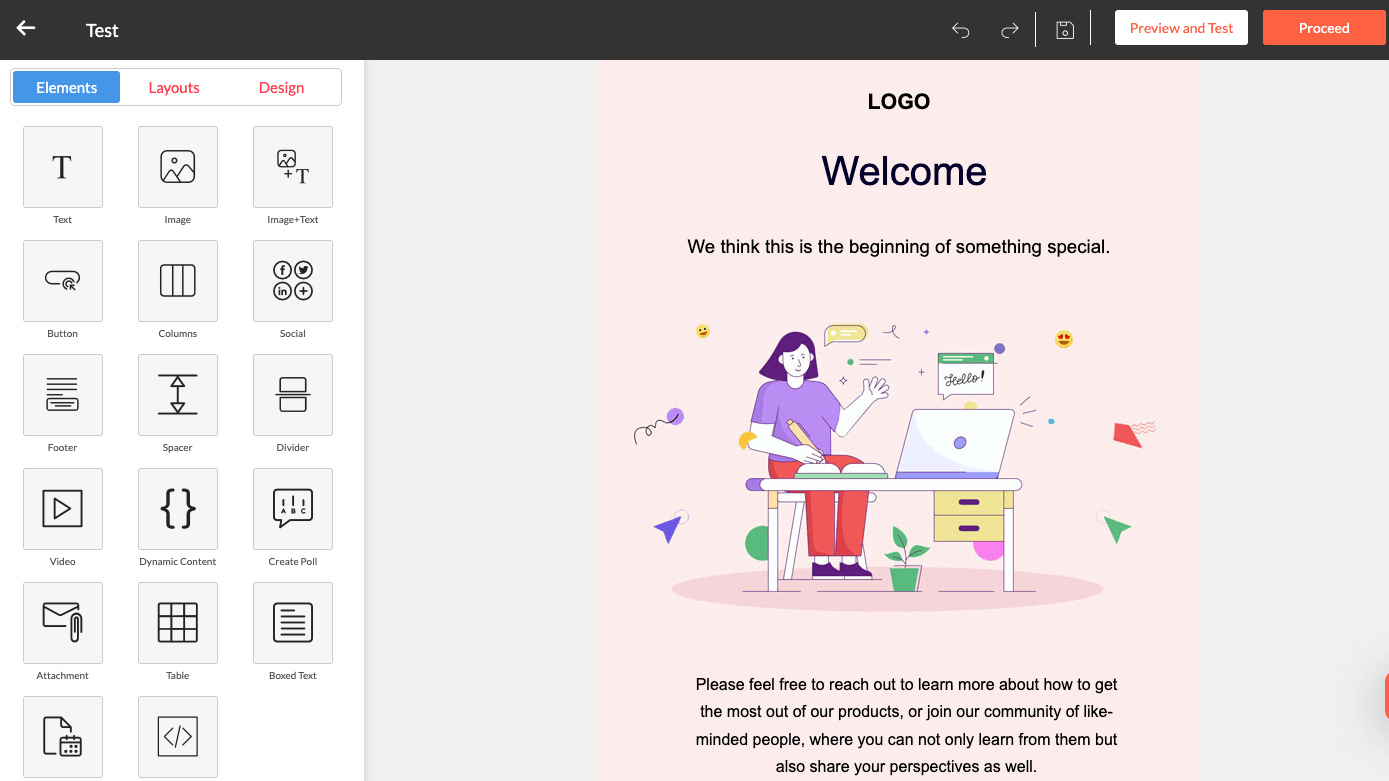 Winner: Mailchimp was the pioneer of easy-to-use email marketing services, and despite the evolution of their platform, they still haven't lost that knack. This round goes to Mailchimp! However, if having an intuitive email marketing service is the #1 priority for you, check out MailerLite. We awarded them our Best Ease of Use badge for that very reason!
Template Designs and Flexibility
Mailchimp is all about aesthetics, so it's no surprise that their email templates would be the star of the show. You can choose from their classic builder or new, AI-assisted builder – both of which give you dozens of templates to choose from. While the templates in the classic editor aren't bad, they are showing their age somewhat – the templates available with the new editor look a lot more modern: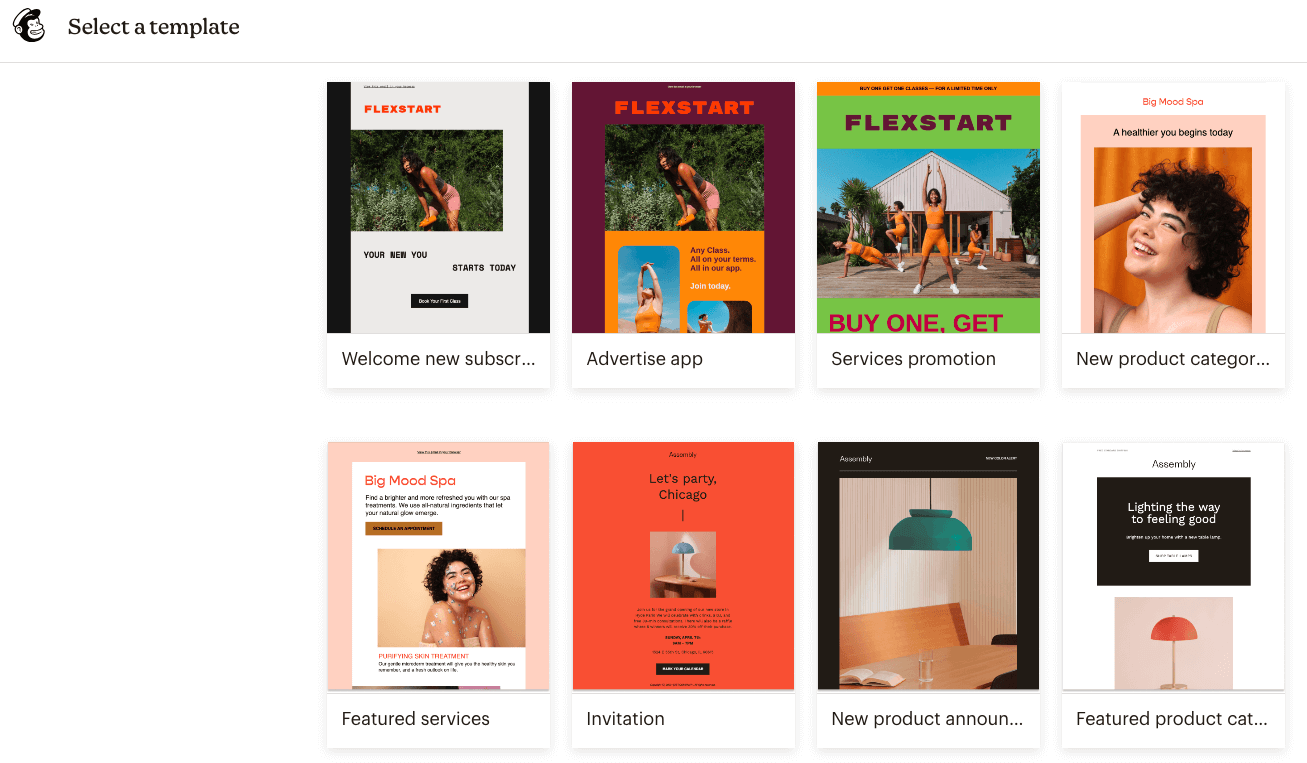 But those aren't your only options. Mailchimp also lets you start from a blank slate, or upload your own HTML code. And you can even use the AI-powered Creative Assistant, which helps you create entire emails based on the style of your choice: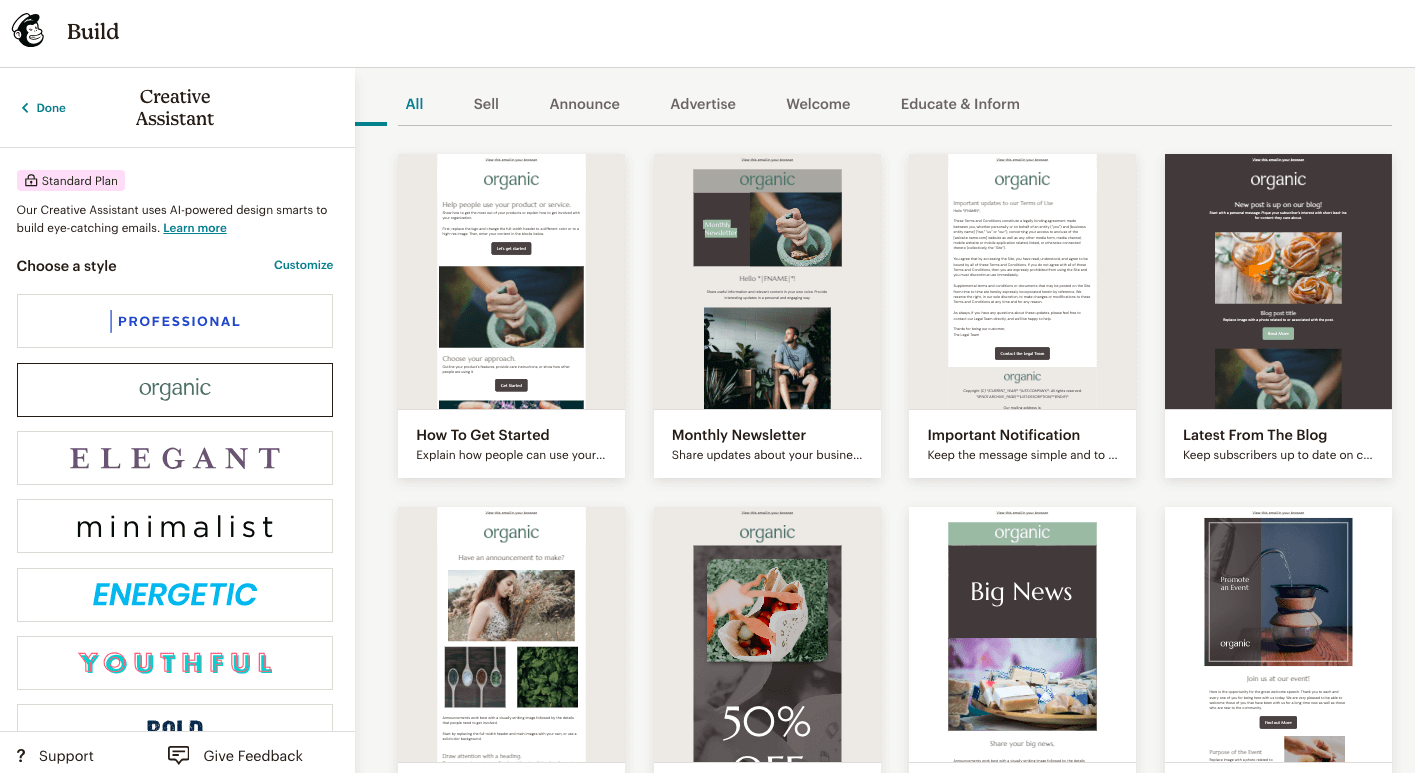 How do Zoho's templates compare? Luckily, they seem to have put a little more effort into designing their templates than their backend, with over 200 designs available in their template library: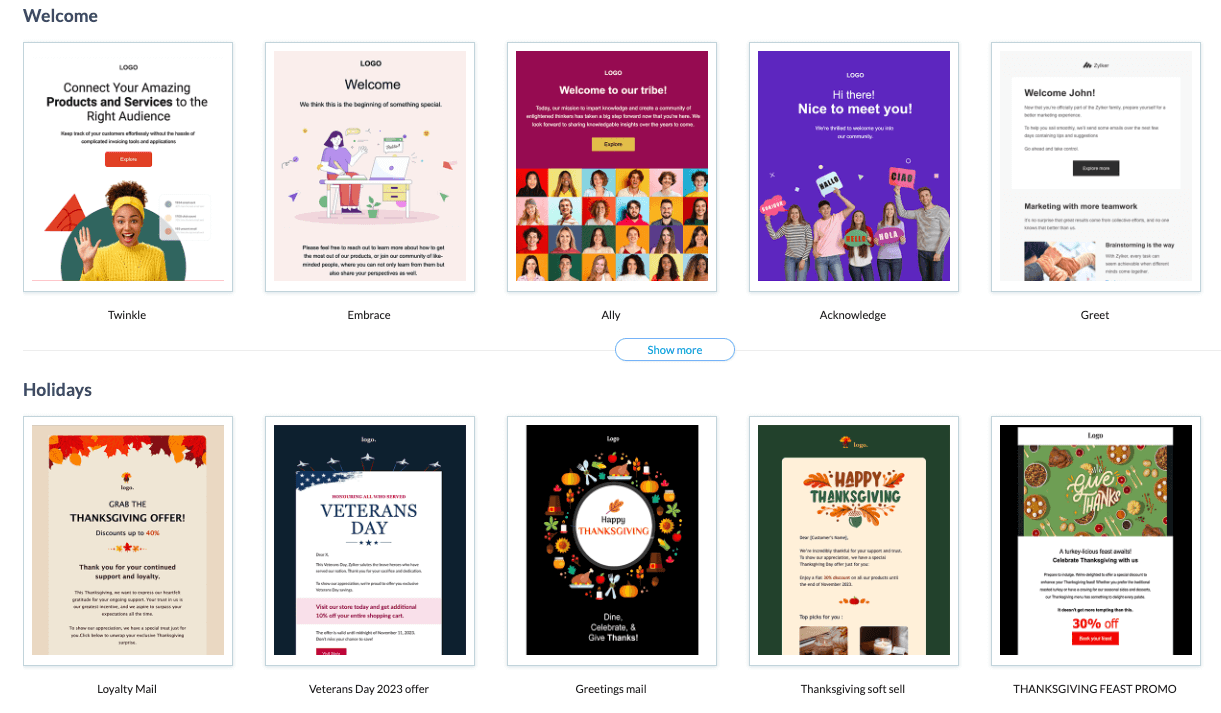 And, like Mailchimp, they also give you options for building your own template, uploading your own coded templates, or sending plain-text emails. However, an AI builder doesn't seem to be an option – at least not yet.
Winner: Zoho's templates aren't bad, but they're no match for Mailchimp's modern, eye-catching designs (and more generous range of building options). Our current score is Zoho: 0, Mailchimp, 2!
List Management
Although we've seen Mailchimp perform pretty strongly so far, I have to say that list management is one of its biggest weaknesses. Unlike most email marketing platforms, Mailchimp's lists (or "Audiences" as it calls them) are isolated from each other. This means you can't include different lists (e.g. "Customers" and "Partners") in the same campaign, nor can you automate moving subscribers between lists.
What makes this especially frustrating is the billing aspect. Mailchimp charges per subscriber, so if a contact appears on multiple lists, you're billed for them more than once. The cost can add up quickly. Plus, each contact profile will have different information saved in the CRM, based on their engagement (e.g. clicks, opens) within the individual list associated with them.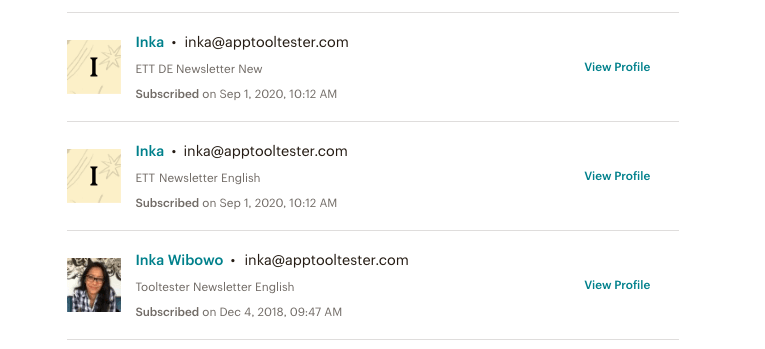 Zoho doesn't have this problem. It automatically overwrites duplicate emails, meaning it's not possible to have multiple entries for the same contact. With Zoho, it's also possible to have subscribers belong to multiple lists.
Like Mailchimp, Zoho also gives you other options for list management, including tags and segments.
Winner: Zoho won't charge you for duplicate or unsubscribed contacts, and gives you a little more flexibility when it comes to managing lists. That gives them their first point, taking the score to Zoho: 1, Mailchimp, 2!
Marketing Automation
Whether you're just planning to send simple welcome emails to new subscribers, or multi-step drip campaigns to your most engaged contacts, there's no doubt that you'll be needing marketing automation capabilities in your email marketing platform. So, let's see how Zoho and Mailchimp fare in this regard.
Zoho offers a sophisticated workflow builder, complete with templates to get you started. For example, you can quickly get a welcome campaign, onboarding series, nurture campaign or re-engagement email up and running by selecting one of their templates: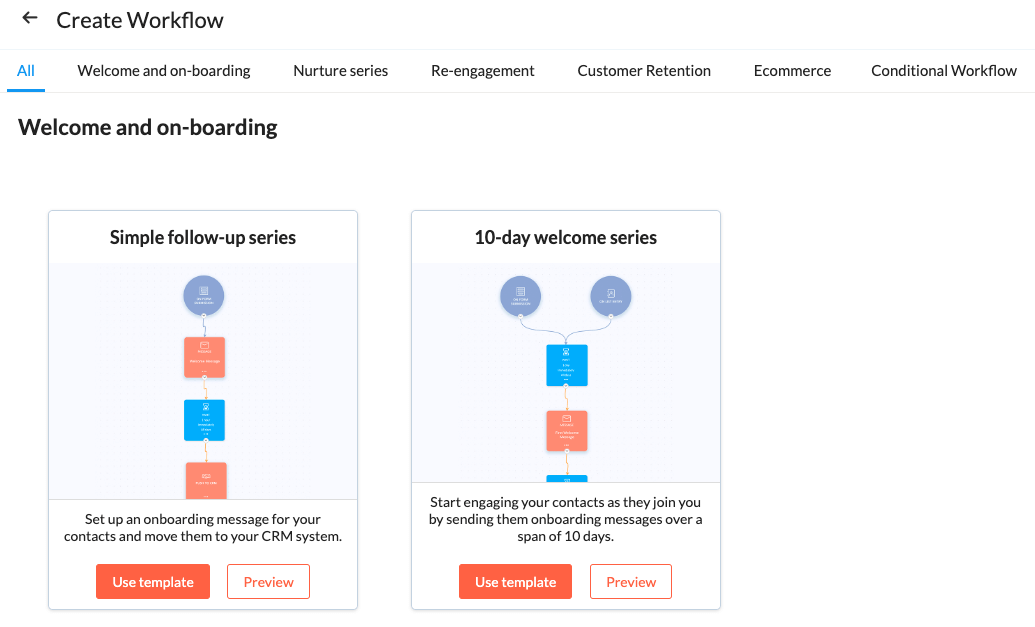 You can trigger automations based on a wide range of factors (including when a contact clicks an email or enters a segment), and also perform actions such sending an email or SMS, tagging a contact, or adding a lead score. It's even possible to automatically create sales tasks in Zoho's CRM, or trigger actions in other applications via API: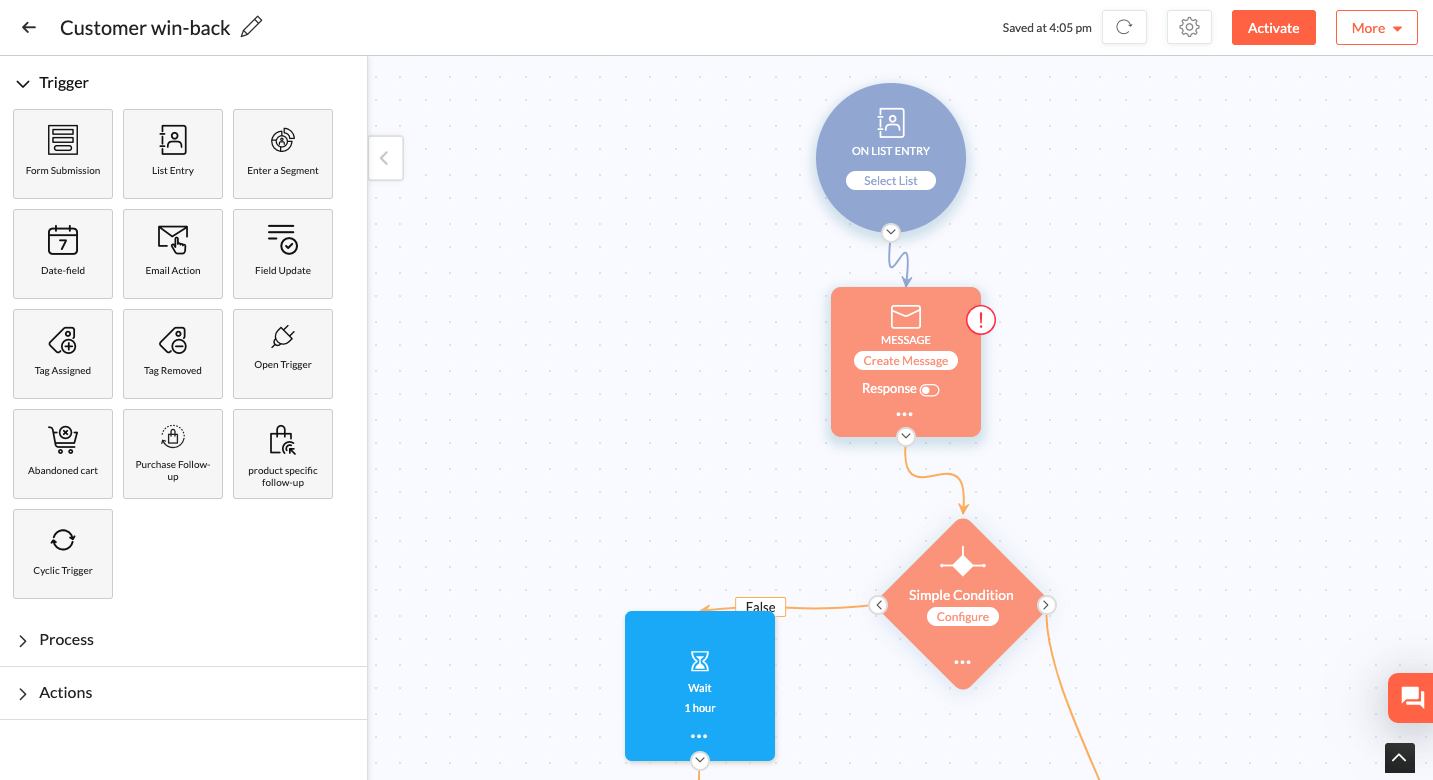 All this is available within Zoho Campaigns, which is great news. But, here's where things get a bit confusing. Zoho offers a separate product, Zoho Marketing Automation, which, as you can probably guess, also includes automation features.
Do you need this in addition to Zoho Campaigns? Unless you run multichannel campaigns, probably not. However, there's one key thing Zoho Marketing Automation offers that Zoho Campaigns does not, and that's the ability to trigger campaigns based on web page views. This would be especially useful if you run an online store, and want to send contacts recommendations based on products they've viewed: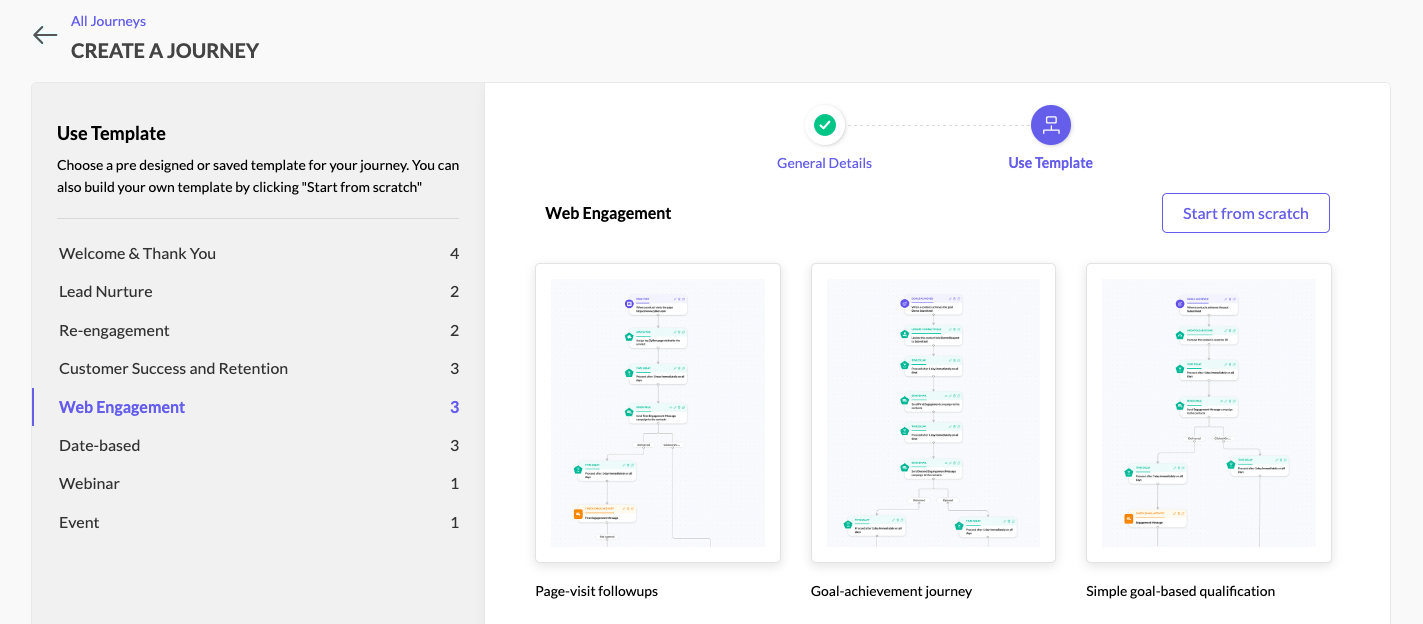 It's a shame that this isn't included in Zoho Campaigns. Luckily, it is with Mailchimp (although with a caveat).
Not only do they also offer an automation builder – it's also a lot more intuitive to use. Plus, they also have an even wider range of pre-built "journeys" available (around 90, in fact!), meaning it's very simple to set up automated campaigns such as abandoned cart and welcome emails, even if the action has taken place in a third-party platform (such as Shopify store or Eventbrite event).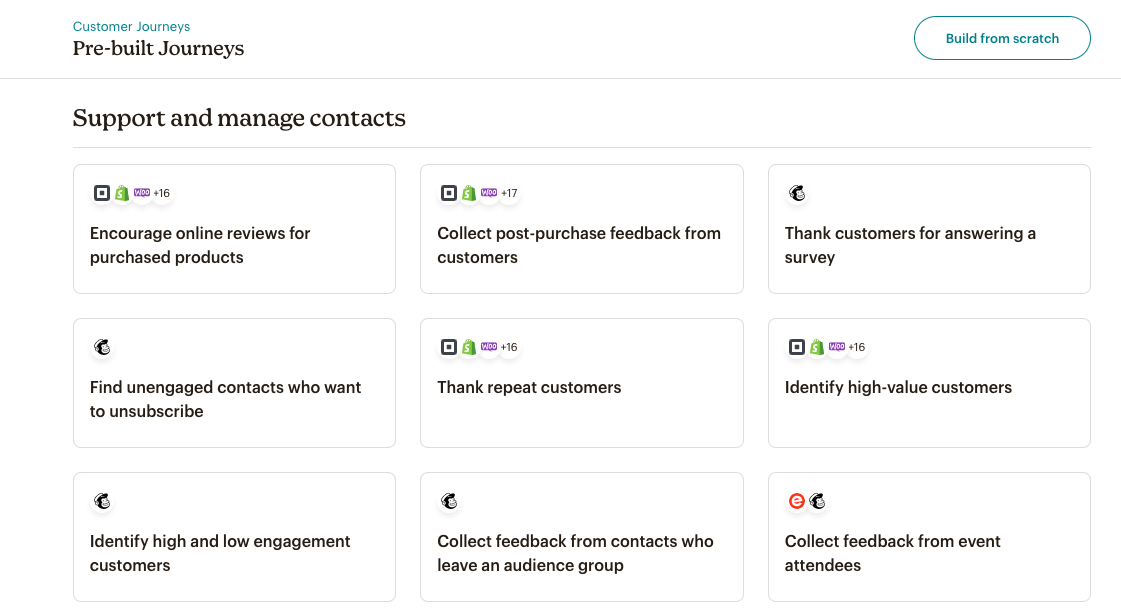 Mailchimp also provides many more options for triggering campaigns – and without the need to purchase a separate product: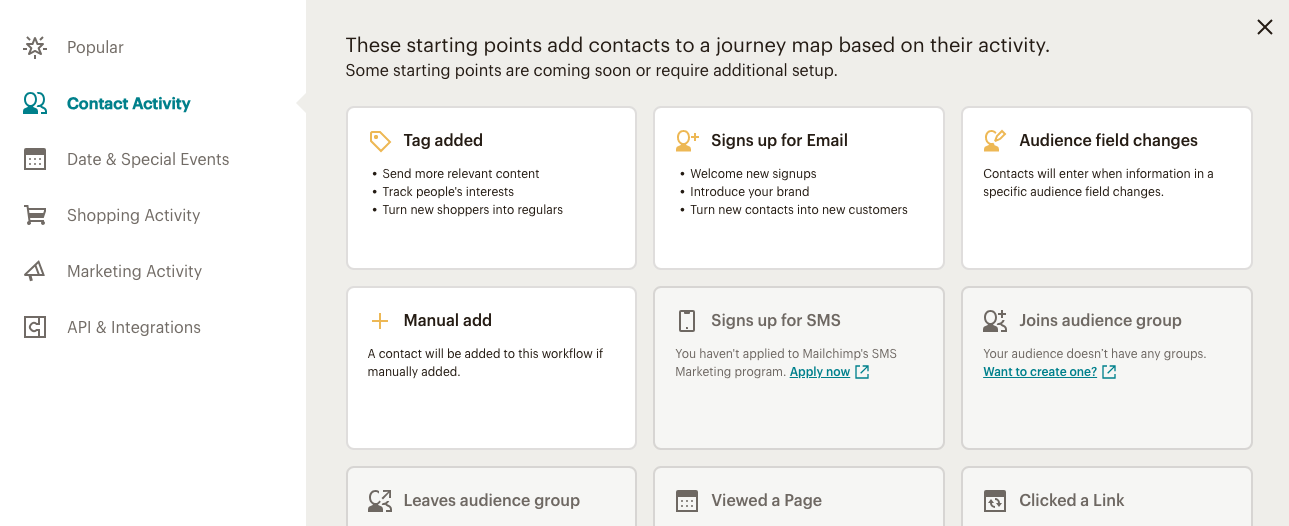 Like Zoho, however, triggering campaigns based on pageviews is also limited. This option is only possible if you have a website with Mailchimp, Shopify, or if you set up an indirect Zapier integration.
Winner: Mailchimp's automation options are more complete than Zoho's, and don't (usually) require additional products. However, for more powerful automations (such as the ability to send campaigns to contacts who have viewed specific pages on your site), we'd recommend a completely different alternative altogether – ActiveCampaign.
Mailchimp takes a firm lead, with 3 points against Zoho's single point.
Customer Relationship Management (CRM)
Not many email marketing platforms offer CRM features such as detailed contact profiles and activity history. Both Zoho and Mailchimp claim to, but in reality, only one offers a CRM in a true sense. So if your business needs to be able to closely track the relationship between your email marketing campaigns and sales, let's see which one does a better job.
Zoho Campaigns actually doesn't offer a built-in CRM, aside from some contact scoring features. However, you can opt for its separate Zoho CRM product and integrate it with Zoho Campaigns. Contacts and leads will automatically be synced from one to the other, and you can even send email campaigns directly from within Zoho CRM.
As a CRM, Zoho CRM has all the features you'd expect, including the ability to create deals, manage pipelines, score leads, forecast sales, automate tasks, and more. The main drawback, though, is that it's an additional cost.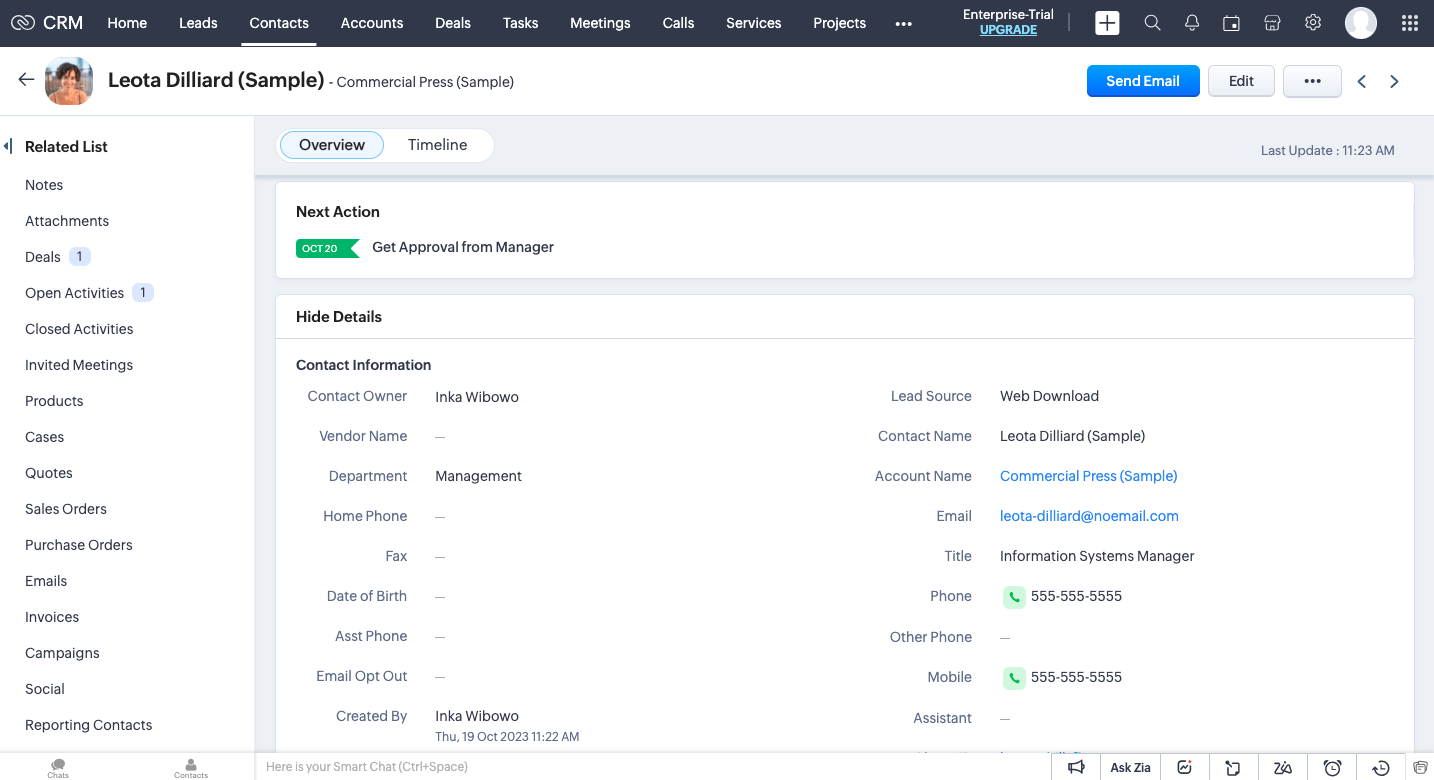 Mailchimp's so-called "Marketing CRM" essentially provides enriched contact profiles, allowing you to see activity history and total revenue, as well as add notes and tags. However, it lacks features like linking profiles to deals or building sales pipelines.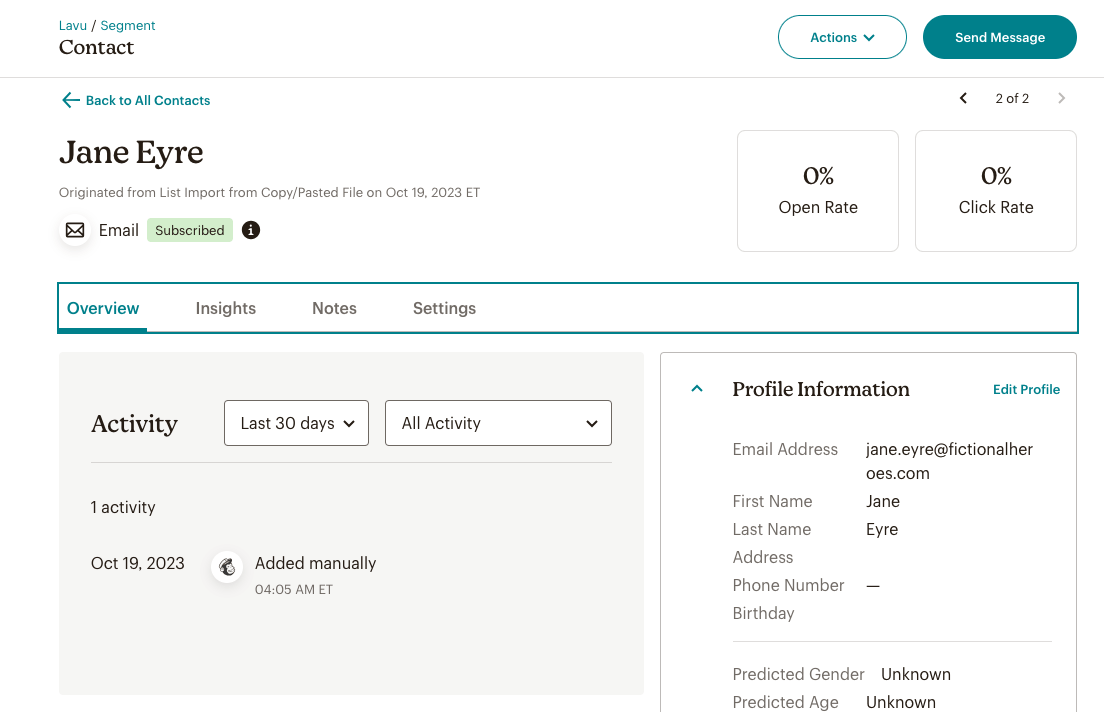 Are Mailchimp's features useful for creating targeted campaigns? Without a doubt. But as most other email marketing services offer these kinds of segmentation features and insights anyway, I struggle to see how this sets them apart.
Winner: If you need to be able to track leads, opportunities, and pipelines, there's no doubt that Zoho is better equipped for the job. On the other hand, if you run an online store or sell directly to consumers, you might get by with Mailchimp's basic contact management features.
This takes the score to Zoho: 2, Mailchimp: 3. However, there are better alternatives if you really need an all-in-one email marketing and CRM tool.
Pricing
Our final round has the potential to sway you firmly in one direction! So let's take a close look at which one offers better value for money out of Zoho Campaigns vs Mailchimp.
In my view, the best way to compare is to see how much they charge for similar offerings. So let's take a look at their cheapest paid plans – both of which offer templates, automations, and forms.
Zoho Campaigns (Standard Plan)
MAILCHIMP (ESSENTIALS Plan)
Free plan
2,000 contacts and 6,000 emails / month
500 contacts and 1,000 emails / month
5,000 subscribers
$31 / month

Unlimited emails

$39 / month

50,000 emails

10,000 subscribers
$49 / month

Unlimited emails

$73 / month

100,000 emails

50,000 subscribers
$138 / month

Unlimited emails

$289 / month

500,000 emails

100,000 subscribers
$242 / month

Unlimited emails

$440 / month

1,200,000 emails

(Must upgrade to Standard plan)
Winner: No doubt about it – Zoho Campaigns is the cheaper of the two, offering similar features to Mailchimp at a fraction of the price. If cost is a deciding factor for you, you can clearly save a lot by opting for Zoho. But I'd also recommend taking a look at our list of cheap email marketing services, as there are plenty of other affordable alternatives.
That means Zoho Campaigns and Mailchimp finish with a tie, with 3 points each!
Zoho Campaigns vs Mailchimp: Conclusion
While the final score might not exactly help you pick between Zoho Campaigns vs Mailchimp, I'm hoping this analysis has helped to highlight the strengths and weaknesses of each platform.
Although Mailchimp might be the pricier email marketing service of the two, its clean design, straightforward navigation, and intuitive editor make it a much easier tool to maneuver. I also like that all its features are accessible from a single dashboard. Zoho's separate products for CRM, landing pages and multichannel automations can make it feel more unwieldy (not to mention, more expensive!).
If this doesn't bother you, however, Zoho has the potential to take you further. With over 50 business products in their suite, there's a greater chance that Zoho can support your changing needs as your business grows.
To be perfectly honest though, I think the golden days of both Zoho Campaigns and Mailchimp are behind them. What was once great value for money has been overtaken by more affordable, feature-rich options like Mailerlite and Brevo. ActiveCampaign even makes advanced marketing automation accessible to small businesses. So weigh these alternatives when making your choice.
But if you're still set on giving Zoho or Mailchimp a shot, I'd suggest taking advantage of their free trials below:
Our Methodology
This article has been written and researched following our EmailTooltester methodology.
Our Methodology