Many customers abandon their carts because of unexpected shipping costs, a long checkout process, or simply getting distracted before placing their order. Abandoned cart emails can help your ecommerce business recover lost sales by reminding customers of the items they left behind in their online shopping carts.
Sending a well-crafted abandoned cart email can prompt customers to come back to your store, as well as offer discounts or other incentives to encourage them to complete their purchase.
To stand out in cluttered inboxes, your abandoned cart email needs to be eye-catching and persuasive. Fortunately, it's now easier than ever to create an effective abandoned cart email with the help of customizable templates.
Many ecommerce platforms, such as Shopify, Wix, Squarespace, and BigCommerce, offer built-in templates that can be customized with your branding and messaging. To take it even further, external email service providers, like Klaviyo, Mailchimp, and Omnisend offer additional customization options, and include advanced analytics and ecommerce automation features. These resources make it possible for small business owners to create engaging abandoned cart emails without the need for complex coding.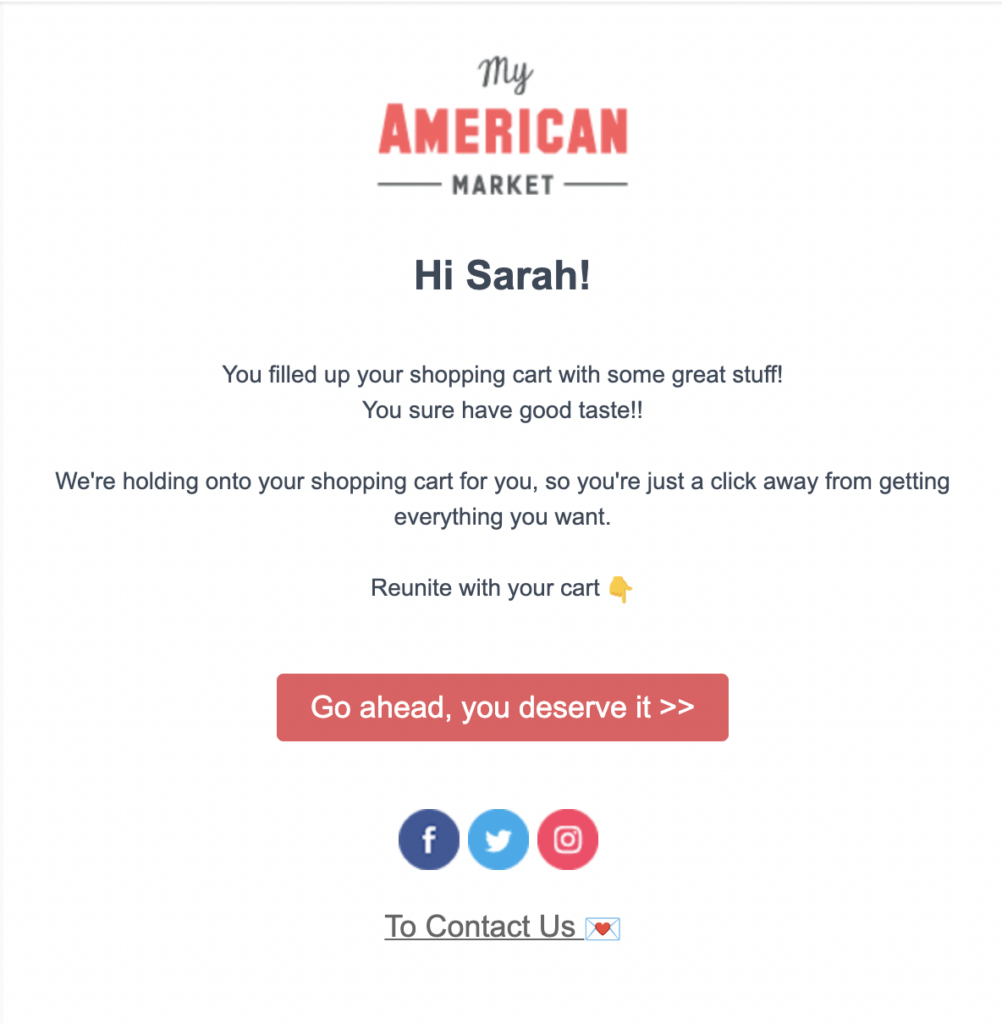 In this article, we'll explore various options for crafting an abandoned cart email, and take a behind-the-scenes look at the templates offered by each. Here are the choices we'll consider:
1. Use the default templates in your ecommerce platform's admin area.
This option is the easiest, but offers limited flexibility in terms of customization. To access more advanced features, you can usually install an app for added functionality. We'll compare abandoned cart email templates in three of our favorite ecommerce platforms: Shopify, Wix, and Squarespace.
2. Access next-level templates and features from external email service providers.
Email service providers like Omnisend, Mailchimp, and Klaviyo offer a wide range of customizable templates, as well as analytics and automation features that may not be available through your ecommerce platform by default. We'll look at the abandoned cart templates offered by these popular email service providers.
By the end of the article, you'll have a good idea of whether the default templates in your ecommerce platform are powerful enough for your abandoned cart emails, or if you need to complement them with templates from an external email service provider. So, let's get started!
Abandoned Cart Templates Offered by Ecommerce Platforms
Some of our favorite ecommerce platforms include abandoned cart emails as a basic feature. We put the templates from Wix, Shopify, Squarespace and BigCommerce to the test, and assessed the customization options provided by each platform. Although their abandoned cart email templates and editing features may appear almost identical at first glance, a closer examination revealed some key differences. Here's what we discovered.
Wix
Wix offers an impressive set of templates and editing features for creating abandoned cart email campaigns. The Wix abandoned cart email editor is clean and intuitive, and allows you to create visually appealing emails without coding experience.
One of the key features of Wix's email editor is the ability to add dynamic content, which allows you to personalize your emails based on customer behavior. For example, you can set up your email to show the customer an image of the products in their cart and suggest similar products they could add.
Wix is also one of the few ecommerce platforms we tested with fully customizable timing for sending abandoned cart emails. This means that you can control how long Wix should wait before sending an email to a customer who has abandoned their cart.
Additionally, Wix provides prebuilt "themes" that you can customize with features like video, images, social media links, and personalized text. We loved Wix's template themes because you can easily change the look and feel of your email with just one click. If you're not sure exactly what you want, clicking through the different themes is a great way to find inspiration.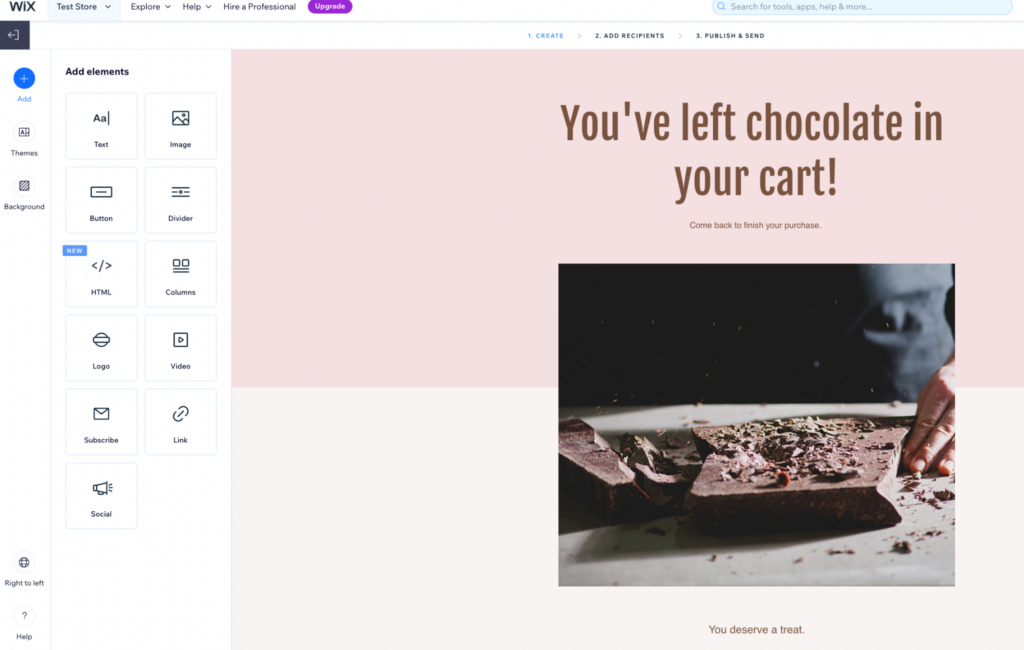 > Learn more about Wix ecommerce
Shopify
While Shopify is an excellent choice for creating an ecommerce website, it's worth noting that their abandoned cart email templates are not as robust as those offered by Wix. For instance, Shopify's email editor does not offer prebuilt themes or the ability to include videos. Given the popularity of short-form video content on social media, we believe that video is a crucial component of email campaigns.
Despite these drawbacks, one notable feature is the ability to set your store's template branding and have it applied automatically to abandoned cart emails and other email types. For instance, you can upload a logo and color palette in your brand settings, and all your emails will use those colors and branding elements.
In Shopify Email you can also easily add content sections that are designed to automatically incorporate assets from your store, such as product images, descriptions, and pricing information.
Shopify also allows you to modify when your abandoned cart email is sent, but with limited options: either 1, 6, 10, or 24 hours. These are the only time intervals available, and according to Shopify, will maximize the likelihood of recovering a sale.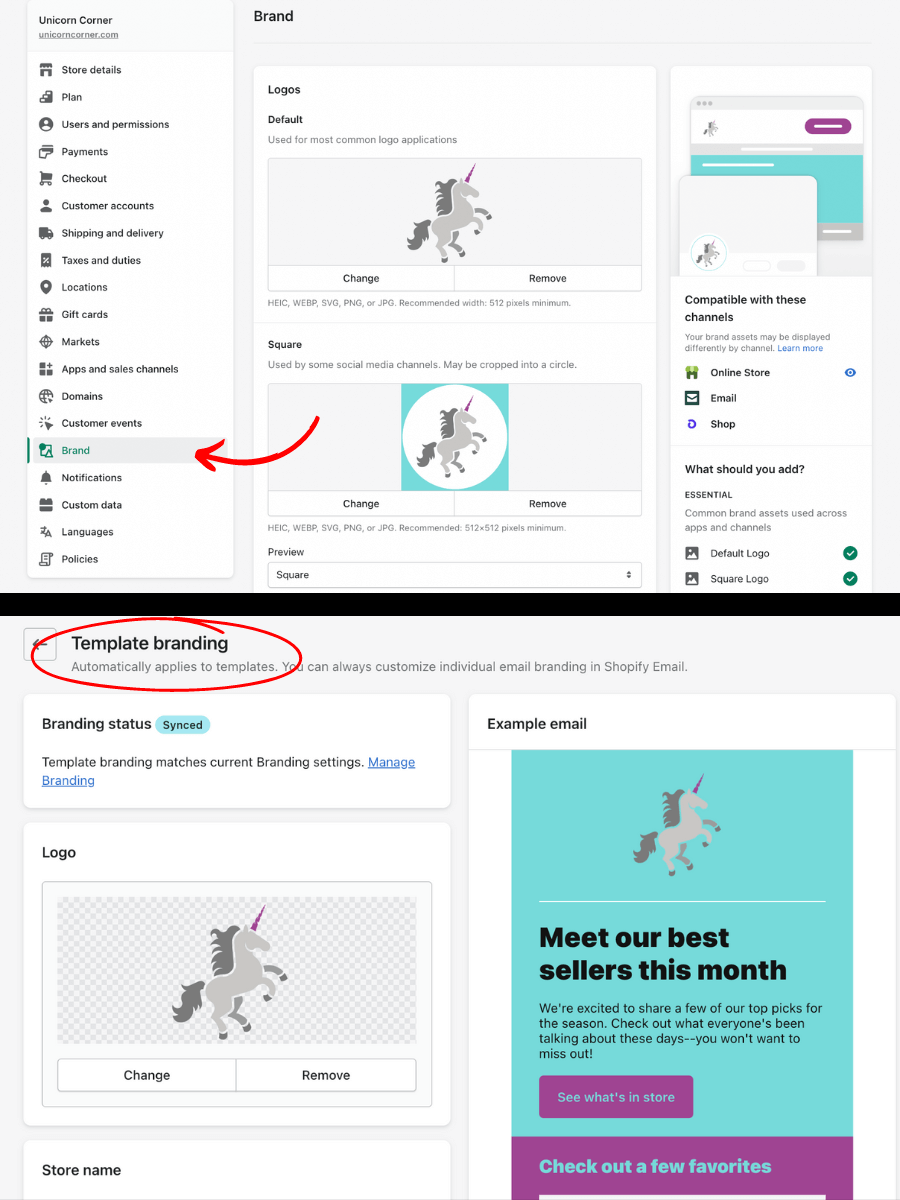 > Check out the best email marketing solutions for Shopify
Squarespace
Squarespace offers automated abandoned cart emails sent directly from its platform, but we found the customization options to be limited compared to Shopify and Wix. This was restricted to replacing the placeholder text and photos, and editing the subject, message, header, and footer. There is no way to add or remove content apart from text and images, or to change the time when they get sent (24 hours after a cart or checkout has been abandoned).
We did like that Squarespace allows you to apply global email styles, which means that the changes you make to your email design will apply to all your customer notification emails, ensuring consistency across all your communications. If you want to edit the email text after your branding is applied, simply navigate to the individual email you'd like to update and make the necessary changes.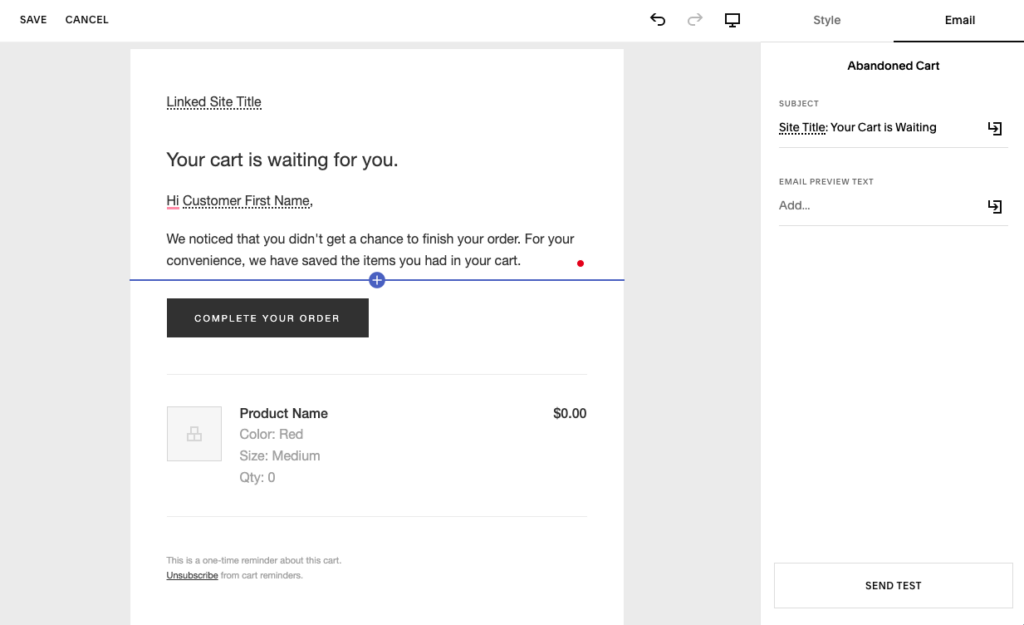 > Learn more about Squarespace ecommerce
BigCommerce
BigCommerce is another popular ecommerce builder that offers built-in abandoned cart templates. However, it's frustrating that BigCommerce only offers abandonment cart emails on their more expensive Plus plan, whereas competitors like Shopify offer it on all plans.
However, it's worth noting that BigCommerce's abandoned cart email feature is more advanced than others. It allows you to send up to five emails at different times, and even includes the option to include a coupon code to sweeten the deal and provide a discount to the customer. You can also personalize templates using phrases, which are like shortcodes that can automatically enter pre-defined text.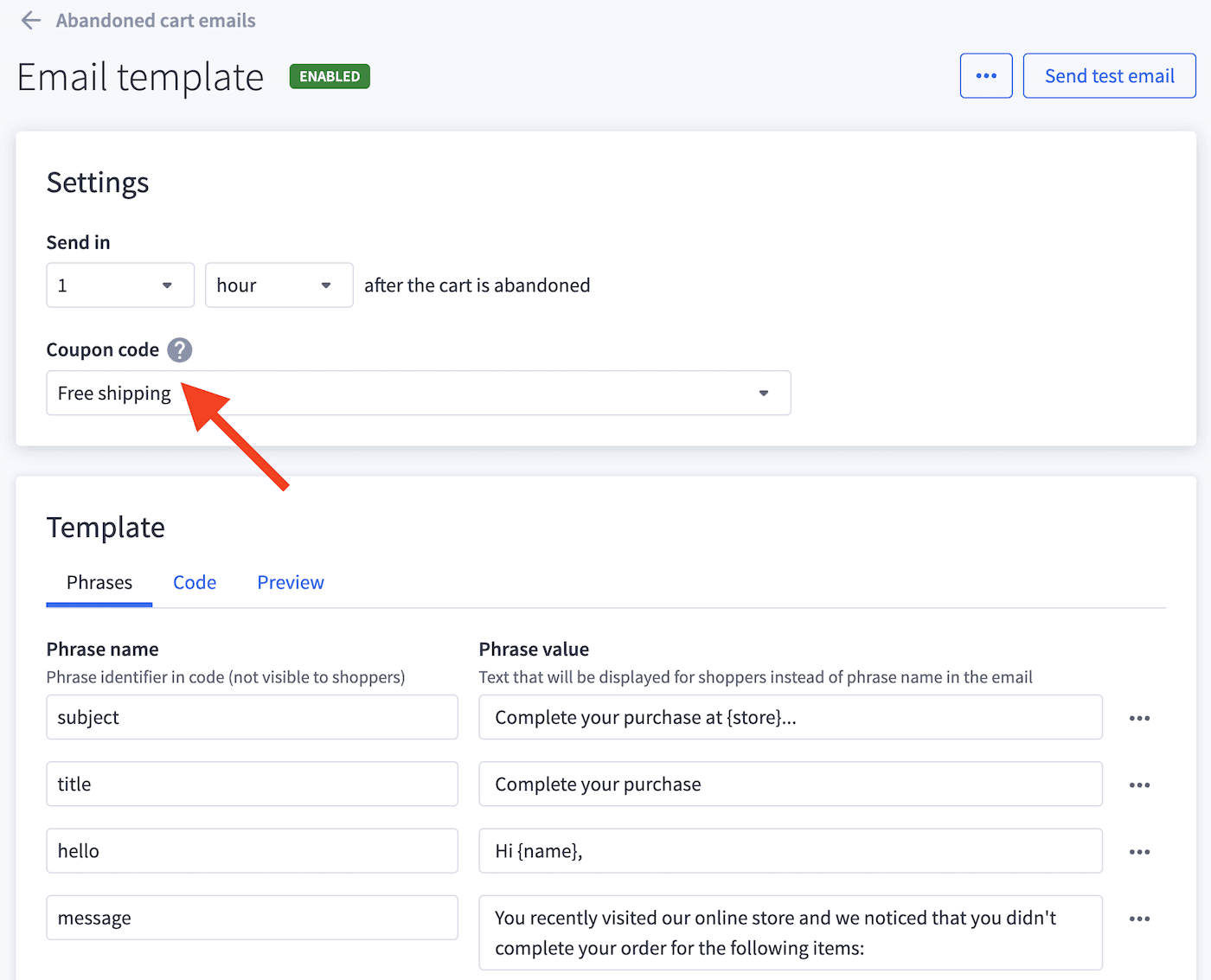 It's also possible to edit the HTML and CSS of your abandoned cart template, giving you control over the overall look and feel of your emails, although the lack of a visual editor can be a drawback if you're not comfortable with coding.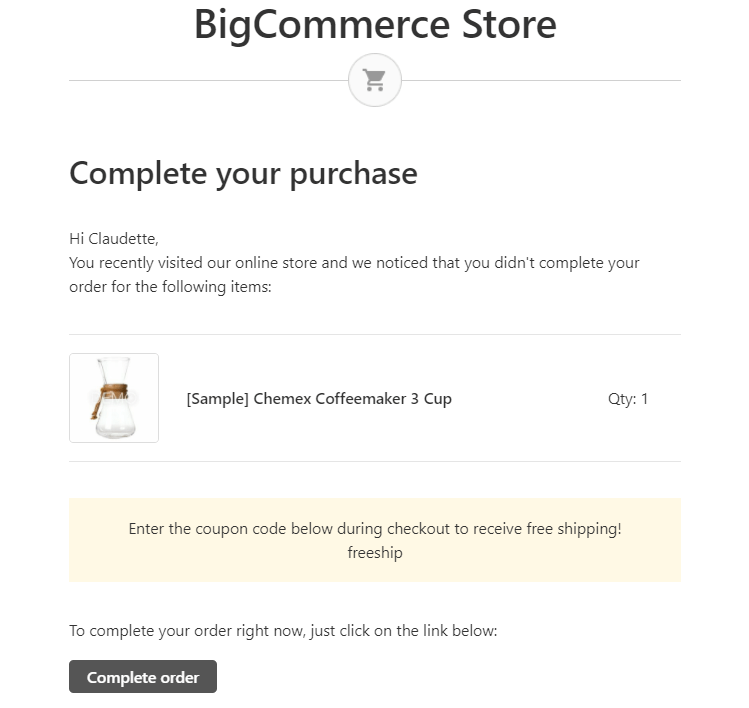 Ecommerce Platforms: Abandoned Cart Template Comparison
Overall, we found Wix, Shopify, Squarespace and BigCommerce to be very similar in terms of their abandoned cart email templates and customization features, but there are some important differences that are worth highlighting. Here's a quick comparison of the features you can find on each platform.
Wix
Shopify
Squarespace
BigCommerce
Templates can include video
Yes
No
No
No
(unless you edit code)
Branding automatically applied across templates
No
Yes
Yes
Yes
Dynamic / personalized content
Yes
Yes
Limited
Yes
Add or remove content sections without coding
Yes
Yes
No
No
Change the time abandoned cart email is sent
Yes
Limited
(1, 6, 10 or 24 hours)
No
Yes
Adding An App
If you find that your ecommerce platform's built-in email system doesn't offer the features necessary for your abandoned cart emails, you may want to consider searching for an app to add the required functionality. For example, if you want to add videos to your abandoned cart emails on Shopify, you could add an app like Privy or Seguno. However, if the app you choose requires a monthly subscription fee, it may be more cost-effective to use an email service provider instead.
Rather than adding multiple paid apps to achieve your goals, an external email service provider can offer all the features you need in one place. Additionally, although generally safe, adding an app to your ecommerce store does pose some level of risk. Improper integration can cause glitches and technical issues with your website. It's crucial to weigh the costs and benefits of adding an app versus using an external email service provider.
Abandoned Cart Templates Offered by Email Service Providers
While the default templates offered by your ecommerce platform may be customizable to some degree, they often lack the flexibility and personalization that many businesses require to stand out in their customers' inboxes. If you're looking to take your abandoned cart emails to the next level, it might be time to consider an external email service provider for your ecommerce store.
Opting for an external email service provider has several benefits. For starters, creating emails on your ecommerce platform means they are tied to that specific platform, while email service providers are more flexible and can integrate with multiple ecommerce platforms. This can make it easier to manage your marketing efforts across different platforms, or switch platforms in the future if needed.
Additionally, email service providers offer capabilities that might not be included by default on your ecommerce platform. This could include advanced automated email campaigns, SMS marketing, A/B testing, list segmentation, and advanced reporting and analytics. By using these features, you can tailor your abandoned cart emails to be even more effective and engaging.
Let's take a look at the abandoned cart email templates from several of our favorite email service providers.
Klaviyo
Klaviyo offers both themed templates and basic templates. Themed templates come with pre-designed color schemes and placeholder photos, making it easy for businesses to get inspired and create a visually appealing abandoned cart email.
On the other hand, basic templates have pre-placed content blocks, but do not include any additional images or text. This option is ideal for businesses that have a clear vision of how they want their email to look and need a quick starting point for their design.
Once you select a template, Klaviyo allows you to add images, tables, buttons and more. However, we were disappointed to find that you can't add product recommendations to your abandoned cart emails using Klaviyo. It's possible to add product listings, but not personalized suggestions based on the products in your customer's abandoned cart or browsing history.
Within Klaviyo's template editor, you also have the option to customize your template for desktop and mobile devices separately. This is helpful if you want your abandoned cart emails to look different depending on what device your customers are using.
Klaviyo also offers an email subject line generator, which uses AI to give suggestions based on your business activity and marketing goals. Overall, Klaviyo offers helpful features for both novice and experienced business owners to create effective abandoned cart emails.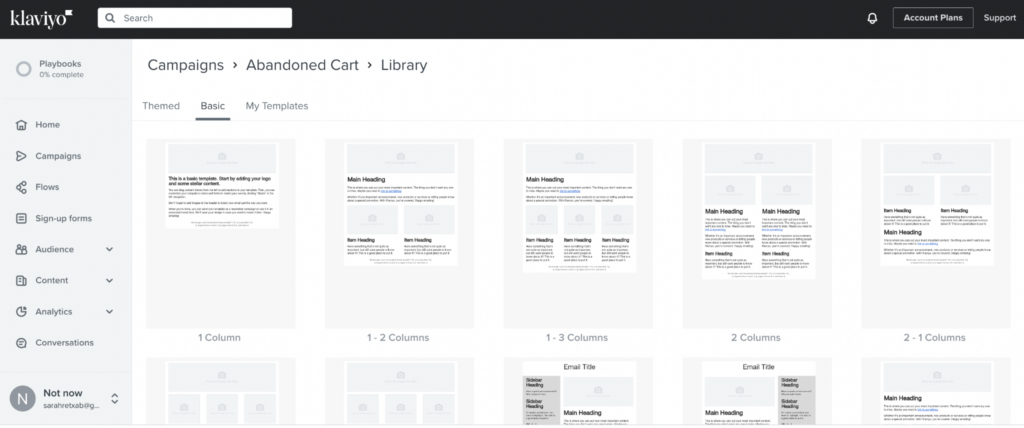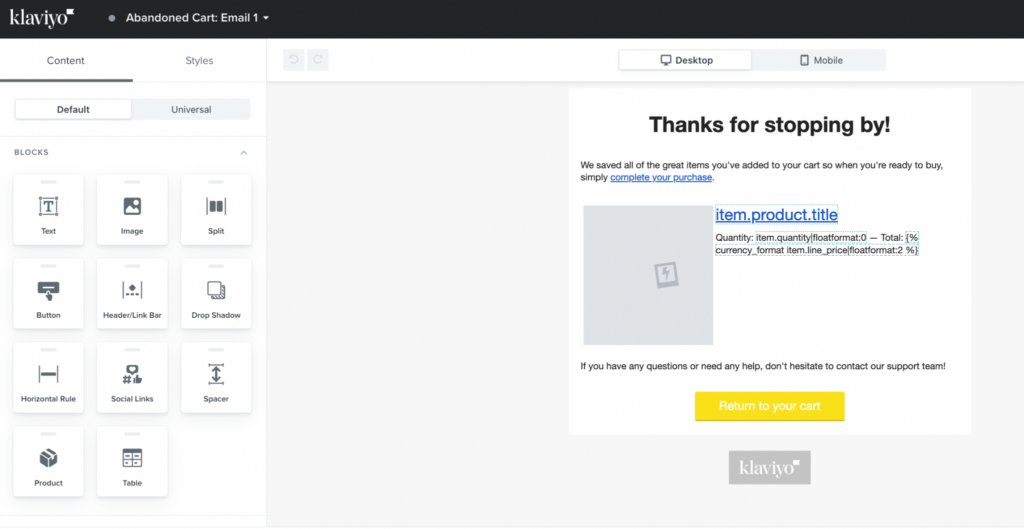 Mailchimp
Mailchimp also offers two types of email templates: layouts and themes. Layouts are blank, but include pre-designed content sections, while themes include color schemes and placeholder images. Themed templates are great for businesses that don't have design expertise or are looking to save time, and layouts are best for businesses with a specific email design in mind.
Unfortunately, Mailchimp only offers three basic layout templates specifically for abandoned cart emails. Despite this, we were impressed with Mailchimp's email editor and were able to modify and add to these templates easily.
Mailchimp allows you to add content by selecting pre-built blocks. These can include groups of images, video, social buttons, or even custom code. We were especially excited about the ability to add product recommendations, which can increase the average order value of an abandoned cart recovery.
Although they don't offer many templates tailored for abandoned cart recovery, Mailchimp does offer a good range of generic templates to suit different business needs and for all levels of design experience.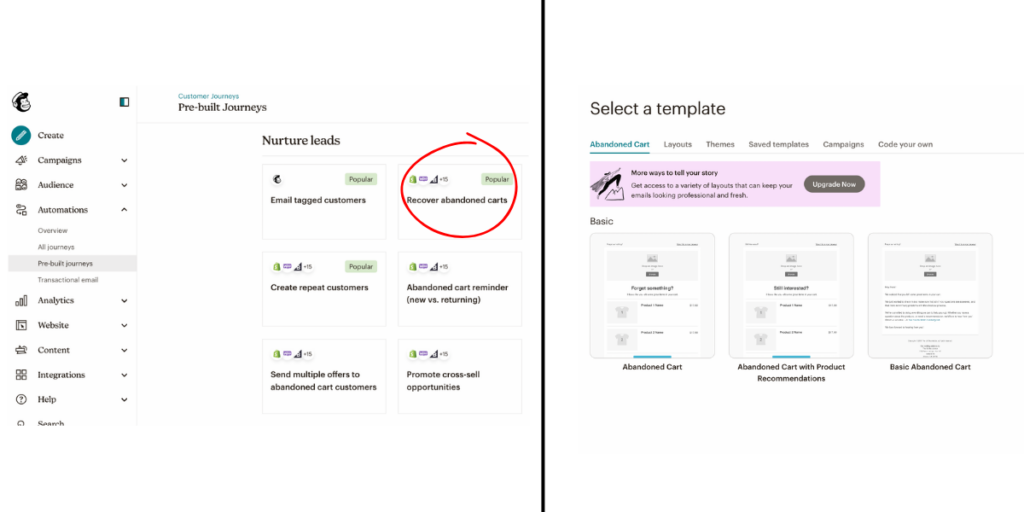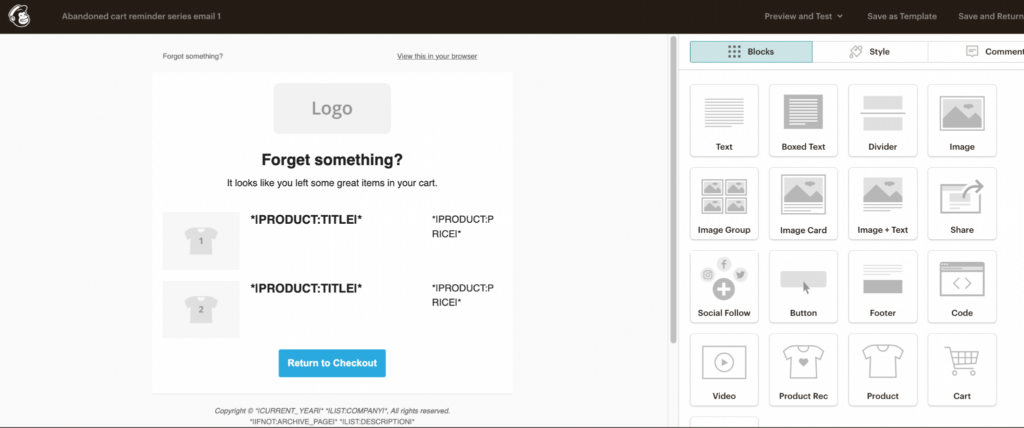 > Learn more in our Mailchimp review
> Try Mailchimp's abandoned cart templates for free
Omnisend
Omnisend offers a wide range of abandoned cart email templates that can be easily customized, however selecting a template when setting up a campaign was not as smooth as with Mailchimp or Klaviyo. Omnisend mixes blank and pre-designed templates, and they can be difficult to filter.
On the plus side, Omnisend's editing tool makes it easy to add elements like product listings, menus, videos, and social media links. Omnisend's image gallery feature makes organizing photos a breeze, as you can add multiple photos at a time.
Omnisend also allows you to save your work as a "saved template" for quick editing in the future. This feature also ensures that your branding and messaging remain consistent across all your different marketing emails.
Omnisend's free plan is a great way to experiment with different templates if you're just getting started.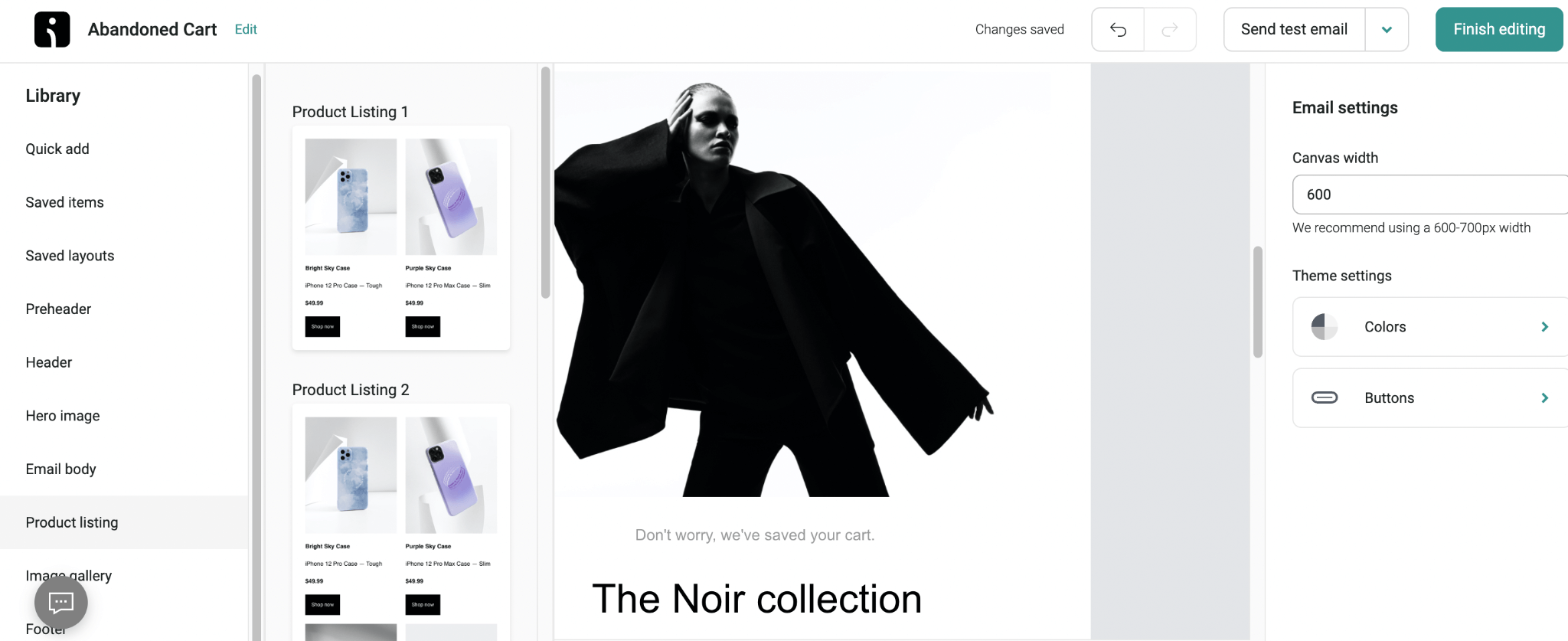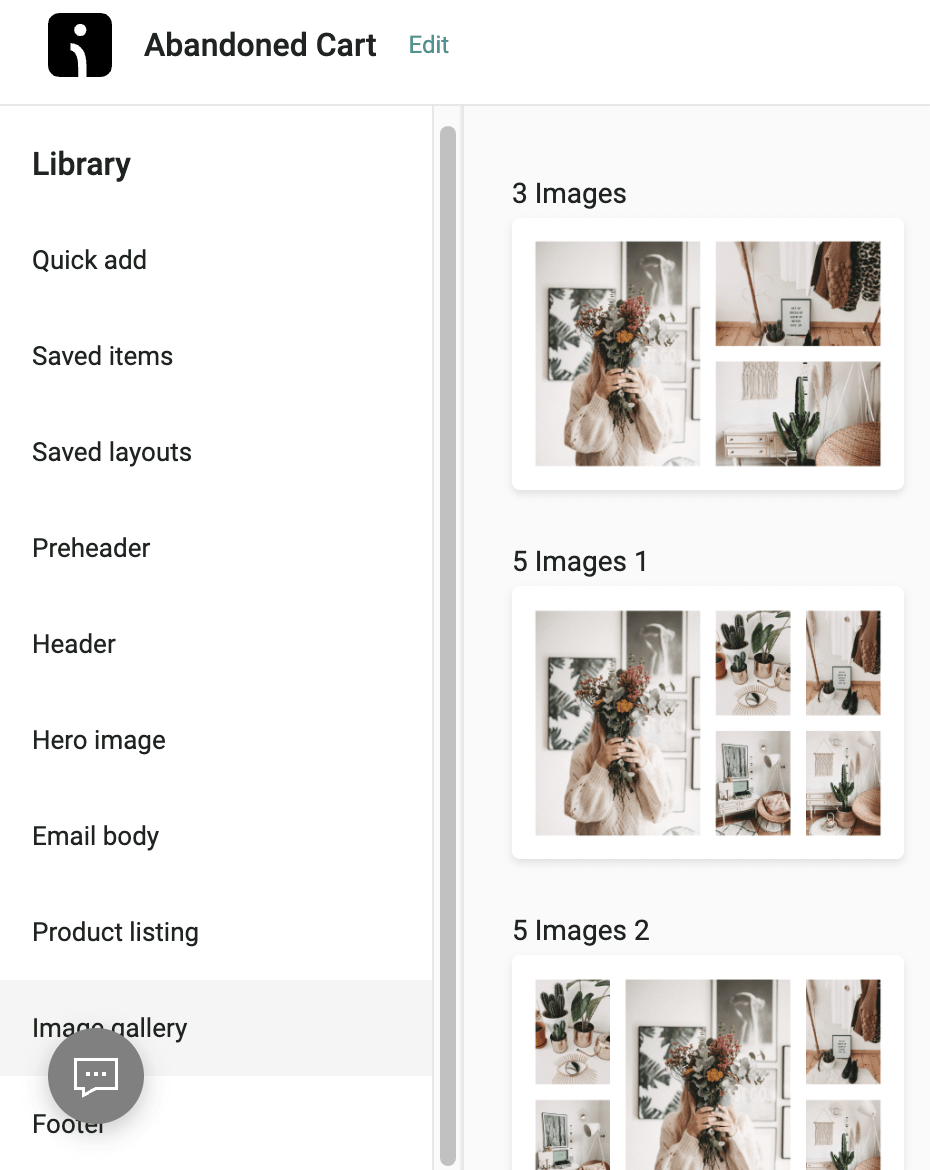 > Read more in our Omnisend review
> Try Omnisend's abandoned cart templates for free
Email Service Providers: Abandoned Cart Template Comparison
Most email service providers offer comparable abandoned cart email templates and editing capabilities, so deciding which to use may come down to slight differences in quality or ease of use. Here's how we rate some of the most important features of abandoned cart email templates available on each of these platforms.
Klaviyo
Mailchimp
Omnisend
Templates are mobile responsive
Template Selection
Ease of Use
Customization Options
Pricing

Free plan available for 500 emails / month
Paid plans start at $20 (5,000 emails / month)

Free plan available for 1,000 emails / month
Paid plans start at $13 (5,000 emails / month)

Free plan for 500 emails / month
Paid plans start at $16 (6,000 emails / month)

Try Klaviyo for free
Try Mailchimp for free
Try Omnisend for free
Bonus Option: HTML Templates
Using a custom-made HTML template is an option for those who are unable to find a pre-existing template that meets their needs. You could create the template yourself by writing the code from scratch, hire a freelancer to do it for you, or use a standalone HTML email template builder like Stripo or Unlayer. Once you have the HTML code for your abandoned cart email, you can import it into your email service provider.
Creating a custom HTML email is a great way to achieve full customization, but it's probably not necessary for the majority of businesses. The templates available through your ecommerce platform or email service provider are easily customizable without coding, and will likely be sufficient to meet your marketing goals.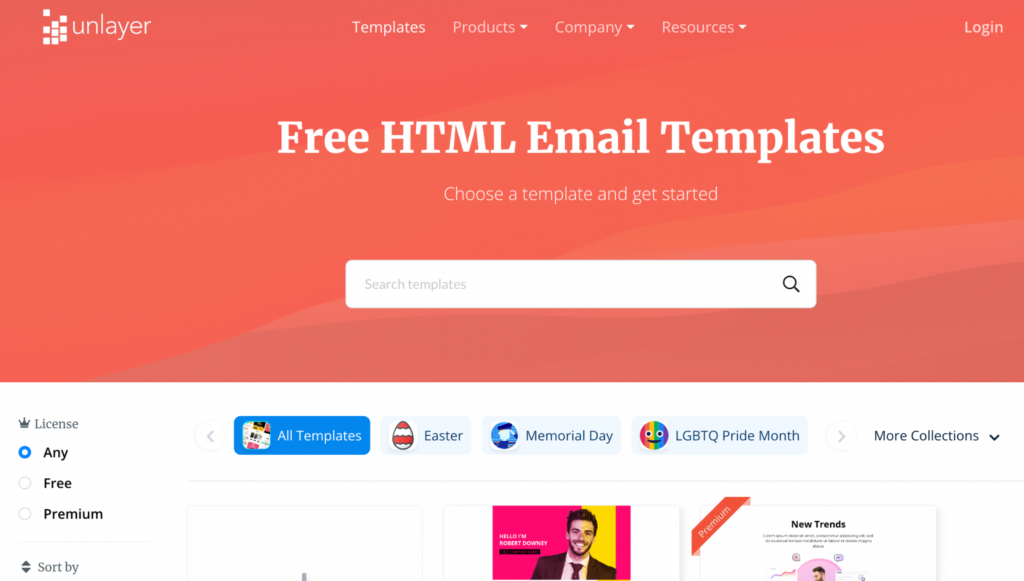 Pros & Cons: Abandoned Cart Email Template Options
Here's a recap of the pros and cons of each of the options we discussed for creating abandoned cart email campaigns.
Pros
Cons
Ecommerce Platform Default Templates

Good range of template editing options
Basic features included in the price of your ecommerce platform

Your emails may look similar to those sent by other businesses using the same platform.
Your emails are tied to the platform where you build them

Email Service Provider Templates

More pre-built templates available
Wider range of editing options
Platform agnostic, able to integrate with all major ecommerce platforms
More email-adjacent features, like advanced analytics and SMS marketing

Potentially expensive, especially if only used for abandoned cart emails
A more complicated option for beginners
Abandoned Cart Templates: Final Thoughts
It's clear that abandoned cart emails are an important part of any ecommerce email marketing strategy. So, which abandoned cart email template is right for your business?
Each of the options we reviewed has its benefits and drawbacks, and the right choice for your ecommerce store will depend on your specific needs and preferences. Our recommendations come down to this:
1. Stick with your ecommerce platform's email templates if you're just starting out and want to keep things simple, or if your platform's templates have all the features you need for your abandoned cart emails. If you have a limited budget, using your platform's templates may be a more affordable option.
2. Use an email service provider if your ecommerce platform's integrated email system doesn't provide the functionality or flexibility you need. An email service provider for ecommerce could be a cost-effective solution that simplifies your workflow without requiring multiple paid apps. You should also use an email service provider if you need advanced reporting and analytics for your abandoned cart emails, or if you need the flexibility to integrate with multiple ecommerce platforms.
Creating an abandoned cart email is an essential step for any ecommerce business looking to increase sales. Whether you choose to use the built-in templates included in your ecommerce platform, or opt for templates from an external email service provider, there are plenty of options available.
> Check out our list of the best cart abandonment solutions for ecommerce
Let us know in the comments below what abandoned cart email template works for you!
Our Methodology
This article has been written and researched following our EmailTooltester methodology.
Our Methodology