Have you ever subscribed to a newsletter or a blog and received an email newsletter after days or a few weeks, only to forget why you subscribed to them in the first place? Me too, and the immediate action I tend to take is to hit that "unsubscribe" button at the bottom of the email.
If you've recently started a small business or already have an established one, drip campaigns can solve this frustrating experience for your users.
When I worked with a marketplace that helps newsletter writers and sponsors connect for relevant sponsorships, we were catering to two types of users: writers and sponsors.
Sending the same welcome email (or other helpful resources) to two different types of users was out of the question. It just wouldn't work. So, we had to find a way to segment our users based on their actions, i.e., the type of account they created. And then afterward, we'd also have to think about the users who didn't finish creating an account.
This helped us to identify and welcome our users based on their needs, and more importantly, helped us to avoid overwhelming potential users with unnecessary emails before they even finished their account completion.
In this article, I'm going to help you understand the benefits of drip campaigns with a step-by-step tutorial using ConvertKit to create a successful drip campaign from scratch. I'll also give several examples of when you should be using drip campaigns based on users' actions and intents.
What is a drip campaign?
Email drip campaigns (aka autoresponders, drip marketing campaigns, automated email marketing campaigns) are a set of automated emails that are triggered and sent to a user based on the following criteria:
The user's actions (e.g. when they purchase a product from your website)
A specific time or schedule (e.g. 1 week after signing up for your newsletter)
When there is a change in a user's status (e.g. when they haven't logged into their account for more than 30 days)
A drip campaign or a drip marketing campaign gets its name from drip irrigation — a farming method where we save water, time, and labor by allowing water to drip slowly to the roots of plants.
In the same way, when you enable drip campaigns as part of your marketing automation strategy (for example, through your email automation software or sales funnel), it automates most of your efforts usually spent nurturing a user, thus, saving you time. It also doesn't overwhelm a new user with unnecessary info.
Drip campaigns can be highly personalized, so you can nurture your leads and cater to their immediate needs or wants.
Here's an email drip campaign example:
Let's use our Email Marketing Crash Course ebook as an example, someone subscribes to download the ebook with the intention of building an email marketing strategy for their business.
Our subscribers will immediately receive a "Welcome" email with the ebook with resources on how to get your first email marketing campaign started.
After 2 days, we send another email to the users to ask for their feedback on the ebook. Within this email, not only do we give the user the opportunity to leave feedback on the resource, but we also provide them with the ebook download link for the second time so that they can directly download if they haven't done so already. Therefore our second email acts as both a download reminder and an effective way to gather feedback from our users.
Why run a drip campaign?
In short, drip campaigns can be helpful for the following:
Nurturing your leads and converting them
Educating your users to use your product in the right way
Building a loyal customer base
Saving time by automating emails
The primary reason to run a drip campaign is to nurture your leads and send highly personalized emails to solve their immediate needs, which then leads to a conversion (i.e. they make a purchase).
Studies show that multiple touchpoints are needed before a sale, so a drip campaign can help deliver those touchpoints.
Drip campaigns are also useful ways to educate your users on how to use your product once they purchase it and develop a relationship with them, thus turning them into loyal customers. This is especially true in SaaS email marketing. But not only:
Imagine your birthday is coming up and you're planning to buy a new dress at the last minute. How cool would it be if your favorite brand sent you an email with a special discount code for your birthday? Efforts like this make you feel more connected to the brand, since they clearly value you as one of their long-time customers.
Drip campaigns are also helpful in saving you time. In most cases, you'll need to write a bunch of emails only once. Set them to get triggered for a specific action or send them based on a schedule.
According to
Mailchimp
, one of the email tools you can use to build a drip campaign, 90% of consumers are more likely to buy products from companies that recognize and remember them.
Email Drip Campaign Examples
Automated email drip campaigns are set up based on either a user action or a schedule so that you can target your users with relevant and personalized emails. Here are 5 different scenarios where a drip campaign would make perfect sense:
1. Welcoming & Onboarding Emails
2. Email Courses
3. Upgrading To Premium
4. Abandoned Cart
5. Unsubscribes
1. Welcoming & Onboarding Emails
Now that you've got your potential user's attention, how will you make sure they're engaged and up-to-date with your product?
You can make an excellent first impression with a welcome email. They can be as simple as "Thank you for subscribing!", or you can use them to address any burning questions your users might have. Better yet, get them to take an action and lead them on a journey.
How? Consider the below example from 100DaysOfNoCode.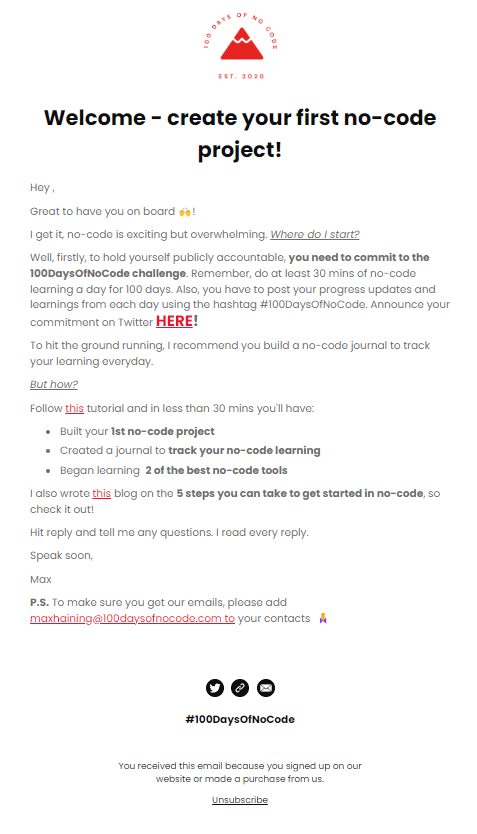 In the above email, you're immediately asked to take an action by simply clicking a link to be part of a larger community.
You're also given a resource to learn and create something in under 30 minutes!
At the end of the email, you're prompted to reply to the email if you've got any questions, which makes you feel like there is an actual human behind that email (and helps with email deliverability as well!).
This email is a perfect balance of automation and personalization, which creates a great first impression amongst subscribers.
Trigger: When a user signs up on your website or subscribes to your newsletter.
Tips to craft a better welcome & onboarding email series:
✅ Get them to take an action with a single click.
✅ Provide a clear outcome of what would be achieved if they take an action.
✅ Provide learning resources that make them feel like a part of a community.
✅ Prompt them to reply to your email so they understand that there are actual humans behind that email.
2. Email Courses
Setting up a drip campaign in the form of an email course is a great way to:
Generate new leads
Familiarize users with your brand or nurture your leads
Lower your risk and save you time
If you're looking to generate or nurture new leads, we recommend trying an email course approach.
By using this approach, you can also lower your risk by analyzing the type of content that your audience are reading before you go all-in on your big content project.
It also warms up your potential users so you can introduce your premium features without sounding too "sales-y".
Consider the below example from Landing Page Hot Tips by Rob Hope.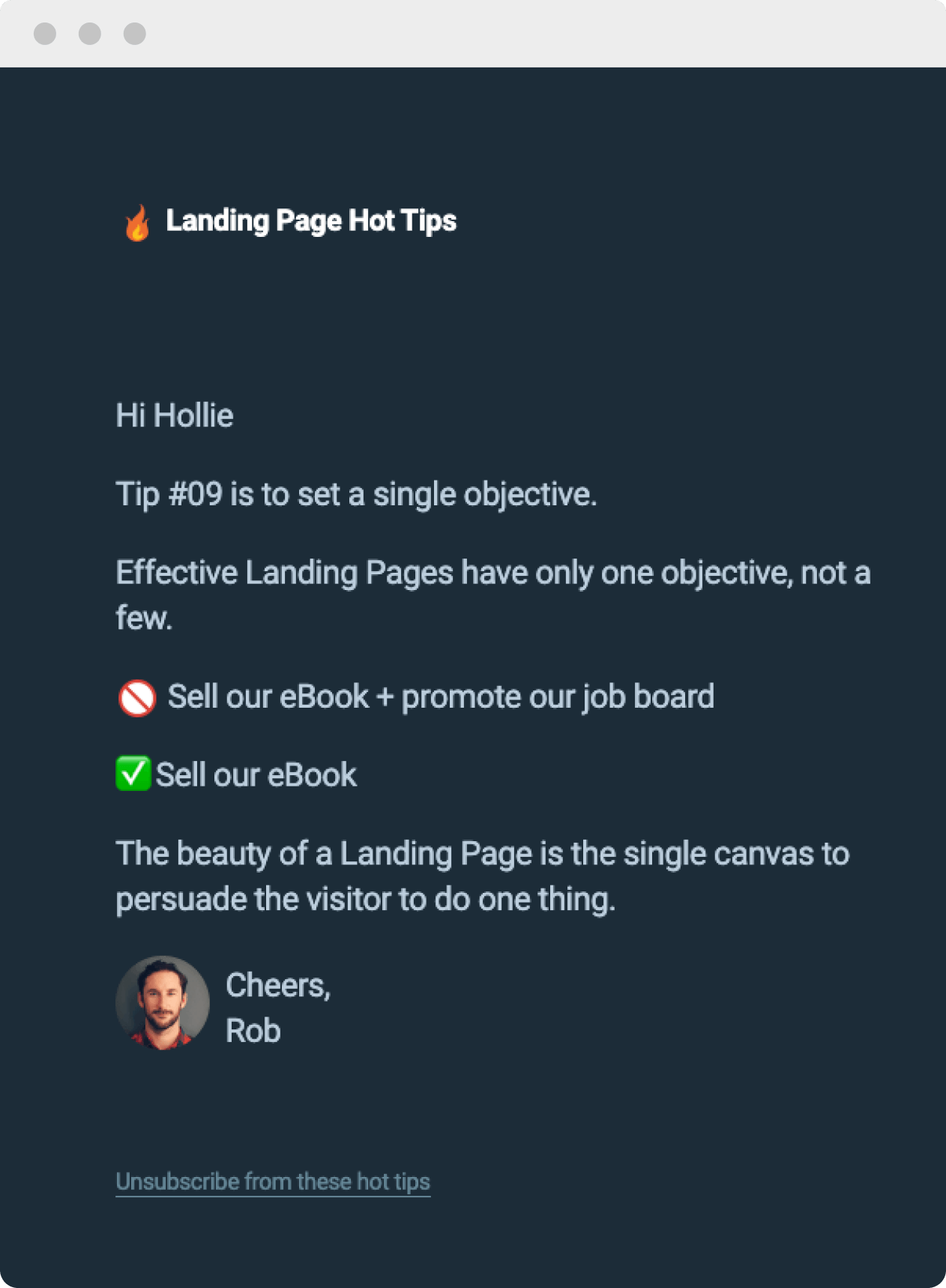 Email Course Drip Campaign
To be completely honest, I wasn't too sure I'd like to purchase his actual product: Landing Page Hot Tips "E-book" but, there was an option to subscribe to his free email course. I was thrilled that I could get a glimpse of how the e-book would be before I went ahead and made a commitment with my money.
Guess what? I ended up purchasing the e-book after a few emails, AND I recommended the course to all my friends! That's the power of a well-executed drip campaign.
Trigger: When a user signs up for your pre-written email course, to be sent over a certain number of days —say, a six-day course on how to build a website using no-code tools.
Tips to craft an automated email course:
✅ Use a consistent subject line throughout the course.
✅ Keep it as short as possible while educating your potential users.
✅ Include a teaser of what to expect in the next email you send them.
3. Upgrading To Premium
Whether you're prompting your users to upgrade to your premium product or sending notifications to alert them about auto-renewal, drip campaigns make the job easier.
In the below example, an autoresponder by YouTube was enabled to let me know that there was an issue during the auto-renewal of my premium account. There's also a clear Call-To-Action button so I can immediately look into the issue.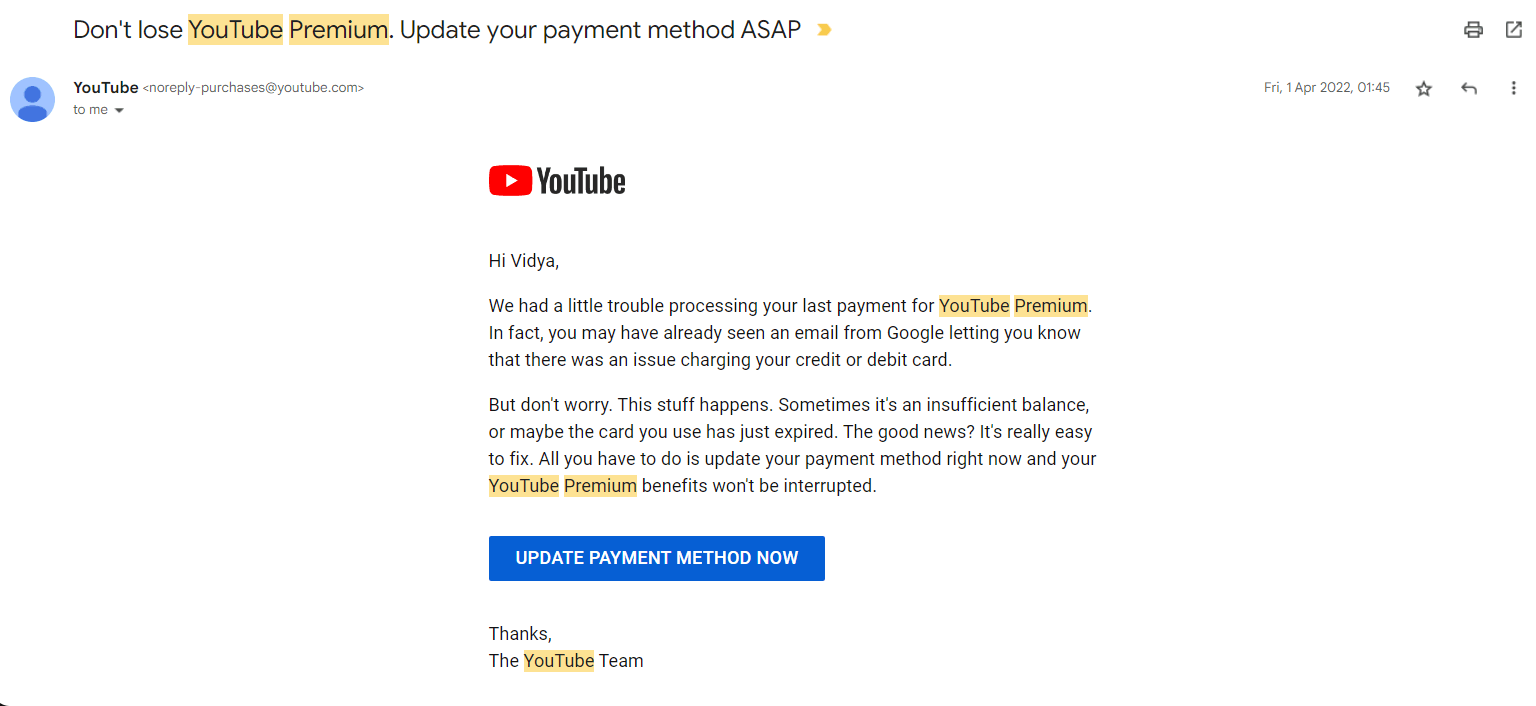 In this second example below, Rob Hope, creator of Landing Page Hot Tips rewarded me with a discount to buy his digital product since I was clearly engaged with all his free emails (and yes, that worked like a charm!).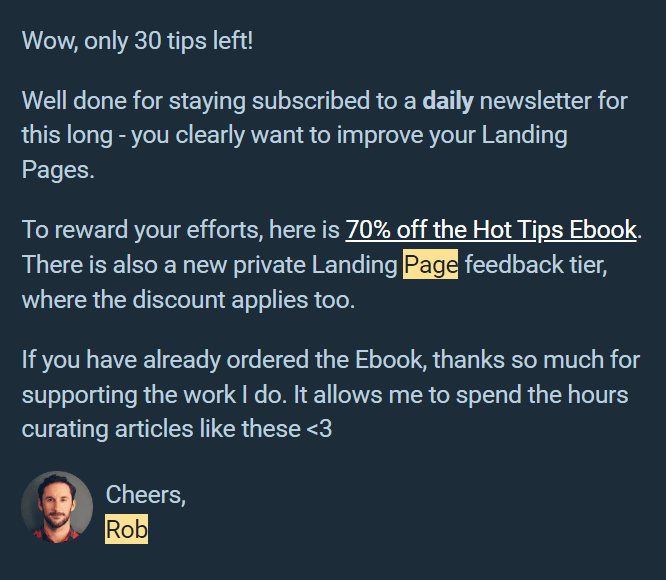 Trigger: When a user is clearly interested in using your free features, prompt them to upgrade to premium.
Tips to ask your users to upgrade to premium:
✅ Provide clear benefits of upgrading to a premium version of your product.
✅ Provide a discount code to gently nudge them.
✅ Provide ONE clear Call-To-Action button without cluttering the email.
4. Abandoned Cart
Yes, you successfully captured your user's email, offered them discount codes, and nudged them to add your product to their cart. But, for some reason, they still didn't purchase your product. Ufff! The items continue sitting in their abandoned shopping carts.
Unfortunately, this abandoned cart scenario is a very common one.
An automated drip campaign can help with a final gentle reminder to your potential customer.
Consider the below "Quick heads up" email by Headspace.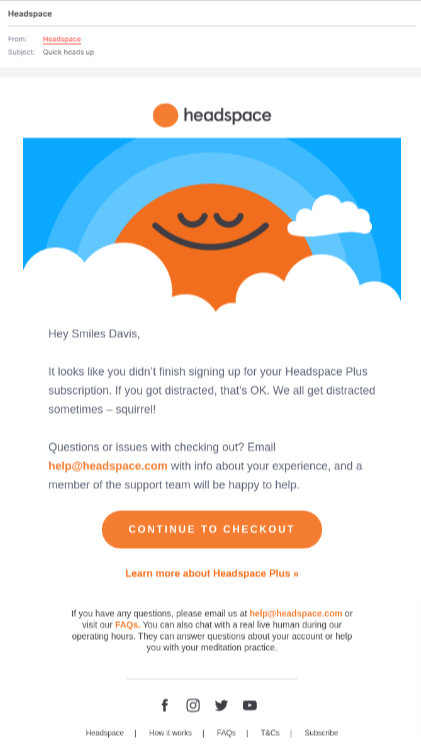 The abandoned cart email is personalized and has a clear CTA button along with a resource to understand more about their "Premium" features, which entices the user to find out more about the product.
Trigger: When a fully loaded cart is abandoned or no action is taken after landing on your "sales" page.
Tips to craft a better drip email campaign for abandoned cart:
✅ Trigger this drip email campaign within the first 24 hours after they added the item to their cart so that the item is still fresh in their mind.
✅ Provide them with a discount code or free shipping to entice them to go ahead and buy the product.
✅ Create an urgency of running out of stock if they don't take an action.
✅ Ask them if they have additional questions regarding the item in case there's something holding them back.
5. Unsubscribes
It's not easy to deal with email churn, but when you start to lose subscribers, it's a good idea to ask your existing subscribers for feedback and understand how you can better improve your product or service to meet a user's needs.
Instead of being bitter about it, send an automated drip email to let them know that you're sorry to see them go, as Hulu does in the below example. This also serves as a confirmation of their cancellation. Also, you can give them the option to re-activate their subscription in case it was done by mistake.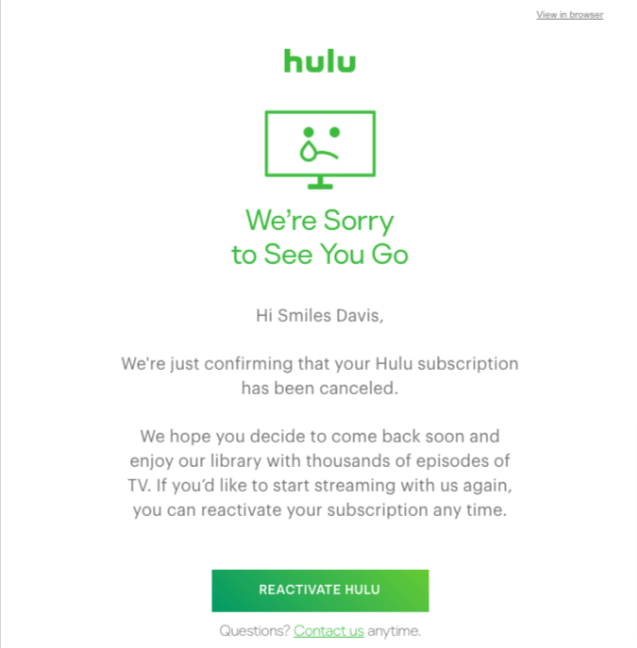 You can also enable strategic automation where you check if a user ever opened/clicked an email from you, and in the case that they haven't, unsubscribe them. This helps you to clean your email list, keep it up-to-date, and avoid spamming someone's inbox if they're not likely to read your newsletter. It will also help your deliverability rates.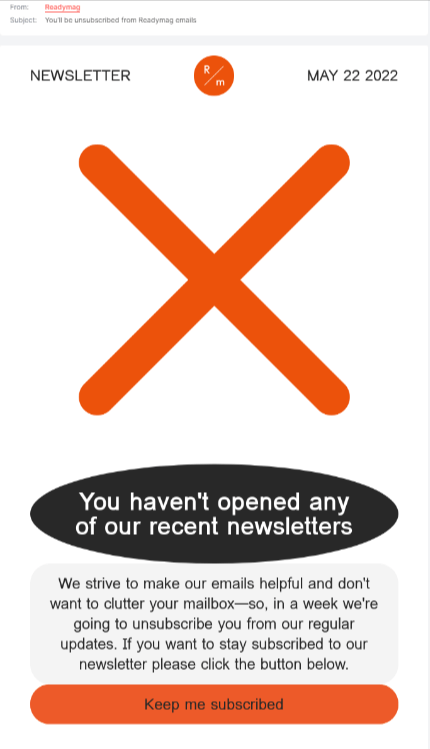 In the above example, ReadyMag auto-unsubscribes you if you do not open any of their "recent" newsletter issues.
Trigger: When a user cancels a subscription or unsubscribes from your newsletter. Or when a user has never engaged with your emails.
Tips to craft a better email drip campaign for unsubscribers:
✅ Sound empathetic towards your users and do not be harsh if they decide to cancel your subscription.
✅ Offer or incentivize them with a discount code or a bonus.
✅ Gently nudge them to provide you with feedback so you can improve your product or service.
Top 5 Apps To Send Email Drip Campaigns
To help you create and send email drip campaigns, we've reviewed several drip email apps and selected the top 5 to make your job easier:
1. Mailerlite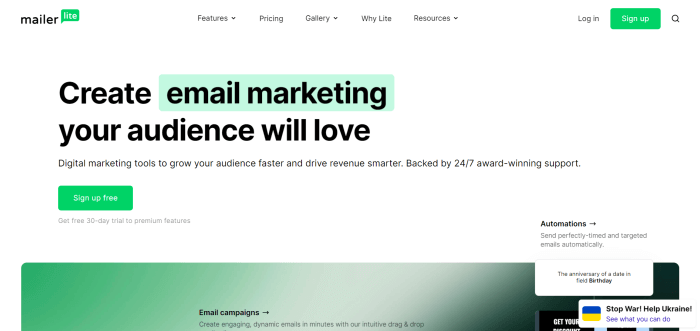 Pros:
User-friendly interface for creating drip campaigns
Flexible automation workflow builder for creating customized drip campaigns
A/B testing for optimizing campaign performance
Strong deliverability rate
Affordable pricing plans
Cons:
Limited integration options with third-party applications
Reporting and analytics features could be more advanced
Limited email templates compared to other email marketing platforms
Pricing:
Free plan with 1,000 subscribers limit.
Growing Business plan starts at $15(unlimited monthly sends, 1000 subscriber limit)
Advanced plan starts at $30(unlimited emails, unlimited users)
Read our MailerLite review
2. HubSpot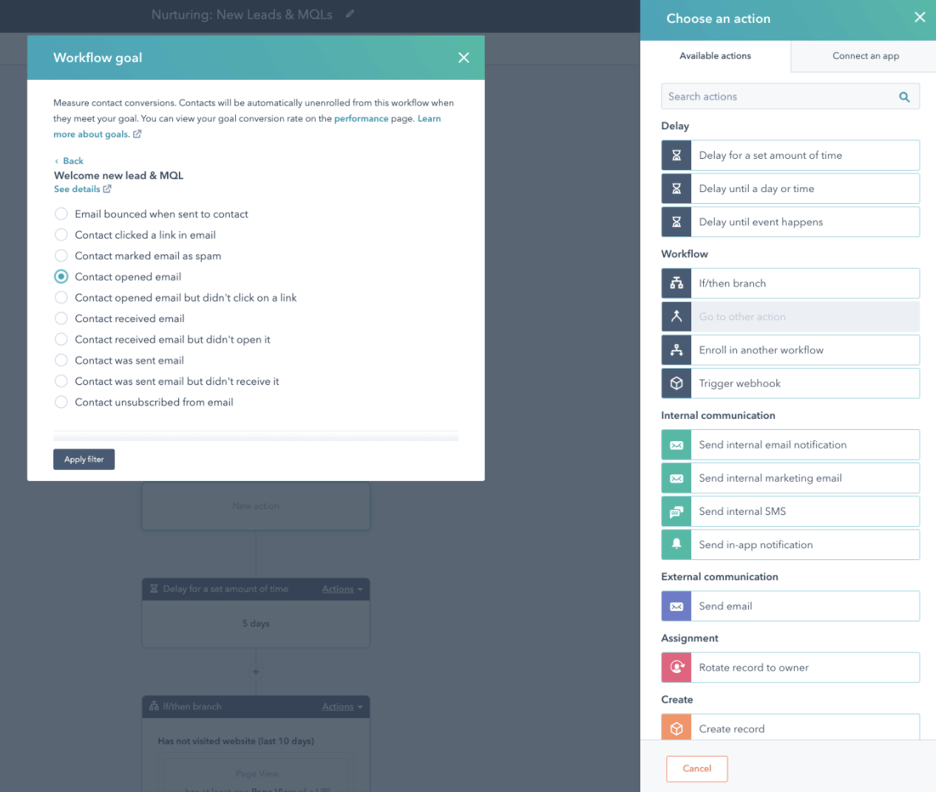 Pros:
Advanced email drip automations
Deep and valuable metrics on paid plans
Cons:
Expensive for small to mid-size companies looking for top-range features
Steeper learning curve
Pricing:
Free plan available (very limited automation capabilities)
Starter plan: $40 (to unlock drip automation features)
Professional plan: $800/mo
Enterprise plan: $3,600/mo
Read our HubSpot review
3. ActiveCampaign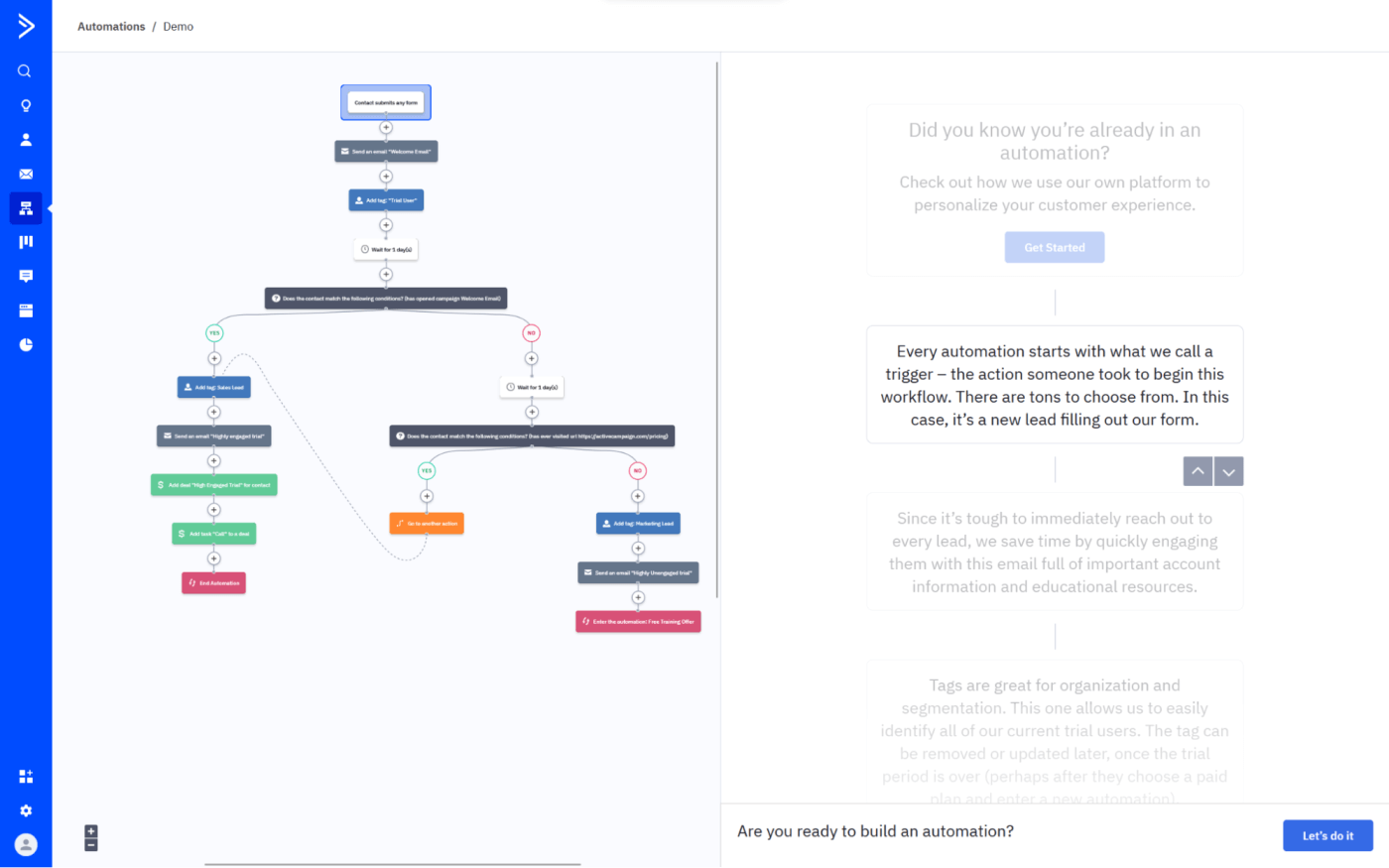 Pros:
Available on Web, iOS, Android
500+ automated drip email templates
Basic CRM integration for the sales team
Clearly track goals and objectives of the drip campaigns
Cons:
Steeper learning curve than less advanced email marketing services
No free plan
Pricing:
Lite Plan: $39/month
Plus Plan: $49/month
Professional Plan: $149/month
Read our ActiveCampaign review
4. ConvertKit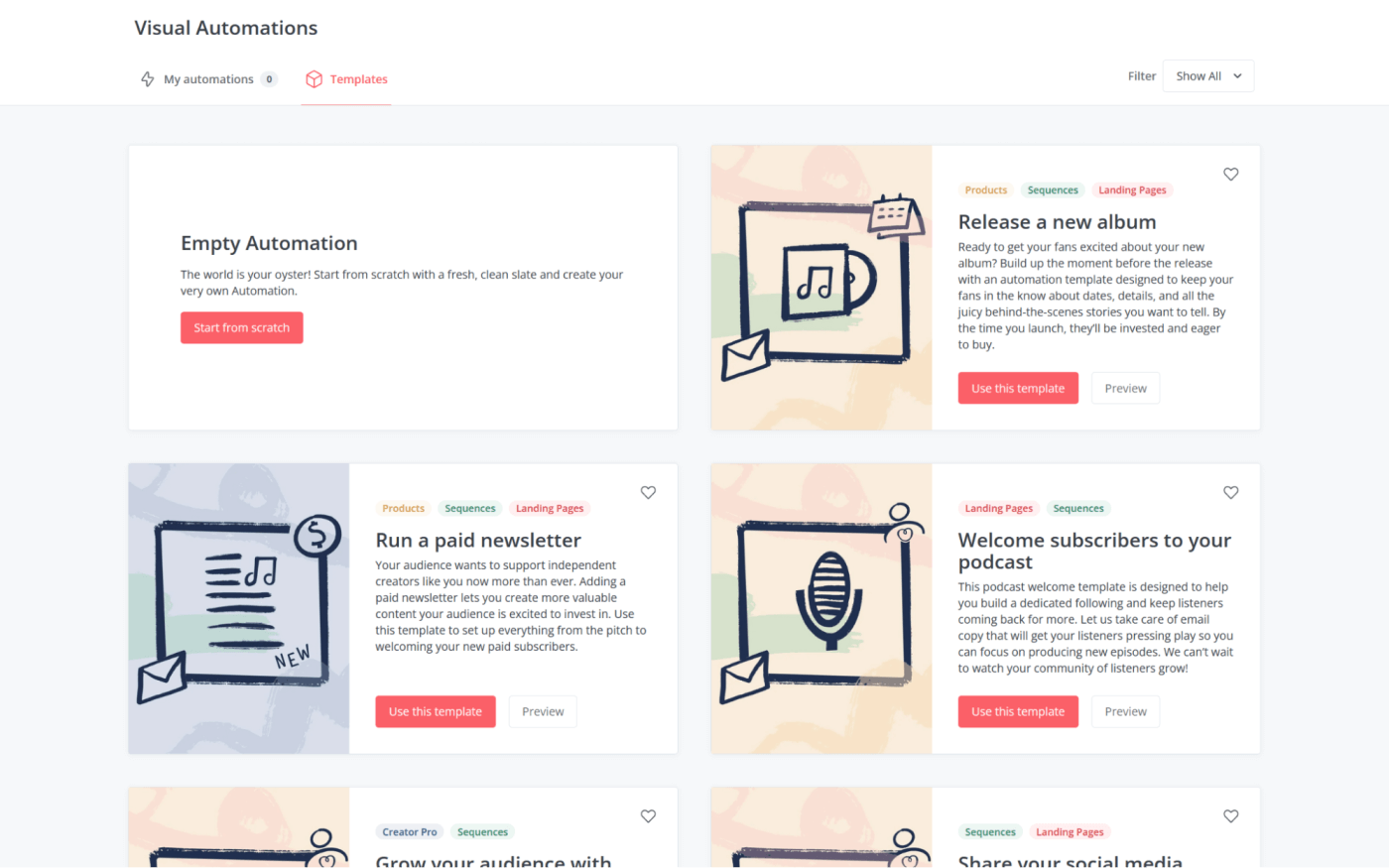 Pros:
Friendly email software for creators and influencers
Advanced email drip automations like tagging, upselling, and cross-selling your products
Unlimited landing pages for free
Create re-usable content snippets to save time
Cons:
Basic analytics
Available only on the web
Pricing:
Free plan available
Creator plan: starts at $15/month
Creator Pro plan: starts at $29/month
Prices increase based on the number of contacts.
Read our ConvertKit review
5. Brevo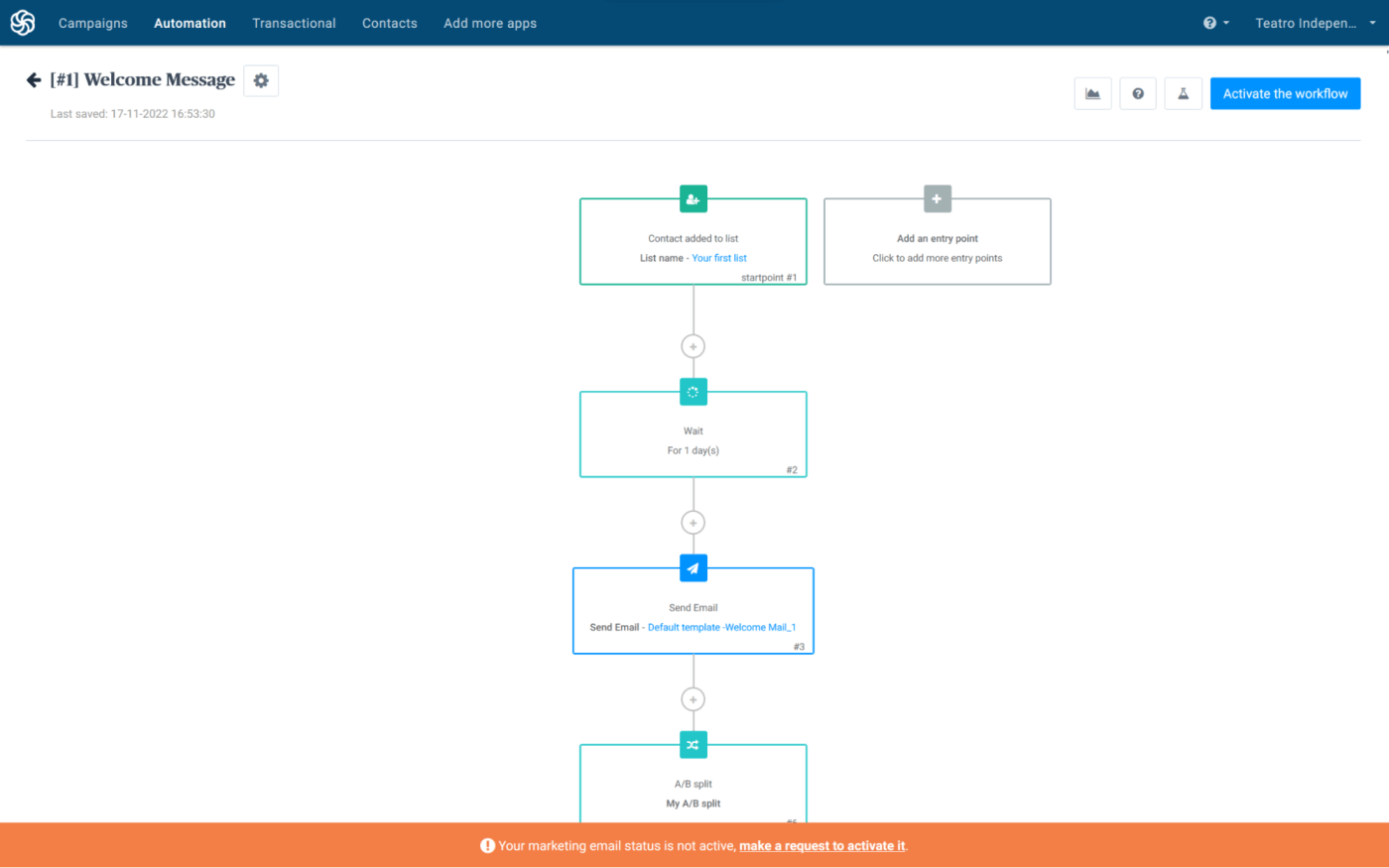 Pros:
Best email drip software for unlimited contacts
A/B testing is available in addition to drip campaigns
Leverage sales CRM to nurture your leads
Add a chat widget to your website
Cons:
Perhaps not as intuitive as other email marketing tools
Pricing:
Free plan available
Starter Plan: $25/month
Business Plan: $65/month
Enterprise Plan – For details contact support
Read our Brevo review
Tip: There are several other email drip campaign apps, but make sure you are in it for the long haul, since migrating and setting everything up again is a pretty big task. Most of these apps offer a free plan or a free trial, so we recommend testing them before you make your decision.
How To Set Up An Email Drip Campaign (step-by-step tutorial)
Now that we've learned what drip campaigns are and why they are an essential part of several user journey scenarios. Here's an easy 4-step tutorial using ConvertKit to set up a series of welcome emails to onboard a new subscriber:
The best thing about ConvertKit is that you can visualize your automated emails with their feature "Visual Automations". They also provide pre-built templates to welcome a new subscriber or upsell or cross-sell your products.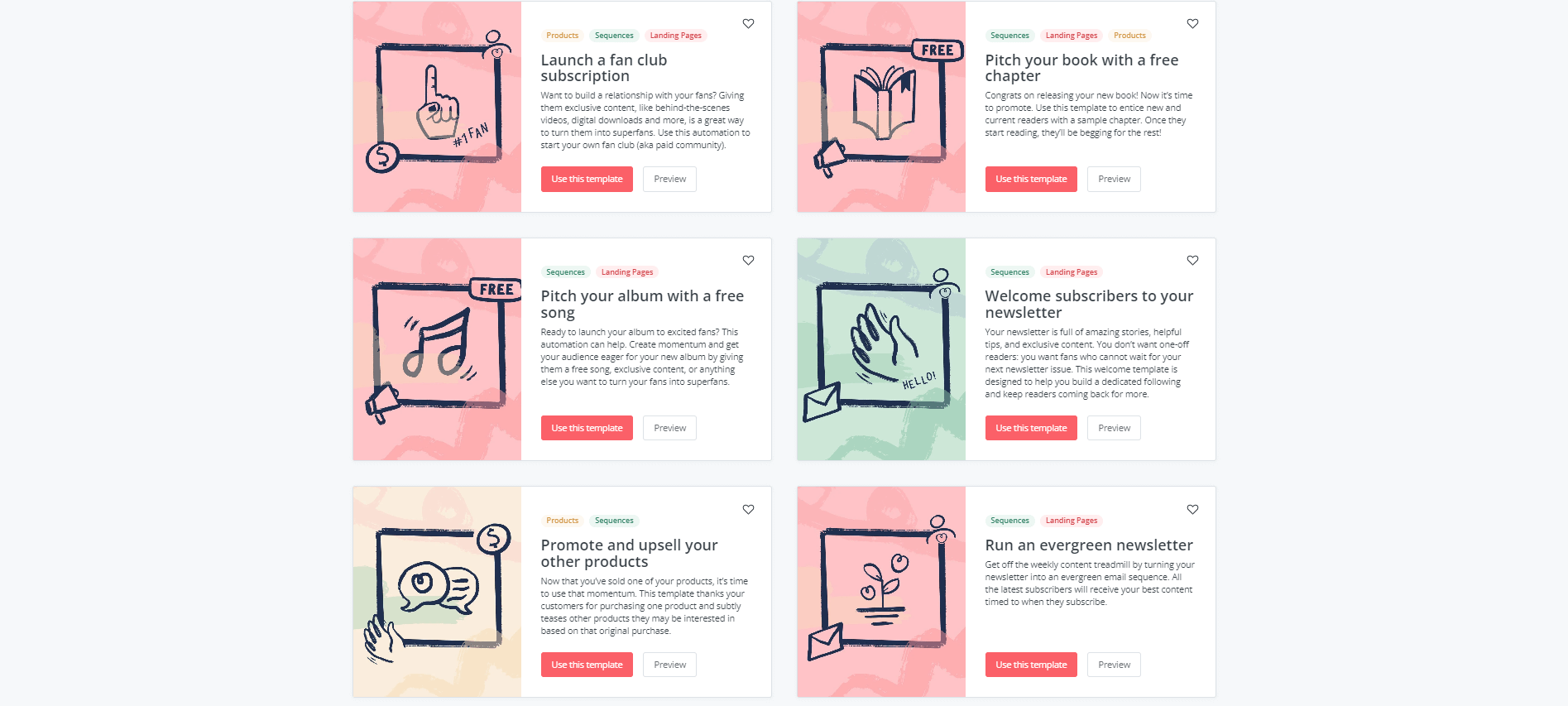 1. Build Or Select An Email Drip Campaign Template
Let's go ahead and select the "Welcome subscribers to your newsletter" pre-built email sequence template.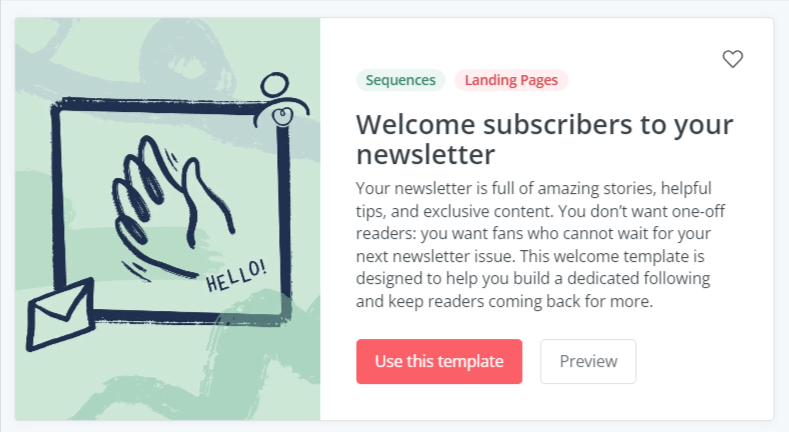 This is how the above template looks like with pre-defined events and actions: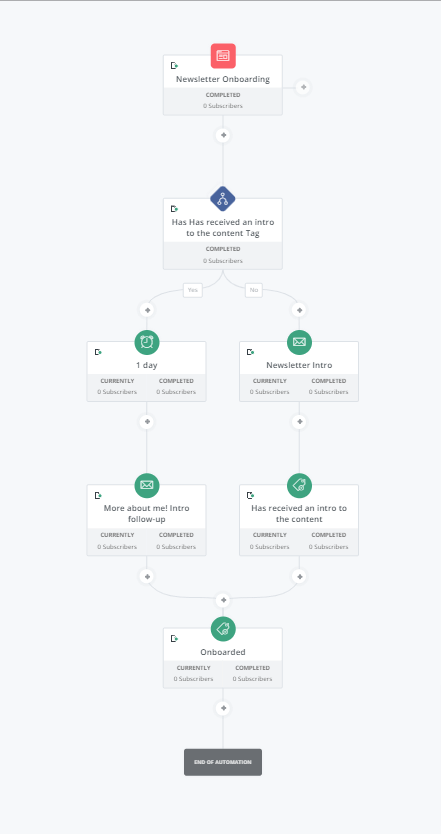 If you're unhappy with the triggers and want to add, edit, or remove them, you can simply click on the "+" sign or the edit button.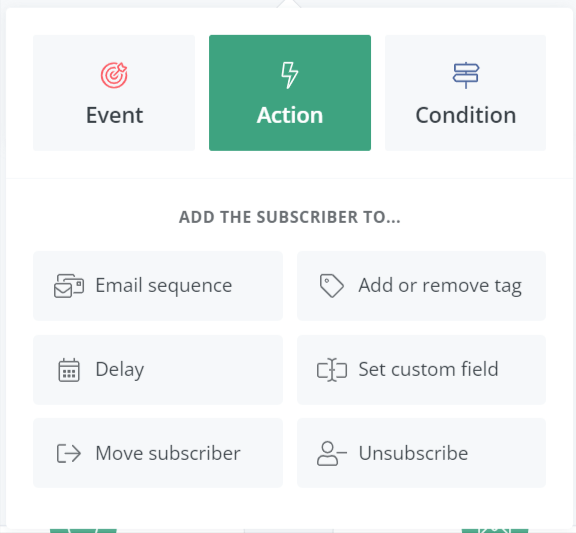 2. Create an action to happen next
Once someone subscribes to your newsletter and is added to your email list, you need to create an action to happen next. This is where you start building your email drip campaign.

In this scenario, we're welcoming new subscribers to our newsletter, so we trigger a "welcome email" to be sent immediately after they subscribe to the newsletter.

You can continue adding more emails like "welcome email 2", "welcome email 3" and so on until your email welcome drip campaign is complete.
3. Turn the drip campaign to "Live"
Once you finish creating the necessary triggers, tags, and emails, make sure you set your email drip campaign to live.

4. Segment users or decide what happens next
So, what happens after you send a series of welcome emails to your new subscriber?
You can:
Tag the users who received welcome emails as "onboarded"
Segment the users based on their actions like clicking a particular link
Enable another drip campaign for more resources or to re-engage them
Redirect them to auto-subscribe to your weekly newsletter or another list
To elaborate, one of the best practices in email marketing is to segment users based on their behavior in order to personalize their future emails and address their buyer needs.
Final Thoughts (Create Drip Campaign Emails That Convert)
Email drip campaigns are clearly one of the most powerful tools to be added to your email marketing strategy or sales pipeline. They don't just convert your potential leads into users but also turn them into loyal customers.
Once you have optimized your drip campaign with engaging and relevant emails, you can just set your campaigns and automations to autopilot and watch them do the hard work for you.
The automated drip campaigns become your full-time marketers that nurture your leads and work towards bringing you a conversion. This saves you a lot of time and enables you to focus more on the emails your customers actually want to receive from you.
Related Reading
We keep our content up to date
25 Apr 2023 - Added video review of email marketing services listed
Our Methodology
This article has been written and researched following our EmailTooltester methodology.
Our Methodology