You might be asking yourself "how to get email addresses for marketing?". In this article, we're going to provide you with 14 ways you can effectively build and acquire contacts for your email marketing list. You'll learn how to build an email list and organically grow your subscriber database, so if that all sounds interesting, stick around!
14 Ways You Can Acquire Subscribers For Your Email Marketing List Organically
Your email marketing campaign is only effective if you have the right list of people to send it to. You must find and reach out to people who are interested in you and your products or services. This is called targeting. Just like in any marketing channel, targeted people are the ones that will best convert into customers. Listed below are 14 expert tips for growing your email lists, and keeping subscribers from unsubscribing!
Remember that you want to build a high-quality email marketing list with the right people – it's about quality, not quantity. The list you end up with may be smaller than the one you currently use, but it will be a higher quality, more valuable one. And don't miss the bonus list of "don'ts" at the bottom.
Follow these tips on how to build an email list from scratch and start sending successful email marketing campaigns today!
1. Leverage Interactive Quizzes to Capture Email Addresses
Interactive quizzes are often overlooked, but they are extremely effective for capturing emails. As part of the quiz process, request participants' email addresses to share results, turning the quiz into a lead generation tool.
Quiz makers like Interact and Involve.me streamline the creation process with extensive customization options. They allow seamless integration with your favorite email marketing services for easy data management.
If you'd like to see an example of this, you can try one right here: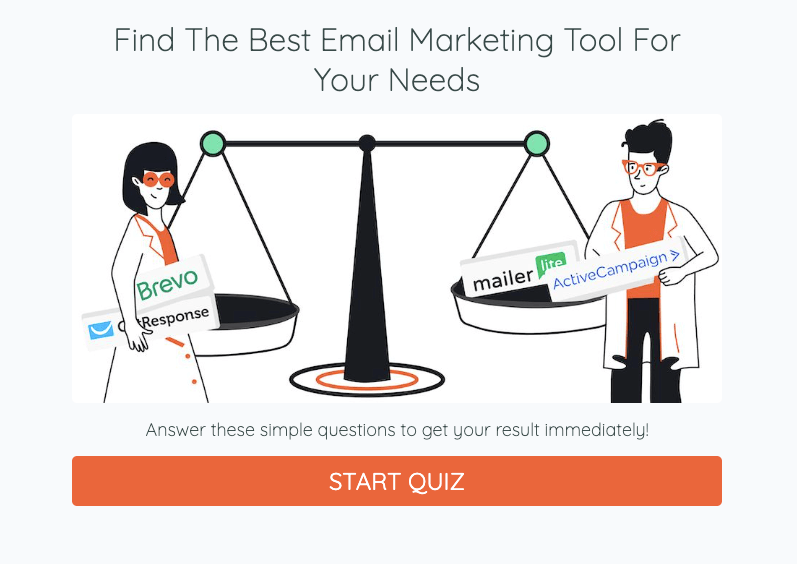 This quiz has already generated us close to 500 email addresses.
2. Use Different Sign-up Forms on Your Site
Site registration is the most common and effective means to collect email addresses. Any time a visitor needs to fill out a form on your site, offer them the opportunity to have the information automatically saved.
Best practice is to include an opt-in button, so you know they're game for getting your actual emails. It's up to you to make the opt-in form enticing!
>Your email marketing service will come with a form builder, or you can check out these online form builders.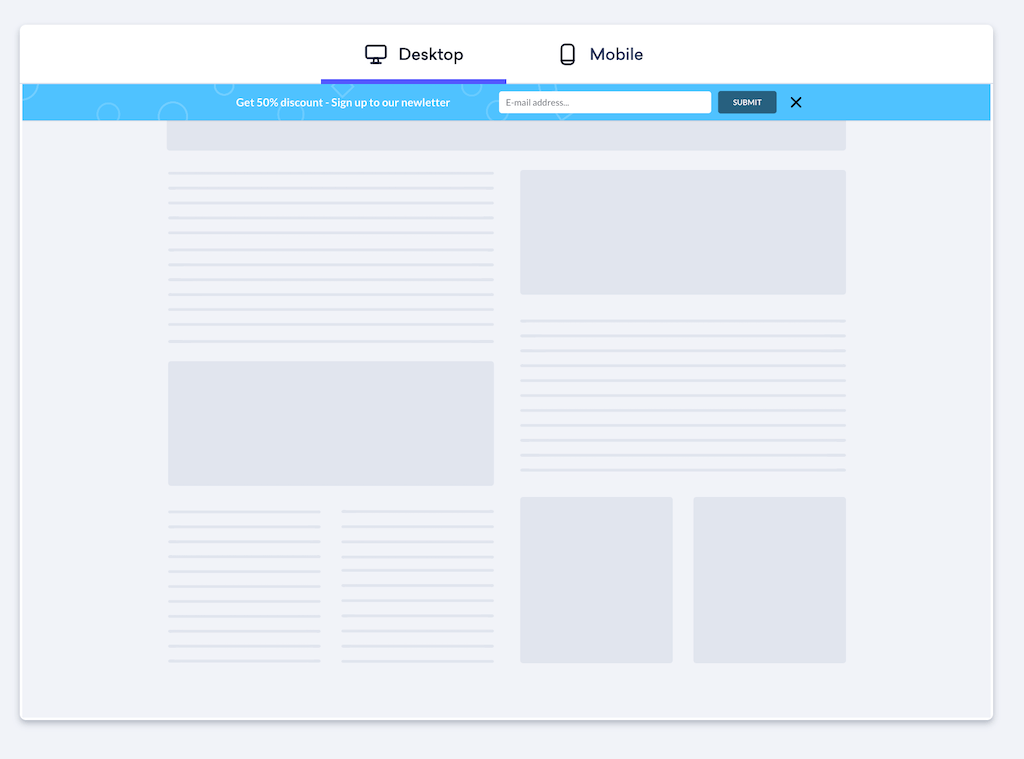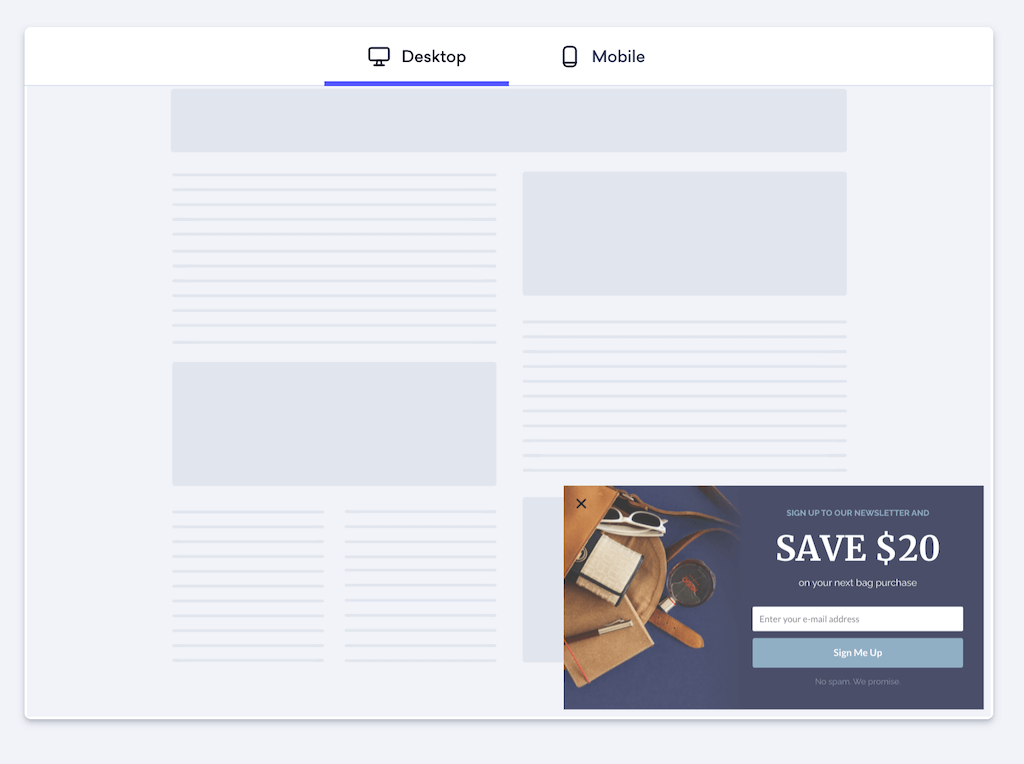 3. Install A Pop-Up
Popups, slide-ups, menus, exit intent popups and popovers have become ubiquitous, and there's a reason for it. Numbers. Pop up forms have doubled and quadrupled opt-ins in numerous trials. They work well with enticing content because you can enable a pop-up to be responsive to clicks on your site and landing pages. Say a visitor clicks "read more." Before they get to the rest of that article, a pop-up can offer them the chance to have it all delivered to their inbox. Just be sure not to force an opt-in. Include a tick box to close the window, but be sure to offer another opportunity to join your community at the end of the article.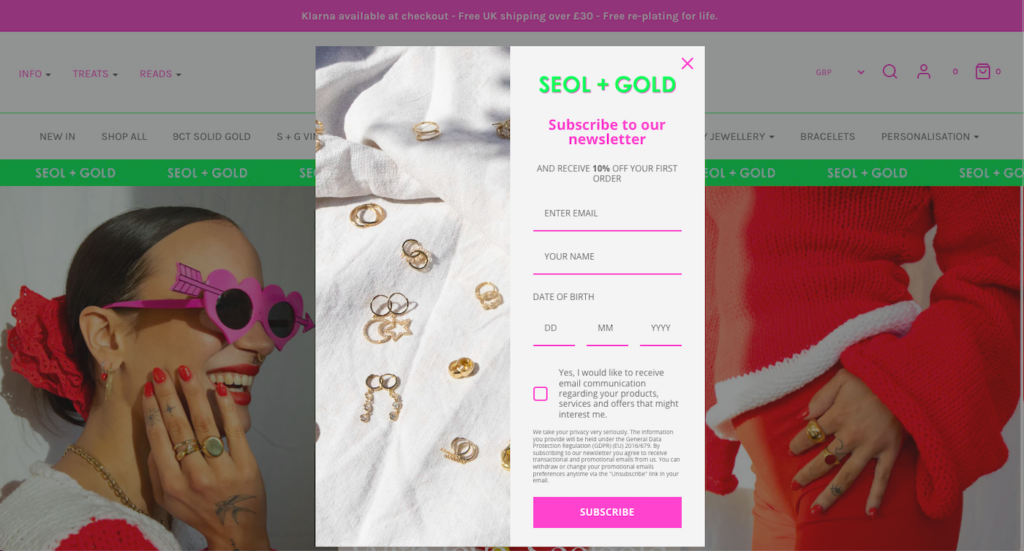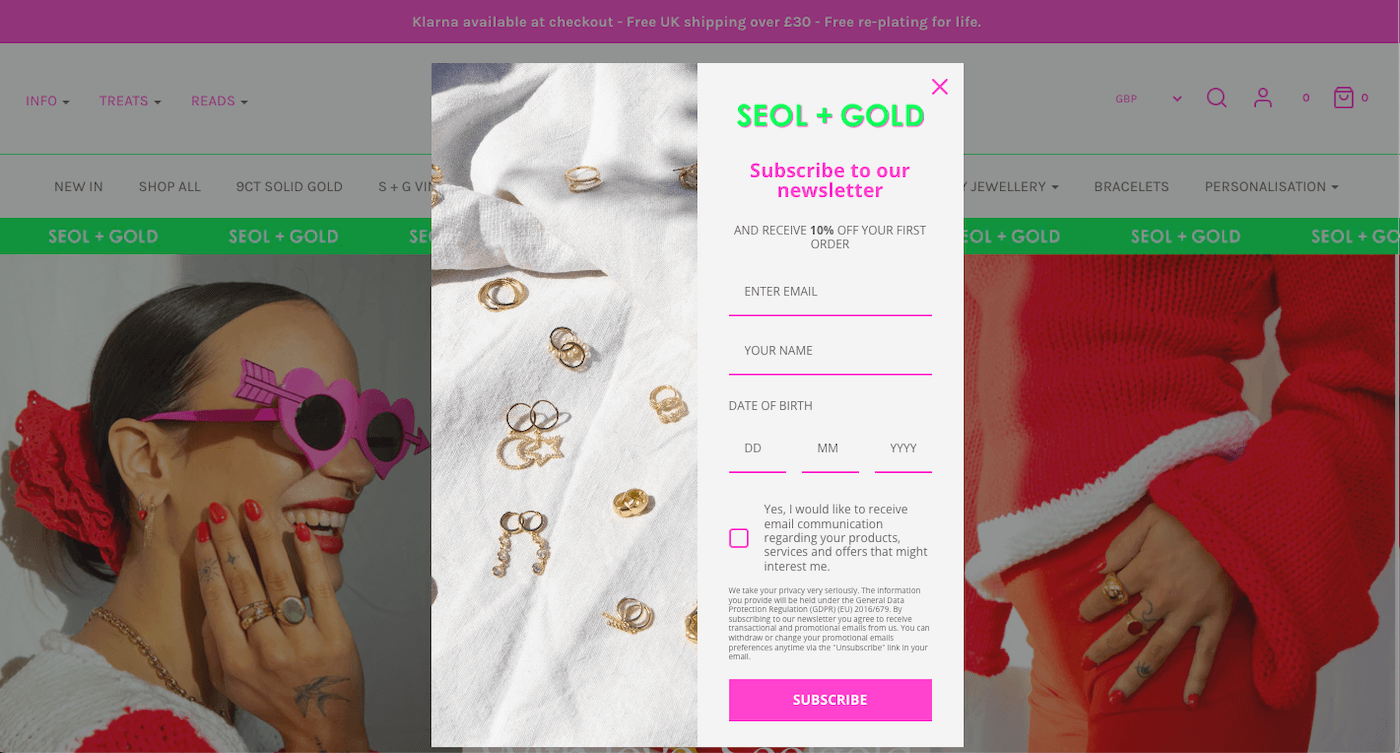 Seol+Gold offers 10% to users who subscribe to their mailing list. Their pop-up displays when a first-time user tries to exit the site.
4. Engage Users With Gamification
To make your pop-ups more engaging, you can offer a game to your users. Adding a raffle will help you get more sign-ups on your site.
>Omnisend offers cool gamification options. Check out this wheel of fortune game, where users spin the wheel to try and win a discount on their next purchase. This kind of offer can really help to boost your subscriber list, as you're not asking people for their email addresses outright: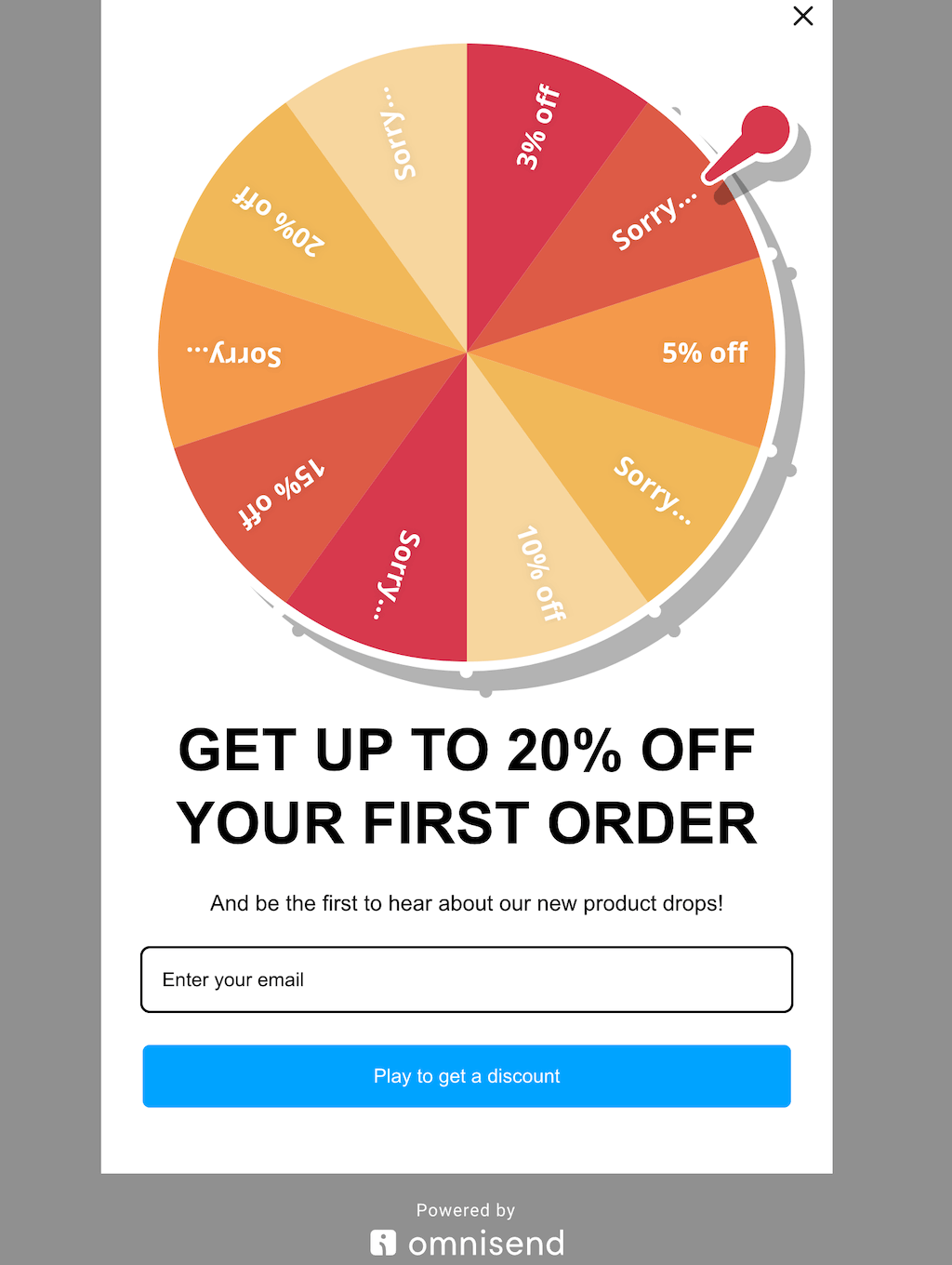 5. Leverage Your Blog to Get More Traffic (and More Subscribers!)
Your blog is an excellent place to direct website visitors to your signup forms using SEO tactics and collect subscribers for your email lists.
Target relevant, high-volume, easy to rank for search terms within your niche to direct a pool of potential customers to your site. For example, if you run a food blog, you might target something like "fastest meals to make" or "on the go dinner ideas". You can add "lead magnets" to your posts to encourage sign-ups.
Lead magnets can be trial subscriptions, white papers, e-books, and free consultations, and of course, they should be placed strategically within your content.
So, for the example of a food blogger, a lead magnet could be a selection of free 30-minute dinner recipes that people can download. Check out loads more lead magnet ideas!
>Check out this guide on how to build a successful blog
6. Display a Call-To-Action on Each Blog Article/Landing Page
You won't get what you don't ask for, and nowhere is this more true than on your website. This is so important, your landing page should be designed around the call-to-action (CTA). People want to be able to quickly evaluate what action they should take, so your CTA should be the first thing your visitor sees. Think of it as giving your visitors the opportunity to have access to your valuable content.
Your CTA should be as compelling as your offerings. Speak to your users about what they care about. Instead of "sign up to receive our newsletter," make it an irresistible offer. Tell them what to expect. For example, this food blog clearly states what they'll be sending you in exchange for your email address: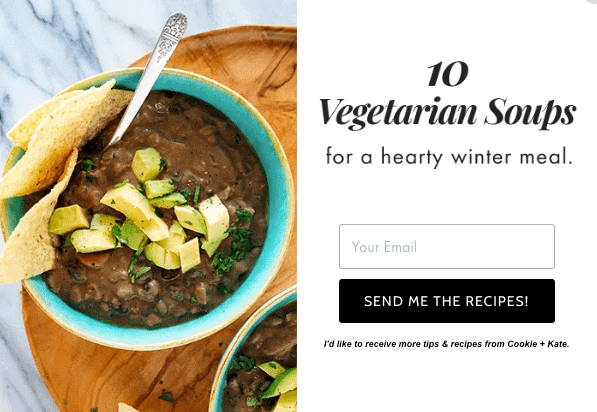 7. Offer Freebies like eBooks, Checklists or Cheatsheets
People have become accustomed to free content online, so the best way to take advantage of the opportunity to share free content is to make it valuable. In other words, give away the good stuff. If a subscriber gives up their email in exchange for subpar content, worse than simply unsubscribing, that's the view they'll have of your brand. So be sure your freebies are worth the price.
Here's an example of a lead magnet on our website, which offers readers a free ebook. We add this at the bottom of certain blog articles (like this one!). You can download it here.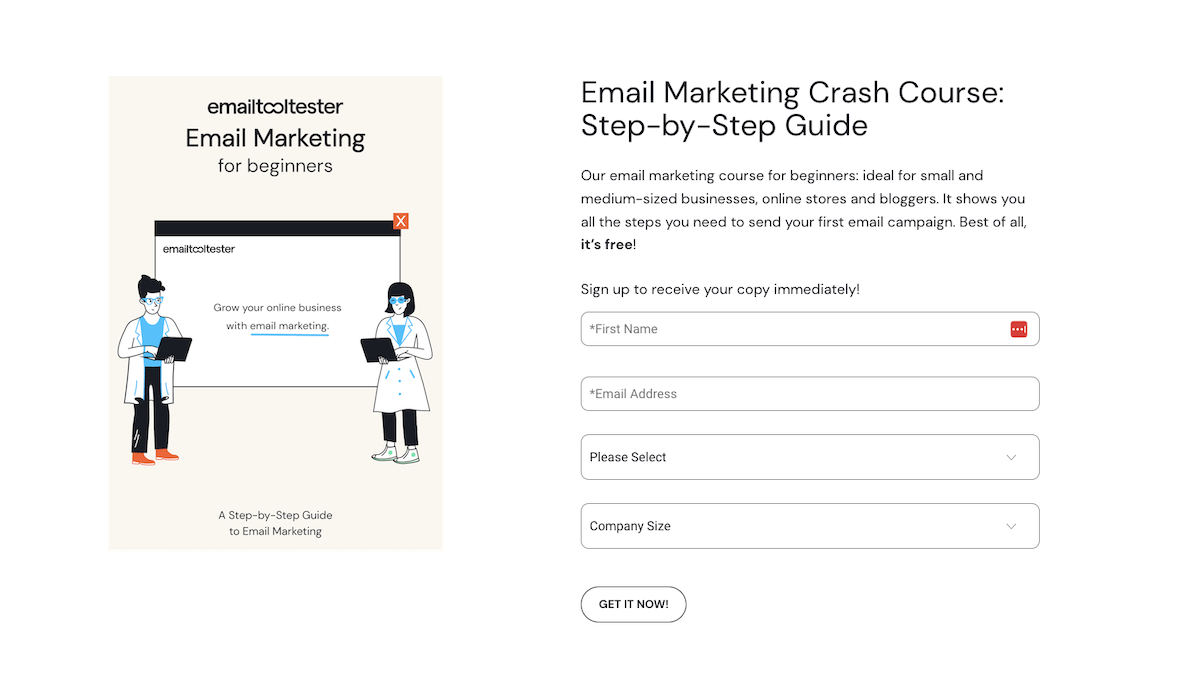 8. Leverage Social Media
Your Facebook page, Twitter feed, YouTube Channel and LinkedIn posts offer valuable feedback about your audience. So, for instance, determine which posts are most popular. Do your fans respond better to jokes or DIY videos? If you're selling design services but find your jokes are getting a better response, you'd do well to look for ways to incorporate humor into content. Likewise, you might get different responses on different platforms. Keep track of your popular content, and repurpose that for your newsletters, CTAs and other offerings.
Of course, you should promote your giveaways, contests and free offerings (like courses and ebooks) on your social media channels.
Here are some creative ways to grow your email subscriber list with social media:
Host a social media contest: You can ask people to follow your social media accounts and sign up for your email list in order to enter a contest. For example, you could ask people to share a post on Instagram or Twitter and tag your business, and then provide a link to your email signup form in the contest rules.
Use social media ads: Social media ads can be a highly targeted way to reach new audiences and grow your email list. You can create ads that offer a lead magnet, such as a free ebook or checklist, in exchange for an email address.
Collaborate with other businesses or influencers: Collaborating with other businesses or influencers in your industry can be a great way to reach new audiences and grow your email list. You can ask the other business or influencer to promote your email signup form to their followers, and offer to do the same for them.
Use Instagram Stories: Instagram Stories are a great way to showcase your business and provide value to your audience. You can use the "swipe up" feature to link to your email signup form, and offer a lead magnet or other incentive to encourage people to sign up.
Create Facebook Groups: Creating a Facebook Group around a specific topic related to your business can be a great way to build a community and grow your email list. You can require people to sign up for your email list in order to join the group, and then provide value to the group members through exclusive content or promotions.
Use LinkedIn: LinkedIn can be a great platform for B2B businesses to grow their email list. You can use LinkedIn Ads to target specific industries or job titles, and offer a lead magnet or other incentives to encourage people to sign up.
9. Webinars
Yes, a webinar is a lot of work. But the value exceeds the work if you want to grow your list. Webinars have a built-in time limit that makes people respond. You get to engage with your audience and build credibility with your new subscribers right away. You also get the chance to capture real-time feedback from fans. You can create hashtags to stir up interest, then offer post-game access to people who request it. Webinars have consistently been shown to boost lists with highly responsive members.
> GetResponse offers built-in webinar software as part of their conversion funnel feature set.
10. Keep Your Subscription Link Handy
Your fans can and will sign up for your list from places other than the capture forms on your site. Include links in your and your employees' email signatures, on social media profiles, and blog bios.
11. Landing Pages
Landing pages for events, competitions, social media accounts, etc. can be great places to capture email addresses. If they're already landed on your page, then you know they're interested in what you have to offer, it's up to you to ensure the visitor's email address is added to your contact list.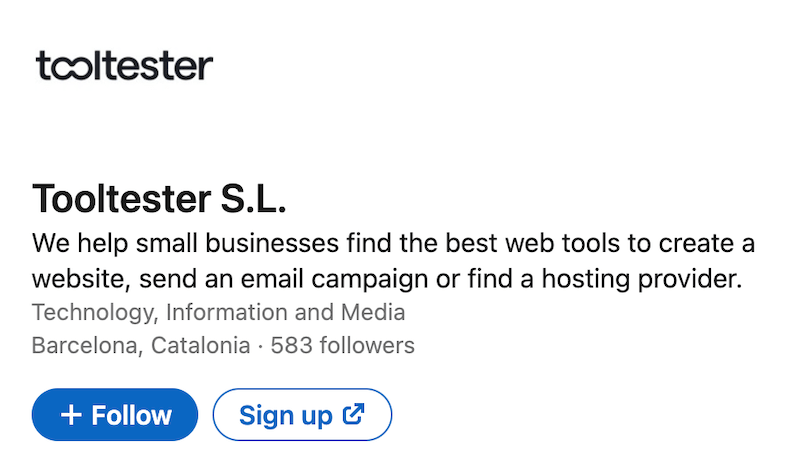 >Check out our top free landing page builders
12. Pair Up With Others in Your Field
This is very similar to running a contest, and in fact, can be a contest. But in this case, you'll join forces with a partner in your industry to run the promotion or contest. Again, you gain access to new audiences through your partner, and you might even discover new ways to promote your offerings. Just be sure to work with a partner that makes sense. If your audience is children, it might not make sense to partner with a wine company. Then again, a clever promotion aimed at the parents of your audience could work. Each case will be unique.
13. Experiment With Content Types
You can generate new leads by offering something different or new on your site. So for instance, if you run a food blog, you might want to offer a short video course on professional cake decoration. That's a different type of content than what you usually offer, and it just might be what you need to entice new visitors to sign up. Again, you're offering up valuable information. If you're not generating many website visitors via your blog posts but your YouTube videos are seeing a sharp rise, you might consider shifting your focus.
In fact, YouTube can be a great place to find new subscribers. You can add a link to your signup form in the description and tell viewers to sign up for your mailing list in the video.
14. Offer Exclusive Content
There's nothing people like more than to feel special. Offer exclusive, high quality content in return for your users' email addresses. It takes time, but it will be worth it to build an email list made up of loyal fans.
Yoga With Adriene is a great example. She runs a very popular YouTube channel where she offers hundreds of free yoga practices. On her website, she offers exclusive 30-day series, which you can pay as much as you like for: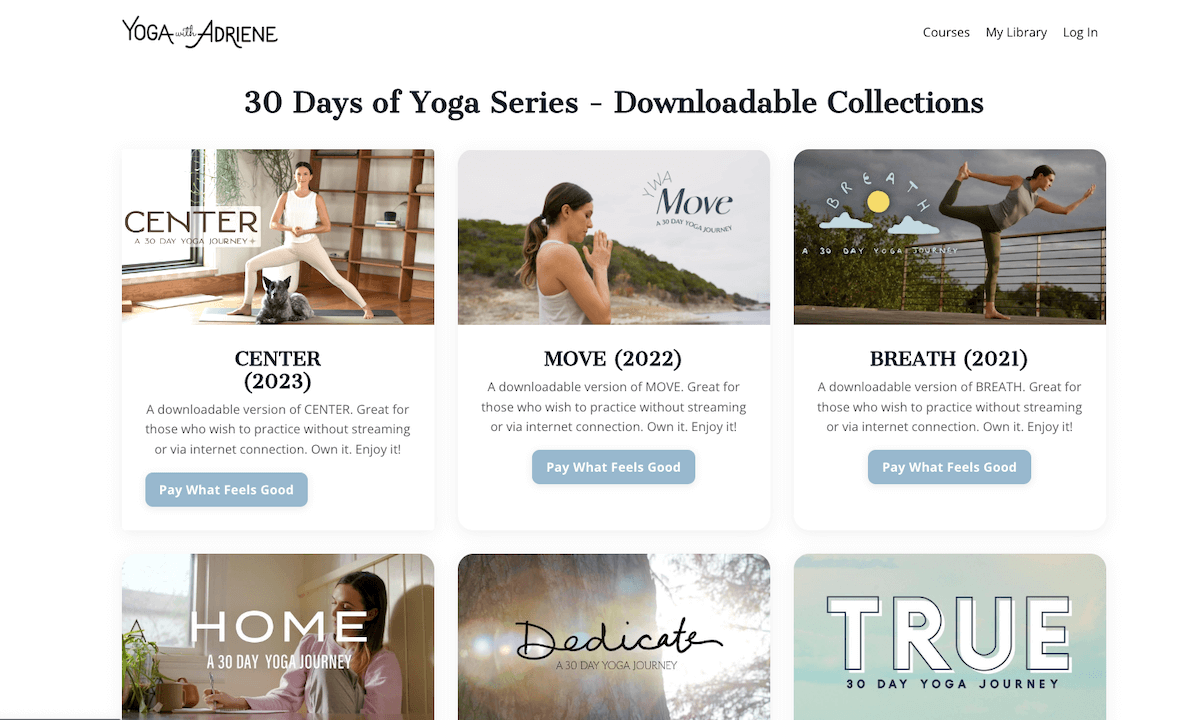 15. Write Guest Blogs
When you write a blog post you always include a byline with your name and a link to your website or blog. So when you write a blog post for another person's website, you get access to a whole new audience. This means putting your name and content in front of fresh eyes. Just be sure the landing page included in your byline has a prominent email capture form.
How to Manage Your Email Subscribers Once They're on Your List
1. Target Audience
This is so basic we often overlook it. But if you're offering in-store only discounts on pet products, you want to do your best to send the information to your customers who have pets. Depending on the promotion, you might want to also limit your mailing to a local audience. Be sure to set up separate contact lists so you can focus your efforts on the right groups. Your customers can self-select when they're opting in using either a pull-down menu or tick box.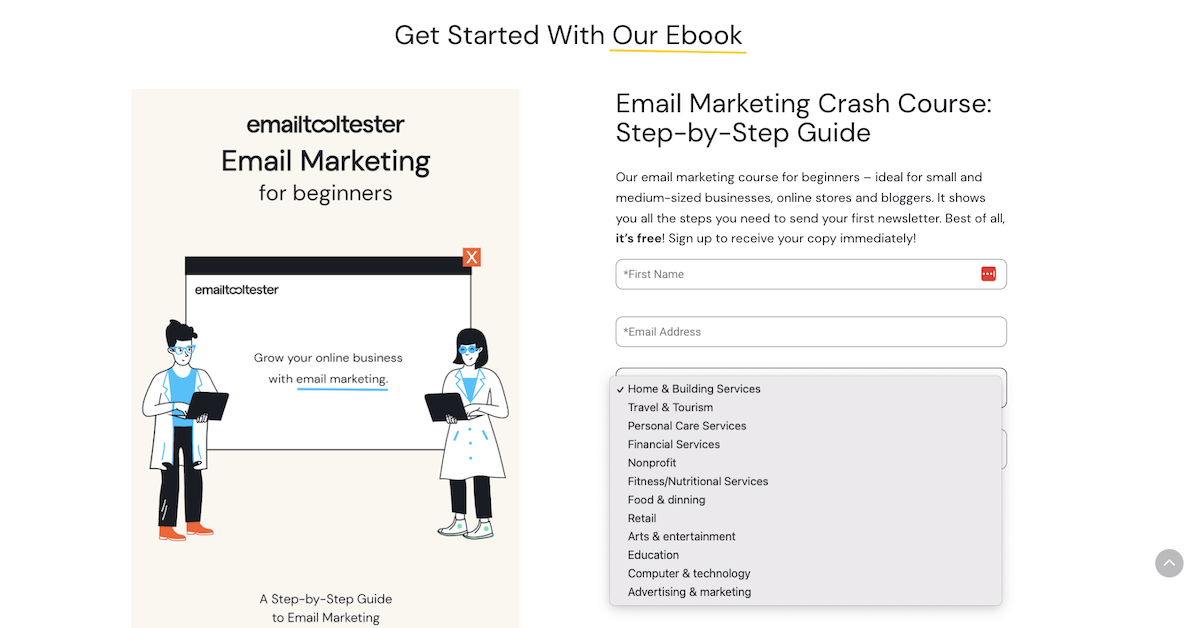 Pro tip: Allow for multiple selections so you can be sure your target audience is receiving the information that's relevant to them.
2. Unsubscribe
This might not seem logical at first glance, but it speaks to developing a quality list over a quantity list. Most email marketing services charge by the subscriber as well as by the number of emails, so essentially you're paying for the privilege of keeping the email addresses of people who don't open your emails. They aren't fans. It's best to get rid of them and focus on your core members, as this will also impact your email deliverability.
Email members asking them to opt-in, and delete those that don't respond. This is a key element in your list building strategy, so don't overlook it.
3. Optimize your email deliverability
Aside from keeping your list clean and regularly removing inactive or invalid email addresses, there are other ways you can optimize your email deliverability.
Firstly, it's important to avoid using spam trigger words or phrases in your subject lines and email content, as this can cause your emails to be filtered into spam folders.
Additionally, including a clear and prominent unsubscribe link in your emails can help improve your deliverability by reducing the likelihood of recipients marking your emails as spam.
You should also regularly monitor your email metrics and email sender reputation, as this can help you identify and address any issues with your email deliverability.
You can find more information on email deliverability best practices in our complete guide.
>Check out our bi-annual email deliverability tests of the top email marketing services.
How To Build An Email List Bonus Tip!
These three mistakes are so easy to make, but keep in mind:
Just because someone emails you, it doesn't mean that they want to be on your email marketing contact list.
Having someone's business card doesn't mean they want to be on your list.
Even if someone buys something from you, it still doesn't mean they want to be on your list. People need to actively opt in.
>Check out our complete list of email marketing mistakes and avoid the potential pitfalls many marketers fall into.
How to Build an Email List: Conclusion
By following these list building strategies and suggestions, you can build a robust, responsive email marketing list that converts well because it's based on quality and not quantity. Also, remember to keep your list current and continually remove outdated or obsolete contacts, as part of a strong email list management strategy.
If you're not already signed up to an ESP, here is our recommendation of the best email marketing software to launch your first email campaign with.
If you have a list building strategy that's yielding results, feel free to share it in the comments section.
If you need more suggestions, check out our email marketing lead generation tips.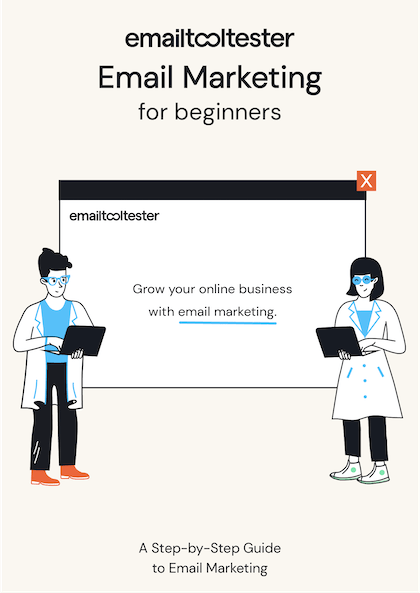 Email Marketing Crash Course: Step-by-Step Guide
Our email marketing course for beginners: ideal for small and medium-sized businesses, online stores and bloggers. It shows you all the steps you need to send your first email campaign. Best of all, it's free!
Sign up to receive your copy immediately!
We keep our content up to date
20 Jul 2023 - Added information about quiz makers
20 June 2023 - Video added
02 Mar 2023 - General update
Our Methodology
This article has been written and researched following our EmailTooltester methodology.
Our Methodology