Photographers, like many other professional artists, often find themselves facing the challenge of finding a meaningful, unique way to connect with their audience. But as a professional photographer, there's actually a fantastic solution right within your reach that you can start using today: email marketing.
With just a touch of dedication, email marketing can be the spark that transforms your love for photography into a thriving and rewarding venture.
Instead of fighting for attention in social media, picture yourself having a direct conversation with the right audience through a newsletter made just for your subscribers. Not only can you share your latest photography projects in a cool and personalized way, you can engage readers with behind-the-scenes stories, and let them know firsthand about exciting updates and exclusive announcements.
You could also explore the world of automated drip campaigns that gently nurture potential clients with a series of informative emails, such as tips on preparing for a photoshoot and choosing locations.
These are just a handful of examples that demonstrate how email marketing can effectively elevate your photography work, help you be seen as an artist and an expert, engage your audience, and ultimately, drive bookings. So if you're looking for practical guidance on how to start on your email marketing journey as a photographer, you're in the right place!
Email marketing for photographers: 15 practical examples
As a photographer, you can use email marketing in an endless number of ways to promote your work, connect with clients, and grow your business. Here are just a few ideas that you could implement:
1. Newsletters: Create regular newsletters that provide updates on your photography business and give them a personal touch, so your readers feel like a friend just wrote to them. You can share recent accomplishments and offer valuable content, such as tips on how to dress for a photoshoot, or your own unique reviews of photography gear. Include a mix of visuals, stories, and news to keep your subscribers engaged and informed.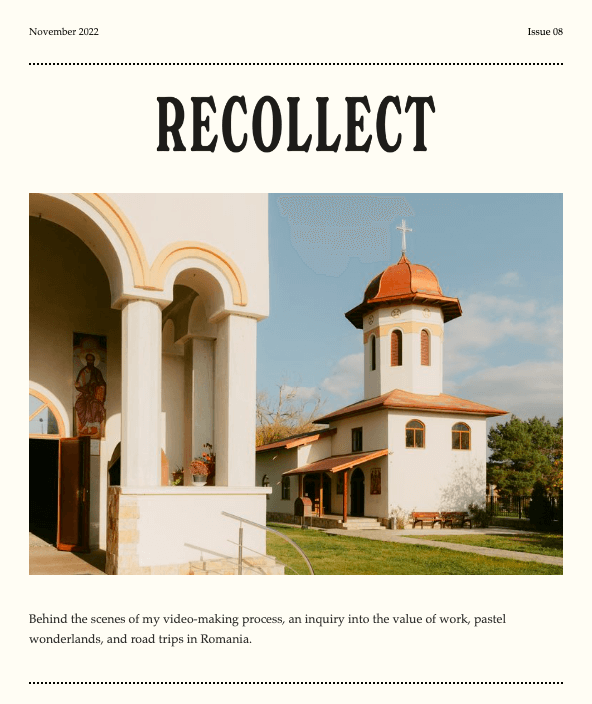 2. Portfolio Updates: Send regular emails showcasing your latest work, whether it's a recent photoshoot, a series of images, or a new project. Include high-quality images and a brief description with stories that will engage your subscribers and keep them informed (and curious) about your artistic journey.
3. Promotional Campaigns: Offer special promotions or discounts to your email subscribers. For example, you can provide limited-time discounts on portrait sessions, prints, or photography packages. Ensure that your promotions are visually appealing and clearly communicated in your emails. Make sure you tell your audience what you believe is the meaning behind your work, so they can connect with it.
4. Client Engagement: Use email to stay in touch with past clients. Marketing automation can help you send personalized messages to offer anniversary discounts for repeat business, or remind them of upcoming photography events like family reunions or anniversaries.
5. Educational Content: Share your photography expertise with your subscribers. This is a great way of building a good reputation in the market. Create an email course with informative content such as photography tips, behind-the-scenes stories, reviews or tutorials on editing techniques.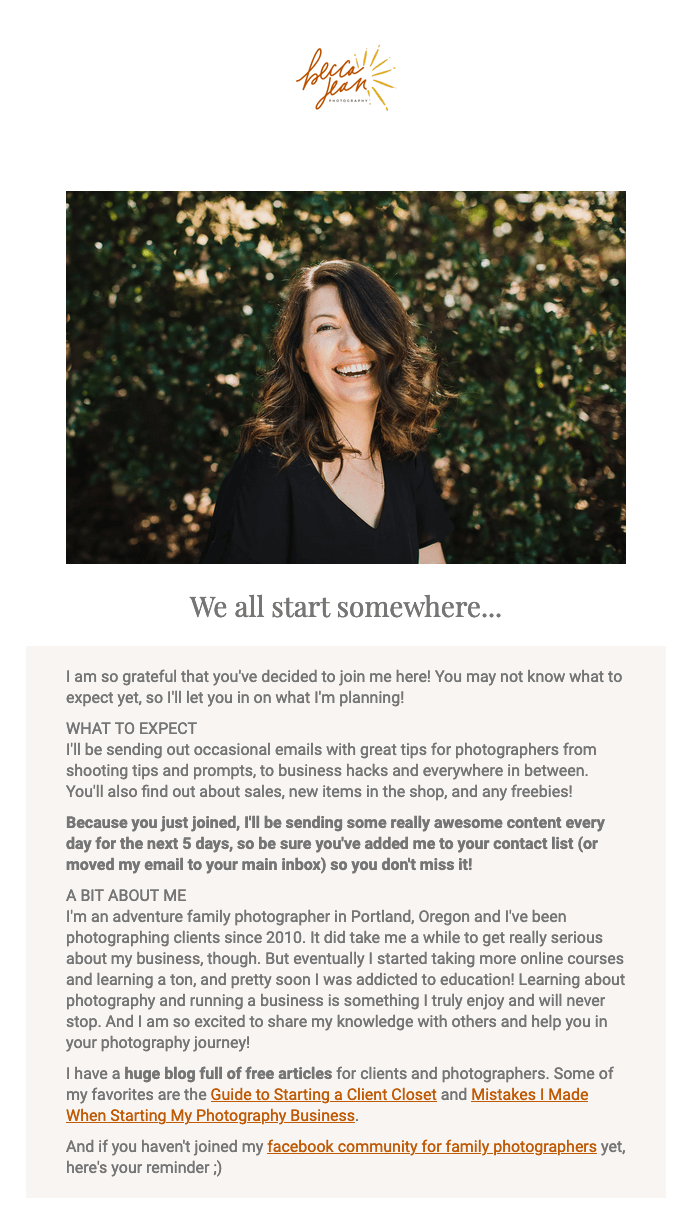 6. Event Announcements: If you're hosting photography workshops, exhibitions, or other events, use email to announce and promote them. Include event details, dates, registration information, and great pictures to encourage your subscribers to attend.
7. Testimonials and Reviews: Feature positive testimonials and reviews from satisfied clients in your emails. This social proof can boost your credibility and help potential clients feel more confident in hiring you. If a client has a really great story with you, this can also potentially become a special newsletter.
8. Personalized Recommendations: Segment your email list based on client preferences or photography interests. Send personalized recommendations for photoshoot locations, styles, or products that align with each subscriber's interests and previous interactions with your business.
9. Abandoned Cart Recovery: If you sell photography prints or products online, implement an abandoned cart recovery email series. Send reminders to users who added items to their cart but didn't complete the purchase, offering incentives or assistance to encourage them to finalize their orders.
10. Referral Programs: Consider encouraging your existing clients to refer friends and family by setting up a referral program. This is a truly perfect way of spreading the word around! Send emails to your clients with details about the program and all the rewards they can earn for successful referrals.
11. Holiday Greetings: Send personalized holiday or birthday greetings to your clients. This adds a personal touch and helps you maintain a positive relationship with your audience throughout the year.
12. Feedback Surveys: Request feedback from your clients through email surveys. This not only helps you improve your services but also shows that you value your clients' opinions and are committed to providing the best possible experience. You can also then use this data to create cool charts that can be shared anywhere.
13. Social Media Promotion: Use email to promote your social media accounts and encourage subscribers to follow you on platforms like Instagram or Youtube, where you can regularly showcase your photography and share bits of your life as a photographer. And think about the other way around too: email marketing automatically helps you create content for your social media, by just giving your followers a taste of what's happening in your newsletter.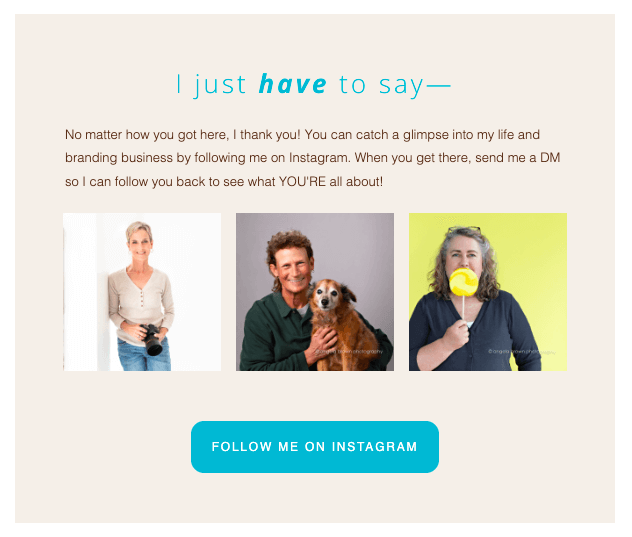 14. Re-engagement Campaigns: Periodically, run re-engagement campaigns for subscribers who haven't interacted with your emails in a while. Offer an incentive or ask if they'd like to continue receiving your updates.
15. Automated Drip Campaigns: We've mentioned this before but it's an important reminder. Set up automated drip campaigns to nurture leads over time. Provide valuable content, build trust, and gently guide subscribers toward booking a photoshoot or purchasing your services and products.
As you can see, there's no shortage of ideas when it comes to email marketing for photographers. You already have a unique story to share and lots of content ideas to help you connect with potential clients. The next step is simply to get started!
To do that, we recommend you follow these 10 key steps.
Implementing Your Photography Email Marketing Strategy in 10 Steps
1. Define Your Goals
It might sound wishy-washy, but it's actually an important first step. Defining clear objectives for your email marketing efforts is the cornerstone of a successful strategy. It not only gives you direction but also helps you measure the effectiveness of your campaigns.
Start by understanding what goals you want to achieve with your email marketing. These could include:
Booking more photoshoots for weddings, portraits, or events.
Selling prints of your photography.
Promoting photography workshops, courses, or tours.
Building a community of photography enthusiasts, subscribers, or fans.
It's okay to have multiple goals, but prioritize them based on immediate needs and long-term objectives. Your goals need to align with your brand identity and resonate with your target audience. This will help you tailor your email marketing efforts to meet the expectations and interests of your subscribers.
By defining your goals, you'll set a strong foundation for your email marketing strategy, making it easier to choose the right email marketing platform and create successful campaigns that truly meet your photography business objectives.
2. Choose an email marketing service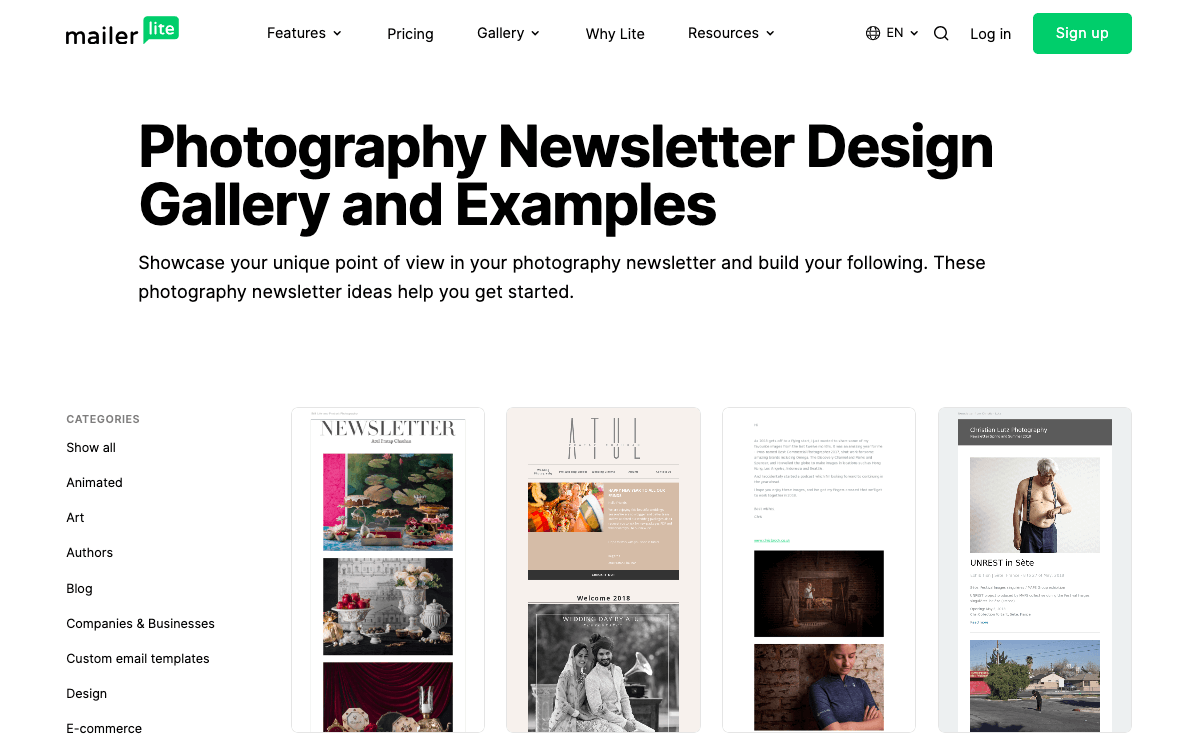 Next up is a crucial step that can actually make or break the success of your email marketing campaigns. There are plenty of email marketing services out there that claim to be able to do the job, but which one is right for you?
Here are some factors to take into account when choosing an email marketing platform:
Affordability: Consider your budget and the scalability of the pricing plans. Some platforms offer free plans with limited features, while others offer tiered pricing based on the size of your email list or the number of emails sent per month. Luckily, email marketing happens to be one of the most cost-effective marketing channels, and with paid subscriptions starting from as low as $5/month, there's sure to be an email marketing service to suit your budget.
Ease of Use: Look for the most important basics – a diverse selection of templates, intuitive drag-and-drop email builders, user-friendly automation workflows, and straightforward list management. A platform that is easy to navigate can save you time and reduce the learning curve.
Features and Functionality: Does the platform support automated email workflows and drip campaigns? Can you easily segment your email list based on subscriber data? Does it integrate with other tools and services you use, such as your photography website, CRM, or e-commerce platform? Make sure the platforms offer the features you're likely to need.
Deliverability: You definitely want your email marketing service to have a strong reputation for high deliverability rates. Your emails need to reach your subscribers' inboxes, not get flagged as spam.
Scalability: Consider whether the platform can grow with your business – and how much growth you believe you can have. As your email list expands, you'll want a platform that can accommodate a larger subscriber base without a significant increase in cost or complexity.
Customer Support: You need to be able to count on the customer support offered by the platform, and we recommend you take the time to research how good they are, based on reviews or your own tests. Responsive customer support can be invaluable if you come across issues or need help with your campaigns.
Template Customization: Check the level of customization available for email templates. Obviously aesthetics play a big role for photographers. You'll want the ability to create branded emails that reflect your photography style and artistic taste.
Trial Period: Take advantage of any free trials or demos offered by the platform. Testing the platform firsthand will give you a better understanding of its usability and suitability for your needs.
It's a lot to take in, but luckily, finding email marketing services that match this criteria is exactly what we do here at EmailTooltester! In our opinion, the best email marketing platforms for photographers are:
You can also check out our full guide on the best email marketing services for more recommendations.
3. Build your email list
Growing your list of subscribers is essential for a successful email marketing strategy, but it's equally important to do so while adhering to legal requirements. Here are some ideas on how to effectively (and ethically!) build an email list:
Website Sign-Up Forms: Place beautiful and user-friendly sign-up forms on your photography website. These forms should be easy to find, e.g. in the website header, footer, or as pop-up overlays. Clearly communicate the value of subscribing, whether it's access to exclusive photography content or special offers.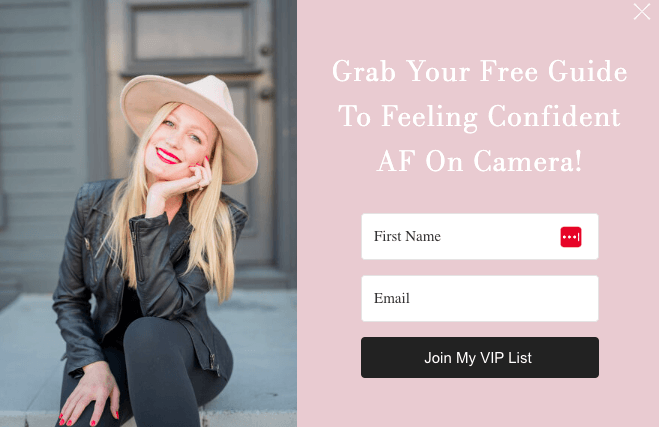 Lead Magnets: Offer valuable content on your website, such as downloadable photography guides, ebooks, or high-resolution wallpapers, in exchange for email subscriptions.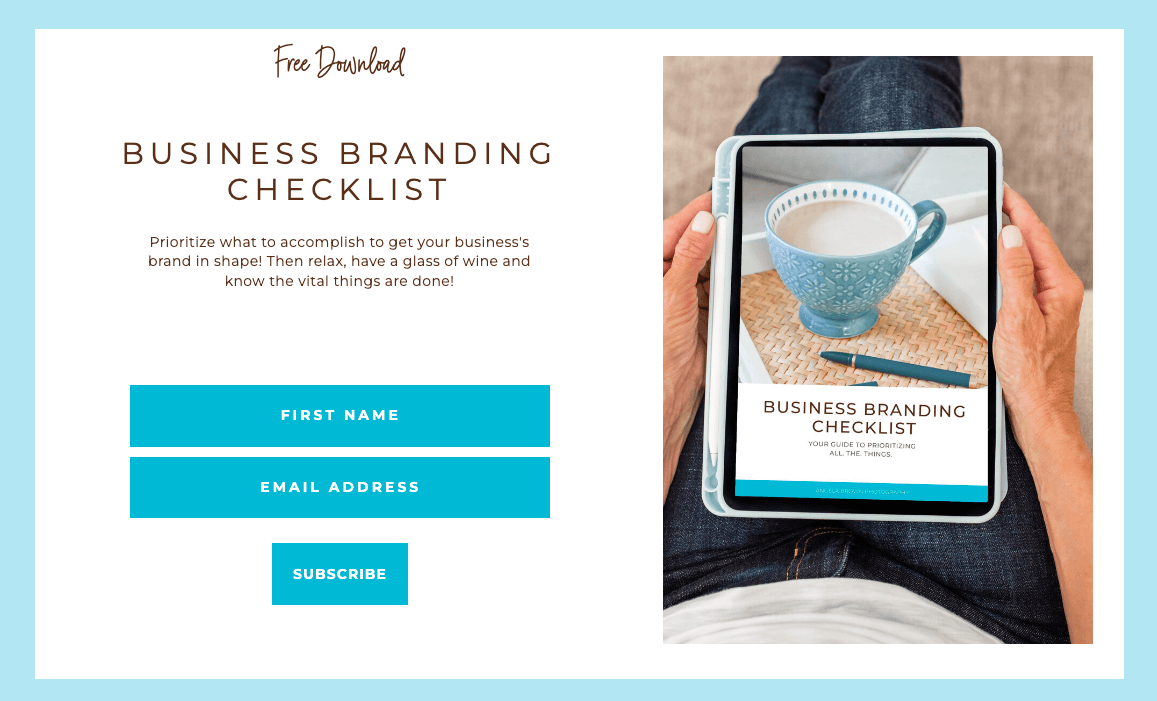 Social Media Promotion: Make the best of your social media presence to promote your email list. Share engaging posts that encourage your followers to subscribe for photography tips, behind-the-scenes insights, exclusive sneak peeks of your newsletters and even readers' feedback and testimonials. Include a link to your sign-up form in your social media profiles.
Contests and Giveaways: You can host photography-related contests or giveaways on social media or your website, with prizes such as a free portrait session, access to a unique masterclass or a print of your work. Require participants to enter with their email addresses and, of course, let them know they will receive your emails from time to time.
Workshop and Event Sign-Ups: If you host photography workshops or events, create sign-up sheets or digital forms at the events where participants can provide their email addresses for future updates and workshop announcements.
Opt-In at Checkout: If you sell photography products online, include an opt-in checkbox for customers to subscribe to your email list during the checkout process. Remember to clearly state the benefits of subscribing, such as exclusive product updates and offers (maybe one they can enjoy right away!).
The most important thing to remember is that building an email list should be a gradual and organic process that focuses on quality over quantity. You don't want thousands of subscribers who are uninterested in your work. Instead, you want potential customers and real connections, including with fellow artists.
Be a professional and always respect email marketing regulations like GDPR (for European subscribers) and CAN-SPAM (for U.S. subscribers), and obtain clear consent from individuals before adding them to your list. Also make sure to provide an easy way for subscribers to opt out – this should be at the bottom of every email you send.
4. Segment your audience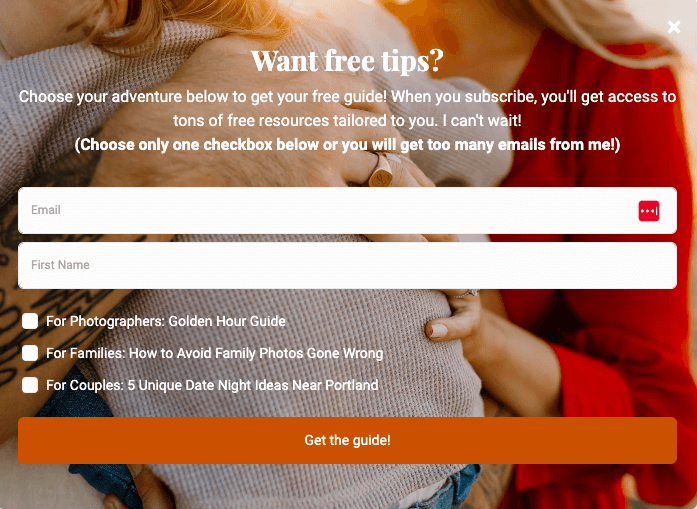 Segmenting your email list can greatly boost the success of your photography email marketing campaigns. By categorizing your subscribers into different segments based on criteria like geographic location, photography interests, purchase history, engagement levels, and more, you can send targeted and relevant content to each group.
For example, you can send location-specific promotions or photography tips tailored to different regions, ensuring that your messages resonate with subscribers in those areas. Segmenting by photography interests allows you to provide specialized content, whether it's landscape photography tips or portrait portfolio showcases. You can also target past customers with exclusive offers based on their purchase history and engage highly active subscribers with VIP rewards.
Additionally, segmenting based on the source of subscription, client type, or engagement frequency allows you to send targeted follow-up messages, re-engage inactive subscribers, and ensure that your emails are well-received by the right audience. Overall, segmentation empowers you to create more personalized, engaging, and effective email marketing campaigns that align with the diverse interests and needs of your photography audience.
5. Set Up Your Email Templates
When it comes to email marketing for photographers, email templates play an important role in conveying your brand identity and photography style to your subscribers. Setting up templates right the first time can make it easy for you to keep a regular schedule when sending your email marketing campaigns.
As a first step, make sure your email marketing platform offers a drag-and-drop editor or template builder. This really simplifies the process of creating and editing templates without requiring advanced design skills.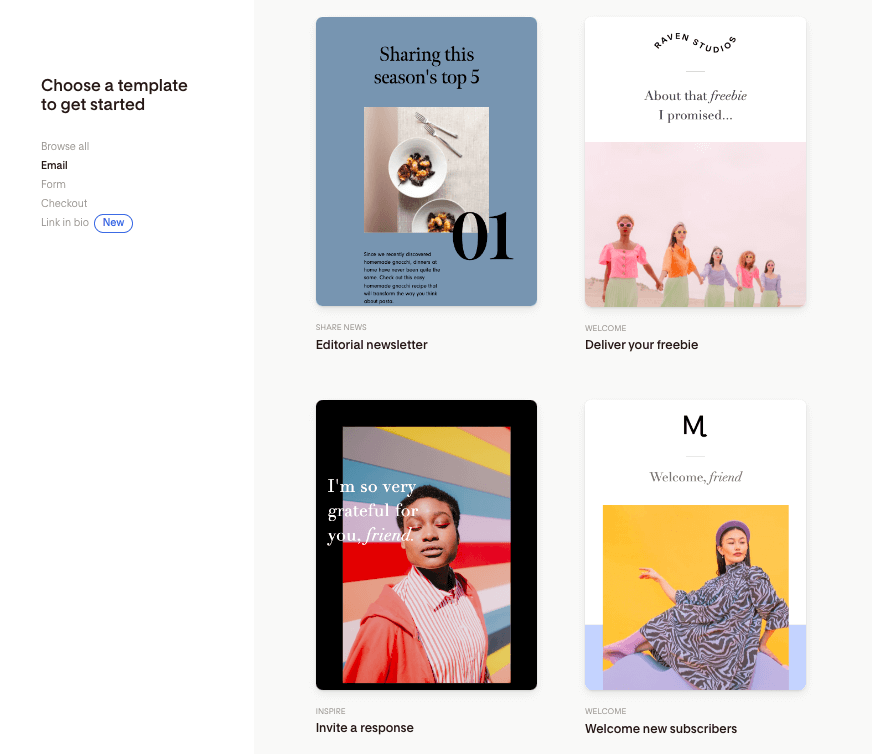 In terms of design, your email templates should align with your overall brand identity. This includes using consistent colors, fonts, and design elements that your audience associates with your photography business and your unique artistic vision. A polished and visually appealing email template makes your brand's credibility shine and leaves a positive impression on subscribers.
In today's mobile-centric world, it's also crucial that your email templates are mobile-responsive. Many people check their emails on smartphones and tablets, so your emails should adapt seamlessly to different screen sizes, and be easy to read on all devices.
6. Create Compelling Content
By this stage, you've likely got some ideas brewing for the kind of emails you want to send. Now, it's time to bring those ideas to life! While we offer some comprehensive guides on newsletter writing and design tips, you might be keen to get started quickly. So, here are the key takeaways:
Captivating Visuals: As a photographer, your images are your most potent tool. Ensure that every visual element in your emails boasts impeccable quality, showcasing outstanding resolution and meticulous attention to detail. Opt for images that narrate a story, evoke emotions, and unmistakably display your distinct style. (At the same time, be mindful of the file sizes of your images to ensure that emails load quickly. Compress images when necessary to avoid slow-loading emails, which can lead to subscriber frustration.)
Crystal-Clear Calls to Action (CTA): Every email should house a concise and compelling CTA. Whether it's encouraging subscribers to book a photoshoot, purchase prints, or dive into a new blog post, your desired action must be clearly defined and irresistibly appealing. Use action-oriented language and visual cues to emphasize your CTA buttons.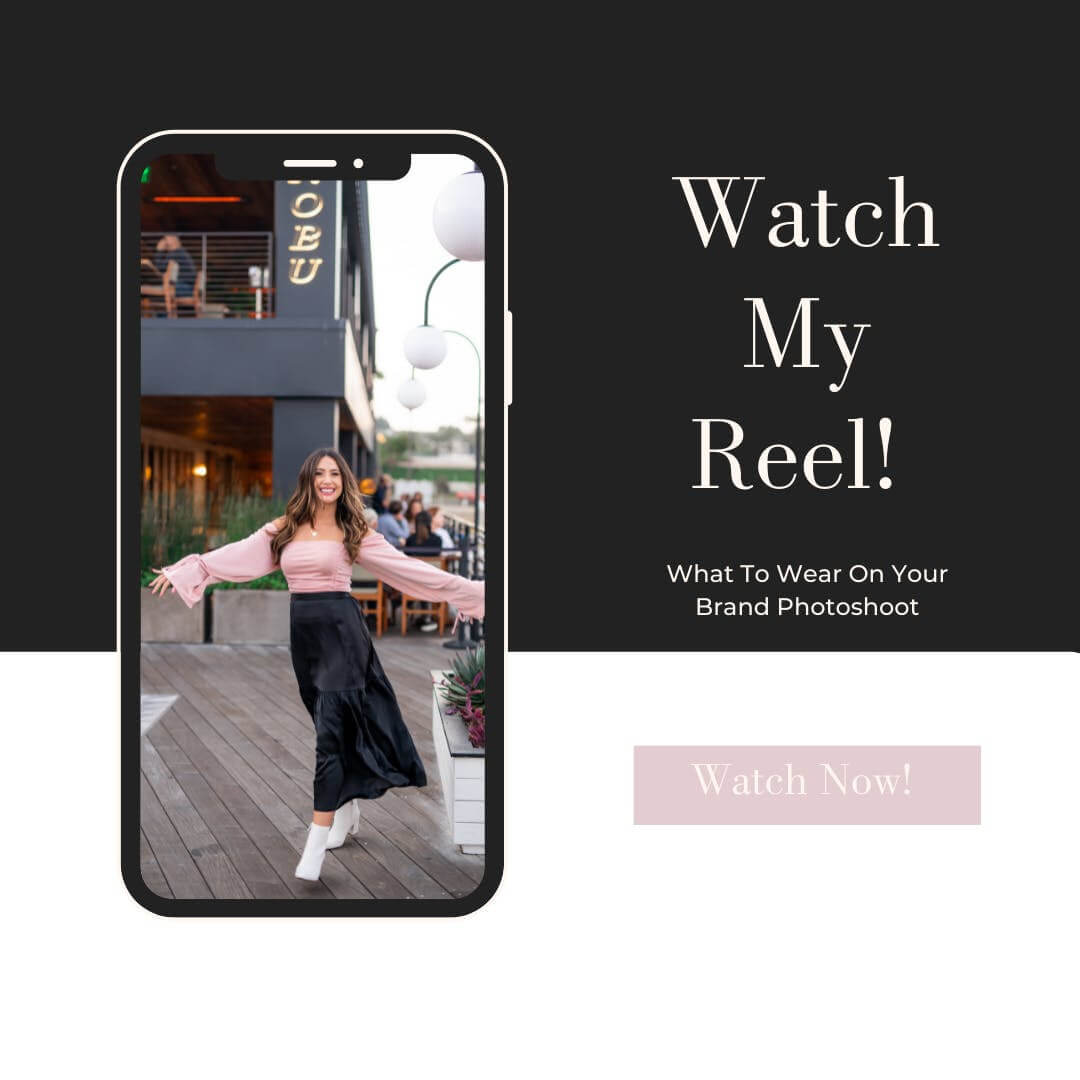 Segmentation and Personalization: Keep in mind that you can and should tap into the power of email list segmentation to serve up tailored content. Personalize your emails by addressing subscribers by their names and delivering content that matches their interests and preferences. Segmentation is the best way to guarantee that each subscriber receives content that speaks directly to them, keeping them interested, and helping to improve conversion rates.
Engaging Subject Lines: Craft subject lines that not only engage but also intrigue subscribers, compelling them to eagerly open your emails. Consider incorporating photography-related terms or themes that resonate with your audience's interests. A cool idea, also, is to have something unique to your emails, whether it's a quick greeting or an emoji.
7. Schedule Your Emails
Choosing the right email sending schedule helps to ensure that your messages reach your audience when they're most likely to read it. Consider factors like their time zone, typical daily routines, and when readers are most likely to engage with emails. Experimentation is key here; try sending emails on different days and at various times to get a feel for response and open rates.
Scheduling emails to coincide with key moments or events can be especially effective. For instance, sending promotions for holiday family photoshoots well in advance of the holiday season or announcing limited-time print sales during special occasions can boost your chances of conversions.
Additionally, regular newsletters showcasing your latest work can be scheduled at consistent intervals, reinforcing your brand's presence in subscribers' inboxes.
9. Implement Automation:
Automation is a time-saving and efficiency-boosting tool in email marketing. Remember all those content tips we shared? This is how you put them into action. With automation, you send emails automatically based on subscriber actions, anniversary dates, or any other trigger that makes sense for your work as a photographer.
Start by setting up welcome emails for new subscribers. A warm and personalized welcome message can make a lasting impression and set the tone for your brand. You can use this opportunity to share something nice with new subscribers, such as special offers or access to exclusive content.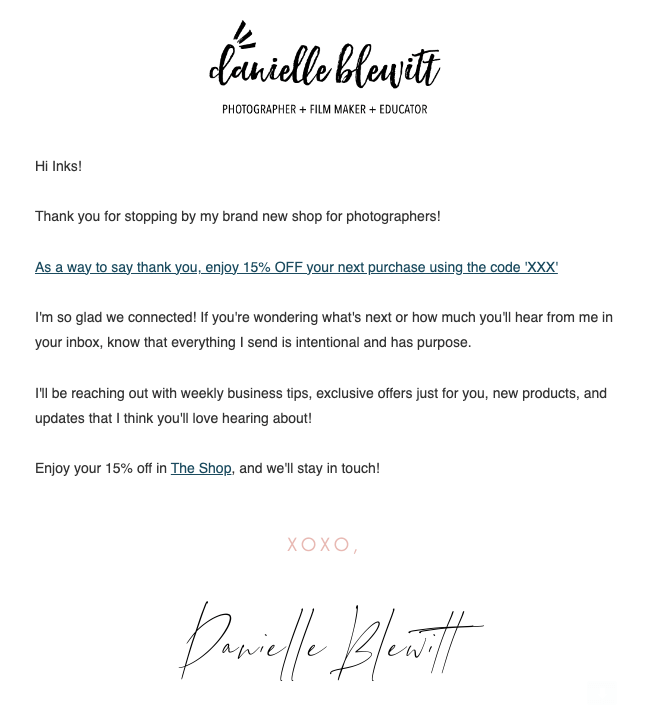 Drip campaigns are invaluable for nurturing leads and guiding potential clients through their decision-making process. For example, you could create automated sequences that provide valuable insights, photography tips, and showcase your portfolio to gradually build trust and interest.
If you sell products, consider implementing abandoned cart recovery emails, reminding subscribers of their unfinished purchases and encouraging them to complete the transaction.
For more ideas on what kind of emails can be automated, check out our article on automated email examples. We also have a more comprehensive guide to building a marketing automation strategy.
9. Monitor Engagement
Continuous monitoring helps you understand the real impact of your email marketing campaigns. Make sure to regularly track key email metrics and check how your emails are performing, keeping a close eye on metrics like open rates, click-through rates, conversion rates, and unsubscribe rates (all of which should be available in your email marketing platform). By doing this, you get valuable insights into subscriber engagement and can more easily identify trends and patterns in your email campaign performance.
Pay attention to subscriber behavior, such as which types of content or offers resonate most with your audience. Monitoring can also help you identify any issues, such as deliverability problems or spikes in unsubscribe rates, that you may need to fix quickly.
10. Test and Optimize
Testing and optimization are both concepts photographers are quite familiar with. When it comes to email marketing, it's a key step in making sure you get the best results you can after working on that email for so long.
If you have a big enough list, think about running A/B tests, which allow you to experiment with different elements of your emails to identify what works best for your audience. You can test variables such as subject lines, call-to-action buttons, email content, and visuals. By comparing the performance of different variations, you can make informed decisions about which elements to keep or modify in future campaigns.
Put your analytics to work, digging deep into the data you've gathered from your email campaigns. Use these insights to refine your content, your audience segments, and the timing of your emails.
Email Marketing for Photographers: Conclusion
In the world of photography, where every image tells a story, email marketing can play an important role in your work. It doesn't have to be a complicated or costly journey, but rather a great and fun way to share your stories and build a client base that is inspired by your unique view of the world.
By following a few key steps, you can unlock the potential of this powerful tool to enhance your brand, build credibility, and cultivate lasting relationships with your audience.
All you need to get started is to choose the right email marketing service that aligns with your needs, and spread the word by offering incentives to get subscribers to sign up to your email list. Remember, it's not just about numbers; it's about connecting with individuals who share your passion for photography.
Segment your list thoughtfully to deliver tailored content that resonates with different groups. And use automation to send personalized emails with minimal effort.
Lastly, keep in mind that it's not just about growing your business—it's about growing your community, which is the only way to build a lasting relationship with clients too. By consistently delivering value and engaging on a personal level with your audience, you can foster trust and credibility that will stand the test of time.
So, whether you're capturing the beauty of landscapes, the essence of a moment, or the magic of a portrait, use email marketing to showcase your talent to the world. And if you need help taking that first step of choosing the right platform, go ahead and check out our comprehensive guide on the best email marketing services.
And if you're also looking to build a website, check out our recommendations for the best website builders for photographers.
Need some help with getting your photography email marketing campaigns off the ground? Let me know in the comments below!
Our Methodology
This article has been written and researched following our EmailTooltester methodology.
Our Methodology