Here's a common problem: You send out a confirmation order email or a newsletter through your website hosting provider's email server, but unfortunately hardly any contacts receive the message. That's a particular issue with self-managed newsletter software like Supermailer, Sendblaster, or with WordPress plugins such as Mailpoet.
What's the solution? A mass email service, otherwise known as a bulk email marketing service or SMTP service.
What's a Mass Email Service and SMTP?
SMTP (Simple Mail Transfer Protocol) is an industry-standard for sending emails. Proper SMTP configuration helps increase email deliverability by using authentication.
In order to ensure your emails get delivered, all you need is a good email server, also known as an SMTP relay. There are a few bulk email services suitable for both transactional emails (order and registration confirmations, invoices, and other notifications) as well as mass emails (e.g. newsletters, email marketing campaigns). These tools are more generally known as mass email services.
Typically, you would create the email in a different system, like your CRM, CMS or invoicing software, and connect the mass email service to deliver the messages.
Before we direct you to the best bulk email sender, it's important to know why you need one.
Why are my Emails not Being Delivered?
Email deliverability is paramount for any online business, and there are two underlying problems here. For starters, most website hosting providers have very strict sending limits in place. Companies such as 1&1 or GoDaddy radically limit the amount of email traffic permitted on their servers. 1&1, for instance, will allow no more than 30 emails in 5 minutes. If you try to send out more, the provider will cut you off, and you won't be able to send anything at all.
And that's not even the main issue.
Due to the amount of junk and spam sent via email, email clients such as Gmail, Outlook, and Yahoo don't allow messages from unknown servers – it's that simple. Such emails will either turn up in your spam folder or worse, never reach your inbox at all.
During our tests using Mail-Tester.com, this was, sadly, often the result: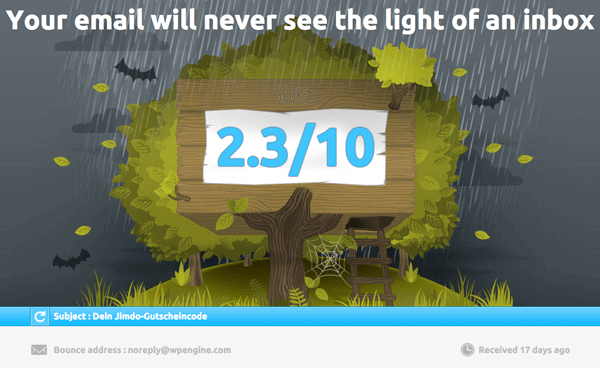 Image: Here we tried to send an email via our hoster, WP Engine. The message never arrived.
Gmail, Outlook, Yahoo, etc. just don't trust email servers without a whitelist entry. What they want is a good sender reputation – and that's not easy to come by. At least not if you try getting that reputation on your own.
Best Mass Email Service Providers Overview
Here's an overview of the features and pricing of a few bulk email providers:
BULK EMAIL SENDERS
PRICING
COMMENTS
MailerSend
12,000 emails: $0

50,000 emails: $25

Advanced email tracking and analytics, multiple sending domains, email templates, drag & drop and HTML builder.
Mailjet

(Review)

6,000 emails: $0 (daily limit: 200)

15,000 emails: $15

50,000 emails: $35

As an email marketing service, this tool features a newsletter editor that allows for segmentation, A/B testing and email automation. The server is located in Germany (EU-based users with privacy concerns). Pricing in USD, EUR and GBP. Excellent mass email service with very good deliverability.
Sendinblue

( Review )

300 emails (daily): $0

20,000 emails: $35

40,000 emails: $[sib-en-40000-]

60,000 emails: $49

With Sendinblue you can send both transactional and marketing emails. It includes a drag and drop newsletter editor, marketing automation, segmentation and unlimited contacts.
Sendgrid
40,000 emails: $0 (for first 30 days, then 100/day)

50,000 emails: $14.95

60,000 emails: $29.95

Sendgrid's free plan limits you to 100 emails/day but offers an affordable paid plan. All plans allow you to use SMTP protocol, API or web API.
SMTP
(Essential) 50,000 emails: $25
(Starter) 100,000 emails: $80
Email relay API on all plans. Dedicated IP on Starter plan. Plugin for WordPress.
Mailgun
5,000 emails: $0 (for 3 months, then pay for what you send)

50,000 emails: $35

100,000 emails: $75

A bulk email service that targets developers and allows a sub-account for your clients.
Elastic Email
Up to 100 emails/day: $0

$0.10/1000 emails + $0.50/day

Private IP and email attachments add-on. All plans allow you to use SMTP, rest API or web API
Pepipost
30,000 emails free for the first 30 days, then 100/day for free.

15,000 emails: $25

400,000 emails: $85

AI technology used to improve deliverability.
Amazon SES
1,000 emails per month: $0.10
Good solution if you're already using Amazon EC2 as you'll get 62,000 emails for free each month.
Postmark

(by ActiveCampaign)

10,000 emails: $10

50,000 emails: $50

Send through SMTP or email API. They are for transactional emails and bulk email newsletters.
Mailchimp Transactional Email
500 emails: $0 (based on requirements)

25,000 emails: $20

Relatively expensive and confusing pricing. A paid MailChimp account is always needed.
Best Mass Email Service in Detail
MailerSend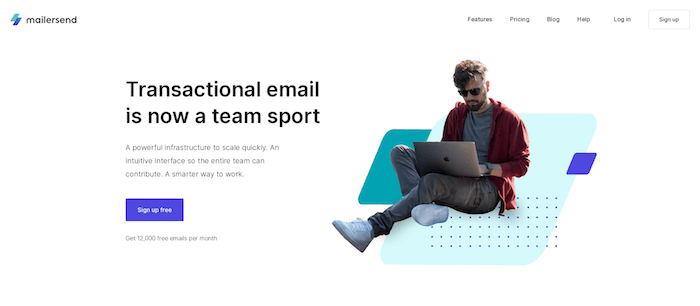 MailerSend is the transaction email service from MailerLite, a newsletter service we rate very highly. If you've used MailerLite then you'll know it's a really easy-to-use tool with a modern interface and fast email builder – MailerSend is no different. In fact, the builder looks much the same. We've seen very good deliverability results from MailerLite, and don't doubt that MailerSend's would be just as good.
The free plan lets you send 12,000 emails /month, and if you send more than 12,000, the cost of additional emails is $1.00 per 1,000 emails – that's not bad at all! Plus, there's no daily limit, like there is with a number of other services on this list.
The free plan allows for up to 3 templates, 1 user and 1 domain. You'll also have a limit of 1,000 daily API requests.
The Premium plan is much more generous with unlimited user accouts, domains and templates. On this plan, you'll have a limit of 100,000 daily API requests.
Mailjet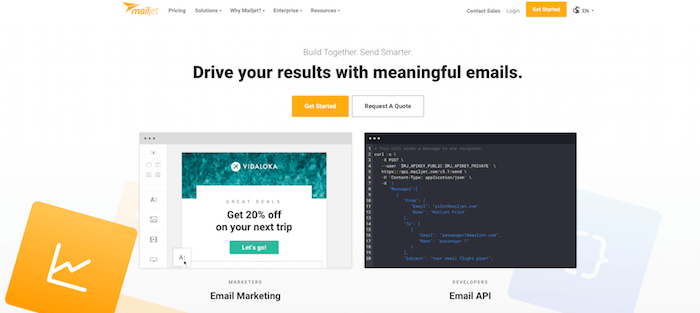 Mailjet is one of the more affordable newsletter software providers on the market, offering users 15,000 emails for just $15. Aside from transactional emails, you'll also get a drag and drop email editor, simple automation, SMS and A/B testing. Our deliverability tests show that Mailjet really takes its deliverability seriously.
As a bulk email sender, it claims it can send up to 15M emails/hour via its email API, even during peak sending periods.
Mailjet supports 80 integrations including ecommerce platforms, CRMs and Facebook.
Sendinblue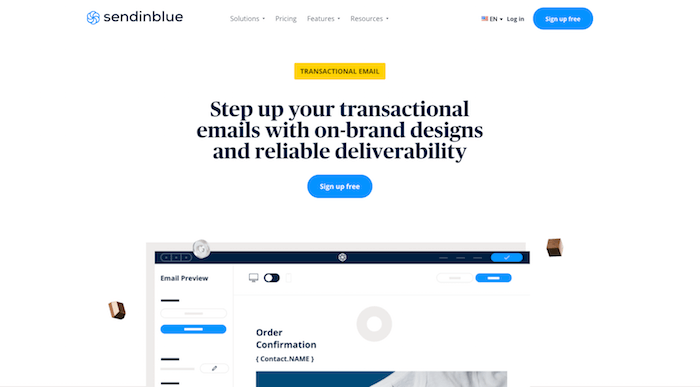 Sendinblue covers a host of services: marketing automation, email campaigns, transactional emails, SMS messages, chat, CRM, Facebook ads and more. We rate it pretty highly as an email newsletter service due to its reasonable prices and comprehensive offering.
>See how Sendinblue compares to Mailchimp
It has a nicely featured free plan, which includes marketing automation, phone support (for the first 60 days) and up to 300 emails per day. This daily limit might impede your activity – I'd advise avoiding limits of this kind for sending transactional emails.
If you want your own dedicated IP, you'll need to sign up for the pricier Enterprise plan.
Sendgrid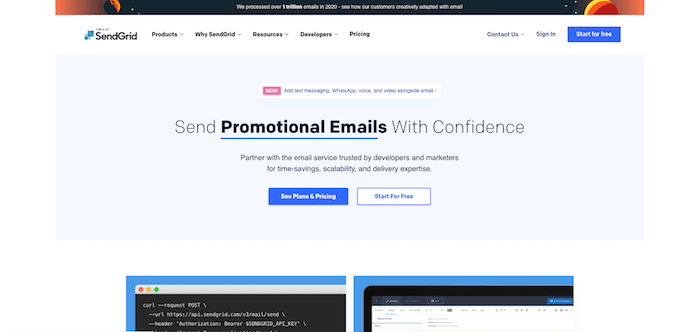 Sendgrid is a mass email service for sending marketing emails as well as transactional emails. With a limit of 100 emails/day, Sendgrid's free plan isn't quite as generous as the other providers'. However, its paid plan starts at a reasonable $14.95/month for 100,000 emails.
This bulk email sender comes with delivery optimization tools, a dynamic template editor and analytics. Unfortunately, you won't have access to email validation unless you shell out $90/month for its Pro plan.
SMTP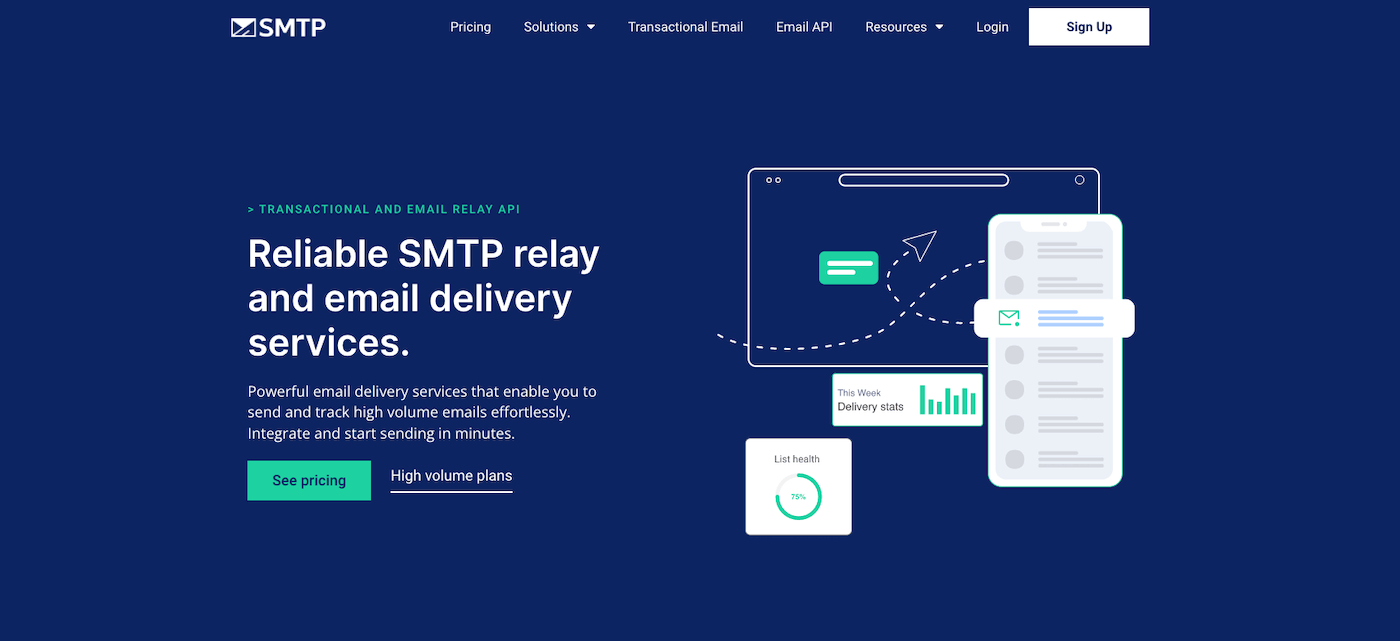 SMTP has over 22 years of email delivery success with over 100,000 businesses, according to its website. It also says that "SMTP.com is known among ISPs as one of the most reliable and trusted senders on the internet", which sounds promising!
WordPress users will love the popular WP Mail SMTP plugin, which allows you to bypass the default wp_mail() function and forces your site to use SMTP settings instead. You can use this alongside the SMTP mailer to ensure that your emails are delivered. Find out more about the top WordPress email plugins here.
SMTP offers useful video resources to help you get up and running quickly. The dashboard is also easy to read, with all your sending stats presented in a chart.
Plans start from $25/month for 50,000 emails. There is a free trial version that allows you to send up to 300 emails/month, but this is not many at all, so you may need to go directly to a paid plan. Note that you'll be on a shared IP on the Essentials plan.
Mailgun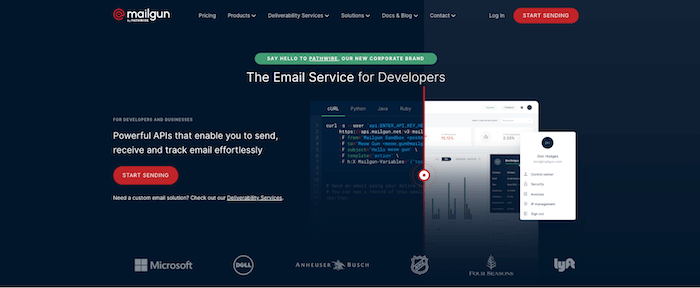 Mailgun is Mailjet's sister service, in fact, parent company Pathwire acquired both Mailgun and Mailjet. There are even plans to merge both in the future. It's directed to developers who want to set up powerful APIs, and it promises an impressive deliverability rate of 97.4%.
Mailgun offers a Flex account, which gives you 5,000 free emails per month for 3 months, after which you'll only pay for what you send at $0.80 / 1,000 emails.
Elastic Email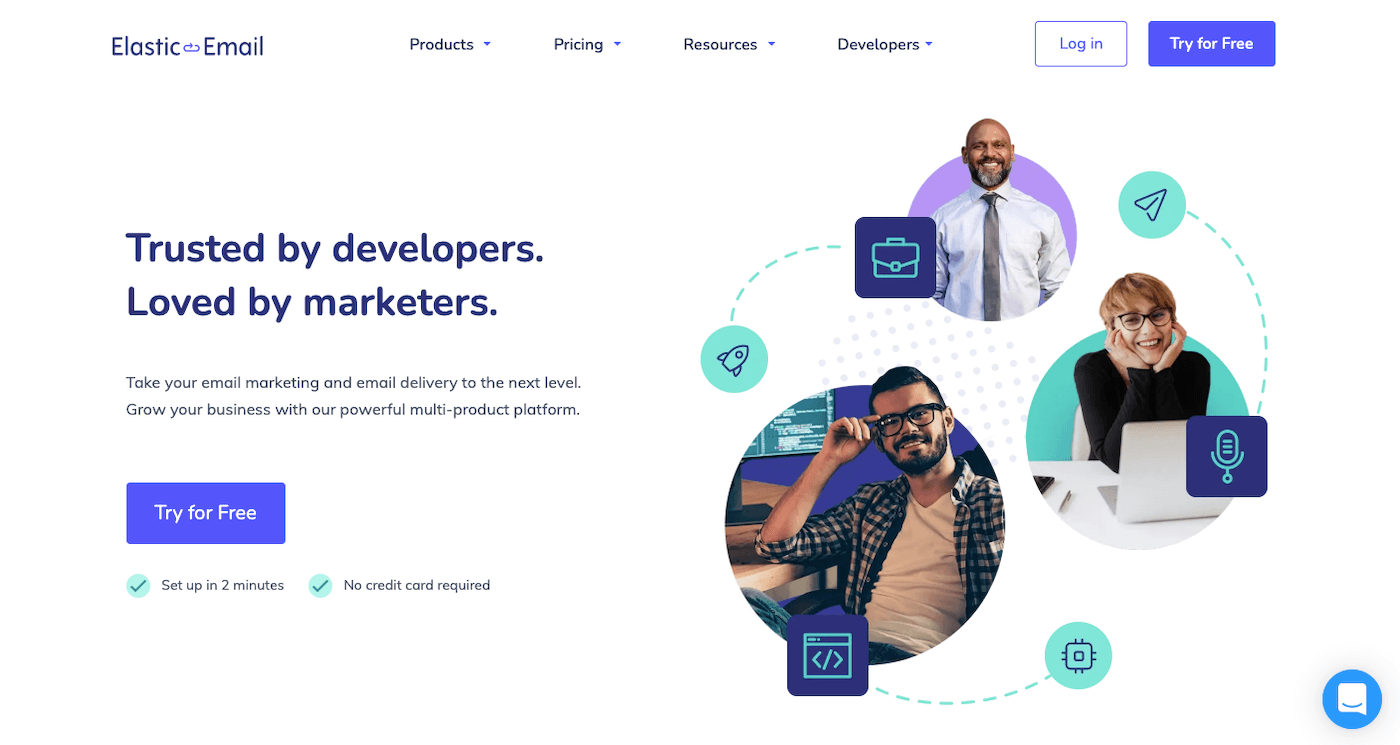 Elastic Email charges $0.10/1000 emails + $0.50/day. This includes SMTP and HTTP API access, SMS, landing page editor, email editor, web forms and tracking. There's also a free plan available for those who send less than 100 emails/day.
SMS API pricing is very affordable and depends on the country you're sending them to.
If you want to gain access to custom rDNS configuration and control your own IP reputation with a private IP, you can purchase an add-on for $1/day.
Another interesting add-on is for sending email attachments, which costs $1 per GB. This is something quite unique to Elastic Email.
Pepipost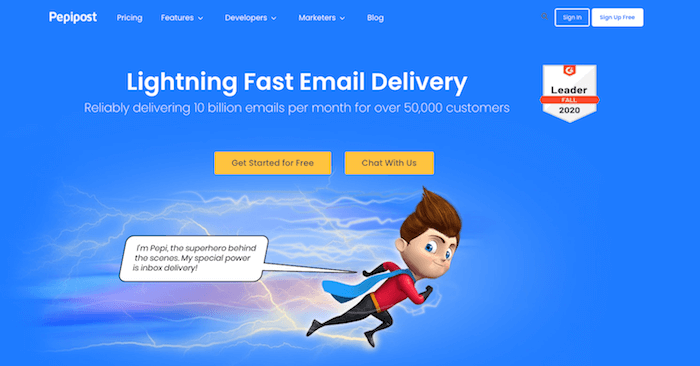 Pepipost, a cloud-based bulk email service, claims to 'reliably deliver 10 billion emails a month for over 50,000 customers'. That's a lot of email!
It uses AI technology to improve deliverability and allows you to send bulk emails with open source email marketing platforms Mautic and Mailtrain.
It comes with a free plan, though after the first 30 days, this becomes quite limited.
You will also get real-time reports, so you can see exactly how your deliverability is doing. Dedicated IPs are available at a cost of $20 per month.
24/7 live chat support is available, though only in English. The company belongs to Netcore, a Mumbai-based marketing software.
Try Pepipost for free
Amazon SES

Amazon SES is a good choice for those using the web service Amazon Elastic Compute Cloud (Amazon EC2), as you get 62,000 emails for free each month. If you're not, there's no free plan, but at $0.10 per 1,000 emails, it's not too expensive.
If you'd like a dedicated IP address, it'll cost you $24.95 per month.
Unfortunately, it's missing A/B testing, list management and spam testing.
Postmark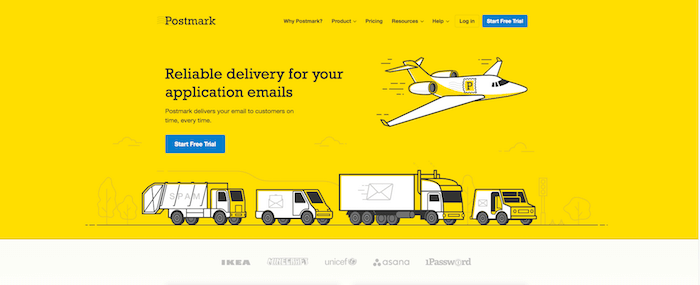 Postmark is a dedicated transactional email service, which you can also use to send bulk email newsletters. Responsive templates for order receipts, password resets, etc. are available, and, of course, you can create dynamic templates by editing the HTML and CSS.
The interface is modern and easy to navigate, and the pricing is made simple by including all features – you simply pay for the number of emails you need.
Postmark was recently acquired by ActiveCampaign, a popular email marketing service with very good deliverability, according to our tests.
Mailchimp Transactional Email (Formerly Mandrill)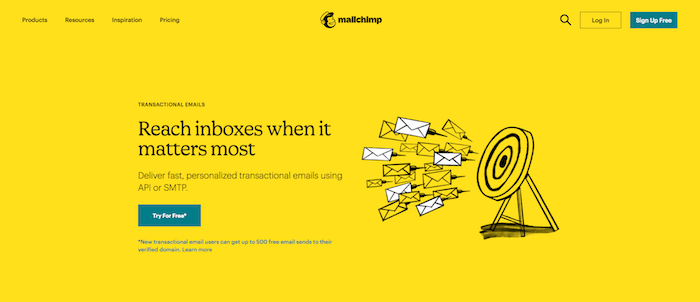 Firstly, in order to use this service, you must hold a Mailchimp account.
Mailchimp Transactional Email is offered only as a paid add-on to a Mailchimp Standard or higher account. However, those on the free plan can activate the Mailchimp Transactional demo, which gives you up to 500 emails for free. Note that this is only available if you're a new user of Mailchimp Transactional.
As a paid add-on, you're looking at paying $20 per 25,000 emails, though the more you buy, the less you'll pay per email.
You can add a dedicated IP for $29.95/month.
Free Bulk Email Service
There are a number of bulk email services you can use for free. Of the services we've mentioned, the best free mass email services would be MailerSend, Mailjet or Sendinblue.
Bulk Email Service: Conclusion
Even though you can theoretically send emails for free by using your own website hosting provider, that's usually not a good idea. (SMTP) is a much better choice for sending transactional and bulk emails. Many mass email services have an unlimited amount of time, so you can rest assured that your emails will get delivered.
If your website is built on WordPress, you might like to check out the best email plugins for WordPress.
I hope this article is useful to you! Leave me any questions or feedback.
Updates:

01 Sept 2022 – You can now send bulk email newsletters with Postmark
10 May 2022 – Updated Elastic Email
04 May 2022 – Postmark acquired by ActiveCampaign
25 Apr 2022 – Updated MailerSend profile
04 Apr 2022 – Added SMTP 
30 March 2022 – General update
17 Feb 2022 – Updated Sendinblue's prices
20 Sept 2021 – Updated Mailjet's prices
26 May 2021 – Added Elastic Email
16 Feb 2021 – General update
10 Sept 2020 – Updated prices