Transactional emails have an open rate of 40 to 50%—almost twice the average open rate (26.76%). Wielding this much potential, your organization needs to make the most of every bit of it.
Done right, these transactional messages can engage your customers, deepen relationships, generate conversions, and foster trust. Don't let them be drab and forgettable.
Take inspiration from the 14 transactional email examples in this article. Actionable tips are also at your disposal to get you off to a good start.
What is A Transactional Email?
A
transactional email
is sent when a user initiates a specific action on your app or website – for example, creates an account or makes a purchase. Its core function is to provide the recipients with pertinent, transaction-related content.
It's for this reason that all types of businesses–from retail to subscriptions/memberships to service providers–should have well-designed, streamlined transactional emails in place. But before you see what these look like in action, let's clarify one tricky matter first.
Transactional Emails VS. Marketing Emails: How Do They Differ?
Transactional emails shouldn't be confused with marketing emails.
Transactional emails aim to provide individuals with useful information related to the action they've taken. For example, registering for an account or requesting a password.
Marketing emails, by their nature, are promotional. They're designed to encourage readers to engage in conversion actions, such as making a purchase or booking an appointment.
Because of this fundamental difference, these two types of emails vary in design, requirements, and frequency:
Transactional emails have a more functional and straightforward design. The focus is on providing clear instructions or information to the recipient. Marketing emails are more dynamic, featuring visuals, call-to-action buttons, and targeted messaging.
Transactional emails are often exempt from certain laws (such as the United States CAN-SPAM Act). Recipients don't need to subscribe to your newsletter to receive one. The same can't be said for marketing emails, where various regulations and anti-spam policies apply. It's also important to provide an unsubscribe link and emphasize that the message is part of your email marketing strategy.
Transactional emails are event-driven. They don't follow a set schedule. Recipients, however, expect to receive them within minutes of completing an action. Marketing emails, being a part of a campaign strategy, have predetermined frequency and timing. Many companies send at least once a week, increasing the number during special events and holidays.
Writing Effective Transactional Emails
There are many types of transactional emails. We'll cover 14 of them shortly. For now, let's delve into what makes one effective.
At the fundamental level, a high-quality transactional email should have:
A recognizable sender name. Transactional emails often include sensitive information so make sure the recipients know they're dealing with the right organization. Ex: info@mailerlite.com, hello@typology.com
A short, straightforward subject line. Choose conciseness over cleverness to ensure your readers know exactly what the email is for. Ex: Complete your password reset request, Your DGMG subscription will renew soon
Elements of personalized content. Including a customer's name and other personal information makes your message more credible and thorough. Read more personalization tips here.
A responsive design. Transactional emails often carry instructions and calls to action. It should be easy for the user to view, follow and interact with, regardless of what device they're viewing it on.
Quick turnaround. Many recipients are consciously waiting to receive an email following a user-initiated action. Sending yours immediately can earn their trust and engagement. In this case, automation is the answer.
14 Transactional Email Examples (+ Tips)
The use of transactional emails benefits many businesses. For example:
Digital and physical product sellers use transactional emails to facilitate order processing and communication.
Software companies leverage them to maximize software utilization and reduce churn.
The service industry relies on transactional emails to assist users in managing accounts and/or arranging appointments/reservations.
As you might have guessed, transactional messages tend to be corporate and formal in tone. But in the right hands, this type of email is also capable of deepening customer relationships and building trust.
These excellent transactional email examples and best practices will show you how:
Account Registration Confirmation and Verification Emails
Confirmation emails are like receipts. Customers and clients wait for them to make sure their account is already up and running.
Verification emails work the same way. But they offer an opportunity to foolproof the registration process with an extra security measure. Here's a crisp example from MailerLite: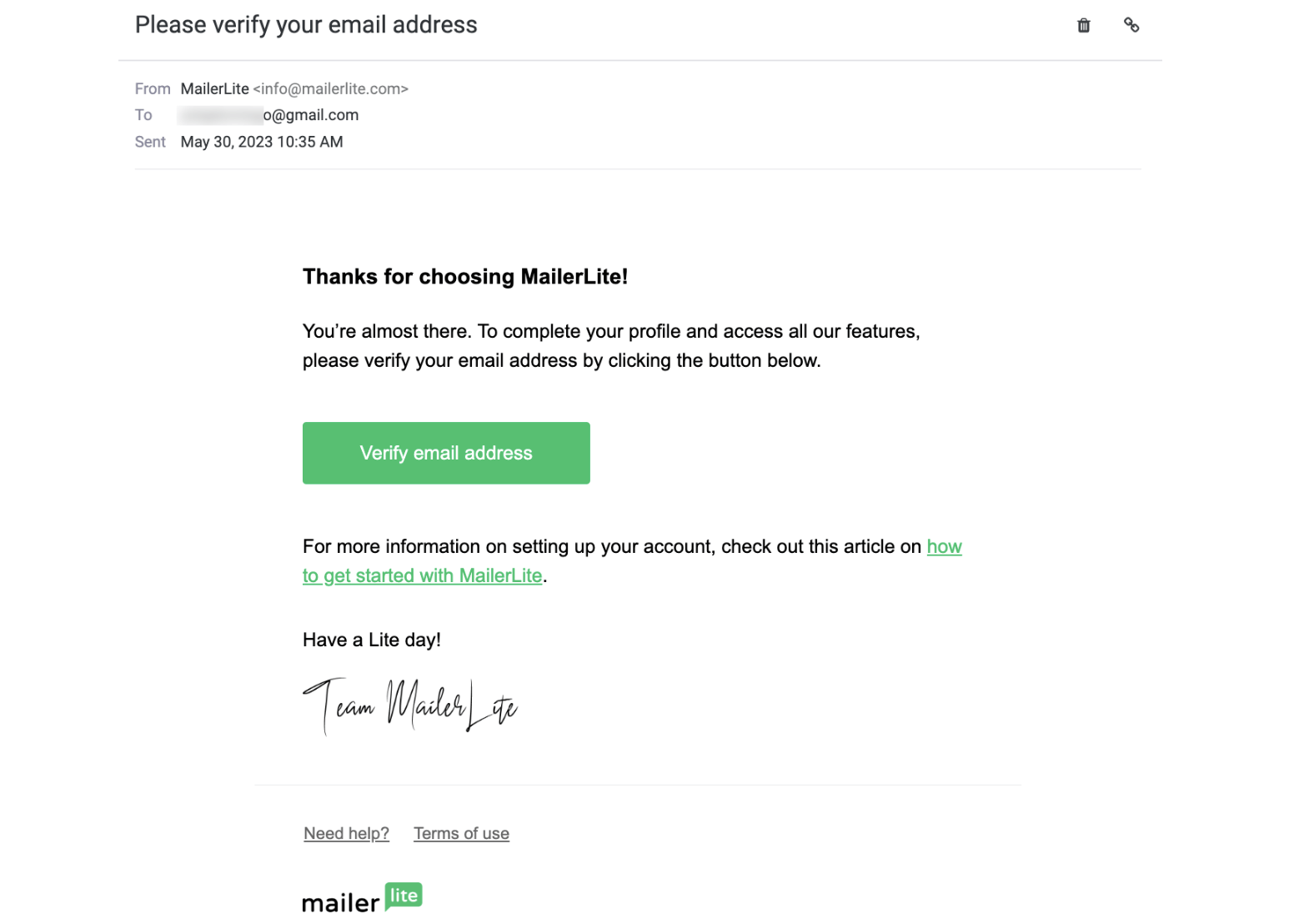 For online businesses, account creation rarely requires authentication. So in place of an account-verification link, Spanish leather brand Mietis added a button directing users back to the website. This enhances the customer experience. Shoppers can return to browsing or completing their purchases with one click.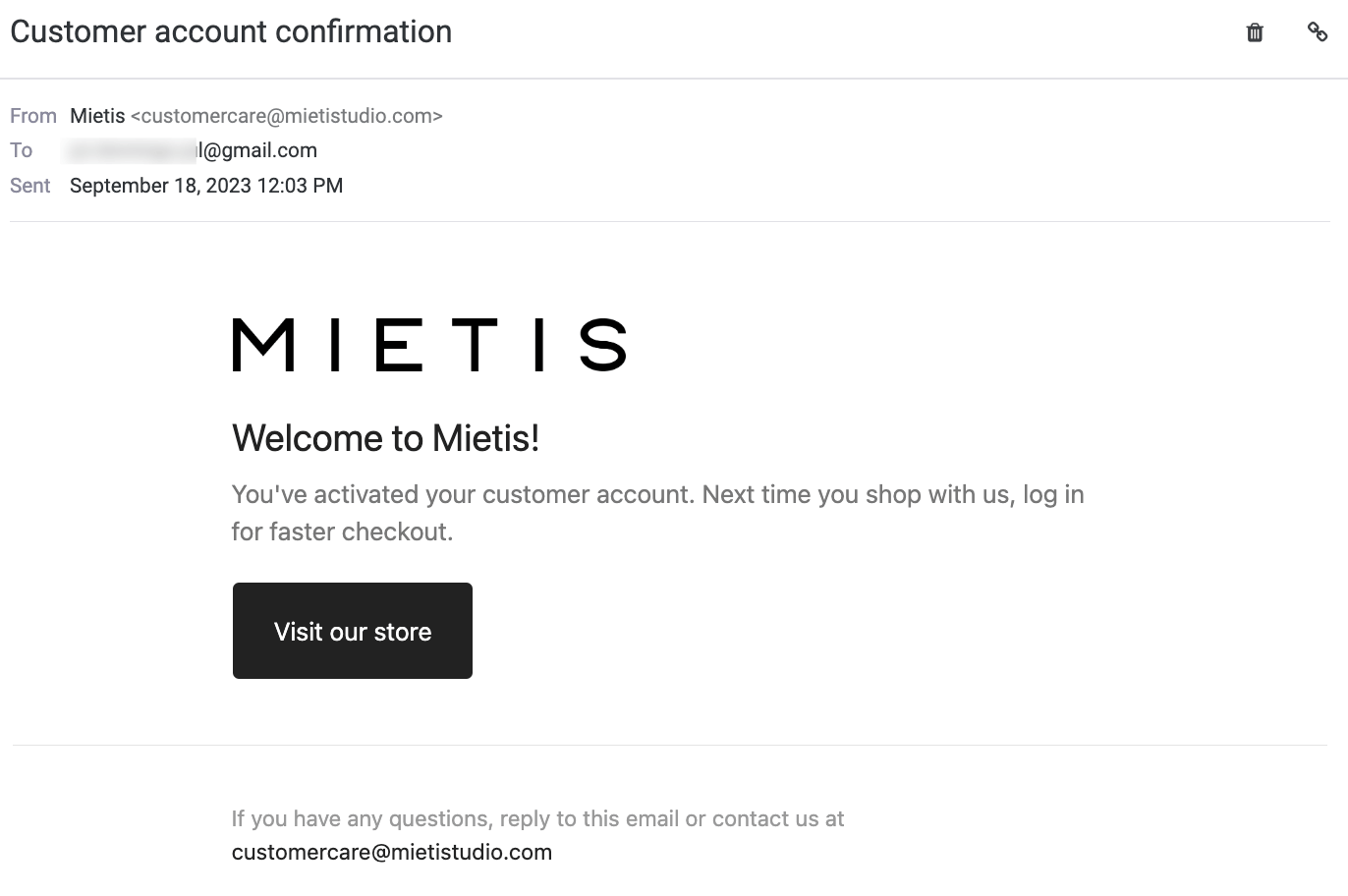 Based on the transactional email examples above, account confirmation/verification emails need to:
Be short and to the point. MailerLite and Mietis provided relevant information and links only.
Have a touch of branding. This promotes trust. Mietis brandished its logo/brand name, and MailerLite displayed its brand colors and signed off as Team MailerLite.
Password Reset Emails
You'll find users requesting password resets when they have trouble recalling their log-in credentials. It happens to the best of us.
Make sure you have a transactional email at the ready. Here's a good example from pdfFiller, a digital document management solution: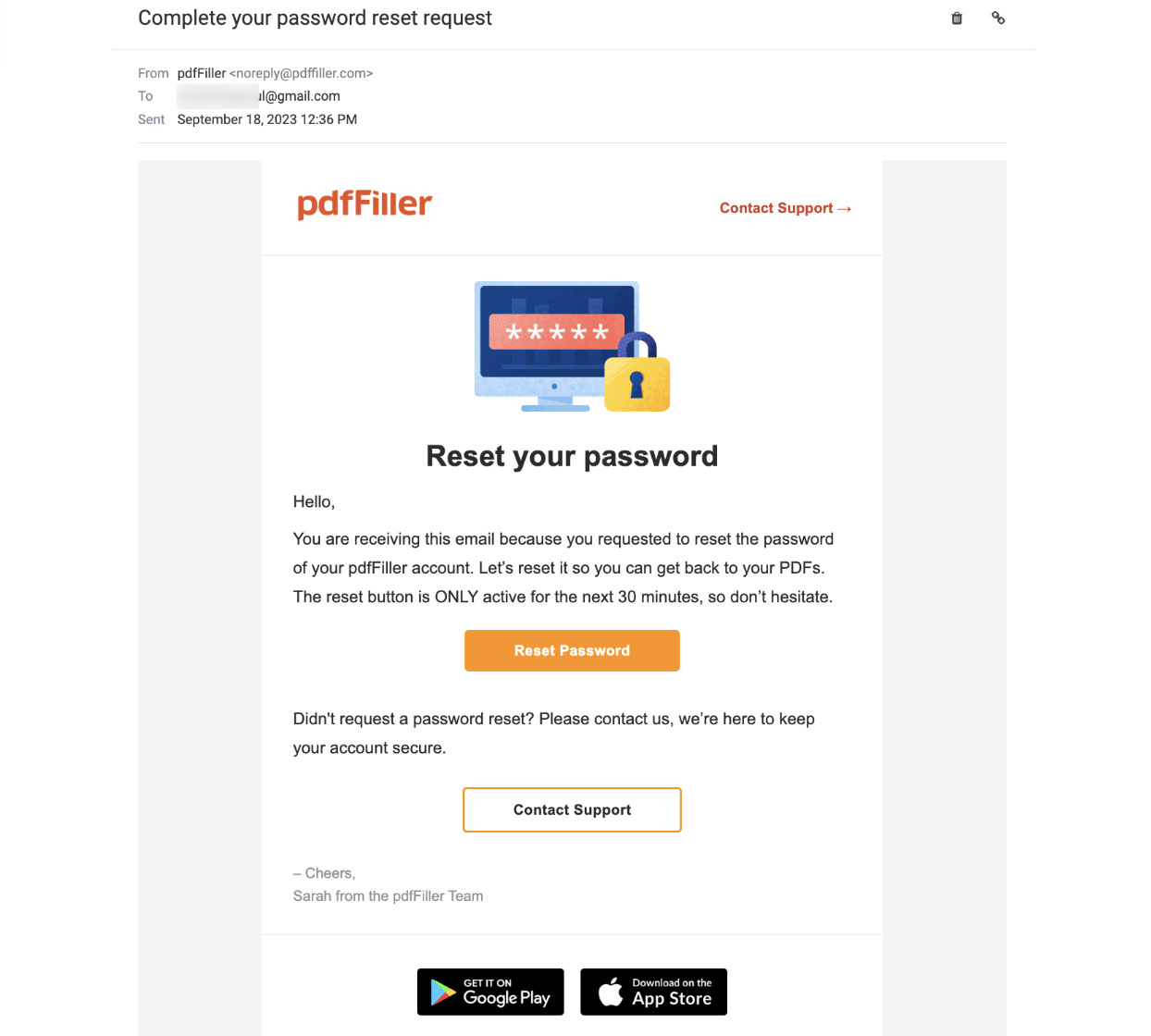 A password reset email should include a link to change their password and some instructions to guide them along. Other things to keep in mind are:
The validity period of the password reset link. pdfFillerr mentioned a 30-minute link expiration.
Assistance to those who did not request a password reset. pdfFiller added a Contact Us button to secure accounts for such individuals.
Password Change Confirmation
Working in tandem with the above transactional email is password change confirmation. The one Canva sends is well-designed and brand-consistent: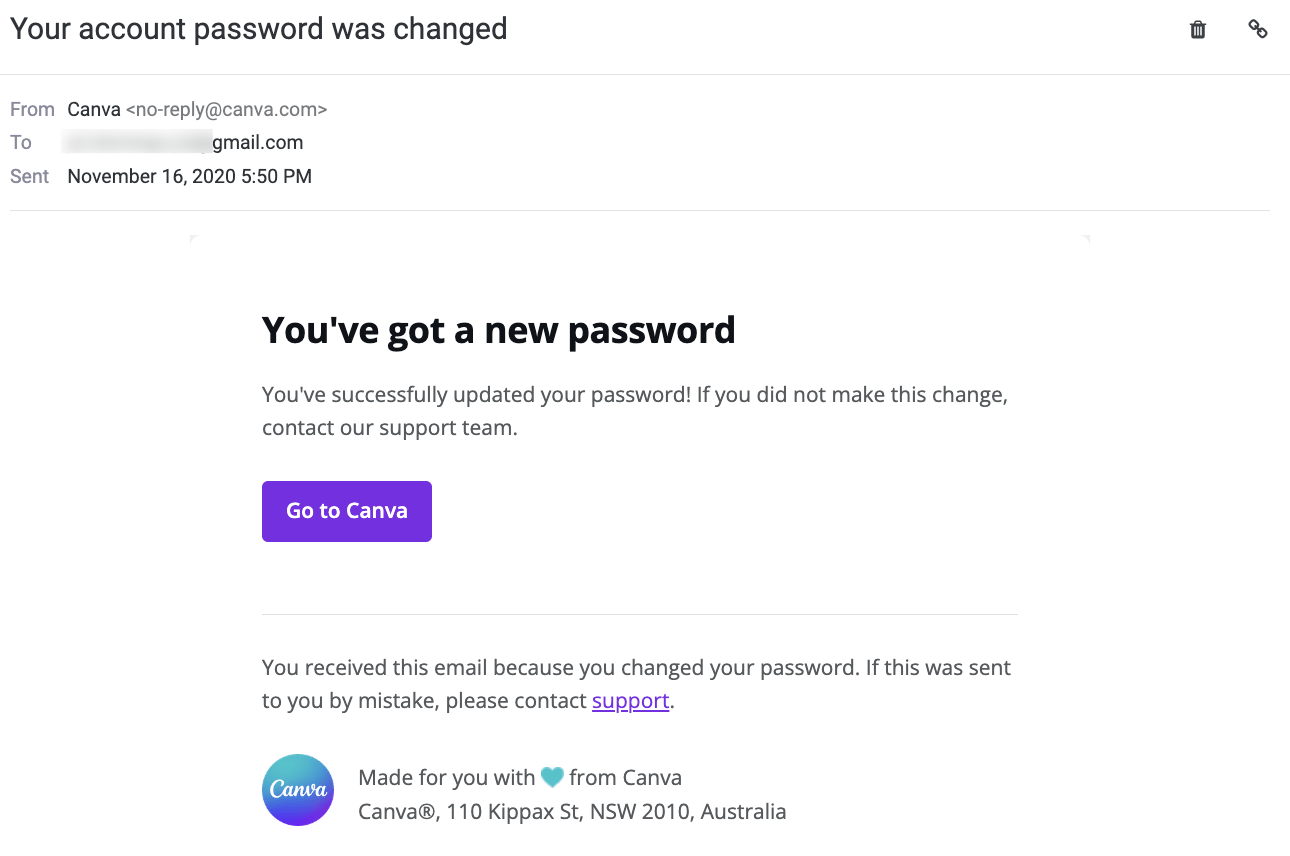 Like the password request email, you need to:
Keep the email short. Canva's email is free of marketing messages.
Encourage users to contact the support team if they did not initiate the change. Canva reminds recipients to seek assistance if their accounts have been compromised.
Account or Activity Alerts
If you detect suspicious activity on a user's account, activity alerts serve as your due diligence. By sending one, you can check in with your user and see if additional security measures are needed.
For instance: When I logged on to Todoist on my desktop for the first time, I received an email notification saying that an unauthorized device started a session: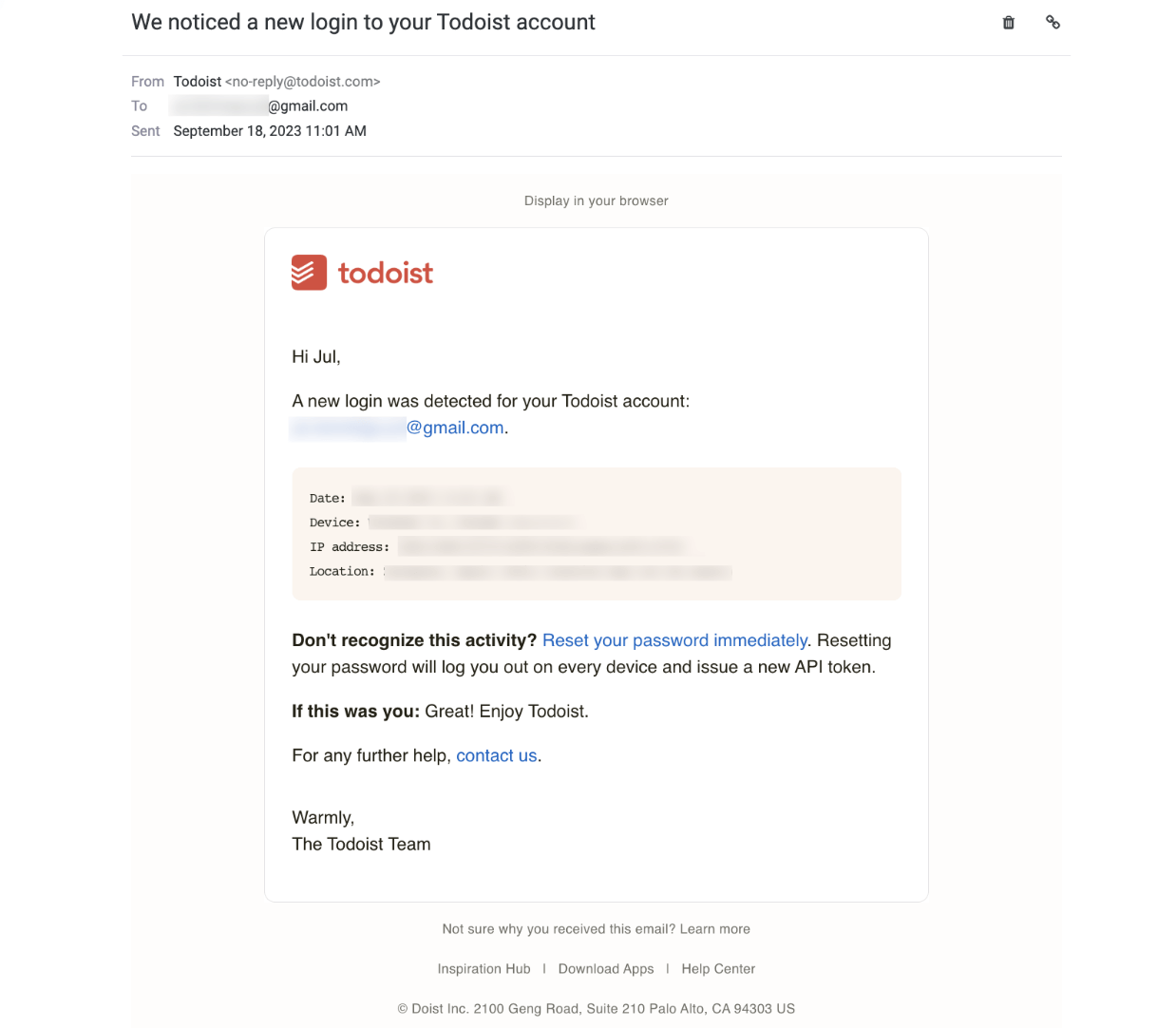 Account activity emails should inform users of what's happening and provide them with security assurances and customer service support. This means you should:
Include details such as date, device, type of activity, specifics about the activity, etc. As the example above is a login issue, Todoist included information such as the device used, IP address, and location. These details paint a clear picture of the event.
Guide recipients through the next steps. Offer security tips and contact information to those who need to safeguard their account. Todoist ticked this off and threw in a clarification that there was no further action required if I initiated the login.
Account Deactivation or Suspension Emails
After a period of inactivity, you can send a transactional email to warn users that their accounts will be deactivated. This is one of the rare times you should send one ahead of the event.
Depending on your business, the period of inactivity will vary. For HubSpot, it's 210 days. A week before those 7 months were up, I received this email: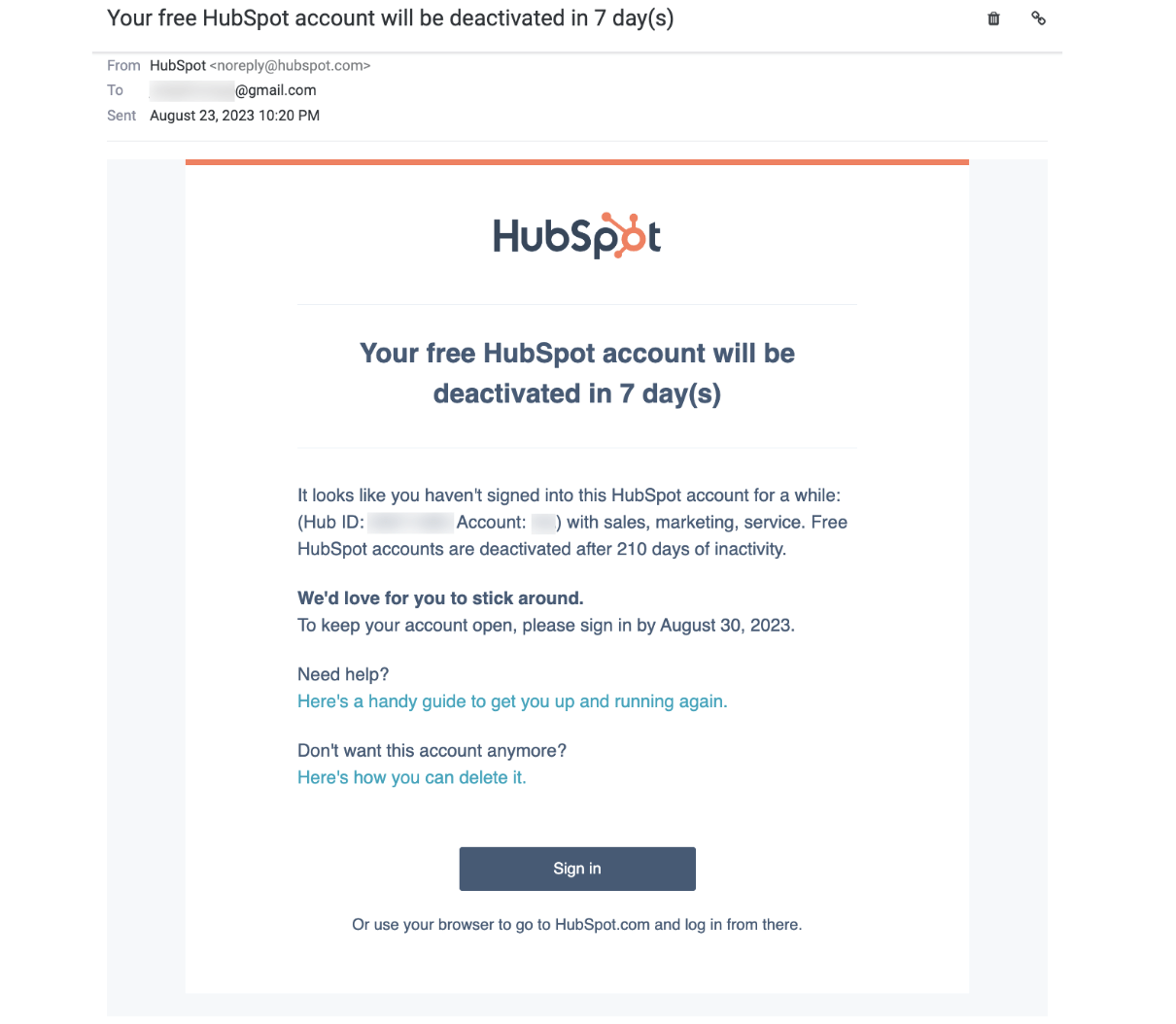 However, if the deactivation is due to the customer's request or policy violations, that's a different story. Send the email immediately after the deed. The same goes for account suspensions.
In any case, make sure to:
Mention the individual's account information for complete transparency. HubSpot included my ID number, name (as initials), and email associated with the account.
Explain why the account is being suspended or deactivated. HubSpot explained that they automatically deactivate accounts after prolonged inactivity.
Inform users how to resolve account deactivation or suspension issues. HubSpot provided the final date I could log in if I wanted to keep the account.
Inform users how to reactivate their account–especially in the case of voluntary deactivation. HubSpot linked to a complete guide to reviving deactivated accounts.
Invoices and Receipts
Invoices and payment receipts are a great way to acknowledge your customers' purchases. Invoices are payment requests, so they arrive before payment receipts.
Elementor designs its invoices like a regular email. The website builder simply attaches a PDF copy to provide bookkeeping with a concrete and downloadable record: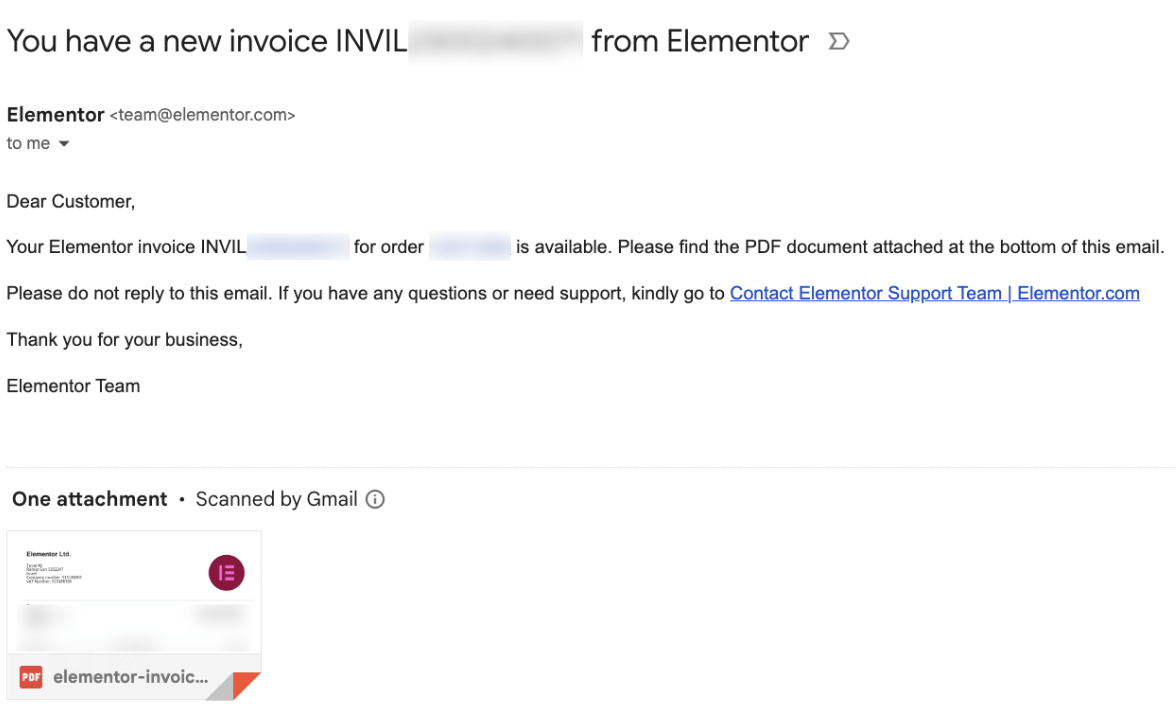 Receipts are just as simple. Writing assistant software ProWritingAid delivers one that is professional and well-branded: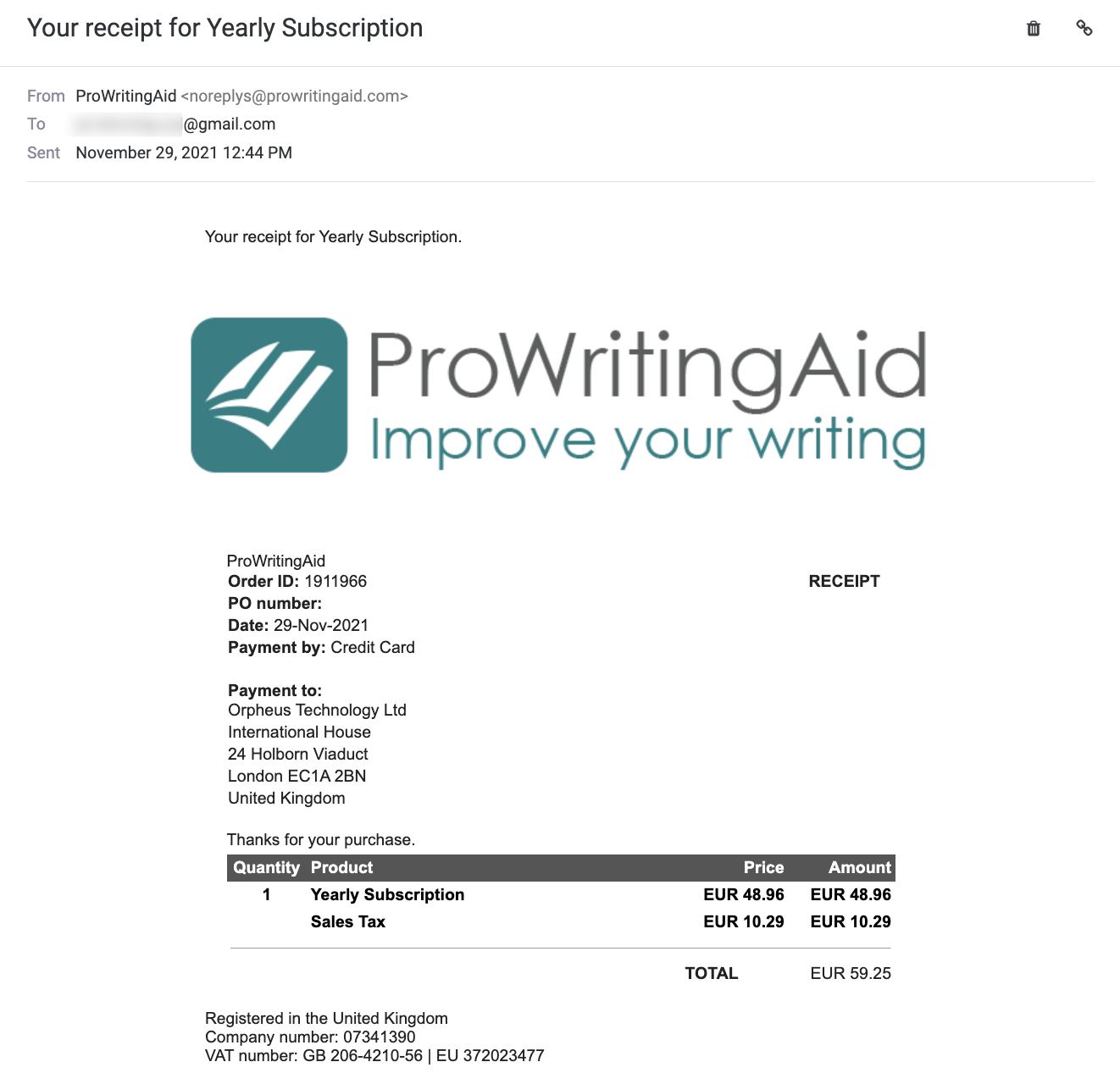 When sending invoices or receipts, include the following pertinent information:
Billing date and period
Customer information
Seller information
Order number
List of products or services
Item prices with and without tax
Payment due (invoice) or payment details (receipt)
Link to contact support
Order Confirmation Emails
Product or digital sellers don't typically send out invoices since shoppers have to pay upfront. In addition to sending receipts, though, customers also expect them to acknowledge the purchases made. Enter: Order confirmation.
Skincare brand Typology's order confirmation is quite thorough. It also exudes strong branding elements: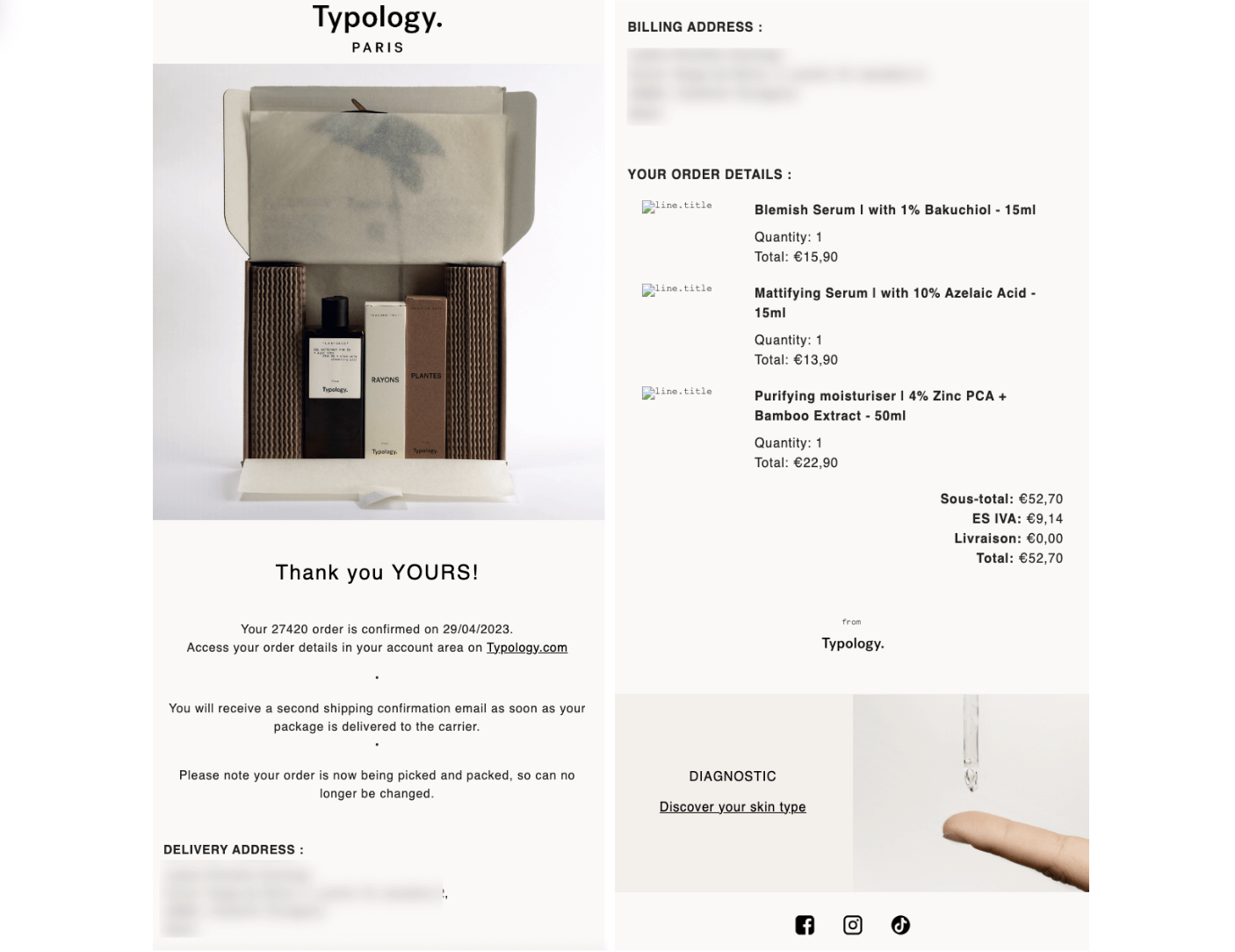 Meanwhile, the artisanal leather brand La Portegna's transactional email has a much simpler design. But it still bears the brand and ticks off a few more boxes. Case in point: the transaction email is personalized with the recipient's name–something Typology missed.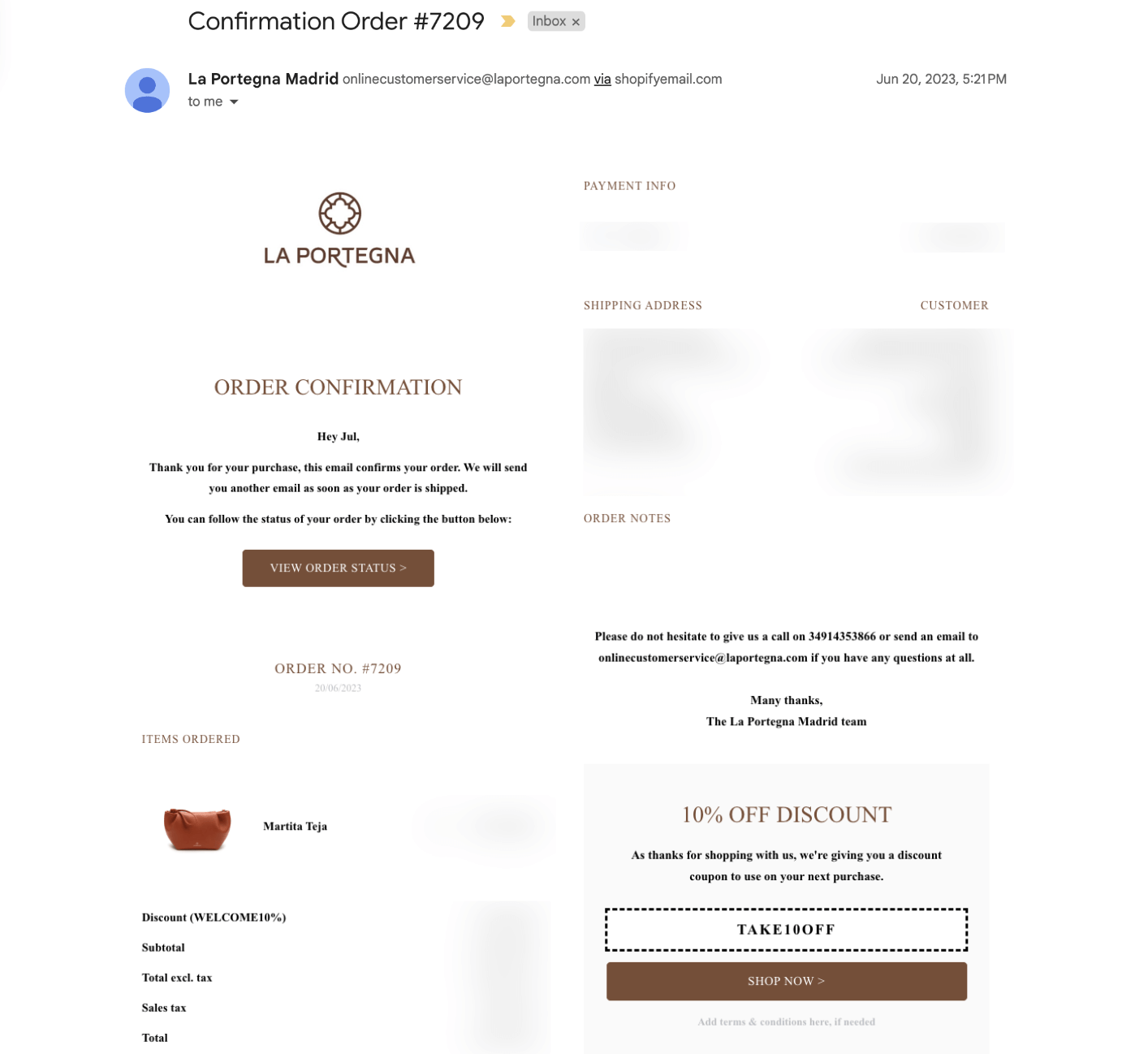 The brand also seized the opportunity to entice shoppers to come back by adding a discount code. This goes to show that when done correctly and cleverly, transactional emails can also result in marketing brownie points.
Based on the examples above, sellers should provide the following information in an order confirmation email:
Order summary
Order number
Payment method
Delivery address
Expected delivery date
Cost breakdown
Assured product availability
A link to view order details and order status
Shipping Notification Emails
90% of shoppers prefer being in the loop during the delivery process. So once the package is ready, a shipping confirmation email reassures your customer that it's on its way.
Shoppers can use the order status link in the order confirmation email to find out where their package is. But both Typology and La Portegna made it easier for buyers to track purchases by sending a second transactional email fit for the job: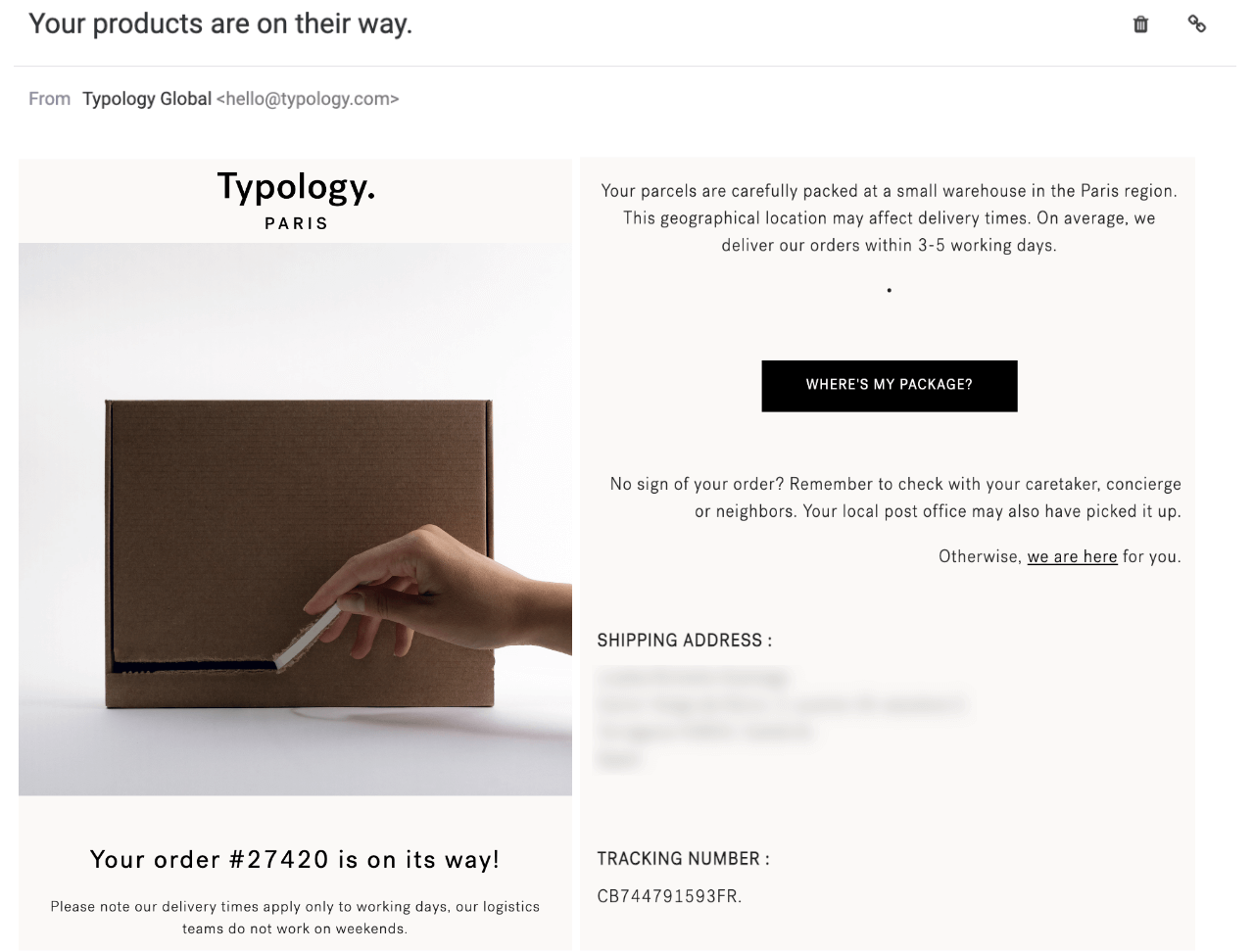 Here's what you should take away from these shipping confirmation emails:
Include pertinent information, such as order number, shipping address, and special order notes.
Ease the shopper's mind. For instance, Typology informs recipients that at the time of the email, the package currently sits in its Paris warehouse.
Provide the expected delivery date or a typical shipping timeframe. For Typology, it's 3 to 5 working days. For La Portegna, it's between 3 and 7 days, depending on whether your item is customized.
Add a tracking link or a tracking number.
Help with issues if they arise. Include info on where to contact you. It could be a link to your contact page. La Portegna takes it one notch higher, leaving a phone number and email address should there be a problem with the delivery.
Abandoned Cart Reminder
Shockingly, a whopping 70% of carts get left behind. It doesn't matter if your product is physical or digital, sending shoppers an abandoned cart reminder can nudge them to reconsider. This transactional email example, done well, can do wonders for your conversion.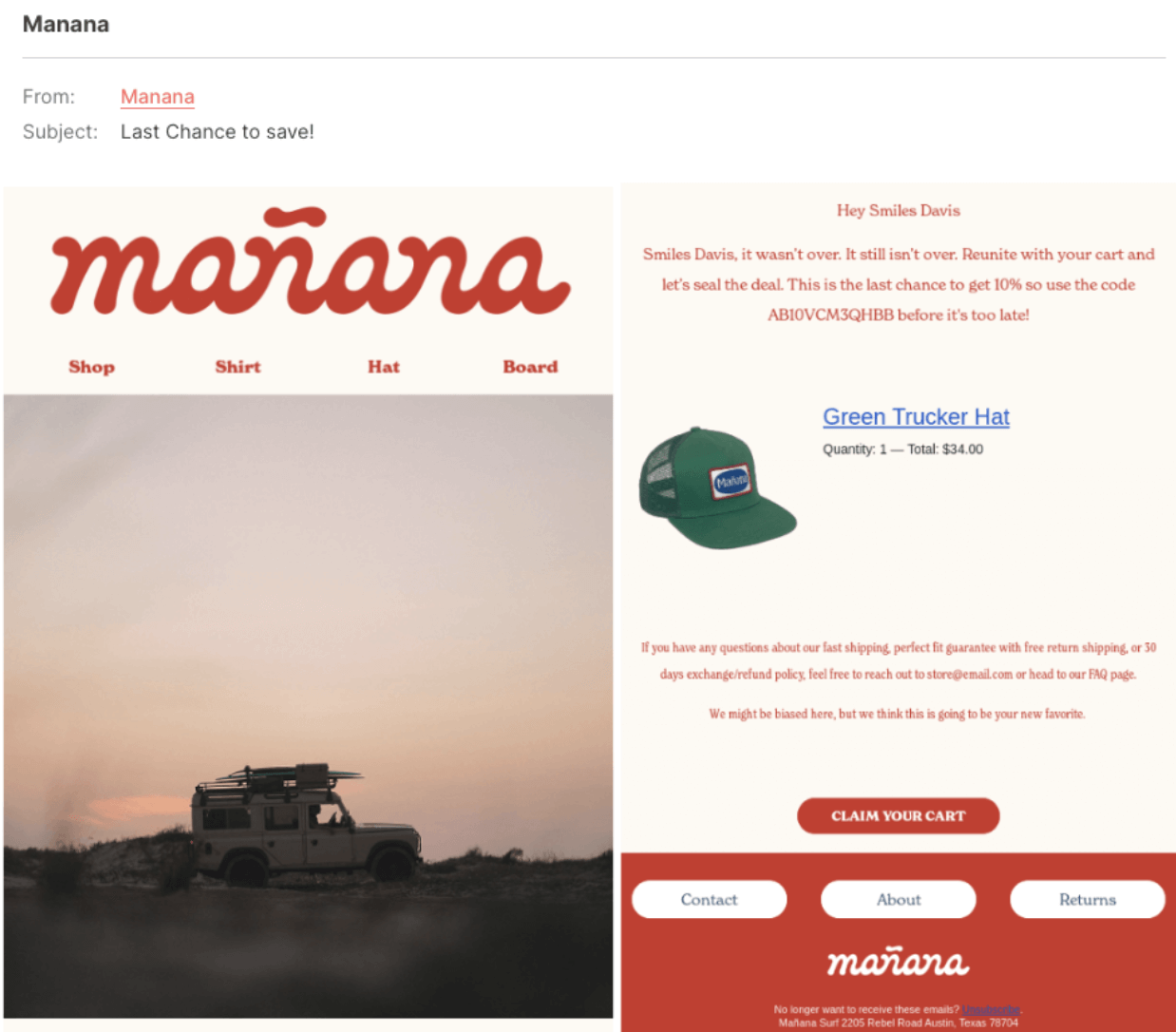 A good abandoned cart email, like lifestyle brand Mañana's, conveys the message that the unsure shopper is about to miss out on a great deal.
Try the following strategies when designing one:
Address possible reasons the shopper is holding back. Some examples include shipping fees, ambiguity surrounding return and refund policies, and whether the product is the right fit. Mañana tackled these concerns head-on and encouraged the shopper to drop them an email with their questions. The email also included a link to the returns page at the bottom.
Offer an incentive, such as free shipping, a discount code, or a giveaway. Mañana handed the shopper a 10% discount to go with the purchase.
Time it right. Send it within 24 hours–preferably in the next hour. Emails sent within the first hour have a 13% to 16% conversion rate.
Tease out what they're missing. Adding "this is going to be your new favorite" was a nice touch. But Mañana could have gone a step further with social proof and showcased the hat's distinctive features (ex: recycled fabric, sturdy materials, etc.)
Upsell. Throwing in a thoughtfully curated "You might also like these…" section can pique the shopper's interest and boost the average order value.
Welcome/Onboarding Emails
Give your new app user or community member a heartfelt welcome. More than that, this transactional email example can point them to the resources they need.
If you want to make things more digestible, though, start with a simple step. Automation platform Zapier sends out an email encouraging first-time users to create their first Zap.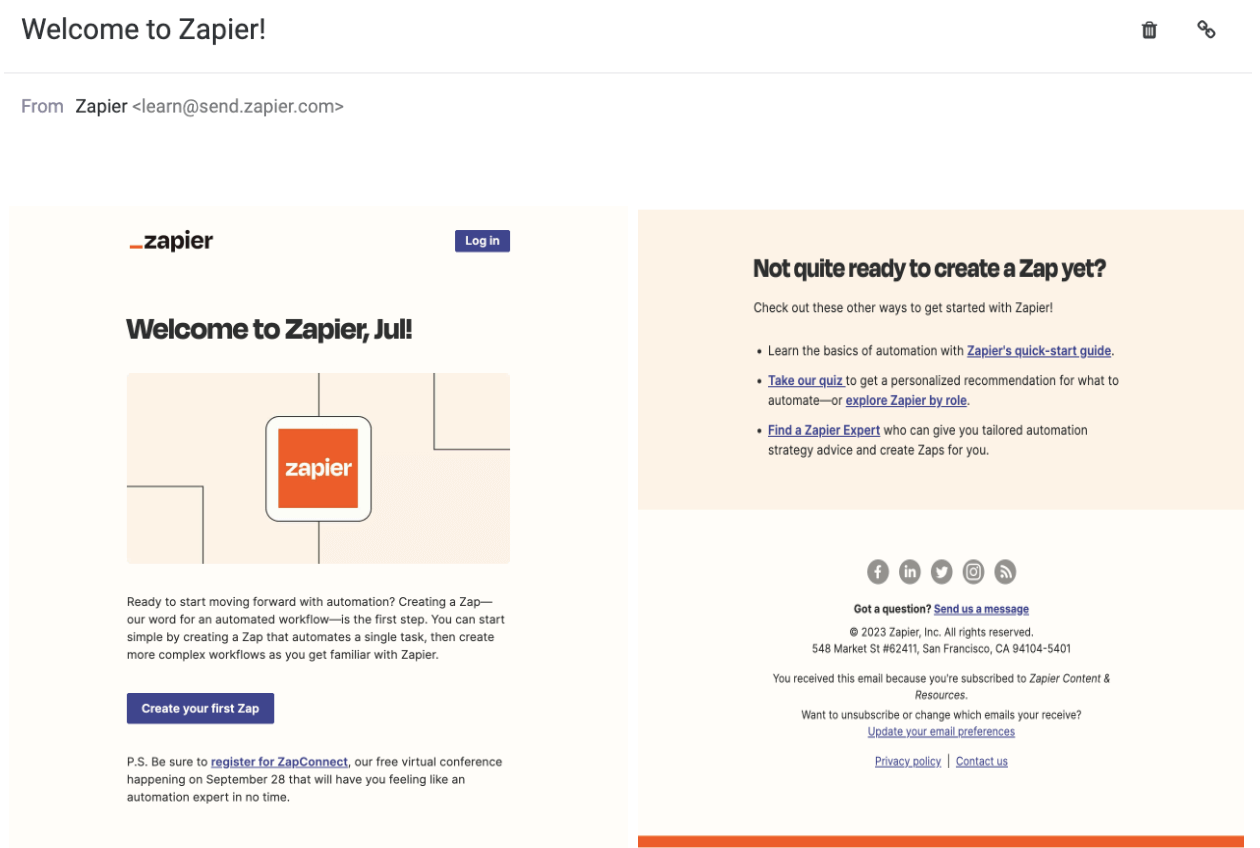 The button goes straight to the user's dashboard. However, if the user isn't keen on creating a Zap yet, Zapier offers alternative actions that double as guides.
Apart from sharing helpful resources, an onboarding or welcome email can be about:
Getting personal about your app or community. Share your backstory and cause to your new subscriber.
Highlight what makes your app or community unique. Give a brief description of your value proposition.
Explain how your product or service will help them.
In the case of advanced apps, share an overview of the onboarding process.
Membership or Subscription Renewal Reminders
Save your subscribers from the scare. Don't leave them in the dark, wondering about that random deduction on their bank statement.
A membership renewal email lets them know they're about to be billed and offers the option to cancel their account if they wish.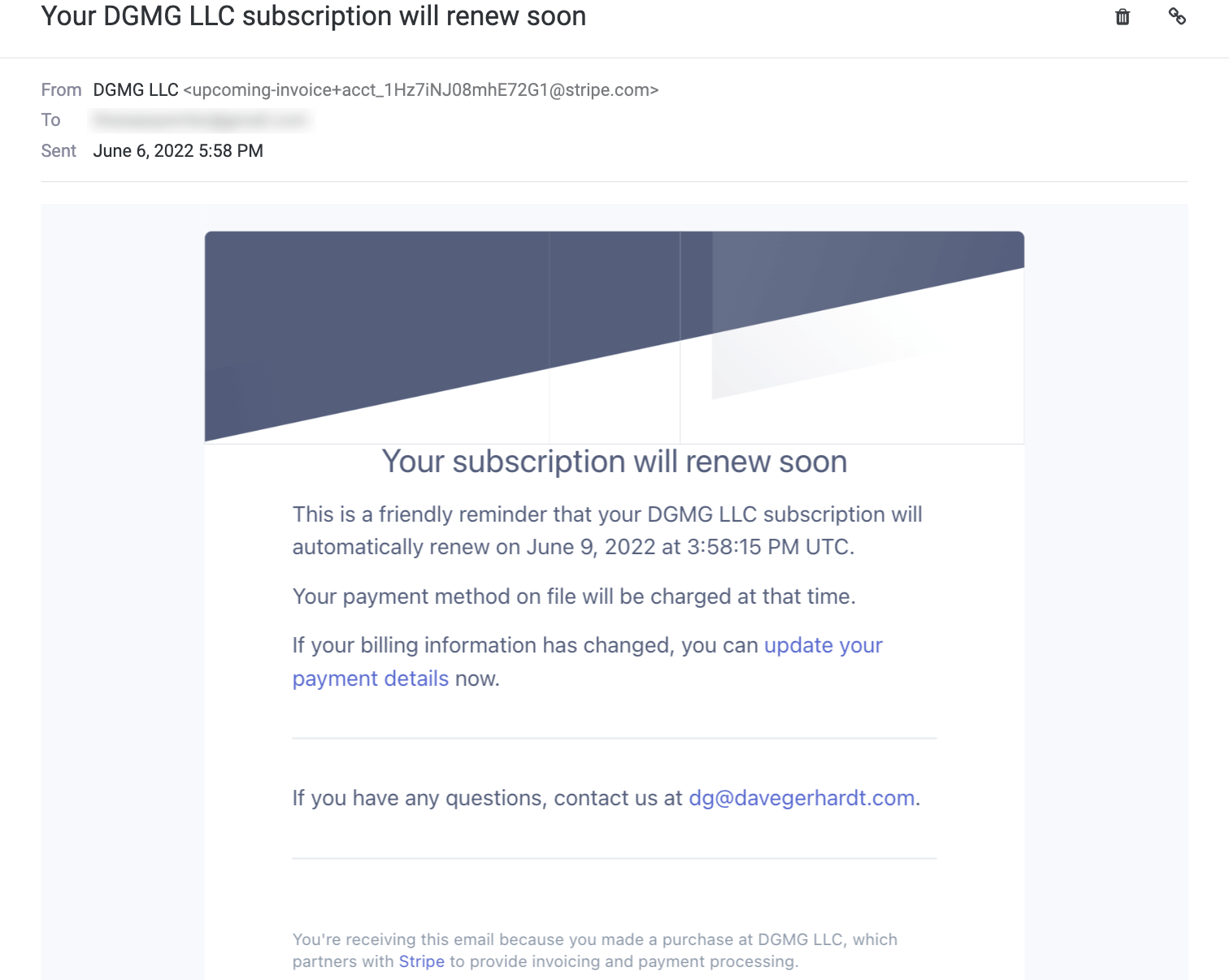 Some key tips to remember when writing this type of transactional email:
Clearly mention when their membership/subscription is up for renewal. Business marketing community DGMG (now known as Exit 5) did so down to the second. Doing so informs recipients how much time they have to make a decision to stay or go.
If memberships or subscriptions aren't up for automatic renewals, explain how the recipients can maintain theirs.
Event Registration Confirmation Emails
Event invites—be it for in-person or Zoom events–count as marketing emails. But registration confirmation emails are completely transactional and necessary. They're a symbol of commitment.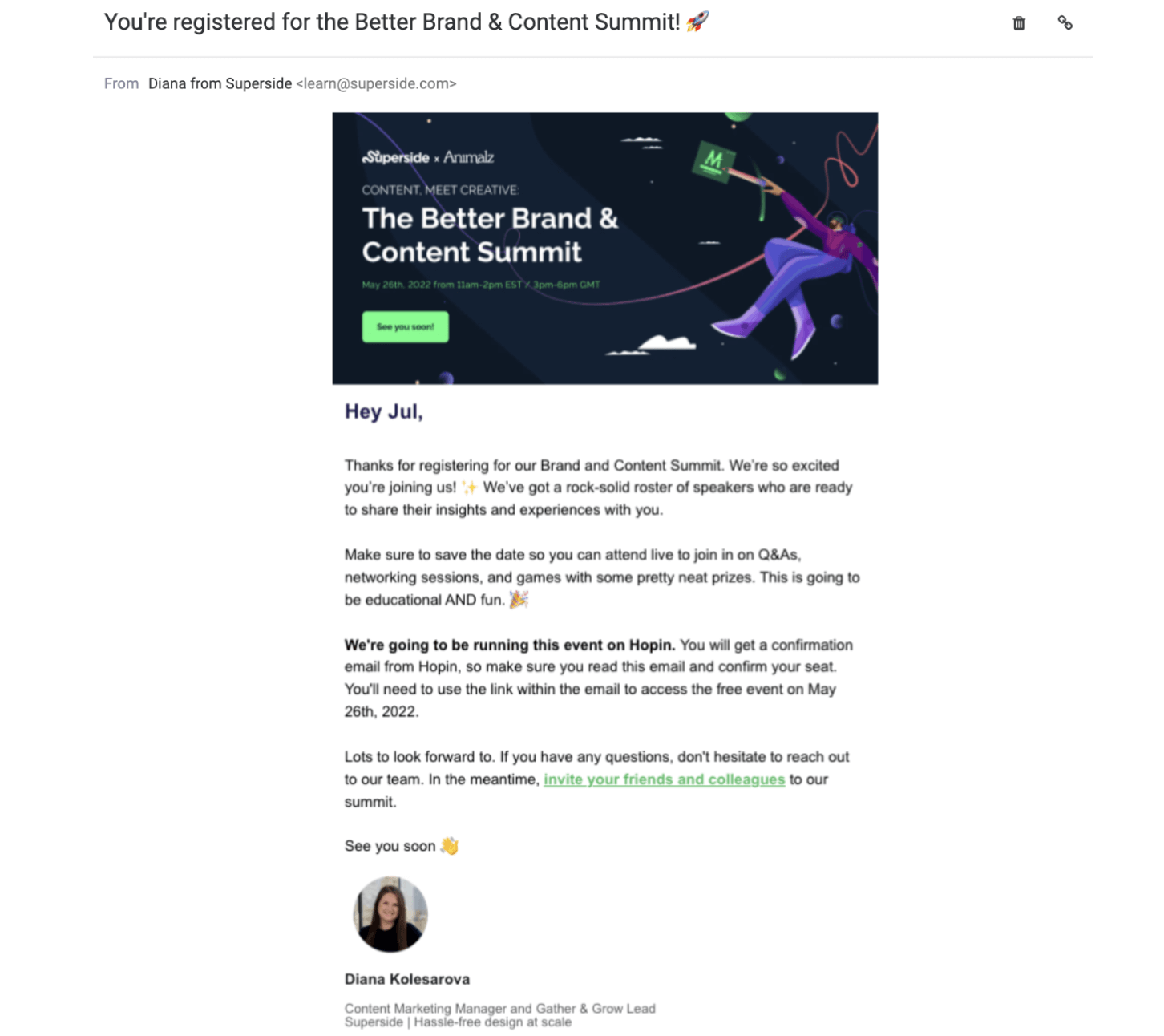 Leverage yours to stir up excitement and momentum, making them more likely to attend. For instance, Superside's confirmation email made sure to mention how the event is going to come alive with games, networking sessions, and prizes!
Aside from the promotion, don't forget to include relevant details, such as:
Date and time of the event
A link to the registration page, plus a call to share it. Feel free to drop a surprise for those who heed the call.
Dress code (for in-person events)
Appointment or Reservation Confirmation
Make it easier for your clients to remember that they have a scheduled appointment or reservation coming up.
Appointment or reservation confirmations are perfect for companies offering private sessions, consultations, in-person visits, and experiences. Let's look at how Blind Barber, a barber shop, does it: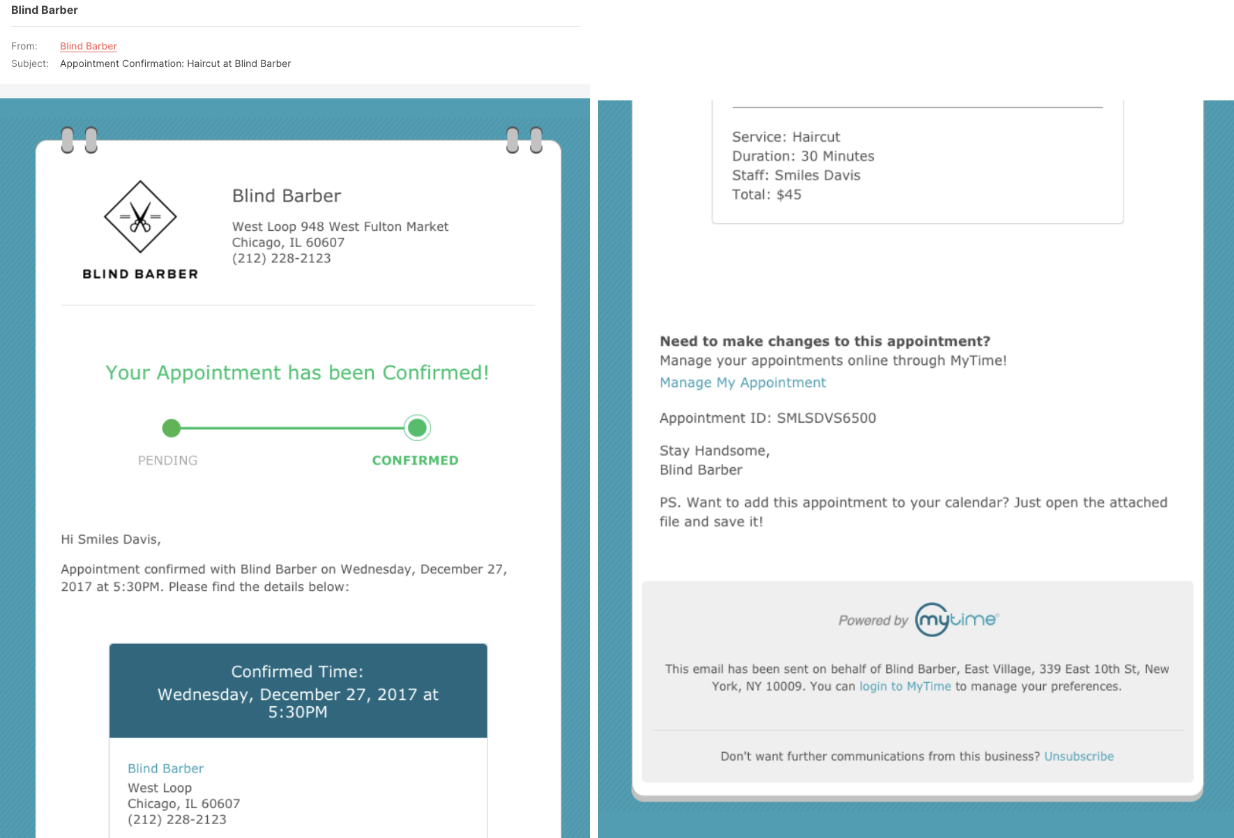 Don't forget to:
Include all the necessary information, such as time and cost. For establishments such as restaurants, hotels, and facilities for personal grooming, follow Blind Barber's lead and add your address.
Provide a way to reschedule or cancel the appointment. Blind Barber uses a scheduling platform to make it possible.
Feedback or Review Requests
Globally, 73% of consumers expect businesses to recognize their specific needs and expectations. Asking for feedback or reviews is also a good way to find out what they think about your company–from product/service quality to customer experience.
Your request could be as simple as London fashion brand Saint and Sofia's: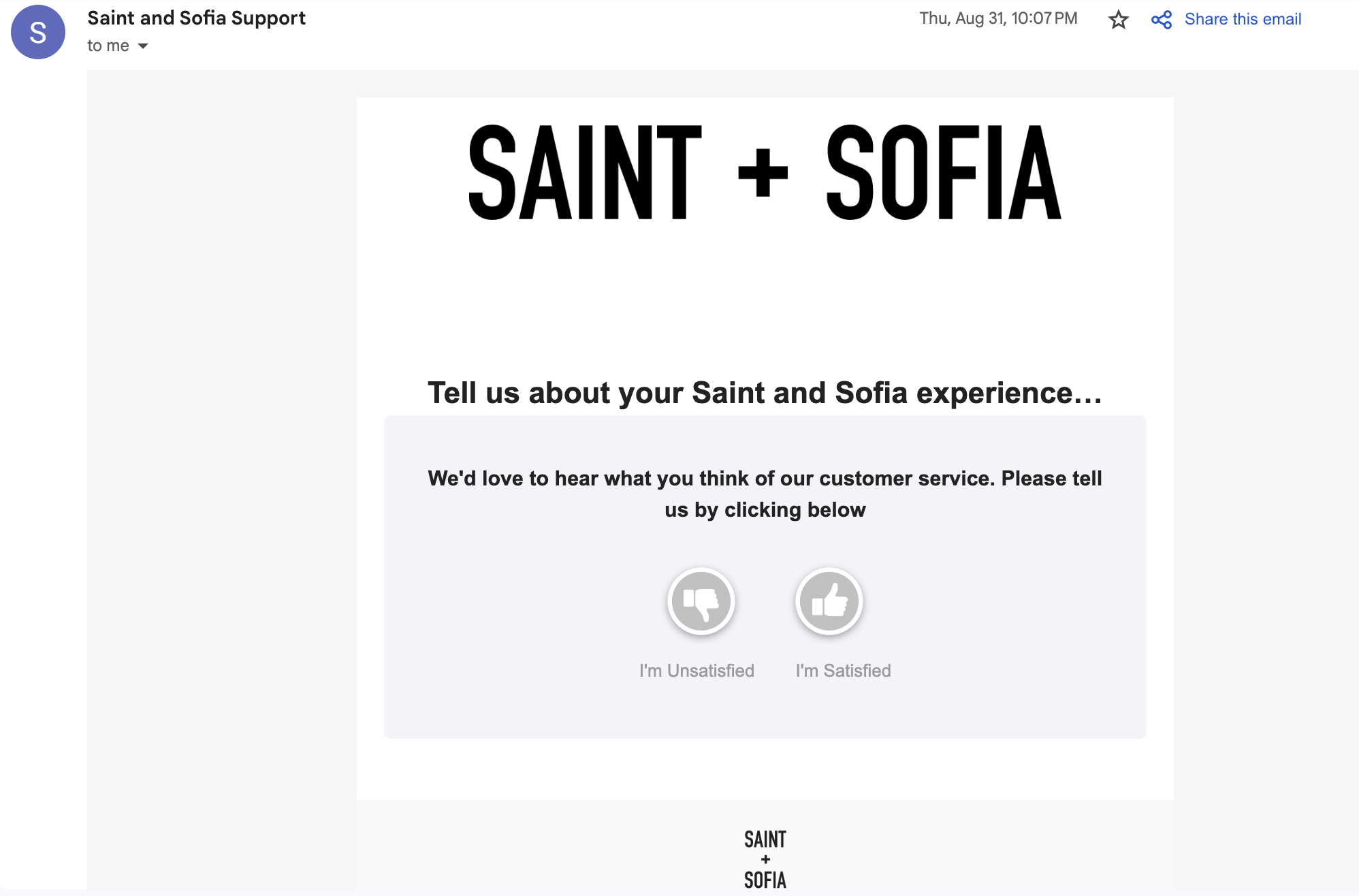 Or more granular like video and podcast editing tool Descript's: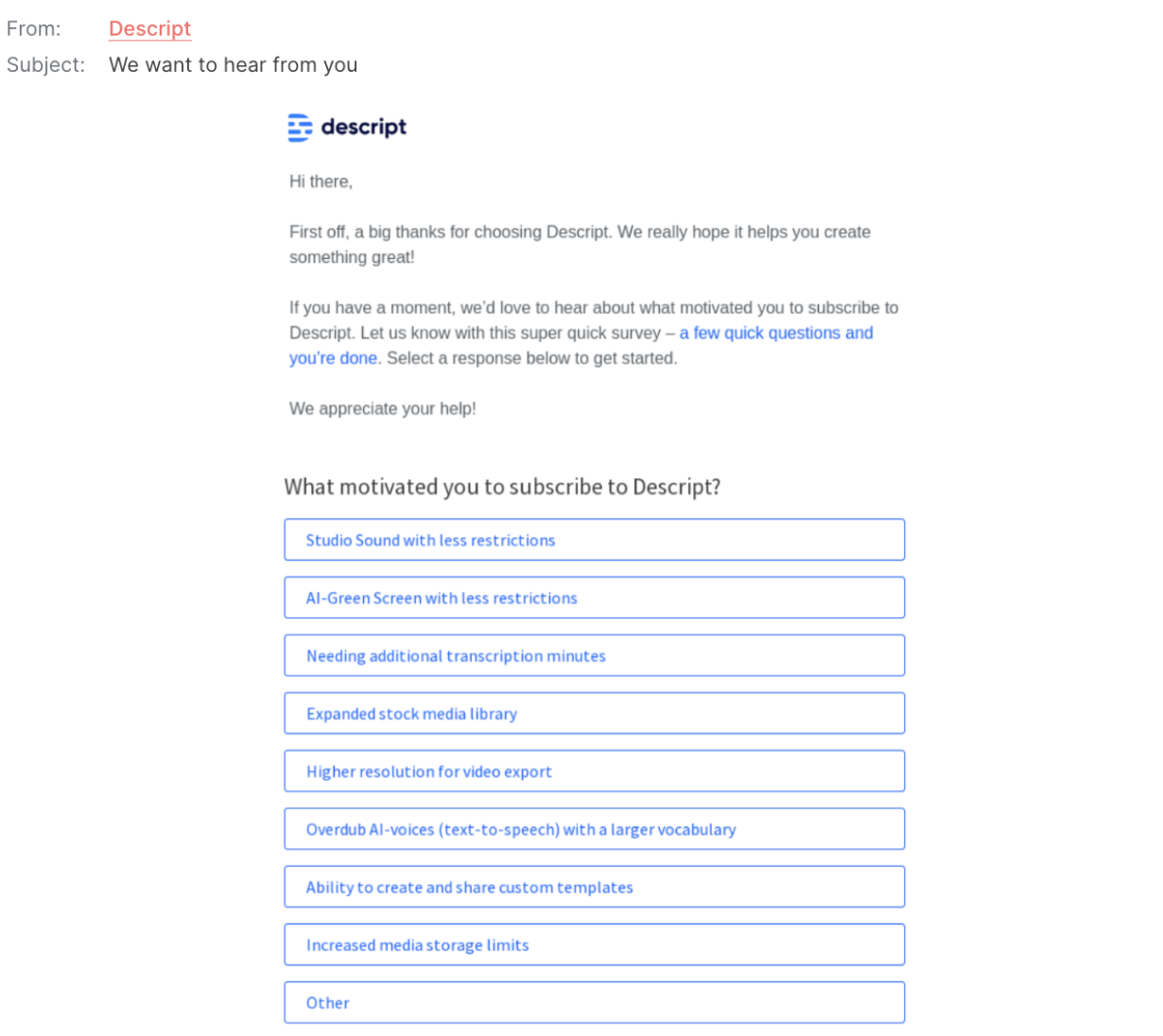 Whatever route you take, make your customer feedback email is:
Actionable. Don't make your reader jump through hoops just to deliver feedback.
Snappy. Both examples contained a short survey. If you want to run a longer survey, don't do it directly in the transactional email. Add a CTA button that leads to a survey page instead.
Send Transactional Emails that Foster Customer Relationships
So there you have it. Transactional emails focus on getting things done. But you can make them more relevant and engaging to your customers.
Here are other resources to help you create transactional emails that can positively impact the customer journey:
As always, if you need a bit of extra help with getting your transactional emails up and running, let us know in the comments below!
Our Methodology
This article has been written and researched following our EmailTooltester methodology.
Our Methodology