If you're a busy ecommerce store owner like me, here are a few things you don't have time for:
Endlessly copy-pasting email addresses onto different mailing lists
Sending post-purchase thank you emails one by one
Keeping track of a bazillion customer purchase histories (Ok, I haven't actually sold a bazillion unicorn horns in my ecommerce store… yet.)
Fortunately, there's no need to do any of these tedious tasks manually. Ecommerce marketing automation software simplifies your busy life by automating work which would otherwise take tons of time and brainpower. This could include email marketing automation (see some automated email examples here), automating social media posts or digital ads, and more.
In order to stay competitive, ecommerce store owners need a marketing automation strategy. The main challenge is choosing the right tool for the job because not all marketing automation software is built equally.
We've found important differences in popular ecommerce marketing automation tools, but there are also lots of similarities between them. So first, we'll start with an overview of what all these platforms can do.
Then, we'll look at the pros and cons of each individually, and highlight some standout features to help you choose the best ecommerce marketing automation software for your ecommerce business.
What can ecommerce marketing automation software do?
To start, here's what you can expect to do with any of the ecommerce marketing automation software we've tested:
Automated flows
A "flow" in automated marketing is like a chain reaction that happens when customers do certain things or meet specific criteria. The steps in the flow are activated by triggers. These triggers could include visiting your website, abandoning a cart, or purchasing a product. When a trigger event happens, automatic marketing responses are set in motion, such as sending an email or adding the customer to a particular list or segment.
All the software we tested can create these basic automated flows (and most can do much more):
Welcome emails for new subscribers
Post purchase upsell emails
Re-engagement emails for inactive subscribers

Email Campaigns
Email marketing campaigns are usually created for special events or sales. In contrast to an automated flow, which generally runs permanently in the background and sends emails when triggered, an email campaign is typically a one-off event. Marketing automation tools can help you schedule these campaigns in advance, and make sure you're sending them to the right audience. All the software we tested feature tools such as email personalization, list management, and A/B testing.
Here are examples of email campaigns you can set up using any ecommerce email service provider:
Black Friday deals
New product launches
Exclusive deals for subscribers
VIP Customer appreciation emails
Pre-order opportunities for new releases
Segmentation
Think of email segmentation as the art of organizing your audience into groups based on similar traits or behaviors. Segmentation is crucial because it lets you target your marketing messages to fit each segment's unique characteristics.
With the ecommerce marketing automation software we reviewed, you can sort your customers into segments such as:
Frequent buyers vs. one-time purchasers
Newsletter readers who click through vs. those who don't
Customers grouped by geographic location or demographic data
New subscribers vs. customers who have already purchased
Pro Tip:
The world of marketing automation is filled with jargon. Some platforms use different words that mean the same thing (or something very similar). Here are a few examples to look out for:
Flow: workflow, automation template, customer journey, recipe (!)
Trigger: Entry point, action, condition, rule, event
Segmentation: Grouping, targeting, filtering, audience selection
The Best Software for Ecommerce Marketing Automation
Based on our research, we can safely say that pretty much every email marketing service has got the basics down. But when it comes to picking the right one, it's all about the little details. Let's dive into where each tool shines and where they might fall short.
Omnisend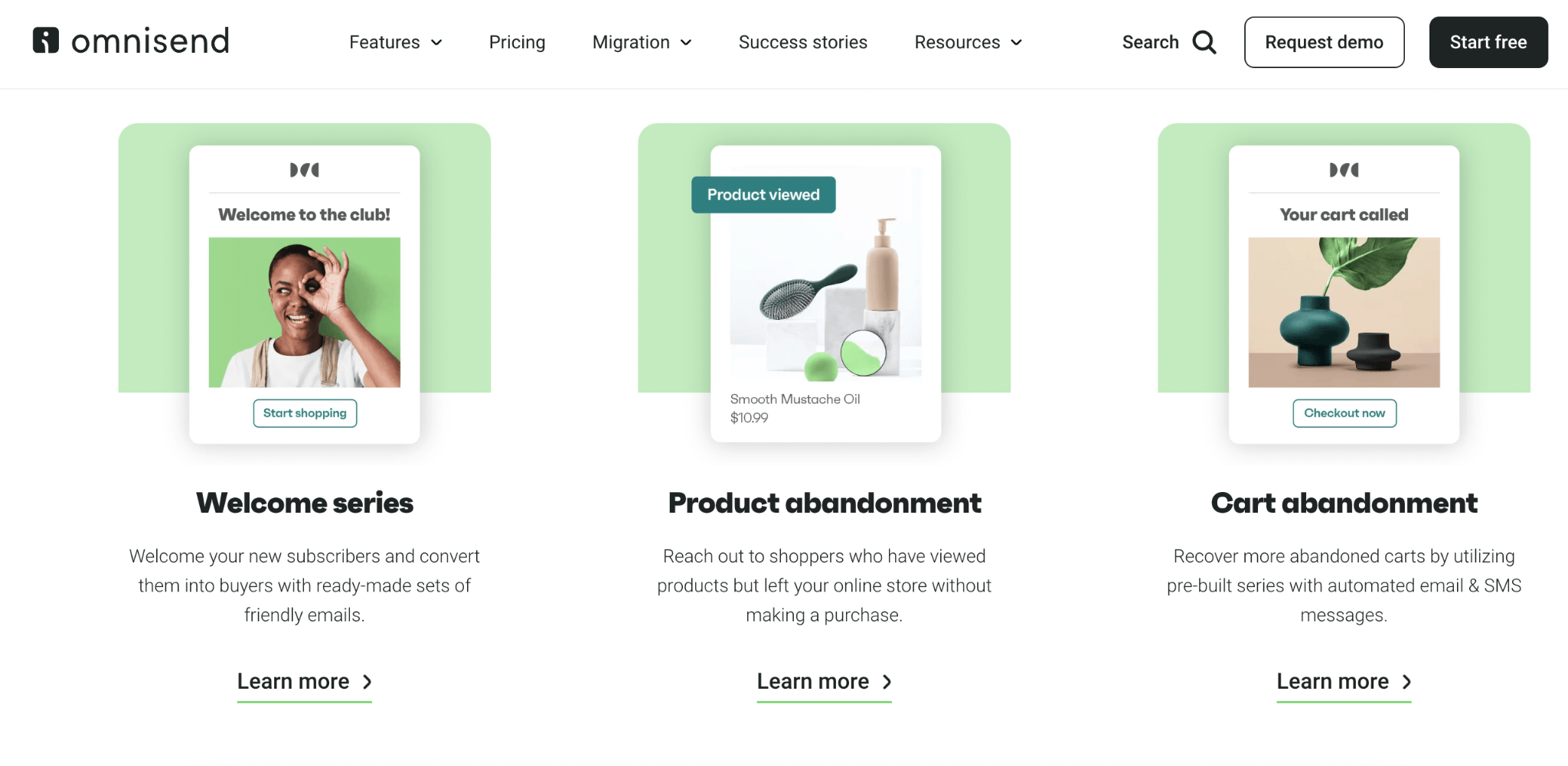 We often recommend Omnisend because its focus is entirely on ecommerce businesses and it offers a solid array of features- including automation workflows. Plus, they have a generous free plan that provides access to marketing automation for email, SMS, and push notifications.
Omnisend also offers tools for automated social media marketing.For instance, if a customer browses products in your store but leaves without buying, Omnisend tracks this and places them in a dynamic segment. This segment can be synchronized with Facebook Custom Audiences, so your ads appear in that customer's Facebook and Instagram feeds.
If that customer makes a purchase, they're automatically removed from the segment. That way you're not wasting money showing ads to people who have just bought something. Doing this manually would be extremely time consuming, but with Omnisend it's all completely automated.
One drawback is that Omnisend's templates for automated marketing are currently quite limited. Only 14 options are available, and almost half of these fall into the transactional email category (like order confirmations and shipping notifications) rather than true marketing flows.
Pros
All ecommerce marketing automation features are available on the free plan (500 emails per month, up to 250 contacts)
Excellent for automating marketing across multiple channels (email, SMS, social media, etc)
Cons
Billed for non-subscribed contacts
Poor email deliverability based on our tests
Only 14 pre-built automation workflows, and some are for transactional emails rather than marketing
Omnisend Pricing
500 emails to 250 contacts: $0
2,000 contacts: $30/mo
5,000: $65/mo
10,000: $115/mo
50,000: $330/mo
Learn more about Omnisend pricing.
Who is Omnisend best suited to?
Choose Omnisend if you're looking to automate email marketing and social media marketing all from one platform. It's also a solid choice if you have a small subscriber list and want to take advantage of advanced features for free.
> Read our full Omnisend review
Klaviyo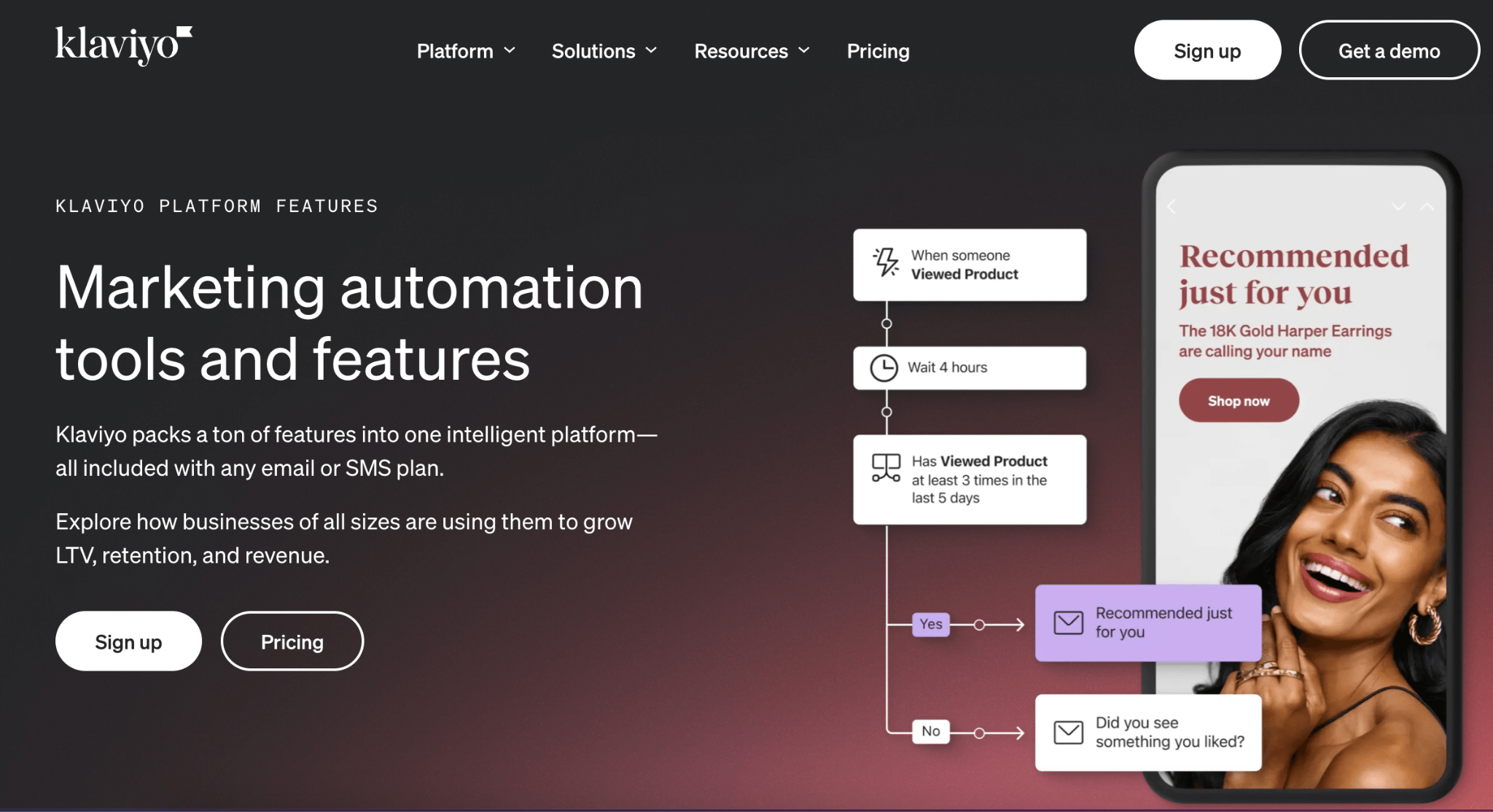 Klaviyo has a few ecommerce marketing automation features that stand out. We love that Klaviyo prevents you from accidentally sending your customers too many emails. This smart tool ensures that customers who have just received an email aren't sent another one too soon, even if they're on several different email lists. This is a very good way to prevent spam reports or unsubscribes. After all, no one likes to be bombarded with emails.
Another area where Klaviyo excels is its hyper-segmented flows. For example, you can segment abandoned cart emails by sending one version to high spenders and another to those with less in their cart. Or, send special offers only to customers who are likely to spend more in the future based on Klaviyo's powerful predictive analytics.
I didn't find Klaviyo's flow builder to be the most intuitive, but they are currently testing a "new flow experience" which can be toggled on at the top of the page. I recommend using this new editor which is less cluttered and easier to navigate.
Pros
Klaviyo excels at data management and analytics
Super specific segmentation
Klaviyo's Flow Library has over 70 marketing automation templates that are easy to customize
Cons
Not the best UI for crafting automated flows from scratch, but improved when "new flow experience" is toggled on
Klaviyo Pricing
500 emails to 500 contacts: $20/month
10,000 emails to 1,000 contacts: $30/month
50,000 emails to 5,000 contacts: $100/month
105,000 emails/month to 10,000+ contacts: $175/mo
Who is Klaviyo best suited to?
Klaviyo is a great choice for data lovers who want to take advantage of fine-tuned segmentation for highly targeted automated marketing.
ActiveCampaign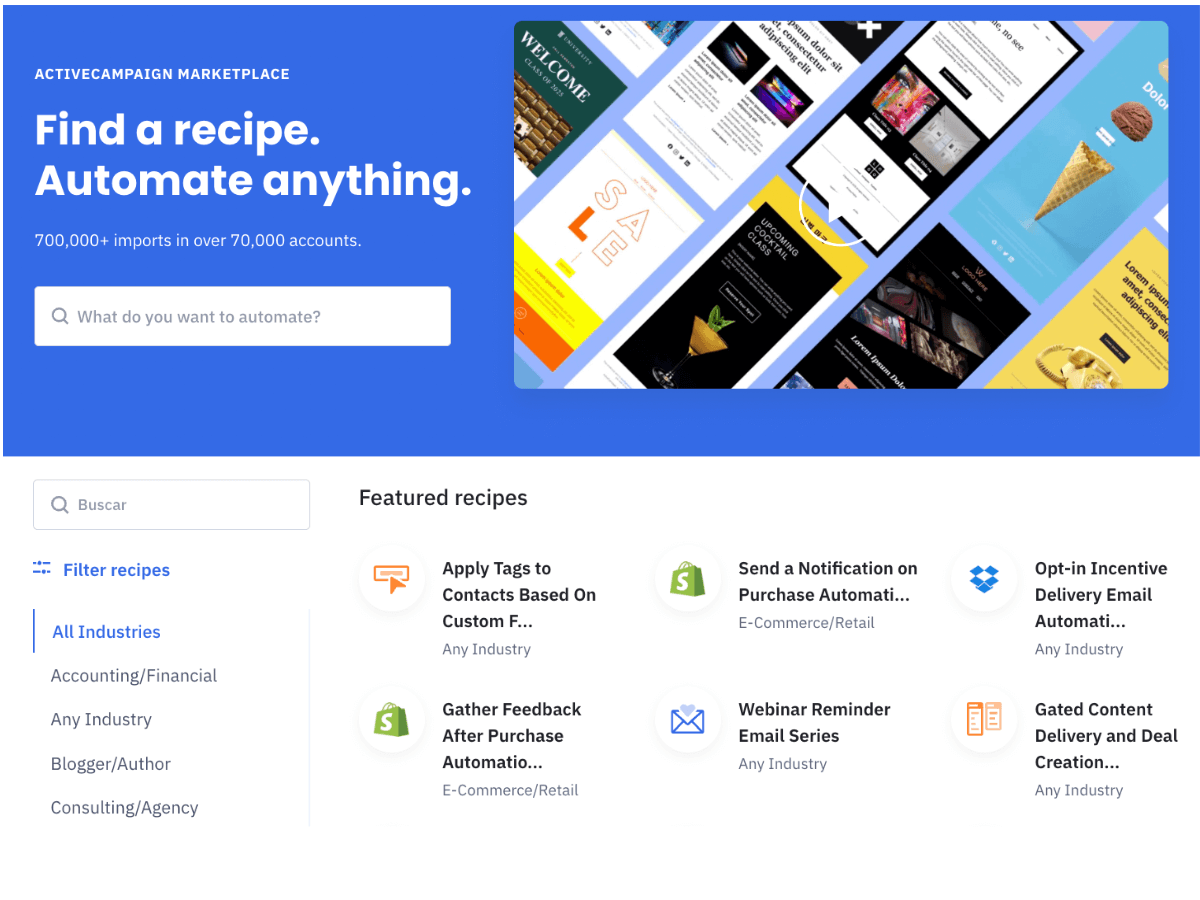 ActiveCampaign takes an innovative approach to automation templates with its user-generated "recipes." Anyone can upload a marketing automation flow (recipe), then ActiveCampaign makes it available for others to use in its marketplace.
You can currently find over 7,000 marketing automation options in this recipe marketplace- far more than are available on other platforms. However, not all these recipes are free, and since they're created by users the quality can vary.
With ActiveCampaign, you can even build an automated marketing flow with the help of AI. Simply type out what you want your automation to do in your own words, and ActiveCampaign's AI builder will do the work for you. Keep in mind that this is a very new feature, so be sure to double-check for accuracy before launching.
Pros
Almost infinite options for automated flow templates in the Recipe Marketplace
Excellent email deliverability based on our tests
Cons
The AI automation builder needs some polishing
Pricier than other tools, especially as you need to be on the higher-tier Plus plan to access ecommerce automations
Active Campaign Pricing
1,000 contacts: $39/mo
2,500 contacts: $61/mo
5,000 contacts: $99/mo
10,000 contacts: $174/mo
50,000 contacts: $486/mo
Learn more about ActiveCampaign pricing.
Who is ActiveCampaign best suited to?
With over 7000 templates and AI assistance, ActiveCampaign is perfect for anyone who doesn't want the hassle of creating ecommerce marketing automations from scratch. (Although you can if you want to!)
> Try ActiveCampaign in a free trial
> Read our full ActiveCampaign review
GetResponse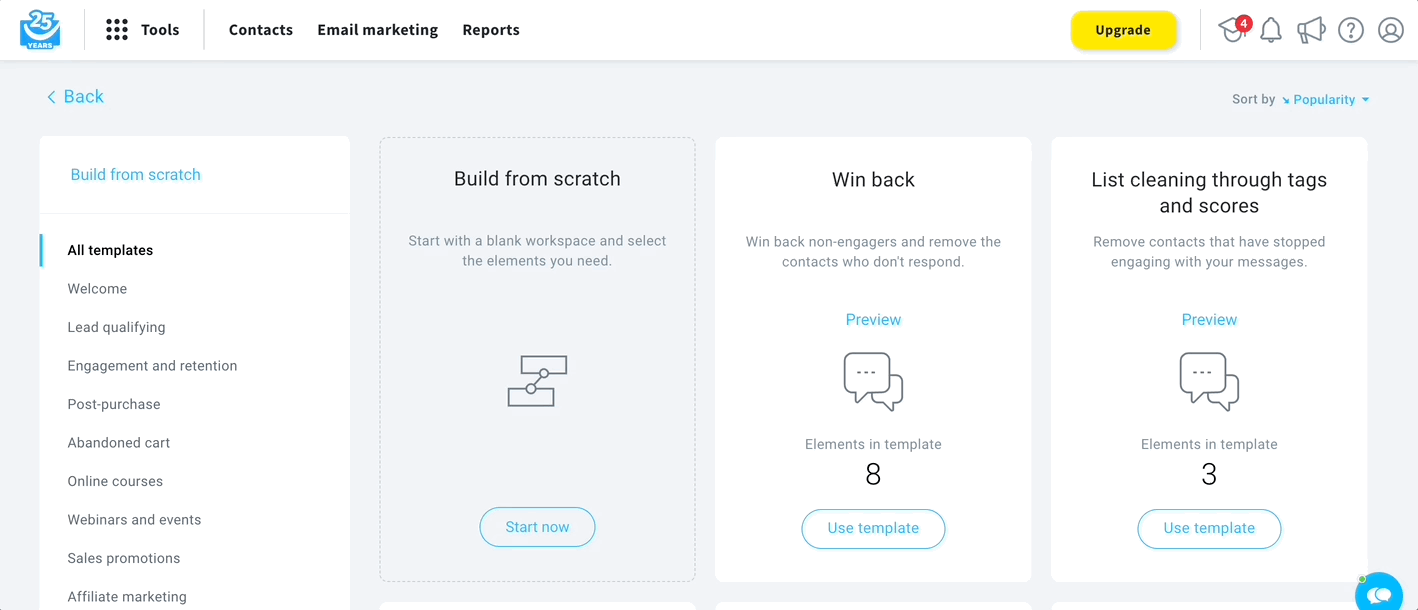 GetResponse has over 40 automation templates available, which include far more than the basics. Some of GetResponse's more complex templates have over 15 elements, like their Christmas marketing flow that sends a whole series of offers and tracks customer engagement. Plus, you'll find a handy "how does this flow work" button above every template. If you find all those boxes and lines a bit mind boggling, this button offers an explainer in plain English for each pre-built flow.
If you want to build your own automated flow or customize a template, GetResponse's editor has embedded help videos and interactive tutorials. This is great if you're new to automated marketing and need some help along the way.
With GetResponse, you can also score your leads to identify potential high spenders and use tags to track customer activities. Plus, these tools are neatly integrated right into your automated flows.
One thing to keep in mind is that GetResponse only allows automation on its (rather expensive) Marketing Automation Plan.
Pros
Acceptable email deliverability rates based on our tests (although there is room for improvement)
Great template selection, including complex and seasonal automated marketing flows
Cons
Marketing automation is only available at the 3rd pricing tier, which starts at $49/month.
Essential ecommerce features (ie; segmentation based on store data, abandoned cart campaigns, product recommendations) are only available at the 4th tier, which starts at $99/month
GetResponse Pricing
1,000 contacts: $19/mo
2,500 contacts: $29/mo
5,000 contacts: $54/mo
10,000 contacts: $79/mo
50,000 contacts: $299/mo
Learn more about GetResponse pricing.
Who is GetResponse best suited to?
If you're ready to commit to a paid plan, GetResponse is ideal for established business owners who can benefit from its integrated help tools and solid template library.
> Read our full GetResponse review
MailerLite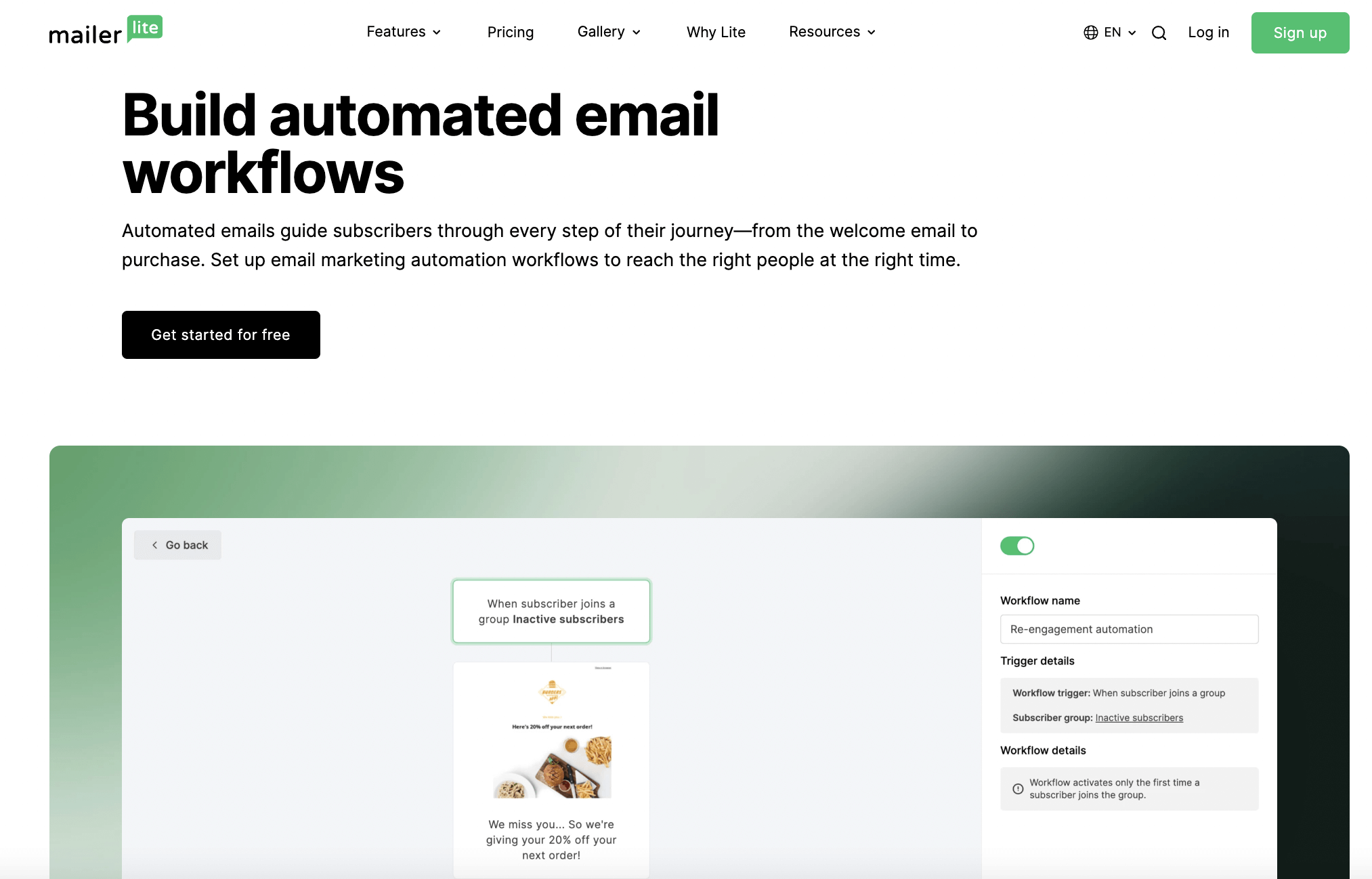 We're fond of MailerLite here at EmailTooltester for its ease of use and clean interface. Though we've found its automation features a bit basic in the past, MailerLite has stepped up by adding many of the essential tools we value in ecommerce marketing automation. There are currently 15 automation templates available, including birthday emails, membership renewals, and an email series to win back inactive subscribers.
It's also possible to create an automation flow from scratch, but we found the triggers available to be somewhat limited. You have to choose from a drop-down menu with only 6 available options. Other platforms we've tested offer a broader range of triggers for initiating an automated marketing flow.
MailerLite compensates for this by allowing multi-trigger workflows, where more than one customer action can result in automated marketing. For example, you can make a flow where a customer will receive a discount email when they purchase a specific product OR abandon a cart with that product. (Two different triggers, one automated email.)
The only downside is that multi-trigger automated marketing is only available for Advanced plan subscribers.
Pros
Cons
Limited triggers available for custom automations
Multi-trigger workflows only for Advanced Plan subscribers
MailerLite Pricing
1,000 contacts: $0/mo
2,500 contacts: $25/mo
5,000 contacts: $39/mo
10,000 contacts: $73/mo
15,000 contacts: $109/mo
Learn more about MailerLite pricing.
Who is MailerLite best suited to?
Anyone who doesn't want to get bogged down by decision fatigue will appreciate MailerLite's straightforward template options and ease of use.
> Read our full MailerLite review
Brevo (formerly Sendinblue)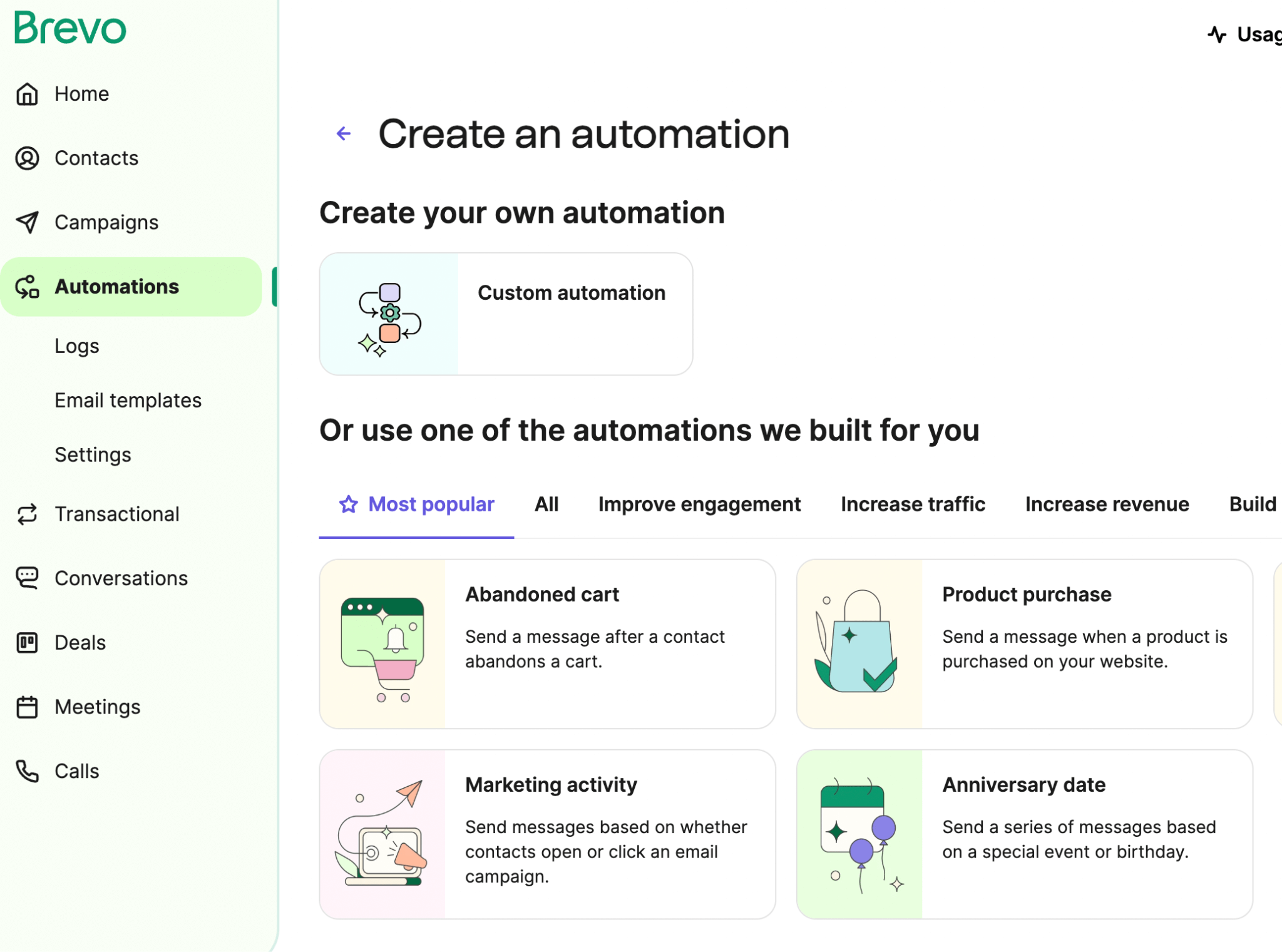 Brevo makes it easy to find automation templates based on specific marketing objectives such as boosting engagement or driving traffic. However, the selection is limited to just 8 templates, which you'll find recycled under various categories. Despite limited templates, Brevo offers great value with ecommerce marketing automations available on its free plan. You can send automated messages to up to 2000 contacts with a limit of 300 emails per day.
Brevo also impresses us with its adaptable segmentation features. Brevo offers simple segmentation setups for beginners and the capability to evolve into more complex, multi-condition segments as your marketing strategies develop.
We also like Brevo's lead scoring system, which tracks customer behaviors and automatically updates their score based on activities like email clicks or website visits. This helps you quickly identify your most engaged customers and determine the right marketing strategies to keep them interested.
Pros
A generous free plan for basic email campaigns and automations
Smart segmentation and lead scoring tools
Marketing automation for SMS campaigns
Cons
Brevo pricing
300 emails/day: $0/mo
40,000 emails: $35/mo
60,000: $49/mo
100,000: $115/mo
Learn more about Brevo pricing.
Who is Brevo best suited to?
Brevo is a strong choice for those who prefer crafting their own automations from scratch (or only need a few basic templates) and ecommerce businesses that need lead scoring capabilities. It's also great for small-scale campaigns that can take advantage of its free plan.
MailChimp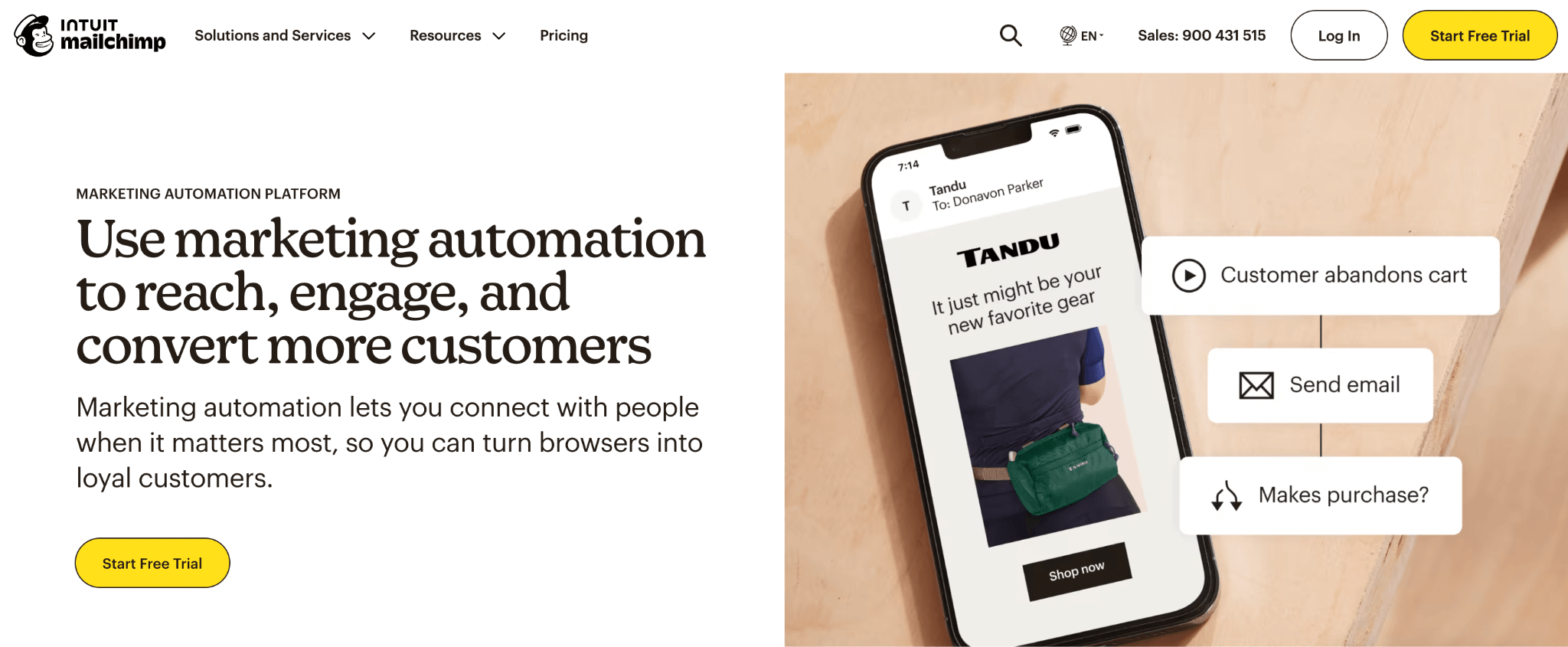 MailChimp is certainly a veteran in the automated marketing space.
MailChimp's automated marketing flows are called "Journeys". There are currently about 75 pre-built journeys (templates) available, which is more than enough to get started. MailChimp includes all the essentials, like abandoned cart recovery, rewarding VIP customers, and price drop alerts. Of course, you can also build your own automation if you have marketing needs beyond what Mailchimp's pre-built journeys offer.
We like that on the free plan you can view and edit all of these automated features to get a good sense of what MailChimp can do. You have to upgrade to launch them, but fortunately automations are available on the "Essentials" pricing tier.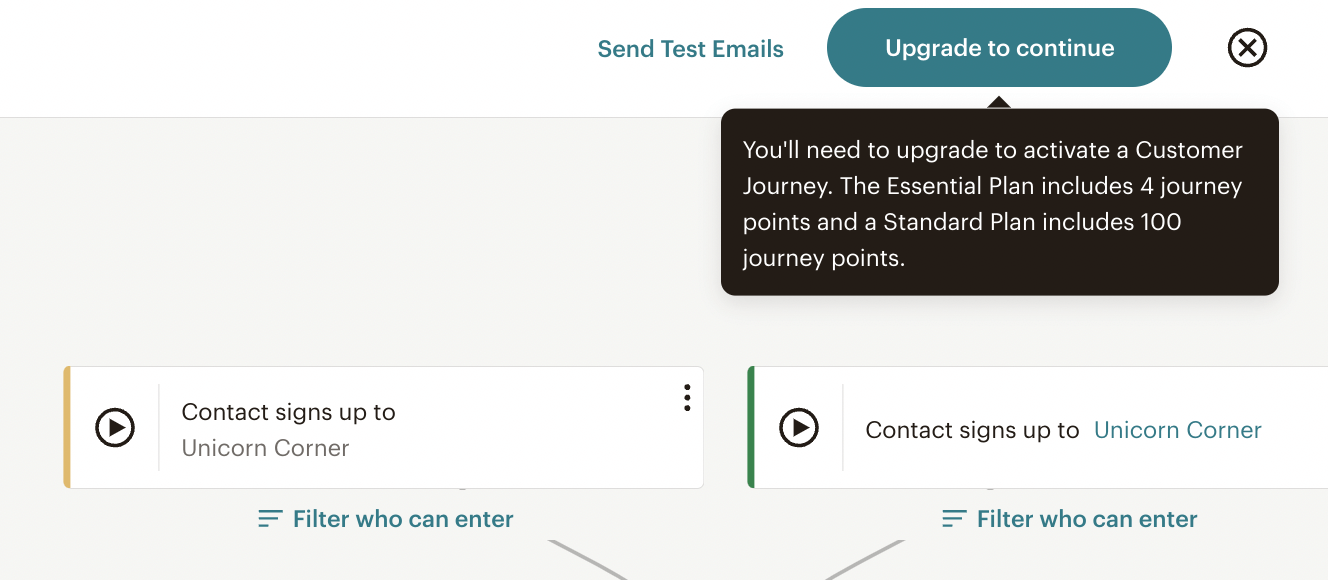 MailChimp goes beyond email marketing automation and includes both social media and digital ad management. You can use MailChimp to publish or schedule posts to Facebook, Instagram, and Twitter . Then, MailChimp produces a report for each post so you know how many people have viewed, commented, or liked your post.
Once you have this data, you can use MailChimp to automate ad campaigns targeting just the right group of potential customers.
Pros
Manage email, SMS, social media, and digital ad marketing automations all from the same platform
Good email deliverability based on our tests
Cons
Mailchimp charges you for unsubscribed and inactive contacts
List management features aren't as flexible as with other providers – you can't easily move subscribers from one audience to another or combine different audiences in a single campaign
MailChimp Pricing
500 contacts: $13/mo
2,500 contacts: $39.50/mo
10,000 contacts: $100/mo
30,000 contacts: $295/mo
50,000 contacts: $350/mo
Learn more about Mailchimp pricing.
Who is MailChimp best suited to?
MailChimp is ideal for anyone looking for omnichannel automated marketing centralized all on the same platform.
> Read our full Mailchimp review
Drip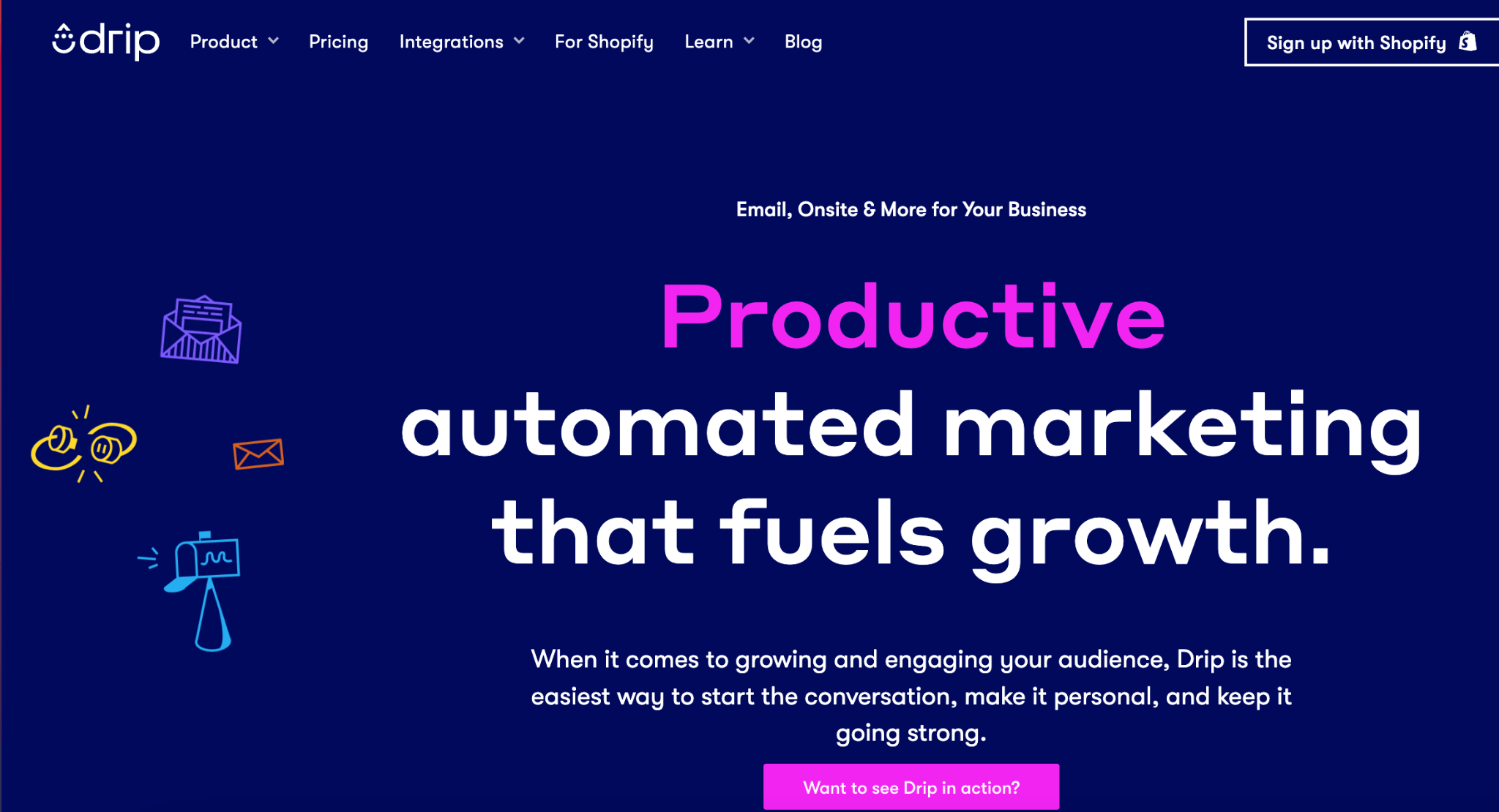 Drip boasts a modern interface and a minimalistic menu, making it quick to learn and easy to navigate. Drip's custom automation editor is a breeze. I was able to set up a basic marketing automation flow in just minutes. The options are logically organized and the editor is really simple to use.
We appreciate that Drip charges based on your subscriber count and email send volume, not by features. This means that all marketing automation tools are included even in the lowest pricing tier.
Drip offers 37 automated workflow templates, though compatibility varies by ecommerce platform. Shopify users, for example, only have 16 templates available. Nonetheless, the collection includes all the essentials, such as abandoned cart reminders, requests for product reviews, and emails aimed at winning back customers.
Pros
Drip doesn't charge for inactive contacts
It's possible to integrate with Facebook to add contacts to Custom Audiences
Cons
Some templates are platform specific, which can be frustrating if the automation you want is incompatible with your ecommerce store
You have to connect an online store to get started
Poor email deliverability rates based on our testing
Drip Pricing
2,500 contacts: $39/mo
5,000 contacts: $89/mo
10,000 contacts: $154/mo
50,000 contacts: $699/mo
Who is Drip best suited to?
Drip is ideal for any ecommerce business that wants comprehensive ecommerce marketing automation at a fair price, with an easy-to-use editor and essential automation templates built in.
Shopify Automations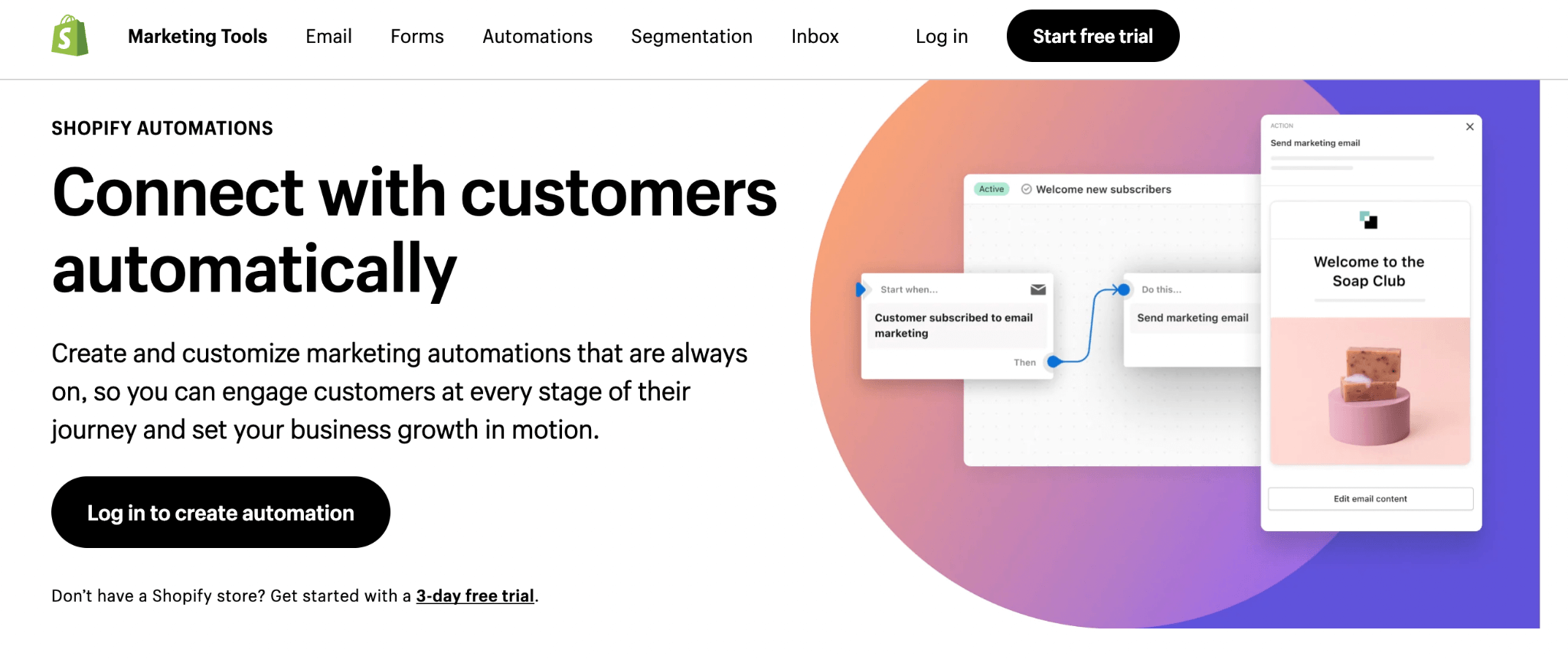 If you're already using Shopify as your ecommerce platform, you can also take advantage of its built-in marketing automation tools. You can encourage repeat business with post-purchase upsells, or welcome new subscribers with personalized messages. These automations (and more) can be easily set up using pre-built templates or customized through Shopify Flow.
A drawback of Shopify Automations is that it often relies on third-party integrations for specific functionality. This can quickly get very expensive.
For example, if you want to send back-in-stock emails, Shopify recommends using an app called Seguno, which costs $35/month. Or, if you want to send push notifications for product releases, Shopify suggests PushOwl, which costs $19/month. As you can see, adding piecemeal functionality with paid third party apps can be more expensive (and complicated!) than using dedicated marketing automation software.
But, if you're able to use Shopify's core automated marketing features without expensive add ons, it's a great place to start.
Pros
Manage your marketing efforts directly from your Shopify dashboard
Ecommerce marketing automations are accessible on plans starting from Basic Shopify
Cons
Shopify's primary focus is on ecommerce functionality, so the rollout of new marketing features tends to be a bit slower
Just 12 automation templates currently available
Who is Shopify best suited to?
Shopify store owners who want to get some automated marketing experience before upgrading to a dedicated marketing platform.
> Read our full Shopify review
Which ecommerce marketing automation tool is right for your online store?
We know that sifting through endless options can be overwhelming. Here are a few final thoughts on how to pick the right tool for your ecommerce store.
If you value simplicity and ease of setup, MailerLite has an intuitive automation flow builders for beginners. GetResponse is also worth considering, especially with its helpful video tutorials and information buttons within the editor.
If you are keen to learn more about your customers' behaviors, platforms like Klaviyo, ActiveCampaign, and Brevo (Sendinblue) are top contenders, offering in-depth data analytics and lead scoring capabilities.
For those prioritizing social media marketing, Omnisend stands out with its built-in social media automation features.
Finally, if you're already using Shopify and are looking for straightforward marketing automation solutions, Shopify Automations is an excellent starting point.
Don't forget that you can test these tools with a free trial or free plan, so explore them yourself before deciding which will become part of your ecommerce email marketing strategy. Good luck!
Our Methodology
This article has been written and researched following our EmailTooltester methodology.
Our Methodology