In my former life working for a marketing agency, one thing that struck me – aside from the general chaos that comes with working with tight deadlines and capricious clients – was how so many businesses struggled with implementing a marketing automation strategy.
It didn't seem to matter how big they were, or the level of marketing maturity they had. Even big brands renowned for their marketing grappled with getting their automated campaigns off the ground.
Meanwhile, smaller businesses looking to dip their toes in marketing automation found that budget-friendly automation software options were few and far between. And most required a dedicated team of specialists to manage them.
Thankfully, this was several years ago now, and marketing automation has since had time to find its feet. Today, affordable and intuitive marketing automation platforms are much easier to come by. 91% of companies now say that marketing automation is essential for their business. And terms like "abandoned cart emails", "welcome programs", and "lead scoring" no longer invoke the panic they used to!
If you're a small-to-medium business that's just getting started in marketing automation, it's actually the perfect time to do so. Learning from the trials and errors of others, you can build a solid marketing automation strategy based on best practices and proven results.
In this guide, you'll learn how others have implemented a successful marketing automation strategy, and how you can do the same for your business, in six practical steps.
Marketing automation: A quick definition
You've probably heard of marketing automation platforms like ActiveCampaign or Hubspot – but what exactly do they do?
As its name suggests, marketing automation automatically performs marketing tasks when you need it to. Whether that's sending customers or prospects an email campaign, SMS, chatbot conversation, or quote, marketing automation can be set up to send communications to individual contacts, with just a little bit of set-up work upfront.
While taking care of repetitive tasks provides value in itself, marketing automation actually goes further than that. That's because automations can be personalized to contacts and triggered based on their behavior – for example, when they visit a webpage or sign up for a webinar. All of this can help ensure that customers and leads are sent only information that's relevant to them.
It can also be closely integrated with sales processes to ensure that leads are prioritized accordingly, and that sales teams follow up when appropriate.
Automations can be as simple as a single-email autoresponder, or as complex as a multi-step workflow that combines multiple triggers and touchpoints, as you can see in this quick explainer video:
Now, let's take a closer look at what marketing automation can do.
What can a marketing automation strategy do for my business?
Marketing automation is a game-changing tool if you're a business that wants to streamline marketing efforts and improve ROI. It allows you to:
Track prospects' behaviors online (for example, when they visit your website or click an email), and build a detailed profile of their interests
Engage and nurture prospects with personalized and timely content (for example, with emails that are specific to their interests)
Identify when they're ready to make a buying decision (for example, when they sign up for a trial or request a quote)
Encourage sales conversion by sending relevant offers or nudges (for example, a discount code to encourage cart abandoners to purchase the product)
Prioritize leads to focus sales efforts on (for example, by scoring leads based on the actions they've taken)
Nurture relationships with existing customers through campaigns aimed at increasing loyalty and retention (for example, special email offers to customers who have been with you for a long time)
Pinpoint the campaigns and initiatives that drive marketing return on investment (ROI), thanks to its detailed analytics and reporting
Marketing automation does all this through end-to-end software that stores your marketing database, runs automated email and lead generation campaigns, passes leads to your sales team, and provides comprehensive analytics. It can save marketers time, improve the effectiveness of marketing campaigns, and ultimately, increase revenue.
Learn more about the benefits of marketing automation.
Marketing automation strategy in action: Practical examples
As you can see, marketing automation is a powerful concept. But at a practical level, what does it look like?
Email Marketing Automation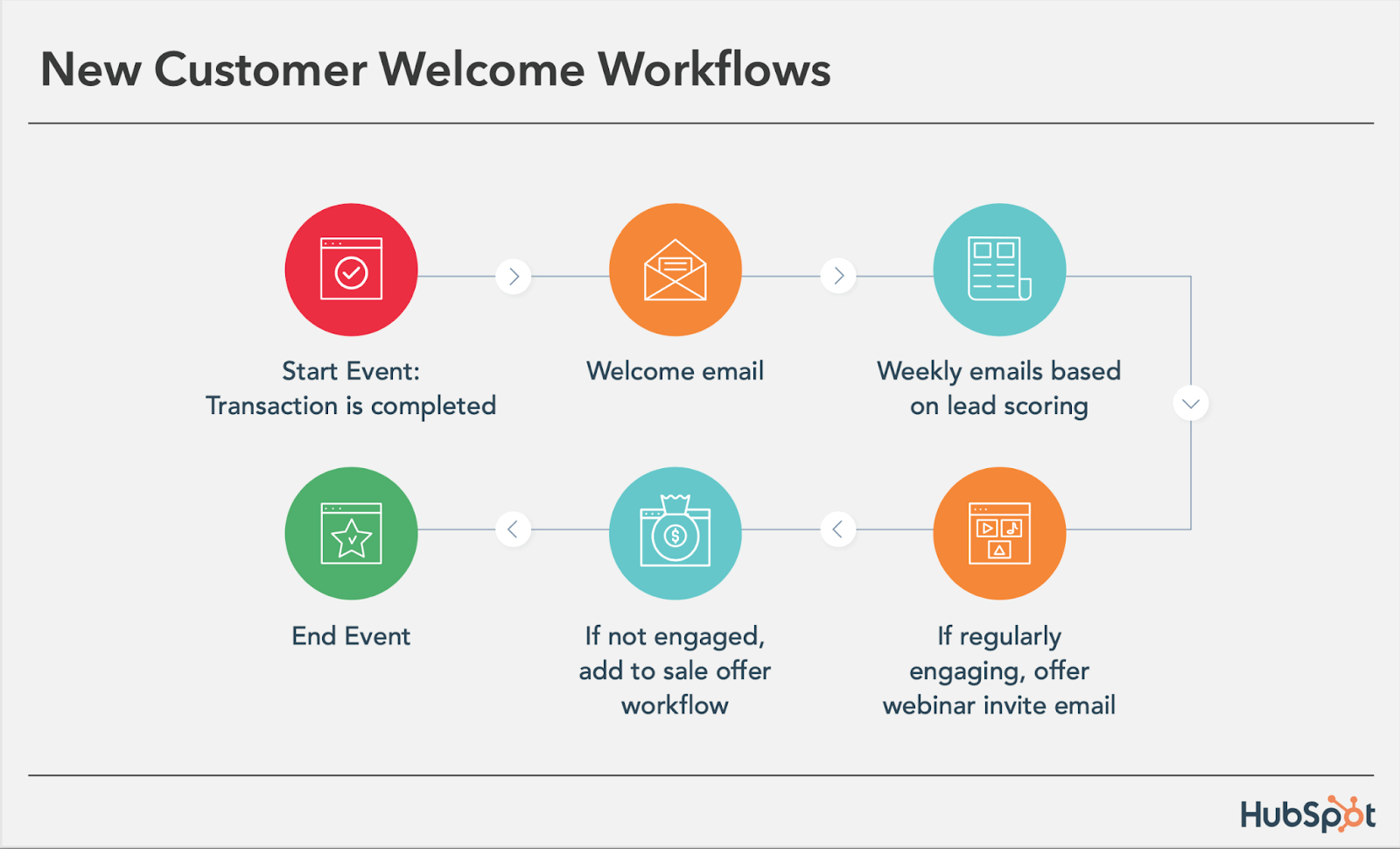 At the very core of marketing automation is email marketing. The idea is to create repeatable and personalized email campaigns that can automatically be sent to subscribers at the right time. These campaigns include:
Welcome series: When a subscriber signs up to receive your newsletter, join your membership group, or trial your product, you can use marketing automation to send a series of automated welcome emails. This can include an introduction to your brand, a series of instructions, links to relevant resources, special offers, and a call to action to take the next step.
Abandoned cart emails: Send an automated email to shoppers who abandon their cart on your e-commerce site. The email can remind them of the items in their cart, offer a discount or promotion, or provide customer support.
Nurture emails: Marketing automation can help you track and analyze how leads interact with your website and emails. You can use this information to create email funnels with personalized content and follow-up communications, guiding leads through the sales funnel.
Re-engagement campaigns: Send automated emails to subscribers who haven't opened or engaged with your emails in a while. This can include personalized content or offers to encourage them to re-engage with your brand. It's also a good opportunity to remove inactive subscribers and clean your email list.
Upsell and cross-sell campaigns: Use automation to send targeted product recommendations and offers based on a customer's past purchases. This can help increase revenue and customer loyalty.
Post-purchase follow-up: Send an automated email to customers after they make a purchase, thanking them for their business and offering additional resources or support.
You can see more examples of automated email campaigns here.
CRM Marketing Automation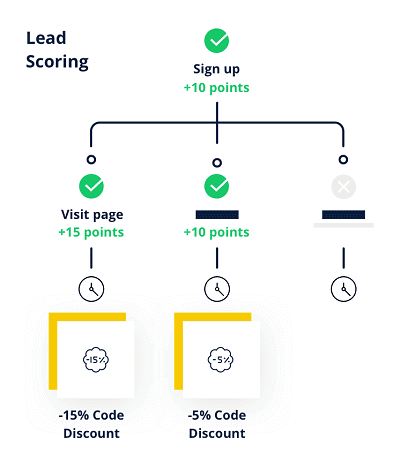 Of course, most marketing automation platforms now extend beyond email marketing, integrating directly with CRM systems. As a result, you can also automate the following sales tasks:
Lead scoring: Use automated lead scoring to assign scores to leads every time they take an action (such as clicking an email or visiting a webpage). This lets you prioritize leads based on their level of engagement, and their likelihood of converting into a paying customer.
Sales pipeline management: Manage the sales pipeline by tracking prospects, leads, and deals, and automate the process of moving them from one stage to another.
Contact management: Automatically collect data on prospects, leads, and customers, including contact information, buying history, and communication history.
Sales reporting: Track progress and identify areas for improvement through automatically-generated reports on sales performance, conversion rates, and other key metrics.
Sales follow-up: Ensure that sales reps don't forget to follow up with leads with automated notifications and follow-up reminders.
Other Types of Marketing Automation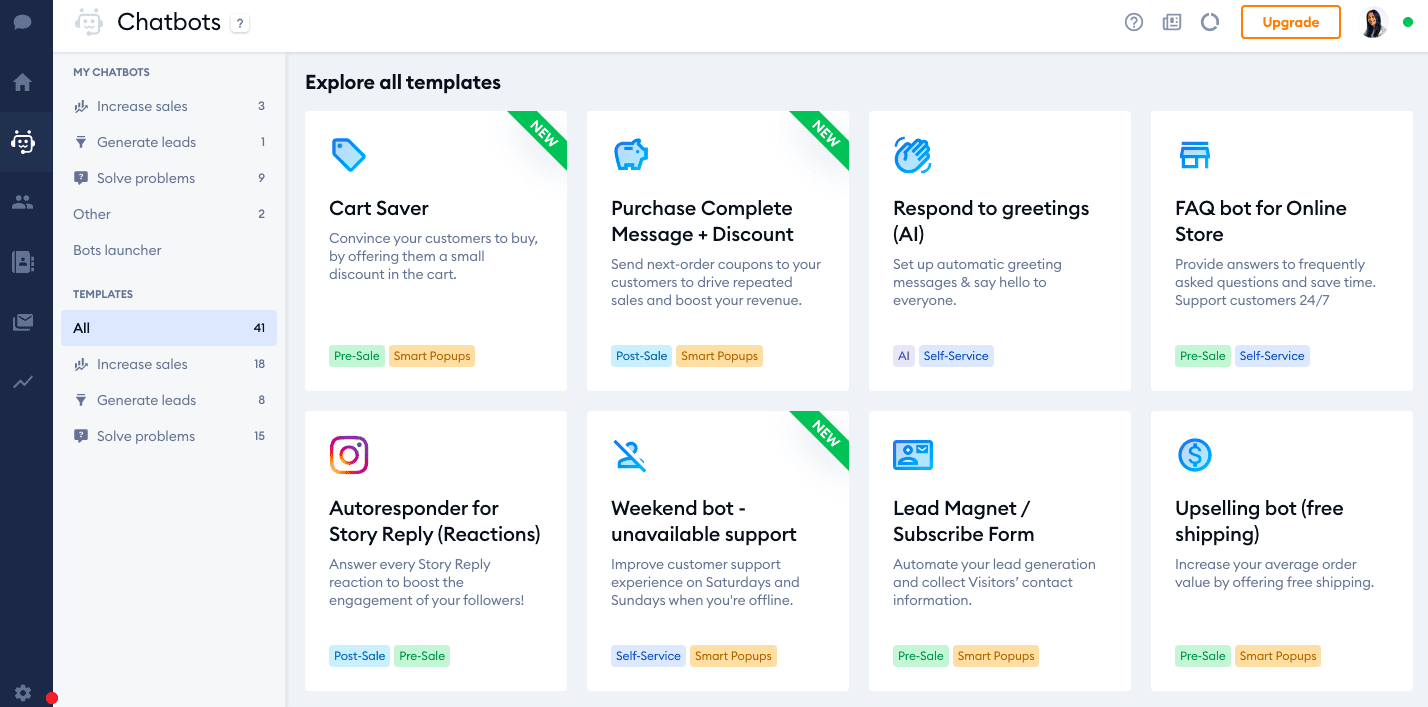 Finally, you can also automate other marketing-related activities, including:
Landing Page Optimization: Optimize landing pages by conducting A/B tests and tracking user behavior through your marketing automation software.
Social Media Automation: Schedule and publish social media posts, monitor social media conversations, and track engagement metrics.
Live chat: Trigger chat conversations when a website visitor performs an action (e.g. visits a specific page, or stays on a page for a defined period of time). These conversations can deliver pre-defined or even AI chatbot-powered responses, meaning chat agents don't need to get involved at all.
Retargeting ads: Once a contact has visited your site, you can automatically retarget them with Google, Facebook or Instagram ads to bring them back and encourage conversion.
What are the steps to building a marketing automation strategy?
While the sheer scale of marketing automation's capabilities might be overwhelming, implementing it in your business doesn't have to be. All you need is a solid strategy to get started – and building an effective marketing automation strategy boils down to six key steps:
Define your goals
Identify your target audience
Map out your buyer's journey
Choose the right marketing automation platform
Design your automation workflows
Measure, refine, and optimize
So, let's take a closer look at each of these steps, and learn how you can implement them in your marketing automation strategy.
Step 1: Define your goals
Depending on your business, you might be aiming to achieve different goals with marketing automation.
For example, if you're in B2B, your goal(s) might be to generate more leads, improve lead quality, or tighten up sales efficiency.
Or, if you sell products or services directly to consumers, your goals might be to promote brand awareness, retain more customers, or reduce dependency on support teams.
In ecommerce, you might be more focused on generating more sales, reducing cart abandonment, or increasing average sales value.
Therefore, the first step is to figure out what you want to achieve with your marketing automation strategy. Set specific, measurable goals that align with your overall business objectives.
Then, define which marketing automation tactics can help you achieve that goal. This will help you determine which marketing automation software you will need (which comes in at step #4).
So for example, if your goal is to reduce your ecommerce store's cart abandonment rate by 10%, you might consider using automated abandoned cart emails and retargeting ads to achieve this goal. You'll then be able to shortlist the marketing automation software that can support that. But before you do that…
Step 2: Identify your target audience
Before getting into solution mode, you still need to nail down your strategy. A key part of that is to determine who your target audience is. If you've been in business for a while, you're likely to have some pretty good data on who your customers are, and what their demographics, needs, and pain points are.
Use this knowledge to build your ideal client profile, and create buyer personas to pin down their characteristics and behaviors. This will help you target this subset of the market when implementing your marketing automation strategy (while also weeding out those who are less likely to convert, or who you don't want to be your customers).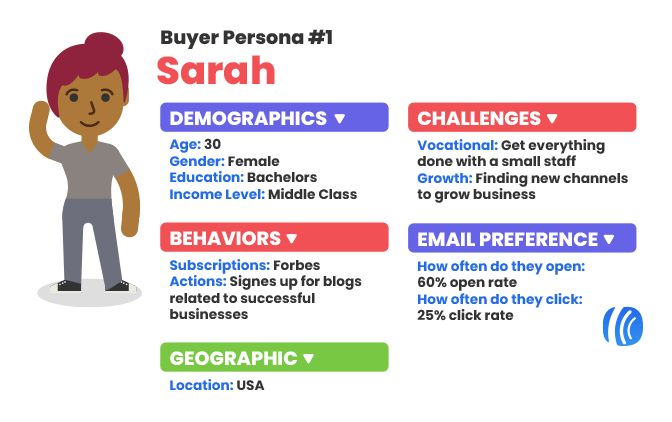 To build your buyer personas, you can get insights from the following sources:
Customer surveys
Focus groups
Interviews with sales and customer support teams
User feedback
CRM data
Sales data
Defining your buyer personas will also be useful in helping you determine what kind of information to collect from online leads, how to segment and tag your database, and how to score and prioritize leads.
Once you have this locked down, you can move on to the next step.
Step 3: Map out your buyer's journey
Your automated campaigns should be built around the typical journey your buyer personas make. Otherwise, you risk sending out content that's not relevant – and is likely to be marked as spam!
Think about the different stages that your buyers go through as they progress toward making a purchase decision. Is it a relatively short journey (as might be the case if you're selling products direct to consumers), or does it take longer (which is likely if you're selling a complex B2B product or service)?
How does a buyer go from being aware of your company, to being interested, to considering you as an option, and then finally taking action? And how do they turn into loyal customers?
To lock this down, create a visual representation of the buyer's journey. This could be a flowchart or a diagram that shows each stage.
Then, map out the various touchpoints that customers are likely to interact with at each stage (e.g. search engines, social media, advertising, email marketing, blog posts, webinars, or product demos). You may have existing content that already serves this purpose, or might need to plan to create new content to target buyers at each stage.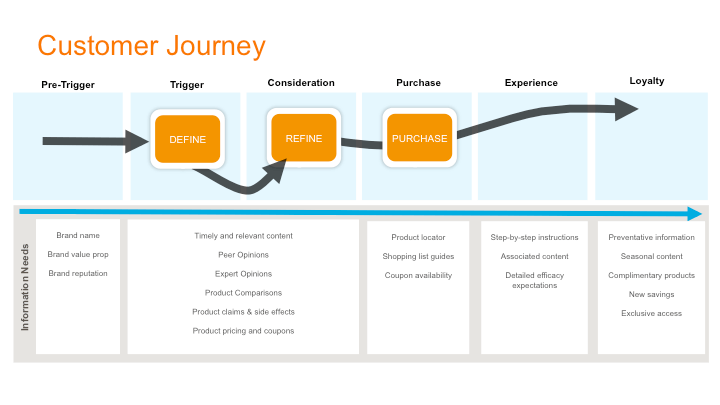 All this will help you to identify the marketing and sales touchpoints you can create – and which you can automate in your marketing automation strategy.
Step 4: Choose the right marketing automation platform
Now that you have clarity around your goals, target audience, and touchpoints, you can start to think about which solution can best help you. An email marketing service that includes automation might be enough to serve your needs, or you might need a marketing automation platform that offers a range of services beyond just email.
To figure this out, some key things to consider are:
Ease of use: Will the automations be intuitive to set up? Are there templates you can use to get started, and how much support is available?
Available automations: Does the platform support the marketing automation campaigns you want to set up? For example, some platforms (such as Omnisend or Klaviyo) specialize in ecommerce automations, while others (like ActiveCampaign or Hubspot) might focus on CRM and sales-related automations. Make sure to choose a platform that provides the specialization(s) you need.
Feature range: In addition to sending out automated emails, will you be needing other features such as landing pages, CRM, sales funnels, or surveys? Some automation software include these within their platform, or let you connect to third-party services via integrations, so be sure to check that they can support your needs.
Integrations with current software: Does it connect with your existing CMS or website builder, ecommerce platform, or CRM? Will it connect with other marketing tools you're likely to use in the future?
Affordability: Most email automation platforms charge based on number of contacts, so choose an option that will continue to be affordable even when your list size grows. Also be aware of inclusions and extras (for example, some services charge extra for email testing or CRM features).
Once your requirements are clear, you can assess the different software options against these. There is a wide range of email automation providers, and most allow you to try out their services for free, either via a free plan or a limited trial. This gives you a great opportunity to test out whether they're right for your implementing your marketing automation strategy.
If you're already using an email marketing service or ESP, check whether it offers marketing automation and can support your objectives. Obviously, sticking with an existing tool will save you a lot of time, but if it's limited in automations then you might need to complement it with another tool (or replace it altogether).
Tip:
If you need some pointers, check out our complete guide on the best
email automation software
for small-to-medium businesses.
Step 5: Design your automation workflows
Now comes the fun part! After selecting and setting up your email automaton software, it's time to get your automations up and running.
There's an easy way to do this, and a more complicated way. My recommendation would be to start with the simpler option – that is:
Take advantage of the pre-built automation workflows offered by your platform, rather than building one from scratch (for example, welcome emails and abandoned cart campaigns are usually included by default)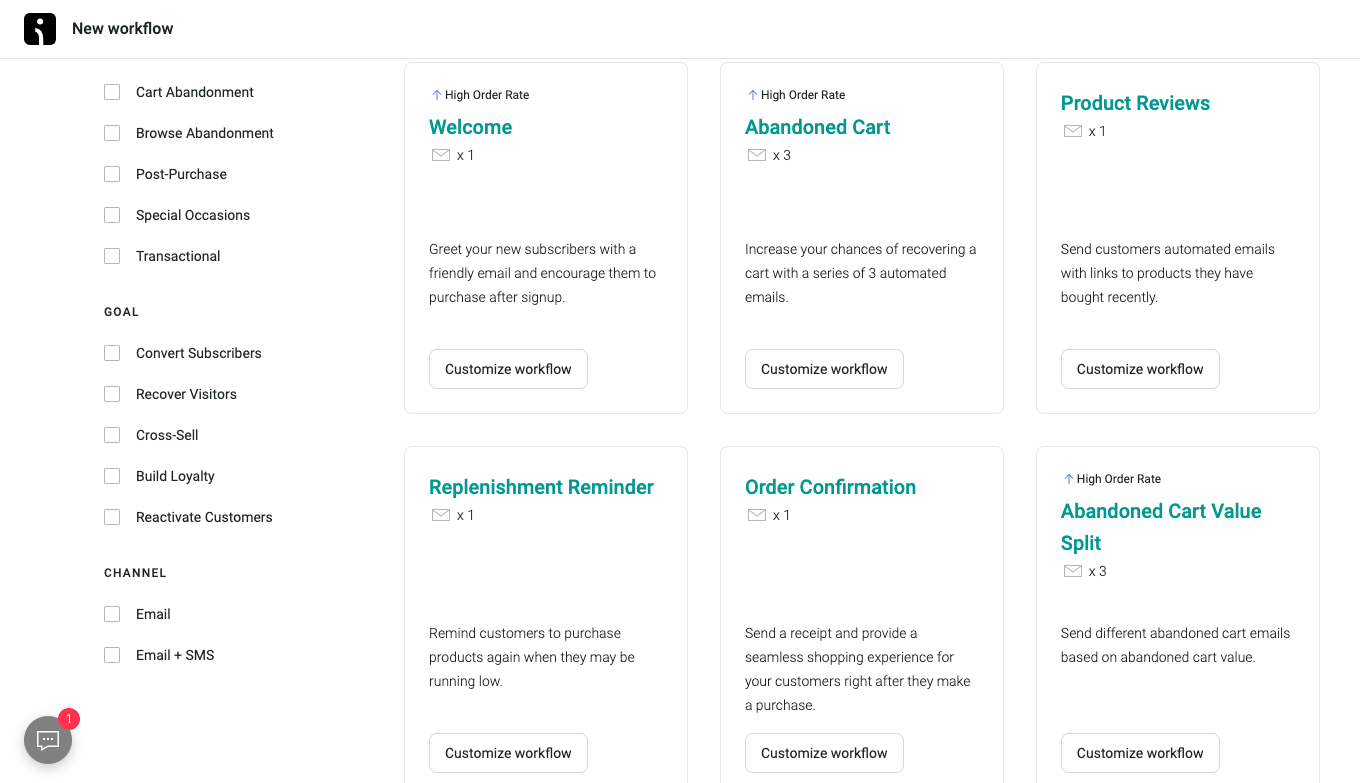 Create some simple segments to feed into your workflow – ones that cast a wide-enough net to filter in a decent amount of targeted contacts
Use or tweak existing content (such as blog posts, ebooks, and webinars) to slot into your campaigns, based on the customer journey you've built in step #3
Create the emails to promote these assets, making sure that they're personalized and follow best practices for writing marketing emails
Test out your campaigns to make sure that contacts are flowing through them correctly and receiving the correct communications (you can do this by inserting yourself and your team members into the segments)
Sit back, and keep a close eye on the results! Make sure to give your automations a good amount of time to run before making any changes.
From there, you can start tackling more complex workflows – ones that use more granular segments, precise triggers, and content that's been specifically created for that campaign.
It's also a good time to start thinking about how different workflows should interconnect, and when contacts should exit a workflow and enter another. You could even consider creating new workflows based on the stage of the funnel your contacts are at, and multi-email drip campaigns to nurture them over time.
Step 6: Measure, refine, and optimize

Continual review and optimization are essential in a successful marketing automation strategy. Regularly assess your workflows, gather data, experiment with new ideas, and adapt based on your findings.
To effectively optimize your workflows, leverage the analytics and reporting capabilities of your automation platform. Track important metrics like open rates, click-through rates, conversions, and customer lifetime value. Analyzing this data will provide valuable insights into the effectiveness of your workflows, enabling you to make informed, data-driven decisions.
Additionally, email A/B testing plays a crucial role in optimization. Experiment with different variations of your automation workflows, testing various elements such as subject lines, call-to-action buttons, email templates, and timing. Continuously monitor the performance of these tests and use the data to make adjustments that drive improved results.
By embracing a mindset of continuous improvement, you can ensure that your marketing automation strategy remains effective and aligned with your evolving business goals.
Building a Marketing Automation Strategy: Conclusion
Getting started with marketing automation may seem daunting, but it's actually simpler than you think. Don't worry about achieving perfection right away – just having a marketing automation strategy in place is a great starting point.
Refining your strategy takes time, data, and experimentation. It's normal for companies to make adjustments along the way, so don't be discouraged.
To begin, establish a clear objective and identify your target audience. Having a well-defined goal and understanding your audience will set you on the right path. Additionally, choosing the right marketing automation platform is crucial. It can accelerate your progress and streamline your efforts.
If you're unsure about how to choose the perfect email automation software, our comprehensive guide can assist you in exploring all your options. It provides valuable insights to help you make an informed decision.
If you have any questions or need guidance on launching your marketing automation strategy, feel free to ask. Simply leave your queries in the comments below, and I'll be glad to assist you.
We keep our content up to date
14 Jul 2023 - Marketing automation explainer video added
Our Methodology
This article has been written and researched following our EmailTooltester methodology.
Our Methodology