If you're an ecommerce business owner, your email marketing setup generally needs to include ecommerce features such as deep-data store integrations, automated abandoned cart reminders, and revenue reports.
So with this consideration in mind, using an ecommerce email marketing solution like Klaviyo might sound like the perfect option. The platform claims that its email and SMS marketing automations have helped drive $14 billion in online store revenue in 2022, which is no small sum at all!
But with Klaviyo's relatively recent founding year of 2012, you may have doubts over whether it's the best email marketing software for your online store — and in particular, whether the email marketing giant, ActiveCampaign, is the right choice instead.
Founded almost a decade earlier in 2003, ActiveCampaign dubs itself the "#1 automation platform" that helps brands automate their marketing, sales, and transactional messaging. Although the platform doesn't position itself as a specialized ecommerce email marketing provider, it integrates with leading ecommerce platforms and offers plenty of ecommerce automation features, too.
How do ActiveCampaign's email marketing capabilities stack up against Klaviyo's? You'll find out as I do a detailed comparison of the key features of Klaviyo and ActiveCampaign — and declare a winner at the end!
ActiveCampaign vs. Klaviyo: What's the Main Difference?
The main difference between ActiveCampaign and Klaviyo is that ActiveCampaign provides more powerful automation, segmentation, reporting, and integration capabilities. But ActiveCampaign is also pricier — Klaviyo's ecommerce features are available at a more affordable price point.
Learn the most important things you need to know about ActiveCampaign vs. Klaviyo in this 5-minute video:
Pros and Cons of ActiveCampaign
Pros
Fantastic sales and marketing automation capabilities
User-friendly contact segmentation feature
Detailed reports
Wide range of third-party integrations and apps
Get a free migration to ActiveCampaign if you're coming over from another provider
Cons
Pros and Cons of Klaviyo
Pros
Easy-to-use email editor
Beautiful form templates
Lets you add dynamic product recommendations
Email benchmark data for industry peers
Well-rounded customer support offering
Cons
Smaller range of email templates
Basic marketing automation features
The platform could offer more reports
Only around 300 integrations are available.
Ease of Use & Editor
Both Klaviyo and ActiveCampaign sport user-friendly interfaces. In ActiveCampaign, you'll use a left sidebar to access different sections of the platform. Once you've selected a main feature, such as "Contacts," "Automation," or "Website," a secondary sidebar slides in to let you zoom in on feature-specific settings (such as "Form" and "Pages" for the "Website" section).
ActiveCampaign's email editor is also easy to use. Among various useful features, I like their new feature, which lets you save custom blocks for reusing in future emails. You can also add actions (such as adding a tag to a recipient) that trigger when your email recipient clicks an email image or link.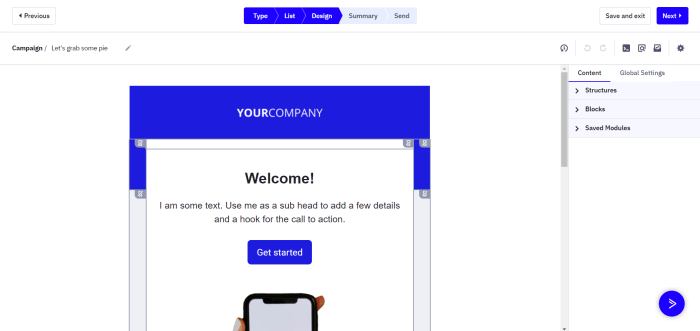 Perhaps my only quibble is that ActiveCampaign's sheer number of features tends to pose a bit of a learning curve when you first start using the platform.
On the other hand, Klaviyo's navigation structure is clean, minimalist, and a joy to use. Instead of the platform having secondary sidebar menus (like ActiveCampaign), feature-specific settings appear in a dropdown menu instead. Given Klaviyo's more streamlined feature set, I find its interface to be generally easier to navigate than ActiveCampaign's.
Klaviyo's email editor is similar to ActiveCampaign's and is also packed with features. Among other options, there is a decent range of email content blocks. You can also preview your email in both desktop and mobile format. But I especially like how you can embed product blocks for displaying static and dynamic product recommendations in your emails!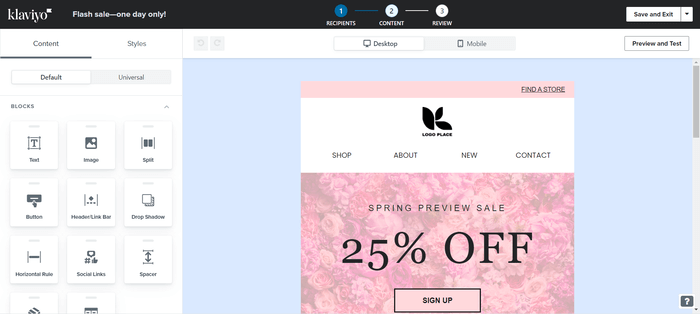 ActiveCampaign has an equivalent product block feature, but it's available for only ecommerce stores that run on Shopify or WooCommerce. Dynamic product recommendations personalized for each contact also aren't possible.
Winner: It's a tie — both platforms offer easy-to-use email editors for ecommerce shop owners.
Klaviyo 1 – ActiveCampaign 1
Design and Flexibility
ActiveCampaign offers over 250+ modern-looking email templates that you can customize using the easy-to-use email editor I mentioned above. If you prefer, you can also create your own email template using plain layouts or custom HTML code. ActiveCampaign even has a "sell a product" category, which is perfect for those in the ecommerce world.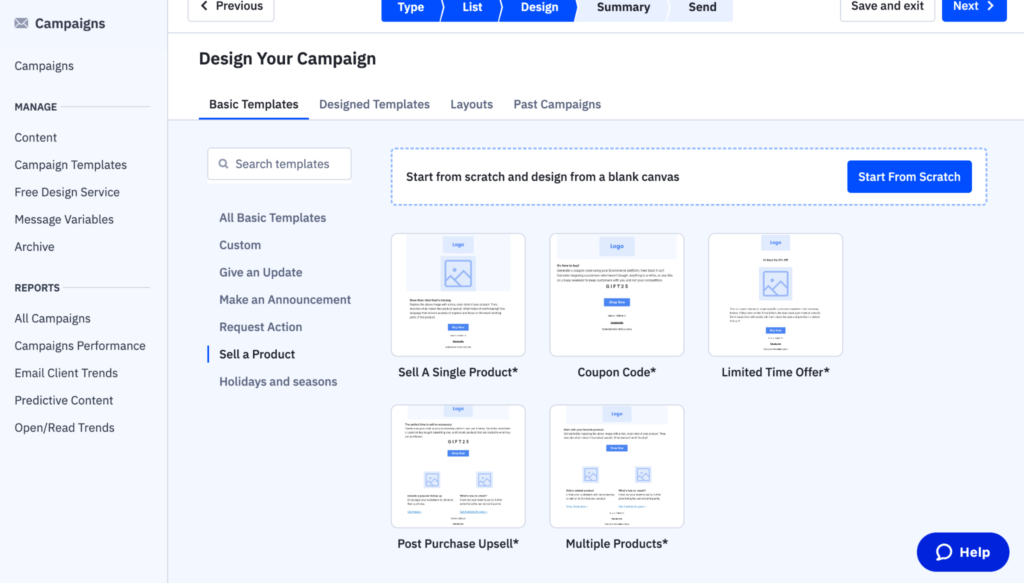 As for Klaviyo, it offers only over 100 pre-built responsive design templates for emails.
But email form design is where Klaviyo really excels. Its forms come in four styles: embed (also known as inline forms), popup, full page, and flyout. The form templates are gorgeous, and once you've chosen a form template and style, you can use Klaviyo's form builder to customize it with your text and images.
Uniquely, you can flexibly create multiple versions of your Klaviyo email forms for split-testing purposes! From our research, email marketing services typically let you split-test emails, but not email forms.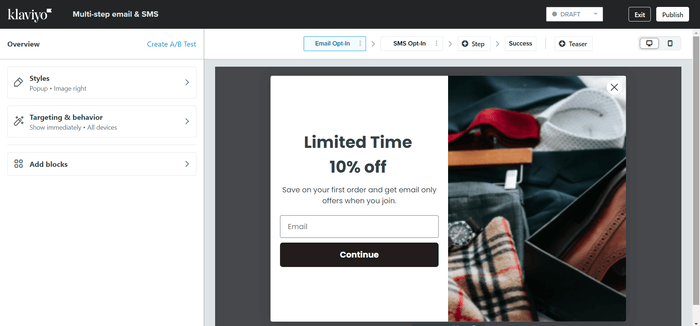 ActiveCampaign is one such platform where form split-testing isn't available. In general, its email form features could use improvement: I find its form designs bare and uninspiring.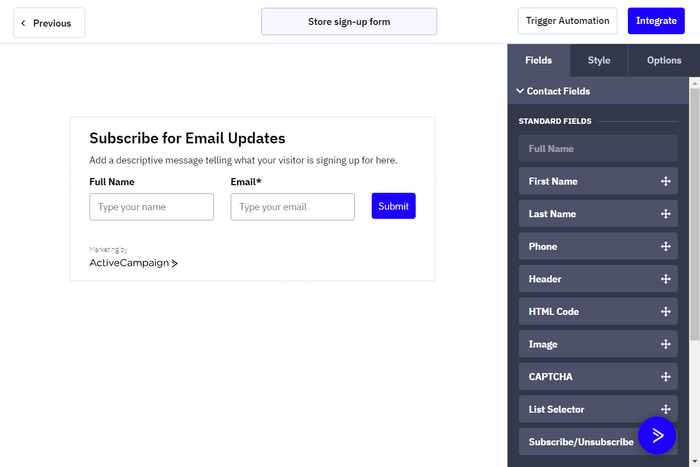 A saving grace is that ActiveCampaign's full-page landing pages are much more pleasing to the eye. You can learn about them in our separate ActiveCampaign landing pages review.
Winner: With its more beautiful form templates and flexible form features, Klaviyo wins!
Klaviyo 2 – ActiveCampaign 1
Sales and Marketing Automation
We've been big fans of ActiveCampaign's automations for the longest time — because you're spoiled for choice as to the workflows you can automate.
From sending automated emails to abandoned cart users to automatically following up with customers post-purchase, there are dozens of ready-made templates (called "automation recipes") that you can customize with your own email content, custom fields, and tags. Alternatively, start a new automation from scratch if you have a custom automation in mind.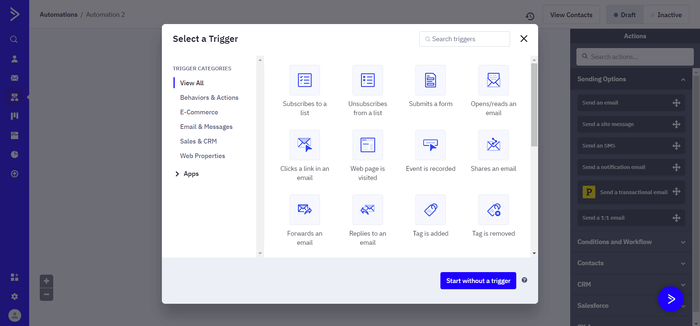 Each email marketing automation can have multiple triggers, and you can also conduct automation split testing to identify the most effective automation paths.
However, you'll need to be on the more expensive Plus plan to run ecommerce automations. Likewise, if you want to automate lead scoring or set up some other type of sales automation.
Klaviyo's equivalent marketing automations feature is known as "flows" and they just can't beat ActiveCampaign's. For one, Klaviyo has much fewer flow templates to get you started. The available automation actions are also more limited, and each flow can have only one trigger.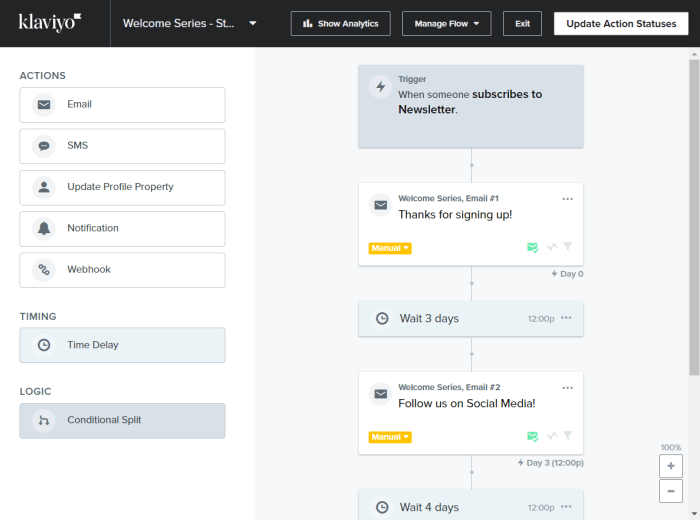 Neither are there sales automations in Klaviyo — its flows are strictly for ecommerce email marketing only.
Winner: For offering one of the most comprehensive automation offerings we've seen on the market, the winner for this round is undoubtedly ActiveCampaign!
Klaviyo 2 – ActiveCampaign 2
Reporting
ActiveCampaign's range of reports is extensive. You can track stats for your campaigns, automations, contacts, CRM, ecommerce…the list goes on. Of special mention is clickmap tracking, where you can compare which email links are getting the most clicks. It isn't a common feature in the email platforms we've tested over the years.
It's also neat that you can toggle the inclusion of Apple Privacy opens for your reports. For some context, Apple devices on iOS 15 or later will automatically open emails on the user's behalf, making it harder for email platforms to tell whether an email had genuinely been opened by a person.
Disabling the Apple Privacy opens setting will clean up your reports to reflect only stats for human-opened emails. Your reports will be based on fewer emails as a result, but at least you know that their figures are more accurate. (Find out more about the issue with open rates)
On Klaviyo's end, there are reports for metrics such as email opens, clicks, and bounces. Separately, you can track your store revenue earned per recipient for individual campaigns or for all time. Apple Privacy opens tracking is also available. But the range of reports you'll find in Klaviyo is definitely smaller than what you'll find in ActiveCampaign.
As you run your store, you might want to track whether your campaigns are performing to industry standards. Klaviyo's benchmarks feature lets you conveniently do so: once you've sent a certain number of emails, the platform will display benchmark data on the stats your industry peers have been hitting.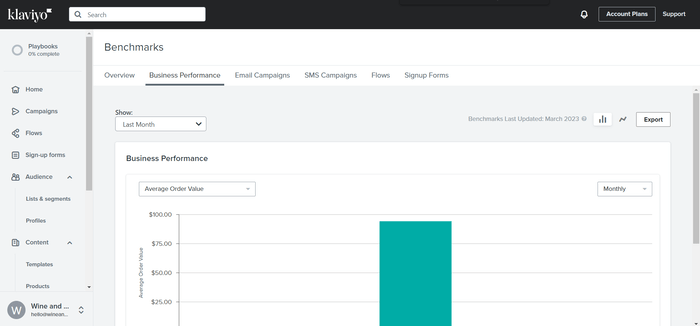 Winner: ActiveCampaign wins for its wider range of reports. It's a data junkie's dream!
Klaviyo 2 – ActiveCampaign 3
Integrations & Apps

At this time, Klaviyo offers over 300 integrations for connecting your email setup to your ecommerce store, and other apps popular with ecommerce businesses like the Zoho CRM. Even if Klaviyo doesn't currently integrate with an app in your tech stack, you can use Zapier to connect the two as long as your app is one of the 5,000+ apps that Zapier supports.
But numbers-wise, ActiveCampaign simply dominates. Its platform integrates seamlessly with over 910 apps! It also connects to Zapier if you need to build a third-party integration, so Klaviyo doesn't havemuch of an edge here.
Perhaps the only bummer about ActiveCampaign's integrations is that you'd need to be on at least the higher-tiered Plus plan to enjoy access to the platform's native WooCommerce, Shopify, BigCommerce, Magento, and Square deep-data integrations. Klaviyo doesn't charge extra for ecommerce integration access.
If your online store runs on one of the ecommerce platforms mentioned above, check out our Klaviyo vs ActiveCampaign pricing comparison below to decide whether it's more cost-effective to use Klaviyo, or ActiveCampaign on the Plus plan.
Winner: ActiveCampaign, for its larger range of built-in integrations. It's just a pity that the platform locks its ecommerce integrations behind a more expensive plan.
Klaviyo 2 – ActiveCampaign 4
Support
Both ActiveCampaign and Klaviyo offer live chat support only on weekdays, and during these hours:
| ActiveCampaign live chat support hours | Klaviyo live chat support hours |
| --- | --- |
| Mondays to Thursdays: 9 am to 11 pm CST | Weekdays: 9 am to 5 pm ET |
| Fridays: 9 am to 4:30 pm CST | |
If you don't need an immediate response, you can also reach out via email support (for Klaviyo) or support ticket (for ActiveCampaign). Neither platform provides phone support.
ActiveCampaign doesn't list its support hours for responding to tickets, but Klaviyo's email support hours are 6 am to 10 pm ET on weekdays and 10 am to 4 pm ET on weekends. Its weekend email support service will come in handy if you're working over the weekend (no judgment whatsoever) and run into trouble!
Apart from that, the range of help documentation available in both platforms' knowledge bases is extensive. I think Klaviyo's knowledge base is easier to navigate: its articles are neatly categorized into various subcategories, and you can also jump between subcategories using a sidebar of internal links.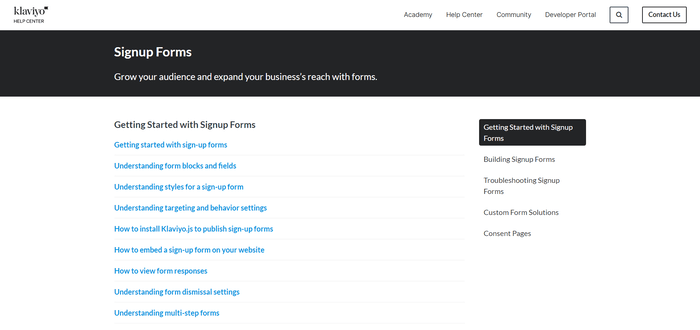 In contrast, ActiveCampaign tends to display its help articles in looong lists, which makes finding the right article for your issue more difficult. For example, just take a look at how the platform's "Build & Send Campaigns" help section seems to go on forever: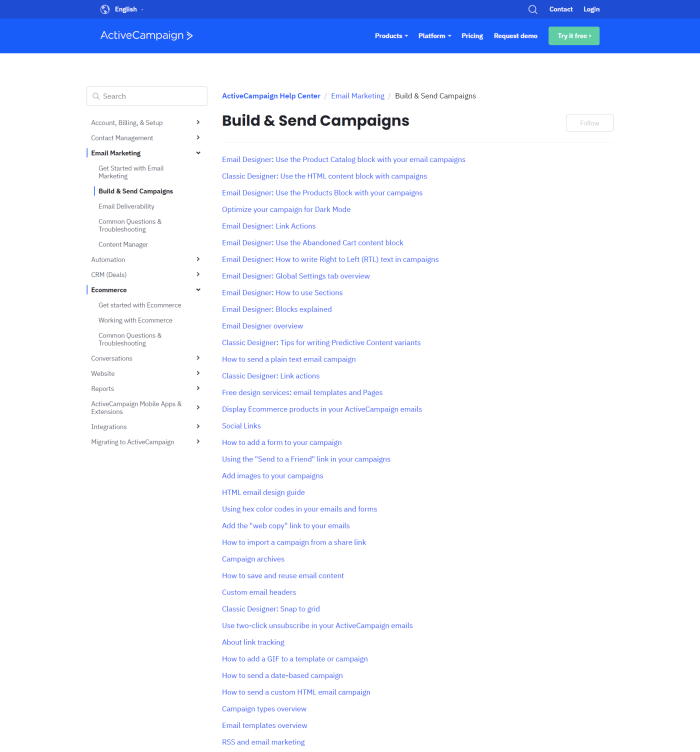 Winner: There are pros and cons to the support features in both email marketing platforms, but I'm inclined to award the point to Klaviyo for its more well-rounded overall support offering.
Klaviyo 3 – ActiveCampaign 4
User Segmentation
Segments create dynamic, always-updating groups of contacts based on common traits such as:
Residing within a certain geographical location
Having engaged with your emails within the last 30 days
Having visited your website from their mobile phone
After segmenting your contacts, you can send them emails targeting their shared characteristics (and increase their likelihood of engaging with your emails!)
When you create a new Klaviyo account, the platform provides helpful default segments for new subscribers and subscribers who have engaged with your emails within the last 30, 60, and 90 days. However, setting up your own segments can be tricky. Klaviyo's segmentation feature talks about "Dimensions" and the "Boolean" computer data type, and these terms aren't the most intuitive.
In contrast, I find it easier to create segments in ActiveCampaign as its segmentation options are easier to understand. You can also have up to 20 conditions per segment in ActiveCampaign, compared to Klaviyo's 13.

Winner: ActiveCampaign takes this round for its easier-to-use and more powerful segmentation feature.
Klaviyo 3 – ActiveCampaign 5
Pricing
Last but not least, the ever-important question of pricing!
ActiveCampaign pricing starts at $39/month for up to 1,000 contacts on the lowest-tiered Lite plan. This plan gets you essential features such as basic/inline forms, email templates, contact segmentation, and marketing automation…
…but it doesn't get you ecommerce integrations, which are likely essential if you run an online store.
For that, you'd need to opt for the next-tier: ActiveCampaign Plus plan. This plan starts at $49/month for up to 1,000 contacts.
(More details on ActiveCampaign pricing in our separate guide.)
Unlike ActiveCampaign, Klaviyo makes all its features — including ecommerce integrations — available on every plan. So if you don't need SMS marketing features, the price you'll pay for Klaviyo is solely determined by the number of contacts you have and the number of monthly email sends you need.
For example, Klaviyo has a free plan that lets you store up to 250 contacts and send 500 emails per month. Its paid plans start at $30/month for storing up to 500 contacts and sending 5,000 monthly emails.
Let's take a look at how Klaviyo's non-SMS pricing plan, and ActiveCampaign's Lite and Plus plans, compare at different contact list sizes:
| Number of contacts | Klaviyo | ActiveCampaign Lite plan | ActiveCampaign Plus plan |
| --- | --- | --- | --- |
| 0 to 250 | Free | $39/month | $49/month |
| 1,000 | $30/month | $39/month | $70/month |
| 5,000 | $100/month | $99/month | $186/month |
| 10,000 | $150/month | $174/month | $287/month |
| 25,000 | $400/month | $286/month | $474/month |
| 50,000 | $720/month | $486/month | $699/month |
Leaving aside the fact that Klaviyo offers a free plan (and ActiveCampaign doesn't), the platform is the cheaper option out of the two. It's only when you get to 50,000 contacts that Klaviyo's pricing starts to become the more expensive option – charging almost double the price! Also, if a native ecommerce integration is a must-have, Klaviyo's plans are definitely more affordable than ActiveCampaign's Plus plans.
Winner: Klaviyo is the cheaper email marketing platform for ecommerce business owners that need to integrate their email setup with their ecommerce store.
Klaviyo 4 – ActiveCampaign 5
ActiveCampaign vs Klaviyo: Final Thoughts
Totaling up the points, ActiveCampaign has scored five points, and Klaviyo has four — making ActiveCampaign the overall winner of our ActiveCampaign vs Klaviyo review!
The factors that tipped the scale in ActiveCampaign's favor included its:
Easy-to-use email editor
More intuitive and powerful contact segmentation features
Comprehensive sales and marketing automations
Extensive email marketing reports
Wide range of built-in integrations
That's not to say Klaviyo isn't worth using. You'll find the platform a strong option if you want to operate a sophisticated ecommerce email marketing operation while keeping to a smaller budget.
To find out more about our winner, read our full ActiveCampaign review here (or our separate review of the integrated ActiveCampaign CRM (customer relationship management) tool). You can also read our full ActiveCampaign tutorial to help you get set up.
>Take it for a spin yourself on ActiveCamapign's 14-day free trial
You can also explore other options in our guide to ActiveCampaign alternatives. They may be just what you need if running a newsletter is your focus (and you can find newsletter examples here too!)
Have questions on whether ActiveCampaign or Klaviyo is the right fit for your ecommerce business needs? I'm happy to help — just leave a comment below!
We keep our content up to date
24 May 2023 - ActiveCampaign vs Klaviyo video comparison added
Our Methodology
This article has been written and researched following our EmailTooltester methodology.
Our Methodology