It's a familiar scenario for me in my own online store: a customer adds a unicorn horn to their cart, but doesn't make the purchase. The solution? I send them a friendly, unicorn-filled abandoned cart email, of course!
Lost sales due to abandoned carts are extremely common in ecommerce. But setting up abandoned cart recovery emails isn't always easy. Cart abandonment email solutions can simplify the process, but how do you choose the right one?
You've got two broad choices: the default email service on your ecommerce platform (like Shopify, WooCommerce, or Wix), or email software with abandoned shopping cart features.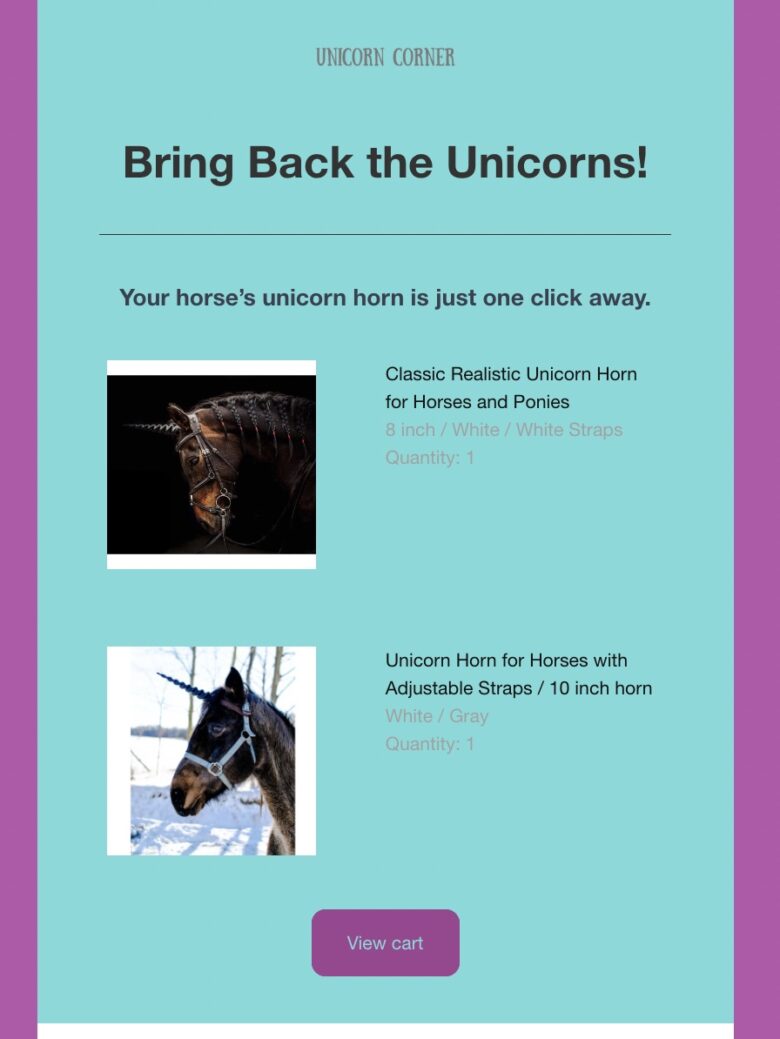 Using your ecommerce platform's default email is generally the easiest route, but it often lacks the advanced features that dedicated email software can provide. In fact, many ecommerce business owners find themselves quickly outgrowing their platform's abandoned cart templates.
If you're looking for advanced features, detailed analytics, or if you need the flexibility to integrate with multiple ecommerce platforms, we recommend getting started with email software built for ecommerce.
So, let's take a closer look at some of the best solutions available for creating abandoned cart emails.
The Top 9 Cart Abandonment Solutions
Cart abandonment solutions turn missed sales into revenue for ecommerce stores. Picking the software can be tough, but we're here to help. Below, we look at the pros and cons of different cart abandonment software solutions, and tell you which tool is best, depending on your goals. That way, you can confidently choose the right one to recover abandoned carts and boost your sales.
Omnisend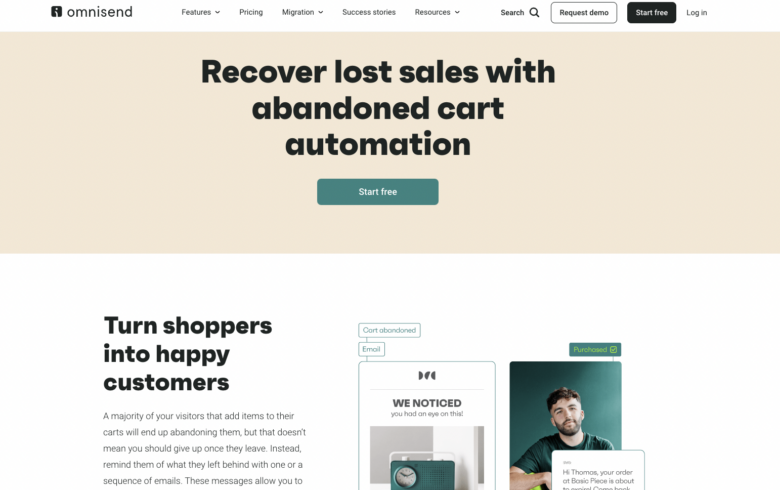 Omnisend is a popular option for abandoned cart emails, with over 5,000 reviews and a 4.8 star rating in the Shopify App Store.
Unlike some of its competitors, Omnisend is really geared towards ecommerce. So many of its features are designed with online store owners in mind.
For example, Omnisend lets you set up A/B testing to see what works best for your abandoned cart emails. You can send different email variations to see which version leads to more recovered carts.
We love that Omnisend gives you the ability to change the language of your campaign or auto-translate your email. If your customers are all over the world, you can create abandoned cart emails that will arrive in their language.
Best of all, you can use many automation features on the free plan, making Omnisend a top choice for recovering abandoned carts.
Pros
Designed for ecommerce, with features like A/B testing, discount codes, and synced product listings
Multilingual emails
Advanced automation features available on the free plan
Affordable plans starting at $16 per month
Cons
The abandoned products content block doesn't let you exclude specific products. So, if you're having a sale and think an item might sell out, you can't stop it from being included in abandoned cart emails.
Billable contacts include both subscribers and non-subscribers
Subpar email deliverability based on our tests.
Is Omnisend right for you?
Whether you sell on Shopify or another platform, we consider Omnisend a solid choice for ecommerce store owners. Omnisend can really take your abandoned cart emails to the next level with its A/B testing and multilingual features.
> Read our full Omnisend review
Klaviyo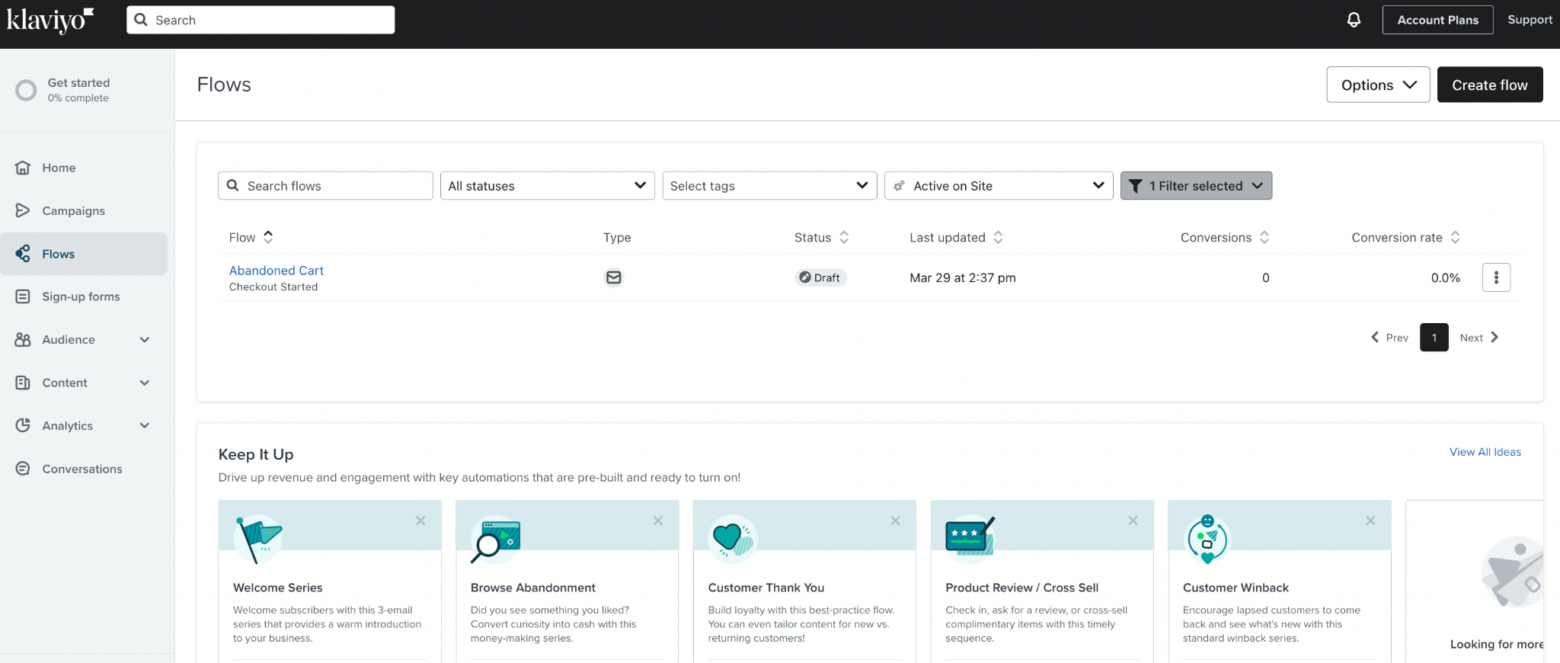 Klaviyo is all about a data-driven approach to abandoned cart recovery.
Klaviyo's analytics dashboard provides key insights clearly. You can even view real-time responses to your emails worldwide on a map. Klaviyo's predictive analytics can suggest optimal email send times, potentially boosting conversions.
We also love Klavyio's user-friendly flow builder which lets you customize abandoned cart emails that match your brand's voice.
One thing to keep in mind is that Klaviyo only offers limited onboarding support for users on the free plan. After that, you lose access to support unless an upgrade is purchased. If you want to stick with the free plan, be sure you can navigate Klaviyo independently before committing.
Pros
Easy-to-read analytics dashboard provides useful data
User-friendly drag-and-drop email builder and ability to add dynamic product recommendations
Provides industry-specific email benchmark data for performance comparison
Plans start at a budget-friendly $20 per month
Cons
The free plan only supports up to 250 contacts, which might be restrictive for growing businesses.
Support is discontinued after 60 days for users on the free plan
Is Klaviyo right for you?
Klaviyo is ideal for those who value analytics and are willing to pay a bit more for that data. If you're looking to develop your abandoned cart emails based on numbers, not guesswork, Klaviyo could be a good choice for you.
ActiveCampaign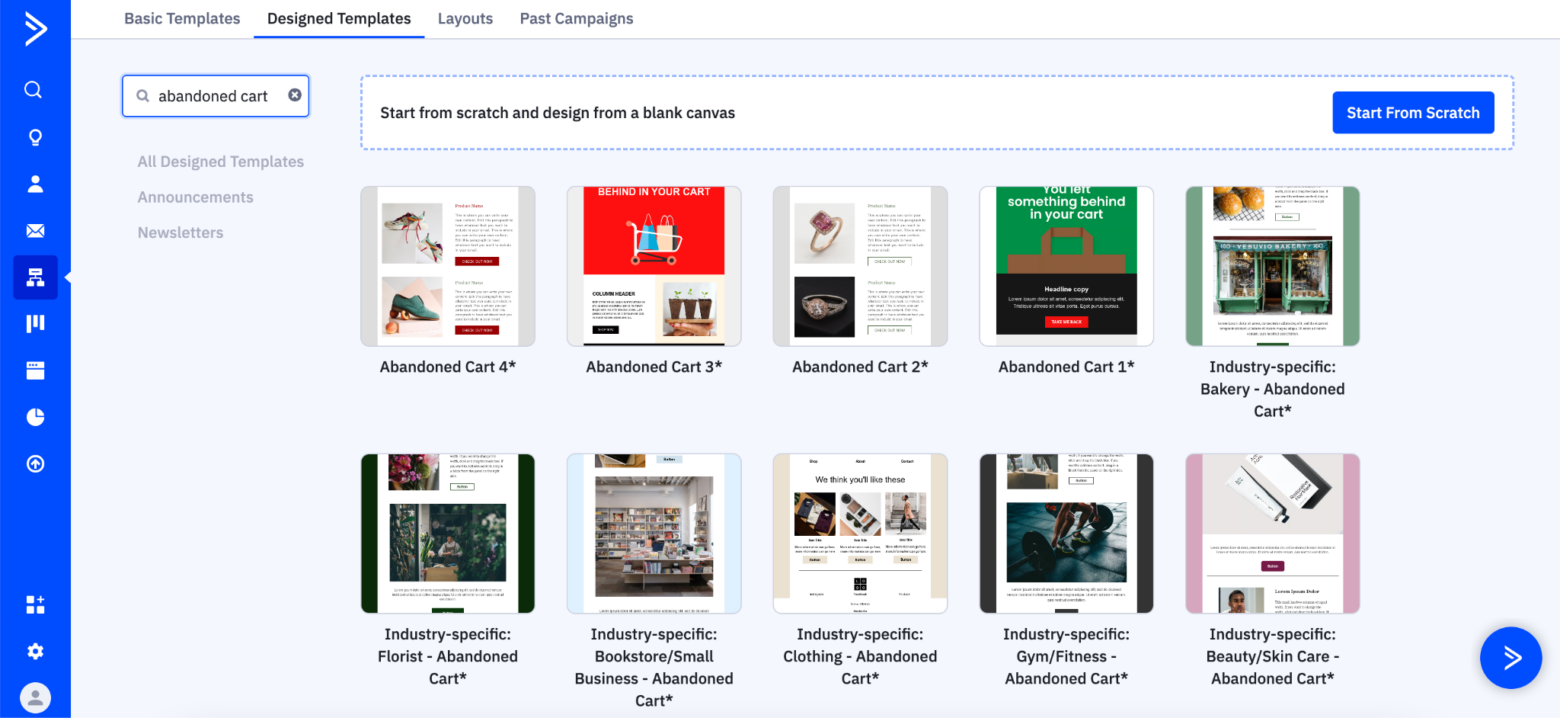 ActiveCampaign has been in the email marketing game since 2003, and their decades of experience really show.
ActiveCampaign provides a smooth interface, plus a variety of useful features for ecommerce store owners looking to send abandoned cart emails. It's great for setting up sophisticated automations and contact lists. Plus, the ability to tag and segment contacts can lead to more targeted marketing.
What's great for ecommerce owners is that it offers deep data integrations with platforms such as Shopify, WooCommerce, BigCommerce, and Square. This means you can sync your store's customer, product, order, and shipping information with ActiveCampaign, allowing for ultra-targeted emails campaigns.
One of our favorite features is ActiveCampaign's free design service, which is included in all their Marketing plans. You get to pick from a variety of pre-set email templates, which they tailor to match your brand.
The customized template becomes a useful base for future email campaigns. And because they use a drag-and-drop email designer, you can easily tweak the template as you go.
Pros
Powerful marketing automations, including pre-built automation templates
Deep data integrations with major ecommerce platforms
Free design service with a paid plan
Live chat support and one-on-one training
Cons
No free plan (but they do offer a free trial)
In order to access ecommerce integrations, you need to subscribe to the Plus plan, which starts at $49 per month
You can only embed product blocks into your emails if you have a store with Shopify or WooCommerce
Is ActiveCampaign right for you?
ActiveCampaign is an excellent choice for email marketing newbies or busy ecommerce entrepreneurs, thanks to its free design service. If you're willing to commit to a paid plan, this service can save you a lot of time and get your abandoned cart emails ready to send quickly.
> Try ActiveCampaign in a free trial
> Read our full ActiveCampaign review
GetResponse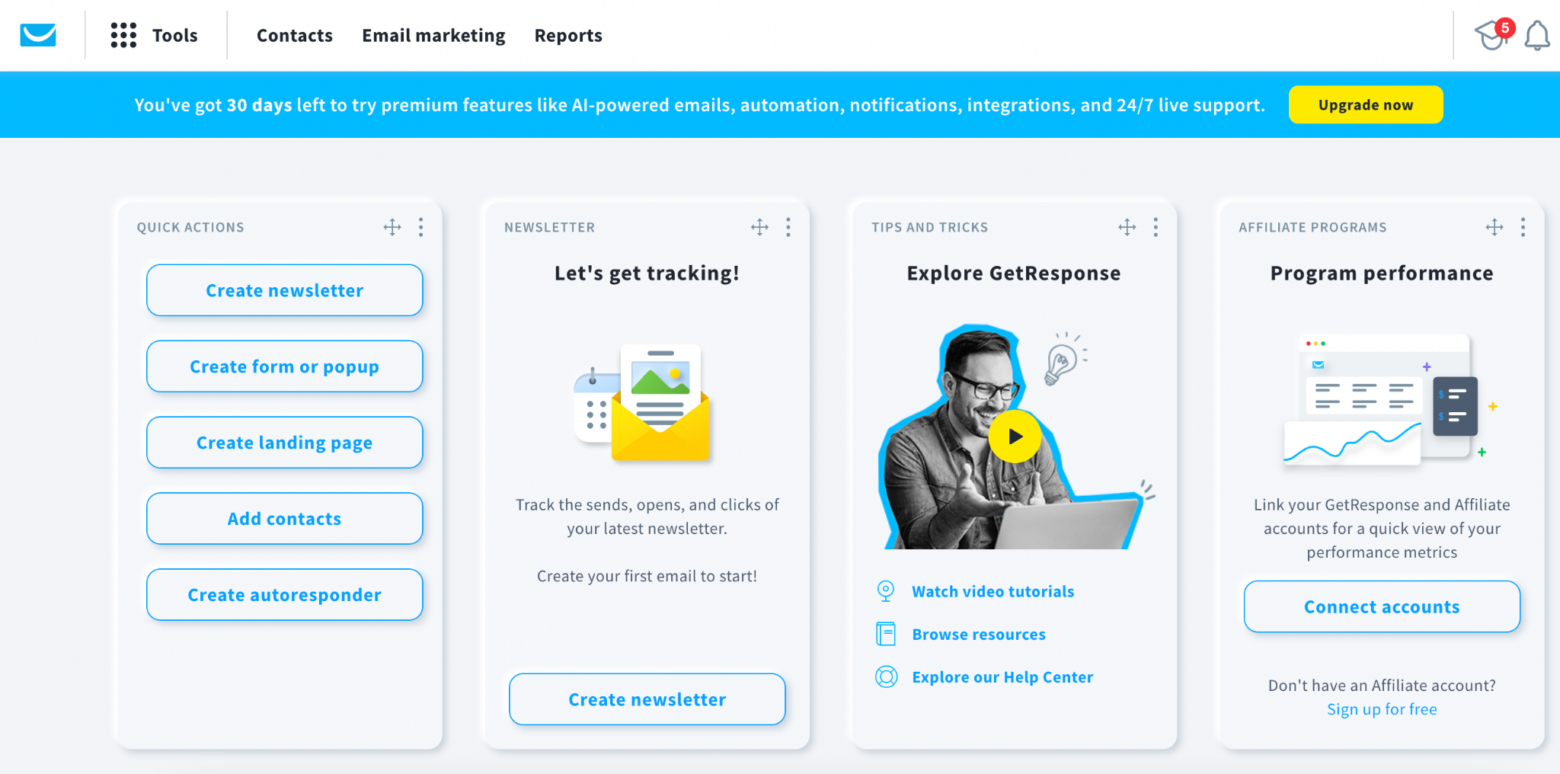 GetResponse is a powerful email marketing tool that packs a variety of features.
We're impressed by GetResponse's conversion funnel feature, which tracks the customer's journey and identifies when carts are abandoned. With this info, you can identify any bottlenecks in your checkout process that may be causing customers to abandon their carts. This could be unexpected shipping costs, a complex checkout process, or even website performance issues.
GetResponse's AI Email Generator is also a valuable tool for ecommerce store owners. Similar to ChatGPT, it creates high-performing email content automatically, saving time and reducing the need for specialized copywriting skills.
Unlike most email software, GetResponse can integrate with Etsy. You can't send abandoned cart emails to Etsy customers directly, but you can use your Etsy product details in marketing emails. This is useful for those who are selling on Etsy but planning to move to another platform, or for those who have both an Etsy store and a separate website. (Like me!)
Pros
Conversion funnel can help you identify issues customers are having at checkout
AI email generation saves time and brainpower
Good range of templates available
Integration with Etsy
Cons
Abandoned cart emails can't be sent directly to Etsy customers.
Abandoned cart triggers and ecommerce tracking are only available on the highest-level tier (Ecommerce Marketing), which starts at an eye-watering $119 per month
Is GetResponse right for you?
GetResponse is perfect for ecommerce store owners who need to understand when and why customers abandon carts, and have the extra budget to invest in a premium email marketing service. Anyone who needs help with email creation will find GetResponse's AI tool very useful. Plus, the Etsy integration is great for sellers moving away from Etsy or managing multiple platforms.
> Read our full GetResponse review
MailerLite

MailerLite's approach to abandoned cart emails is simple and effective. They provide a ready-to-use automation workflow specifically for abandoned cart emails, making it easy for beginners to set up.
Also, MailerLite provides handy tags for ecommerce emails, perfect for store owners looking to easily access the messages they need.
MailerLite has a solid set of analytic features that let you check how well your abandoned cart emails are doing. You can see how many people open your emails, click on links, and end up buying, which helps you make your future emails even better.
Pros
Quick and easy setup of abandoned cart emails
Excellent email deliverability in our recent tests
Generous free plan, and cheap paid plans starting at $15 per month
Cons
Some ecommerce automation features are missing, like browse abandonment (where you email those who have viewed a product but not added it to their cart), and back-in-stock notifications (where customers can sign up to be notified when a product becomes available again)
Templates are not available on the free plan
Is MailerLite right for you?
MailerLite is ideal if you want straightforward, user-friendly software for handling abandoned cart emails. If you value simplicity, you might prefer MailerLite over other platforms that require more manual setup for abandoned cart emails.
> Read our full MailerLite review
Brevo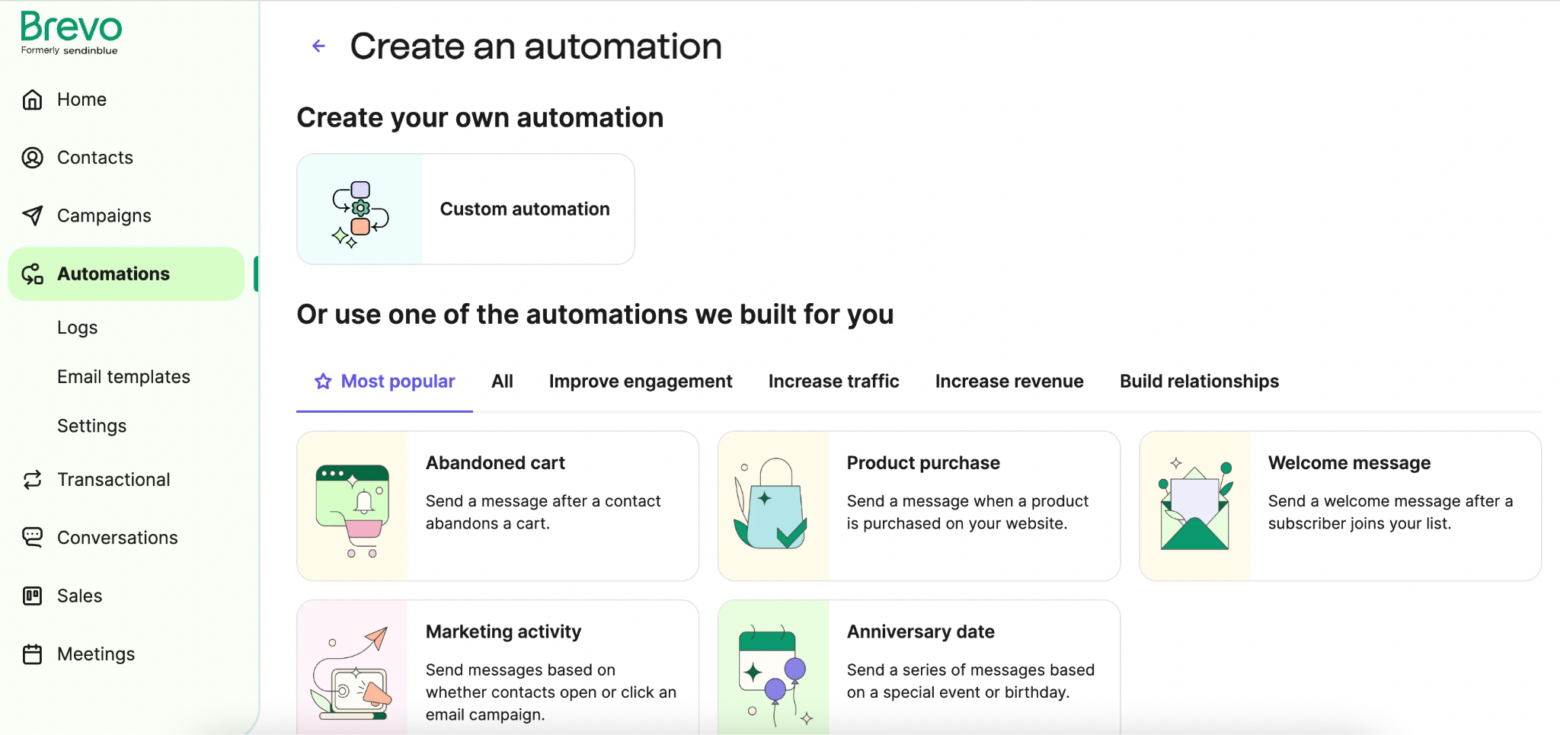 Brevo (formerly Sendinblue) is a great budget-friendly option for automating abandoned cart emails. We love that Brevo provides an ecommerce dashboard for tracking orders, revenue, and real-time cart activities. This is very handy if you're looking for business insights at a glance, without digging through complicated data reports.
Keep in mind that only new Shopify users and those using Brevo's API can access the ecommerce dashboard. But this feature will be available for other platforms in the future.
If you don't mind their logo at the bottom of your emails, Brevo has some solid abandoned cart tools available on its free plan. These include A/B testing, send time optimization, and customer segmentation.
Pros
Easy-to-read analytics dashboard for Shopify users
Abandoned cart emails can be created on the free plan (with Brevo's logo at the bottom)
Affordable plans starting at $25 per month
Cons
Brevo can sync your product listings, but it doesn't support information on product variants
If you're not on Shopify, you can't access the analytics dashboard (yet)
Is Brevo right for you?
If you use Shopify, Brevo's ecommerce dashboard is a great way to visualize your data and make informed decisions for your abandoned cart emails. Even if you use another ecommerce platform, Brevo is still a good choice for cost-conscious ecommerce store owners. We consider Brevo's free plan to be one of the best free options available.
Drip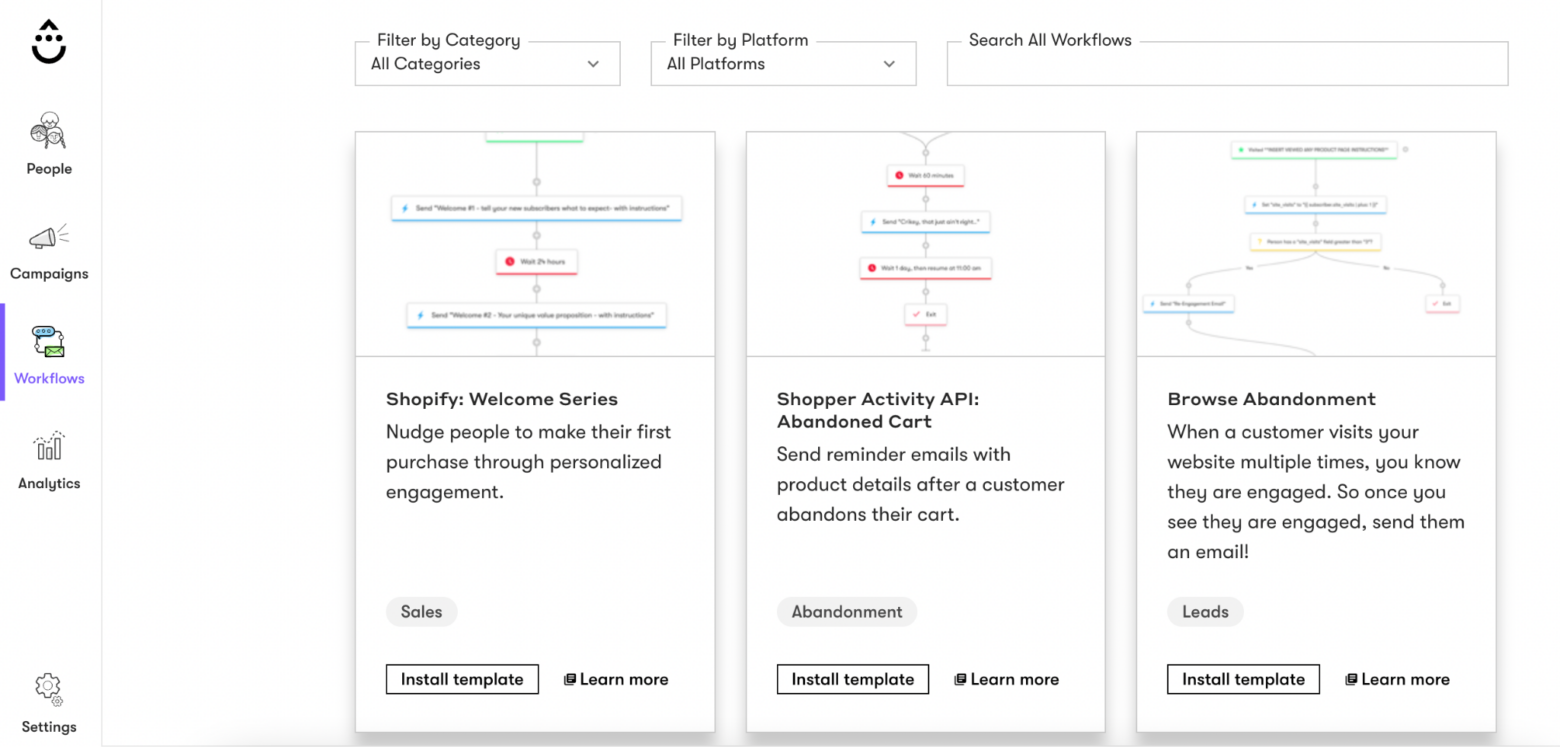 Drip stands out with what it calls a "customer-first approach" to ecommerce emails. One way they do this is by leveraging behavioral segmentation for abandoned cart emails.
Rather than sending the same generic email to everyone, Drip allows you to group customers based on their browsing behavior, previous purchases, and website interactions. These segments allow for highly personalized emails and a true customer-centered approach.
Another feature that is worth mentioning is Drip's advanced abandoned cart workflow. This is a pre-designed automation sequence with three emails that can be sent after a cart has been abandoned. Sometimes one abandoned cart email just isn't enough!
Pros
Strong segmentation features for more personalized emails
Wide range of workflow triggers and actions, including multi-mail campaigns
All features are accessible regardless of your plan; costs only increase with more subscribers. Plans start at $39 per month
Cons
In our testing, we felt the user interface somewhat challenging to navigate
Email deliverability rate is low compared to other platforms.
Is Drip right for you?
Drip is great for online store owners who know their customers well and want to use that knowledge to send more personalized messages. Drip might also be a good option if you're finding that your conversion rates are low after sending just one abandoned cart email, and you want to set up a multi-mail campaign.
Mailchimp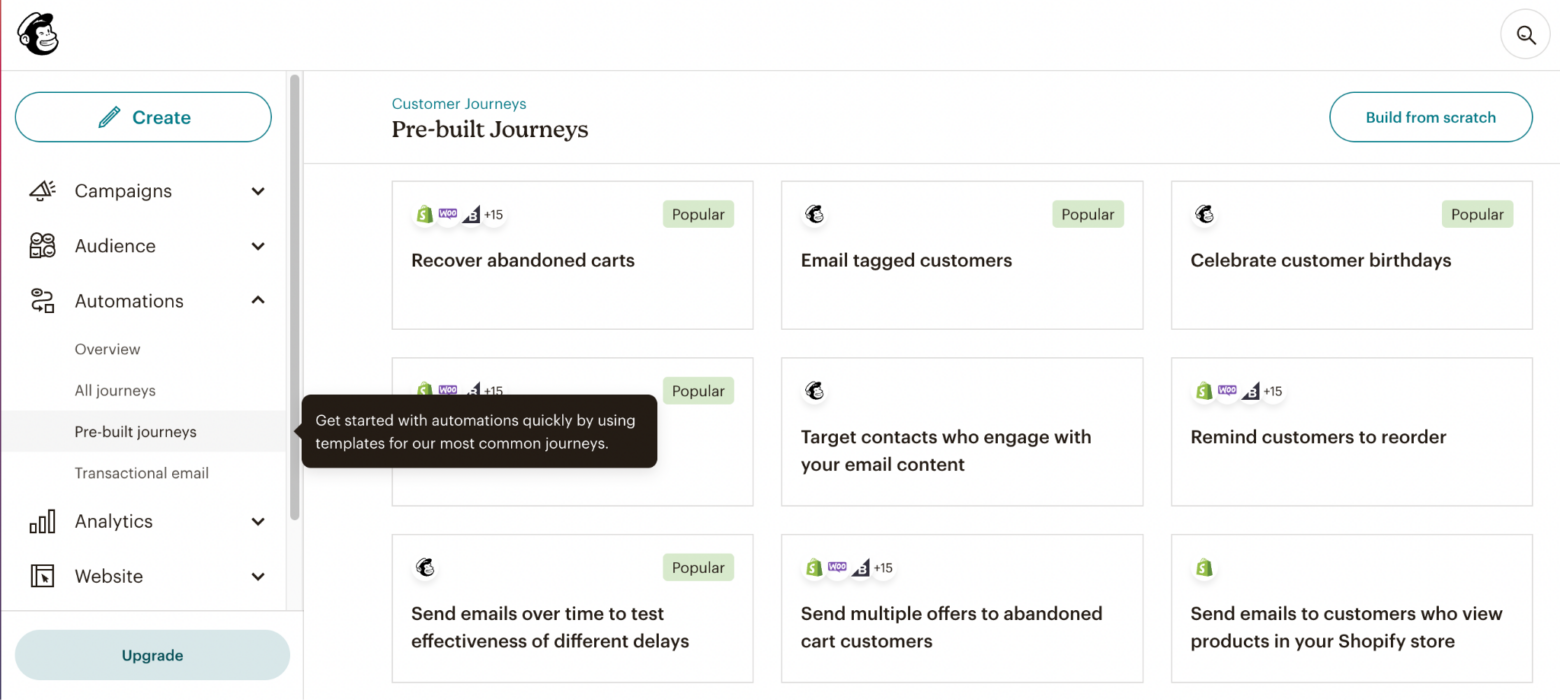 Mailchimp is a big name in the email marketing world, and we consider it a decent choice for abandoned cart emails.
If you don't want to start from scratch, Mailchimp offers "pre-built journeys" for setting up automated abandoned cart emails. But unfortunately, these automation templates aren't available on the free plan. You'll have to upgrade to the Essentials plan or higher to get started on your abandoned cart emails.
Mailchimp offers tons of options if you want to take your automated emails beyond abandoned carts. The downside is that Mailchimp can feel cluttered and be a bit tricky to navigate. If you're looking for lots of automation options, this might not be a problem. But if you want to keep things simple, Mailchimp might not be the best choice.
Pros
Ready-to-use automated workflows called "pre-built journeys"
Wide range of options for email automations beyond abandoned carts.
Cons
Abandoned cart email automation templates are not available on the free plan
Extensive features make the user interface feel somewhat cluttered
Not the cheapest option, with prices increasingly rapidly as your list grows (e.g. a list of 1,500 costs $60 on the Standard plan). Plus, they charge for inactive and unsubscribed contacts
Is Mailchimp right for you?
Mailchimp is a great option if you need to quickly create abandoned cart emails by using pre-designed templates. Mailchimp is also ideal if you need an extensive suite of automated email options, beyond targeting abandoned carts.
> Read our full Mailchimp review
SmartrMail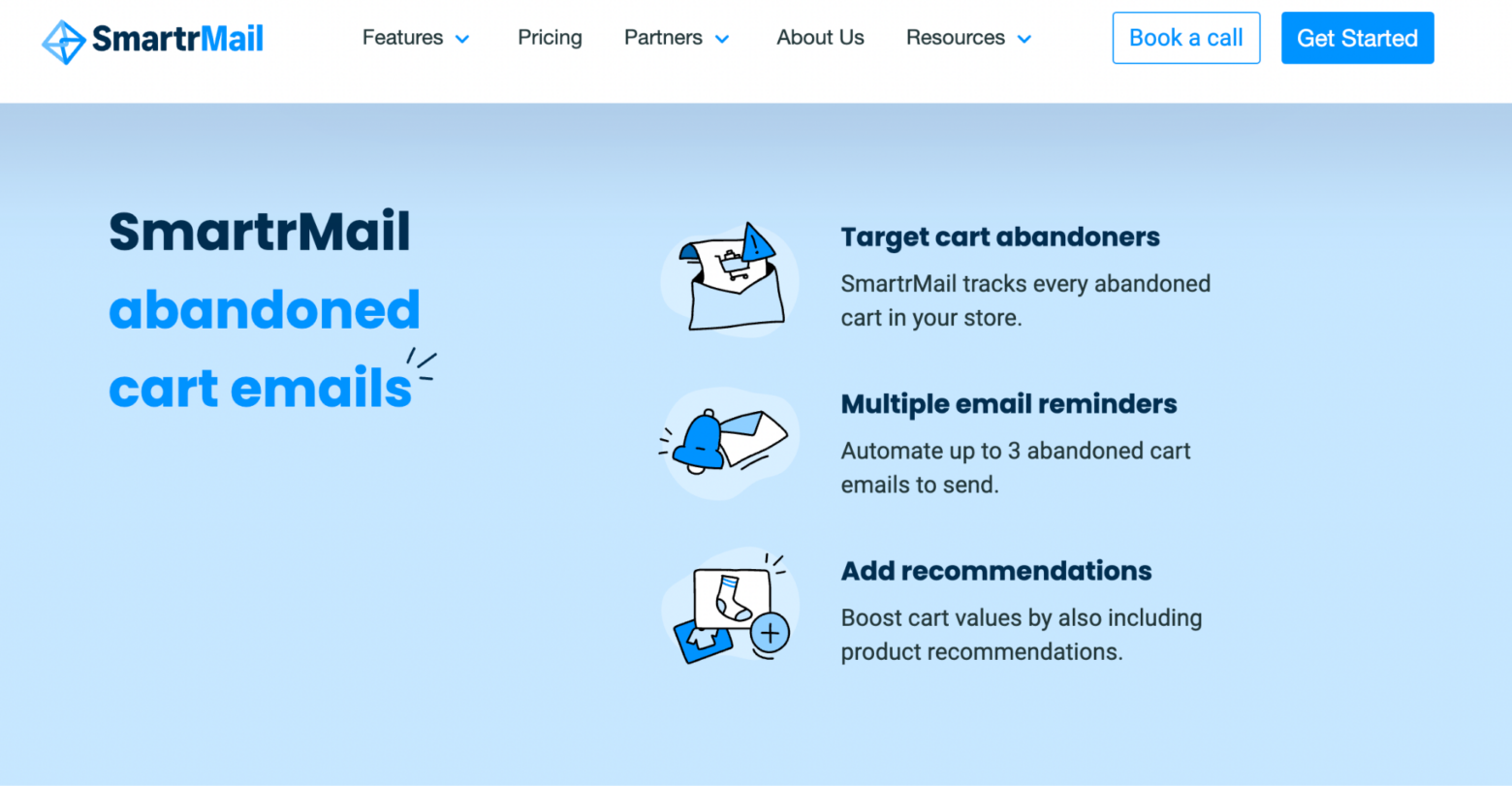 SmartrMail offers a basic, no-frills email marketing service with a few notable features for abandoned cart emails.
Once you connect your ecommerce store, SmartrMail automatically pulls your brand colors, fonts, etc. from your website to create branded email templates. From there, you can customize and add content while keeping your branding consistent.
SmartrMail can also add product recommendations to abandoned cart emails based on data from your store. This useful feature not only reminds customers of items they left in their cart, but also suggests other products they might like. This could potentially lead to higher order values.
Pros
Automatic generation of on-brand email templates.
Automated product suggestions
Seasonal, customer journey, and industry-specific email templates.
Cheap plans starting at $19 per month
Cons
No way to automatically tag subscribers
Plugin not updated for WordPress/WooCommerce, might pose compatibility issues.
Is SmartrMail right for you?
If you sell on Shopify, BigCommerce, or Maropost, and don't need advanced automation features, SmartrMail could be a good option for you. But we don't recommend SmartrMail for WooCommerce users, due to the lack of plugin updates.
The Best Cart Abandonment Solutions: Final Thoughts
Selecting the best cart abandonment solution may seem daunting, but it's a key component in any ecommerce marketing strategy. Remember, this process is about turning potential losses into actual gains.
Explore the options, consider your needs, and make the choice that feels right for your business. The right abandoned cart software is out there, ready to support your ecommerce venture.
Here's to your continued success!
Our Methodology
This article has been written and researched following our EmailTooltester methodology.
Our Methodology