If you've landed on this comparison, it's likely you're looking for an alternative to HubSpot.
Perhaps you've been using its Free CRM plan but have now come to the point where you either cough up or look for another service? If that's you then well done for shopping around. People often pay excessive amounts just because the prospect of migrating to another provider brings on a headache when actually it isn't too much trouble at all.
And if you're looking for a CRM for the first time, well then you're in good hands! By the end of this Pipedrive vs HubSpot comparison, you'll have a much clearer idea of which CRM software is right for you… I hope!
What's the main difference between Pipedrive and HubSpot?
Pipedrive is primarily for sales teams whereas HubSpot is for sales and marketing teams. This makes it a more diverse product, which attracts a whole host of users. However, because HubSpot separates its products into various 'hubs' (Marketing Hub, Sales & CRM Hub, etc.), you'll need to decide which set of features is more beneficial to you or opt for one of its 'bundles'.
Though Pipedrive doesn't offer the same kind of suite as HubSpot, it is a very decent CRM software that has a great reputation amongst users.
HubSpot offers a feature-rich Free CRM plan whereas Pipedrive only offers a 14-day free trial, though its prices are much more reasonable from the outset.
Those using HubSpot's free CRM are most likely small businesses who don't mind putting up with the HubSpot branding so as to avoid paying $20/month for the Starter plan. With Pipedrive, you'll never feel like you're paying too much for users or features you don't need. Its plans start at $21.90/month/user and go up incrementally as you grow.
Another difference between the two tools is that HubSpot charges a setup fee for its higher-tier paid packages, whereas Pipedrive does not – more on that in the pricing section.
Note: For simplicity's sake, I'm going to focus on HubSpot's Free CRM plan and paid Starter Sales plan rather than the Marketing or Services Hub, as these are the most similar to Pipedrive.
We recommend both providers in our guide to the best CRM software for small businesses, so it'll be interesting to see how they do when compared head to head.
So, let's get stuck in!
HubSpot Video Review
Ease of Use
Grappling with a new CRM can be challenging whatever the level of experience you have. We believe that the shallower the learning curve the better, though there is a fine line between simplicity and a lack of options.
HubSpot definitely offers a good balance between user-friendliness and horsepower, with an easy-to-use interface and plenty of customization options. There is also a helpful tour of the software, so you can see how everything works before getting started.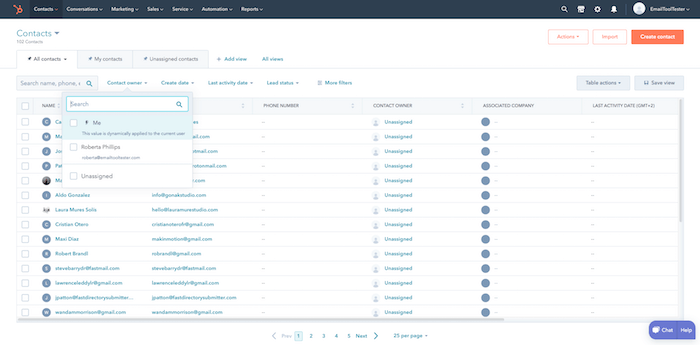 Locating the information you need (a deal, contract, contact, etc.) is pain-free and you can even organize your dashboard to show the information that's important to you. You can also see exactly how your salespeople are doing directly on your dashboard.
Pipedrive also offers a very intuitive interface that is easy to navigate. It doesn't overwhelm you with options and makes it easy to get a holistic view of your leads and sales.
Upon sign-up, you'll be taken through a 7-step set-up process, so there's no risk of forgetting anything. In Pipedrive, your dashboard is your sales pipeline, which you can customize easily.
Winner: Both have clearly invested resources into designing a user-friendly product. You won't have any problems getting set up or customizing the dashboard to your needs. Both take a point here.
Customization and Pipeline Management
Both CRM tools are very flexible in terms of customization and visual presentation.
HubSpot allows for complete customization of the dashboard. It gives you a number of templates (lead generation, sales manager, sales opportunity review, etc.) or you can build your dashboard from scratch.
It lets you include as many or as few reports as you like and decide on who can access the dashboard. You can then filter these by date-range, owner, teams, etc.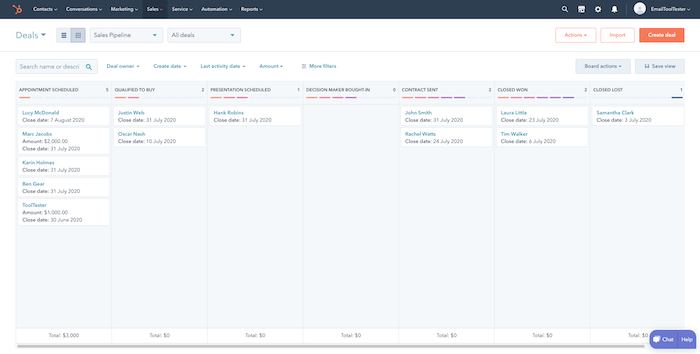 Within the deals pipeline you can edit columns and add custom properties (if you can't find what you're looking for on the extensive list). Larger companies with lots of deals will find the search bar useful.
Move deals through the sales stages by dragging them between columns, just like with Pipedrive. If you're familiar with Trello you'll get the hang of it almost instantly.

In fact, Pipedrive offers pretty similar customization options; you'll have unlimited pipelines and properties to play with, a search bar and multiple dashboards (Professional plan and up).
Winner: Both are extensively customizable and make managing your pipeline a breeze.  I'm therefore awarding both a point here. 2-2
Email Integration
HubSpot connects to Gmail and Outlook on its free plan, whereas Pipedrive reserves its two-way syncing feature for Advanced plan users (though you'll be able to connect with any email client you like).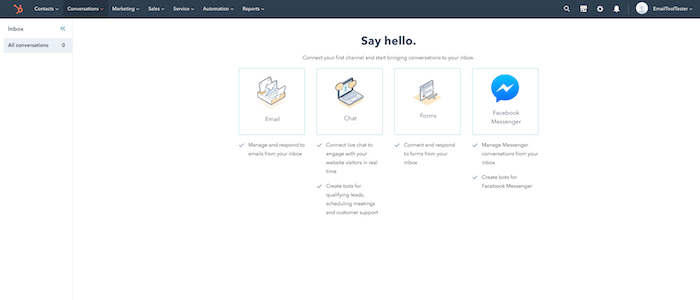 HubSpot's Conversations inbox is a shared inbox where all sales agents can see the queries coming in via email and live chat. This helps everyone stay in the loop and stay on top of hot leads. It also provides you with a number of email templates you can use when responding to leads, which will definitely save you time. Pipedrive also has a number of templates available, as well as its group emails, which allows you to send the same email to up to 100 contacts.
Because HubSpot also caters to the needs of marketers, its Free CRM plan allows you to send up to 2,000 promotional emails a month to your contacts, though all the design templates are reserved for paying users. Signing up for a CRM with email marketing services is a great idea, however, if you'd rather keep them separate, I'd recommend checking out these free email marketing tools.
Pipedrive is focused on sales rather than marketing solutions so no email newsletters. You can integrate with a third-party software, of course. If you're serious about email marketing, you might want to take a look at our ActiveCampaign vs HubSpot comparison.
Another great feature of both tools is the email tracking software, which allows you to see who's opened your outreach email and whether they've clicked the link.
Winner: With both offering similarly great features, it's a tough one. However, HubSpot does offer quite a lot on its Free CRM plan, making its offering slightly more appealing to small businesses looking to keep costs down. This round has a winner and it's HubSpot! 2-3.
Reporting
The reporting features for both HubSpot and Pipedrive are excellent. The reports are easy to read and customizable, so you can choose what appears on your dashboard.
If you want to create custom reports on HubSpot, you'll need to upgrade to its Professional plan, which will cost you a tremendous $500/month.
Winner: Reporting is another area where both CRM tools shine. You won't be lacking in data and both make it easy to get a holistic view of your activities and progress. The score: 3-4.
Integrations and Apps
Being able to integrate your favorite sales and marketing tools with your CRM seamlessly is a big plus, and I can tell you that HubSpot offers a whole host of integrations, 40 of which are available on the free plan.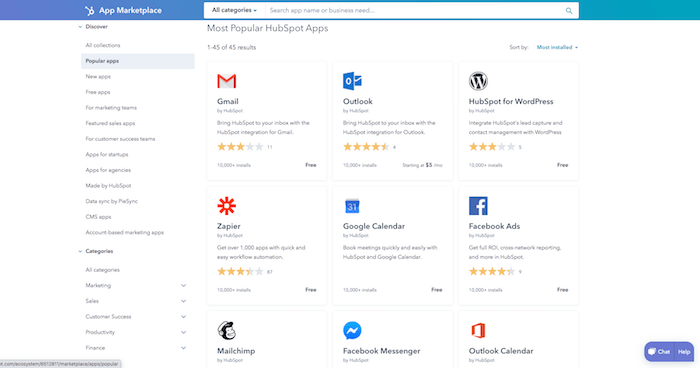 Though there are still plenty available, Pipedrive doesn't offer quite as many direct integrations as HubSpot. It's also missing some key email marketing tools such as ActiveCampaign and MailerLite. There is, however, an open API configuration to facilitate a connection with third-party applications. And they integrate with Zapier.
Both HubSpot and Pipedrive have a mobile app, available on both Android and iOS.
Winner: Due to the fact that HubSpot offers more direct integrations, I'm going to have to give it the point here. 3-5 to HubSpot.
Support
HubSpot's free users have access to the HubSpot Community but you'll need to upgrade to the Starter plan in order to gain access to in-app and email support. Phone support is only available to those on the expensive Professional plan.
One of the nice things about HubSpot is that it has an excellent selection of resources in the form of free courses, guides, articles and ebooks.
Pipedrive provides support via chat and email around the clock on all plans, as well as an extensive knowledge base, a number of courses and a fairly active community.
The support I received from both platforms was helpful, though HubSpot was a bit quicker to respond.
Winner: There really isn't too much difference between the two here, as both offer multiple support channels and a wide range of resources and learning materials. Point for both: 4-6.
Prices
Pipedrive's plans and pricing are easy to understand. The plans are based on the features you require and the price is per user. All plans come with unlimited contacts, so you don't need to worry about being charged extra if you go over your allowance.
HubSpot has a much more complicated pricing structure: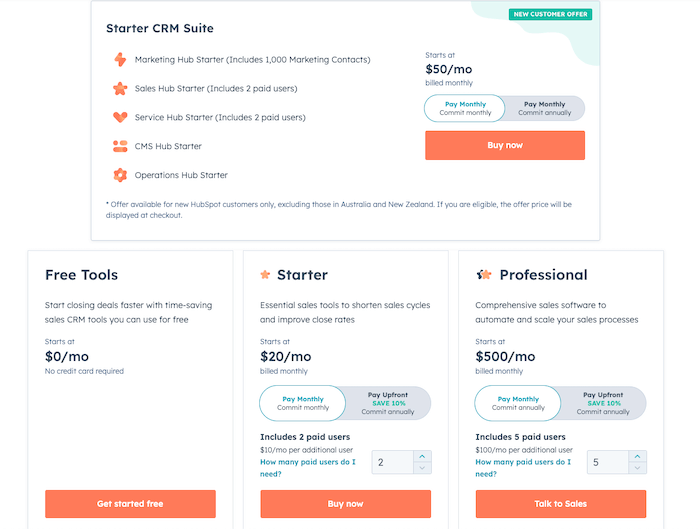 Here, we're just going to look at the CRM & Sales plan, but there are also the Marketing and Service plans and various tiers within these with wildly different prices that range from $20 – $3600.
PLAN
PIPEDRIVE
HUBSPOT (CRM & SALES PLAN)
Free plan
No free plan
Free trial available
You can add unlimited users and 1M contacts
Limited features & HubSpot branding
Starter/Essential
$21.90/month/user
$20/month for 2 users
Advanced
$37.90/month/user
–
Professional
$59.90/month/user
$500/month for 5 users
Enterprise
$119/month/user
$1,200/ month for 10 users
As I've already mentioned, HubSpot's free CRM plan is pretty generous, with the ability to add unlimited users and 1M contacts. It allows you to integrate with Gmail and Outlook, set up forms and newsletters and create tasks and goals for your team. What it's missing are email templates, marketing automation, meeting scheduling and insights, and you'll have to put up with the HubSpot branding.
As you can see above, the starter plans are pretty much on par, though you'll get an extra user with HubSpot. Things look quite different when you compare the Professional plans and HubSpot jumps up into the hundreds.  This makes this plan quite a hard sell to small businesses.
Comparing the Professional Plans
HubSpot's Professional plan works out at $100/user/month compared to Piedrive's $59.90. But what's included and how do the features compare?
| FEATURES | PIPEDRIVE | HUBSPOT |
| --- | --- | --- |
| Live chat & Conversational bots | With add-on ($32.50/month) | Yes |
| Mobile app | Yes | Yes |
| Email templates | Yes | 1,000 |
| Caller | Yes | 16 hours/user/month |
| Documents | Yes | 1,000 |
| Meeting scheduling | Yes | 1,000 links |
| Reporting dashboard | Unlimited | 25 |
| Workflows | 60 | 300 |
| Products/td> | Yes | Yes |
| Deal pipeline | Unlimited | 15 |
| Custom properties/fields | Unlimited | 1,000 |
| Multiple currencies | All major currencies. You can also add custom currencies | 30 |
| Phone support | Only via chat | Yes |
As you can see, the two providers' Professional plans aren't all that different. The advantages to using HubSpot include having access to phone support, additional workflows, live chat and conversational bots.
Pipedrive's offering really isn't bad at all, especially considering that it'll cost you a fraction of the price of HubSpot. With unlimited reporting dashboards, deal pipelines and custom fields, its Professional plan is pretty appealing.
Note: HubSpot charges a one-time onboarding fee (see below)
HubSpot's Hidden Costs
Another reason companies are looking for a HubSpot alternative is because of its hidden costs.
If its high prices weren't enough, you're also required to pay onboarding fees on the Professional and Enterprise plans: $750 and $3,000 respectively. It's a lot of money to pay upfront!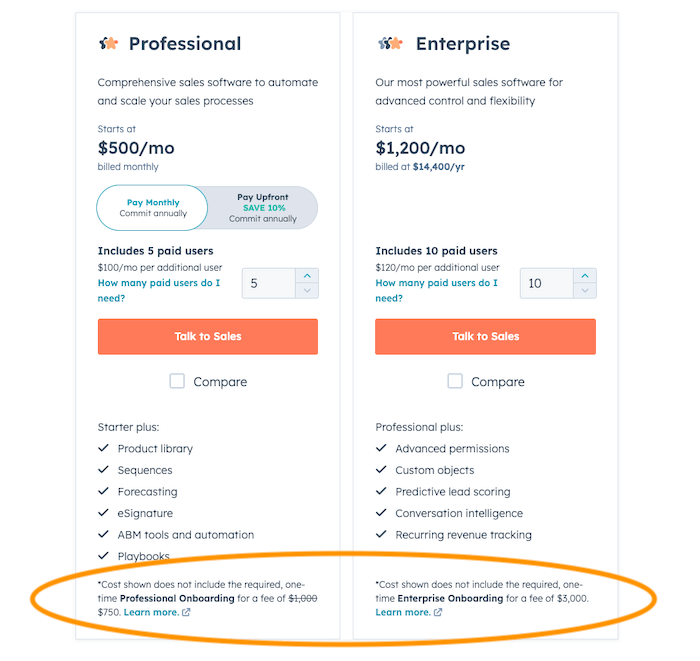 Each new user added to the Sales Hub Starter plan costs $10 per month. Extra users for the Professional plans cost $100/month.
Winner: HubSpot's Free CRM plan is excellent and I'd really recommend it to small businesses. What I wouldn't recommend is paying the elevated costs that come with its Professional and Enterprise plans, especially after you take into consideration the hidden costs. Pipedrive's pricing is much more accessible for small businesses as it goes up incrementally, and the features are just as good as HubSpot's. Pipedrive wins this round for that reason.
Final score: 5-6 to HubSpot!
Pipedrive vs HubSpot: Final Thoughts
So there you have it, the ultimate Pipedrive vs HubSpot comparison. I have to say, it's been a while since I've seen such a close head-to-head. But perhaps that score has left you feeling confused? Allow me to share my conclusions.
HubSpot is a great all-in-one sales and marketing tool and I really rate its Free CRM plan for the fact that you get a mix of sales and marketing features and generous allowances. In fact, if you're a small business, I'd definitely recommend using it to get started. Upgrading to the Starter plan means a higher allowance on the features you've already got and removing the HubSpot branding, so be sure you're going to make good use of those allowances before upgrading.
Pipedrive is a great solution for small-to-medium-sized businesses because you'll essentially only pay for what you need. The fact that you can pay for a single user is very appealing for solo-preneurs and small teams as you can keep costs to a minimum. As you saw in the Professional plan comparison table, the two platforms offer very similar features at wildly different prices, so if you're looking for CRM software with advanced features at a reasonable price, I'd say go for Pipedrive. It's a more sustainable solution for growing businesses on a tight budget.
You can try out both of the tools for free via these links:
Try Pipedrive for free for 14 days
Leave a comment if you have any questions – I'd be more than happy to help!
We keep our content up to date
24 Apr 2023 - Added video review of HubSpot
08 Mar 2023 - Updated HubSpot's prices
30 Aug 2022 - Updated Pipedrive's prices
02 June 2021 - Updated Pipedrive's prices
Our Methodology
This article has been written and researched following our EmailTooltester methodology.
Our Methodology