When it comes to SaaS (Software as a Service) email marketing, there's one mistake marketers keep making: taking too much inspiration from other SaaS brands.
While you might assume you're doing things by the book, you risk ultimately ending up with a non-creative campaign.
And that's exactly what people won't respond to.
To help you craft email marketing campaigns that will get people talking, we've prepared this guide with everything you should know for your first campaigns.
Sure, I'll take you through all possible options you have, but I'll also show you exactly how you can adapt an email marketing strategy you've already seen elsewhere to fit your audience.
Let's dig in!
Uniqueness of SaaS email marketing: why it needs different strategies
Briefly put, email marketing can be a powerful growth strategy for a SaaS company that wants to:
Increase customer retention
Maintain and improve customer relations
Acquire new customers
Nurture their leads
Deliver a personalized experience to subscribers
Provide more value to an existing or target audience
Generate more traffic to their website
Build credibility and thought leadership in their industry
Collect customer feedback and build a community
But while email marketing can help you with ALL of the above, it's important to get things right from the start.
That's because email marketing actually comes in many different forms. Hundreds of strategies can be applied in the process. Plus, there are a couple of "special challenges" that apply to SaaS email marketing and make it so different from other types of email campaigns.
By far the most overlooked aspect is that SaaS email marketing must always focus on the customer journey — from way before the initial trial, through feature adoption, renewals, and upgrades. Each of these stages requires customized messaging focused on the next logical step.
To ensure you can nail this from day one, let's take a look at our four-step process for building a successful SaaS email campaign.
4 steps for a successful SaaS email marketing strategy
Here are the four steps you should cover before you launch your first email campaign for your SaaS brand.
Set the right goals
The classic SMART (Specific, Measurable, Achievable, Relevant, and Timely) framework is very useful in goal setting for a SaaS email campaign. That's because vague goals like wanting to "increase engagement" won't ultimately help you determine if your campaigns are successful.
Start by defining your key email marketing metrics and setting quantifiable targets. For example, you may want to achieve:
• An open rate of 30%
• A click-through rate of 6%
• 50 new webinar registrants
On top of this, you'll want to consider your conversion funnel. That is: what actions you want people to take after they read your emails. These can be anything from downloading an ebook, requesting a demo, purchasing a paid plan, or similar.
But it's super important that you keep one goal per email. That ensures people won't be confused when it comes to deciding what you want them to do next.
By focusing on the right metrics and setting specific, measurable, and achievable goals, you'll be able to optimize your email campaigns over time and determine where you need to improve, to better engage your audience and grow your SaaS business.
Extra note: Revisit your goals regularly and adjust them as needed, based on your results and progress. By analyzing the stats of your previous campaigns, you might notice people aren't responding to emails exactly like you expect them to. For instance, they might be more interested in a resource you added to the email as opposed to the main event you're promoting. You can then make sure to include more of these resources in future emails.
Growing your email list
No matter what your goal is, you simply won't be able to reach it if you don't have a strong email list.
One simple email marketing strategy is to make it super easy for people to sign up for your list on your website. Place an opt-in form prominently on your homepage and other high-traffic pages (e.g. articles on your blog). Use a clear call-to-action like "Get our latest tips" or "Join for exclusive offers".
To boost your chances of converting a visitor or user into a subscriber, you'll want to offer an incentive for people to subscribe. This could be early access to your product, events, a free resource, or access to a beta trial.
Similarly, these exclusive resources can act as a lead generation tool for your email list. Let's take a webinar as an example. You can ask attendees to subscribe to your newsletter to get similar advice and resources in the future.
Keep segmentation in mind
Your emails need to resonate with people.
When growing your email marketing list, segmentation is key to crafting personalized, relevant messages that resonate with your subscribers.
But how does segmentation work for SaaS businesses?
Well, you've got loads of options, and you should create tailored content for all of them.
Basic segments could include:
Free users
Trial users
Basic plan users
Premium plan users
Within each segment, you'll also want to look for additional ways to slice the list based on subscriber attributes and behaviors. For free trial users, you could further segment by:
Industry
Team size
Feature usage (even for inactive users)
Lifecycle stage
The more finely you can segment your list, the more targeted your emails can be. For example, you could send:
Custom onboarding emails that take a Finance team through the exact jobs they have daily
Use cases highlighting certain features that mid-size teams would appreciate
Renewal reminders for enterprise customers when their plan's terms are nearing their end
Make room for marketing automation
But with so many segments to cater to, it's important to note you're not alone. Automating email scheduling ensures you'll be sending an email to the right user at the right time.
There are millions of automated workflows you can set, but you should always make sure you've got the basics covered.
Set up automated emails for common triggers like welcome series, product updates, upselling offers, and even referral campaigns for loyal users.
Some of the best email types to automate are reminders and follow-ups. You can create automated reminders for things like subscriptions that are about to renew, outstanding invoices, or even features your customers are not actively using. This ensures both you and your users won't miss any opportunities.
Finally, remember what we discussed in the segmentation section above. To create a personalized experience, go beyond just pulling in contact details like a first name. You'll want to make sure your emails reflect the lifecycle stage a user's at, to prevent misunderstandings.
Bonus tip: Another core step is choosing the right app to help you with all of this. Specifically, you'll want to pay attention to their ease of use, essential features, cost, as well as the other nice-to-have features that will make your campaign planning process smoother. I'll cover some of the apps I recommend in the "email marketing tools for SaaS campaigns" section below.
8 SaaS email marketing campaign examples to consider
Now that you've got a good understanding of HOW SaaS email marketing can be successful for your own brand, let's take a look at exactly WHAT you can send with a couple of email samples.
Newsletters
Newsletters are regular email campaigns that follow the same structure with each campaign. Their goal is mostly to keep subscribers informed, but a well-considered newsletter marketing strategy can also help you build a community and even bring your product in front of a new audience without seeming too salesy.
This Sparktoro newsletter is a perfect example of just that: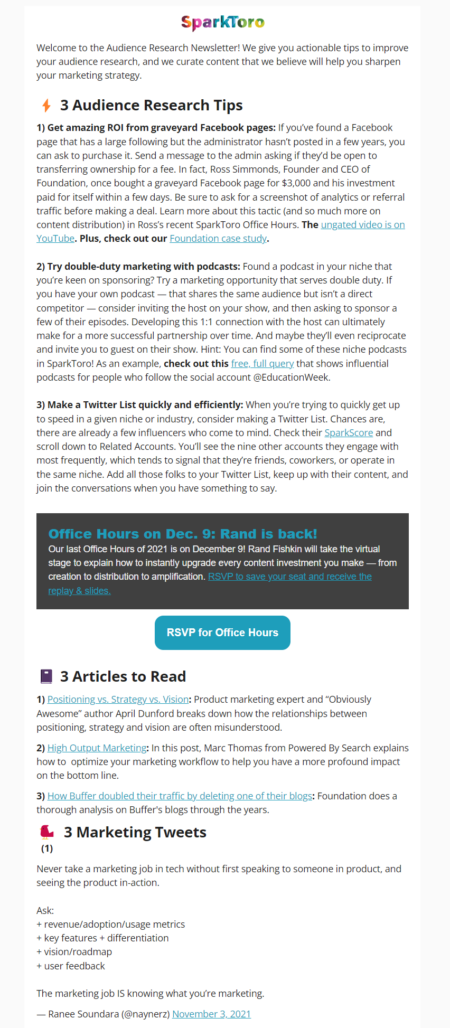 Drip campaigns
Drip campaigns (also known as autoresponders) are essentially just automated emails you can send based on a user's activity, a specific time, or other status changes. Here's an example from a classic onboarding flow: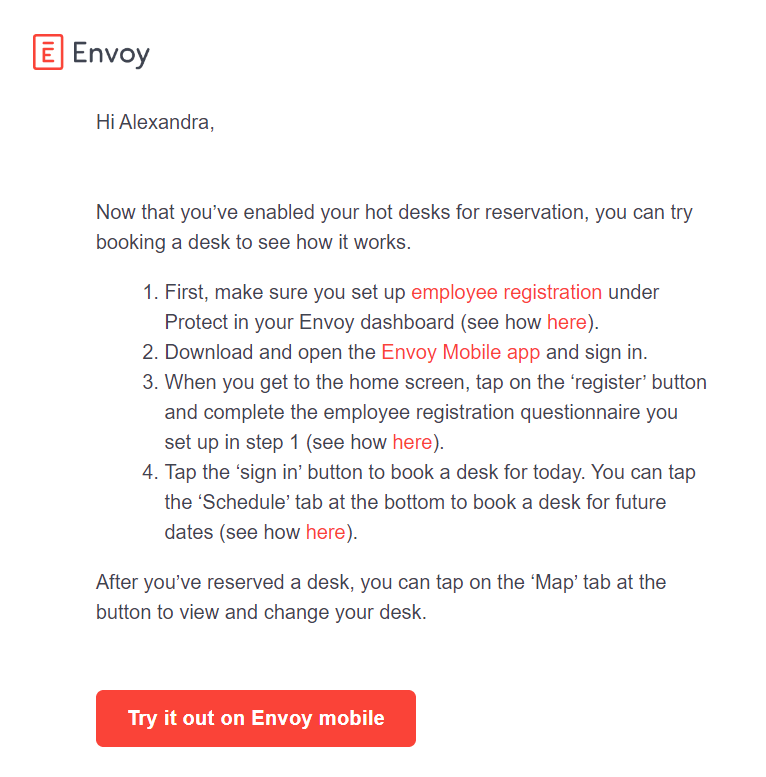 Check out more automated email examples to inspire your next campaign.
Welcome emails
This is one of those emails you simply HAVE to send. The only problem is they tend to be boring, so many users don't even read them. You can change that by actually offering something valuable like a guide, special offer, or next steps from the first email:

Transactional emails
These are super important emails related to a user's account, like system alerts, purchase confirmations, or customer support inquiry follow-ups. Here's an example from a SaaS brand using this type of email to share an update to their Terms and Conditions: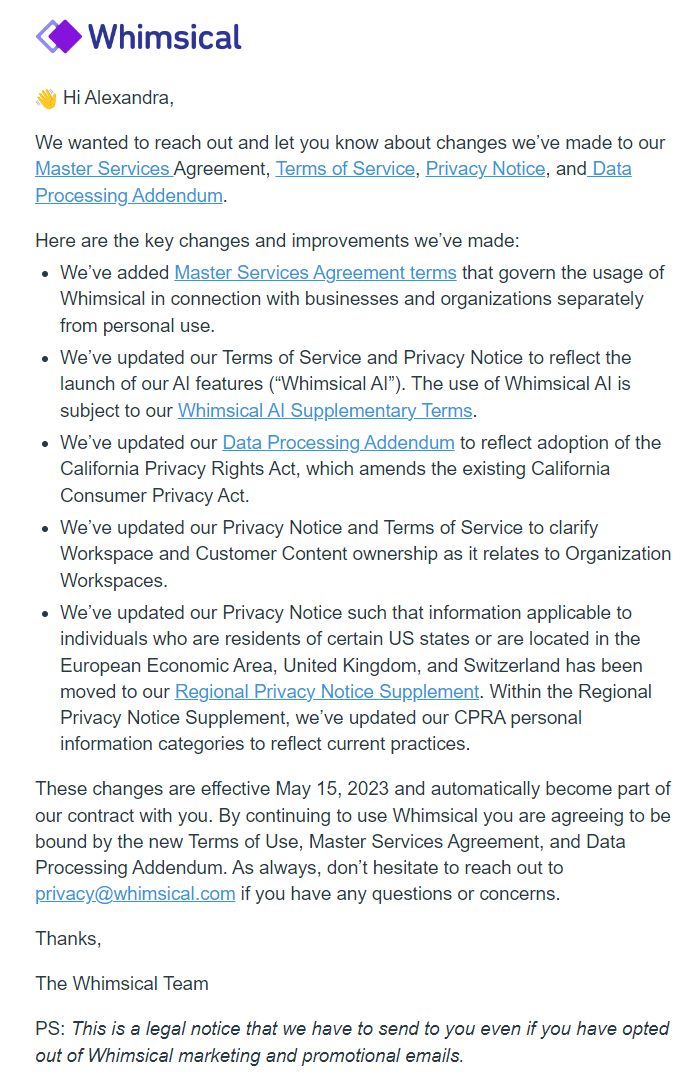 Survey emails
Need feedback from your users or subscribers? You can turn to email – but remember to offer a good incentive if you want a lot of customer data.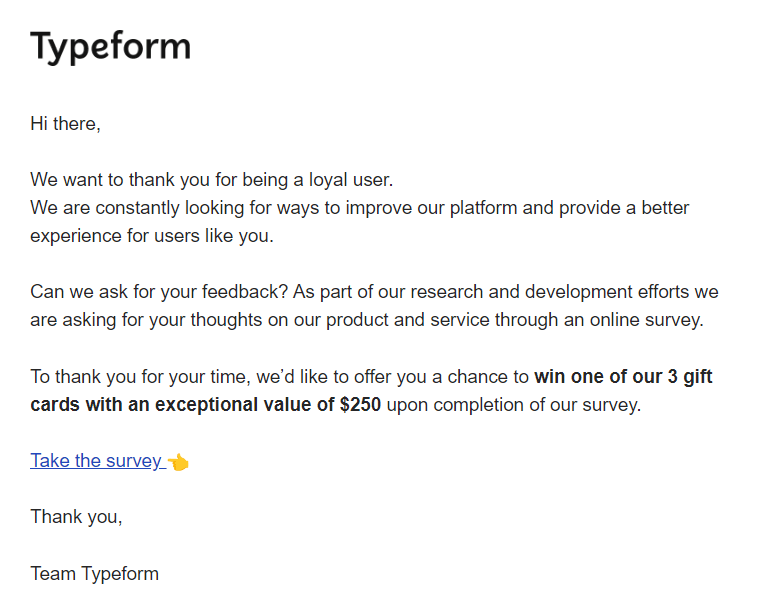 Event emails
Webinars, Q&A sessions, and other live events deserve a stand-alone email to make sure you're getting the invite in front of as many people as possible. Short on time? You can always keep things simple with a personal email: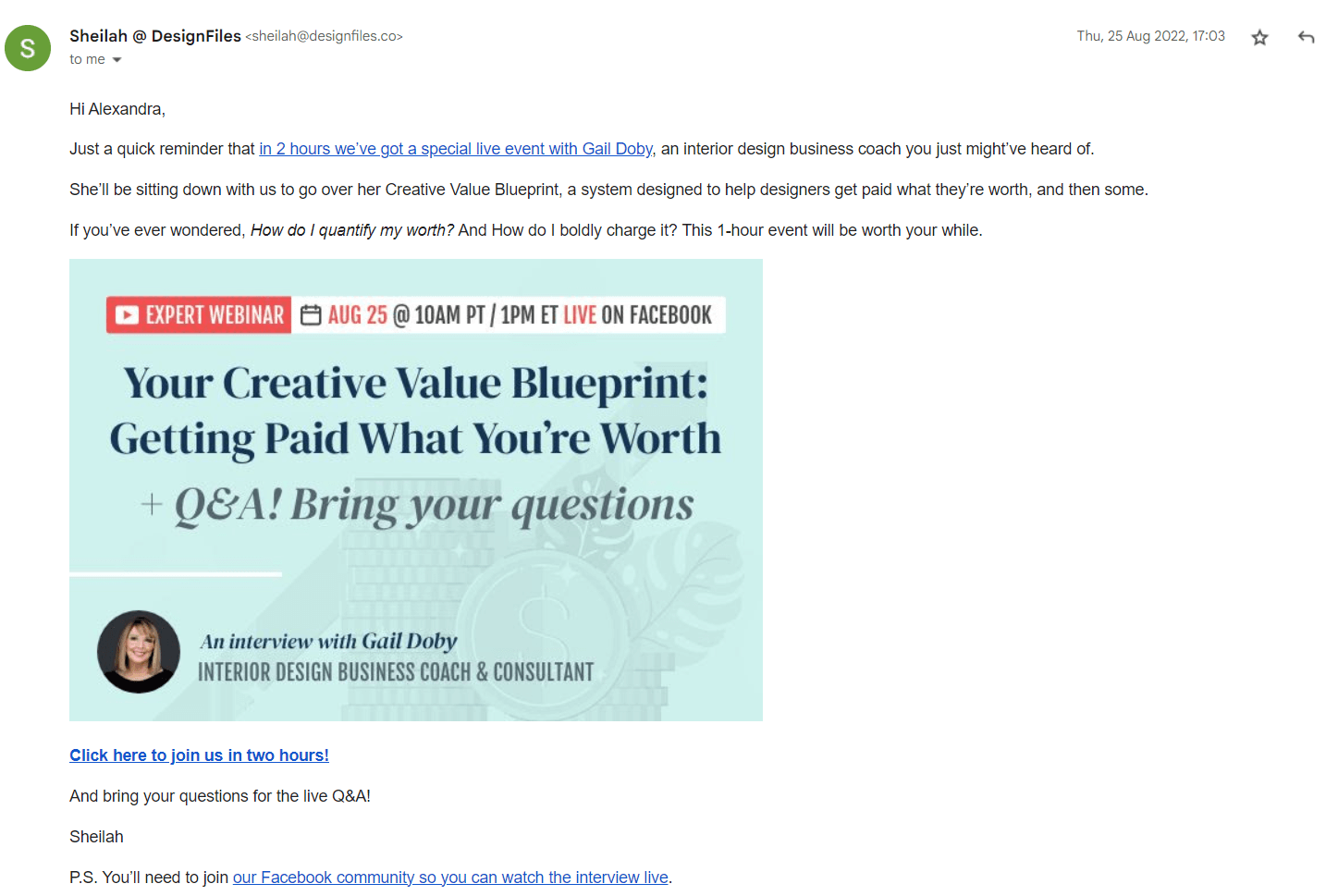 Launch emails
Got a big feature launch? Send email messages just for that. Got smaller features lined up? One email with multiple updates (product-related or not) will work for your email marketing efforts:

Special offer emails
It doesn't have to be Black Friday (like in the example below) to surprise your subscribers. In fact, some of your most successful special offers might be the ones no one expects to get. Stay creative when juggling both the offer you can provide and the timing for it.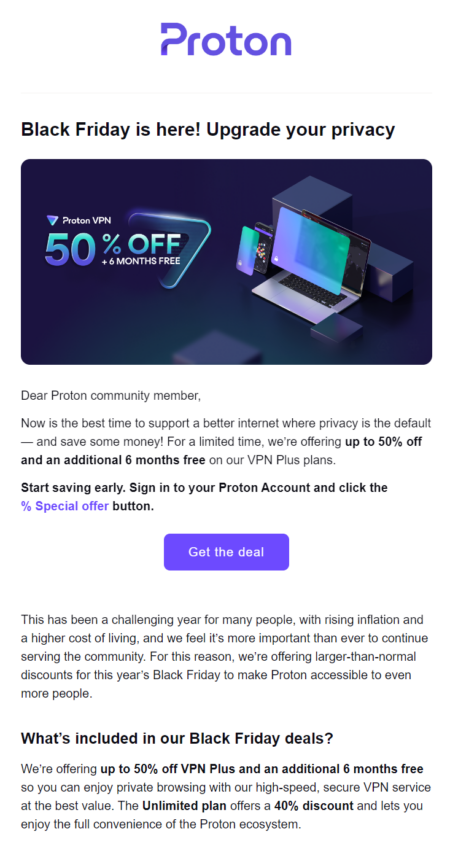 6 email marketing tools for SaaS campaigns
Let's see just what SaaS email marketing tools are best for helping you tackle all of the above points.
ActiveCampaign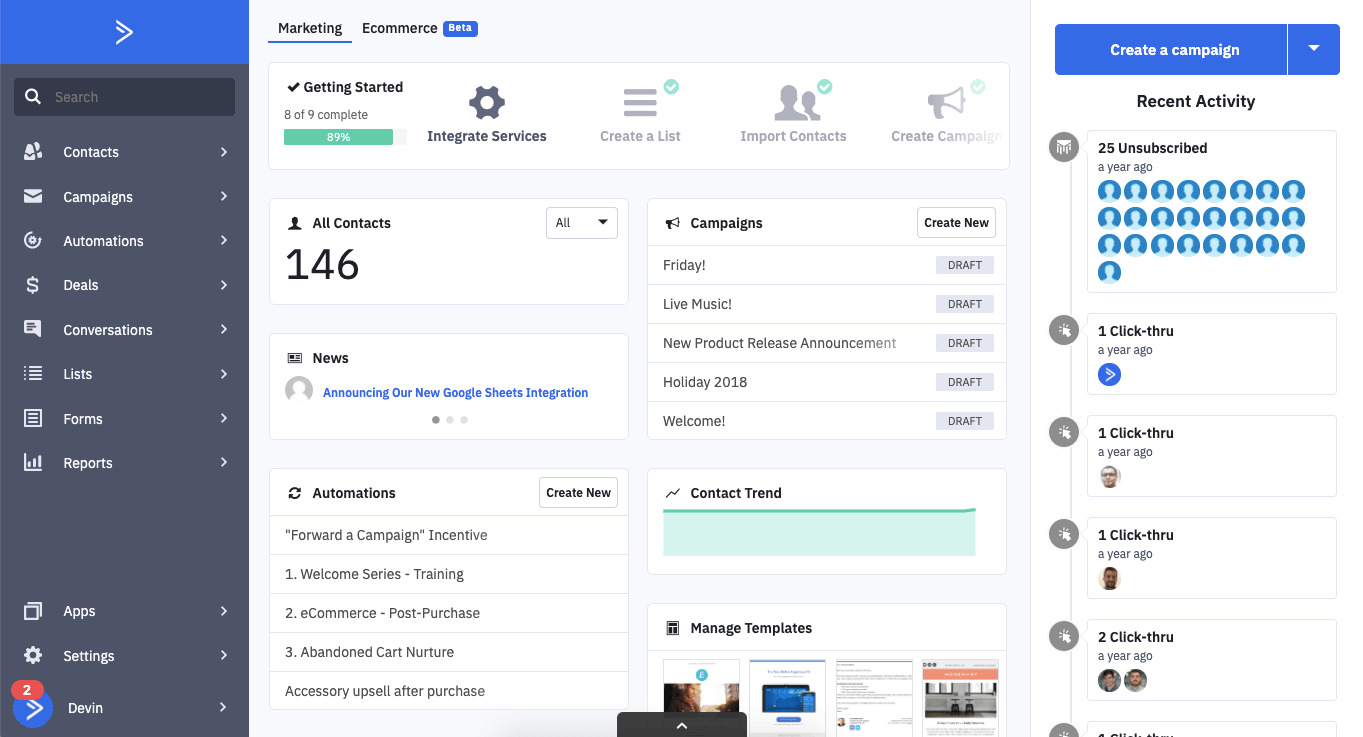 ActiveCampaign is a complete email marketing tool with advanced automation capabilities. You can use it to create automated email campaigns for new customer onboarding, recurring newsletters, abandoned cart reminders, and more.
The platform allows you to segment contacts based on their behaviors and send targeted messages to keep users engaged. You can then create automated journeys based on actions or inactivity to nurture customer relationships over time. Plus, ActiveCampaign offers you tools to build landing pages, forms, and pop-ups that can help you capture leads from your website.
ActiveCampaign Pros
Strong automation capabilities: You can handle pretty much any kind of automated email sequence you can think of.
Best if you're concerned about deliverability: ActiveCampaign scores consistently high in our deliverability tests, winning them several times already.
Features a full CRM: If you choose one of their Sales and Marketing Bundles, you'll have full access to ActiveCampaign's CRM.
ActiveCampaign Cons
Has a steep learning curve: The app's complexity naturally means it will also take longer to get used to. So if you're looking for a simpler solution to just send out a few emails, you'll want to pick another option.
High cost: There's no free plan, and subscriptions are on the expensive side.
> Our full ActiveCampaign review
HubSpot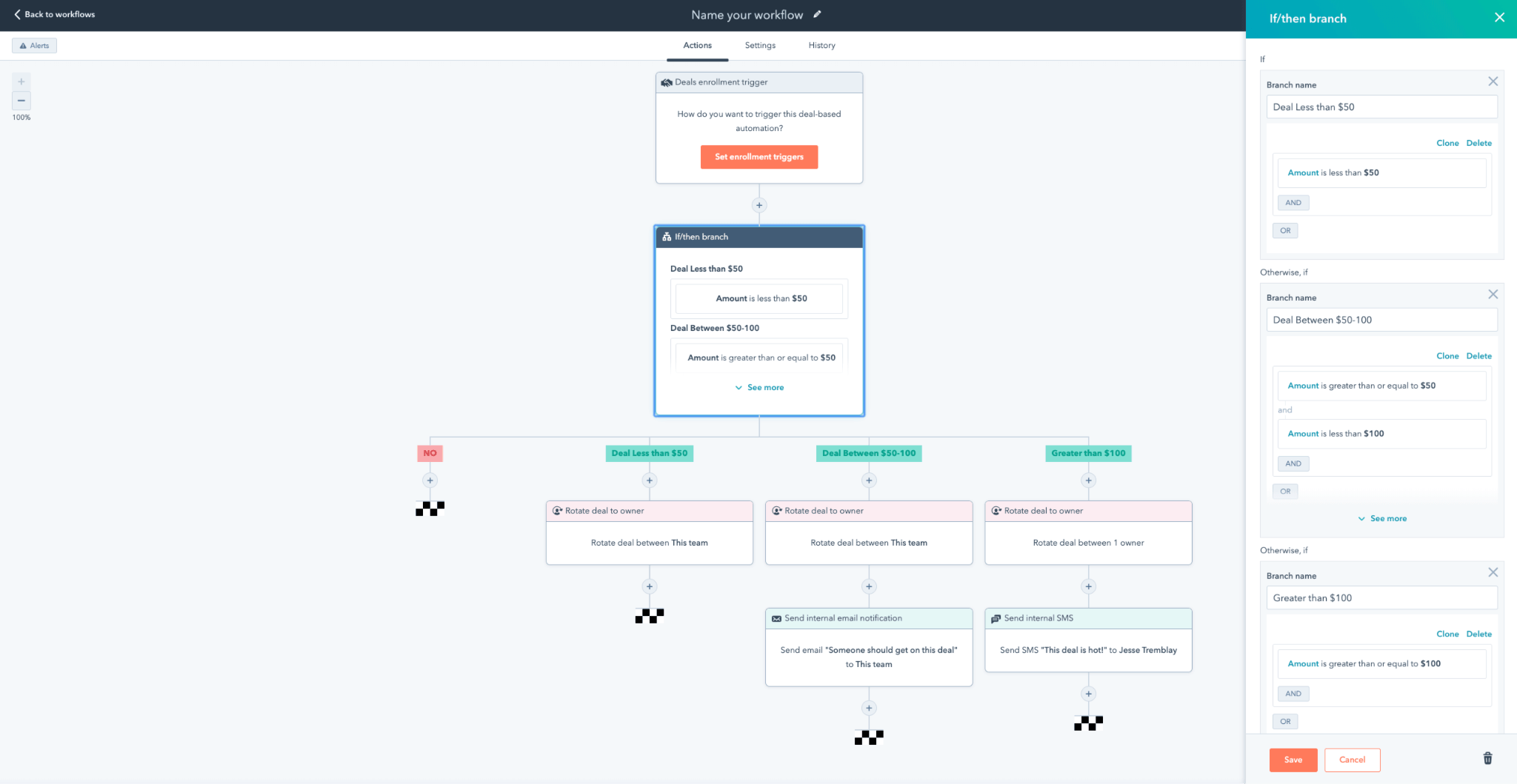 Beyond its email marketing capabilities, HubSpot is a complete marketing suite. Hence, it's a popular choice for experienced marketers that need to handle other types of campaigns including content, ads, social media, and even sales.
On top of this, HubSpot comes with a Support, CMS, and Operations hub, making it an option for larger teams who need to handle multiple resources and projects from a single space.
HubSpot Pros
There's a super cheap plan for startups: Few people know you can use HubSpot for as little as just 10% of the actual cost, if you're a startup. There are certain limitations, but this will do for the first year(s).
It's easy to use: Although complex, HubSpot is surprisingly intuitive to use and there are plenty of free official courses to get you up-to-speed with the tools.
HubSpot Cons
High cost: If you're not a startup, HubSpot is by far the most expensive option on this list, as the costs add up quickly once you start growing your email subscribers or add additional hubs to your subscription.
Some features aren't complete: While the email suite isn't affected by this, other capabilities (e.g. SEO) lack development, and you can't fully rely on them for the entirety of your campaigns.
> Try HubSpot for free or sign up for HubSpot for Startups
GetResponse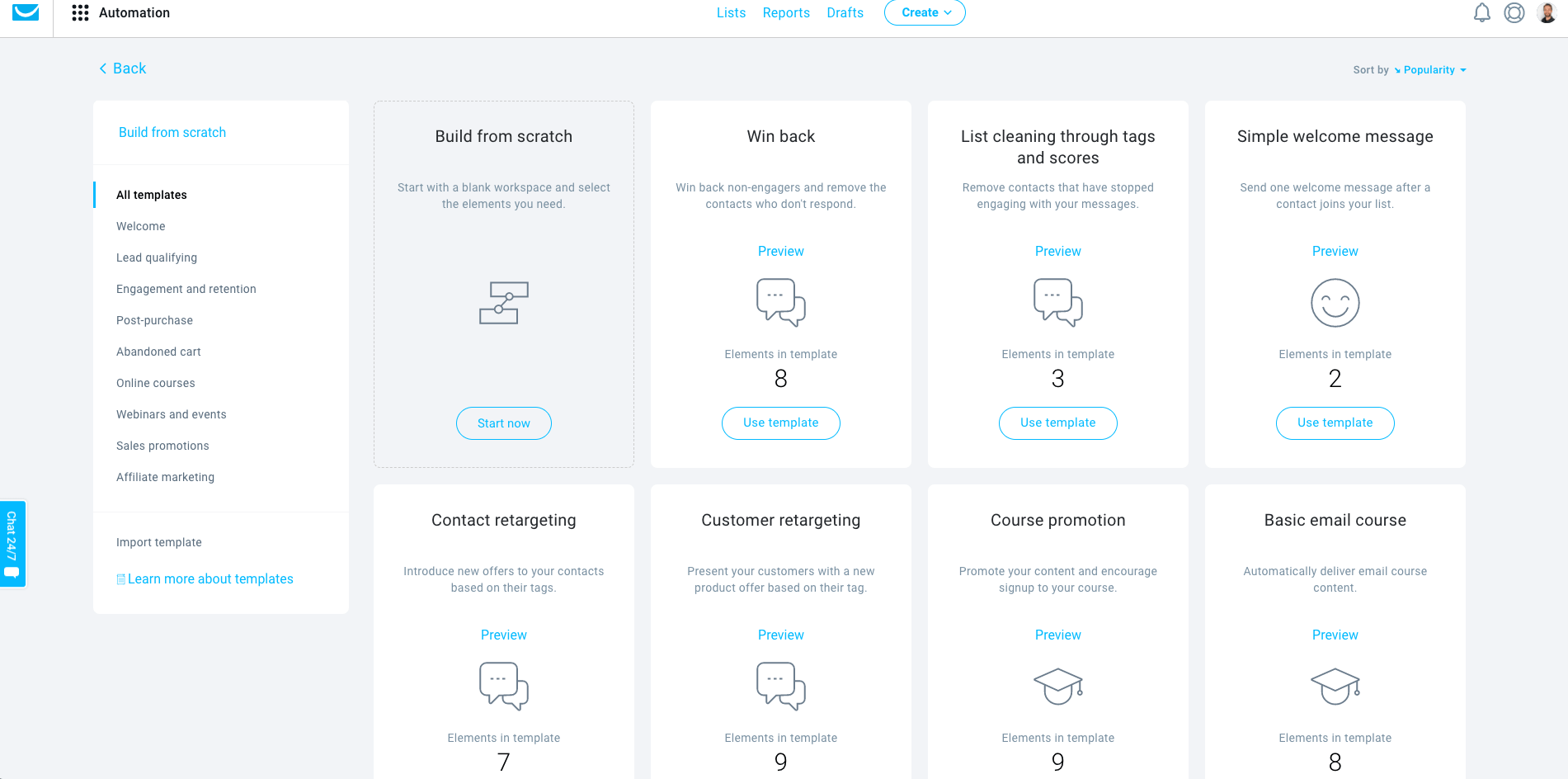 GetResponse is another email marketing solution that gives you all the tools you need to plan and send your campaigns — from landing page creation to automation and detailed reporting.
The best part? Just like HubSpot, GetResponse is slowly adding more features that extend beyond just email marketing. They recently built a live chat feature that can help you communicate better with your audience.
GetResponse Pros
Webinars: Their high-tier plans come with a Webinars feature that allows you to create and run your webinars from GetResponse. This eliminates the need for another separate tool for online events.
The free plan is strong enough: Sending no more than 2,500 newsletters/month? Congrats! You've found just the right tool to get started at no cost.
GetResponse Cons
You'll have to pay a lot for email automation: You'll definitely need this feature as you scale, so keep in mind there are extra costs involved.
Brevo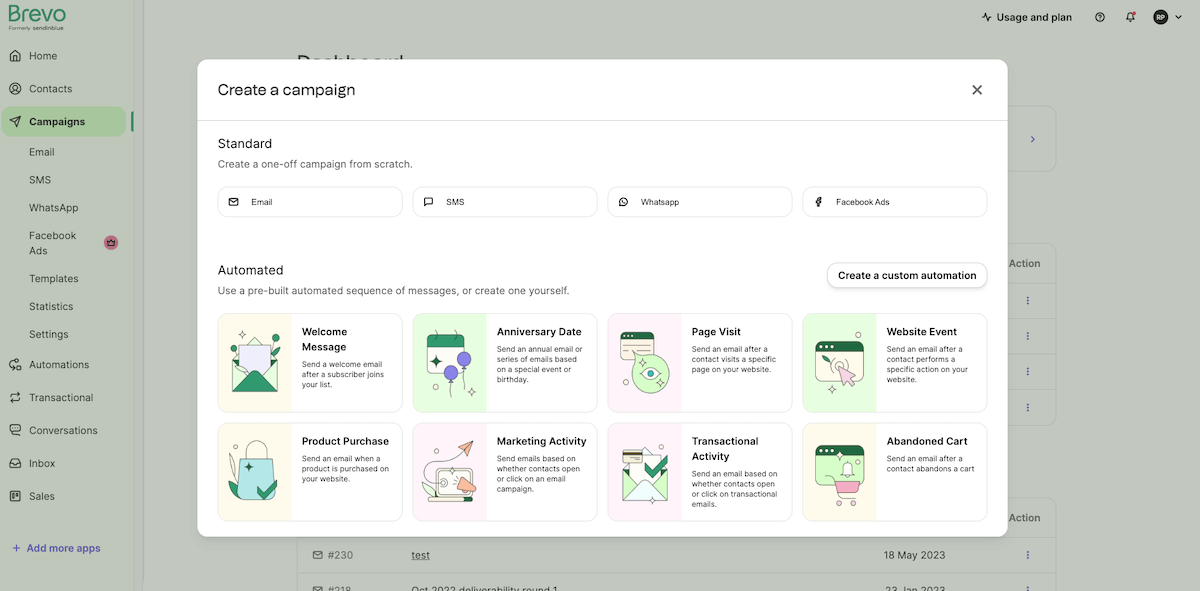 Formerly known as Sendinblue, this is one of the cheapest email marketing software SaaS startups should consider. Since rebranding, Brevo's also been turning more into a complete CRM suite. This will help your email campaigns as well, as you'll be able to send tailored emails based on every user's activity and lifecycle stage.
Brevo Pros
Low cost deal: Even after the rebranding and new additions, you still have 9,000 emails/month in the free plan (with a daily limit of 300). And this includes transactional emails as well as SMS and WhatsApp campaigns. Note that email automation beyond 2,000 contacts is only available with a higher-tier plan.
Free extra tools: Their sales CRM as well as live chat (Conversations) feature are also included in the free plan.
Brevo Cons
User access levels are only available with high-tier plans: With Brevo you can only set up logins for multiple users if you purchase their Business or Enterprise plans.
Relatively poor deliverability: unfortunately, their track record delivering email is not that impressive according to our tests.
Drip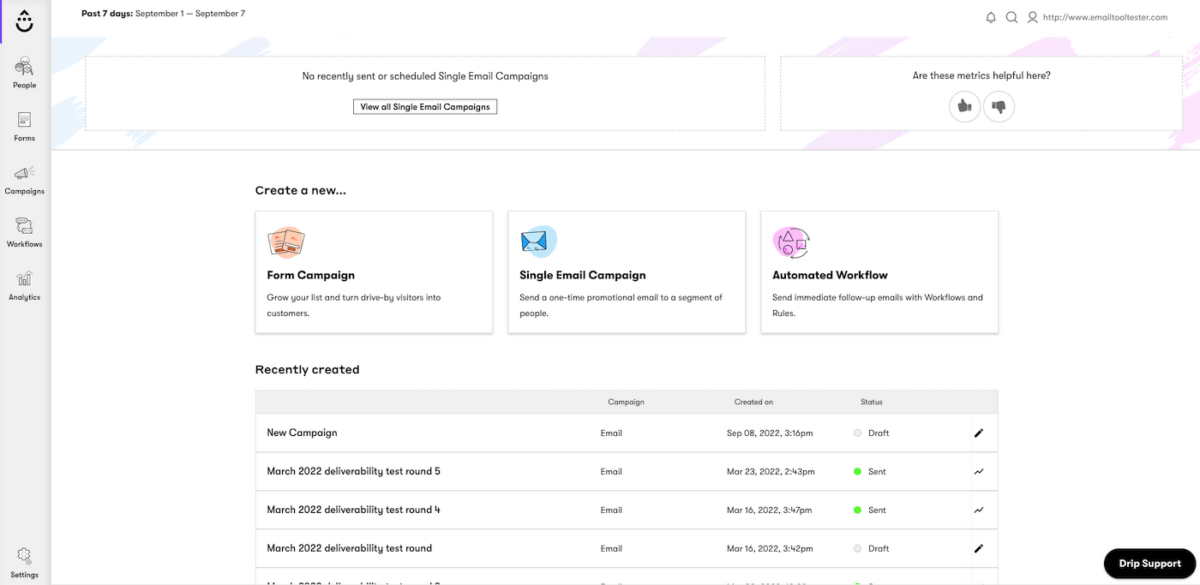 Drip would be my first choice for ecommerce email campaigns, but I've successfully used it for SaaS companies in the past and still rely on it thanks to its comprehensiveness. It's also a good pick if you want to stay creative with your automated workflows, as you can even start from their pre-made templates. Plus, it's a good tool for beginners, as their customer support team is always available to help you set up or check your campaigns.
Drip Pros
Strong automation and segmentation capabilities: Rest assured you'll be able to send every email (and even SMS message) you want to the right people.
Advanced email pruning functionality: The tool comes with a dedicated Pruning Operations feature to help you easily keep your list in control.
Drip Cons
Basic reporting: Their reports aren't the most extensive, but they'll do if you just want to keep an eye on basic stats.
Few integrations: There are roughly 100 integrations to pick from, while other email marketing tools can go beyond 1000 when it comes to add-ons.
MailerLite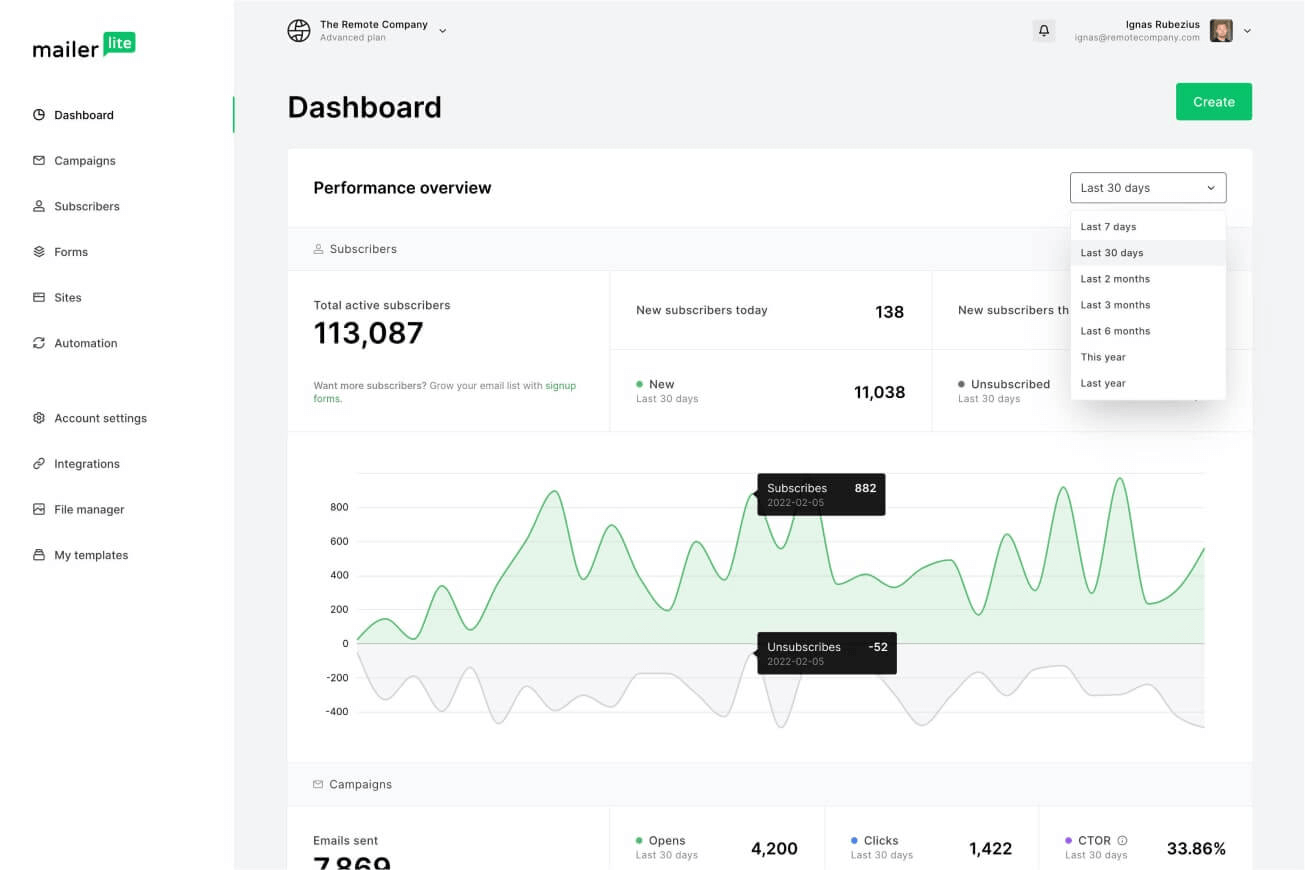 MailerLite is your typical do-it-all email marketing tool. It's worth noting that it's primarily used by smaller businesses, so everything from the email builder to the ready-made templates are built for that user type. Generally speaking, you'll be able to use MailerLite to send newsletters, autoresponders, and promotional emails.
MailerLite Pros
An interesting free plan: The free version includes up to 1,000 subscribers, single trigger automation workflows, a landing page builder, and even a survey creation tool.
You won't be charged for inactive contacts: MailerLite provides a fair way to count subscribers, while other tools might charge you for inactive contacts that have unsubscribed or bounced (unless you manually delete them).
MailerLite Cons
It's just an email marketing tool: It will work perfectly if you strictly need an email marketing software. However, it lacks the extra solutions like a CRM or live chat app that other complete digital marketing suites provide.
Other tools to support your SaaS email marketing campaigns
While some of the SaaS email marketing tools above do give you access to extra capabilities like landing page builders and live chat tools, you'll want to consider integrating them with other tools where there are missing functionalities.
Here are four tool types that will support your SaaS email marketing campaigns:
Live chat software
Recommended examples: LiveChat, Tidio Chat, JivoChat
Live chat software aids your email marketing efforts by making it easier for people to get in touch with you in real-time. Sure, they can always reply to your emails to connect, but if you've got an event or offer expiring in 20 minutes, they'll want to get their questions answered as soon as possible.
Landing page builders
Recommended examples: Landingi, Unbounce, Leadpages
Everything you link to in your emails needs a landing page. While those pages can also be an article or product page you already have on your website, for special discounts or resources, you'll want to create landing pages. Note that larger campaigns might require a dedicated website or separate domain (or subdomain) as well.
Online scheduling apps
Recommended examples: Setmore, Calendly, MeetFox
Whether you want your subscribers to easily add your event to their calendars or book a demo via a sales drip campaign (i.e. automated email sequence) you're running, scheduling apps can make that process much smoother. Some of these platforms will even allow you to connect face-to-face (via video) with your subscribers.
Form and survey builders
Recommended examples: JotForm, AidaForm, Paperform
Need to get feedback from your audience/users? Want to include some interactive forms to keep emails more engaging? You'll likely need to integrate your email marketing tool with a form or survey builder solution. The good news is most form builders can also help you with survey creation both for email and other marketing, sales, or product purposes.
So, which SaaS email marketing tool is right for you?
Before choosing an email marketing service, I recommended writing down your priorities when it comes to your next solution.
Think about what your must-have features are. Most email marketing tools will offer the entire spectrum of necessary features, but some of them excel at marketing automation, for instance, while they'll fail to deliver other functionalities you need (like webinar hosting and scheduling).
Once you have this list, it'll be much easier to look through the tools recommended above and pick 2-3 to test together with your team. And remember: always keep in mind your future growth projections, as certain tools can get expensive once your email list (or use cases) grows.
If you have any questions or feedback, please let us know in the comments!
Our Methodology
This article has been written and researched following our EmailTooltester methodology.
Our Methodology